Remote work offers many benefits: no commute, the ability to fully control your work environment, the option to spend more time with your family, and more. But how to find a remote job actually?
What work-from-home jobs are even out there? This guide to how to find a remote job will answer these questions and more.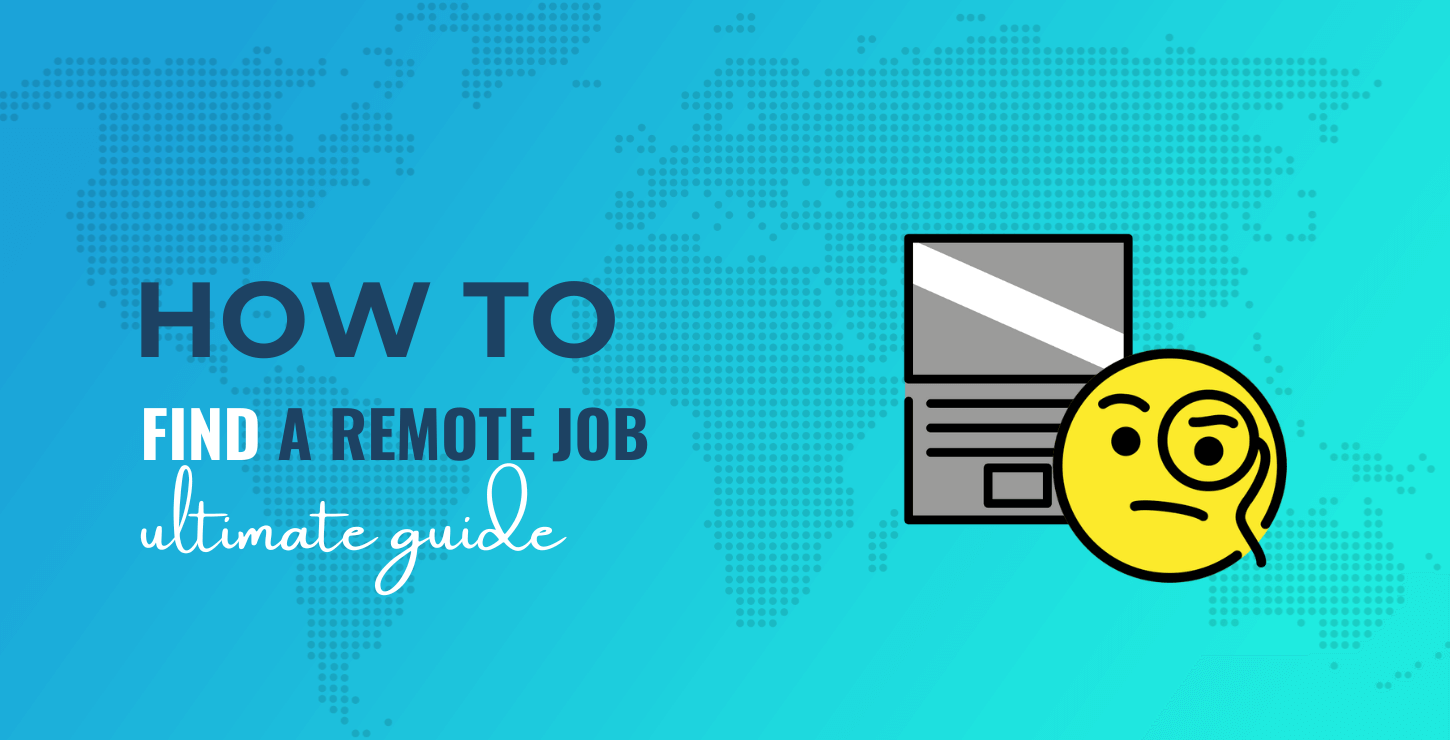 Here's a quick overview of everything you'll learn 👨‍🎓 in this guide:
By the time ⌚️ you're finished reading, you'll have everything you need to start your job search.
Understanding remote work
Types of remote work
Since the arrival of the pandemic, many employers have realized that most office jobs can be done from home. However, some industries and positions are more likely to offer remote jobs than others, such as:
Programming/IT
Data entry
Web design
Sales
Marketing
Writing
Editing
Data analysis
Accounting
In short, no matter what your skill set, 🔧 there's almost certainly a work-from-home job that you're perfectly suited for.
Not all remote work is fully remote
One thing that makes searching for work-at-home jobs difficult is that there are different levels of remote work:
100% remote. This kind of job lets you work from home 100% of the time, regardless of where that home is.
Remote with a location requirement. These companies don't expect you to come into the office every week, but they do require you to live in a certain country or region. This is most often for legal or tax reasons. You may also be required to occasionally meet with clients or your employer's team in person.
Hybrid. These jobs require you to come into the office 2-3 days a week, letting you work from home on the other days.
Unfortunately, many hybrid jobs and remote jobs with location requirements are listed in the same places as 100% remote work. Many job sites let you filter out hybrid opportunities, but some may get through the filters and there's rarely a way to filter out work-at-home jobs with a location requirement. This means you'll have to keep an eye out for location requirements and/or the word "hybrid" in job postings.
Scams are out there
Many "opportunities" advertised as remote jobs are actually scams.
The good news is that most of these scams use similar language and techniques to trick people. This means you can avoid most scams by looking for a few key indicators:
Language like "Make money fast" or "Unlimited earning potential." If it sounds too good to be true, it probably is.
Requirements to disclose sensitive information, such as your SIN/SSN, in the application or early on in the onboarding process.
Setup fees or any other payments you're expected to make to the employer in order to start working for them.
You should also always Google a company to determine its legitimacy before filling out an application. I recommend Googling their name with the word "scam" after it to uncover any problems people have had with the company in the past.
How to find a remote job: the steps
Figure out what kind of remote work is best for you
With so many different types of remote work available, it's important to know what jobs you actually want to apply for. After all, you don't want to waste dozens of hours applying for jobs you're not a good fit for.
There are several things to consider here:
1. Consider your skills
The most important thing to consider is how your existing skills and training can be applied to remote jobs.
This doesn't necessarily mean looking for a remote version of your former office job. 👉 For example, if you've done data entry in an office, data entry is an obvious choice. However, you can also use that attention to detail and comfortability with spreadsheets to work a Virtual Assistant (VA) job. The typing skills can also help you get a live chat-based customer service job.
List all of your professional skills, no matter how insignificant they seem, in a document separate from your current resume. Make sure to include any office, project management, or communications software you're skilled in.
2. Consider what you enjoy
Next, consider what professional skills you enjoy using. Continuing with our data entry example, do you actually like working with spreadsheets, or would you prefer a job that relies more on your typing skills? If it's the latter, you might want to search for transcription jobs instead of data entry work.
Go through your list of skills and training and bold or highlight the things you enjoy using and/or wish you had more of a chance to use at work. As you go through them, you'll likely begin to understand the types of work-at-home jobs you're most interested in.
3. Look for jobs that emphasize the skills and tools you enjoy using
If you can't think of any jobs that use your skills right away, skip further down this article to the job boards and explore the opportunities there. Look at the categories and click on anything that sounds interesting or like it might match your skills. Then, read a few job postings to see what they're looking for.
This research will also help with the next aspect of how to find a remote job, which is understanding what remote employers want in an employee.
Understand what remote employers are looking for
Along with the individual requirements of any specific job, there are three things remote employers are looking for:
In short, they want to know that they can rely on you to do a good job, including learning new things when necessary.
Create a resume for remote work
For the most part, creating a resume for remote jobs is the same as creating a resume for any job. You want to use an attractive resume template, use third person language, emphasize how you can benefit your employer, and make sure the whole thing is easy to read. It's also a good idea to make sure everything is spelled correctly, especially any industry-specific terms.
However, with remote work it's important to emphasize skills that will help you integrate into a remote team. 👉 For example, if you're experienced with online project management tools like Asana or communication tools like Slack, you can mention those. This can be a major point in your favor if the company you're applying to uses those same tools.
The other thing you want to do is to use results-focused language whenever possible. 👉 For example, if you ran a blog, instead of saying "I published two blog posts per week", you might say "I created a consistent publishing schedule that increased organic reach by 200%." Results-focused language is great for any resume, but it's particularly important when you're applying for work-from-home jobs, because most remote jobs are results-based, not time-based.
Where to find remote jobs
Once you know what types of jobs you're interested in and you've built a resume to suit, it's time to start finding those jobs. There are numerous online job boards that specialize in online job postings, including job boards for specific industries and job types.
Below 👇 you'll find a collection of the best online job boards for finding full-time work, plus some sites more suited to finding freelance jobs. For even more job sites and other remote work posts, don't forget to check out our 😎 list of related articles when you finish reading.
Best places to find full-time remote work
FlexJobs is a job board site entirely dedicated to work-from-home and hybrid opportunities, with jobs in many different industries. The majority of opportunities listed are full-time, with a smattering of part-time and freelance jobs.
FlexJobs also offers educational content for people seeking remote work, including webinars on topics like webinar creation. You can even get career coaching and resume review services from FlexJobs' paid experts.
It's possible to view all of the job listings on FlexJobs for free, but you'll need to register for a paid account to actually apply for jobs. Plans start at $9.95/week, with monthly, quarterly, and annual plans offered as well.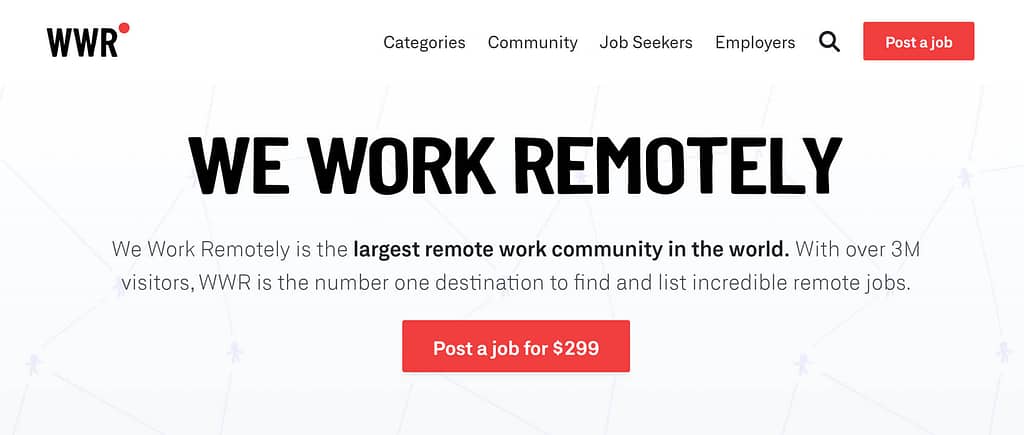 We Work Remotely is a job hunting site with a job board, a Top 100 Remote Companies list, and numerous resources for people interested in remote work. Technically, you can find jobs in any industry here, but the site most commonly features jobs in programming, design, system administration, customer service, and sales/marketing.
You don't need to register with We Work Remotely to apply for jobs. However, you can create an account to apply for jobs more quickly and get notifications about jobs you're qualified for.
Jobspresso acts as both a job board and a talent marketplace with an emphasis on tech, design, marketing, and customer support jobs. You can search for jobs listed on the site or post your resume so employers can find you.
Most job ads on Jobspresso lead you to third-party applications, so you won't need to sign up for a Jobspresso account. However, you can sign up for an account if you'd like to set up notifications, so you'll always know about jobs you're qualified for or are interested in.
Best places to find freelance work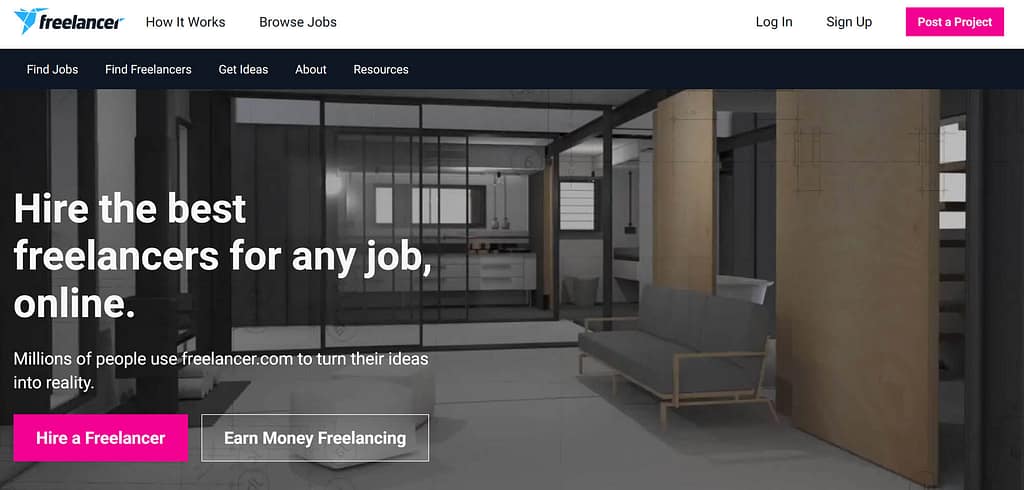 Freelancer.com is a hub for freelance jobs and short-term remote contracts. There are thousands of listings at any given time and you can filter your search based on the length of projects, overall pay for fixed-rate projects, hourly pay for hourly projects, and languages required to do specific jobs.
Some jobs on Freelancer.com have a pre-determined budget, but many use a bidding system. This allows you to set your desired rate, with the downside that you might lose out to someone with a lower bid. You'll also need to enter your email to bid on jobs.
You can also create a freelancer profile on Freelancer.com to passively attract jobs.
Fiverr is a little different from other sites on this list. Instead of offering a regular job board, Fiverr lets you create a freelance portfolio and set your services up as "Jobs." It offers marketplace categories for a wide range of industries, including writing and translation, design, digital marketing, and video/audio.
You will need to set up an account on Fiverr to post your services. To learn more about this platform, check out our guide on how to make money on Fiverr.
Interviewing for remote jobs
Now that you know how to find a remote job, it's time to get that remote job by acing your interview. There are a few tips to remember here:
Dress your best. Remote jobs may not require you to get dressed up and interact with people on a daily basis, but you still want to make a good impression. For most jobs, this means sticking with a business casual outfit.
Consider your background. If you're meeting on Zoom or another virtual meeting app, make sure your background looks professional. Many apps let you substitute a green screen-style background if you don't have suitable space in your house.
Be prepared for questions specific to remote work. FlexJobs offers a great list of common remote job interview questions. Read through these in advance and make sure you have answers ready for all of them.
Most of all, do your best to appear calm and confident throughout the interview. You want to convince potential employers that you're capable of not just working from home, but also doing the specific job they're hiring you for.
Final advice: first steps to finding a remote job 🏁
There are more work-from-home opportunities than ever before, with new positions being created or moving to remote work every day. You can take advantage of this trend and skip your commute, get more time with your family, and enjoy working from the comfort of your own home. And those are just the main benefits of working from home.
If you're feeling overwhelmed by all of the advice in this article you can start your search for remote work in just a few steps:
Figure out what type of work 🧑‍💼 you do. Decide what skills you're most interested in using and/or the industries you most want to work in. Remember to focus on what you can do with the existing skills and training you already have.
Write ✍️ a remote work resume. Create a new version of your resume that emphasizes skills related to remote work, especially office and project management software programs you're comfortable with.
Sign up 🧑‍🤝‍ for notifications on some work-from-home job sites. Create accounts on sites like FlexJobs, We Work Remotely, Jobspresso, and Freelancer.com to get notifications about remote jobs. You can also sign up for Fiverr and post your services as a job.
And be sure to bookmark this article, so you can return to it when you need more guidance on how to find a remote job.
Is there anything else that you would like to know about finding a remote job? Let us know in the comments section below!
…
Don't forget to join our crash course on speeding up your WordPress site. With some simple fixes, you can reduce your loading time by even 50-80%: