Webinars are an excellent way to educate and interact with your audience. You can offer them as free opt-in bonuses or paid products, and once you've scripted one, you can run it as often as you want to! This makes learning how to create a webinar an essential process for many online business owners.
📚 In this article, we'll explore: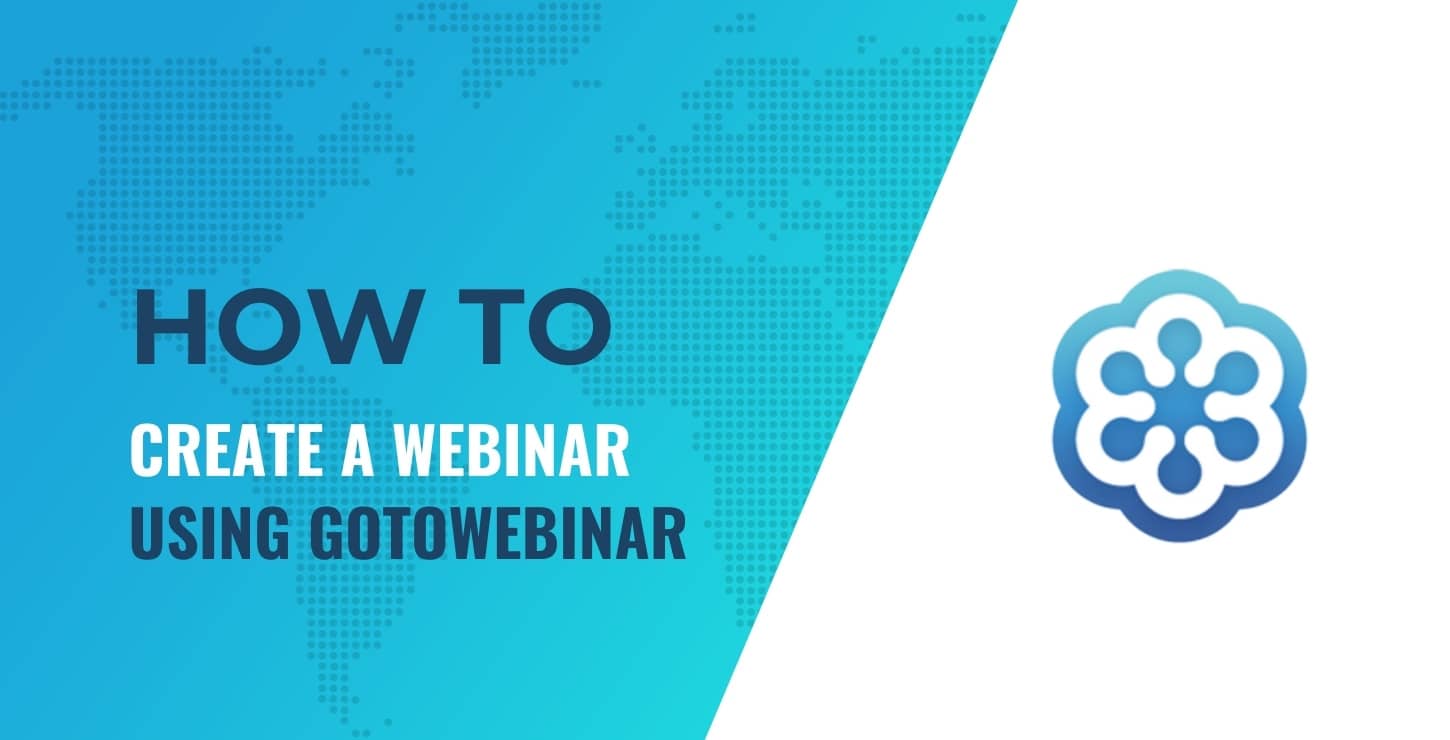 By the time we're done, you'll be ready to schedule your first webinar.
Before you learn how to create a webinar: Webinar software 101
There are two types of webinar software: in-browser and local software.
In-browser software
This is software that runs the webinar entirely within your browser. These tools are quite easy to use, require no downloads, and are compatible with all kinds of devices. However, reliability is harder to control with these programs as it relies on the user's browser setup.
Local software
Local (or "executable") software must be downloaded onto the user's computer. These programs provide more reliable quality and can sometimes offer more robust features. Some are limited to use on desktop computers and laptops only, but there are solutions that also come with mobile apps.
Features to look for in webinar software
There are several things you should consider when choosing your webinar software:
Ease of use.

The program should be easy for both you and your audience to use. Ideally, you don't want your audience to have to install anything, but to simply be able to connect via their web browser.

Recording capability.

You want to have the option to record your webinar so you can share it again or even sell it.

Quality chat area.

You want the chat to be highly visible, easy to use, and easy to moderate.

Email customization.

This is the ability to add branding or extra information to registration emails for both co-presenters and attendees.

CRM tools and/or integrations.

These tools analyze how your audience interacts with your webinars, providing insight into what resonates with them. If you already use a CRM tool, look for a webinar tool that offers some level of integration with it.

Marketing integrations.

Some webinar tools also integrate with email marketing tools and automation tools like Zapier.

The cost.

Webinar software can get expensive: GoToWebinar charges $104 (regularly $134) per organizer per month. This makes sense when you consider the extensive features offered by this tool, but is prohibitive for many businesses. Know what you're willing to spend and what features you're willing to pay more for.
GoToWebinar – why use it?

GoToWebinar is our most recommended webinar software thanks to its high reliability and advanced features.
Some of the most notable features of GoToWebinar are the ability to use custom branding, create unique registration pages, and accept emails.
GoToWebinar also offers advanced tools for understanding your audience. These include detailed reporting on attendance and engagement and the ability to create polls/surveys to find out more about your audience.
You'll also find that GoToWebinar offers integration with a wide variety of marketing tools, including email marketing services, CRM software, and landing page builders.
Purchasing a higher-tier GoToWebinar plan unlocks full video editing and embedding software. This allows you to do everything from scheduling your webinar to selling the recorded version without ever having to leave GoToWebinar. While many people already have a preferred video editing software, this is a definite win for someone completely new to video creation.
Last but not least, there's also GoToWebinar Stage. This one is a specialized video streaming platform for businesses. In other words, it's like YouTube for webinars. You can create a branded channel, upload on-demand webinars, and use them to find qualified leads. This is currently only available with higher-tier GoToWebinar plans, but it's an exciting development that can bring your content to even more people.
How to create a webinar using GoToWebinar
To get started, head to GoToWebinar and click on Start for free. This will take you to a sign-up page where you can enter your name, business email, phone number, and job title. You'll also be asked to create a password. There is no credit card required for the free trial.
GoToWebinar will then ask you to enter a verification code. You can find this in your confirmation email.
Entering the verification code gives you access to the GoToWebinar dashboard. This page displays your upcoming events, an overview of your analytics, and any videos and/or channels you've created.
You'll notice a "Sample Webinar" already listed. This can easily be edited into an actual webinar for your business. However, we want to look at how to create a webinar from scratch. To do this, click on Schedule +.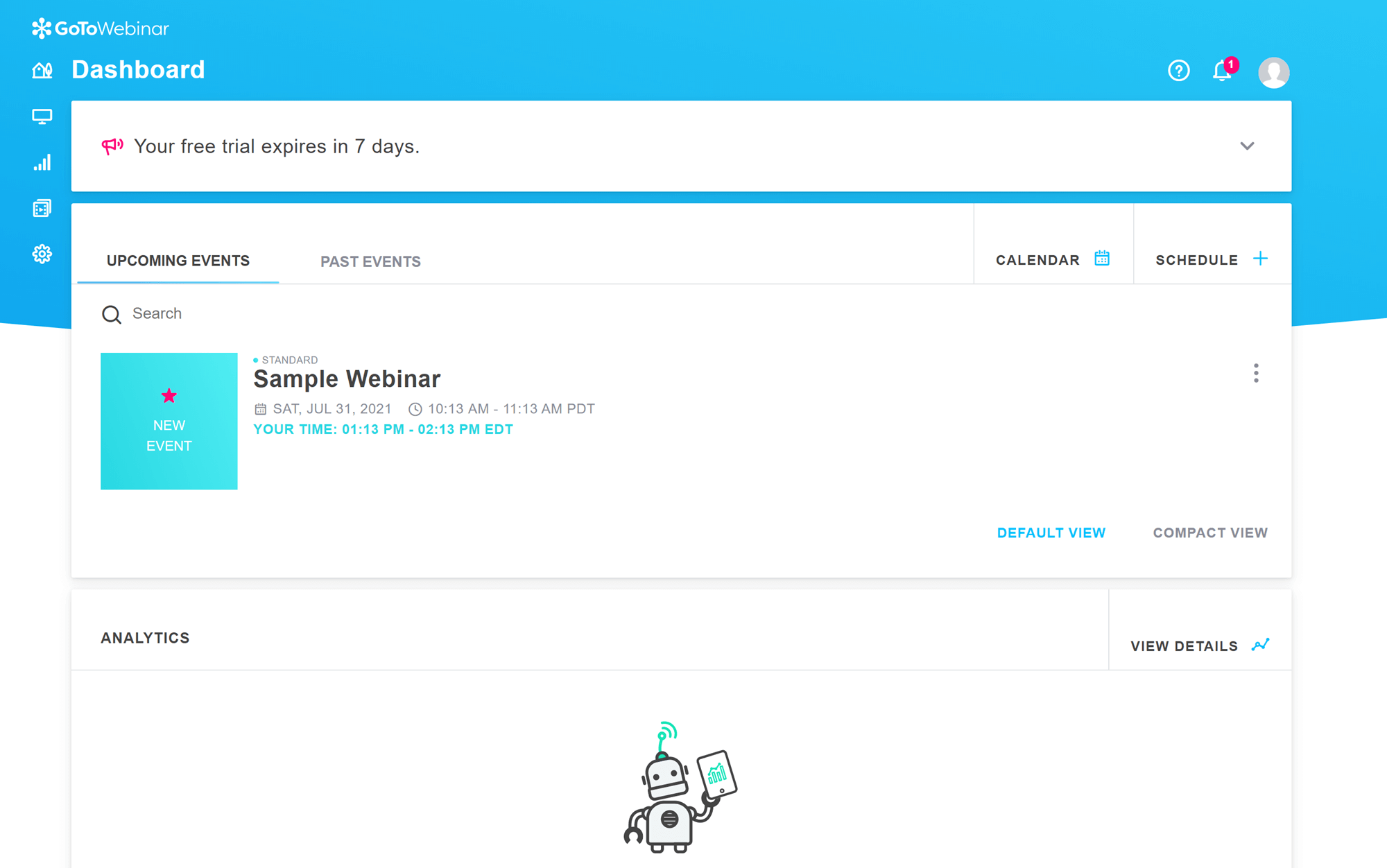 This link opens a page where you can enter a title for your webinar and schedule it. You're also required to specify whether this webinar will be live or pre-recorded.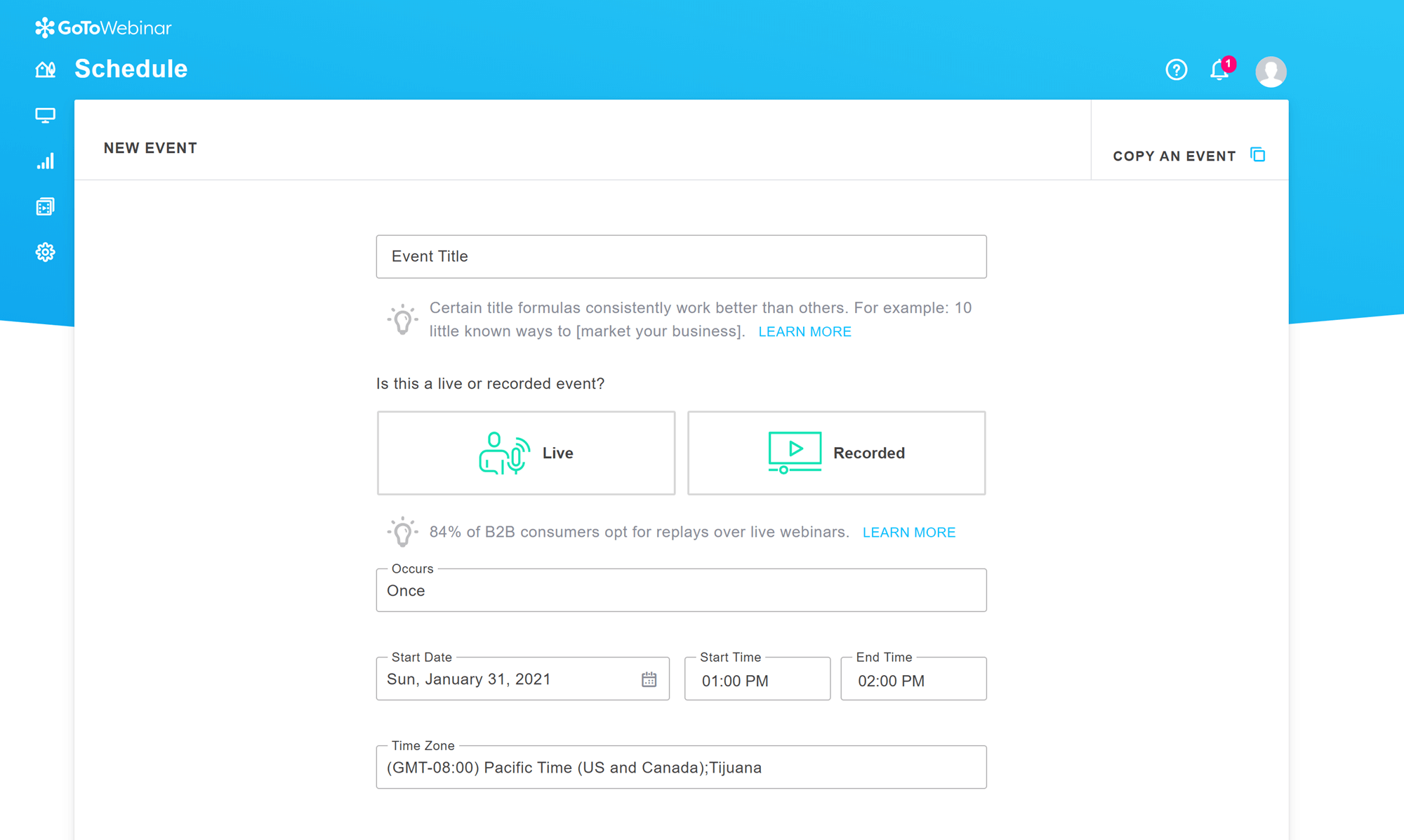 If you choose "live", you'll be prompted to specify how the audience will interact with you. There are two options:
Standard. This is a regular webinar with full interaction options, including the ability to connect via phone.
Webcast. This is a browser-based session that only accepts computer audio.
Once you've made your choice, click on Schedule.
This will take you to a page where you can add a description, invite panelists to be part of your webinar, and get links to share with your audience. This is also the page where you'll go to start the webinar when the time comes.
Further down the page, you'll be able to view and edit various aspects of your webinar:
Required payment (webinars are automatically set to free)
Recording settings
Audio access for the host, panelists, and attendees
Branding for the event landing page
Registration limit
Approval settings
Attendee emails
You can also create polls and surveys to learn more about your audience and determine how effective your webinar was.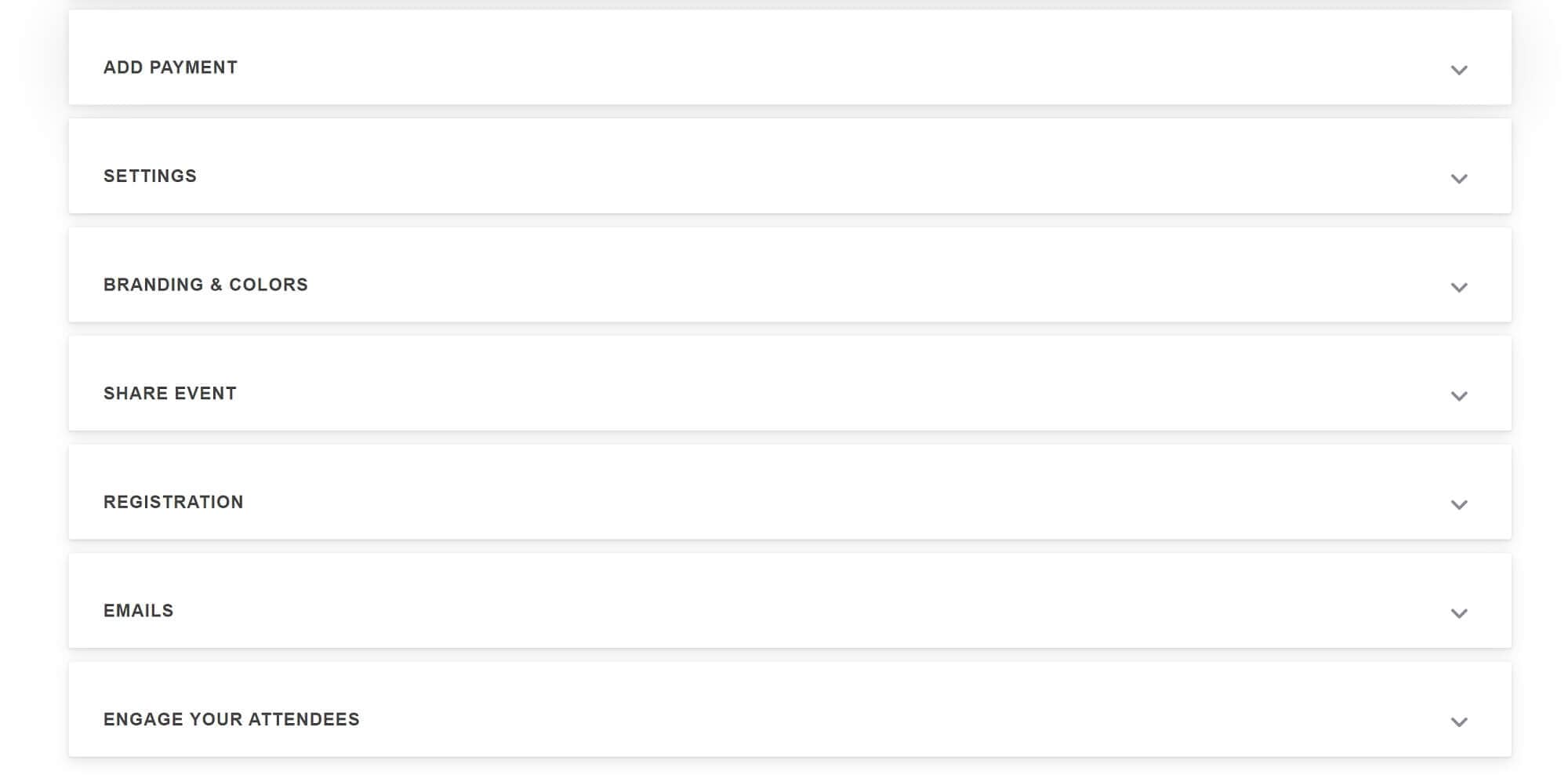 Settings are automatically saved as you update them.
Best practices for how to create a webinar
Hosting a successful webinar is about more than software. You can boost your chances of success by following some basic rules:
Choose the right topic. Your webinar, like all of your content, should be designed to address a specific problem your audience has.
Plan your content. This can be a full script or a point-form outline; the key is to plan enough to keep yourself on track during the presentation.
Leave room for questions. One of the best things about webinars is the opportunity for interaction. Leave 20-30 minutes at the end of your webinar for questions.
Do a practice run. Test the software and your recording equipment before the big day. This is also a good opportunity to run panelists or co-hosts through the webinar process and content.
Of course, you also want to make sure you have the right equipment for the job. Camera quality is somewhat negotiable, but you want to invest in a high-quality microphone like the Blue Yeti.
GoToWebinar alternatives
GoToWebinar is a fantastic tool, but it isn't for everyone. You might not want all of the advanced features, or you may simply not be able to justify the cost. Either way, there are several great GoToWebinar alternatives.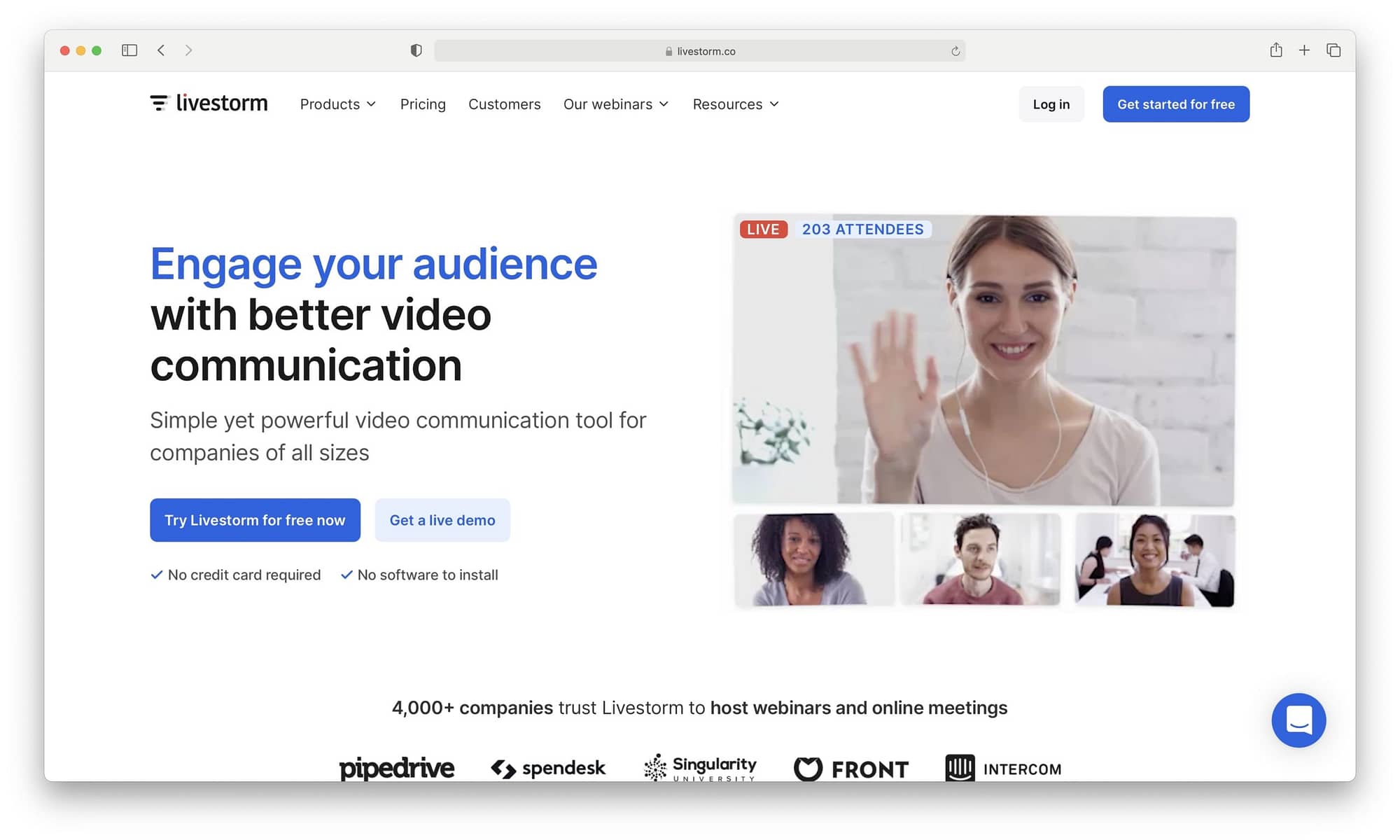 LiveStorm is a popular browser-based streaming tool used for webinars and professional meetings. The software is easy to use, optimized for mobile, and built to maximize opportunities for audience interaction. LiveStorm also integrates with an impressive array of marketing tools, including popular options like Salesforce and Mailchimp.
The company offers a variety of plans for different types of businesses, including a free plan with unlimited 20-minute webinars. This is a great way to test the software out and get a feel for it before you purchase one of the premium plans.
⚙️ Features:
Browser-based // HD streaming // Unlimited webinars // Automated webinar recording // Unlimited replay // Recurring webinars // Guest presenters // Live answer notification // Q&A functionality // Opportunities for custom branding // Customizable registration page // Analytics // Integrations with a wide variety of marketing tools
💵 Pricing: Free for unlimited 20-minute webinars. €89/month for unlimited webinars of up to four hours.
🤔 Who this tool is best for: Users who want high-quality browser-based webinar software that's also free.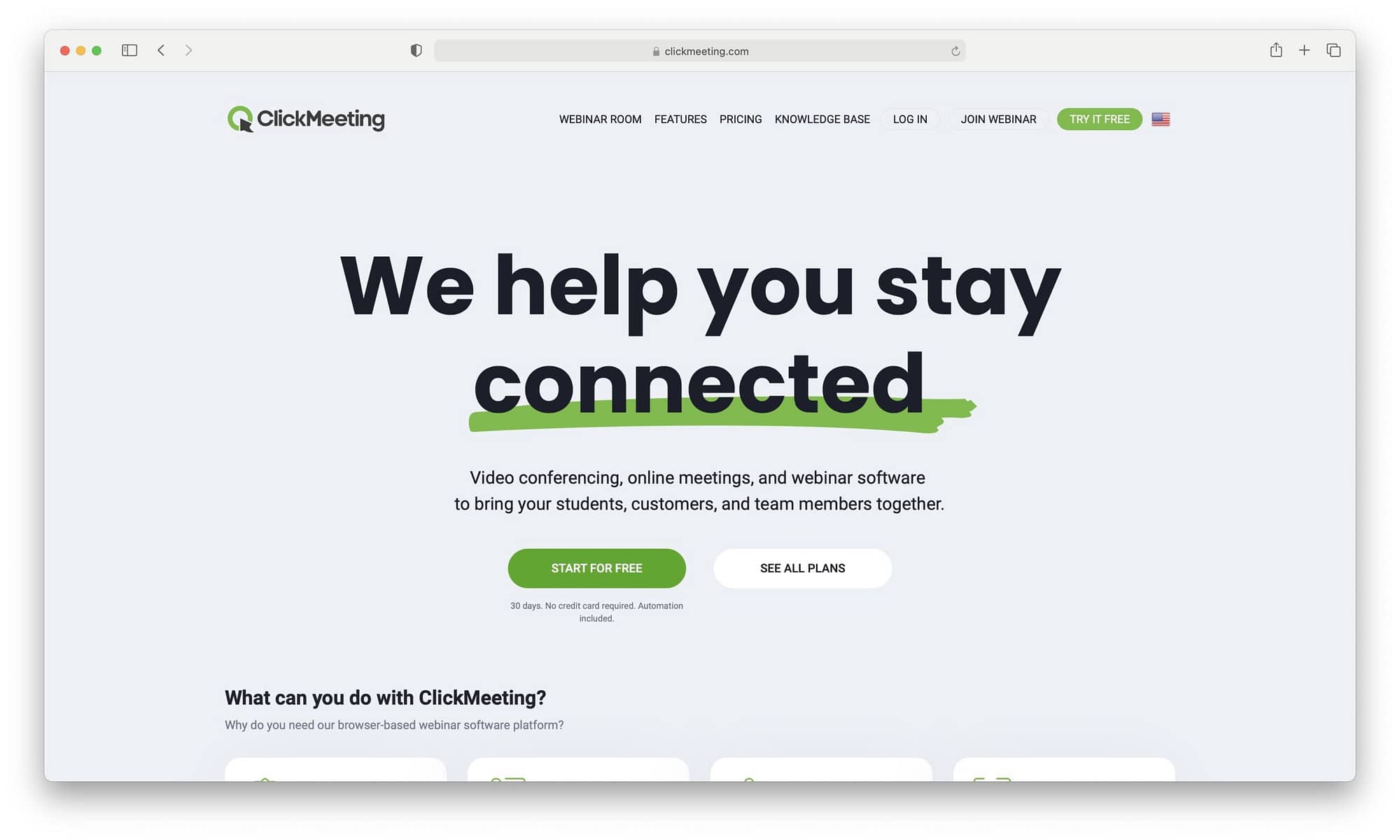 ClickMeeting is an executable software tool for hosting online meetings and webinars. Some of the tool's most notable features are the ability to host parallel events, breakout rooms, and real-time translation. These features make it possible to plan a fully-featured virtual conference.
Another notable feature of ClickMeeting is the ability to charge for your webinars. You can charge in any currency and receive payments through a variety of payment processing systems, including Stripe and PayPal.
⚙️ Features:
Executable local software // Unlimited webinars // Up to four cameras in each webinar // Unlimited online meetings // Up to five cameras in each meeting // Parallel events // Breakout rooms // Recording capacity (storage varies based on your plan) // Screen sharing // Screen control // Presentation mode // Q&A // Polls and surveys // Chat moderation // Event landing pages // Mobile app // Real-time translation // Automated recurring webinars // Automated email marketing // Integrations with a variety of payment systems, marketing tools, and analytics tools
💵 Pricing: ClickMeeting offers sliding-scale pricing based on the number of attendees you want to have in each webinar. For 25 attendees, you'll pay $25/month. For 100 attendees (the standard limit on most platforms), you'll pay $60/month.
🤔 Who this tool is best for: Users who want access to advanced features without paying the full price of GoToWebinar.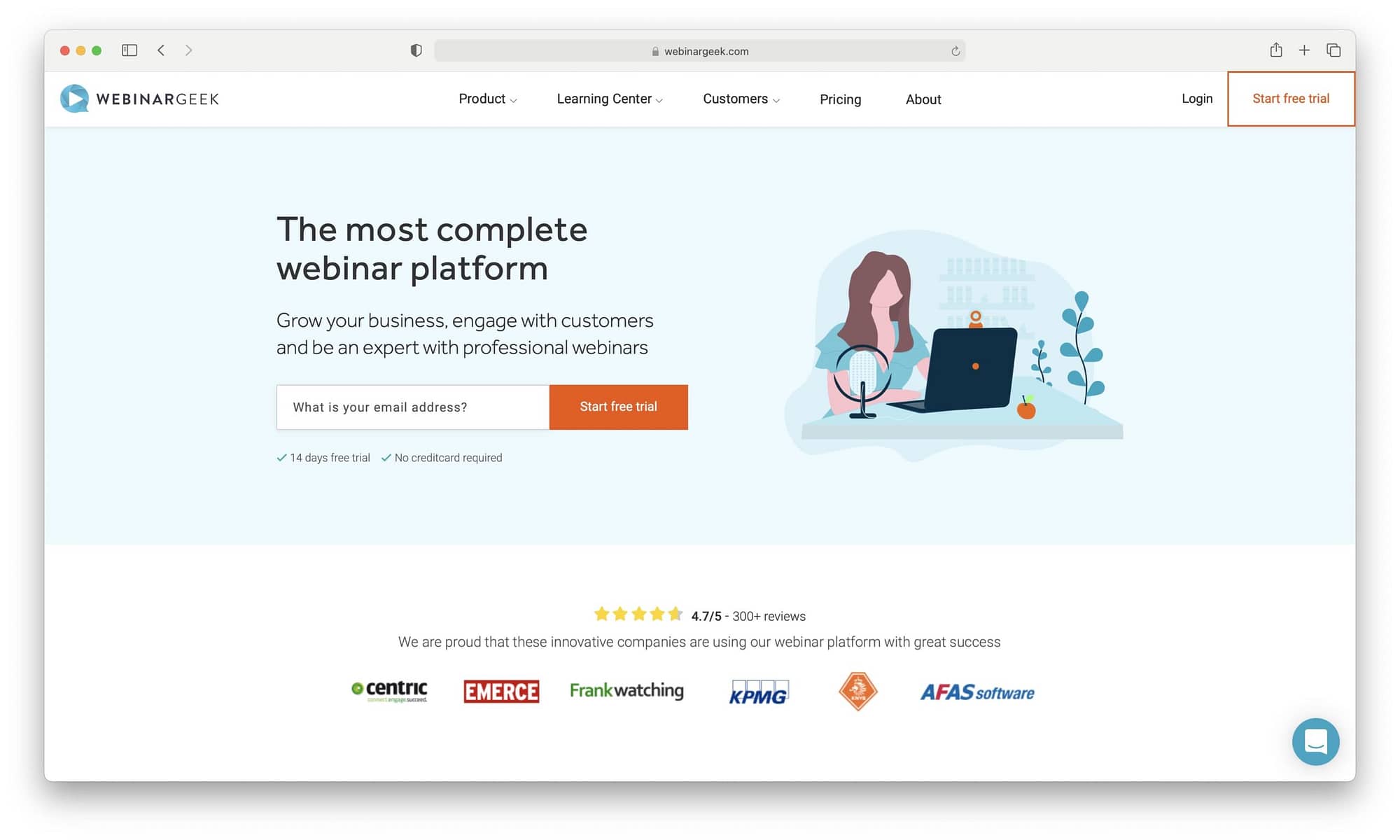 WebinarGeek is a highly reliable browser-based webinar streaming platform. Some of the most notable features are the ability to create measurable registration links, the embedded registration form, and the ability to import contacts who have registered for your webinar in another matter. The program also allows for "Video injection", which means you can play clips of pre-recorded videos during your live webinar.
WebinarGeek is also the most affordable option on this list.
⚙️ Features:
Browser-based // Unlimited live webinars // Recording capacity // On-demand webinars with unlimited replays // Option to offer downloads of recordings // Presentation sharing // Screen sharing // Embeddable registration forms // Personalized emails // Video injection // Co-presenters // Private and public chat, complete with moderation tools // Ability to ask for attendee evaluation // Analytics // Polls // Sales page builder
💵 Pricing: The Starter plan (webinars for up to 25 attendees) is available for $11/month when billed annually. The Premium plan, which allows for up to 100 attendees per webinar and unlocks advanced customization features is $35/month when billed annually. Find out more on the WebinarGeek pricing page.
🤔 Who this tool is best for: Users who want to save money without sacrificing advanced webinar features.
Zoom has become ubiquitous in the streaming world since COVID-19 forced communities around the globe into physical isolation. There's a good chance you're already using it for your internal meetings. If so, you can upgrade your plan to include Zoom Webinars.
Zoom Webinars lets you host webinars with unlimited panelists. The chat function comes with a suite of tools for moderation, including a Q&A tool. You can also connect Zoom to PayPal and charge money for your webinars.
The popularity of Zoom also gives it an edge when it comes to accessibility. Many people already know how to use it, and might therefore be more willing to sign up for webinars with Zoom than with other software.
On the other hand, Zoom doesn't offer the same opportunities for branding and customization. Your ability to customize the emails your audience receives is limited, and there's absolutely zero control over registration pages. This means you lose one of your best opportunities to solidify your brand in the viewer's mind.
⚙️ Features:
Unlimited webinars // HD video and audio // Unlimited panelists // Ability to separate panelists from participants // Live streaming options on YouTube, Facebook and more // Full-featured host controls // Chat // Q&A function // Monetization options // Analytics // Easy recording // Integrations with a variety of marketing tools
💵 Pricing: You must already be signed up for Zoom Pro ($14.99/month). You can then purchase the Zoom Webinars add-on for $40/month/user.
🤔 Who this tool is best for: People who are already using Zoom Pro.
Final advice on how to create a webinar
Webinars are an excellent way to educate your audience, deepen relationships with leads and customers, and establish yourself as an expert. Some advanced webinar solutions even provide the tools you need to host a fully-featured online conference.
💪 GoToWebinar is our top choice for both ease of use and variety of features, but it isn't the only option. Test out how to create a webinar with alternatives like LiveStorm, ClickMeeting, WebinarGeek, or even Zoom Webinars. The only way to be sure of the best webinar software for your business is to experiment.
Finally, remember to plan and practice your presentation. You don't want to embarrass yourself in front of a live audience. 🤕
Do you have any tips for running a successful webinar? Share them in the comments section!
…
Don't forget to join our crash course on speeding up your WordPress site. Learn more below:
Layout and presentation by Chris Fitzgerald and Karol K.