Not sure how to change your WordPress theme without causing issues on your site?
While the basic process of changing your theme only involves a few button clicks, you'll want to put in some extra steps to ensure a seamless changeover when it comes to key details such as menus, custom CSS, custom templates, and more.
In this post, you're going to learn 👨‍🎓 how to change your WordPress theme with the minimum of fuss. Firstly, though, we should discuss why this approach can give you initial problems.
📚 Table of contents:
Why changing your WordPress theme can cause problems
Your site's theme can affect a lot of different areas. Each of these brings its own requirements, compatibility issues, and more. In fact, changing your WordPress theme is one of the more major alterations you can make to your site. This is because your theme dictates how your site looks. As such, your end users will be able to see straight away if there is something not right with your layout.
This situation compounds when you use plugins that bring other customization options. 👉 For example, you might use a plugin to bring in menu customization options, or something that lets you change buttons. Regardless, if the plugin has the potential to change your design, it can impact how you change your theme.
What to consider when you change your WordPress theme
Given that there are lots of considerations, you'll want to be aware of them all before you change your WordPress theme. In our opinion, there are three primary areas to focus on:
Consider whether you need to change your theme. You might not even need to carry out the steps in this article. It's worth looking into how much flexibility and customization your current theme can provide you with.
Check whether all of your plugins offer compatibility with your theme. This is almost essential, in that you will often want your current batch of plugins to work with your theme. Some themes offer explicit compatibility with certain plugins, but you might not know this from the developer's website. Our advice is to drop them an email and ask if there are any issues with your plugin list.
See if you can remove existing plugins based on the theme's functionality. Sometimes, a feature-rich theme will bring its own functionality that negates those from plugins. As such, you might be able to uninstall a plugin or two and get closer to compatibility nirvana.
With regards to the latter, Neve Pro is a good 😎 example here.
It comes with a bunch of functionality and features that you'd often find in third-party plugins. 👉 For example, there's enhanced WooCommerce functionality, a header and footer builder, and even a batch of extra Elementor widgets. All of these have third-party plugin equivalents that you may install, and subsequently uninstall.
A foolproof way to change your WordPress theme (in 4 steps)
For the rest of this article, we'll look at how to switch out your WordPress theme for another without giving yourself a headache. Here's our four-step guide to changing your WordPress theme fast and friction-free.
1. Set up a staging environment and port your site over 🔧
This step is technically optional. However, whenever possible, you should try to do all of your work on a staging site instead of your live site that's receiving traffic (especially if your site is receiving a lot of traffic).
Essentially, a staging site is a copy of your live site, but one that exists in a private sandbox. Any changes that you make to your staging site won't affect your live site until you move them over.
By making your changes on a staging site, you ensure your visitors don't see your site while it's in the transition process.
A lot of WordPress hosts now offer their own staging features, especially managed WordPress hosts. So, it's worth checking to see if your host has a built-in staging feature.
If your host doesn't offer a staging feature, we have a full guide 🎁 on how to set up a staging environment over on the Themeisle blog. We also cover some of the best plugins to help you create a staging environment too.
Each staging setup will be different, of course, so porting your site will have its own unique approach. However, once you do this, you can look at installing another theme.
2. Install and activate your new theme 👨‍💻
The process of installing and activating a WordPress theme doesn't differ here. You'll find that once your site is in a staging environment, you can work with it as you would typically. However, if you want a refresher – or need some help to decide how to choose a new theme – we have a guide for you.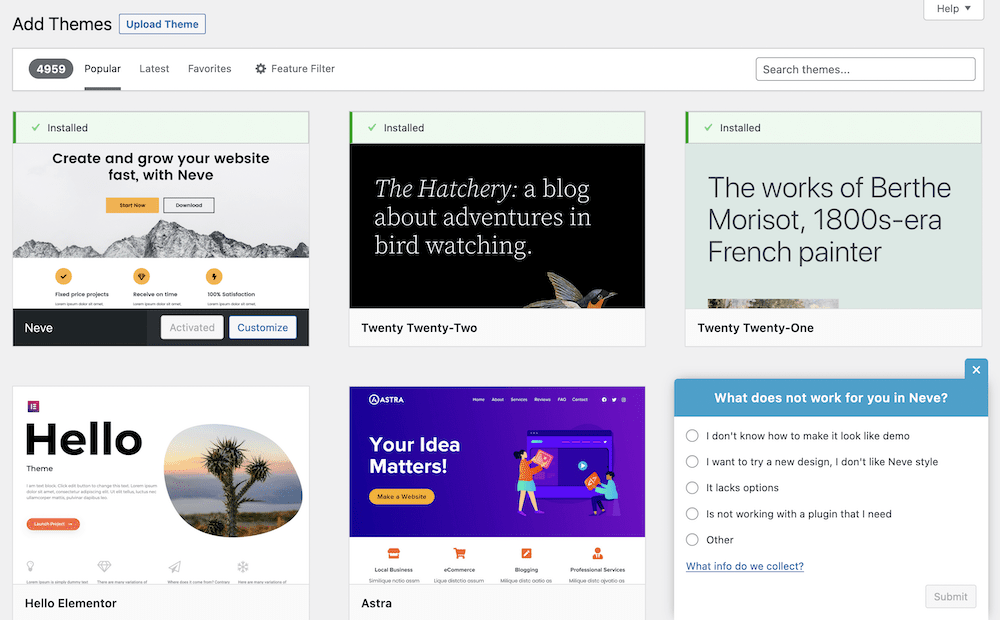 Once you install and activate your new theme, don't delete your old one just yet. You can do this once you resolve any issues. In the next section, we'll discuss this further.
3. Resolve any issues with your new site ⚙️
Once you have a staging environment and your new theme in place, you can begin to look at whether there are any site issues. If you plan as though there are, you'll be able to tackle them in a methodical way.
It's a good idea to start with a general look at your site on the front end. If you have a way to take notes, you can jot down anything that looks odd to you. Quite often, a theme will have its say in key content formatting and styling. If you can check those pages and fix the errors there, your site should look better in a flash. This will obviously depend on your theme in question, but there will usually be an admin control panel to help you. Neve uses the Customizer: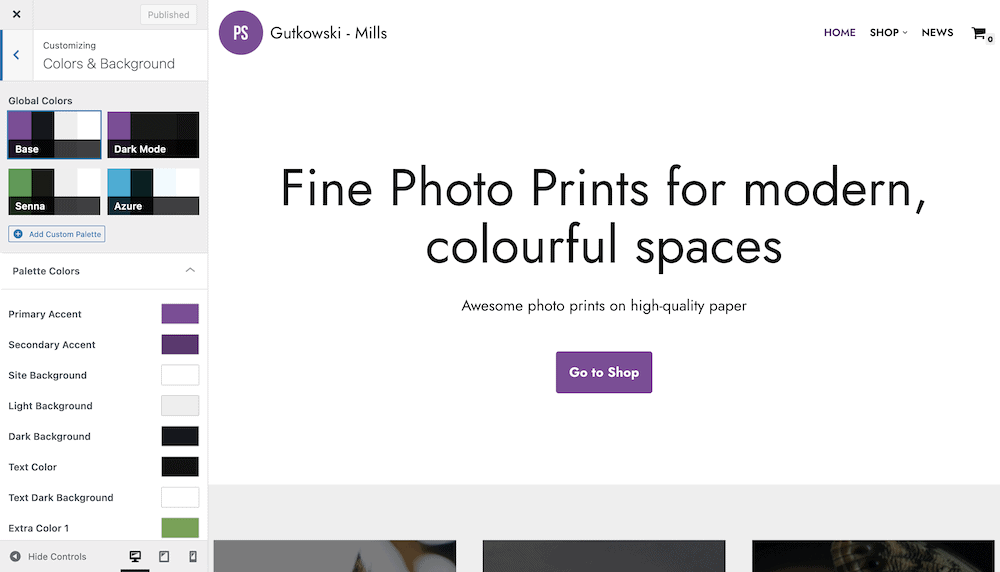 This ties into whether your old theme would use custom page templates or content types. A new theme may have a different way of working with these elements, and your old examples might be obsolete.
Regardless, even if you still want to use them, you'll likely need to make some changes to fit into your new theme's setup. However, this shouldn't be as difficult as you think, because WordPress developers often standardize under-the-hood code.
The simple settings, such as your site identity, also matter. It's because some themes will disable taglines, or only let you use a logo. Of course, this can impact how this looks on the front end:
From here, you can tackle your menus and navigation. This should be straightforward. You'll look at the navigation on the front end, then use WordPress' standard menu interface to change things to match what you'd like. A new theme will again bring a different styling and formatting scheme, so you may need to move things around to get it to look right.
The final step 🚶 is simple. You'll want to move any CSS or custom code from the WordPress customizer (or old admin panel) to whatever your new theme uses to add custom code.
This includes any scripts you use within the header and footer. 👉 For example, the Google Analytics tracking code.
In fact, you may not even need these, depending on your theme and how you choose to create your new design. As always, check out the front end, and let that be the judge.
Checklist of issues to consider:
Here's a quick recap of everything that you'll want to check. Not all of these will apply to your theme, but you'll want to consider all of these areas:
Custom templates
Custom CSS
Site identity information (e.g. taglines)
Headers
Footers
Widget areas
Custom code snippets in <head> or <footer> areas (e.g. Google Analytics tracking scripts)
Any custom blocks or shortcodes that your old theme used (only applies to some themes)
Support for any plugins that you're using
4. Push your complete site live (if using staging) 🌐
If you used a staging site to make your changes, the last step in the process is to "push" the staging version of your site live. Essentially, this means that the staging version of your site will overwrite the live version.
If you're using your host's staging tool, you should be able to do this just by clicking a few buttons. Most staging plugins also offer similar functionality.
Change your WordPress theme today 🥷
WordPress can make the process of changing your theme straightforward, but the platform has no way to control how you manage your site. If you choose to use custom code, templates, post types, and more, you run the risk of introducing an incompatibility.
While you might know how to change a WordPress theme, you'll want to do this without a hitch during the switchover. If you use a staging environment, you can check these elements out before there's a problem. The key 🔑 is to make sure the site is perfect before you push it live.
Do you have any advice on how to change a WordPress theme without error? Share your thoughts with us in the comments section below!
…
Don't forget to join our crash course on speeding up your WordPress site. Learn more below: