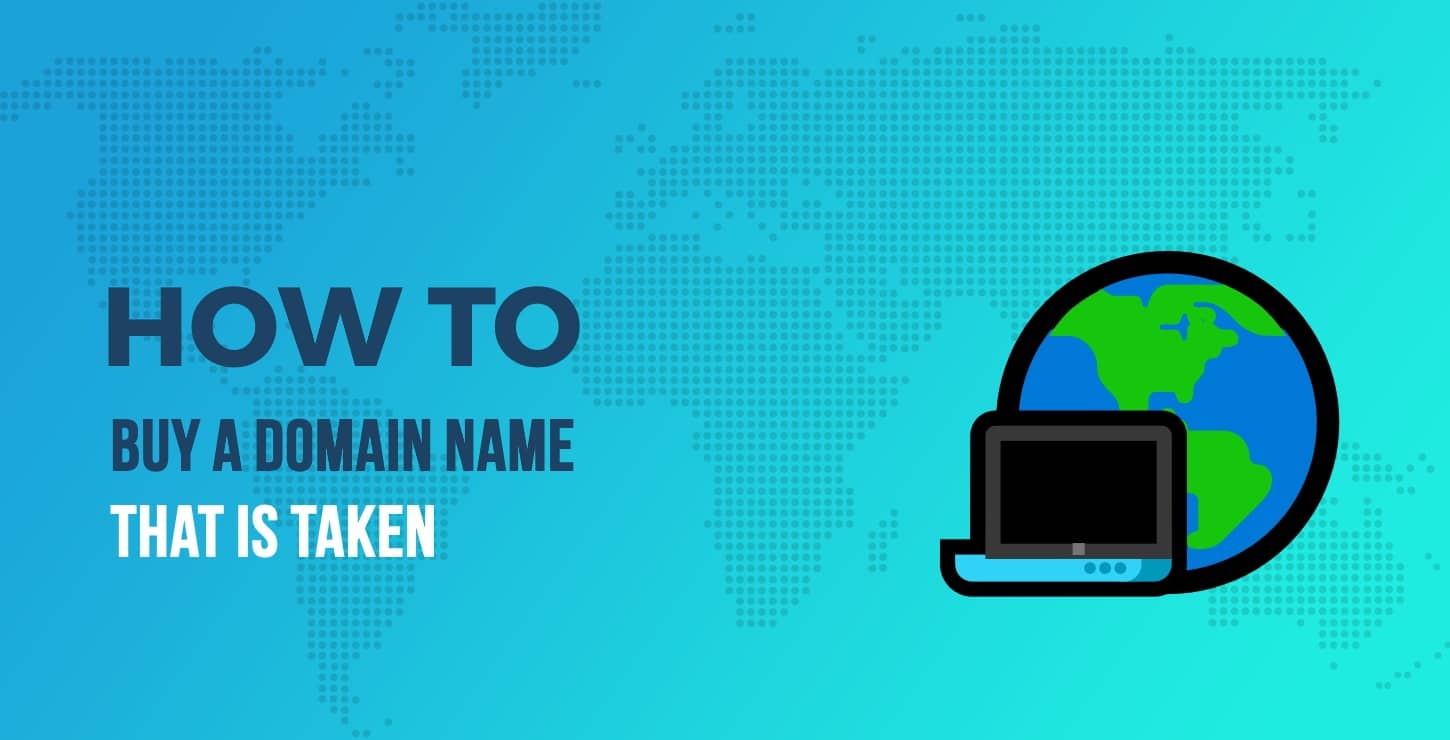 You've decided to start a new venture and you've come up with the perfect name. But when you search for the domain you want, you discover that someone already owns it. So what do you do? Do you give up and change your business name, or do you figure out how to buy a domain that is taken? If you want to choose the latter option, you've come to the right place.
This guide will share not only why it's so important to get the exact domain you want, but also give you step-by-step instructions on how to buy a domain that is taken.
Before we begin; don't just go and get a different TLD
If your desired domain name is taken, you might be thinking that there's a third option worth considering: getting the same domain but with a different TLD, like .net or .org instead of .com.
However, this is not a good idea. First off, people will never remember what your correct TLD was, so they will usually go for .com anyway – ending up at the wrong website.
Additionally, registering existing names can also result in legal trouble. The owner of the original .com might argue that you're trying to infringe on their brand name by registering a similar domain name.
At the end of the day, you're really better off either trying to get the original domain name that you wanted from the start, or changing your focus to a different name entirely.
With that said, let's talk business:
How to buy a domain that is taken
You can buy a domain that is taken by following these steps:
1. Check what the domain is currently being used for
Your first step should be to visit the domain you want to buy. Is there a real website there? Has it been updated in the past few years? If the answers to both questions are "yes", the owner of the domain is probably not interested in selling it. If there's a real website but it hasn't been updated in several years, you're more likely to get the domain, but there's still a strong chance the owner will refuse to sell it.
On the other hand, if the website you see is simply a placeholder, you can approach the domain owner with confidence. If the domain owner buys and re-sells domains on a regular basis, they might even have a page up linking to the domain buying service they prefer to work with.
Here's an example of what a parked domain usually looks like – owners of such domains are usually just waiting for the right offer to come their way: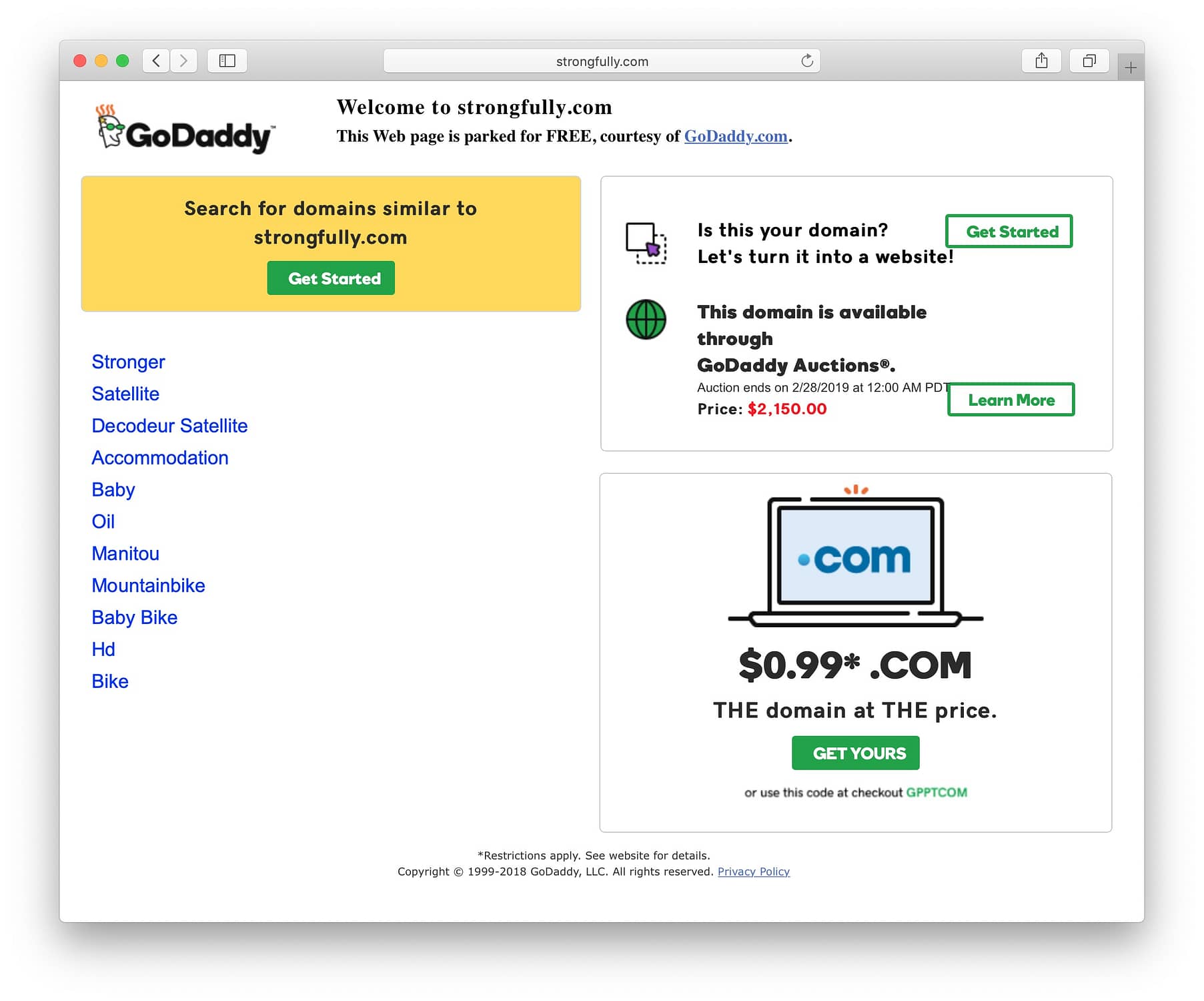 2. Find out who owns the domain name
Once you've determined that the domain isn't being used for an active website, your next step is to find out who owns the domain. The easiest way to do this is by using a WHOIS service. There's a number of websites where you can do this sort of lookup, but, most of the time, you'll get a set of standard information from any of them:
when the domain was registered,
who the domain was registered by,
how to contact that person or company,
and even when the domain's current ownership expires.
You may also see other information related to the purchase, but for the purposes of getting that domain, the owner's email address is really what you want.
Example results of a WHOIS lookup: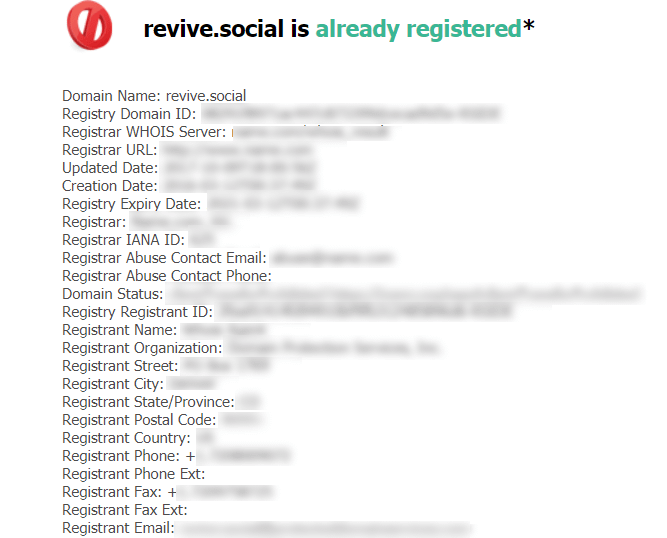 Some domain owners will have purchased privacy protection and their names won't appear in a WHOIS search. In these instances, it will be difficult to purchase the domain unless you can find it on a domain auction site or marketplace like Sedo, Namecheap, or Flippa.
3. Determine what you're willing to pay
Now that you know the domain is available, and before you contact the owner, decide what you're willing to pay for it. This can be tricky since there's no agreed-upon value of a domain, but you can get an idea of what prices are by searching through a domain marketplace like Flippa's.
Here are some factors to pay attention to when figuring out how to buy a domain that is taken:
Keywords – Domains with popular keywords in them are worth more because of their ability to rank high on Google and other search engines.
Generic value – A domain that can be used by almost any business within a given industry (for example, socialmediamarketing.com) has generic value.
Brandability – When a domain lacks generic value or a strong keyword, its main value lies in its brandability. Short, memorable names that are easy to spell are easy to build a brand around.
Age – Older domains are generally considered more valuable.
Length – Or rather shortness. The shorter the domain, the more valuable. Usually, landing your hands on a three-letter .com will cost you a lot.
Before you approach the current owner of the domain you want, choose both the base amount you're willing to offer and the maximum amount you're willing to pay – they can even be the same number if you want – for the domain before you approach the owner.
Pointing out specific brackets that make sense for your desired domain name isn't very doable, I'm afraid, so you'll have to do the research on your own. As I mentioned, start by going to Flippa or some other marketplace and look for domains that are similar to the one you want. See the price tags on them.
Look for domains of similar length, similar keyword value, generic value, and similar age, this should help you estimate the price to a degree, and also decide if you can actually afford that domain in the first place.
4. Contact the owner
If your search is successful, there are two ways you can contact the owner: by reaching out directly, or by using a domain buying service (domain broker).
To reach out directly, simply use the information found in your WHOIS search to send a polite email offering to buy the domain. You can include some information about who you are and why you want the domain, but keep your email brief. Include your initial offer in the first email to speed up the negotiation process.
If you use a domain buying service, a broker will reach out to the domain owner and conduct the negotiation process for you – a great path to take when learning how to buy a domain that is taken.
Check out this list of popular domain name services and marketplaces (some of them I already mentioned above):
You will have to pay fees for some of these services, but they will also ensure that you receive your new domain name safely. Plus, those fees are typically relatively small.
5. Negotiate the purchase
Once you've established contact with the owner, it's time to negotiate your terms of purchase. This includes price, how the domain will be transferred, and what region's laws will apply to the sale. There are example domain sale agreements available online, but if this is going to be a more expensive purchase, it's always best to speak to an actual attorney before taking the leap.
Make sure you consider the safety of both the financial transaction and the domain transfer during this process. Avoid eTransfers and wire transfers. Instead, use a site like Escrow to transfer your funds securely. Escrow allows you to deposit the funds first, so the domain owner can see you're prepared to pay, and then authorize the transaction later when you've got the domain.
If you use a service like Escrow, you will need to transfer your domain separately. Luckily, there are standardized processes for transferring domains. Here's an example of how things work at DreamHost. You'll find similar tutorials with other domain registrars as well.
The other option for making your final purchase is to use a domain aftermarket service like the one provided by GoDaddy to ensure that all parties are protected during the domain purchase process. Again, you will pay an extra fee for this service, but it will ensure that your money stays safe. Some of these services are connected to domain registrars and may also be able to help you conduct the domain transfer.
How to backorder a domain
The process outlined above is the easiest way to buy a domain name that is taken, but sometimes that isn't possible. If you still can't get the domain you want, your other option is to backorder it.
Backordering means that you wait for a domain's ownership to expire and purchase it the moment it becomes available.
However, keeping track of a domain's expiration date manually can be tricky, so you'll want to use a backordering service.
Some of the popular options: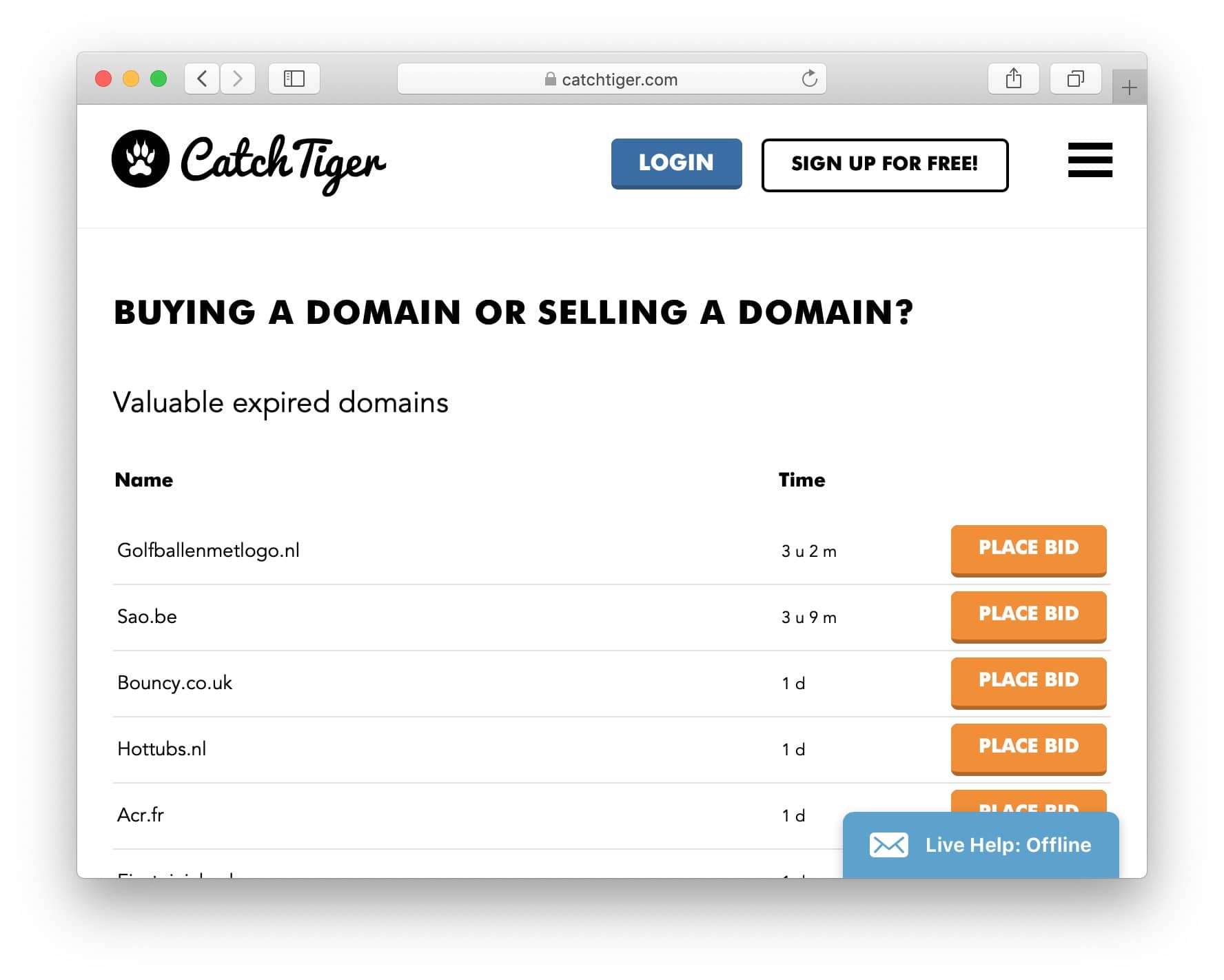 However, even if you use a backordering service, there's no guarantee that you'll get the domain you want. The current owner still has to let their ownership of the domain expire, and many hosting services give owners an extra grace period where they can renew after the official expiration date. Typically, that's 75 extra days.
No luck?
If you want to start your new venture sooner rather than later and you can't get the domain you want through the ordinary process, you should seriously consider seeking a different one. If you're lost for ideas, check out any of the awesome domain name generators featured in our post on that topic (on that list at the very top of the page). What's great about them is that they will suggest a number of options based on your seed keyword.
Have your domain? Good! Here's what's next
With your domain name registered, the next natural step to take is getting a good hosting setup, so that your future website is off to a great start.
Lastly, if your ultimate goal is to start a blog, read this guide of ours. It covers all the steps to building a successful blog – from 0 experience to 150,000+ readers every month.
I hope this guide on how to buy a domain that is taken has been helpful.
If any of the steps described above aren't clear, feel free to ask away in the comments.
Don't forget to join our crash course on speeding up your WordPress site. With some simple fixes, you can reduce your loading time by even 50-80%: