The question of how to build your own website is something that many people struggle with. And especially if they're beginners who haven't previously owned a website.
Websites are (believed to be) expensive 💰, complicated ⚙️, and overall stressful to manage 🤕.
Or are they?
Well, as some of you know, it doesn't have to be like that at all. Depending on how you go about building your site, it can be inexpensive, simple, and easy to manage all at the same time.
This guide will show exactly how to achieve that – how to build your own website and not lose your shirt or your mind along the way.
We try to leave no questions left unanswered, and show you hands-on how to get through all the steps to a great-looking and functional website so you can start a blog or an eCommerce business right now.
💡 Not a beginner? Already know how to build a website? If that's the case then please treat this guide as something that you can send to other people and show them how uncomplicated the process of building a website can be. This can also be useful when you don't want to repeat yourself for the thousandth time when someone asks you how to build a website.
Here's what we're going to cover:
👉 FAQ on how to build a website
👉 How to choose a website builder
👉 How to build your own website on Wix
👉 How to build your own website on WordPress
👉 The features that every modern website needs
👉 Next steps?
Looking for more resources on how to build a website?
FAQ on how to build your own website
"Can I build a website for free?"
Yes. You surely can.
However, you will have to make some compromises along the way. There are some limitations to free websites, and we will talk about them later on.
"If not for free, then how much do I have to spend to build a quality website?"
Now we're talking! The good news is that it's less than you think.
We're going to get into the specifics later on, but what I can tell you now is that starting with a budget of $40-150 a year is going to be enough. (Yes, owning a website is an annual cost, not just one-time cost.)
"Can I start a website all on my own?"
Yes. We're going to show you how to do that exactly.
"Will I be able to edit texts, images and other content on my site?"
Yes, the beauty of the solutions we're going to show you is that they give you full content editing features even after you create your website and make it public.
You can also add images and other media files to your website via the same easy-to-use interface. Just remember to keep your images optimized for the web.
"I can't design. Will my website be ugly?"
There's no reason why your website has to be ugly. We're going to show you how to make your site quite handsome even if you don't have a design muscle in your body.
There are a number of options out there that don't require you to touch Photoshop, Illustrator or any of the pro-level design tools. There are more than enough ready-made solutions that are mostly plug-and-play.
For instance, if you want to start an online store (a note on that later), instead of building it from scratch, you can go to Shopify and pick one of many available design themes. There are some great options to choose from, and also quite a few free ones as well.
"Do I need any previous experience? Will I have to code?"
No.
"Can I sell products directly from my website?"
This is a bit more complicated. We're not going to talk about online stores here, just standard websites.
If you want to learn how to start an online store, read this guide. Additionally, here's a comparison of the best eCommerce platforms you can use.
Choose a website builder
Surprise, surprise, we're not going to be building a website by hand – as in coding it in HTML and CSS.
What we're going to do instead is use a website builder that has a simple interface and removes us from the need to know what's going on under the hood.
Website builders of today are more of a fill-in-the-blank and push-button solutions than anything else. This is a huge advantage over the old school ways of writing code by hand and seeing how it all plays out. Those days are long gone, thankfully!
That being said, it's not like our choice is easy. In fact, there are more than a dozen practical tools that can be called a website builder, and some of them are going to be more suitable than others based on a couple of factors.
To narrow things down, we're going to focus on two of the most popular builders: WordPress and Wix.
Fundamentally, these are two completely different solutions, but we'll help you choose which is going to be better for you.
If you want to learn more about different website builders, check out any of these resources:
Best website building tools? WordPress and Wix!
Here's what they are all about: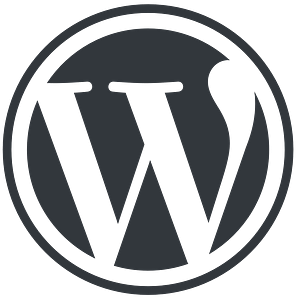 open-source website software
you have to get it installed on a web server before you can use it
apart from WordPress itself, you also need a separate hosting account and a domain name to build your site
gives you full control over your website, the content you have on it, the design you use
you get thousands of website designs to choose from
there's no customer support from the WordPress team, but you do get support from your web host
online tool for building websites
just sign up for an account and start building your site right away
all-in-one box solution – you don't need anything else except Wix itself to build your own website
you're allowed to do only what's in Wix's terms of service
you get hundreds of website designs to choose from
you get customer support from the Wix team
The cost of WordPress vs Wix
The pricing of Wix is this: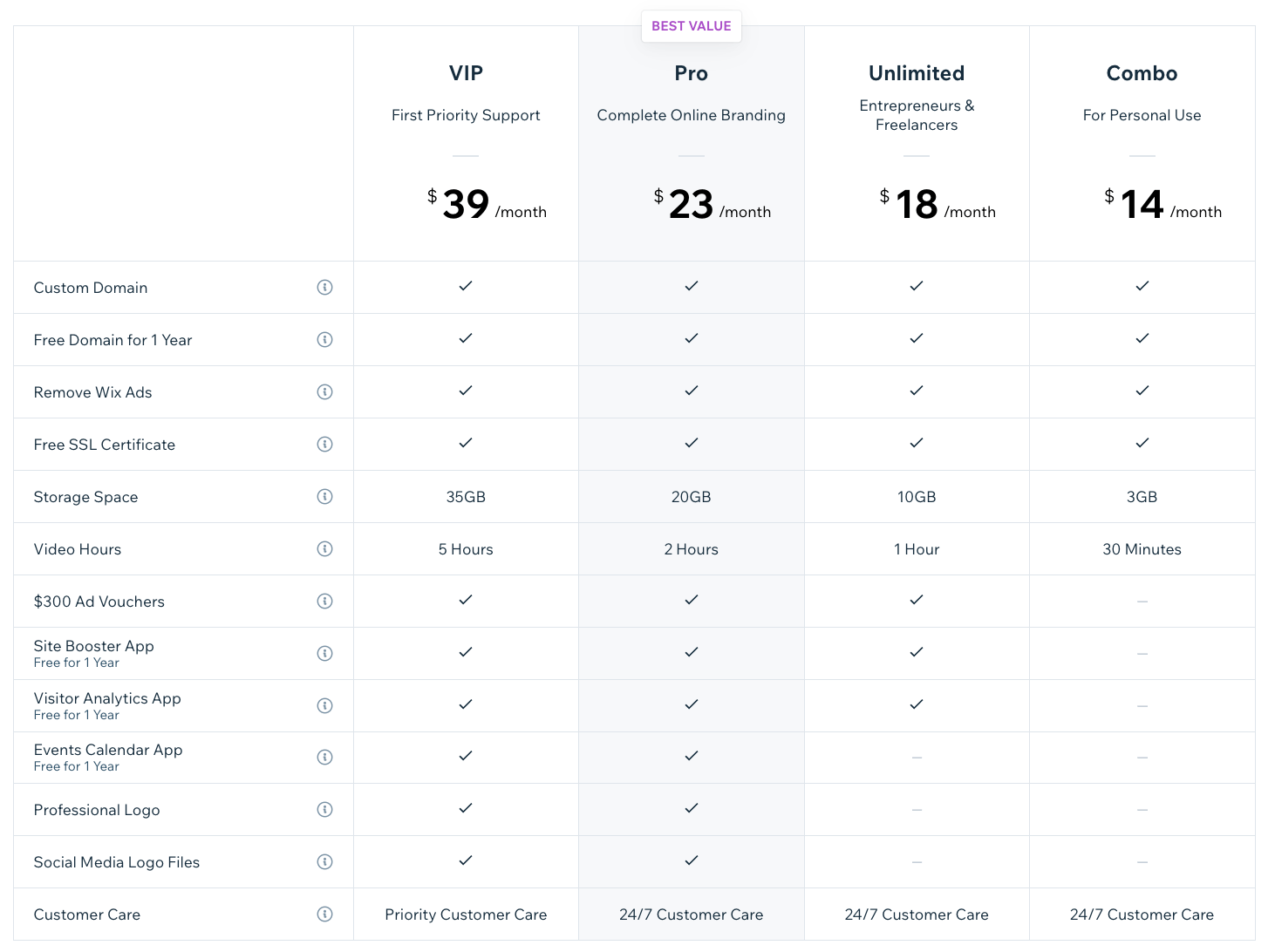 Apart from those options, there's a free plan available as well. The limitations on that are:
You can only launch your site under a subdomain; like USERNAME.wixsite.com/SITENAME
Wix ads will appear on every page within your site
You're limited to 500MB of disk storage and 500MB of bandwidth
In total, if you want to build a site for personal use, on a custom domain name, and get rid of Wix's ads, then it's going to cost you $16.00 per month.
With WordPress, things are a bit more complicated. The WordPress software itself is free. The cost of building a WordPress website depends, though, on how much you pay for hosting and a domain name.
To keep things budget-friendly, you can get the hosting and domain from Bluehost. The plans start from $2.75 a month, and you get a free domain name bundled in for the first year. Here's the full pricing: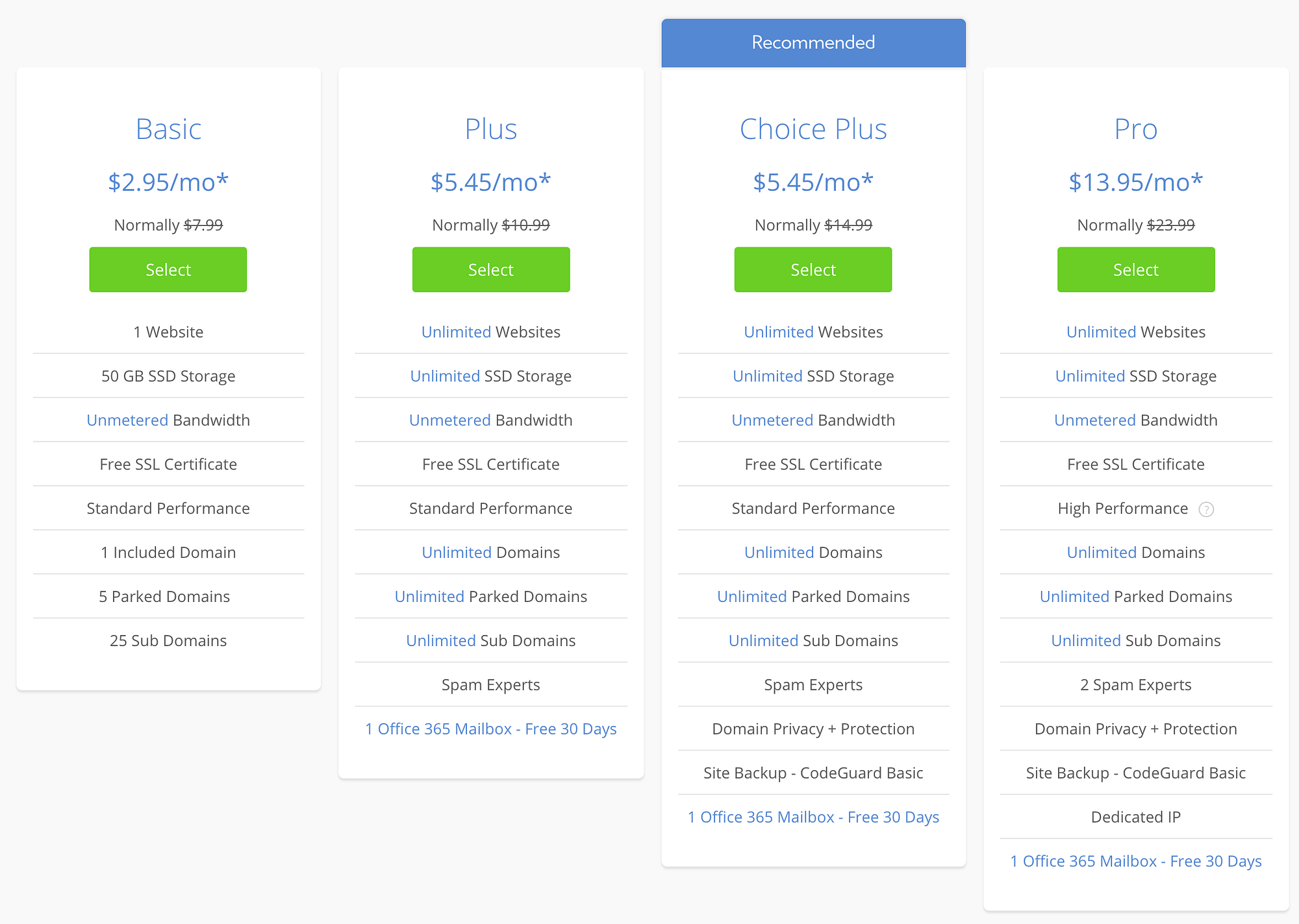 What's also worth pointing out is that Bluehost will install WordPress on your hosting setup for you, so no need to get your hands dirty.
Overall, this lets you build a site for $35.40 in your first year, and then pay an additional ~$15 each consecutive year for the domain name (the domain name is only free for the first year). Also, keep in mind that to get this low price, you'll have to pay for three years upfront (so it's $106.20 in total).
Another thing to keep in mind is that what we're talking about here is launching just a basic site with WordPress. If you will need things like online payments, additional plugins, premium themes, then your costs will rise.
Here's how to decide between WordPress and Wix
Deciding whether to use Wix or WordPress to build your website is not super easy. You should take into consideration at least a couple of factors. Here's how things play out in general terms:
WordPress vs Wix

| | WordPress | Wix |
| --- | --- | --- |
| Features | ⭐⭐⭐ | ⭐⭐ |
| Designs | ⭐⭐⭐ | ⭐⭐ |
| Ease of use | ⭐ | ⭐⭐⭐ |
| Control over site | ⭐⭐⭐ | ⭐⭐ |
| Price | ⭐⭐⭐ | ⭐⭐ |
Have your favorite? Great! Next, we're going to talk about how to build your own website with either platform.
How to build your own website on Wix
The great thing about Wix is that you can build your own website all in one go, without ever leaving Wix.com. The interface takes you by the hand all the way to a working site.
Here's how to get everything done:
1. Create a Wix account
Go to the Wix homepage and click on Get Started. Enter your email address to create an account.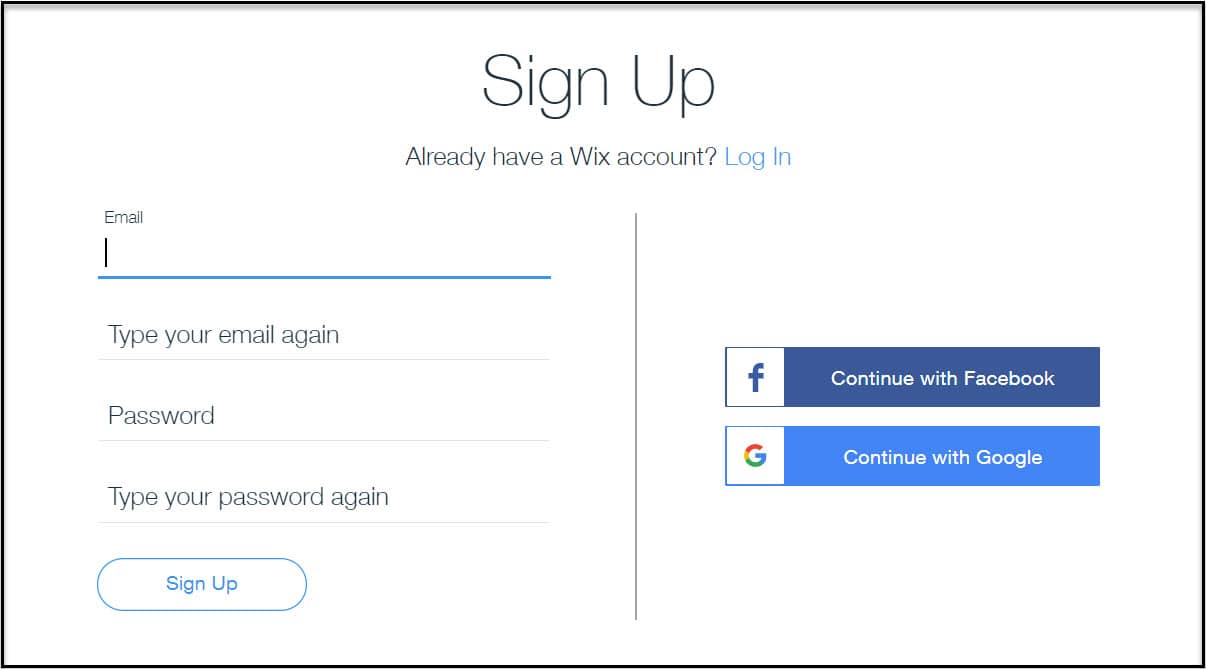 Wix will ask you a series of questions about your new website.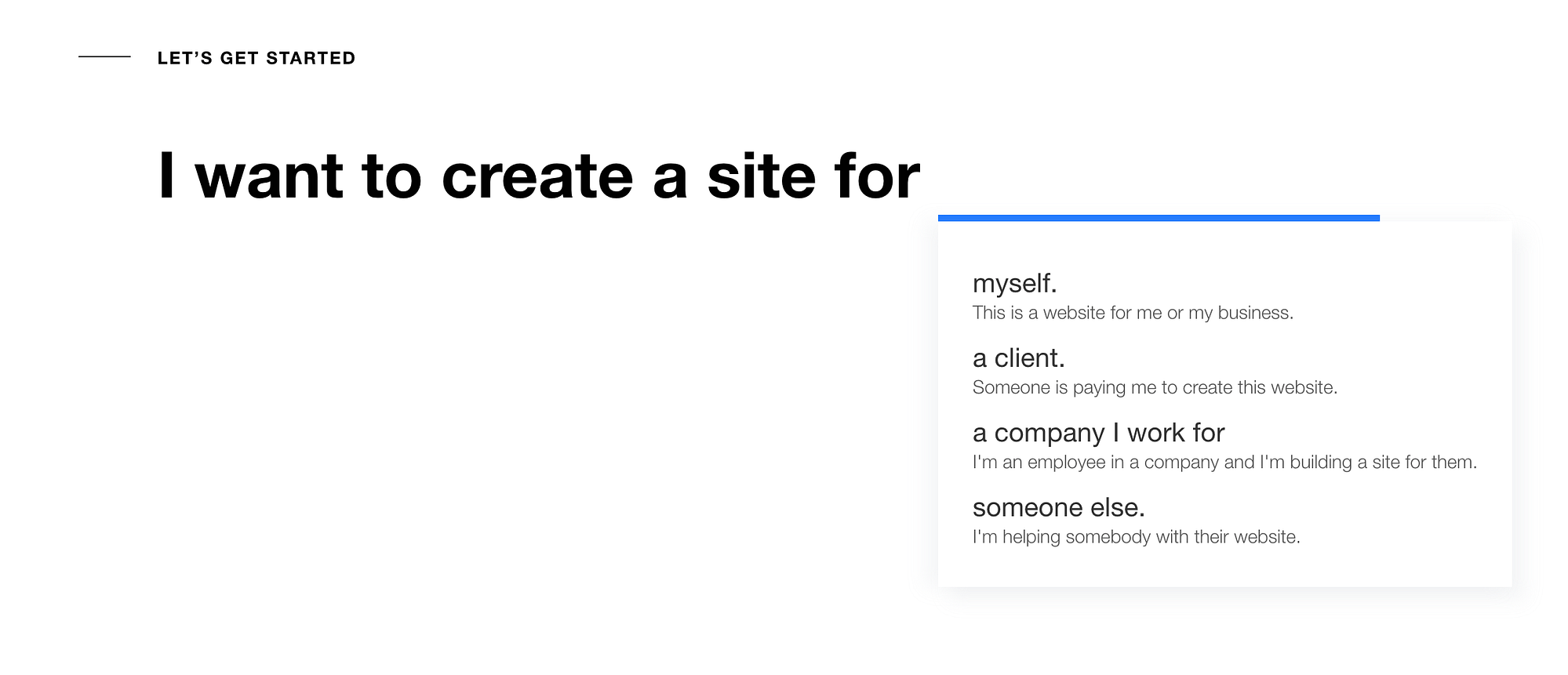 2. Let Wix ADI do its magic
In this next step, Wix uses your answers in its cool Wix ADI tool (Wix's artificial intelligence module) to prepare a tailor-made website for you.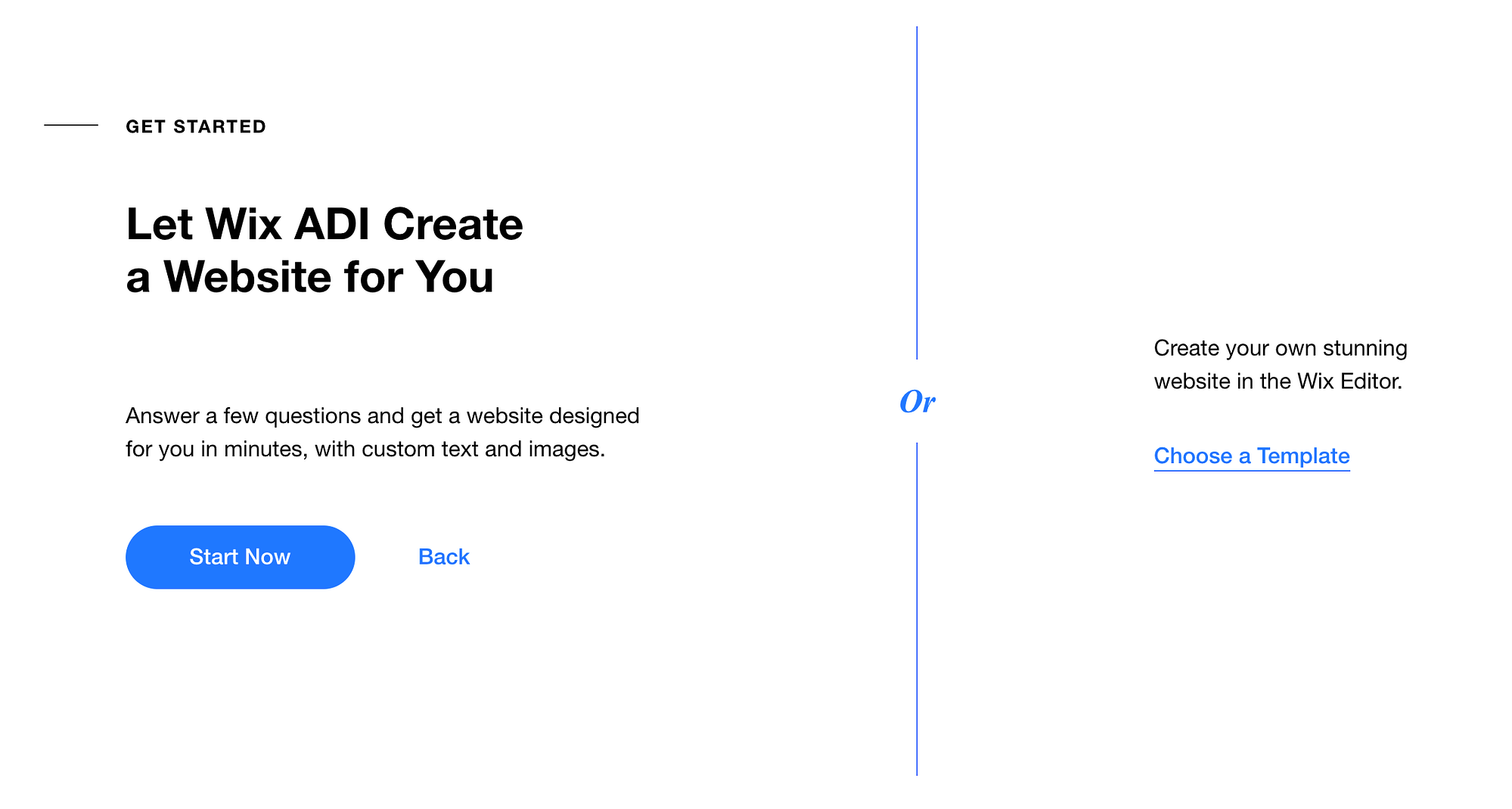 What's great about it is that Wix will take you by the hand through the entire process, without requiring you to understand what's going on under the hood.
3. Pick a design
Based on your answers, Wix ADI will suggest some design options that you might enjoy: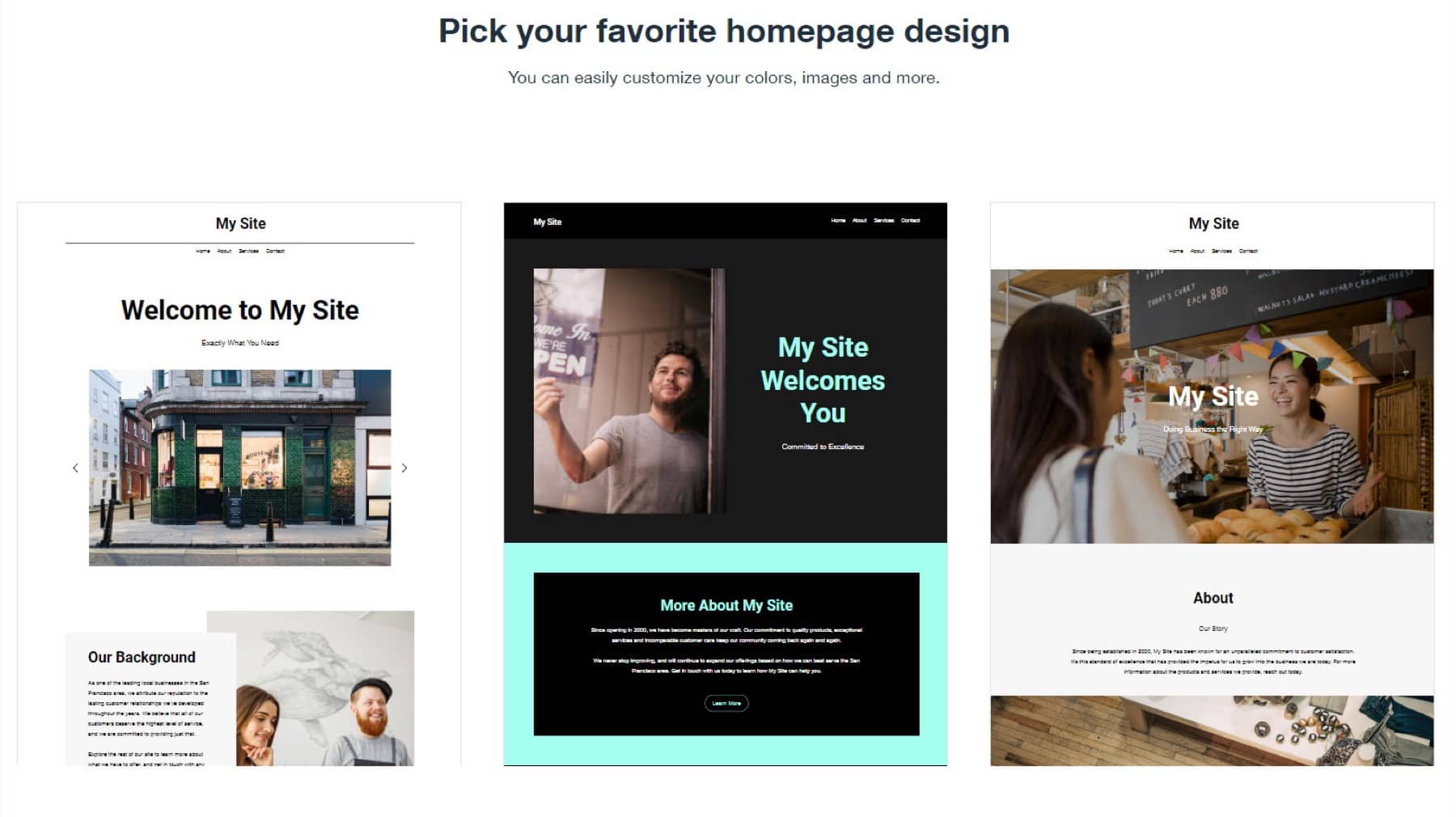 You'll be able to customize that design later on, but you won't be able to change it to something else entirely, once you finish building your website.
3. Customize the site
When the ADI finishes its job, you can fine-tune your design and make it truly fit your needs.
The website builder interface is very clear and highlights all the key areas where you should focus your attention first.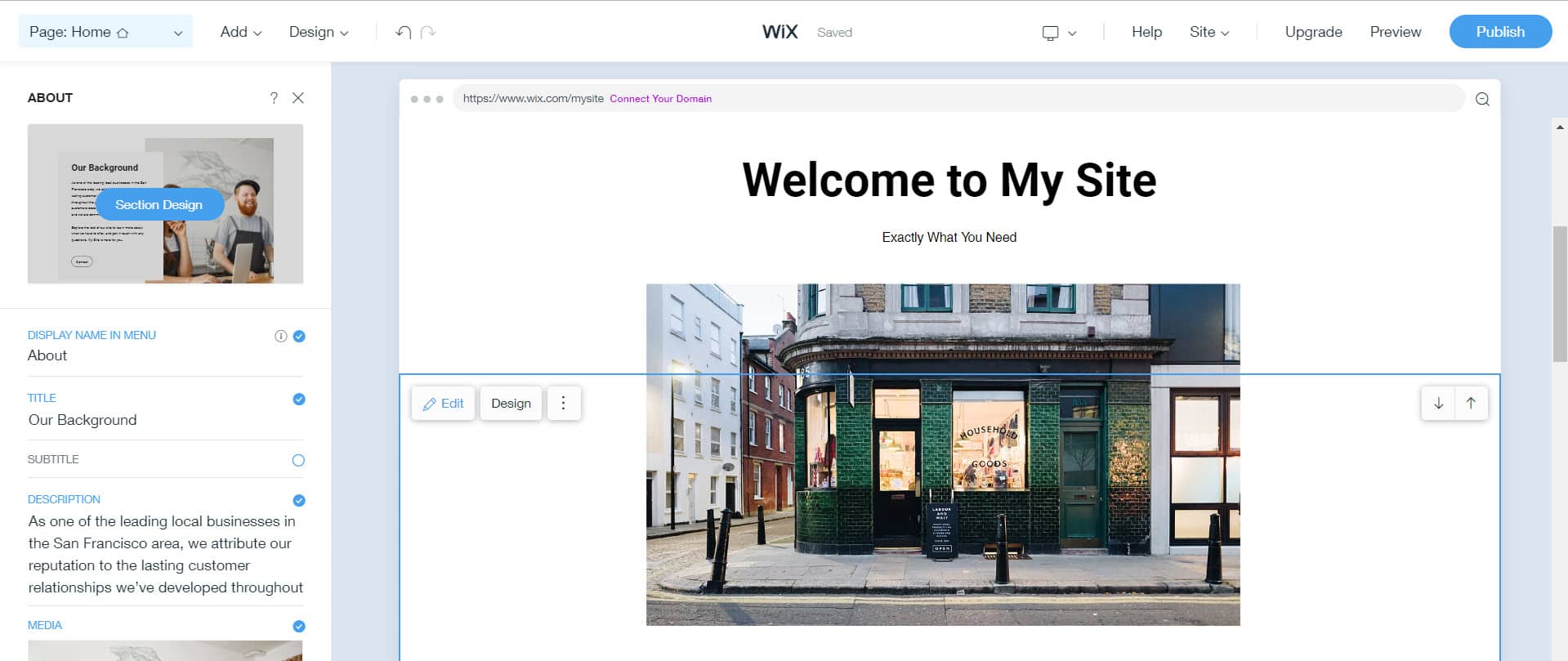 In it, you can:
Edit the elements on the page. Click on any element on the page to customize it. You'll see the element's settings in the sidebar on the left. The options allow you to change the texts, images, colors, and other details about the element.
Click on the arrows in the upper-right corners to realign the elements.
Click on the buttons labeled Design in the upper-left corners to change the element's design style.
Add new elements and sections to the page by clicking on the Add link in the top bar.
Add new pages by clicking on the Page → + Add Page button in the top bar.
Let's talk about adding new pages for a second. Ultimately, when you want to add a new page, you'll see the exact design interface as when customizing the homepage. The usage is the same, and the range of available content elements is the same as well.
Wix also offers you a set of pre-made templates for basic types of web pages, like about pages, contact pages, sales pages, and more.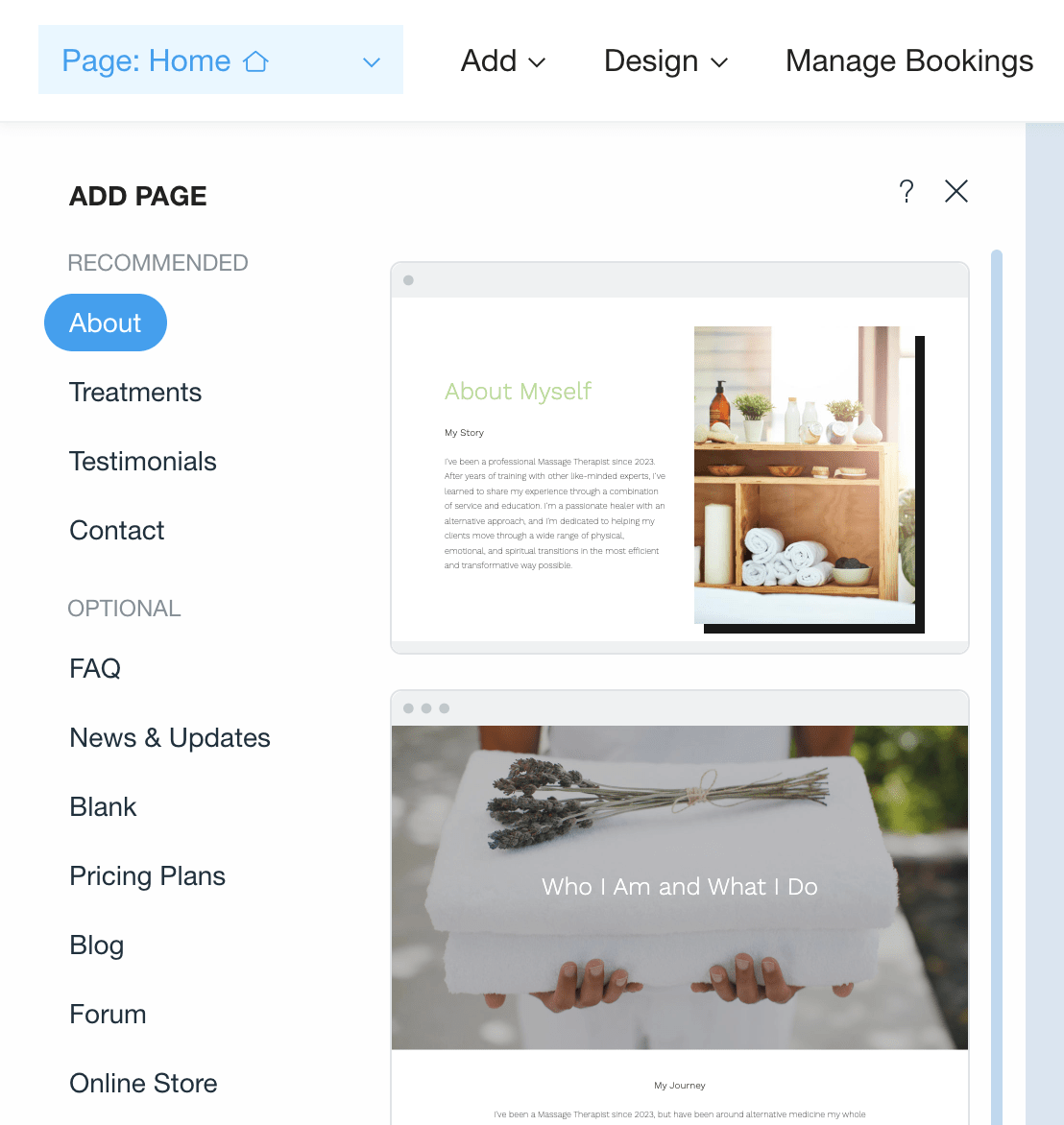 4. Add functionality via Wix apps
Wix comes with a lot of built-in features, but if you want more, you can add those via the Wix App Market. You'll find apps for email tool integrations, analytics, and more.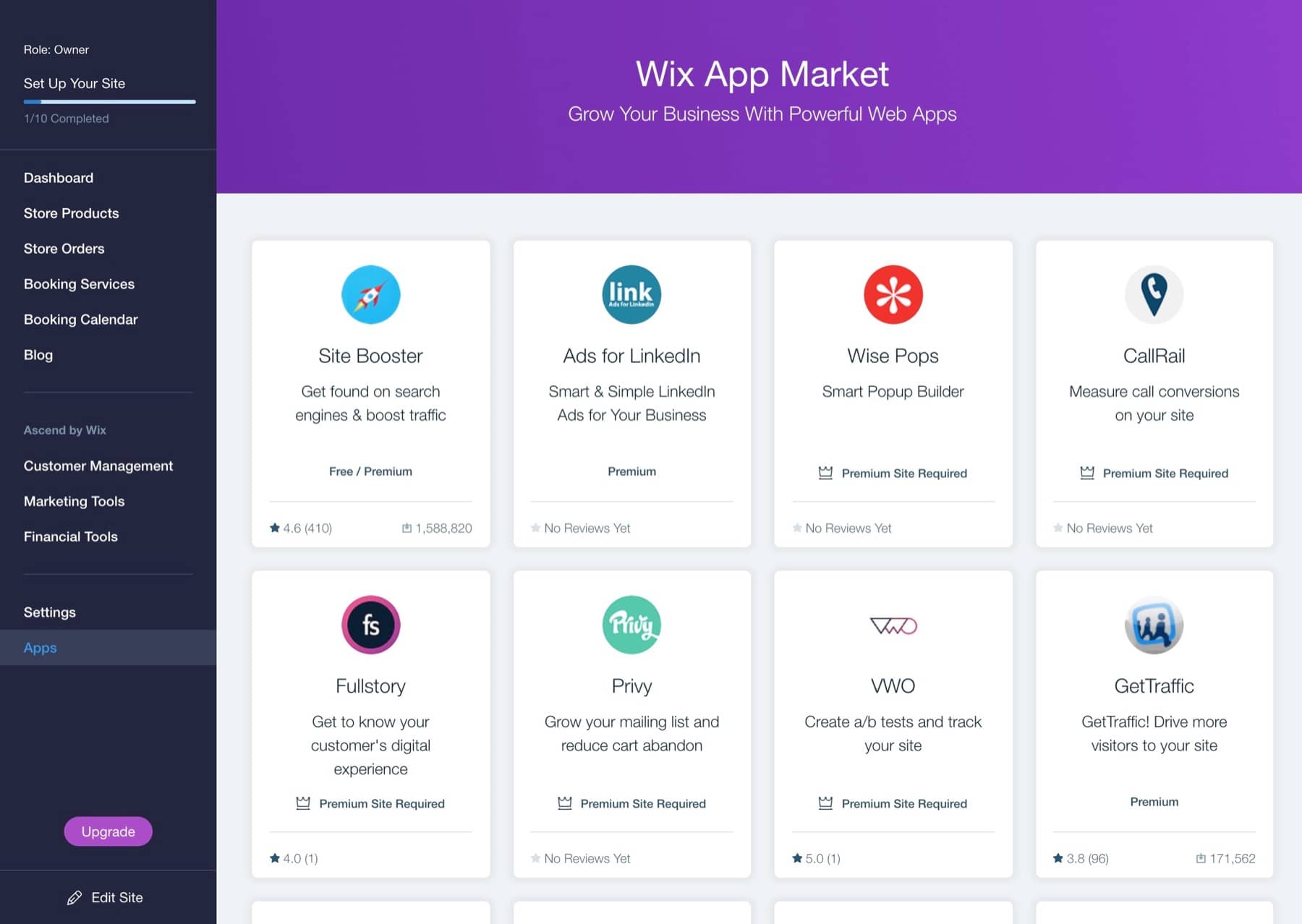 Just install any app with a couple of clicks and then configure it via the app's settings accordingly.
5. Set a name, domain, pick a plan
When you're happy with the look of your site, you can finally publish it for the world to see.
To do that, click on the Publish button in the top right corner of the Wix UI.

Next, choose whether you want to register a new domain name or stay with the free Wix subdomain.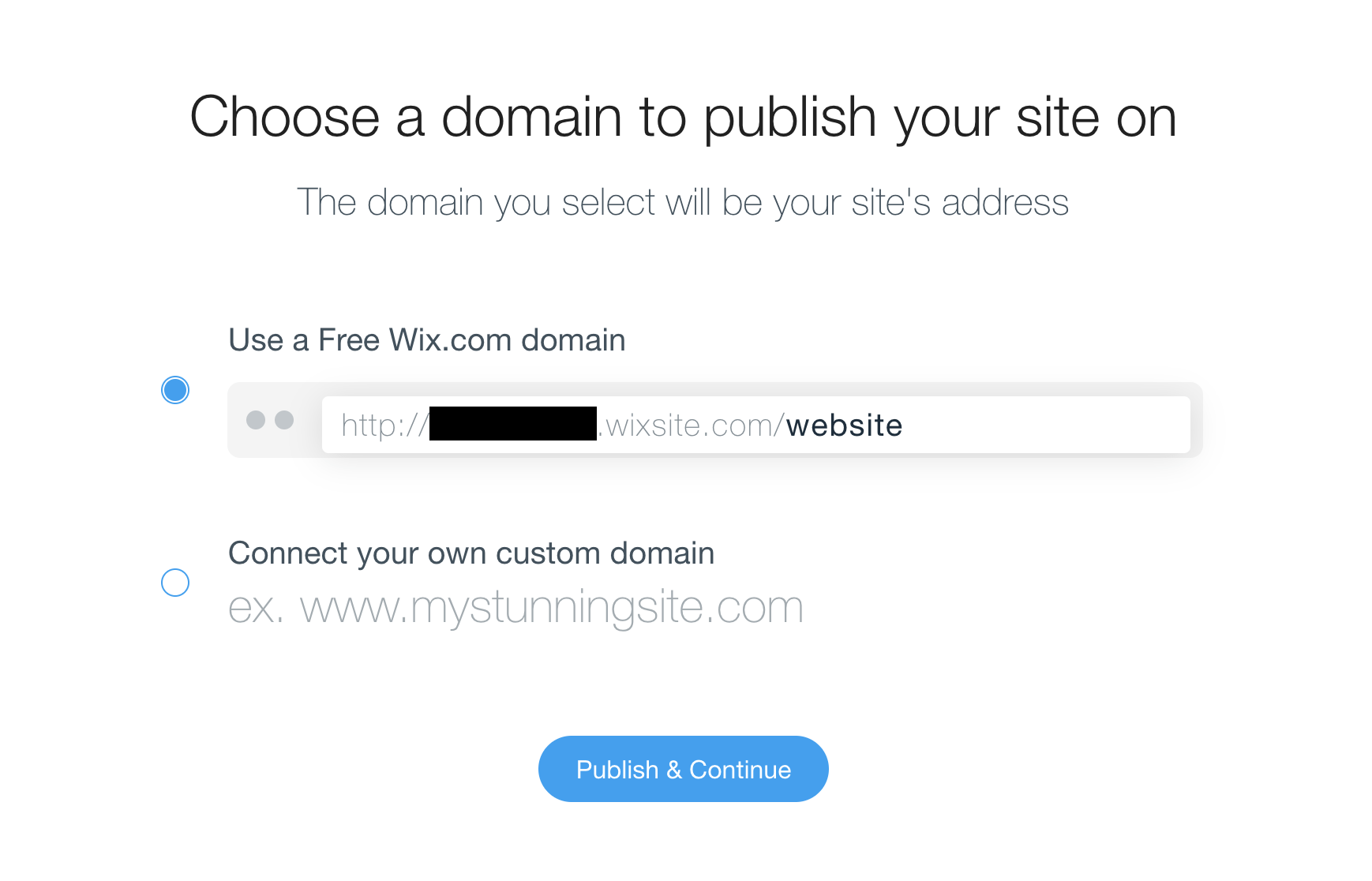 Note; if you choose a custom domain name, you'll also have to upgrade to one of Wix's paid plans that we talked about earlier.
Once you finalize these steps, your site is going to be online and publicly visible! 🍾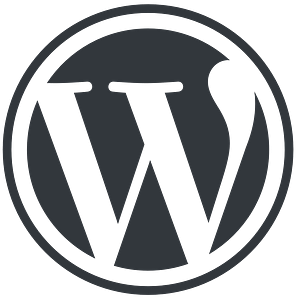 How to build your own website on WordPress
Building your own website on WordPress is a bit different from doing so on Wix.
First, you don't go to the main WordPress.org website to get started. Instead, the best place to start is with a hosting firm.
We talked a lot about different types of hosting before, so if you want the full comparison of what's available in the market, read this. If you can't be bothered to do that now, here's a quick summary – our recommendations when it comes to WordPress hosting:
Bluehost: This host is officially recommended by WordPress, and it's among the most affordable options out there. As I mentioned earlier in this post, you can get started from $2.75 a month, and you get a domain name for free for the first year.
SiteGround: This is another WordPress-approved host. It has some great reviews from customers, offers excellent performance and top-of-the-line support. A tad bit more expensive, starting at $2.99 a month.
We're going to use Bluehost for the purpose of this guide:
1. Go to Bluehost and sign up
Go to the Bluehost website and click on the Get Started button. Pick one of the plans – probably the one labeled Basic at $2.75 a month (enough if you're just starting out with a small site).
In the next step, pick a domain name for your site. Remember that you're getting this domain name for free for the first year.
Make it something original that's in tune with your brand, niche, and the thing that you want your site to represent. Here's some advice on how to choose a good domain name.
Complete the signup process and go through with the purchase. As mentioned earlier, you'll need to pay for three years upfront to get this low price of $2.75 a month.
2. Install WordPress
Bluehost makes this part very easy to do, and it doesn't require any server management skills from you.
Just log in to your account, go to the My Sites tab, click on the Create Site button.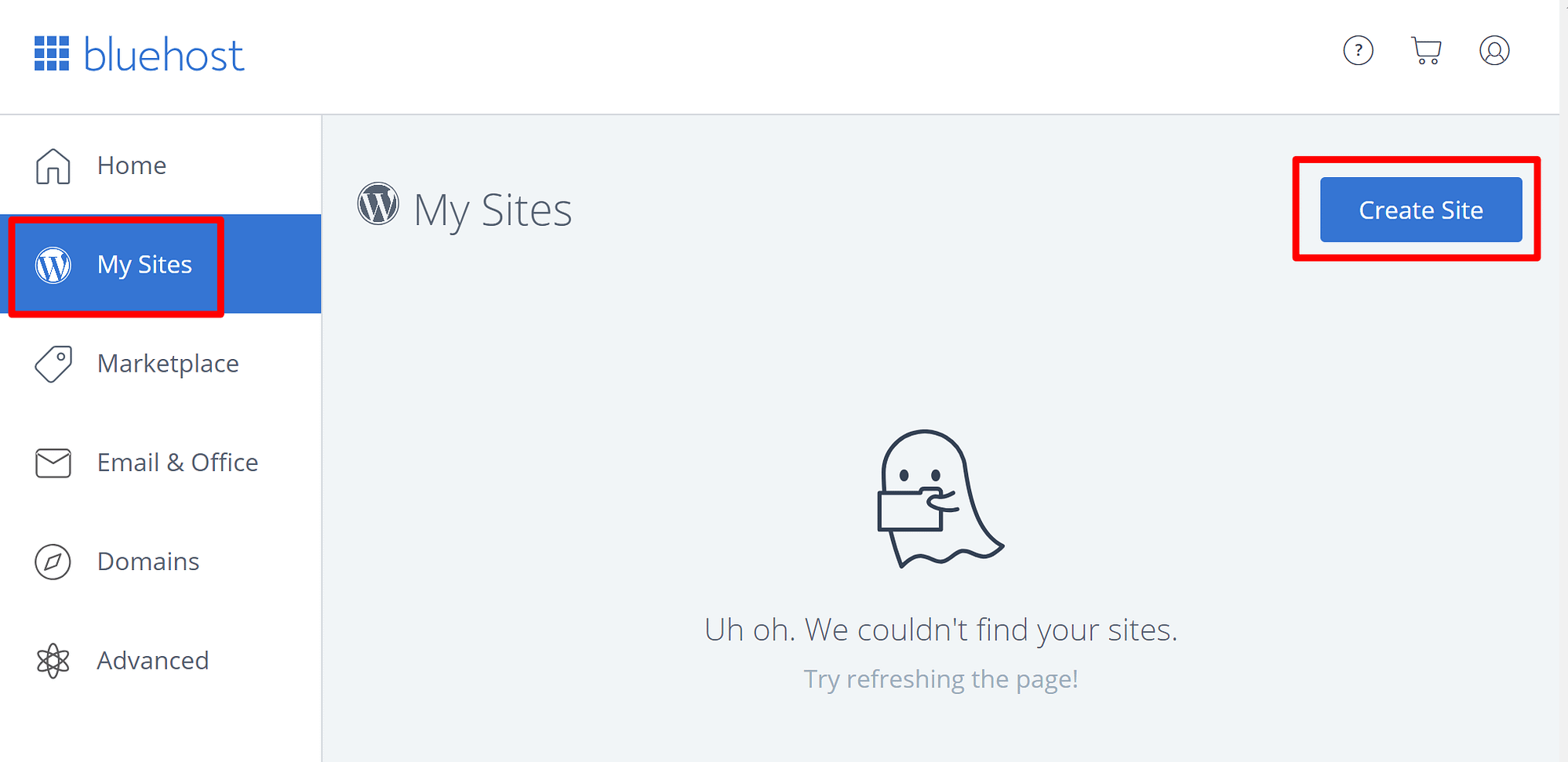 Bluehost will ask for some details like site name and tagline.
Next, you'll be asked to pick which of your domain names you want to connect the site to. You likely have only one domain there, so select it from the list.
With that done, Bluehost will now install WordPress for you. When the process finishes, you'll be able to log in to the WordPress admin panel.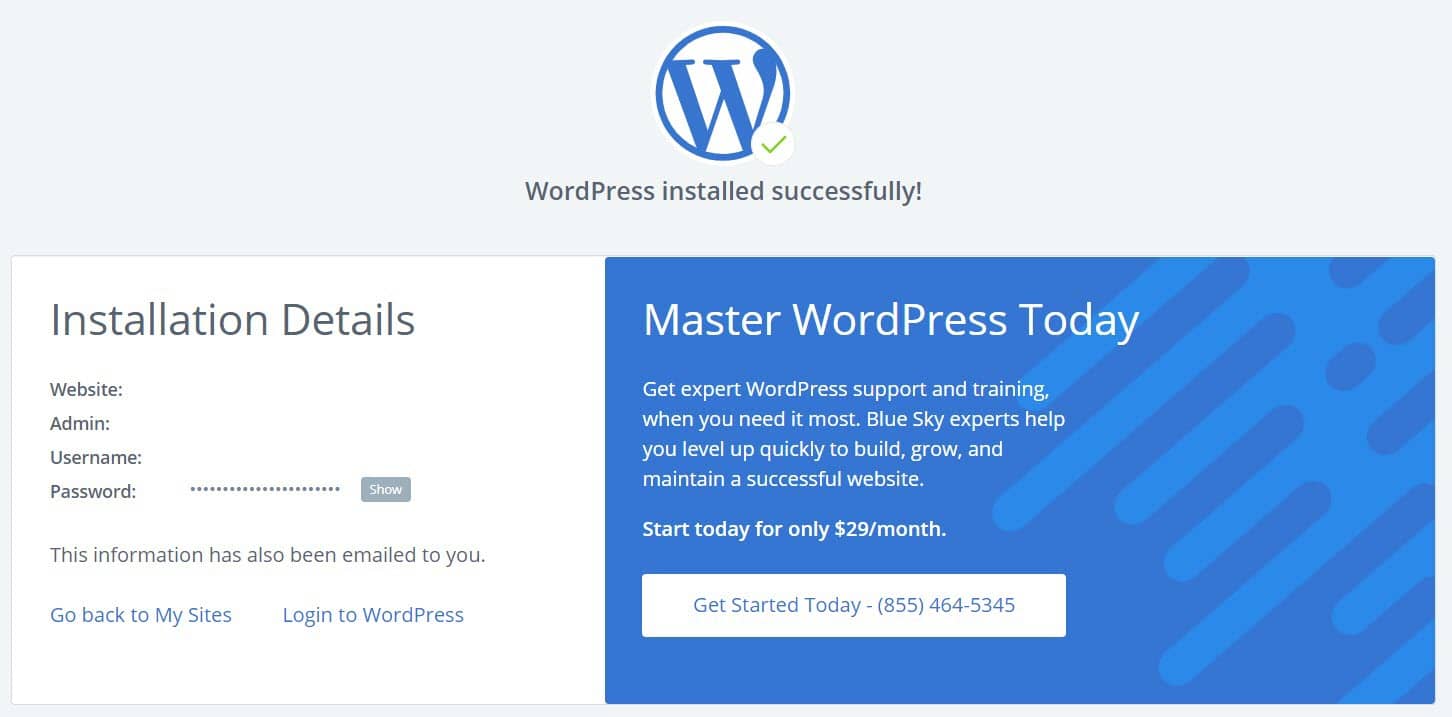 3. Pick a design
WordPress allows you to pick from thousands of designs (called themes) to build your website, and then install them in only a few clicks!
To begin, log in to your WordPress admin panel and go to Appearance → Themes. From there, click on Add New.
To make sure that you're only browsing through the best themes, switch to the Popular tab.

Pick a theme from the list that you like, and install it. We're going to go with Neve (you'll find it somewhere around the second/third row).
This is actually a theme of our own, which the WordPress community seems to like a lot. The theme is active on more than 300,000 websites at the time of this update.
For comparison, when we originally published this build-a-website tutorial post in 2019, that number stood at 50K. Maybe at this point we should also update "seems to like a lot" to "seems to love a lot" but we encourage you to try it for yourself and you can decide whether you like it or you love it.

👉 Read also: 50+ best free WordPress themes
Just click on the Install button below the theme (see image above), and then click on Activate when the installation finishes.
Neve will invite you to give a shot to one of its starter sites.
These website templates help you kickstart your design so that you don't have to do everything by hand when you build your website. We highly recommended them!
To begin, just click on the big blue button. You'll see a list of the available templates. You can pick one based on the niche your site is in, or simply pick a look that you enjoy.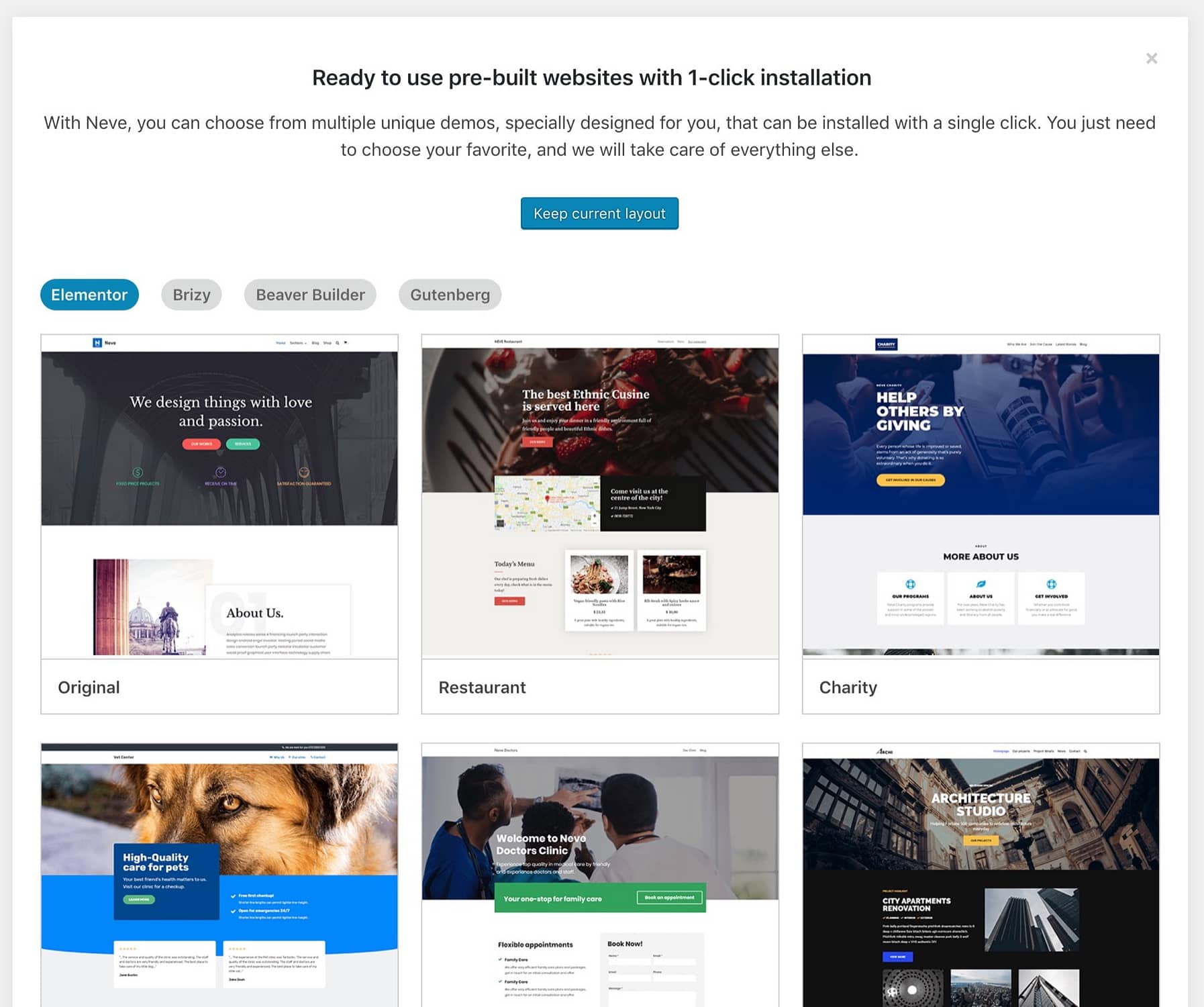 At the top, you also get to pick your page builder of choice. We like Elementor best, but you are free to go with any of them.
Just click on the Import button next to the template you like. Neve will give you a choice as to which specific elements you want to import. It's best to leave them all selected so that you get a whole working website after the import is done. Neve will also install the page builder required to make the design work.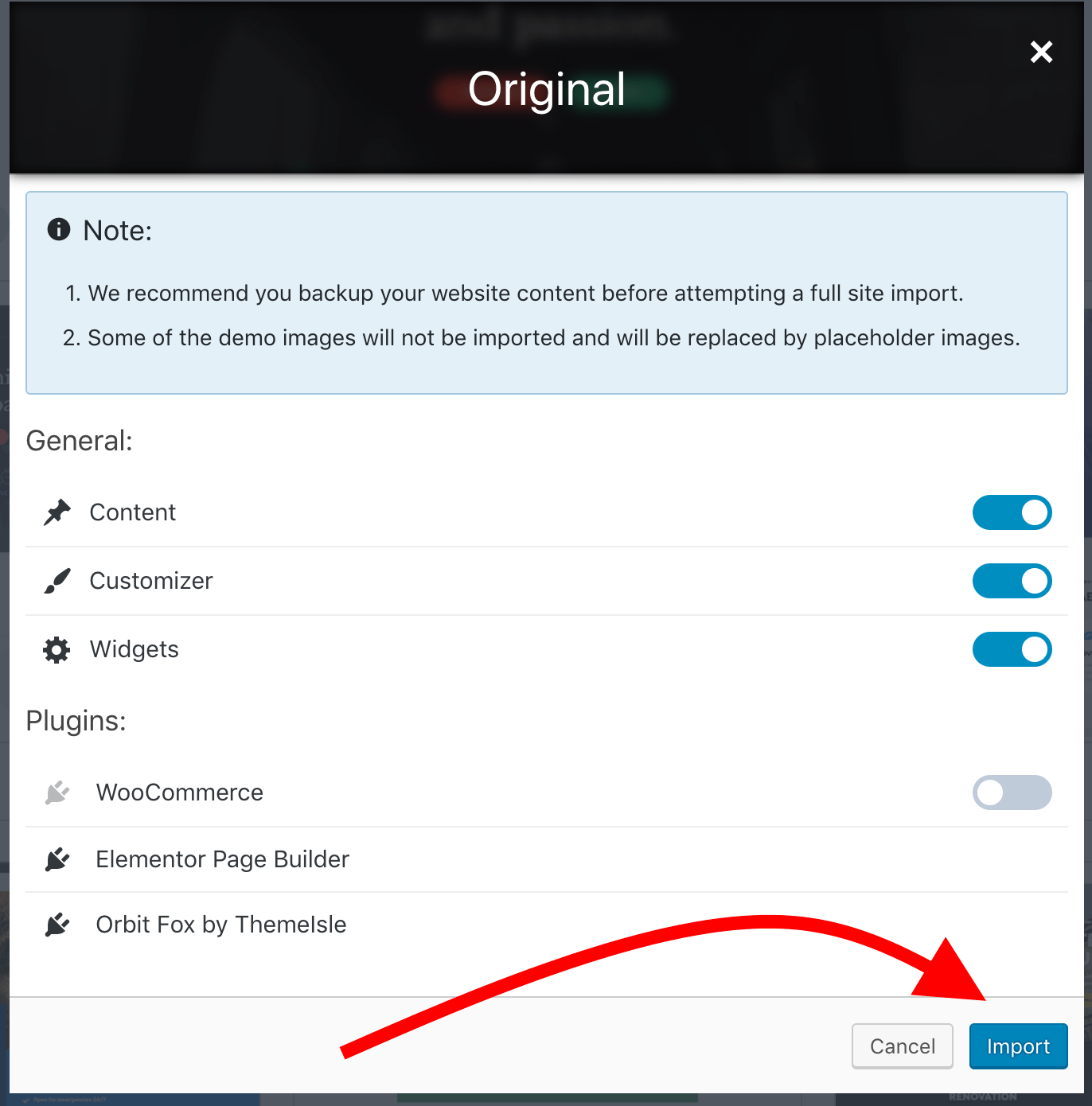 Click on Import to begin. This may take a minute or two.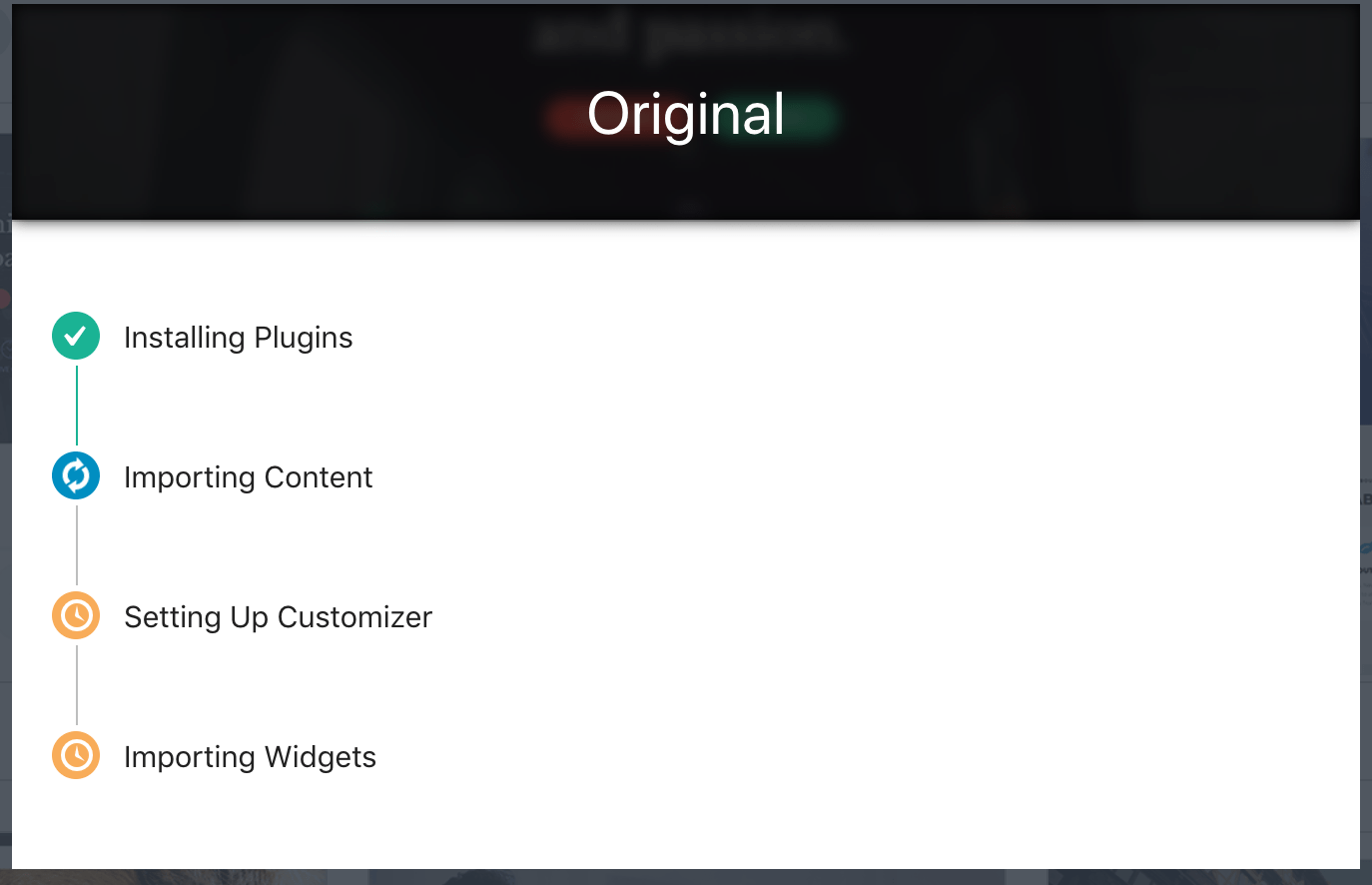 When the import finishes, you'll be able to view your site.
4. Customize your site
At this stage, you can customize your website in a couple of ways.
First, you can use the WordPress Customizer to take care of the basic settings.

The WordPress Customizer lets you adjust things like the main layout, headers and footers, colors and background, typography, buttons, menus, and more. All accessible via the sidebar menu:
Apart from the Customizer, you can also edit your page through Elementor.

To say it simply, Elementor allows you to edit and customize pretty much anything you see on the page without needing to use code. This is why it's such a popular tool for building a website.
To begin, just click on an element on the page or add a new element from the sidebar: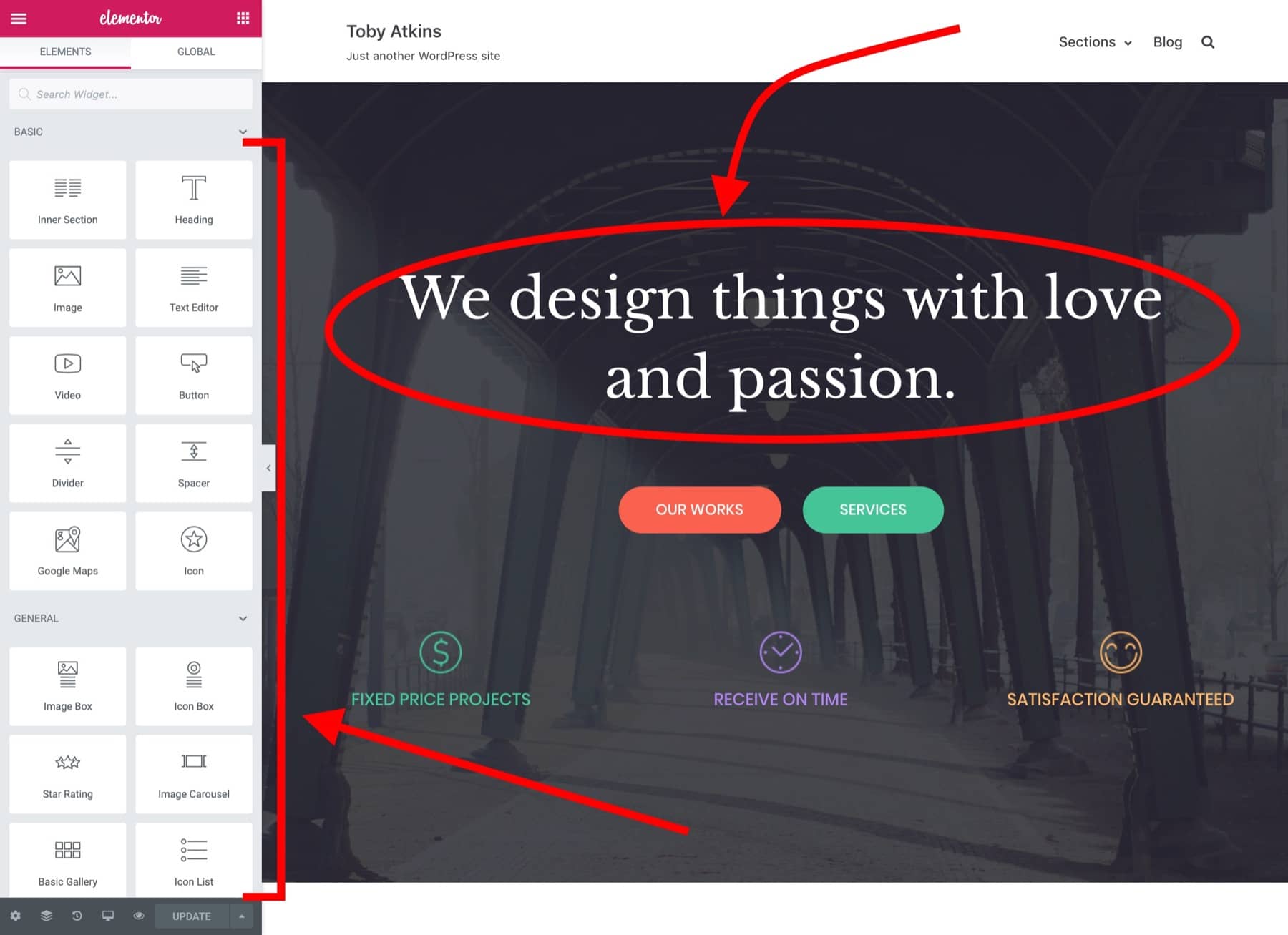 To learn more about Elementor, read this review or this comparison between Elementor vs Divi Builder vs Beaver Builder.
5. Create new pages
To create additional pages in WordPress, click on the + New button and then on Page:
You'll see the main WordPress content editing interface. This one is quite easy to use … pretty much all you have to do is start typing away.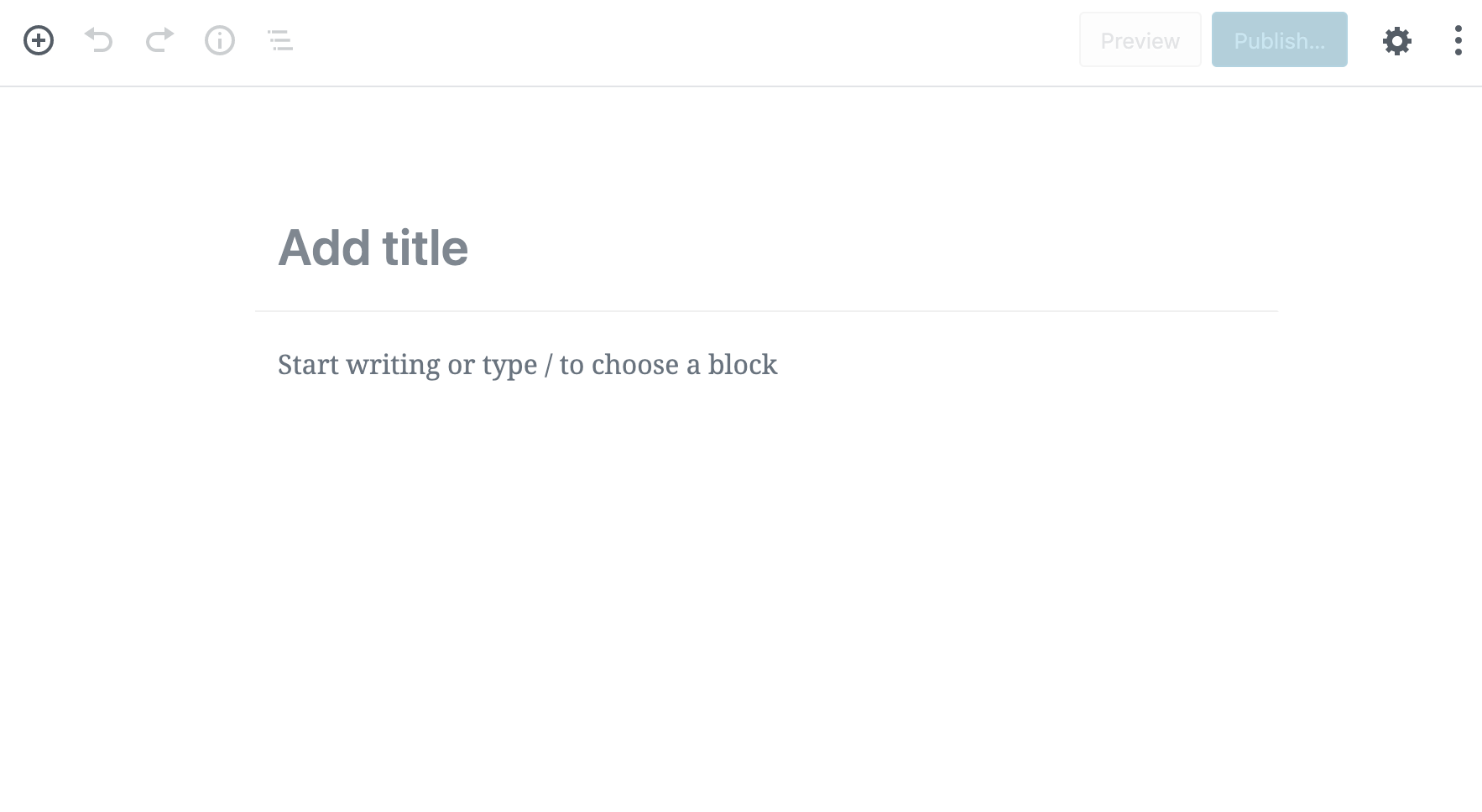 👉 If you want to learn more about how to edit content in WordPress, read this.
6. Add more features via plugins
Even though WordPress comes with loads of features out the box, you can still add new ones when you build your website. To do so, go to Plugins → Add New from the main sidebar.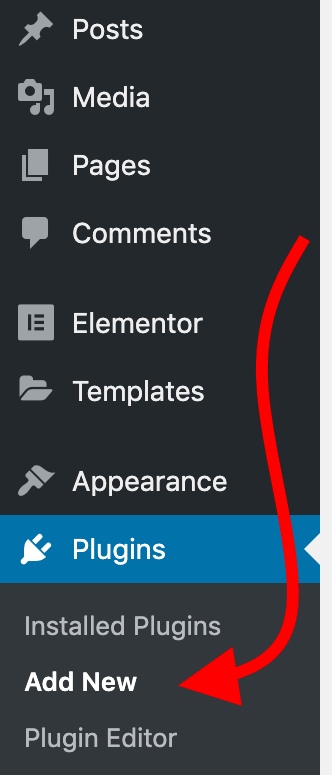 There are more than 60,000 plugins available in the WordPress ecosystem! Naturally, you don't need them all. The best way to navigate this vast space is to browse through the Popular and Recommended plugin lists:
Look through these two tabs and pick the plugins that seem interesting/valuable to you. Also, here's our own list of recommended plugins that most websites should have.
When you're ready to install a plugin, click on the Install Now button next to its name.
When the install finishes, click on Activate.
7. Make your site publicly available
Okay, this step is actually a tricky one. And the trick is that your website is already open to the public!
Everyone can already open your site's domain via their web browsers and see your creation. Congrats! 🍾
The features that every modern website needs
Every website is different, kind of.
I mean, every website is built with a different goal in mind, using different tools, and intended for a different cause/business/person.
However, on the other hand, most websites all need the same elements to be considered 2023-worthy.
They are:
An attractive design:

You need a design that draws people in and makes them curious about what's inside.

A stable engine:

A website engine, aka. the operating system of your website that will make sure your site won't crash.

Good and reliable hosting:

Web hosting is where your website lives and from where your visitors can access it. A good host will make sure that your site is always accessible and doesn't experience any downtime.

A fully customizable homepage:

These days, your homepage is not something that you just set once and forget about. You want to be able to edit that homepage later on as your needs change.

Full website customizability:

Just being able to customize your homepage isn't enough. You want to customize every little detail of your design and/or content.

A blog module:

Even if you're not planning on blogging, per se, you want to be able to publish news about your business, industry, cause, or whatever else you're building the website for.

Mobile-friendliness:

These days, more people access the web via their mobile phones than via their desktops and laptops combined (data says). For that reason, you have to make sure that your site looks good on mobile.

An SEO-friendly structure:

SEO (search engine optimization) plays a massive role in how people will be finding your website. In simple terms, SEO comprises of all the efforts you can take to make your site visible when people search for related terms in Google.

Good security:

Hacker attacks are all too frequent these days. Good website security will make it hard for people to break in and take over your website.

Reliable backups:

You always want to have backups of your site's data, just in case.

Social media integration:

Social media is all the rage these days. You don't want to be left behind, so you want to integrate your site with the popular social media platforms and make it easy for people to share your content.
The above may sound a bit intimidating, but the good news is that we're going to get it all handled somewhat on autopilot. I mean, we're not going to have to build these elements by hand, but instead, we'll use tools that already come with all of that integrated out the box.

What's next after you figure out how to build your own website?
Merely getting your site online is only the start of your journey, I'm afraid…
The next step is getting people to read it. And not only once, but to come back to it over and over again. That is the real hard part!
Here are some guides to get you onto the right track:
…
Don't forget to join our crash course on speeding up your WordPress site. Learn more below:
* This post contains affiliate links, which means that if you click on one of the product links and then purchase the product, we'll receive a commission. No worries though, you'll still pay the standard amount so there's no cost on your part.