How long does it take to build a website? Perhaps longer than you would expect, but also rather quick compared to how long it used to take. It all depends on your method of website building, timeline, budget, and your own experience with web development. When you look at all these factors, the timeline for web development becomes clear.
To begin, you must understand the different ways to make a website.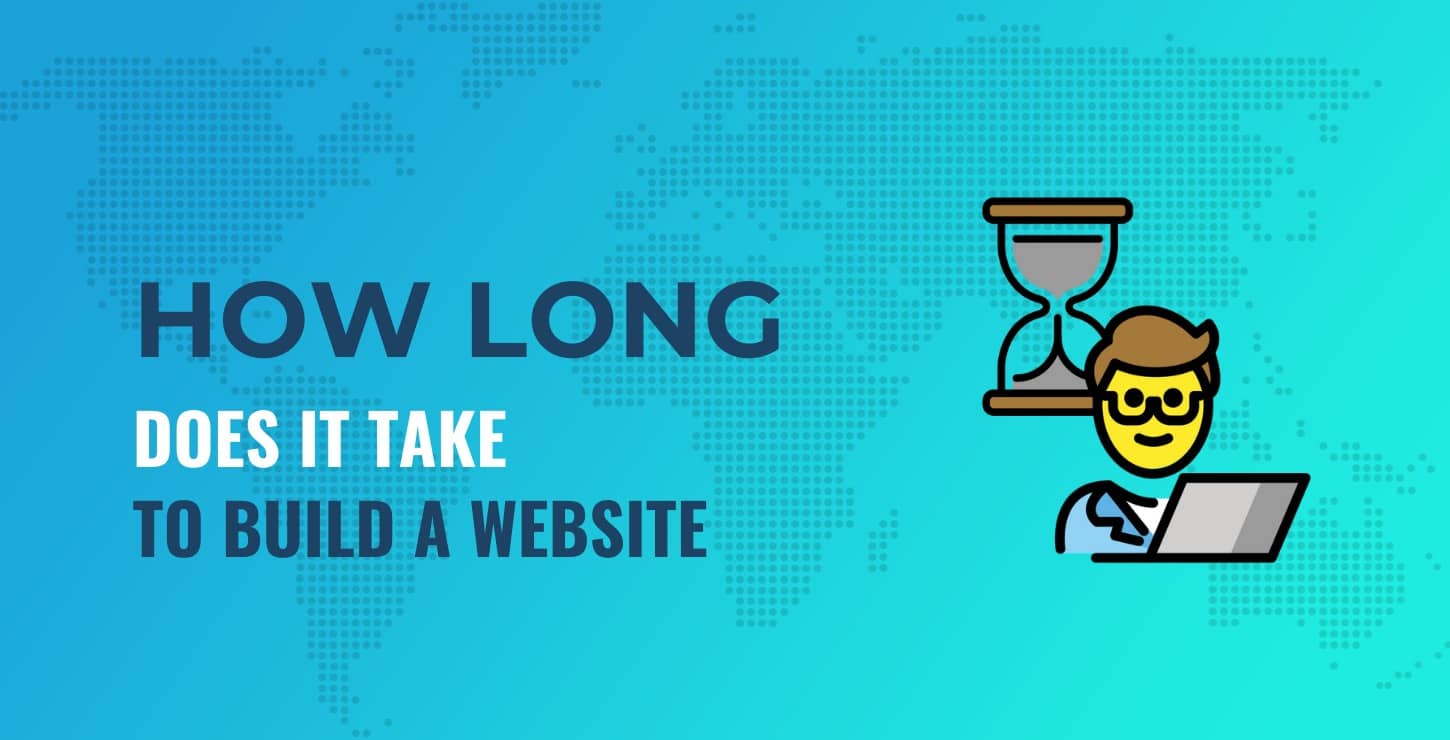 There are three typical ways to build a website:
With WordPress (DIY/do-it-yourself)
Using a website builder (DIY)
Hiring a web developer/designer
So, how long does it take to build a website using all these methods? We'll outline that below, along with information about the timelines involved with each. In addition, we'll explain the pricing and the pros and cons of these methods.
Looking for more resources on how to build a website?
Keep reading to learn how long it takes to build a website (and more!)
📚 Table of contents:
How long does it take to build a website with WordPress? (DIY)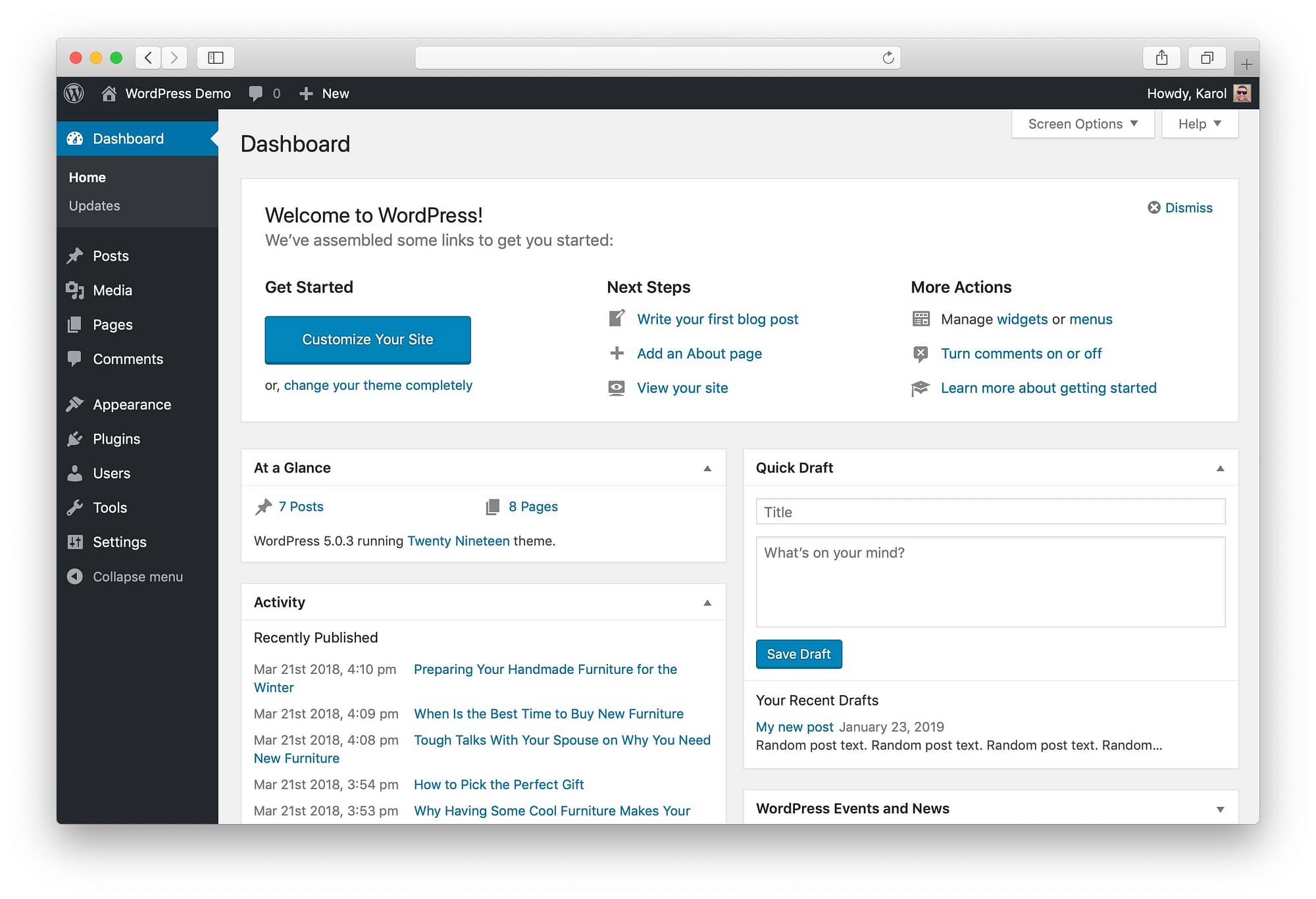 A DIY WordPress website timeframe depends on:
Your experience with WordPress: This is the key factor; WordPress has a learning curve, so an inexperienced user may spend several hours learning how to change a simple setting. Experienced users, however, could launch a basic website in a few hours.
The tools you use: Themes make the process faster, as do one-click installation buttons from your host. The timeframe expands once you start adding more customizations, plugins, and content.
The size and scope of the website: Is this a one-page portfolio with a small photo gallery, simple descriptions, and contact information? If so, you could launch a smaller site like that in an hour or two. A blog that requires dozens of articles to launch could take several months. We'd say the same about an expansive online store.
Overall, we'll estimate that a DIY website takes anywhere from 1 hour to 1 year ⌛ to make. Someone with WordPress experience, using a one-click installation, pre-made theme, and working on a small site should have no problem launching a DIY WordPress site in a few hours.
The timeline grows to several weeks if you're inexperienced, plan on heavy customizations, or have a larger project. The main reason you'd spend up to a year working on a WordPress site is if it's a massive website with lots of content, products, or customizations.
⌛ The timeline
Find hosting/domain and launch WordPress with one-click installation: 1+ hour.
Find, purchase, download, and install WordPress theme: 1+ hour.
Customize WordPress theme: 1-7 days for experienced users on basic sites. Several weeks or months for large scope websites or for inexperienced users.
Install plugins and activate settings: Several hours to a few days.
Fill the website with written content, menus, media, products, payment processing, and other necessary elements: Several days or weeks for smaller sites. Months for large projects.
Maintenance such as security, optimization, and content creation/updates: Ongoing.
💵 Price
It costs less than $100 per year for a basic DIY WordPress website. Ongoing costs may increase as you scale your business. Larger WordPress sites could cost thousands of dollars per month.
Here's a breakdown of the costs:
Domain: $10 per year; more if it's a desirable domain.
WordPress software: Free.
Plugins: Anywhere from free to $100 per year for each plugin.
Theme: Free to $150 per year.
Hosting: $5 per month to $1,000s per month. Most new sites usually fall within the $5-$30 per month range.
👉 Read our complete guide on how much it costs to build a website based on project type.
💡 Where to buy/download everything you need to build a DIY WordPress site
👍 Pros
A DIY WordPress site is the cheapest and fastest way to build a website; it's definitely the fastest as long as you know what you're doing.
You don't necessarily have to be or pay for a professional developer to work with WordPress.
You have full control over the website settings, design, and code, as opposed to how website builders use proprietary file and coding systems, so it's difficult to transfer content out. With WordPress, you have free rein.
You get to choose your host, allowing you to seek out exactly what you need, whether that's a cheap price, high speeds, or a dedicated server.
WordPress works with thousands of themes, plugins, and website builder tools so that you can avoid coding and, instead, construct a site with ease.
There are endless online resources to learn about WordPress.
👎 Cons
You could end up with a poor design if you have no experience with WordPress.
It takes time out of your own workday, whereas you could move on to something else and have a pro build the site.
You must research and pay for a separate host, which requires more time and knowledge.
A DIY WordPress site takes a very long time if you're inexperienced.
Direct, personalized customer support for WordPress is virtually non-existent.
Similar to a DIY WordPress site, online website builders take longer if you're making a larger site, or if you're not that experienced with the website builder of choice. Having said that, they make website builders for beginners, so the systems offer faster site-building solutions compared to a DIY WordPress site.
Since website builders like Wix, Squarespace, Shopify and Weebly include everything you need to construct a site in one package (hosting, themes, and a drag-and-drop builder), you spend less time overall. There's also no need to have experience with complicated settings or code since anyone can understand the visual builders.
We estimate it could take anywhere from 1 day to 1 week to complete a basic website with a website builder.
Larger sites require more content, media uploads, and setting customization, so those could still take several months with a site builder.
⌛ The timeline
Sign up for a website builder like Wix, Squarespace, or Shopify (for online stores): Up to 1 hour.
Choose and activate a theme and domain: Up to an hour.
Customize the theme: 1 hour to several days.
Add content, products, media, and everything else that your website needs: Several days to months depending on the size of your site.
The good news is that a lack of experience doesn't extend the timeline nearly as much with a website builder. Obviously, a developer would still make a faster website on Wix than a beginner, but there's a wider knowledge gap with a DIY WordPress site.
💵 Price
It depends on the website builder. These are all SaaS (software as a service) tools, so you typically pay a monthly fee for access to everything.
Below is some pricing from popular website builders. Note that the cheapest price listed is the cheapest possible price, which in some instances requires the purchase of a year up front. By the same token, the ceiling price is, in some instances, the month-to-month price for the highest level plan. If you purchased a year up front, the per month price could be lower.
Put simply, the ranges listed are the lowest possible price for the most entry level plan, to the highest possible price for the most advanced plan.
💡 Where to buy everything you need
First, learn about the best website builders to help you make a decision on which one to use. Once you've made your choice, you can go directly to the site builder's website to create an account. Everything from plugins to themes and hosting gets added inside the website builder's dashboard. There's no reason to go anywhere else.
👉 Learn how to get started with Wix
👉 Learn how to get started with Squarespace
👉 Learn how to get started with Shopify
👍 Pros
A website builder is by far the simplest option for beginners with minimal WordPress or overall development experience.
It's also the fastest way to build a website, regardless of experience.
Site builders often offer access to plugins, apps, and themes.
All aspects of site building are packaged into your monthly fee. You receive everything from hosting, a domain name, and a drag-and-drop builder to payment processing (if needed).
The monthly fees are rather affordable.
Customer service comes with your subscription.
👎 Cons
You lose control over your code and overall website customizations. Proprietary site builders make it very difficult to export content and move it elsewhere.
You're limited to customization settings packaged in with the site builder. It's usually far more limited than an ever-expanding tool like WordPress.
Themes are often simple and used by many businesses, making it more difficult to generate a unique brand image.
Many people argue that it's trickier to stand out with standard SEO practices when using a website builder.
How long does it take to build a website if you hire a developer?
Hiring a web developer or a web design and development agency is, quite predictably, the most costly path you can take, and usually the most time consuming as well.
Granted, in exchange, you get a website that's tailored to your individual needs and has all the features that you wanted. However, there are tradeoffs to be aware of.
⌛ The timeline
Expect at least 14 weeks for a completely functional website from a paid developer.
Development teams have varying names for the stages of development, but here's a general timeline:
Discovery (learning about your brand, collecting assets, and overall planning): 3+ weeks.
Design (the period when your developer creates the design with formatting, colors, styles, and structure): 6+ weeks.
Initial development (this is when they make the design interactive and functional): 3+ weeks.
Modifications (tweaks, optimization, bug fixes, and anything else you want to be added): 2+ weeks.
Maintenance (like security patches, updates, and optimization): Ongoing.
💵 Price
Our research shows that freelance designers and agencies tend to charge anywhere from $2,000 to $7,000 for a 10-15 page website, with 36% of developers who responded sticking to the $2,000-$3,000 range.
Plain websites range from $500 to $3,500, while more robust sites can go to $10,000+.
Pricing also depends on the type of website. We found that small, basic eCommerce sites cost $5,000+ since they usually require extra work to configure elements like payment processing, product pages, and integrated marketing tools.
💡 Where to hire a developer to build your site
You can ask your own business contacts for references or consider seeking out help online from a freelancer or an agency.
These guides will help speed up your search:
👍 Pros
Hiring a professional developer gives the potential for advanced customization on your website. You can make requests, ask for adjustments, and even see if the developer will build a special feature for you.
You could create an ongoing business relationship that allows you to have a reliable developer on hand whenever you need something fixed or changed with the website. There's no way you get that with a website builder or a DIY WordPress site.
The developer's expertise takes a significant amount of pressure off you.
Some developers offer other services like SEO, blogging, and logo design as part of the package. This could lead to a high-value proposition for you.
Hiring a developer frees up your time to work on growing your business.
You minimize the risk of making a poor design, especially if you were going to test out your own amateur development skills.
👎 Cons
Web developer salaries can be fairly high, which makes hiring a professional developer or agency by far the most expensive route. (However, you may end up getting a better return on investment, and you might make more money in return for the time you gain back).
You must communicate regularly with the developer to ensure they're on schedule and have all the resources and information they need to produce a quality product.
The timeline gets extended regardless of the type of developer. Agencies work on multiple projects at a time, so you shouldn't expect a website in a week. It also typically takes longer since even a freelance developer puts more customizations into the project.
There's always the risk of shoddy work. Intensive research and interviews help mitigate that risk, but WordPress and website builders provide guaranteed themes, whereas some less experienced developers may disappoint you.
Summarizing how long it takes to build a website
To round it all up, you have three ways to build a website:
Build a WordPress site yourself (and host it on a platform like Bluehost).
Construct a website yourself with a website builder (like Wix).
Hire a professional developer.
These methods help decide how long it takes to build the website:
Timeframe for a DIY WordPress site: Experienced WordPress users can complete a basic site in a few hours, but it usually takes several days to add all the content and optimize everything. Larger scale sites take weeks or even months. Inexperienced users will spend lots of time learning, which could add weeks to the process.
Timeframe when using a website builder: Most users should complete a basic website within one day to one week. Larger sites may take several months. It also depends on which website builder you use and how intuitive it is for you.
Timeframe when hiring a professional developer: At least 14 weeks because of the extensive customization (and the fact that freelancers and agencies have other projects to work on, too).
So, how long does it take to build a website? Your choices decide will that! I encourage you to take your time regardless of the method you choose because it's always best to get the highest quality results before launching your website for the world to see.
If you have experience making a website, share how long it took you in the comments below!
…
Don't forget to join our crash course on speeding up your WordPress site. Learn more below:
* This post contains affiliate links, which means that if you click on one of the product links and then purchase the product, we'll receive a commission. No worries though, you'll still pay the standard amount so there's no additional cost on your part.