If you run a blog, it's always a good idea to have a second set of eyes look over articles before you publish them. Still, you often don't need the full range of services that an editor can offer. Instead, you may just want someone to ensure that your posts are error-free, without making any other changes to the content. If that's the case, you'll likely want to hire a proofreader.
Having access to a proofreader is essential if you publish a lot of articles. Even if you're a fantastic writer, you'll make an occasional grammatical mistake, use the wrong turn of phrase, or let other minor issues slip through the cracks. A proofreader's job is to catch those errors and make sure they don't see the light of day.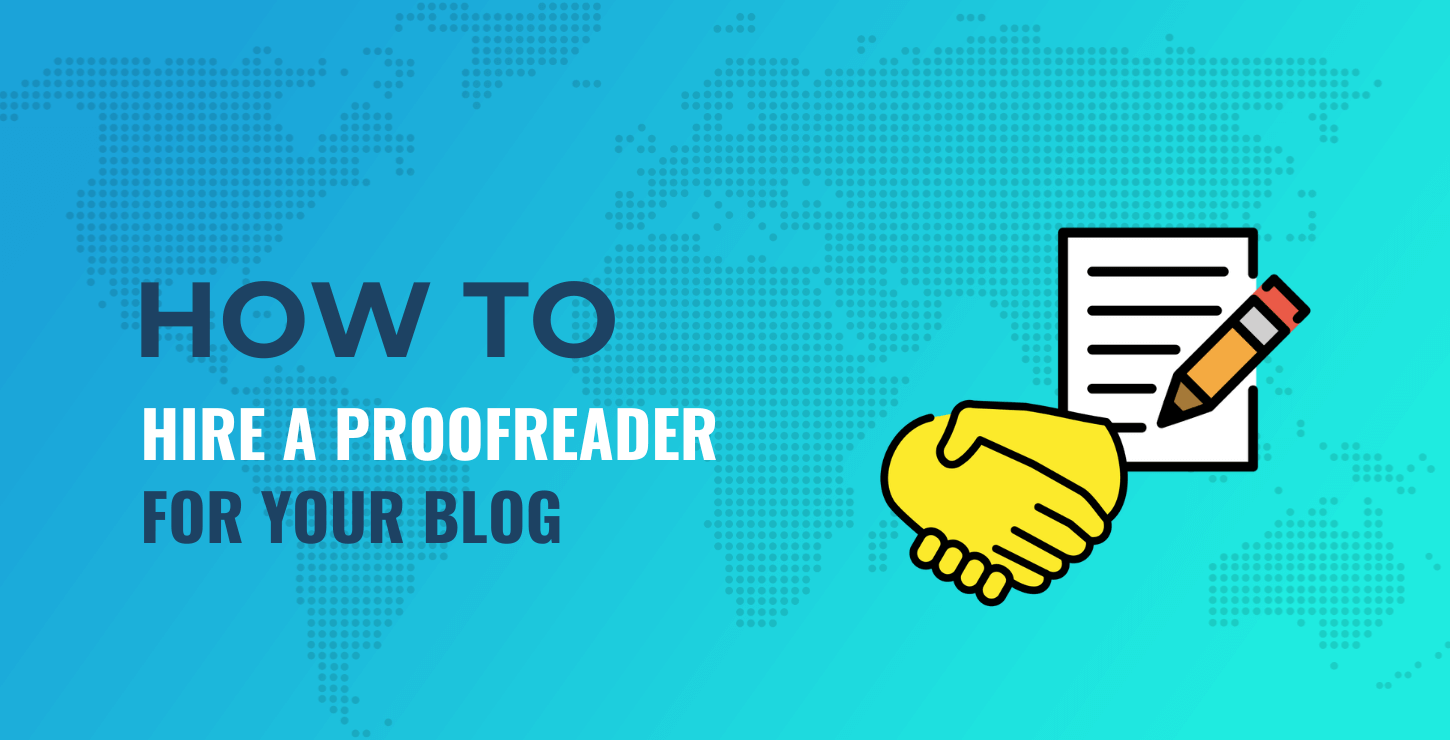 What does a proofreader's job involve?
It's important to understand that proofreading and editing are two different jobs. If you hand a blog article over to an editor, they might address grammatical errors, but their main focus will be on making sure the content itself is up to a particular set of standards.
That can mean reducing the word count, modifying certain subject details, adding hyperlinks and much more. Some editors are also tasked with improving an article's images and metadata. Overall, their goal is to take good material and make it even better.
A proofreader's job is not as extensive, but it's still very important. When you give a proofreader a blog post to check, they'll make sure the writing is free of grammatical and formatting errors, as well as other objective inconsistencies.
Why hire a proofreader for your blog
On paper, an editor might seem like the obvious choice when compared to a proofreader. However, hiring an editor is often the more expensive option as their work is more comprehensive. If you publish content often, hiring an editor for your blog can translate into a significant recurring expense.
Moreover, editors require you to surrender some control over your writing. Of course, you're free to ignore or undo the changes that editors propose, but in that case, you're basically paying for a service that you're not using.
A proofreader, on the other hand, simply makes sure your writing is free of errors. Since this is often less work, it means that articles will be ready to publish faster, and you won't need to delay publication for editing. As you might expect, hiring a proofreader is also the more affordable option.
How to hire a proofreader for your blog (3 steps)
Hiring another person to help you run your blog is always an involved process. For instance, proofreaders don't need direct access to your blog, but you will need to set up a workflow for them to do their job efficiently. First, though, you'll have to find the right candidate. In the section below, we'll outline how to efficiently hire a proofreader in three simple steps, so you'll know exactly what to do:
Step 1: Look for candidates on freelance platforms
Unless you can get a direct recommendation from other writers, the easiest way to find a proofreader for your blog is by using freelance platforms. Proofreading and editing are some of the most sought after positions for freelancers, so you won't have any problems finding freelance candidates to fill the position.
In our experience, there's no single freelancing marketplace that's a good fit for everyone. With that in mind, we recommend looking for proofreaders across platforms. You might want to start with the following options:
BloggingPro. With BloggingPro, you can post a job and correspond with freelancers. Your job posting will be shared in a few relevant newsletters to help get the word out.
Upwork. Using Upwork, you're able to publish custom projects that freelancers then apply to. Alternatively, the platform allows you to look for proofreading offers from freelancers. This way, you can more easily find one that suits your budget.
Freelancer. This platform enables you to post jobs with specific budgets or to pay proofreaders by the hour. It also offers a convenient time tracking tool for freelancers.
When you use freelance platforms, you typically get the added benefit of receiving deliverables and tracking payments through them. However, they often add a premium for this service. That sometimes means you end up paying more than if you were to hire a proofreader directly.
If you're uncomfortable with that, another alternative is to look for proofreaders on job boards or directories. One great source for finding candidates is ACES: The Society for Editing. It's a nationwide association for editors and proofreaders that includes a list of vetted professionals you can reach out to:
Negotiating directly with proofreaders might take longer, but it's a great option for recurring work. This will save you time and money in the long run. That's because you eliminate the middleman fees as well as the administrative work associated with managing tasks and projects on a third-party platform.
Step 2: Design a proofreading test
It's only logical that you assess a proofreader's skills before trusting them with your content. A proofreading test doesn't have to require anything complicated. It can be as simple as a short document with multiple formatting and grammar mistakes to test the proofreader's skills.
Although there's a variety of online proofreading tests you can use, we recommend putting together a document of your own. Take one of your past blog articles, add some errors, and simply transfer it to a shareable Google Doc.
You can ask proofreaders to use Google Doc's Suggesting mode. This way, you'll be able to easily see what changes they propose:
It's important to note that most professional proofreaders won't be willing to take an unpaid test. If you're sure about the credentials of the person you want to hire, then you can skip this step and start giving them real posts to edit right away. Otherwise, you'll need to be willing to pay candidates for their time.
Similarly, with freelancing platforms, it's also a good idea to test candidates beforehand. First, narrow down the list of applicants to those with the best client ratings. Then, have one or more of them take your test. Even if you aren't happy with the results, pay the rejected applicants for their time and move on with your chosen proofreader.
Step 3: Set up a proofreading workflow for your blog
Once you hire a proofreader, you'll want to set up a workflow so they can edit blog posts before they go live. If you have a content calendar, proofreaders will need enough time between receiving an assignment and the desired publication date.
Depending on what kind of blogging platform you use, you might be able to give your proofreader access to the backend. This way, they can edit blog posts while they're still drafts. If you're using WordPress, the Content Management System (CMS) allows you to do this by default. All you'll need to do is assign your proofreaders the Editor user role:
The Editor role enables proofreaders to access other authors' work and make changes to it. Despite its name, it's perfect for someone you want to have access to the content while restricting them from making changes to your blog page itself.
Other blogging platforms include similar user roles and workflows that you can set up. Your goal should be to make it as easy as possible for proofreaders to check your work without having to submit copies back and forth or upload them to other platforms. That way, as soon as the post is thoroughly checked, it will be ready to publish right away.
Conclusion 🏁
If you run a blog that posts new content often, you might want to think about hiring a proofreader. A proofreader will make sure that all your content is free of spelling and grammatical mistakes. They'll also ensure the formatting is on point and help make your blog look more professional overall.
If you want to hire a proofreader, try following these steps to make the process easier:
Look for 🔎 proofreaders on freelance platforms.
Design 🎨 a proofreading test.
Set up 🖱️ a proofreading workflow for your blog.
Do you have any questions about how to hire a proofreader? Ask them in the comments section below!
…
Don't forget to join our crash course on speeding up your WordPress site. Learn more below: