If you're a digital marketer or a webmaster, you might be familiar with Google Optimize. It's a highly useful testing and analytics tool for website improvement. However, this popular software is being phased out, so you may be looking for a Google Optimize alternative.
Fortunately, there are plenty of tools you can use instead. This way, you won't have to abandon your web analytics strategies. By analyzing some of the best alternatives, you should be able to find the right tool for your needs.
In this post, we'll discuss what to look for in a Google Optimize alternative. Then, we'll share 10 of the best options on the market. Let's get started!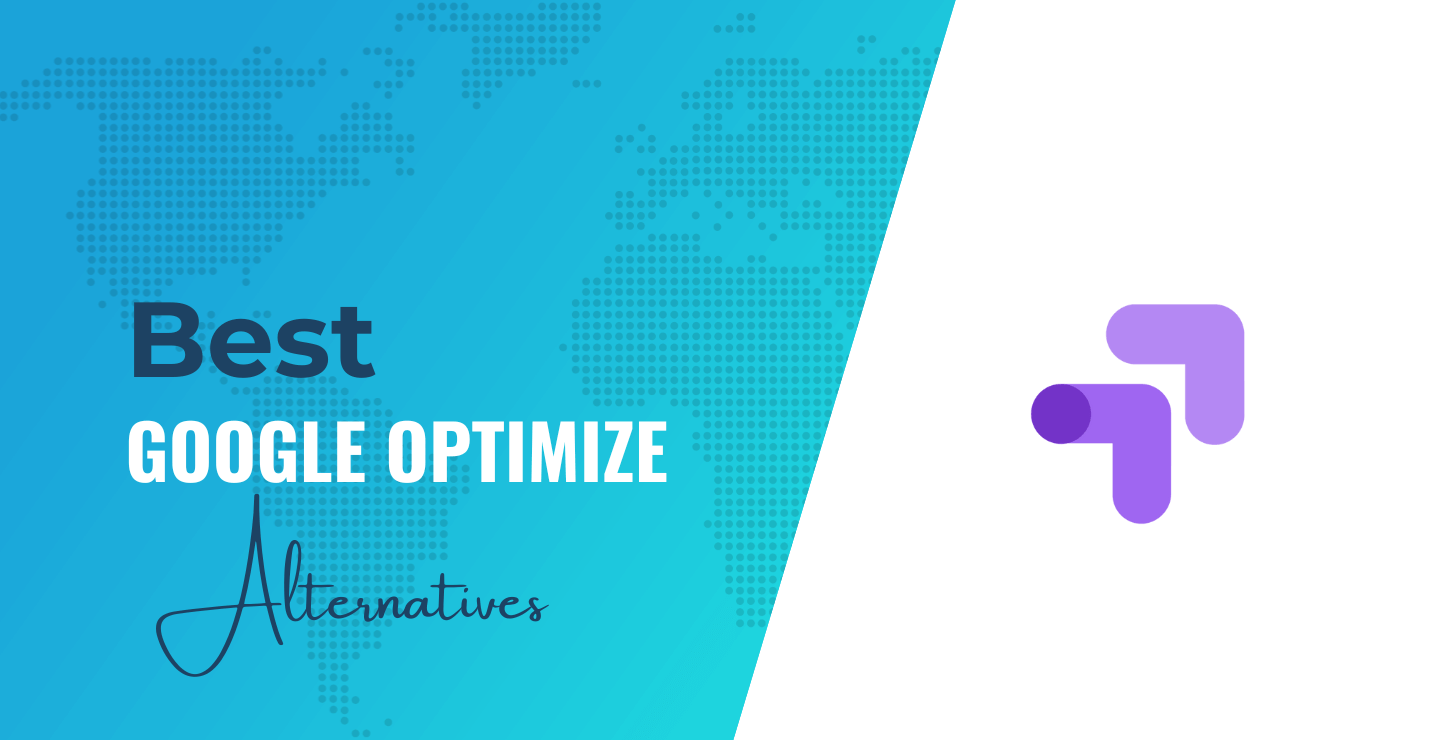 Why you need a Google Optimize alternative
If you're searching for a Google Optimize alternative, you likely already know that the tool will be disappearing in a very short time. This means you'll need to find a substitute before then, or you risk losing lots of useful data.
According to Google, Google Optimize and Optimize 360 will no longer be available after September 30, 2023 [1]. While Google Optimize has been a trusted tool for several years, Google is shifting its focus towards third-party integrations for Google Analytics 4.
What to look for in a Google Optimize alternative
Google Optimize's focus is A/B testing. Therefore, you'll likely want to look for this feature when selecting an alternative.
👉 Beyond that, here are a few additional characteristics to consider:
Easy data migration from Google Optimize
Integrations with your pre-existing tools, such as WordPress and Google Analytics
An intuitive user dashboard
Shareable reports and potential for collaboration
Essentially, you want your transition away from Google Optimize to be as smooth as possible. Ideally, you should be able to avoid any loss of data or the significant disruption of any ongoing experiments.
10 Best Google Optimize alternatives
Now that you know a bit more about what to look for in a Google Optimize alternative, let's take a look at 🏅 10 of the best options out there. We'll be covering key features, pricing, and more!
Optimizely is a renowned 'Digital Experience Platform' that helps ecommerce professionals run scalable web experiments. While Optimizely offers a suite of different products, Web Experimentation is the best option if you're looking for a Google Optimize alternative:
Web Experimentation comes with an impressive suite of tools that enable you to launch and maintain online experiments with ease. Using the tool, you'll be able to run advanced A/B tests. What's more, you'll get access to straightforward management tools that facilitate team collaboration.
🎯 Key features:
Many types of A/B tests
Intuitive visual editor
Advanced targeting and personalization
💳 Pricing: You'll need to reach out to the Optimizely sales team in order to get pricing details.
Next up on our list is VWO Testing. When it comes to Google Optimize alternatives, this is an excellent choice for anyone who is looking for a simple yet sophisticated A/B testing tool.
With VWO Testing, you can add advanced characteristics to your web experiments. You're able to create tests that are multivariate, multi-step, mutually exclusive, and so much more:
Additionally, you'll get a centralized management experience thanks to its user-friendly dashboard. This user-focused design makes it easier for you to understand your experiment results.
🎯 Key features:
Advanced A/B testing
Control surveillance metrics (so you can stop experiments when necessary)
Centralized experimentation management interface
💳 Pricing: VWO Testing offers a free version. Premium plans are based on monthly traffic. For 10,000 monthly tracked users (MTU), 'VWO Testing – Web' plans start at $200 per month.
While Adobe is best known for its Creative Cloud tools like Photoshop and Illustrator, it also offers a separate suite – Adobe Experience Cloud. Adobe Target is one of the most powerful tools within this collection:
With Adobe Target, you can set up multiple, simultaneous A/B tests in just a few minutes. Even better, it enables you to offer a personalized experience across multiple channels.
Furthermore, you'll get multivariate testing and scalable, AI-powered automation. Since this tool is so easy to use, it's great for non-technical marketers.
🎯 Key features:
Easy-to-use Visual Experience Composer
A/B and multivariate user experience testing
AI-powered automation for scale
💳 Pricing: Adobe Target pricing is based on several factors, including visitor volume, so you'll need to reach out to get a custom quote.
Crazy Egg is an excellent choice if you're looking for an all-in-one solution for beginners. In addition to A/B testing, Crazy Egg includes advanced analytics tools such as heatmaps, web recordings, surveys, and more.
With so many features, this might sound like a big commitment, but you can easily sign up for a free trial:
Crazy Egg's A/B testing tool is a no-coding solution that enables you to set up split testing easily in just a few minutes. Plus, it seamlessly integrates with lots of platforms and Content Management Systems (CMS) including WordPress.
🎯 Key features:
Easy-to-use test creator
Real-time results
Ability to test landing pages, product pages, and more
💳 Pricing: Crazy Egg doesn't advertise pricing on its website. Therefore, you'll need to reach out to the sales team to get this information.
Now, let's look at AB Tasty. This popular A/B testing tool is used by some of the biggest names in ecommerce, including Walmart, Sephora, and Disney. AB Tasty is a good option for anyone who wants to enable non-technical teams to work together seamlessly with developers:
With AB Tasty, you're able to conduct many types of experiments, including A/B/n testing, multivariate testing, and multi-page testing. Moreover, AB Tasty gives you the ability to target segments thanks to AI-powered personalization.
🎯 Key features:
Different types of user experience testing, including A/B/n, multivariate, and multipage
AI-powered personalization
Extensive integrations with other web tools, including Google Analytics
💳 Pricing: Similar to most Google Optimize alternatives, pricing for AB Tasty is determined by a variety of factors. You'll need to get a quote for AB Tasty.
Kameleoon is another top-notch tool for web testing, especially if you're looking for a highly comprehensive option. While Kameleoon's Web Experimentation is what you'll need for A/B testing, it also offers solutions for full-stack experiments and AI-powered personalization:
What's more, this Google Optimize alternative provides multiple interfaces. If you prefer a more visual approach, you can use its Smart Graphic Editor. Alternatively, you might opt for a developer-friendly code editor.
Furthermore, Kameleoon is compliant with some of the most important standards and allows you to manage your policy for any type of A/B test. On top of that, it integrates with some of the most popular ecommerce tools, like Salesforce and Hotjar.
🎯 Key features:
Unlimited A/B and multivariate testing
Over 45 native criteria options for segmenting your audience
Dynamic traffic allocation (Kameleoon can push traffic to winning variations before the end of a test)
💳 Pricing: Before you can get pricing details for Kameleoon, you'll need to request a demo.
Convert Experiences is another top-of-the-line alternative to Google Optimize. It gives you all the web experimentation tools you need to improve your site and boost conversions.
For instance, you'll be able to conduct A/B tests, split tests, multivariate tests, and more:
Convert lets you choose between a visual and a code editor. Furthermore, this tool gives you impressive control over audience segmentation, thanks to its conditions builder.
🎯 Key features:
Several types of web testing, including A/B, multivariate, and multipage
40+ condition filters for audience segmentation
Extensive integrations with tools like WooCommerce and Google Analytics
💳 Pricing: Convert Experiences plans start at $99 per month. This plan accommodates up to 50,000 tested users monthly.
Zoho is a complete Customer Relationship Management (CRM) platform. However, it also offers separate apps with specific functionalities related to different aspects of e-commerce.
Zoho PageSense includes tons of features for conversion optimization:
With Zoho PageSense, you're able to track key metrics, analyze visitor behavior, and conduct web tests. For example, you can run A/B tests, split URL tests, and more. Then, you can personalize every user's experience based on key factors like demographics, past behavior, browsing patterns, and more.
🎯 Key features:
Track web elements like menus/dropdowns, button clicks, etc
Advanced analytics including funnel analysis, heat maps, session recordings, and more
A/B and split URL testing
💳 Pricing: Zoho PageSense costs $12 per month for 10,000 tracked users monthly. For more traffic, you can check out bigger plans.
SiteSpect is another Googler Optimize alternative that's worth checking out. In addition to A/B, multivariate, and client-side testing, you'll get server-side testing, omnichannel support, and more:
Even better, SiteSpect lets you use its native Visual Editor, so creating your web experiments is straightforward. You'll also be able to take advantage of concurrent testing and auto-optimization features. Plus, you can manage all of your tests and campaigns from a user-friendly dashboard.
🎯 Key features:
SiteSpect Visual Editor
A/B, multivariate, client-side, and server-side testing
Javascript-tag-based testing for better performance
💳 Pricing: For more information on SiteSpect, you'll first need to request a demo.
Dynamic Yield is another top contender if you're looking for a new web experimentation tool. This powerful solution lets you safely run optimization tests on any channel. That way, you can improve your content and sales funnel in order to maximize revenue:
In addition to advanced A/B/n testing, Dynamic Yield offers advanced audience management, AI-powered personalization, and more. You can access all of this from a centralized Experience Optimization Platform.
🎯 Key features:
A/B/ testing at scale
Advanced audience segmentation and predictive targeting
'Multi-Touch Campaigns' to provide a uniform user experience
💳 Pricing: If you want Dynamic Yield pricing information, you'll need to request a demo.
Final advice on finding the best Google Optimize alternative
Google Optimize has provided users with an easy way to test websites and improve the user experience. However, this tool will be disappearing soon. 👻
Fortunately, the Google Optimize alternatives in this list can serve your needs just as well. Take some time to experiment with the demos available for these tools to ensure that you choose the right one for your business.
Do you have any questions about these Google Optimize alternative options? Let us know in the comments section below!
…
Don't forget to join our crash course on speeding up your WordPress site. Learn more below: