Google Analytics is a powerful tool that can provide valuable data about your site's visitors and performance. However, it may create some privacy issues, be challenging to use, and lack vital data 🤷‍♂️. Therefore, you might be looking for Google Analytics alternatives for your website.
The good news is that you can choose from plenty of both free and paid analytics tools. These platforms can provide useful data about your WordPress site to help you improve your marketing and Search Engine Optimization (SEO) strategies.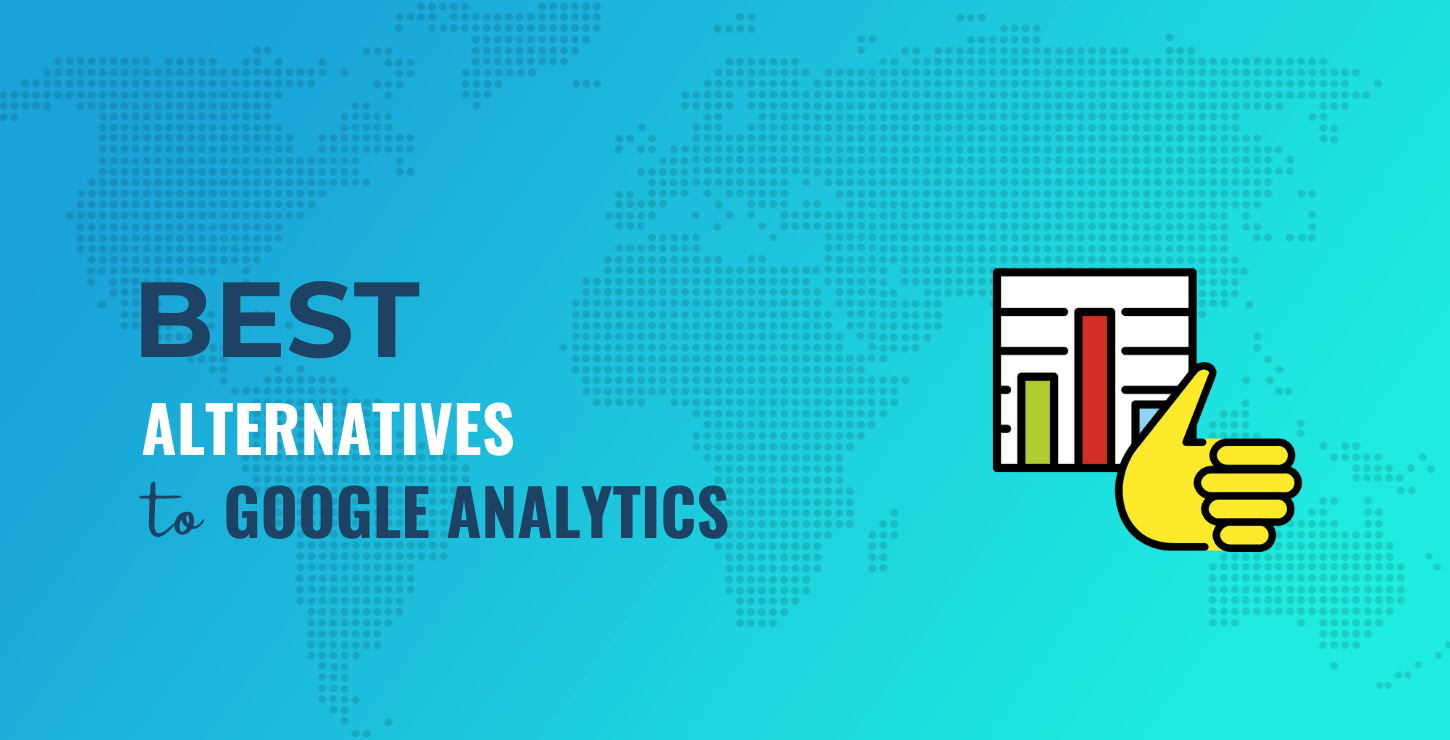 👉 This post will explore the best Google Analytics alternatives for WordPress as well as websites running on different platforms. We'll cover each option in detail so that you can make the right choice for your site.
Let's get started!
📚 Table of contents:
If you're looking for a privacy-focused Google Analytics alternative, you might want to consider Plausible. It doesn't use cookies to track you or your website's visitors. Furthermore, Plausible is fully compliant with leading privacy regulations, such as the General Data Protection Regulation (GDPR) and the California Consumer Privacy Act (CCPA) [1].
Plausible is also streamlined and offers a user-friendly dashboard. When compared to Google Analytics, it has a more accessible learning curve and a more straightforward interface. You can even integrate Plausible with Google Search Console to view your most successful keywords.
With Plausible, you can access visual and numerical data about unique visitors, bounce rates, referral sources, conversion events, and more.
Plausible is also a great choice for ecommerce sites. It can track your tagged ads, social media posts, and emails across different platforms. Therefore, it can analyze your buyers' journeys from lead capture to conversion.
You can even send weekly or monthly reports to your email inbox or Slack account. This feature enables you to easily monitor your analytics long-term, without constantly logging in.
Moreover, Plausible is a lightweight Google Analytics alternative. It uses minified scripts that have minimal impacts on your site's performance. Therefore, it shouldn't have adverse effects on your website's loading times.
Overall, Plausible is a much simpler alternative to Google Analytics. It may be a great choice if you're running a smaller site or you don't want (or need) to contend with vast amounts of data.
👍 Pros:
Simple and user-friendly interface
Security-focused platform with data privacy measures
Integrations with Google, email marketing, and social media
💳 Price: Plausible costs $9 per month. You can also take advantage of a free trial period before you sign up.
The team behind Burst Statistics is called Really Simple Plugins. They are a Netherlands based WordPress agency, solely dedicated to simplifying really complex subjects – at least, as much as possible. They built Burst Statistics as both a privacy-friendly alternative to Google Analytics, and also as a more user-friendly option.
Google Analytics is extremely comprehensive, which can be good for some people, but it can also be overwhelming for many. Not everyone is a data scientist who needs to know every single possible metric under the sun. If you're a small business owner or you run your own blog, you just want the most important stats and you want to be able to access them quickly. That's exactly what Burst Statistics gives you. It's extremely easy to navigate and won't leave you lost in an endless ocean of data.
Another nice aspect of Burst Statistics is that they are continuously adding new features and even accept user suggestions for new features. You can make them on the feature requests page. The plugin has a strong global community of users, as is evidenced by the fact that it has been voluntarily translated for use in 29 different locations around the world. They also keep a changelog of edits so you can track any updates, and they share helpful information that pertains to analytics and privacy on their documentation page.
👍 Pros:
All of your visitor data is anonymized and stored locally, making it one of the better GDPR-friendly Google Analytics alternatives
Easy to understand reporting with an uncluttered dashboard that shows your most important metrics
Simple to set up even for relative beginners (no difficult jargon or endless settings)
👎 Cons:
Being a free option, customer support is limited to posting your issue on the plugin's WordPress forum and waiting for a response
💳 Price: Unlike some of the other Google Analytics alternatives that offer free plans with limited functionality (or free trials), Burst Statistics is 100% free to use. There is no option to upgrade to a paid plan and you get all of its useful features at no cost.
Clicky is one of the best Google Analytics alternatives for monitoring your website in real-time. It has a highly-detailed dashboard that lets you "spy" on visitors while they navigate around your site.
Like Google Analytics, Clicky can provide you with a wealth of information. You can view their IP addresses, locations, actions, and more. The platform has arguably more complex data than Plausible. It can even email or text notifications and alerts directly to you when visitors complete specified actions on your site.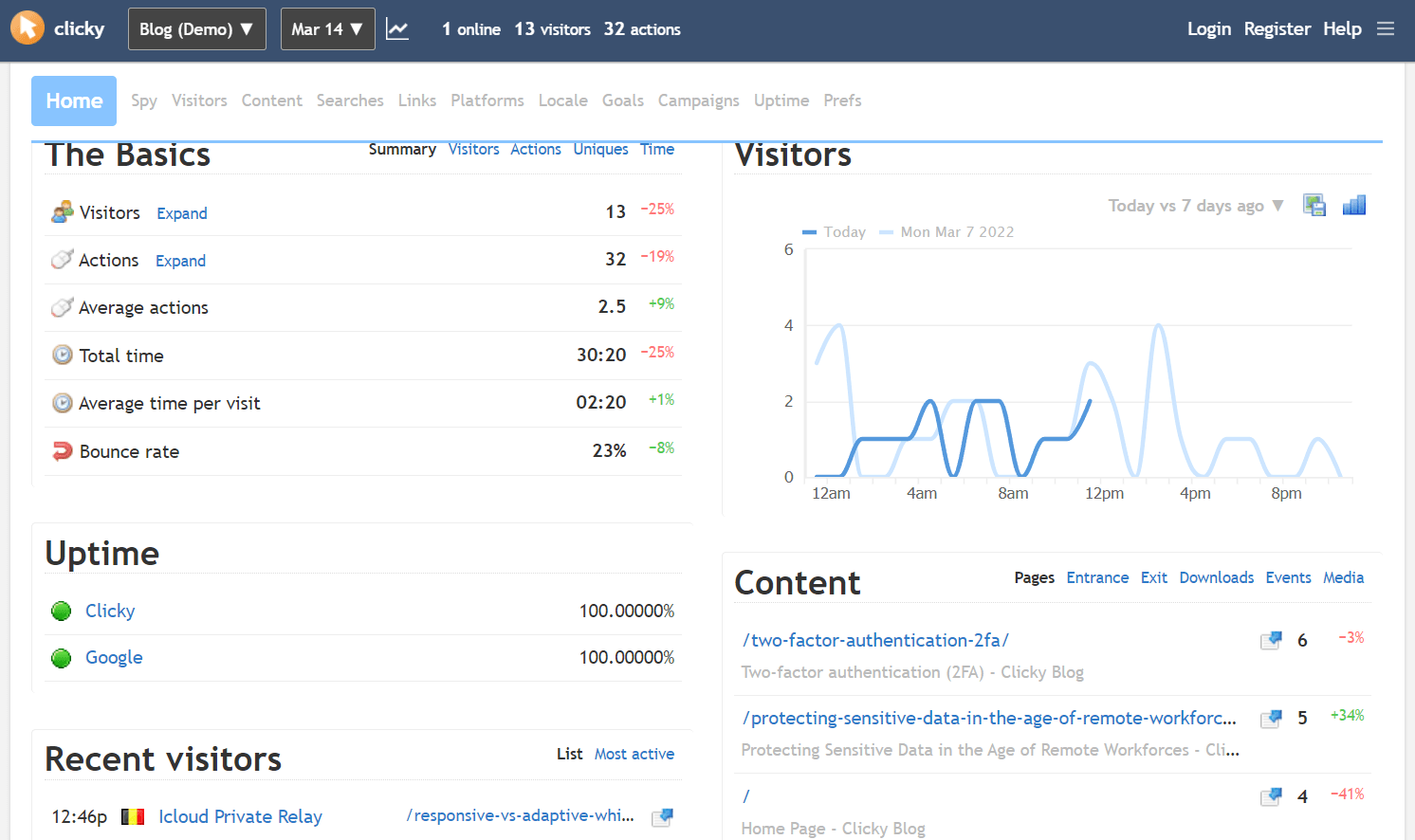 What's more, Clicky is more user-friendly than Google Analytics. That's because each dataset appears under a clearly-defined tab at the top of the dashboard. Plus, the tool generates both graphic and numerical data that is easy to interpret.
Clicky's heatmaps function also makes it stand out from the competition. This feature uses pixels to show where visitors spend the most time on your website. You can view these graphs for individual users and specified areas on your site. Additionally, you can segment heatmaps according to goals and split tests.
Clicky can even provide analytics for videos and Twitter posts. Overall, it's a great tool to view your social media marketing strategy performance and website data.
👍 Pros:
Provides multiple analytics reports
Uses real-time monitoring
Includes apps for desktop and mobile devices
👎 Cons:
Many reports are not available with the free version of the software
💳 Price: You can use Clicky for free. However, paid plans start at $9.99 per month, and enable you to track multiple websites and use premium features.
Matomo (formerly known as Piwik) is another one of the more privacy-conscious Google Analytics alternatives out there. Using this tool, you can configure your data settings to comply with the GDRP, CCPA, etc. In addition, Matomo provides complete data ownership in the country of your choice, so no third parties can access or use your information.
Moreover, Matomo stores its data in cloud servers in Germany. This setup ensures that the information meets GDPR standards, since Germany has some of the strictest regulations. Overall, Matomo can be a reliable choice if you have a European audience.
Matomo is also free and open-source. You can inspect and change the source code to meet your data needs. There is also a large community of developers who can help you make the most of the platform.
In addition to the above, Matomo can track a user's entire journey. The platform has a comprehensive dashboard displaying information about visitor behaviors, sales funnels, acquisitions, and ecommerce data insights.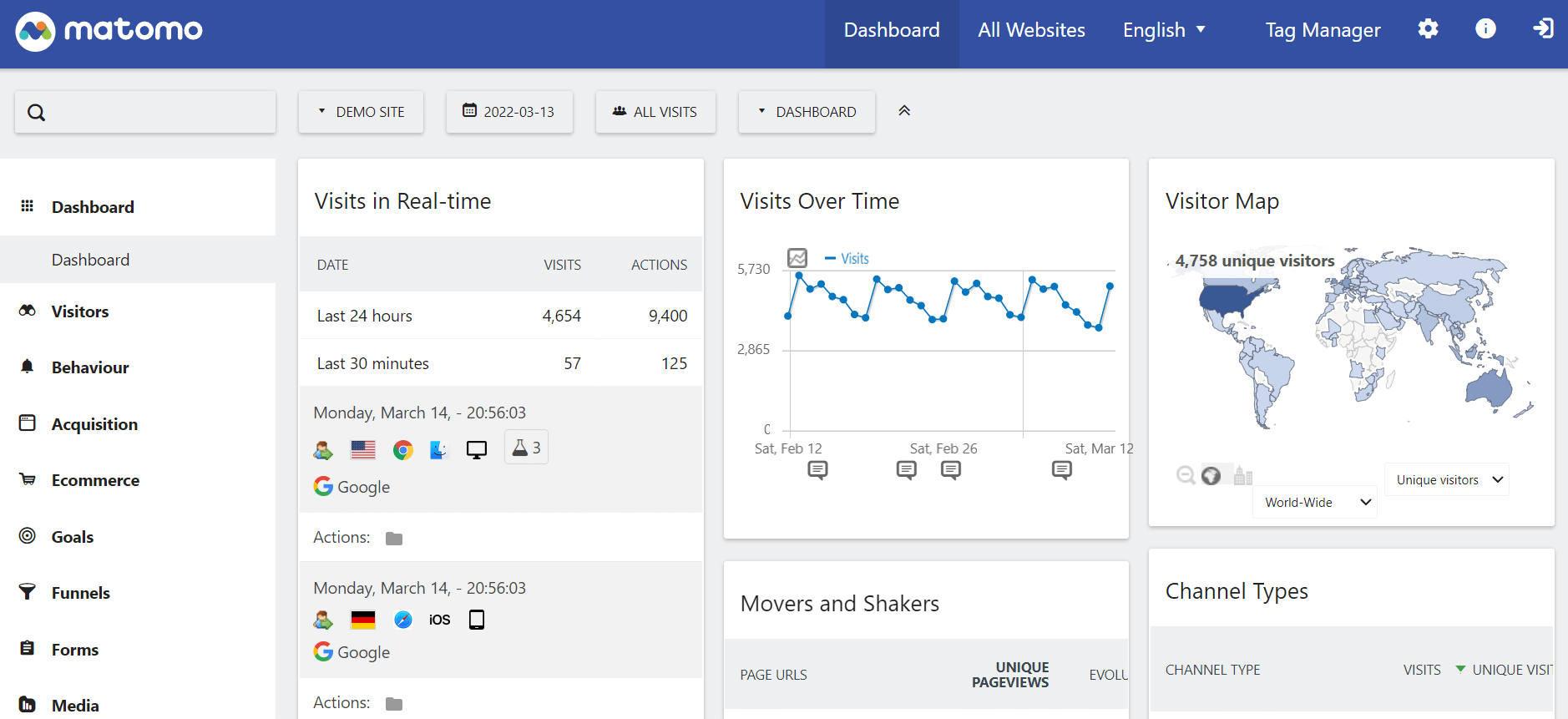 Despite its vast reserves of information, Matomo is still easy to use. Each of its reports has visual and numerical data with customizable parameters. You can even import Google Analytics data directly into Matomo to migrate between platforms.
However, you should be aware that Matomo can't source data from Google AdSense or other ad campaigns. Therefore, you'll need to use alternative analytics platforms when tracking your external advertising strategies.
Overall, Matomo is a sophisticated platform with accurate data that you can track across unlimited websites and users. It may be worth using if you're looking for a privacy-conscious and customizable Google Analytics alternative.
👍 Pros:
Privacy-conscious data analytics
Open-source software
Sophisticated information about user behaviors
👎 Cons:
No integration with Google AdSense and similar platforms
💳 Price: You can use Matomo for free. Paid plans start at $23 per month and provide access to Matomo's cloud servers.
Slimstat Analytics is one of the best lightweight and user-friendly Google Analytics alternatives out there. It is a simple but informative plugin that can display customer insights directly in your WordPress dashboard.
With Slimstat Analytics, you won't need to use an API key or configure any external software like you would with Google Analytics. Therefore, it can be a great choice for WordPress sites in particular. You can also export any of the plugin's data into PDF files or Microsoft Excel for further analysis.
Slimstat Analytics can track different user data sets, including visitor locations, actions on your site, bounce rates, and more. Furthermore, its data is wholly owned by you. You'll have the freedom to access, use, and delete any information gained from the plugin.
With the tool, you can use a filtering system to control what data you capture and analyze. For instance, you can exclude visitors based on their roles and locations. You can also exclude data gained from admin pages or other closed content.
The Slimstat Analytics software is compliant with GDPR, and you can hash IP addresses to make visitors more anonymous. As such, it's a great choice if your audience is concerned about their online privacy.
Typically, WordPress plugins need continual updates to fix performance issues and patch security problems. However, Slimstat Analytics has a relatively inconsistent update schedule. Although the developer is working to improve this, users may want to be wary of this when considering which Google Analytics alternative to choose for their website.
👍 Pros:
User-friendly design
Open source and free
Complete data ownership
It's an all-in-one WordPress plugin for analytics
💳 Price: Slimstat Analytics is free to use.
If you'd like a simple and visual-based Google Analytics alternative, then you might consider using Statcounter . This freemium tool uses detailed graphs and numerical data to show you trends related to visitor traffic, visitor actions, popular pages, and more.
Statcounter shines with its various analytics tools. You can analyze both organic and paid traffic sources, as the software enables you to measure results from social media and paid marketing campaigns. Statcounter can even identify click fraud to ensure that you don't waste advertising money on clicks from bots.
Unlike other Google Analytics alternatives on this list, Statcounter lets you identify "important" visitors. You can then set up mobile or email alerts when that user goes to your site. This feature lets you maximize your potential for conversions by reaching out to returning visitors and tracking their behaviors.
Furthermore, Statcounter offers customizable settings. You can view a general overview of your website stats or filter them by pages, visitor locations, operating systems, and more. Therefore, Statcounter is a great option for beginners and more experienced WordPress users alike.
Although Statcounter provides a free version, that tier has limited features. With it, you can only access data for a limited number of page views, and the platform won't create monthly recordings. If you want to gain meaningful insights into your site's performance, you'll likely want to upgrade to one of the paid plans.
Finally, Statcounter lets you set up automatic reports. The platform will email you daily, weekly, or monthly summaries of your site's performance.
👍 Pros:
Straightforward and user-friendly
Real-time and automated alerts
Organic and paid traffic reports
👎 Cons:
Limited features with the free analytics tool
💳 Price: Statcounter has a free version. Paid plans start at $16 per month for 100,000 page views and 1,000 monthly recordings.
Similar to Matomo, Heap is one of the best Google Analytics alternatives if you want to track a buyer's complete journey. The platform can collect user data across multiple devices, including clicks, scrolls, page views, and swipes. Since Heap provides such comprehensive information, it can be ideal for creating sales funnels and optimizing your conversion rates.
Moreover, Heap utilizes both real-time and retroactive analytics. It collects data while visitors move around your site, and continually develops predictions based on user behavior. It also highlights hidden data that isn't available with Google Analytics.
You can then view this information from a comprehensive dashboard that includes reports, data analysis, an event visualizer, and a live tracking tool.
Additionally, Heap uses a codeless tracking process and delivers data more quickly than Google Analytics. It can analyze users across various devices and doesn't require you to set up complicated manual tracking processes.
However, Heap can be more challenging to use than Google Analytics, depending on your experience level. You'll need to assign HTML tags to enable the platform to track events correctly. Creating reports can also be difficult until you familiarize yourself with the Heap interface.
Overall, Heap can likely provide you with more useful data than other Google Analytics alternatives or even Google Analytics itself. As such, it can be a great tool for ecommerce sites who rely on in-depth information to improve sales funnels and conversion rates.
👍 Pros:
Real-time and retroactive analysis of user behavior
A complete picture of user/buyer journeys
Optimized for complex web and mobile applications
👎 Cons:
Not the most user-friendly option for beginners
💳 Price: Heap has a free plan that can handle one project and 10,000 sessions per month. Paid plans start at $3,600 per year, supporting more sessions and advanced analytics features.
Final thoughts on Google Analytics alternatives
Google Analytics is a powerful platform, but it may not not suitable for everyone. If you're concerned about user privacy or confused by complicated interfaces, you might be looking for Google Analytics alternatives for your website.
Still not sure where to begin? Here are some quick recommendations:
Check out Clicky if you want a user-friendly platform that collects real-time data about visitor actions on all your sites.
Alternatively, Heap can be an excellent choice for ecommerce websites that want to track the complete buyer journey.
Lastly, if you don't want to subscribe to any third-party services, you can go with Slimstat Analytics for an all-in-one WordPress plugin solution.
Do you have any questions about using these Google Analytics alternatives? Let us know in the comments section below!
…
Don't forget to join our crash course on speeding up your WordPress site. Learn more below: