As a nonprofit, you'll naturally want to minimize your running costs. Fewer expenses mean more funds for your good cause. However, in the modern world, every organization needs an online presence. Therefore, you might be looking for the best free nonprofit website hosting providers.
Fortunately, it is possible to create a website without taking a chunk out of your funds. Many hosting providers kindly offer free packages with multiple benefits for nonprofit organizations.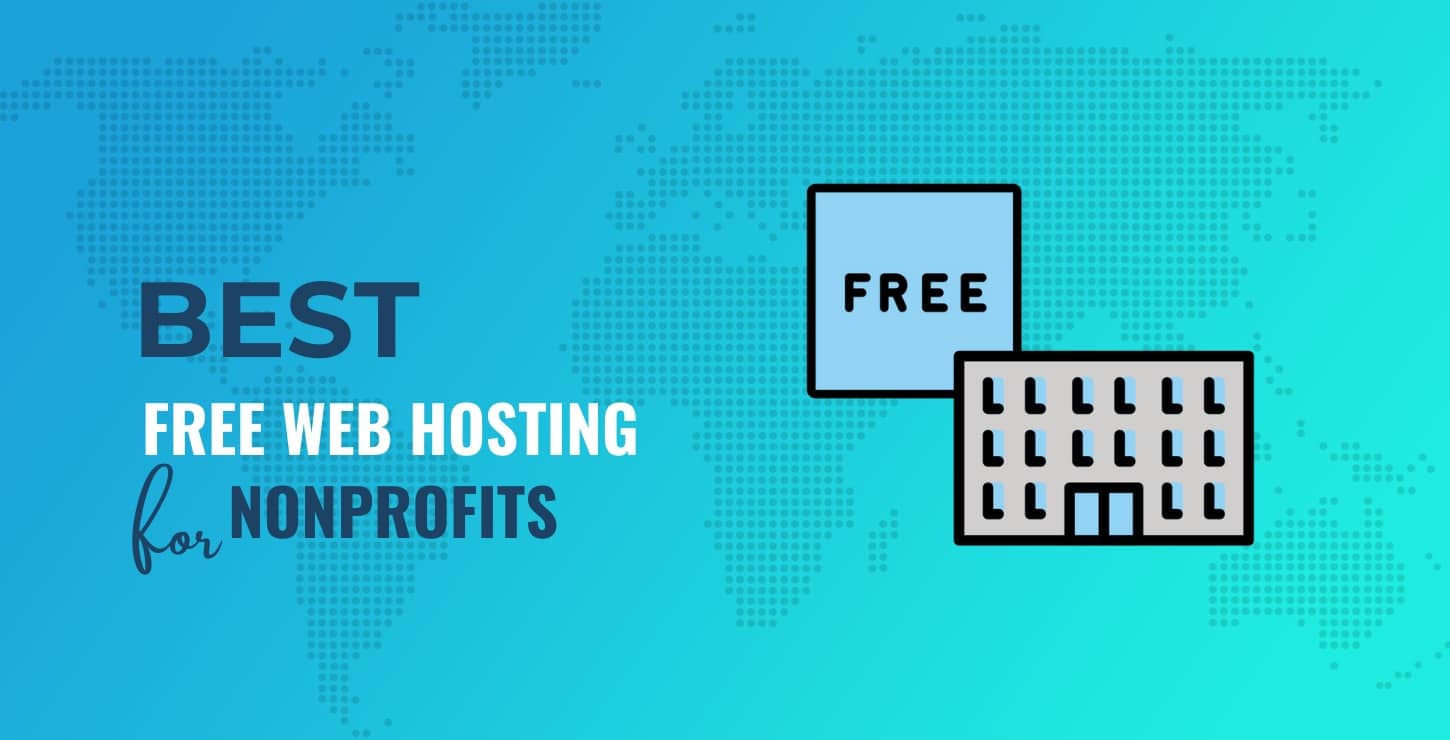 In this post, we'll share six hosts that can help you launch a website without spending a cent. Let's get started!
📚 Table of contents:
DreamHost is a top-rated provider that also offers completely free web hosting to U.S-based nonprofit organizations. Assuming that you can provide a 501(c)(3) determination letter, you can claim a single shared hosting plan at no cost. This makes DreamHost arguably the best choice among the free nonprofit website hosting platforms.
In addition, DreamHost doesn't require any credit card details. This means that you don't have to worry about accidentally incurring any charges and getting hit by an unexpected credit card bill.
As part of this offer, you'll also get free email hosting and a free qualifying domain registration. Just be aware that this registration is free for the first year only. Any additional domain registrations are not eligible for any discounts.
These added extras can help you create a more professional online presence without the extra costs. However, shared hosting plans have some downsides.
In particular, your site's performance may start to suffer if it experiences an unexpected surge in traffic. In extreme cases, this may even result in downtime.
DreamHost also offers a 35% discount on its DreamPress plans if you outgrow the complimentary shared hosting. For nonprofits that need the extra firepower and reliability provided by a managed plan, this additional discount may make DreamHost an attractive option.
⚙️ Features:
💵 Pricing:
Complimentary shared hosting for all organizations that can prove their tax-exempt status under 501(c)(3).
This New Jersey-based web hosting company offers a free nonprofit website hosting package to all nonprofits. If you can provide an IRS 501(c)(3) tax identification letter, InterServer promises unlimited space and bandwidth, at no cost.
InterServer's free hosting includes unlimited email accounts. This feature could be perfect for larger nonprofits where every staff member needs their own email address. You might even create separate accounts for different parts of your organization.
For example, you could set up an address for accepting donations, coordinating volunteers, or answering PR questions. This diversification can boost your nonprofit's efficiency while also making your organization appear more professional.
The 24/7 customer service also sets InterSever apart from the crowd. For a completely free plan, around-the-clock support is a generous inclusion.
One downside is that you must include a "Powered by InterServer" disclaimer and link at the bottom of your homepage. If you don't fulfill this requirement within 30 days, InterServer will charge you for hosting. Its standard web hosting package also doesn't include a free domain.
⚙️ Features:
Access to over 300 themes and more than 40 widgets
A free SSL certificate
Built-in InterShield Security solution for added protection
💵 Pricing: Free hosting for any nonprofit organization that's registered and verified as 501(c)(3) with the IRS.
Kualo is on a mission to help US-based charities get online, and it currently supports over 1,000 nonprofits. To qualify and take advantage of this free nonprofit website hosting via the Kualo Solo plan, you need to be a registered USA 501(c)(3) nonprofit currently listed on the Charity Navigator website.
According to Kualo's eligibility disclaimer, the company will generally approve any small, secular, or independent charity that has a "reasonably broad purpose and geographical remit." The company is also open to receiving requests from "a limited number of charities" outside the US.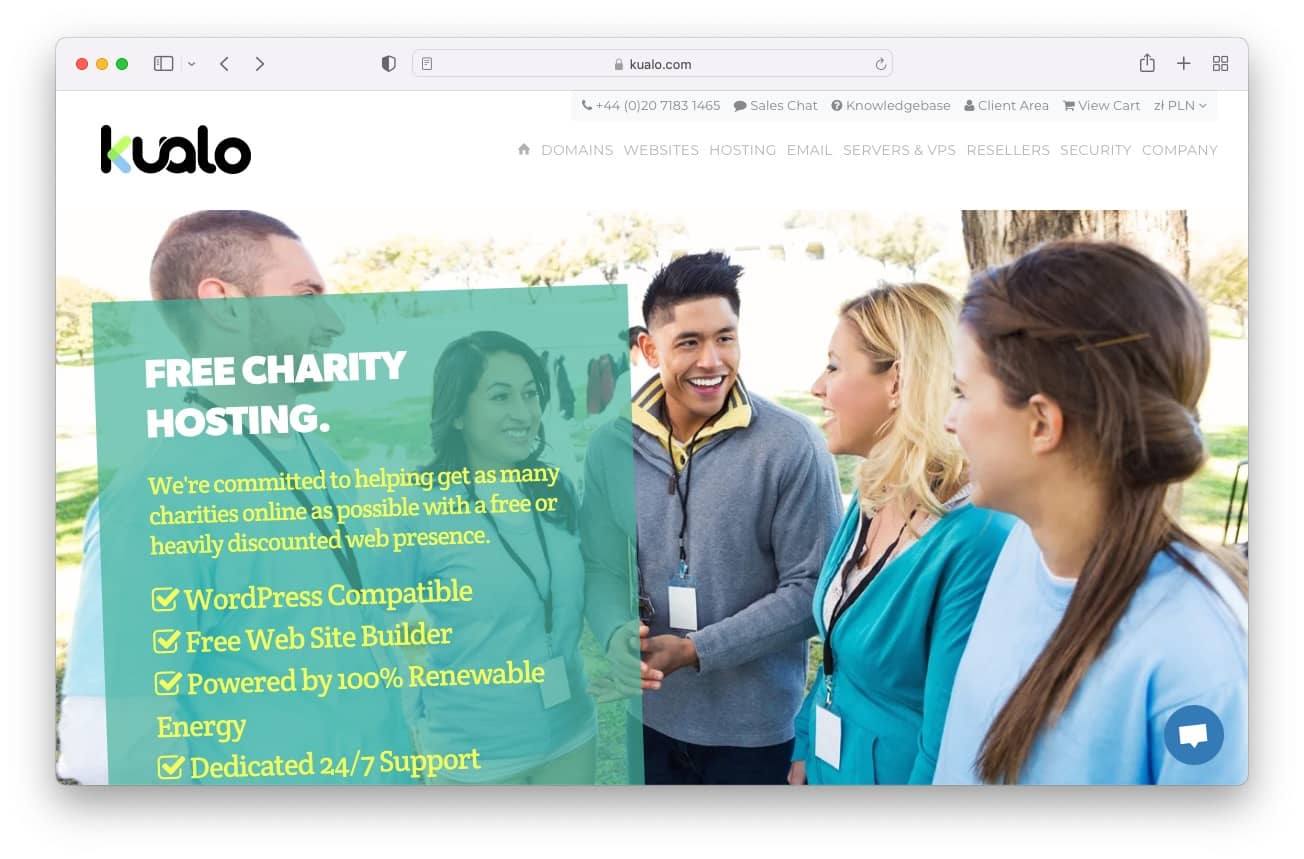 Kualo's Solo plan supports a single website, multiple subdomains, and up to ten email accounts. It's also fully compatible with some of the most popular Content Management Systems (CMSs), including the WordPress platform.
As part of this hosting plan, you'll get access to a free, drag-and-drop website builder. This tool can help you create a professional-looking nonprofit site, even if you have no previous web development experience.
Kualo is powered solely by renewable energy, and the company plants a tree for every order it receives. It's also invested in various projects that are certified to remove carbon emissions. This makes Kualo the perfect partner for environmental charities or any nonprofit that wants to support green initiatives.
⚙️ Features:
99.9% uptime guarantee
Free LiteSpeed Cache
Unlimited bandwidth
24/7 customer support
💵 Pricing: Eligible charities can claim a free Kaulo Solo plan. If the Solo plan doesn't meet your requirements, Kualo also offers a 50% discount on its entire range of hosting services.
London-based Krystal has a dedicated Amethyst Charity plan that's available to all UK-registered nonprofits. This plan includes a free drag-and-drop website builder that allows you to build your charitable website without writing a single line of code.
In 2020, more than 90% of the global population browsed the web using mobile devices [1]. Therefore, a mobile-responsive design is an absolute must if you want to attract volunteers, donors, and other parties to your nonprofit site.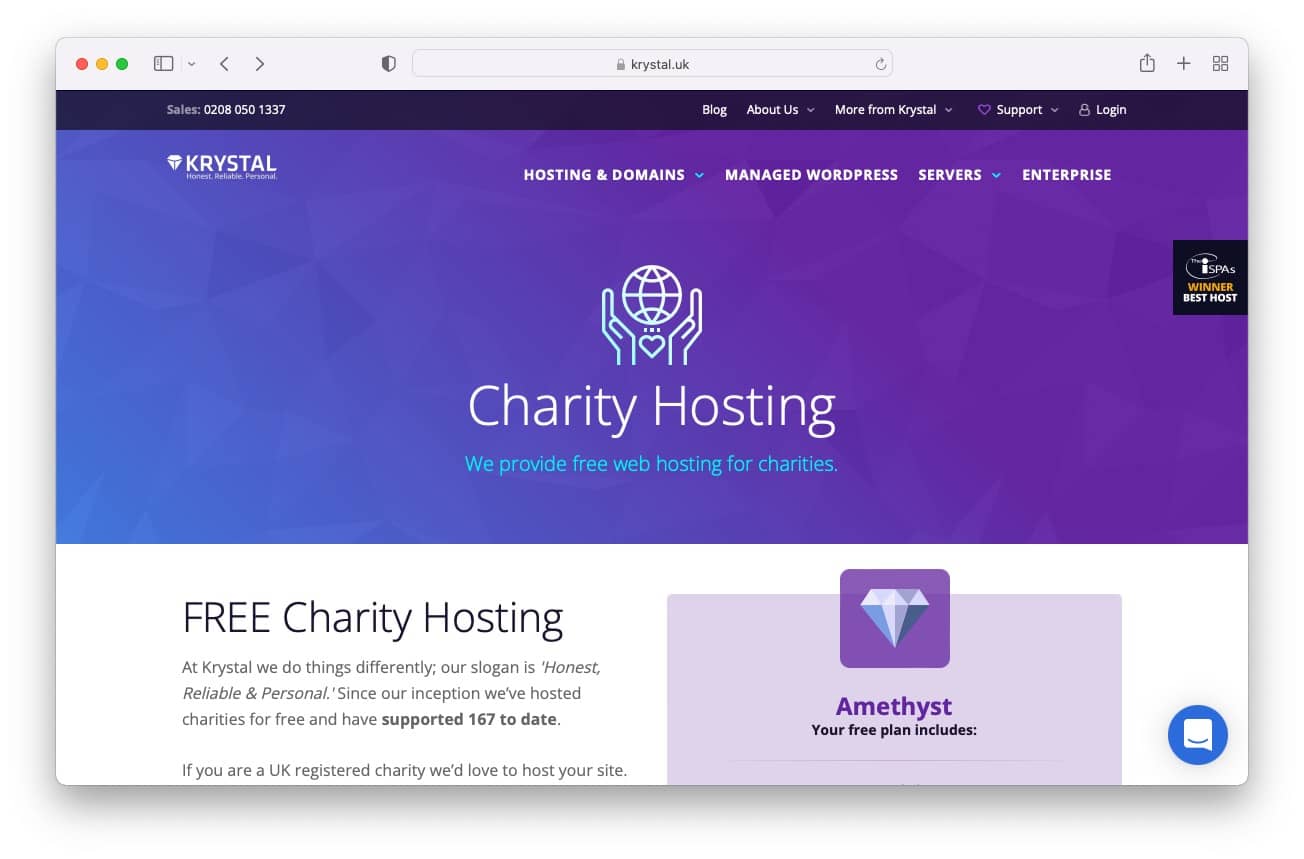 Fortunately, the Krystal website builder comes with responsive website templates. These tools ensure that your nonprofit site looks good and functions correctly, regardless of the visitor's device.
While many free plans limit you to a single site, the Amethyst package can support two unique websites. You can use both platforms to support your charity.
For example, you might create a website for your charity and a separate website for your big annual fundraiser. You might even design different portals for your supporters and the people who come to your nonprofit site looking for help.
⚙️ Features:
Over 190 templates
Complimentary SSL certificate
Unlimited email accounts
Full support for static and Google AdSense banners
💵 Pricing: UK-registered nonprofits can request a free Amethyst Charity plan. If this web hosting package doesn't meet all of your needs, Krystal offers a 50% discount on all its other web hosting plans.
If you're a UK-registered charity, LCN offers free web hosting for life. It has already helped over 500 UK charities get online. As part of this deal, it also provides a free two-year domain name.
If you're interested in an LCN plan, you can contact its UK-based support team. Its customer service staff will then discuss your options and recommend the most appropriate package for your website.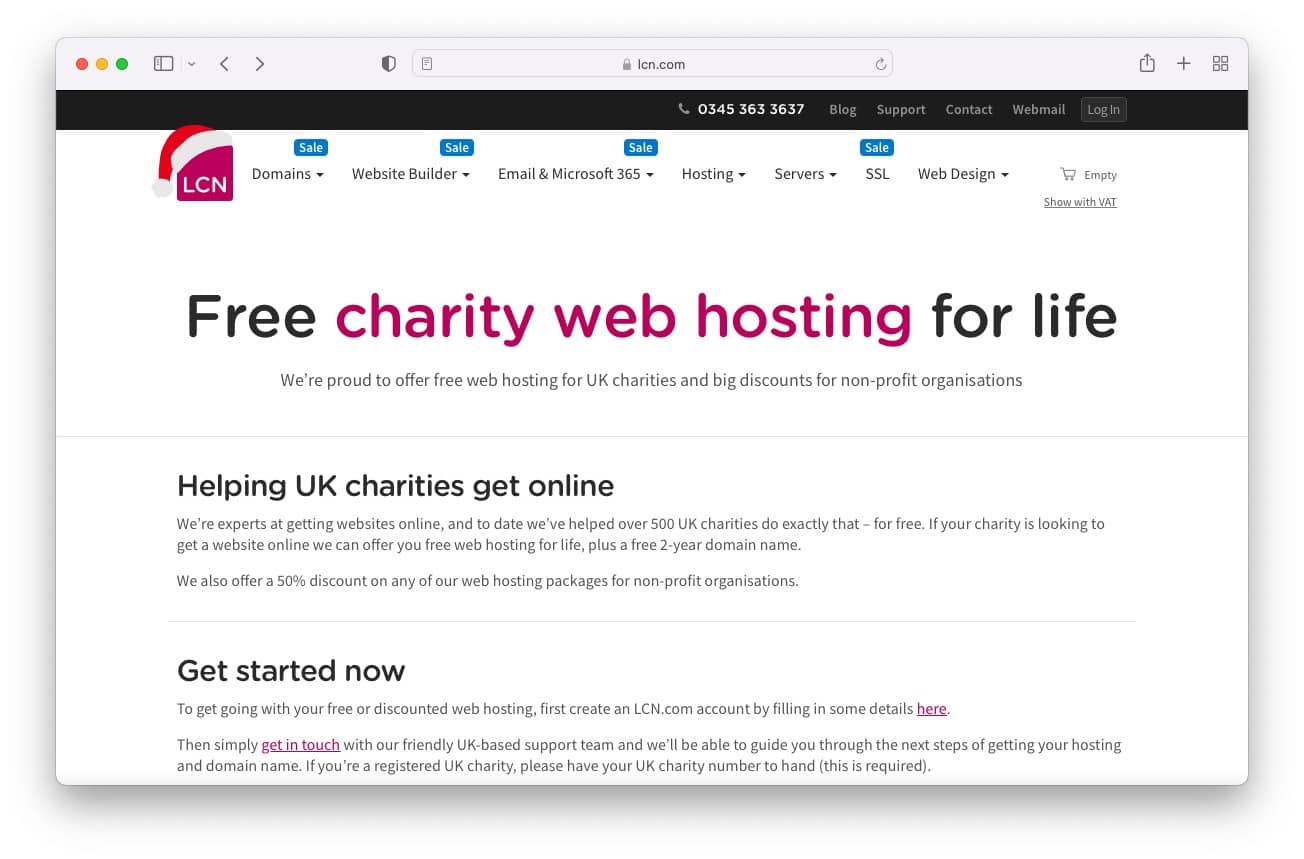 All of LCN's plans boast unlimited bandwidth, complimentary email accounts, and unlimited subdomains. To help keep your nonprofit site secure, LCN also monitors its data centers 24/7/365.
⚙️ Features:
A free IMAP email package
99.9% uptime rates
Expert support available via multiple channels, including live chat and a ticketing system
On-demand backups
💵 Pricing: If you have a UK charity number, LCN offers free web hosting.
Unlike the other providers on our list, 000webhost doesn't just offer free hosting to nonprofits. Instead, it has a free hosting plan that's open to all.
Since there are no restrictions, this host may be a good option for nonprofits that aren't officially registered. You may also opt for 000webhost.com if you don't meet the criteria specified by other hosting providers.
With this plan, you can host a single site and access 300 MB of disk space and 3 GB of bandwidth. For added security, all of the 000webhost servers are protected by Cloudflare. This company also has an impressive 99 percent uptime guarantee, so you can be confident that your charity site will remain online.
There are a few downsides to 000webhost.com's free hosting. Firstly, its plan doesn't include an email account, so this may be an additional expense for your nonprofit.
You'll also need to source an SSL certificate and set up your backup solution. Several WordPress plugins can handle the backup process for you. However, installing and configuring a plugin still represents additional work for your nonprofit and could be an extra expense.
⚙️ Features:
A built-in 000webhost Easy Website Builder
Over 100 templates
A custom control panel
One-click auto-installer
💵 Pricing: 000webhost's free web hosting is open to all, including nonprofits.
Conclusion
Many nonprofits are eager to build their reputations online without inflating their overheads. Fortunately, multiple web hosting providers offer free hosting for charitable organizations.
All of the providers mentioned in this article are excellent choices for hosting your nonprofit website. However, DreamHost offers a fantastic range of added extras, including free email hosting and a free qualifying domain registration for the first year. It's also one of the few top-rated hosting providers to offer completely free web hosting to nonprofits.
Do you have any questions about the best free web hosting for nonprofits? Let us know in the comments section below!
…
Don't forget to join our crash course on speeding up your WordPress site. With some simple fixes, you can reduce your loading time by even 50-80%: