JIRA Software is impressive. Let's be honest here. Atlassian – the company behind it – has not only built a great development and project management tool, but also lined up a whole range of other tools that integrate with the main package (handling things like documentation, help desk, etc.).
But as life has taught me, only bacon comes with no downsides. And there is one huge, elephant-in-the-room downside with JIRA.
The pricing.
Granted, if your team is under 10 people then JIRA is very affordable, just $10 / month.
But the next tier is far from gradual increase. If you have 15 people, that's $75 / month. And so on: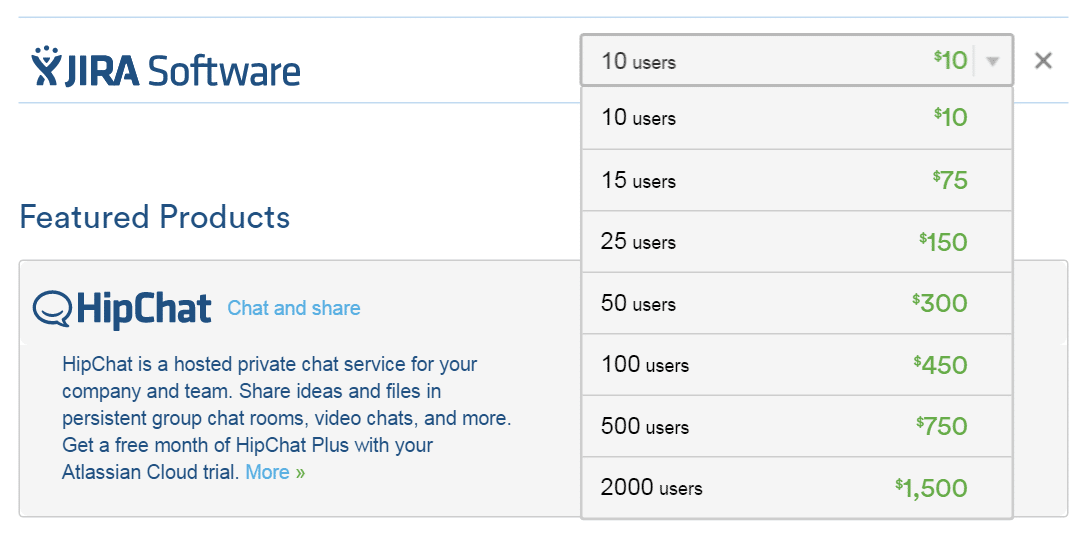 Then, there are add-ons for which you have to pay additionally as well:
So let's make this direct … there have to be other solutions out there that are more affordable, or, better yet, free.
This is exactly what we're about today! Here are the top 4 free JIRA alternatives: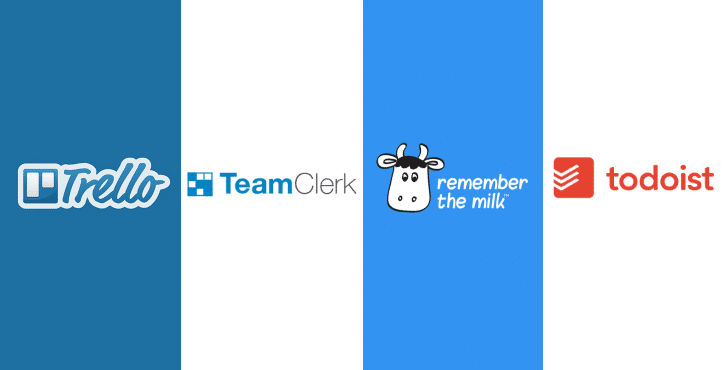 1. Trello
I've been a
Trello
guy for a while now. I like the design, the simplicity, and the overall freedom that this tool gives me. Under the hood, it's a rather crude solution, I have to admit. I mean, there isn't much in terms of helping you manage your projects. But because of it, Trello is incredibly flexible, and it leaves it up to you to create your own systems in it.
At the same time, it has some great built-in mechanisms that make the Trello model usable. For instance, there's commenting, file uploading, drag-and-drop organization, and etc.
Basically, Trello organizes your workspace into separate boards » each board has individual lists » and each list has individual cards. You can take all that, re-align it however you wish, and also put whatever info you want in there.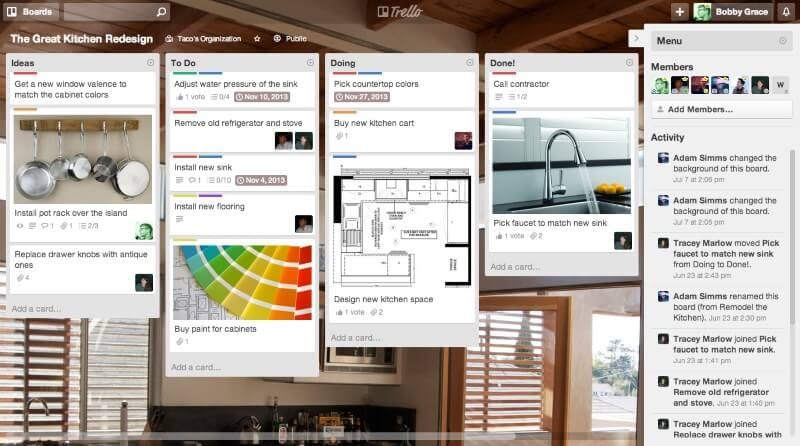 Pricing
$0
"Business Class" – $8.33 / user / month.
"Enterprise" – $20.83 / user / month.
Main Features
Unlimited boards, lists, cards, members, checklists, attachments, etc.
"Power-Ups" (add-ons). You get a couple for free, but to integrate Trello with outside tools (MailChimp, SurveyMonkey, Github, Slack, etc.) you need Trello Business Class.
Basic integrations with Box, Drive, and Dropbox.
File attachments up to 10MB each.
Is it right for you?
If you already have a system/methodology of work established, and you need a tool where you can implement that methodology and execute it effectively, Trello is a good way to go, and a good JIRA alternative to consider. It's incredibly flexible, really intuitive and easy to use.
2. TeamClerk
TeamClerk
is the new player in the game and our second free JIRA alternative. It tries to give us the best of both worlds – organizing our work into a sort of a solid structure, so to speak, while still giving us a lot of freedom regarding how we want to handle things.
In TeamClerk, everything is organized into projects » and then each project has its project tasks. Plus, you also see your own tasks in a separate column, and there's one more column that serves as a live-stream reporting section – keeping you up-to-date on the overall progress of the project and the tasks that are part of it.
The tasks module also gives you a lot of structure right off the gate. Each task has its name, description, priority, level of difficulty, and members assigned. The only downside is that there seems to be no module for comments yet.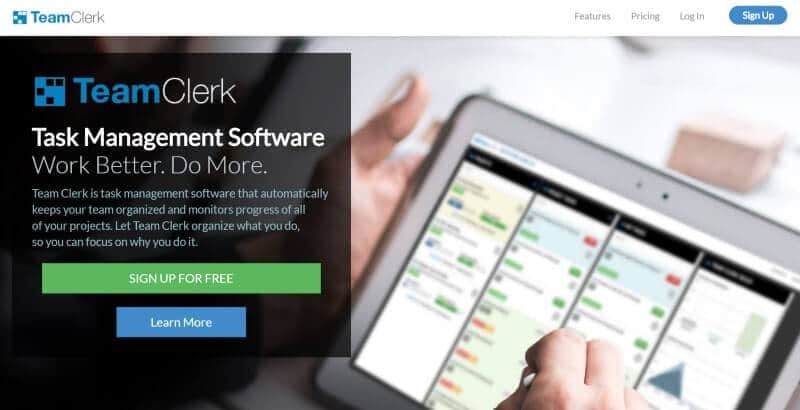 Pricing
$0 – 1 team, 3 members.
$9.99 / mo – 2 teams, 15 members / team.
$19.99 / mo – 5 teams, 20 members / team.
$39.99 / mo – 10 teams, 30 members / team.
Main Features
Work with unlimited projects, tasks.
Teams and members (you get to set up 1 team and 3 members on the free plan).
Instantly monitor elapsed time and completed tasks.
Monitor your team's progress over time (nice progress graphs).
Is it right for you?
TeamClerk is more of a project workflow management tool, rather than a place for you to describe your tasks meticulously, and figure out / brainstorm how to get them done. TeamClerk is something you come to when you already know what you want to do (or your team), and you just need a place to manage your combined efforts.
3. Remember The Milk
Remember The Milk
 labels itself the "smart to-do app for busy people." And that message seems to be very well on point, which makes it a nice free JIRA alternative.
Remember The Milk is your friendly to-do list helper, I would say. I mean, it's well suited to handle any professional matters you might have in your life, but it seems to me that it is more geared at making your everyday, personal life easier … helping you with things like shopping, picking up kids from school, not missing that concert on Saturday, and etc.
After all, the tool is called Remember The Milk, and not "Remember That Big Work Project," isn't it? That being said, there's a lot of professional-level modules in Remember The Milk that make it a viable solution for most project management purposes.
Also, it has some great keyboard shortcuts, which makes working with the tool really quick. There are sub-tasks and lists of tasks, which can very well serve as a nice way to manage whole projects. And, last but not least, there's drag-and-drop support.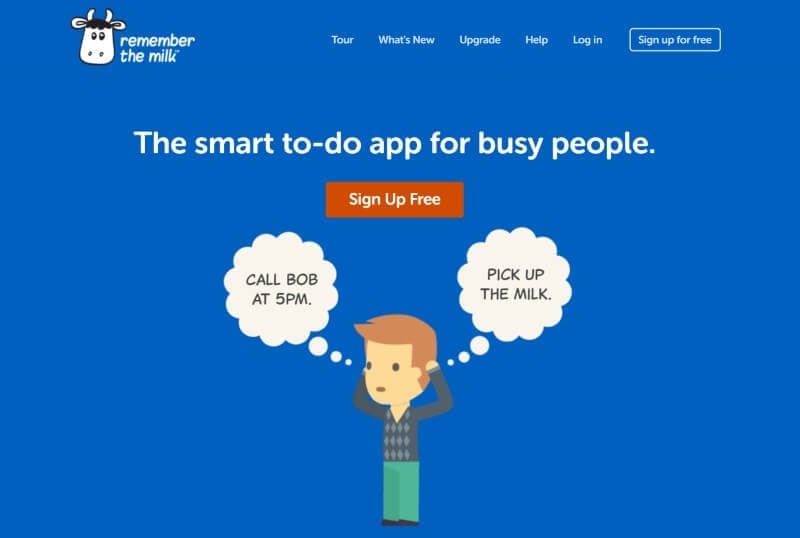 Pricing
$0 – share your lists with 2 people.
$39.99 / year – no limitations and a lot of cool additional features.
Main Features
Web, desktop, and mobile apps.
Built-in integration with Gmail, Google Calendar, Twitter, and Evernote.
Adding tasks via email, Twitter, and Siri.
Delegate tasks to others.
Share lists of tasks with other users (up to 2 users on the free plan).
Sub-tasks and search operators (pro feature).
Drag and drop support.
Task coloring and priorities.
Is it right for you?
Remember The Milk is a great JIRA alternative for small teams as well as individuals that like for their to-do and project management tool to be able to handle everything, from personal life to professional responsibilities. A great, general to-do list tool.
4. Todoist
Todoist
 is one of the main tools out there that have been integrated with the ideas of the Getting Things Done (GTD) methodology right from the get-go. Every task in Todoist can be delegated, scheduled, postponed, or moved to a different inbox exactly how you need it. Plus, the added benefit is that you can also use it in teams.
There are apps available for nearly all devices, and they all seem to be very well-designed (at least the ones I checked).
Furthermore, Todoist lets you organize the things you have going on into individual projects, but you also get a range of other useful features, from sub-tasks, sub-projects, recurring tasks, to reminders, comments, task collaboration, or even productivity tracking through nice "karma" scores.
In a sentence, Todoist is a great tool to get your – and your team's – tasks done, and thus a viable free JIRA alternative.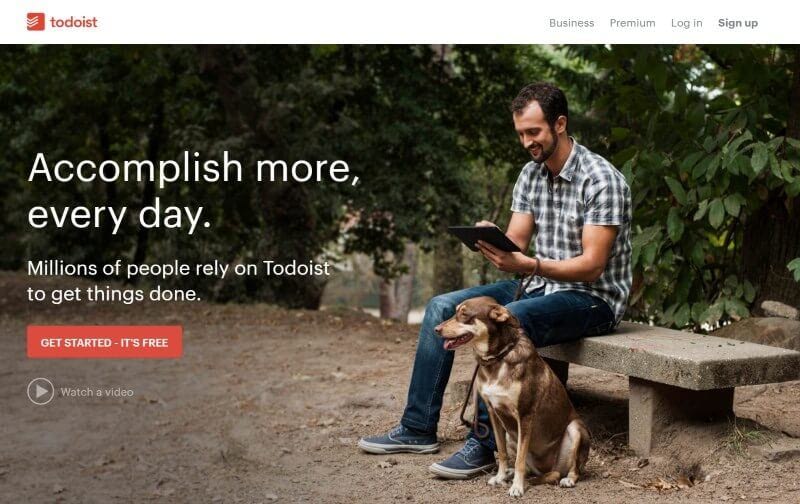 Pricing
$0 – 80 active projects, 5 people per project.
"PREMIUM" – $28.99 / year – 200 active projects, 25 people per project.
"BUSINESS" – $28.99 / user / year – 200 active projects, 50 people per project.
Main Features
Multiple apps available.
Collaborate on shared tasks.
Sub-projects, sub-tasks.
Notes and file attachments (premium).
GTD-friendly.
Task priorities.
Is it right for you?
If you run your business and your projects in tune with GTD, this tool can be a great solution for you. Todoist gives you excellent task management features, good project management overall, and good teamwork mechanisms.
Conclusion
The 4 free alternatives to JIRA listed here all have their pros/cons and limitations. But so does JIRA itself. Quite frankly, there's no one best tool out there that everybody should use. Like it usually does, it all comes down to your individual needs and your team's needs.
At the end of the day, the tools presented here are free, so you have nothing to lose trying them all out, but just to make the choice easier for you, consider this: