As every audiobook lover knows, many of the best publications are paid. However, we did find a few top-quality free audiobook sites that provide great content. We want to share that list with you today!
Why should you even care for audiobooks? Well, in the past ten years, the number of audiobooks published only in the United States has increased 11 times [1]! We can only imagine what the landscape is going to look like in another ten years.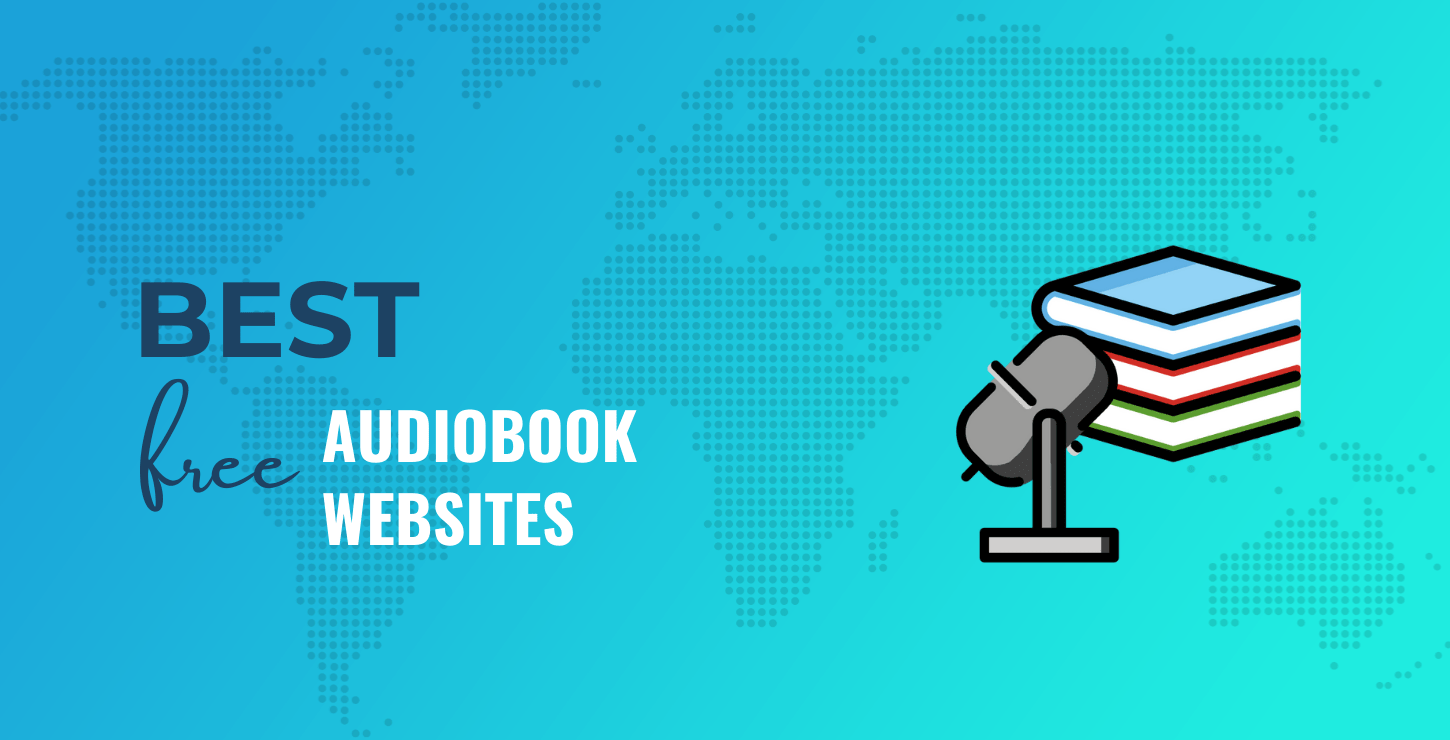 ℹ️ In this post, we'll showcase some great websites that let you listen to audiobooks for free. Most of them address English speakers, but you will find many books narrated in other languages, too.
Let's get to it!
10+ best free audiobook sites in 2023 🎧
Here's a preview of the sites that we will present to you in this post: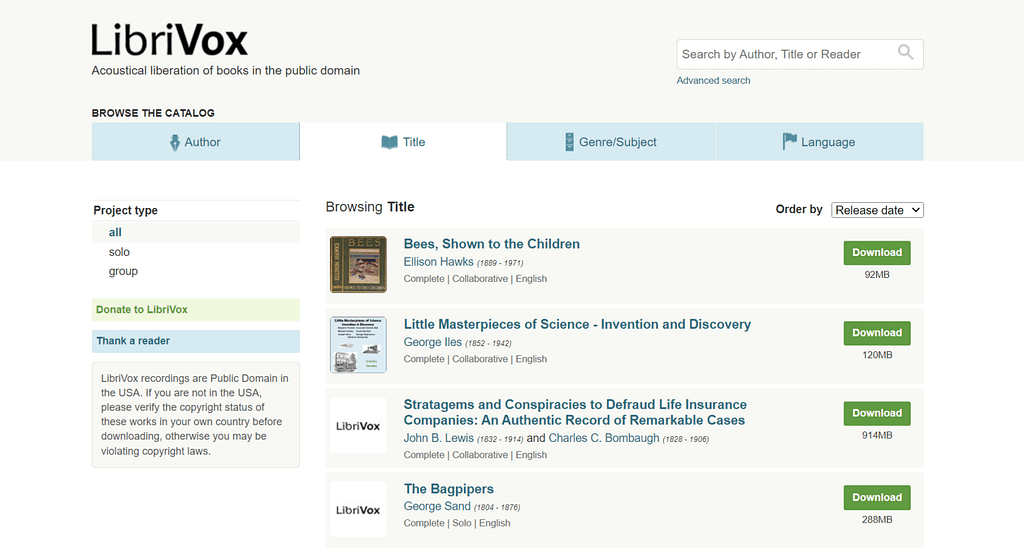 LibriVox is a huge library of over 16,000 audiobooks released into the public domain. The content is entirely curated by volunteers.
On this website, you will find audiobooks in 46 different languages – preponderantly French, German, Italian, and Spanish. There are over 2,000 non-English audiobooks, in total.
To get relevant results, you can browse their catalog by author, title, genre/subject, or language. Or you can simply use the search bar if you already have something in mind.
Each book has many chapters, which you can download one by one via desktop or phone app. The platform gives you the option to download audiobooks as zip files, torrents, iTunes files, or RSS feeds.
A cool thing about this website is that volunteers record the audio versions of books. If you need a part-time hobby that involves books, you can join the LibriVox team anytime.
💡 Looking for some top reading recommendations? Check these out:
Similar to LibriVox, Loyal Books is one of the free audiobook sites that gives you access to over 7,000 titles in the public domain. For each audiobook available on the site, you can download alternatives for Kindle, iPhone, and browser eBook.
The Loyal Books website is open to everyone. It's free to consume the content and also contribute to it with new audiobooks. You can browse the catalog very easily because the Loyal Books interface is intuitive and friendly.
When you search for a book, you will see its cover and the user rating given by the community of listeners. If you're not sure what book you want to read, there's a sidebar menu to the left that recommends the most popular books and genres on the site.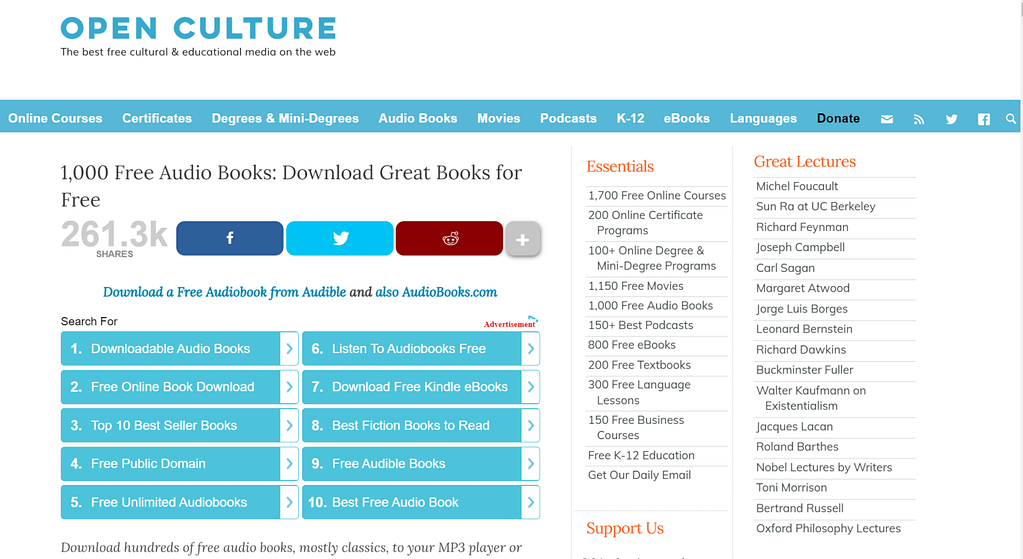 Open Culture is a website that provides lots of cultural resources for free. On this site, you will not only find audiobooks but also podcasts, movies, eBooks, courses, and certificates.
When it comes to audiobooks, Open Culture offers over 1,000 free recordings. Their dedicated page has all the audiobooks listed alphabetically (by author).
The browsing on this website is not the most intuitive, though. The huge lists and many categories of free content can confuse and overwhelm you, but Ctrl+F on each page will help you find a book more easily.
You can download an audiobook as an MP3 file, add it to your iTunes library, listen to it on YouTube, or open it with various other streaming services. A single audiobook usually provides only one or two of these options. You will rarely find one that comes with all the alternatives.
While you do not have to pay for the content, Open Culture accepts donations from readers.
Lit2Go is an online library of books and poems in MP3 format. On the homepage, search by author, book title, or genre to find what you need. If you don't have a specific name in mind, browse through their collections and pick what sounds appealing to you.
When you click on a book, you'll see a page that features all its chapters. You can download a chapter either in MP3 or PDF format. Apart from the chapters, Lit2Go offers details about the book's genre, word count, year of publication, country of origin, and more.
An interesting thing about this free library is that it groups books based on their readability scores. The books receive a Flesch–Kincaid readability score based on how difficult it is to understand the text.
Keep in mind that Lit2Go features books only in English.
Project Gutenberg is a good site to check if you want free audiobooks in most languages of the world. On the main page, click on the language you prefer, and Gutenberg will show you all the available entries.
Apart from language, you can sort the audiobooks alphabetically by author, title, date of publication on the site, and by special categories. In the special categories, you will be able to choose from computer-generated stories or books narrated by humans.
In the Gutenberg library, you will find various recordings, music, moving pictures, and more. Remember to select either computer-generated or human-read audiobooks to make sure the ones that show up do come in audio format. Project Gutenberg is a library that offers many types of books; hence, some of them will be available only in text format.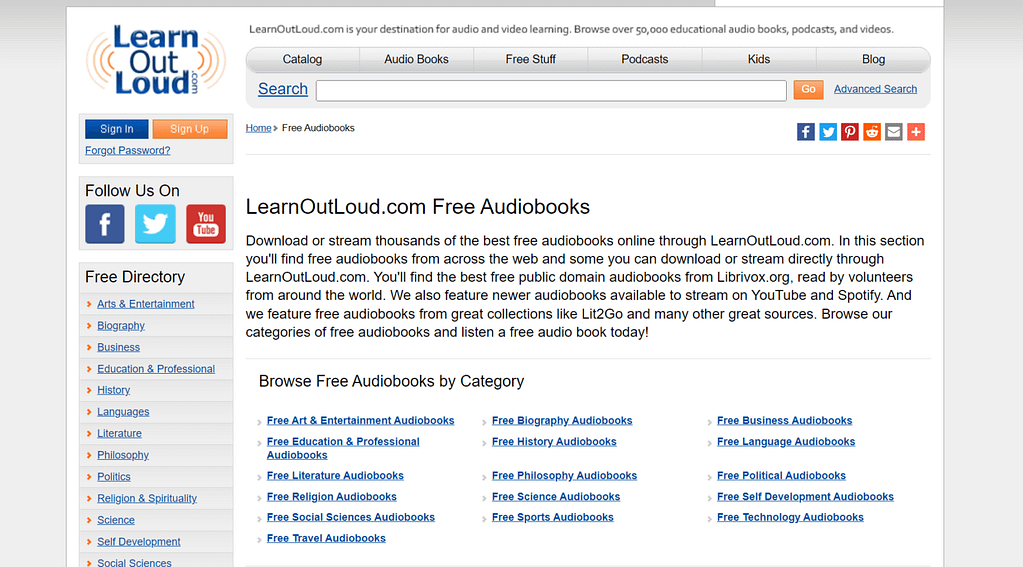 Learn Out Loud is more like an aggregator site for free audiobooks. When you search for a title on this website, you'll get a list that consists of results from across the web (for example, LibriVox, YouTube, or Spotify). Some of the results will lead you to the original site of the audiobook, while others are available directly on Learn Out Loud.
Once you enter the site, start by browsing through the directory of free audiobooks or search for a book title directly. Apart from the audiobooks, the Learn Out Loud catalog includes podcasts, courses, and documentaries.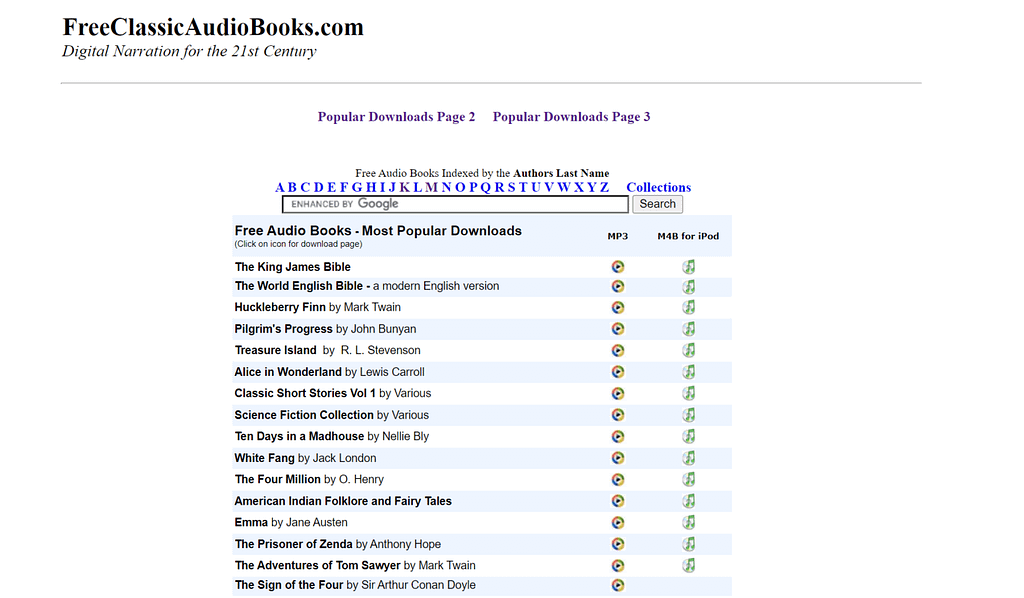 This free audiobook site resembles a classic online directory. The interface is simple – you can see the book to the left and the available download format to the right. Most of the audiobooks come in MP3 format, but some of them also provide an alternative for iPod (M4B extension).
What's different about this site is that it showcases only classic literature. Here, you will find narrations of books from the 21st century.
While the interface is straightforward, you will have a hard time searching for titles internally. Mostly, you will have to manually browse through all the pages by clicking on the first letter of the author's last name. This will lead you to a database with all the entries that start with that letter.
On the first page of the site, you also get a selection of the most downloaded audiobooks.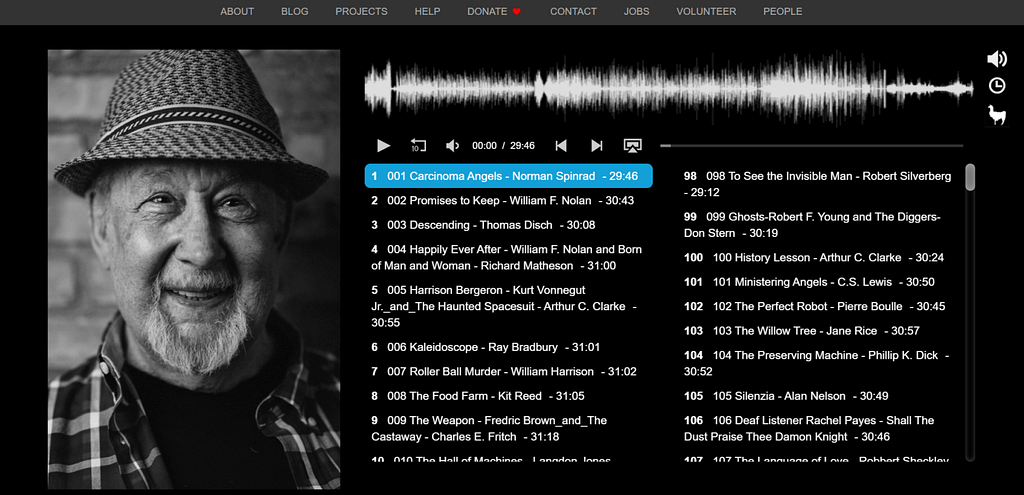 This site is an archive of the former Mind Webs – a science-fiction radio show from 1970, hosted by Michael Hanson. It consisted of a series of weekly short stories written by contemporary authors of the science-fiction genre. These stories were recorded in audio formats of around 30 minutes each.
If you are into short science-fiction audio stories, here's an archive that preserves the Mind Webs episodes for free. They are not only narrated by a human voice, but they also come with sound effects that add to the atmosphere of the story. It's similar to radio dramas that convey the feeling of reality through their complementary sound effects.
The archive brings 188 shows that present 216 short stories. You can either listen online or download the audio files for free in several formats.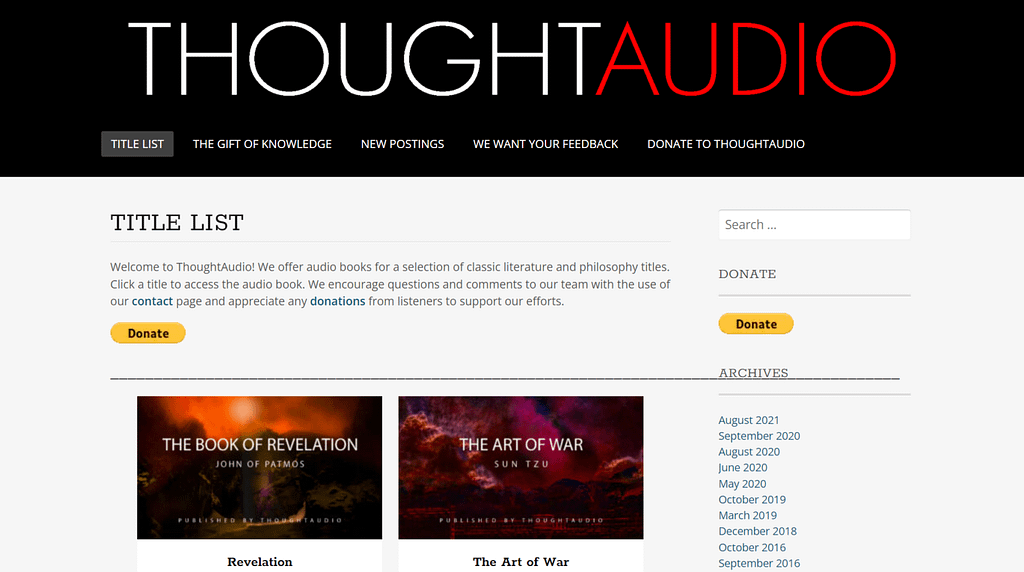 This is one of the free audiobook sites that curates their free audiobooks from YouTube. These audiobooks also remain hosted on YouTube, and Thought Audio only gives you an easy way of finding them.
You can use the interface of the site to search for book titles and authors. You can listen to the audiobooks right on the site via an embed – you don't have to go to YouTube.
On Thought Audio, you will find classic novels, poetry, and philosophy. If you enjoy the content of the site, you can contribute with a donation (via PayPal) to support the team that curates the audiobooks.
This library of free audiobooks is part of the BBC Sounds initiative, where the media group showcases everything audio – from podcasts to audiobooks, music, radio, documentaries, comedy, sports, and more. The catalog is really good, which is why we've placed it on this list of the best free audiobook sites.
In the audiobooks category, you will find real stories, fiction, stand-up comedy, memoirs, portraits, biographies, history, storytelling episodes, and a lot more. Each entry is actually a series of many episodes.
If you create an account on BBC Sounds, you can save your favorite episodes to watch them later and subscribe to get notifications about new episodes together with daily personalized recommendations.
While most of the free audiobook sites on this list have thousands of book titles in their directory, BBC Sounds provides around 100 titles.
Looking for more?
Didn't find "the one" yet? Maybe some of these alternatives among free audiobook sites will be a better match for you:
Audible Free Listens – While Audible is a premium platform, it has its own category of free audiobooks that you can access by creating an Audible account.
Spotify Audiobooks – Spotify has its own playlist of over 100 free audiobooks that contain well-known literature classics.
Hoopla – A site that gives you access to free audiobooks via your library card. If you have a subscription to a physical library in the US, you can get access to a lot of free content on Hoopla (movies, music, comics, TV shows, and more). Check with your local library to see if they have a partnership with Hoopla.
Overdrive – Similar to Hoopla, but it focuses on audiobooks and eBooks.
Digitalbook.io – An aggregator for audiobooks. Search for an audiobook, and it will show you places on the web where you can find it. It doesn't really find all the places, but it's still a good resource to check when you're looking for something specific.
Conclusion
As you can see, there are several great free audiobook sites out there with loads of publications. These sites do not require any subscription or financial commitment in the long term. You can listen to unlimited audiobooks without having to do anything in return.
👉 However, if you want to give back to your favorite site, you can always volunteer to help the team curate, record, and upload the content online. Or simply donate if they allow you to. But this is only up to you.
Which site from this list do you like the most? If we missed any interesting free audiobook sites, feel free to let us know in the comments section.
…
Don't forget to join our crash course on speeding up your WordPress site. Learn more below: