While there are many factors that distinguish high-earning freelance writers from struggling ones, high-earning freelance writers are ultimately more successful not because they are more qualified or more skilled than struggling ones. Instead, they are more successful because they know how to get freelance writing jobs that pay really well.
And this has little to do with how much a freelance writer is demanding; you could charge a lot and earn a lot, and you could charge little and still struggle to get jobs.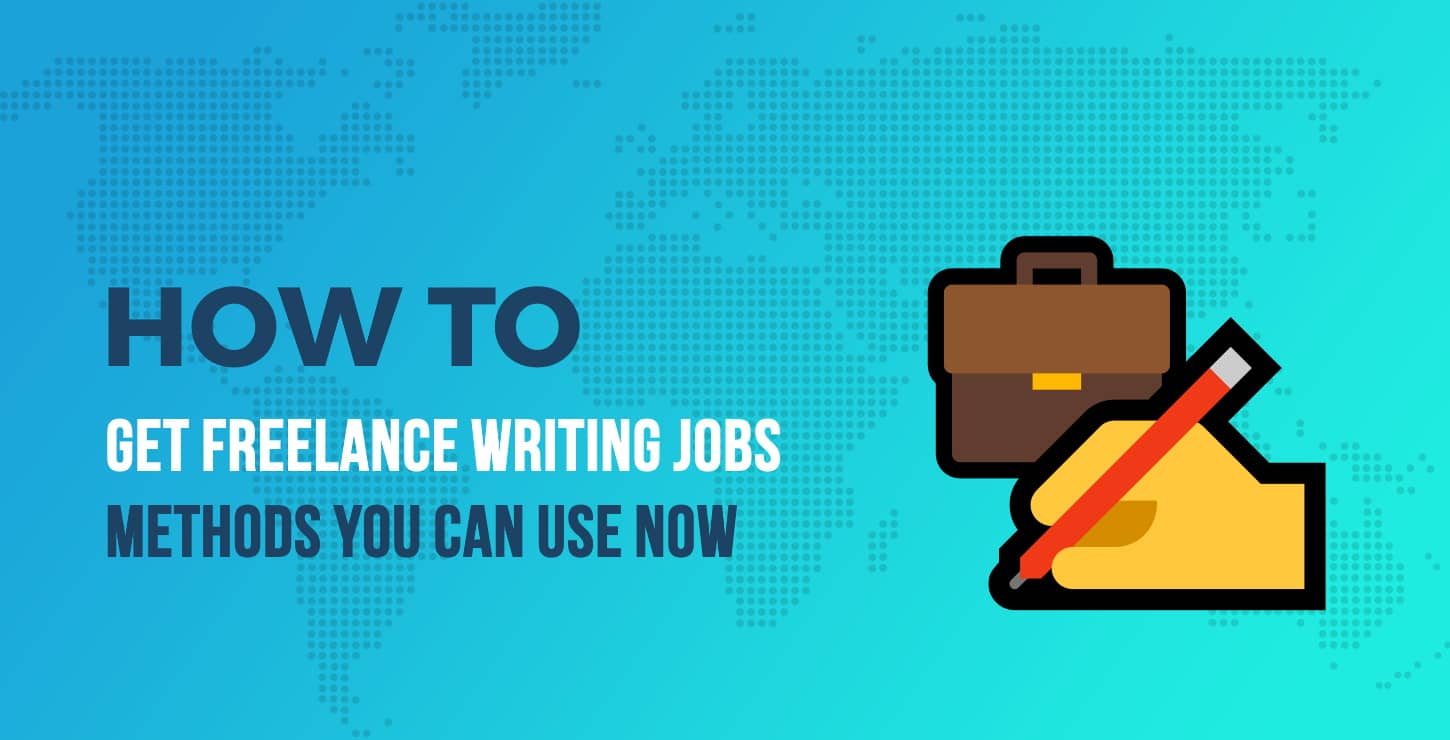 A quick search for "legal writers" on platforms like Upwork brings up profiles of several freelance writers, including the following:
As you can see, the first writer charges up to $200/hour and has billed over $400,000 in freelance work. The second writer, on the other hand, charges a meager $30/hour and has billed just $2,000.
Of course, while there are obviously several factors involved, the point I'm trying to make is that making a good living as a freelance writer is about more than just how much you charge. Competing on price won't necessarily give you an advantage because there is more than enough money to go around – research shows that the content marketing industry is worth over $300 billion.
In other words, there is a lot of money to go around; you just have to know where to find the better paying jobs.
🤔 How much can you earn doing freelance writing jobs?
The following are the typical rates for freelance writing work according to the Editorial Freelancers Association (EFA), the most authoritative source on freelancing rates: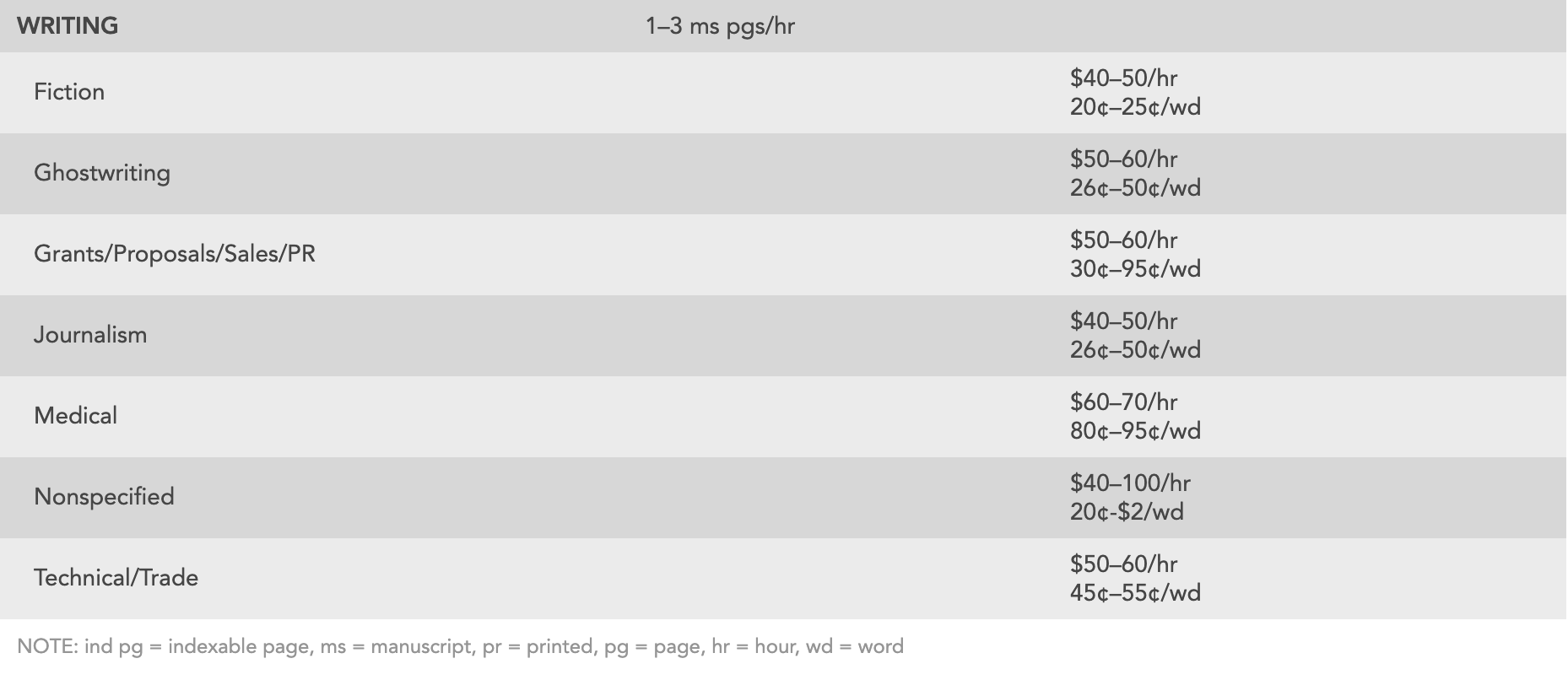 According to the EFA, you can expect to earn between $40 and $100 per hour or between 20 cents and $2 per word for freelance writing jobs depending on the nature of the writing. Of course, some freelance writers earn much more, and some earn much less, but this is often determined by a number of key factors such as:
Your level of experience

Experienced freelance writers will always earn much more than beginner or entry level freelance writers – often by a very significant margin. According to Make a Living Writing's survey of 1,400+ freelance writers, freelance writing earnings are strongly correlated with level of experience – with experienced freelance writers (2+ years) easily earning double or more what entry level freelance writers (less than one year) are earning for the same jobs. This fact was corroborated by similar research on freelance writer pay from ClearVoice.

Content type matters

You'll get paid more for advanced kinds of content such as whitepapers, copywriting, technical writing, and ghostwriting than for much simpler ones such as SEO articles or blog posts. The more difficult it is for other writers to do the kind of writing you're doing the more you're likely to earn.

Specialization and qualification

Most freelance writing jobs do not require you to have any form of qualification and aren't too specialized. The few that do – such as those in the legal industry or the healthcare industry – often pay significantly more, though. If you have any qualification or experience level that can help with these specialized writing jobs, it will be a good idea to capitalize on it.
I generally charge $0.30 to $0.40 per word (or about $300 to $400 per 1,000 words article), or more depending on the nature of the project. I used to struggle to charge $50 per article, until veteran freelance writer Carol Tice once told me, point blank, during one of our discussions that I was undercharging and asked me to increase my rate. I immediately doubled my rate for new clients and they paid. I did that again for the next ones and they paid as well.
This made me realize a key fact: you're often worth as much as you're willing to charge. In a lot of cases, you're probably undercharging and should just go ahead and increase your rates!
💼 Types of freelance writing jobs you can do
I'll be sharing my favorite techniques for finding writing jobs in a moment, but first I'd like to give you a quick overview of 20+ types of freelance writing jobs you can do:
Ghostwriting
Blog posts
Press releases
Technical writing
Whitepapers
SEO content
Magazine articles
Advertising copy
Grant writing
Business plan writing
Nonprofit writing
Essay writing
Ebooks
Newsletters
Book writing (often ghostwritten or written in partnership)
Legal writing (contracts, legal briefs, etc.)
Resumes
Speechwriting
Scriptwriting
Case studies
Social media copy
Product descriptions
Legal writing
Editing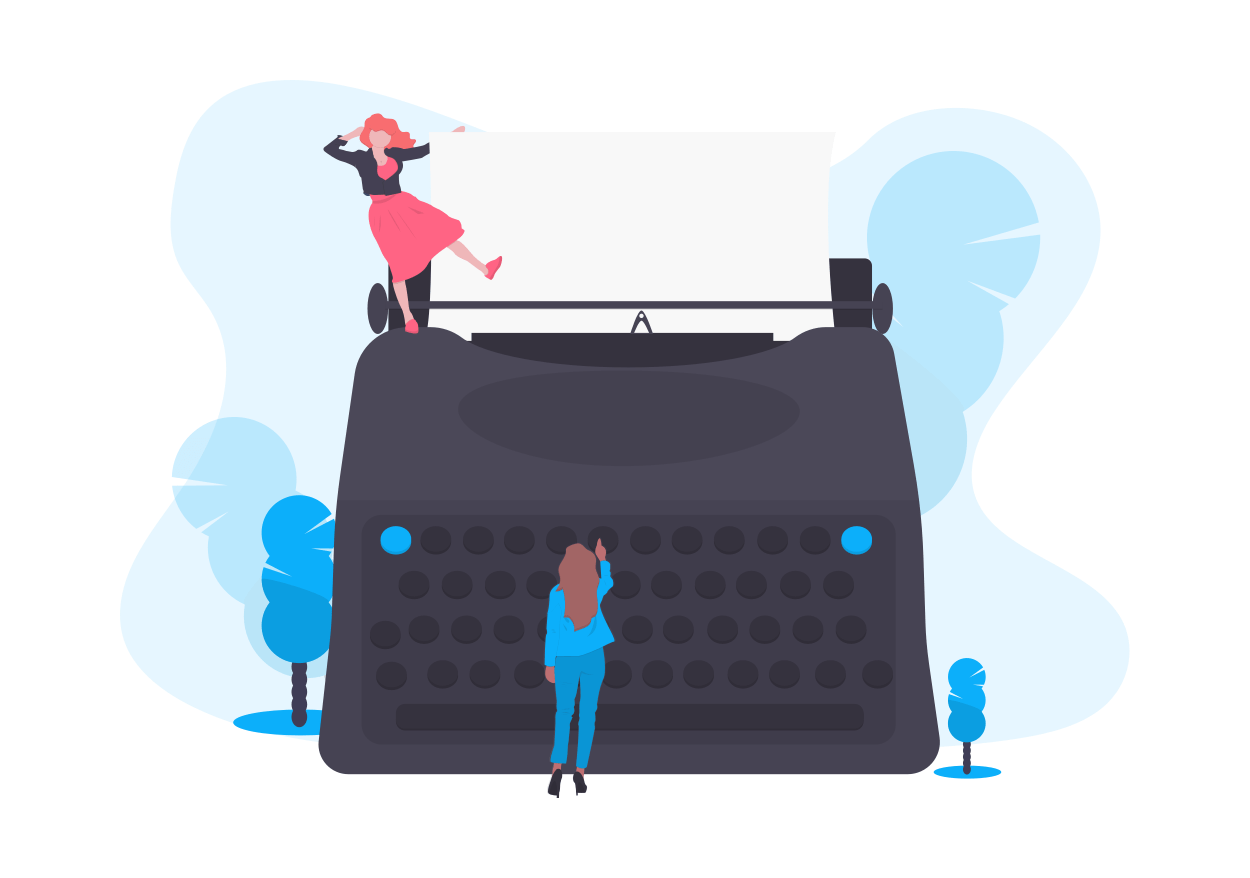 ✍️ How to actually get freelance writing jobs: 25+ methods that work
While the above is a non-exhaustive list of different types of freelance writing jobs you can do, the real question is how do you actually get these jobs?
Of course, many people are quick to rush to online job boards and online job platforms. While these are often a good first stop for beginners, relying on just online job platforms isn't always a good idea.
According to the freelance writer pay survey from Make a Living Writing that I earlier referenced, virtually none of the high-earning freelance writers surveyed use job boards and online platforms like Upwork and content mills. Instead:
55% use word of mouth and a strong referral network
11% receive inbound leads, via online profiles on writer sites, LinkedIn, etc.
So what are the most effective ways to get freelance writing jobs? Below are 25+ methods (broken down into three different categories):
⚡ Pro tip: Take advantage of content marketplaces
If you have the required level of experience and some social proof, content marketplaces and job directory websites can be some of the best sources of writing job opportunities for you. Basically, content marketplaces are platforms that facilitate a connection between freelance writers and brands engaging in content marketing.
Many content marketplaces make it easy for freelance writers to earn a decent rate and some even allow writers to earn really well. This is done by publicly advertising these rates on their platforms and carefully vetting clients who use their platform to ensure compliance with these rates.
For example, CloudPeeps publicly advertises $100 to $250 as the rate for blog posts on their rates page and an hourly rate of up to $80 per hour for writers. Scripted publicly advertises an average minimum of 10 cents per word, and these are just two of about seven content marketplaces listed below.
CloudPeeps is an online marketplace designed for businesses that want to leverage the power of content marketing. Unlike most of the other marketplaces listed below, they aren't focused just on content as they also facilitate other marketing-related activities (such as social media management, web design, and PR), but they stand out for their effort towards ensuring freelance writers get paid fairly for their work.
Freelance writers can expect to earn between $100 and $250 per post on CloudPeeps, between $30 and $80 per hour, and between $500 and $1,500 per month when they use the platform. Besides the fact that they limit registration to about 23 countries, setting up an account with CloudPeeps and using their platform is a relatively easy process.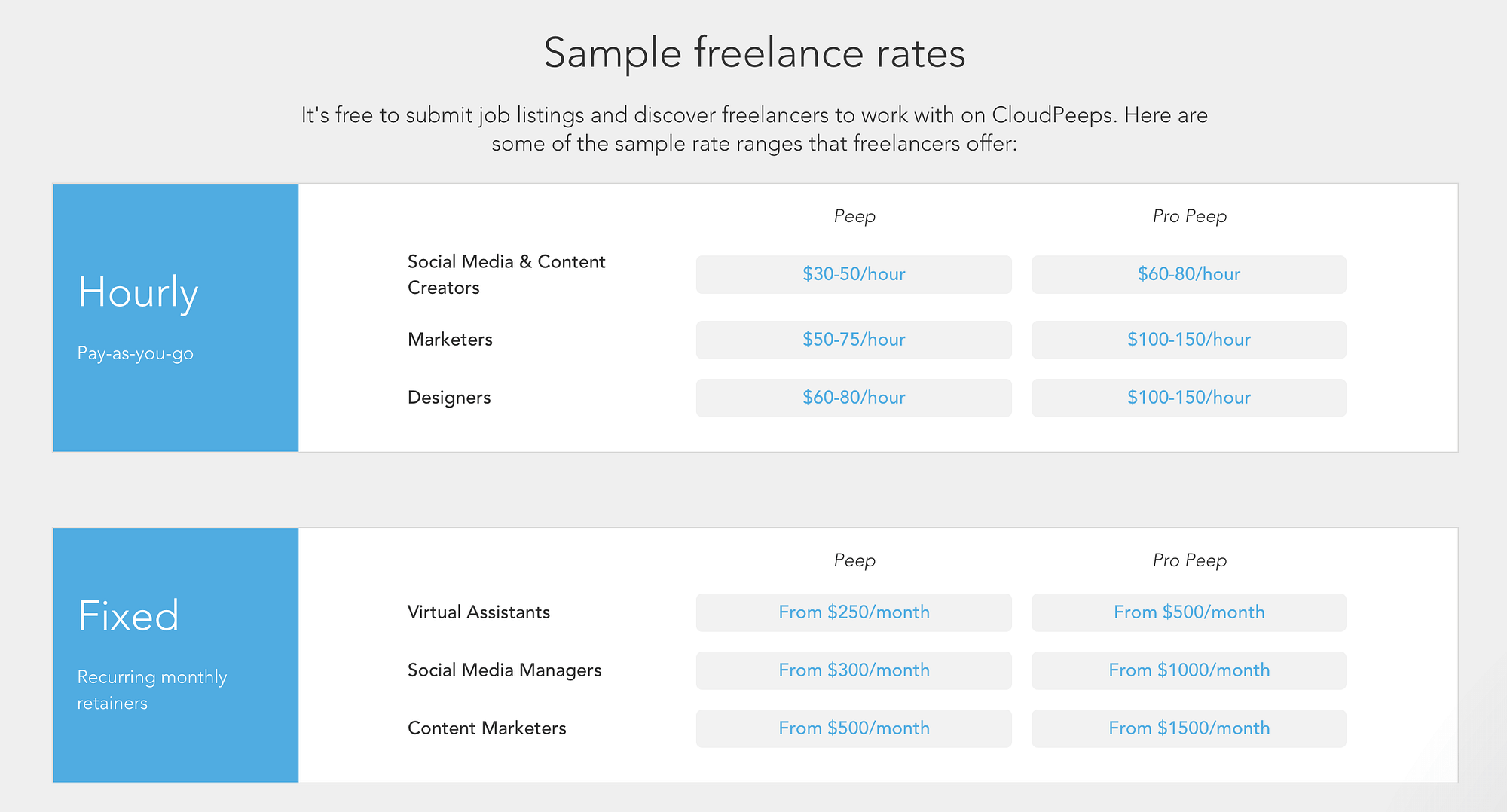 Scripted is another quality content marketplace you should consider signing up for to get freelance writing gigs. Scripted is specifically designed for freelance writers and copywriters, and they are seeking freelance writers who can create blog posts, website copy, email newsletters, and social media posts for brands looking to utilize content marketing.
I also particularly like Scripted because there is no ambiguity about what freelance writers using their platform can earn. They make it clear that their freelance writers earn an average of ten cents or more per word.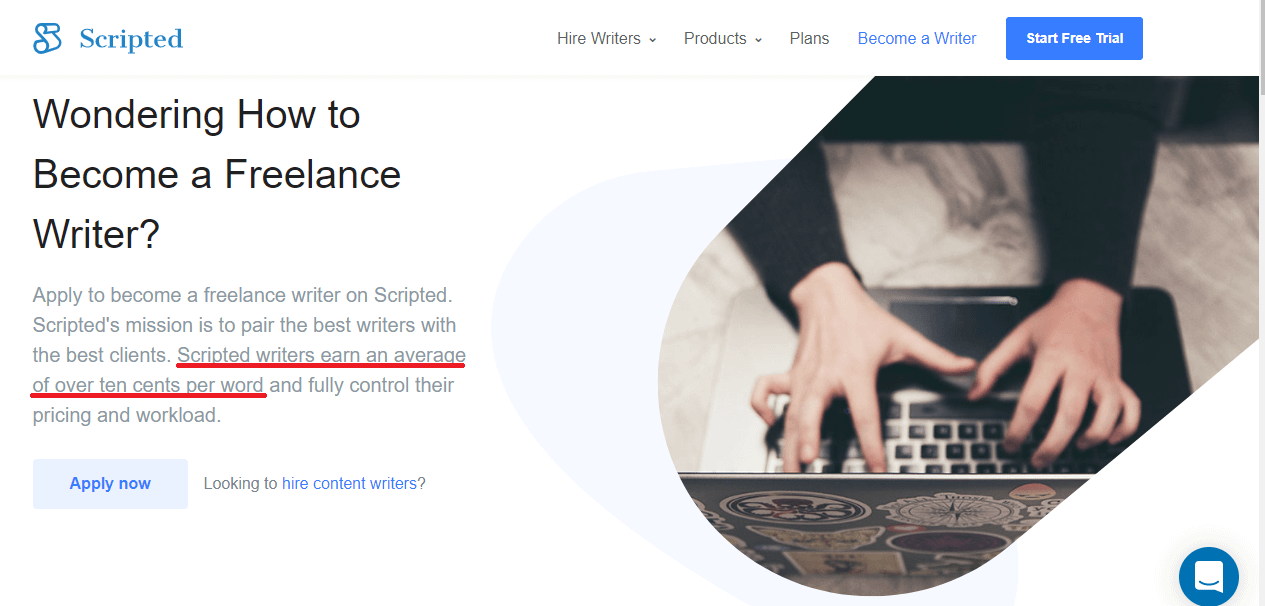 Contently is another online content marketplace that freelance writers can rely on to get writing jobs and opportunities.
They connect writers with brands who need help with their content, and jobs available on the platform include blog posts, reported articles, whitepapers, and much more depending on client needs.
Based on official information available from Contently, rates start at $255 for articles (300 – 500 words) and can be as much as $2 per word for whitepapers depending on what vertical you're writing in. Again, as I've earlier said (about becoming specialized to increase earnings potential), specialized niches like finance, enterprise tech, and law pay the most on this platform.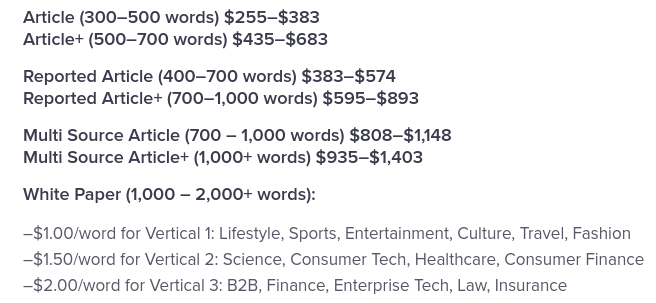 ClearVoice (owned by Fiverr) is another content marketplace that connects freelance writers with brands that need content, presenting you with an opportunity to get writing jobs.
While I couldn't find official information about rates for ClearVoice writers, third-party information shows that they generally pay between $250 – $400 or more for articles.
Quietly also connects freelance writers with brands and agencies in need of quality content, and boasts having brands that include Adobe, Dell, Slack, and Unbounce as clients.
You can sign up with this platform to increase your chances of getting paid writing jobs.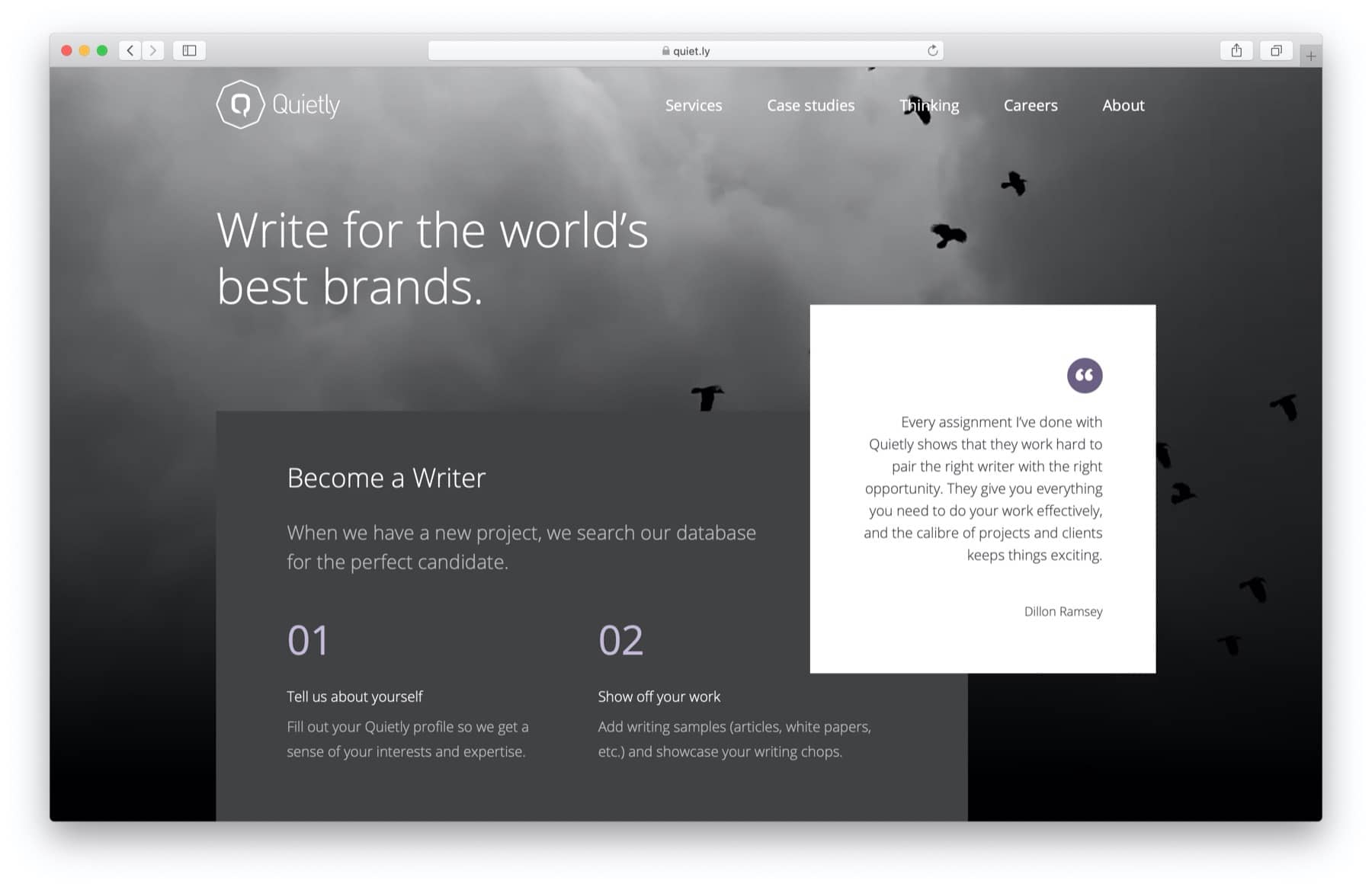 Finally, on the list of online content marketplaces you should consider joining to increase your chances of getting freelance jobs as a writer is Copify. Depending on what part of the world you're located in, you'll be redirected to the relevant site and given an opportunity to join their platform.
While there is no official source for information on rates for freelance writers, third-party research shows that Copify pays a lot less than most of the platforms on this list. You can expect to earn up to $50 per article with this platform, however.
⚡ Pro tip: Leverage inbound and outbound marketing methods
You can also leverage a combination of inbound and outbound marketing methods such as the following:
7. Set up a writer website
One of the most basic things you can, and should, do to position yourself to start getting freelance writing jobs is to set up a writer website.
👉 Here's CodeinWP's guide on how to build a website on your own even if you're a beginner.
A writer website can serve as both a direct and indirect way to get potential clients to hire you. If done right, a website serves as your online shop/location where potential clients can easily find you, shows that you are a freelance writer who knows what he/she is doing, helps you highlight your services and relevant social proof, and allows you to give potential clients an option to get in touch with you.
There are several ways in which your writer website can help you attract freelance work:
Through people discovering it via the search engines and reaching out to you.
Through people discovering it via referrals and reaching out to you.
By linking to it in guest posts and your outreach efforts.
By using ads to drive traffic to it.
There are some key pages your website should have, however:
🤺 An about page that gives necessary personal and professional information about you in a clear and descriptive way; it should contain a personal picture, your background information, your experience and qualifications, and how you plan to help your clients.
💼 A services page that lists and clearly describes your services and how they can help potential clients.
✍️ A portfolio page that lists relevant examples of work you've done before to give potential clients an idea of what you can do for them.
☎️ A contact page that makes it easy to get in touch with you.
Once all of the above are in place, you also want to make sure to highlight important testimonials and social proof on key pages of your website; this includes on your homepage, on your about page, and on your services page.
8. Cold pitch potential clients
Cold pitching is my all-time favorite method for getting freelance writing jobs. I'm particularly in love with cold pitching for the following reasons:
Anybody can do it. You can send cold pitches and get your services in front of potential clients regardless of your freelance writing experience or how authoritative your website is.
You get results really fast. While some methods of getting clients (like blogging) can take months, cold pitching can yield results super fast. In fact, during a cold pitching campaign I once closed a freelance writing deal worth $625 in just two hours.
It is scalable; during my most recent cold pitching campaign I closed deals worth five figures with minimal effort. If I wanted to, and if I had the ability to do the work, I could close deals worth six figures in months. To achieve this same result through blogging, investing in ads, or other means will require a much greater deal of effort and resources.
With the above benefits outlined, how then do you go about cold pitching effectively. There are a few key things to put in place:
Set up your website and online presence

When you send cold pitches to potential clients, you should realize that you are a stranger to practically all of the people you're cold pitching. You've had no interactions with them before and they probably haven't heard about you. So guess what they do first when they see your email? If it isn't trite enough to be ignored, they do a background check on you by searching for your name on Google. If they find a website and an established online presence you'll be at an advantage.

Ensure your cold pitches are sent from your professional email address

While many freelance writers looking for job opportunities send cold pitches using free email addresses like Gmail and Yahoo Mail, this is something I strongly advocate against for a key reason: spammers abuse free emails a lot, and as a result most people ignore them or even have filters against them. A professional email address associated with your website (e.g. yourname[AT]yourwebsite.com) stands out on the other hand and ensures you're more likely to be taken seriously.

Keep your cold pitch simple and to the point

Remember, you're a stranger in this person's inbox so he/she doesn't have the time to read an epistle from you. Assume that you've wasted the opportunity you have if a prospect needs to spend more than a minute to read your cold email. All the better if you can keep it under 30 seconds.

Do your homework

Take a few minutes to do your work. Know the name of the person you're cold pitching and the name of the person at the organization you're pitching, then ensure you address the person by name.

Specify what you can do in the email

Mention what service you're offering and how it can help the person reading the email. Don't ask the recipient of your message to click a link to read more about your services. That's a mistake. Most people won't click a link in an email from a stranger.

Highlight social proof you have in your email

If there's anything significant you've done with your writing, be sure to highlight it in your email. This includes having a popular blog, having been featured in popular publications, having won an award, having published a book, and or having helped clients achieve certain key results with your writing.

Be ready to follow up

You'll often have to follow up a few times before getting a response to some of your cold pitches. It is important to also learn how to craft a good follow up email.
To give you an idea of what a good cold pitch looks like, below is the screenshot of the exact cold pitch that I used to close a writing deal worth $625 in two hours (which eventually led to five figures from the same client over time):
9. Optimize your LinkedIn profile
LinkedIn is undoubtedly the biggest social network for professionals and, if used the right way, it can serve as a great platform to promote your freelance writing services.
I've had many potential clients (like the one below) reach out to me with freelance writing opportunities on LinkedIn: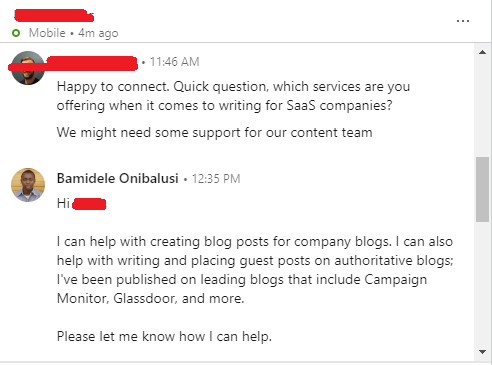 There are several ways to use LinkedIn to get freelance writing jobs. Below are some tips to help you maximize the platform:
Use a clear and professional headshot.
Make sure your LinkedIn profile clearly highlights your experience and organizations you've worked.
Make sure relevant terms and keywords are present in your profile to ensure your profile comes up when people search for these terms. Examples: "b2b freelance writer," "Seattle freelance writer," etc.
Ensure your LinkedIn profile highlights your portfolio and strong pieces of content you've helped create.
The following screenshot, of freelance writer Elna Cain's LinkedIn profile, is a good example of a well-optimized LinkedIn profile. Besides using a clear and professional headshot, it is clearly descriptive and uses relevant keywords that make it easy for potential clients to discover Cain when using the LinkedIn search feature.
10. Tap Into Quora's increasing popularity with decision makers
While many are familiar with Quora as a leading question and answer website where you can get insights on pretty much any topic, very few realize that Quora can also serve as a good source of freelance writing jobs.
With over 300 million monthly users, 54 percent of whom report an annual household income of more than $100,000, and 37 percent of whom are likely to be in management positions, there is an abundance of writing job opportunities on Quora – if you know how to use it.
Below is a response to a particular Quora thread that was made by a freelance writer looking for jobs:
There are a few key steps to get freelance writing jobs on Quora:
Make sure your Quora profile is properly set up. The same rule always applies: use a professional headshot and clear profile description with relevant keywords and that highlights your expertise.
Ensure you are highly active on Quora, particularly in sections related to your niche and the services you offer; for example, you should be active where content and writing as related to your industry is being discussed.
You should regularly contribute relevant and in-depth articles to questions relevant to your industry and, if possible, highlight the fact that you are a freelance writer for hire (directly or indirectly).
11. Use SEO to build a long-term stream of clients
SEO is something I strongly believe every freelance writer should know and take advantage of; besides the fact that a lot of potential clients expect you to have at least a basic knowledge of SEO, it can also help you rank your website for relevant keywords that potential clients are searching for.
SEO can help you get freelance writing opportunities directly and indirectly. Here's how you can use both the direct and indirect approach to SEO to get writing jobs:
12. Start guest blogging the smart way
Guest blogging is one of my favorite methods for getting freelance writing jobs and it has been responsible for six figures in freelance writing income for me over the years.
There are two ways you can use guest blogging to get freelance writing jobs:
Directly:
The aim of this approach is to get potential clients to reach out to you directly as a result of your guest post. Often, this is done by writing a solid and relevant guest post on a highly authoritative publication and including a link to your services in your guest post bio.
Here's an example bio from a guest post on Problogger:
As you can see, the bio clearly shows that the author of the guest post is a professional guest blogger and links to a page where the author can be hired.
When using the direct approach to guest blogging, there are a few things you should focus on:
Select a highly authoritative blog that has a lot of traffic; since you are hoping that people will reach out to you after reading your guest post it is important that people read it. You don't want to guest blog on a publication that has no readers.
Ensure that the publication you are writing for has your target audience and that your guest post is highly relevant to both your target audience and the services you're offering.
Ensure your guest post bio clearly shows that you are a freelance writer that can be hired (as demonstrated in the above example with the Problogger guest blogger).
Indirectly:
Another way to get freelance writing jobs by guest blogging is through the indirect approach. The focus of this approach is on using guest blogging as a means to build relevant links to your writer website or other pages on your website.
When you use this approach, the links in your guest posts can be contextual (relevant and in-content) or in your bio. There are a few ways you can go about it:
Ensure your guest posts are relevant to your website/services/page you desire to link to, or that there is a section of your guest post that is relevant, and then link to this page in that relevant section.
You can link directly to your homepage, especially if you're trying to rank for key terms that potential clients are looking for e.g. "b2b content writer," "Seattle freelance writer," etc.
You can also link to key content on your website that is designed to qualify potential clients and get them to reach out to you. This could be an ultimate guide, a case study, or some other relevant piece of content aimed at directing people to your freelance writing services.
Both of the above approaches can be used with great success to get freelance writing jobs, and both have been responsible for generating six figures in freelance writing income for me over the years.
13. Pitch new services to existing clients
Oftentimes our focus is on getting new clients when trying to get freelance writing jobs. We seldom think about our existing clients as a source of new jobs and lose out on a lot of income in the process.
In my experience over the years, it is a lot easier to get high-paying freelance writing gigs by focusing on existing clients instead of new ones. These clients know you and have a feel for what you can do, so you don't have to do much to convince them to give you work.
Earlier on in this article, I had listed 20+ different services you can offer to potential clients; if you're offering just one or two of these services to a client, then you have an opportunity to earn a lot more – by offering additional services to the same client. Doing this has easily added six figures to my bottom line over the years.
I initially realized the power of offering additional service to existing clients when a client in the CPA education niche that I had been working on guest posts for asked me if I can write landing page content for their website.

I accepted the offer and would eventually earn five figures just creating landing page content for this client within a few short months; earning significantly more than I was earning doing what I was initially hired for. I kept thinking about how I could have lost this opportunity due to thinking I only had to work on what I was initially hired to do.
Ever since, I've relied on pitching existing clients with new services to get more jobs and increase my earnings.
For example, one of my major clients is a leading comparison site in the web hosting niche; while the client initially hired me to help with ghostwriting guest posts, I noticed they kept publishing new content on their blog that I didn't help create. I simply pitched them my blog content services, was commissioned to write about 27 reviews for five figures and have since been given other writing-related projects (including a tutorial-style blog post for mid four figures). This is despite the fact that this wasn't what I was initially hired to do.
14. Take advantage of website flipping marketplaces like Flippa
You've probably heard of Flippa before.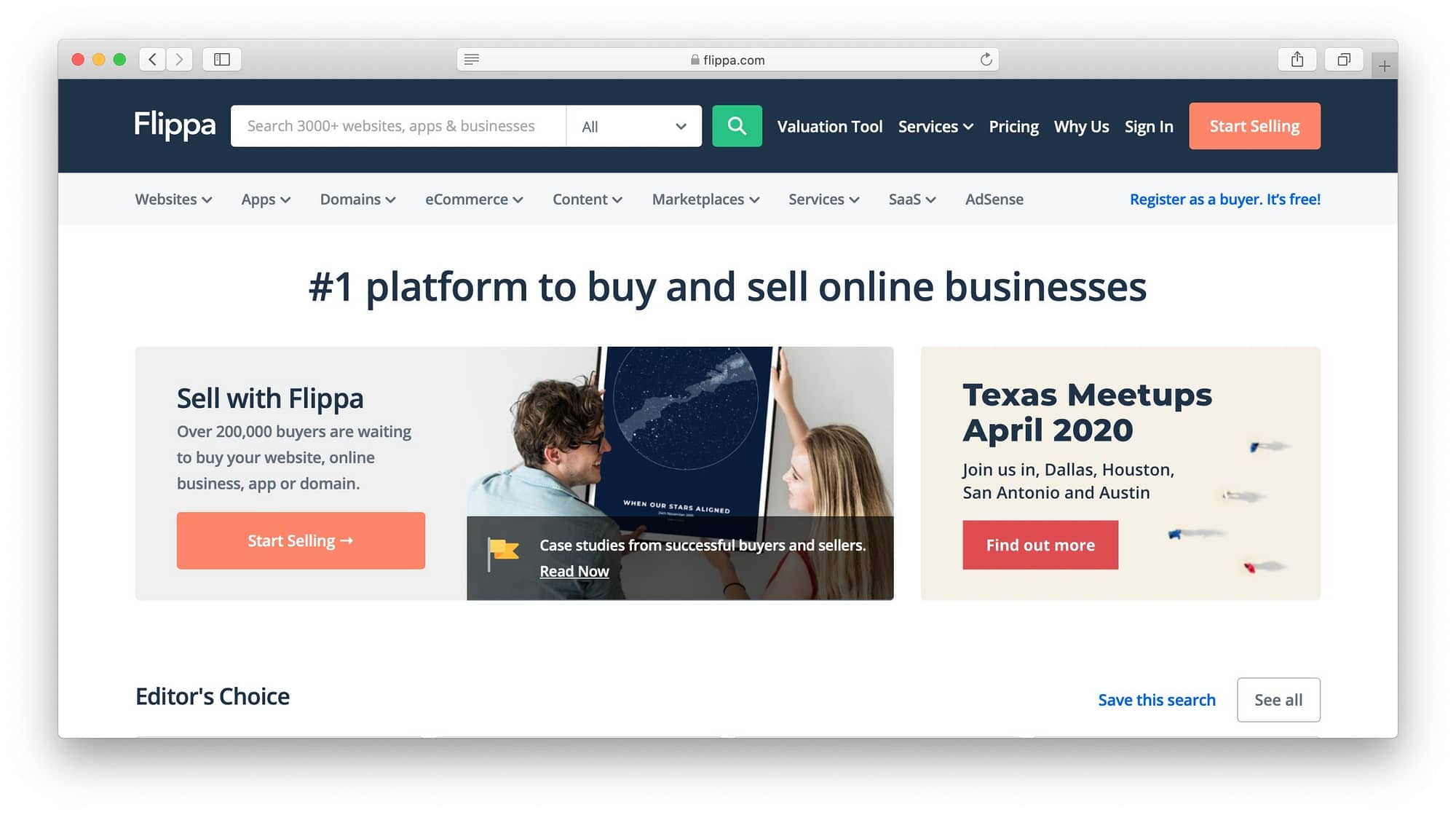 If not, it is the leading online marketplace for buying and selling websites. While you sometimes see sites being sold for low and mid five figures, a good portion of websites on Flippa are sold for hundreds of thousands of dollars and even millions.
So what does buying and selling websites on Flippa have to do with getting freelance writing jobs? A lot. Majority of the people buying and selling websites on these platforms often do so as a business model; they buy an authoritative website, update it with lots of quality content, build more links to it, and sell it for multiples of what they bought it for.
Or, in some instances, they build up websites from scratch, update it with relevant content and build backlinks to it and then sell it for five or six figures.
In both of these instances, you can come in by positioning yourself as the freelance writer who helps them with the content they publish on these websites.
Here's an example:
Take a look at the above Flippa ad and a few facts instantly stand out:
$17.6k monthly profit
16k email subscribers
283.4k monthly unique visits
More importantly: a content site
The above Flippa listing is an ad for a site looking for a buyer; when you look at the nature of the site and the business model, there is clearly a need for a writer for this site. There are many more ads like this on Flippa and related websites, and they present an opportunity for you.
Simply visit the Flippa category relevant to your niche, identify sites that might need the kind of content you create, and pitch your services to BOTH buyers and sellers of websites in these categories.
⚡ Pro tip: Freelance writing job boards and online writing jobs listings
Finally, you can also get freelance writing jobs by taking advantage of freelance job boards and listings of paid writing jobs.
The Freelance Writing Gigs Job Board is one of the top job boards for freelance writers looking for blogging and general freelance writing jobs. The job board is updated multiple times a week and sometimes several times daily. You can find copywriting jobs, blogging jobs, editing jobs, and other content writing jobs in practically any niche.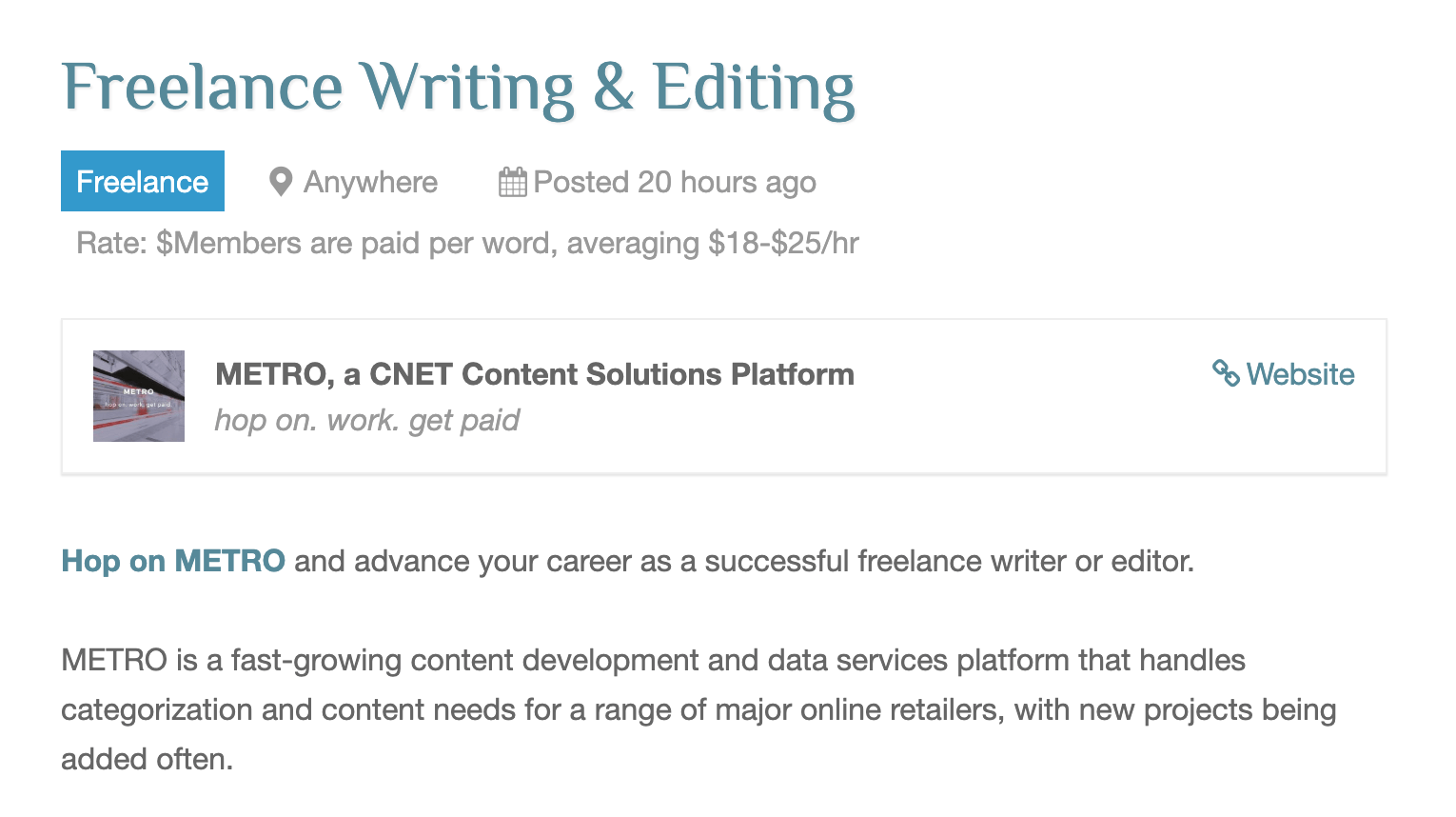 A careful analysis of the jobs that get featured on this job board shows that the majority of the jobs posted pay at least $50 per article.
The All Freelance Writing Job Board is one of my all-time favorite job boards due to their advanced classification system.
Jobs posted to this job board are classed into four main categories:
Pro rate (for writing jobs that pay above $100 per article)
Semi-Pro rate (for writing jobs that pay $50 to $100 per article)
Low pay (for writing jobs that pay $25 to $50 per article)
Very low pay (for writing jobs that pay $1 to $25 per article)
This classification system, possibly influenced by the fact that the job board was created by a freelance writer who understands the value of writers and who wants them to get paid well, makes it very easy to filter out freelance writing gigs you don't want thereby making it easy for you to only work on the opportunities you want.
As the name implies, the BloggingPro Job board specifically features blogging related jobs for freelance writers. This includes both writing and editing jobs. While other writing related jobs are featured as well, the emphasis here tends to be on blogging jobs.
Like the other job boards featured, the Problogger Job Board features both writing and blogging jobs. It is quite advanced and allows you to filter jobs based on location, whether they are contract or freelance in nature, or whether they are part time or full time.
You can also subscribe via RSS or set up specific job alerts so as to be notified once new jobs are available.
There is also the Contena job board, which generally features more jobs than the other job boards on this list. Writing jobs featured are generally well-paying and in a variety of niches.
The only limitation with Contena, however, is that, unlike is the case with the other job boards, you need to sign up before you can view information about their job listings.
The FreelanceWriting.com job board is the oldest and most comprehensive of all the job boards here. It is also quite advanced due to the features it provides to allow you to filter and sort available writing jobs.
It features freelance jobs for any type of writing opportunity you can think of. These jobs are collated from a number of sources that include Indeed, Ed2010, and Craigslist. You can filter available jobs by source, by date, by keyword, by location, and by skill required.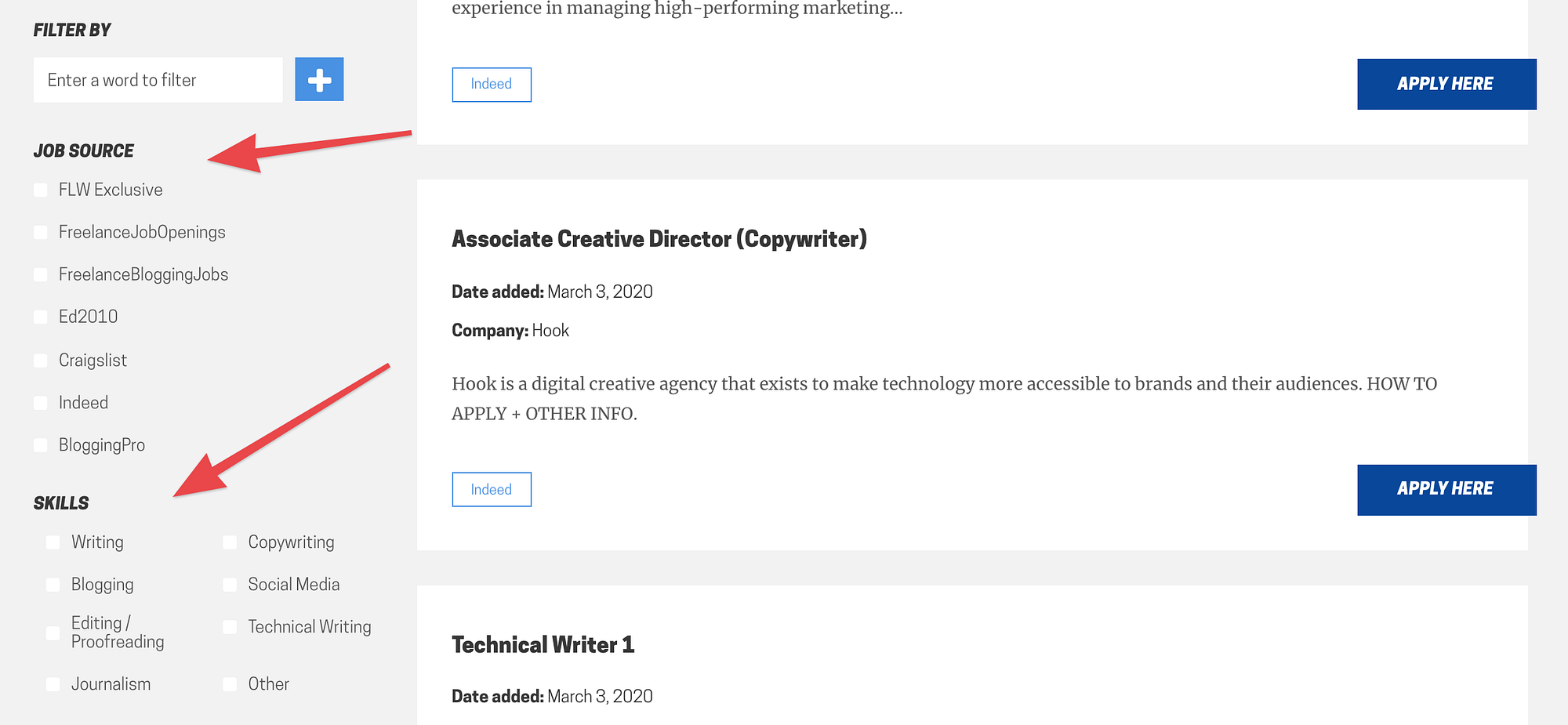 The entire Freelance Writing Gigs site is dedicated to posting about freelance writing jobs and opportunities from across the web. Lists of writing jobs are posted practically every day.
22. Editorial lists on Writers in Charge
Writers in Charge has a number of lists of websites and publications that pay writers. Some of the more popular ones include:
Websites that pay $50 or more per article PART 1, and PART 2
The ultimate list of magazines that pay writers
23. Editorial lists on Make a Living Writing
Make a Living Writing has also published quite a number of lists of blogs and publications that pay writers. Some of its more popular lists include:
24. Editorial lists on ElnaCain.com
Top freelance writer Elna Cain has published quite a number of lists of websites and publications that cover writing jobs for freelance writers:
🔥 Getting freelance writing jobs shouldn't be complicated
Of course, that is if you know what you're doing.
The above is a combination of 25+ different methods, resources, and sites that you can take advantage of to get freelance writing jobs and opportunities. These methods and resources are all proven to work provided you take action.
What other methods can be used to get freelance writing jobs? Please share in the comments below.
…
Don't forget to join our crash course on speeding up your WordPress site. With some simple fixes, you can reduce your loading time by even 50-80%:
Layout, presentation and editing by Karol K.