The great thing about working with WordPress is that the best WordPress help is never hard to find. Whether you have a simple question about resetting your password, or a more complex issue concerning custom post types, there is support and education available for all levels of users.
It's not uncommon to feel confused and even frustrated when making a WordPress website or when using it. Everyone needs help at some point in time, even experienced WordPress veterans! Fortunately, there are lots of resources available to help you find the answer to your problem. And if you're still scratching your head trying to work out how to fix your site, there are some fantastic services that offer WordPress-specific help.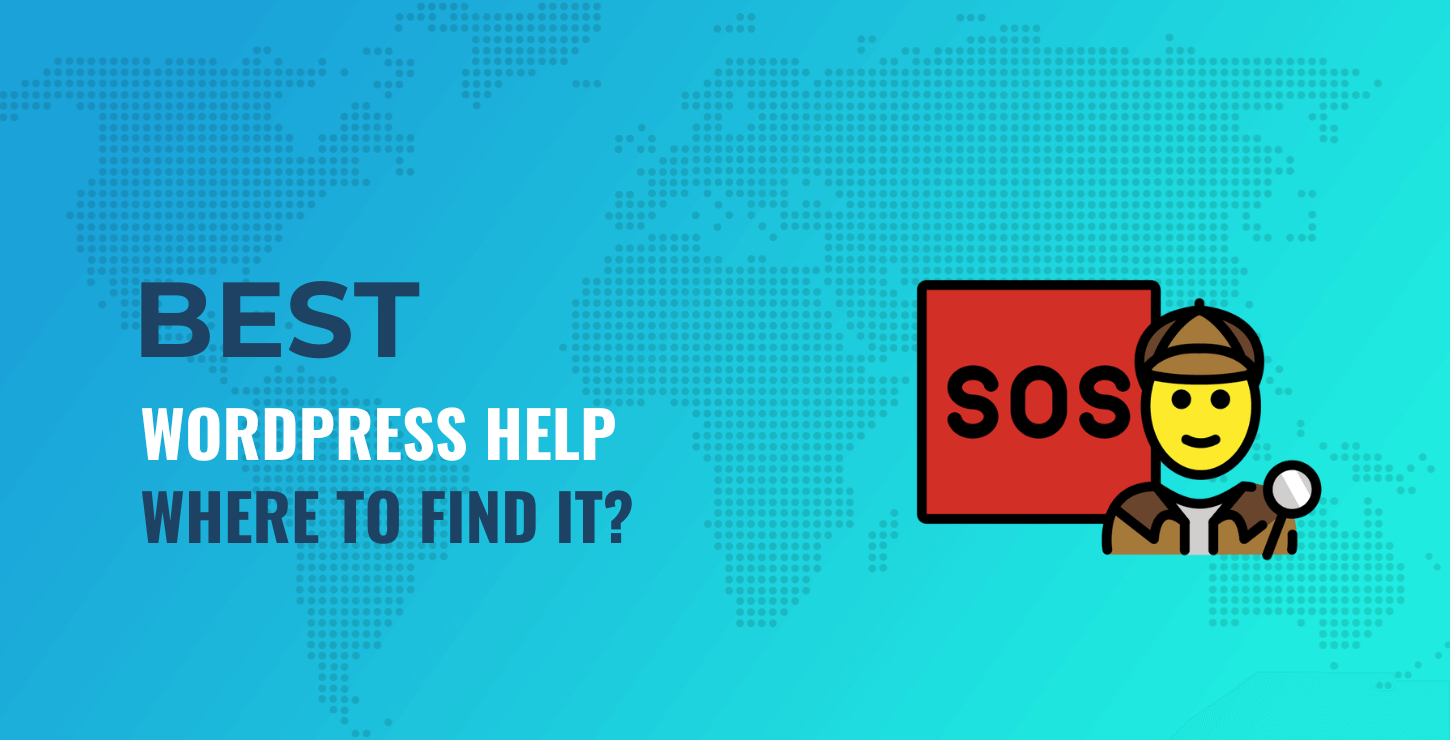 For this post, I've gathered together my favorite free and premium sites – some you might know and others you might not have come across before – that all offer excellent one-on-one support to help you solve your WordPress issues and get your site looking and running smoothly:
Where to find the best WordPress help
for free
Let's start with the most well-known – and perhaps most obvious – place to look for the best WordPress help: the WordPress Support Forums.
The support forums provide a great place to start when you have a WordPress problem, especially for those who are new to using WordPress. The forums are moderated by a friendly bunch of volunteers from all over the world who know WordPress inside out and are on hand to answer any kind of question.
It's important to remember that the volunteers who help out in the forums are just that, volunteers, so be nice to them and thank them for their time if you do stop by the forums to ask a question! Also, keep in mind that there are way more people asking for help then there are moderators, so your question might not be answered right away.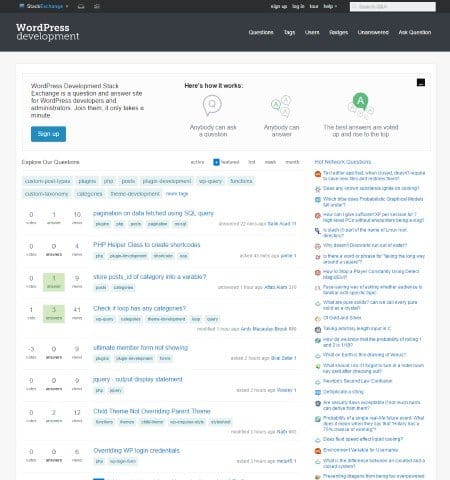 The WordPress Development Stack Exchange is a question and answer site for – you guessed it – WordPress developers. It's free and you don't have to register.
Stack Exchange is ideally suited to people with technical and/or advanced questions. Anyone can ask a question and/or answer a question. Answers can be voted up and rise to the top so you always know the top-rated answer has, essentially, been peer reviewed and is perhaps the best WordPress help available.
Typically, questions involve code. What I love about Stack Exchange is that it has a great community of developers who are quick to help, are friendly and respectful. There's no nonsense, rudeness or bad behavior at Stack Exchange – everyone is just getting on with building great websites.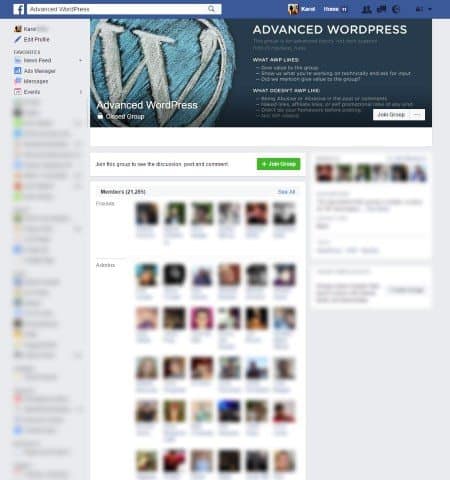 With more than 30,000 members, the Advanced WordPress Facebook Group is one of the best places to meet other WordPress developers, share ideas and knowledge, and get the best WordPress help.
This group is, obviously, aimed at advanced users so no beginners here, unfortunately! But even if you are a beginner, there is a lot you can learn by joining this group and keeping an eye on the updates. Member questions are many and varied, and cover everything from coding issues to SEO and asking for feedback about a new site someone has built.
While there's a lot of activity on the group's page, it's moderated by a great group of experienced admins. Just keep in mind that there are a few rules, which you can find and read about on the Advanced WordPress Facebook website.
Where to find the best WordPress help:
premium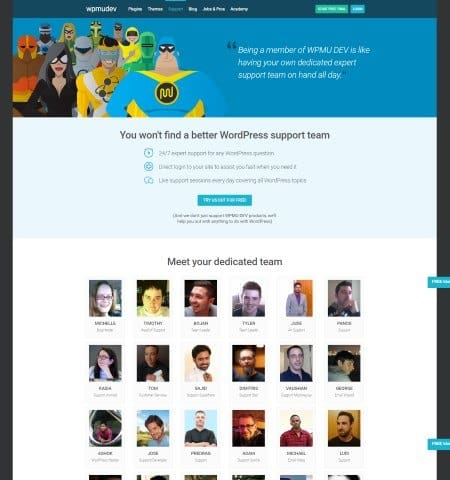 Did you know the WPMU DEV support team answers all questions about WordPress, not just questions related to WPMU DEV products? Now that's handy.
The support team fields over 3,000 WordPress-related questions per month – and answers most of them in less than an hour. Since the team has staff members based all over the world, there is always someone on hand to answer your live chat, support forum or email questions 24 hours a day, seven days a week.
There's no question too easy or too hard for the WPMU DEV support team to handle. If you have the WPMU DEV Dashboard plugin installed, you can give the support team direct access to your site, so they can quickly fix issues for you. There's even "Second Level Support" – a dedicated team of developers on call to help with more advanced and complicated support requests.
One of the great things about participating in the WPMU DEV support forums is that when you help out other members, you can earn points towards a free lifetime membership. Very cool.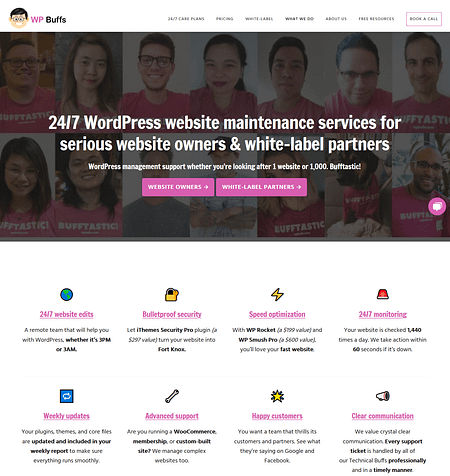 WP Buffs provides WordPress maintenance plans for serious website owners & agency partners. They handle unlimited edits, performance enhancements, daily health maintenance and regular security troubleshooting so you don't have to. This allows you to make bold decisions when it comes to your website without hesitating due to technical restraints.
With 24/7 US-based support, a mission driven by their customers and an affinity to sponsor WordCamps, WP Buffs wants to be the very best technical support partner for any individual, business or organization with a WordPress website.
And with plans starting at $57 per month, their care plans will work well for any budget. Reach out to them via livechat anytime and a Happiness Buff will be happy to answer any questions you have.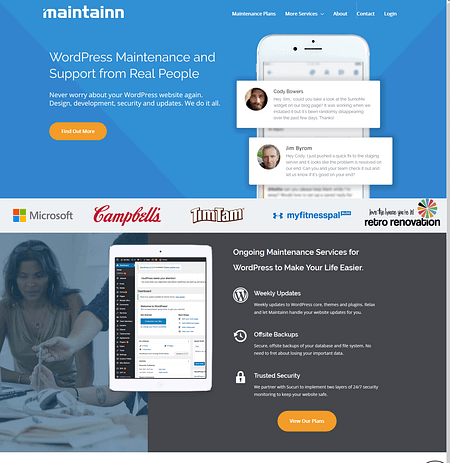 WordPress agency Maintainn offers some of the best WordPress help, guidance and maintenance for your WordPress site from $49 per month. While technical support is only available from 9am-5pm EST Monday to Friday, you can submit a support ticket at any time, and the five-person team will get back to you ASAP.
Maintainn was bought out by WebDevStudios in 2014, the idea being that it would be the support arm of the development agency. Apart from support, Maintainn also offers updates, security monitoring, backups, and maintenance.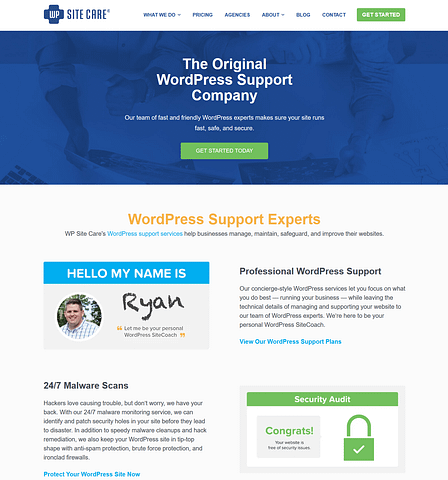 Since launching in 2012, WP Site Care has offered WordPress support and maintenance from its US base in Utah. From $79 per month, you can access technical support for your WordPress site, as well as other maintenance services, such as backups, updates, and video tutorials.
One of the service's support features is "Walkie Talkie," an interface in the WordPress admin of your site that you can use to submit support requests and bypass the need for email. This provides an easy way to get one-on-one support if you're experiencing any issues with your site.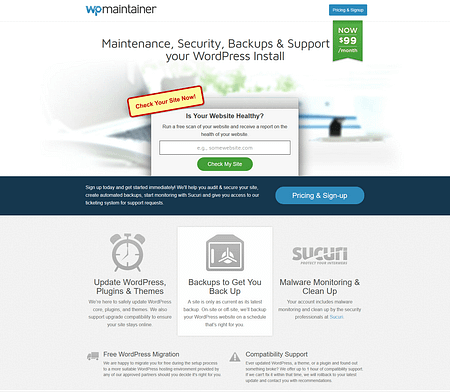 WP Maintainer's three-man team offers premium WordPress support and maintenance for a flat $99 a month. Every month you get access to the agency's development team for anything you need, from installing plugins to cleaning up CSS issues and even styling the front-end of your site.
As well as providing best WordPress help, WP Maintainer offers all the usual things other maintenance and support services provide, including updates, backups, security monitoring and custom development.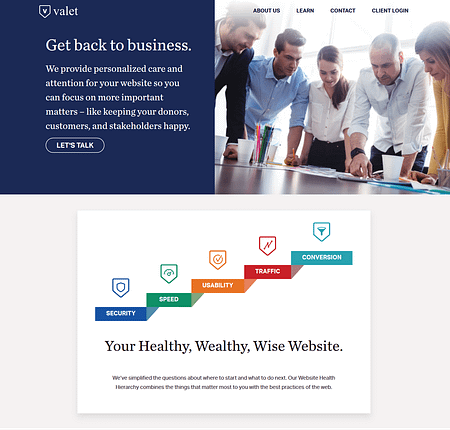 Valet.io boasts 50+ years of combined WordPress experience and provides comprehensive support, including troubleshooting existing issues, consulting on free and premium themes and plugins and assistance with SEO.
The company started out as WP Valet in 2012, providing monthly professional services and support for WordPress website owners, but expanded to take on more client work after acquiring a local design agency. Earlier this year, the company rebranded with its new name.
Valet.io isn't as transparent with its pricing compared to other WordPress support services – you have to fill in a contact form with details about what you need, which is somewhat cumbersome.
Getting the best help for your WordPress site
There is so much WordPress help available, from tutorials and videos to one-on-one support – you just need to know where to look.
Whether you need help for a basic issue or more advanced or ongoing support for your site, there are free and premium options out there.
If you're new to WordPress, the best place to start is the WordPress support forums since they're free. And if you're looking for more advanced help, try Stack Exchange or the Advanced WordPress Facebook group.
If you're looking for premium support, check out WPMU DEV – you can sign up for 14 days and try out the 24/7 support for free – or any of the other support and maintenance services I've included in this round-up. All offer fantastic one-on-one support to help you out of any sticky situation and give you the best WordPress help possible.
What else is there? Do you know of any other "SOS for WordPress" solution that's worth everyone's attention? Feel free to share in the comments.
…
Don't forget to join our crash course on speeding up your WordPress site. Learn more below:
Layout, presentation and editing by Karol K.