Why you should care for Figma vs Sketch vs Adobe XD? There is no denying that in recent years we have seen monumental growth in the availability of UI design tools. When Sketch first came out, it completely changed the course of action for all designers. Just two years after its initial release, Sketch was awarded Apple's Design Award.
But, Sketch is not the only application of its kind that designers are paying close attention to. Figma, as well as Adobe XD, have been catching up fast, both on the scale of the features as well as global market share.
In their annual design report, Avocode found that Sketch made up 56% of all added designs, with Figma and Adobe XD sharing the rest of the percentage.
It seems that for Sketch, the biggest bottleneck is its Mac-only software approach. Whereas Figma and Adobe XD can be used on Windows and even Linux systems.
Additionally, most designers will consider the cost factor. And there's definitely a lot of rivalry going on in this department.
Let's take a closer look to find out how Figma vs Sketch vs Adobe XD compare to one another, and let's tackle the no.1 issue first:
The pricing of Figma vs Sketch vs Adobe XD
Can free UI design tools compete with paid alternatives? As will be shown in this comprehensive review, yes – they can. Figma and Adobe have taken the approach of a freemium business model and it is paying off big time.
Sketch will set you back $99 for the first-time purchase. Afterward, you can use their Existing Customer program to renew at $69 per year. Such a license includes a one-year's worth of updates and access to Sketch Cloud for a year. Students and education institutions can benefit from a generous 50% discount.
Figma gives you access for free if you're an independent designer. The Starter plan allows three projects and unlimited storage. For teams, the Professional plan starts at $12 per month, with unlimited access to everything and additional features.
Adobe XD comes with a free Starter plan. As such, the tool can be used with no associated costs for individuals. Design teams can get the full Adobe XD experience for $23 per month.
The platform support of Figma vs Sketch vs Adobe XD
All three tools have their differences in platform support. Which is also contributing greatly to the number of users each tool has. Here's a rundown for the specific operating systems on which you can use each tool.
Sketch. Available only for Mac (OS X) users. No exception.
Figma. Browser-based! Desktop apps available for Mac and Windows without offline support. Can be used on Linux machines in the browser!
Adobe XD. Supports Mac and Windows systems.
Figma vs Sketch vs Adobe XD have interesting price points and approaches. And there are many different reasons why one is superior to the other.
If you have a powerful setup, you can technically run any of these tools through a Virtual Machine environment. E.g. Mac users can install Windows on their Apple devices using the Boot Camp app.
Alright. Now that we have all the small details out of the way, let's take a closer look at what makes each of these UI design tools so special:
Sketch: intuitive & fast
One of the many reasons why designers love Sketch is not just its clear and robust user interface.
Bohemian Coding, the parent company, is also quick to push out new and innovative updates for the tool. In the last year alone, there have been 19 noteworthy updates. This kind of development pace certainly helps to even out the associated costs for Sketch.
But, still, this is not the only reason to love Sketch. The tool is notoriously popular for its Plugin functionality. Think of it like Package Manager for Sublime Text – you can find packages which not only improve your development time but also help you write better code. Well, for Sketch, it is plugins that help you design better and faster.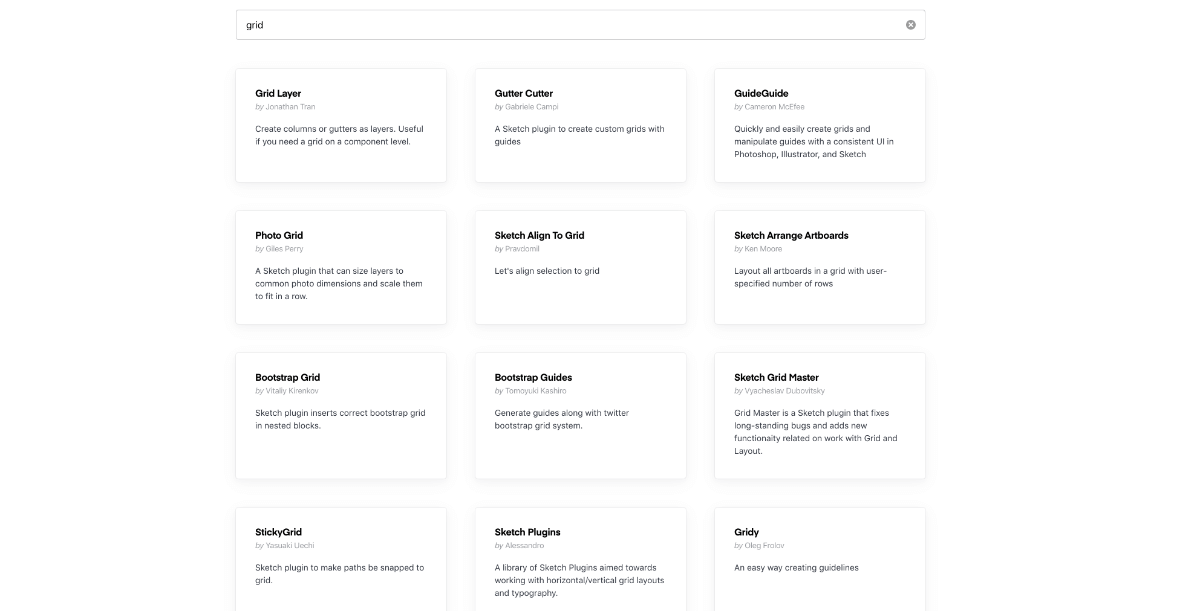 You can look up plugins in relation to grid, or use plugins like Lazyboard. With Lazyboard, it's possible to wrap multiple Sketch layers within a single Artboard, so you can save time in customization and other batch tasks.
In one of the more recent releases (Sketch 55) – the company introduced features such as Copy & Paste SVG Code, Smart Distribution, and adjustments to how items snap between grid-based layouts.
Let's say you have this SVG code (a polygon with three sides):
<svg height="210" width="500">

  <polygon points="200,10 250,190 160,210" style="fill:lime;stroke:purple;stroke-width:1" />

</svg>
Usually, you'd have to save this as a .svg document and then load it inside Sketch for it to render. Well, in the new version, you can simply copy and paste this SVG code snippet and it will automatically render as a new layer.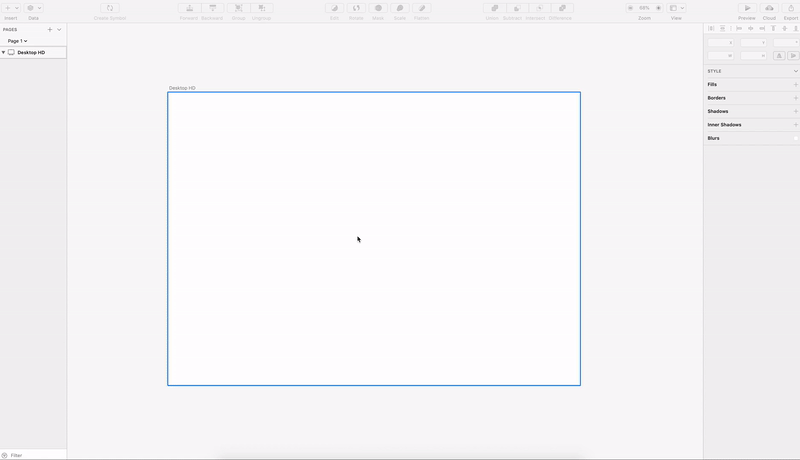 Expect to find many more such productivity-oriented gems throughout Sketch.
Handing off specs to developers
We are getting to a point in UI design where designers can export an entire design with a fully functional spec for developers. And while this isn't available as a native feature for Sketch, there are third-party apps and plugins to make it possible. Namely, Zeplin was created to make spec handoffs extremely simple and easy. And with great accuracy, too.
But, what if you want something that's integrated directly inside Sketch? For this, look into the Sketch Measure plugin. This will give you full-on functionality to create specs for your developers in real-time.
You can see in this example that the plugin provides highly accurate element information. Including font family, positioning, and the appropriate CSS code that developers can use right away.
It really does feel like we are getting to a point where UI design tools will be able to import fully functional designs from the get-go.
Sketch delivers an enormous resources library
One of the reasons why Sketch is so appealing to new and seasoned designers is the immense availability of free design resources.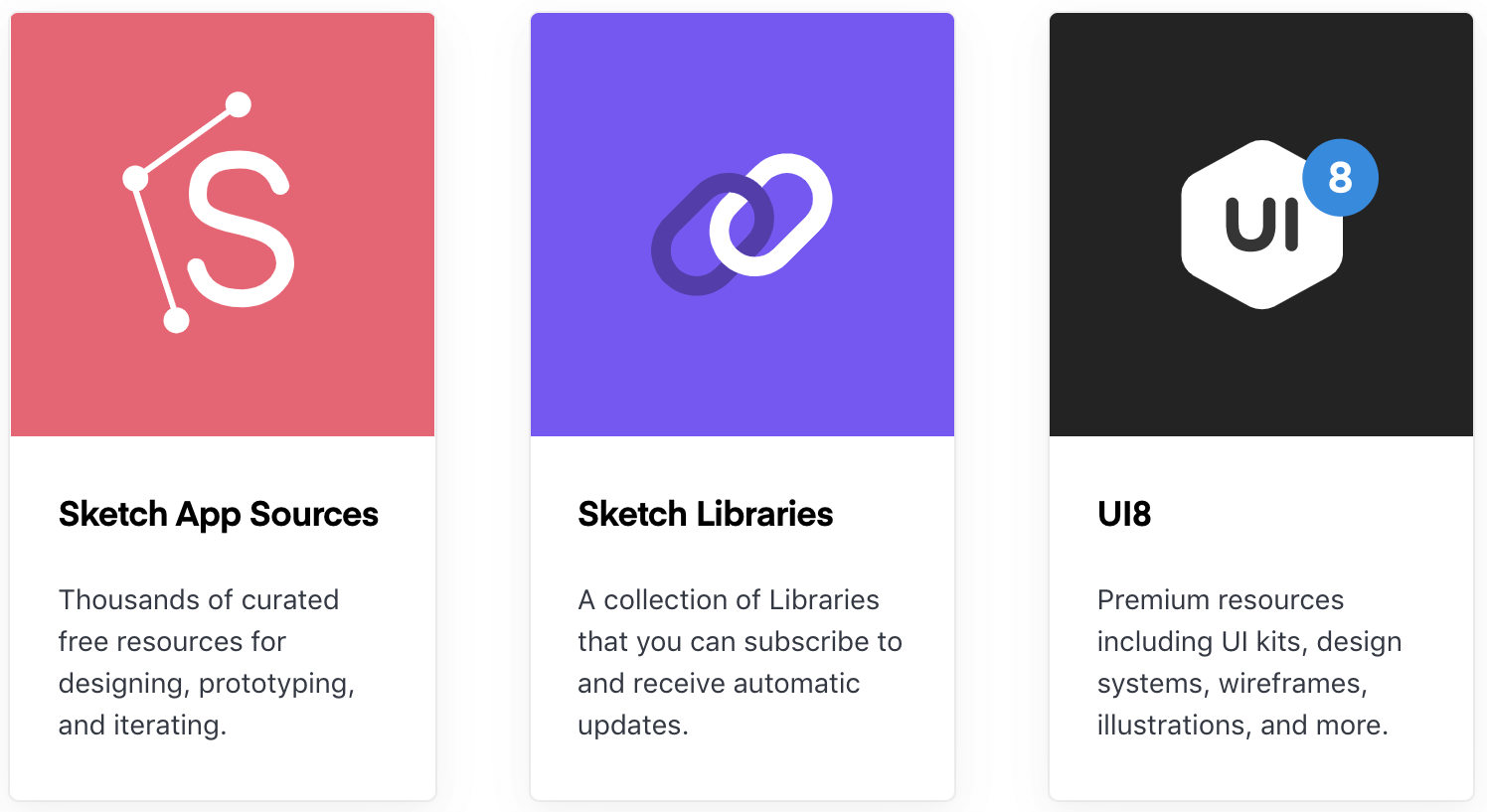 On its Documentation page, Sketch has listed out hundreds of different sections for making it easy to learn this software. But, on top of that, there are also sites like Sketch App Resources, and Sketch Repo, and many others. Essentially, these are "open source" sites where designers can submit their finalized designs for everyone to download.
This ensures that you never need to start a project from scratch. Also, you might lack information on how to achieve a specific result with your design.

For this, you can refer to Sketch resources sites to find the exact solution you desire. Oh, and yes, license free!
There is so much more to Sketch that makes it one of the world's leading UI design tools. But, as we are making a comparison review, let's take a look at the features that make tools like Figma and Adobe XD stand out from the crowd, too.
Figma: browser-based & robust!
Figma came to the stage in 2015 with initial funding of $14M.
With its seamless user interface and sleek feature palette, the tool quickly became a notorious competitor to similar solutions in the field.
Designers from brands like Twitter, Microsoft, GitHub, and Dropbox swear by Figma as the ultimate UI design tool.
So, is it because Figma offers a free plan that it found such success so early in its roadmap? Certainly not.
The tool provides several solutions integrated into one UI:
UI & UX design
Prototyping
Graphic design
Wireframing
Templates
And it does so both in the browser and within its desktop-based application. The fact that Figma is built for the browser means that Linux users can also use Figma on their Unix-based systems. A massive plus!
You don't need to invest a lot of time into your design process either. Figma takes care of this through its Templates offering. These are wireframes, flowcharts, diagrams, story maps, and full-on website templates pre-made just for you.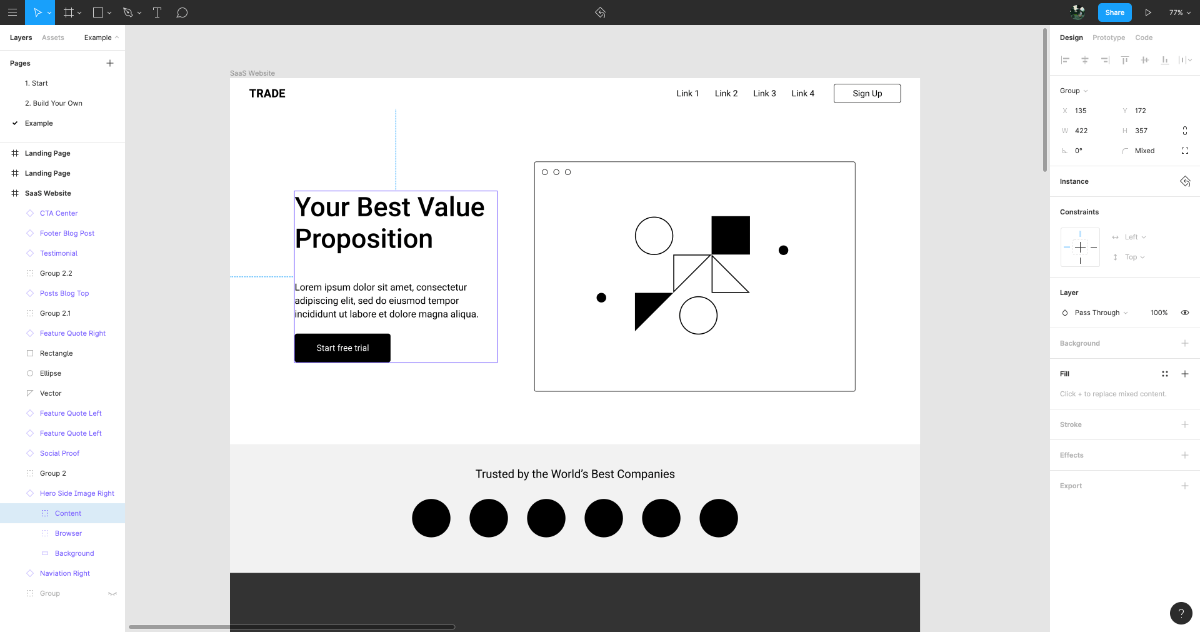 Here you have a ready-made SaaS website template, which you can immediately edit and optimize to your liking. Such templates (layers, groups, etc.) can also be saved for later use for easier importing.
Figma makes room for free space on your hard-drive
The nice thing about Figma is that you don't need to save anything on your computer. All files are stored in the cloud, and accessible anywhere. As a Sketch or even Adobe XD user, you might have gotten used to 50GB+ folders of design files. This is no longer the case with Figma.
As shown here, files date back five months and are still accessible in an instant. Whatever smallest element you need from another piece of design, you can access it in seconds and use it in your current project.
Real-time collaboration
Perhaps the most renowned feature of Figma are its collaboration tools. At the heart of working with multiple people is collaboration. In the old Photoshop days, you had to send endless revisions to your colleagues just to get on the same page. With Figma, collaboration is both powerful and instantaneous!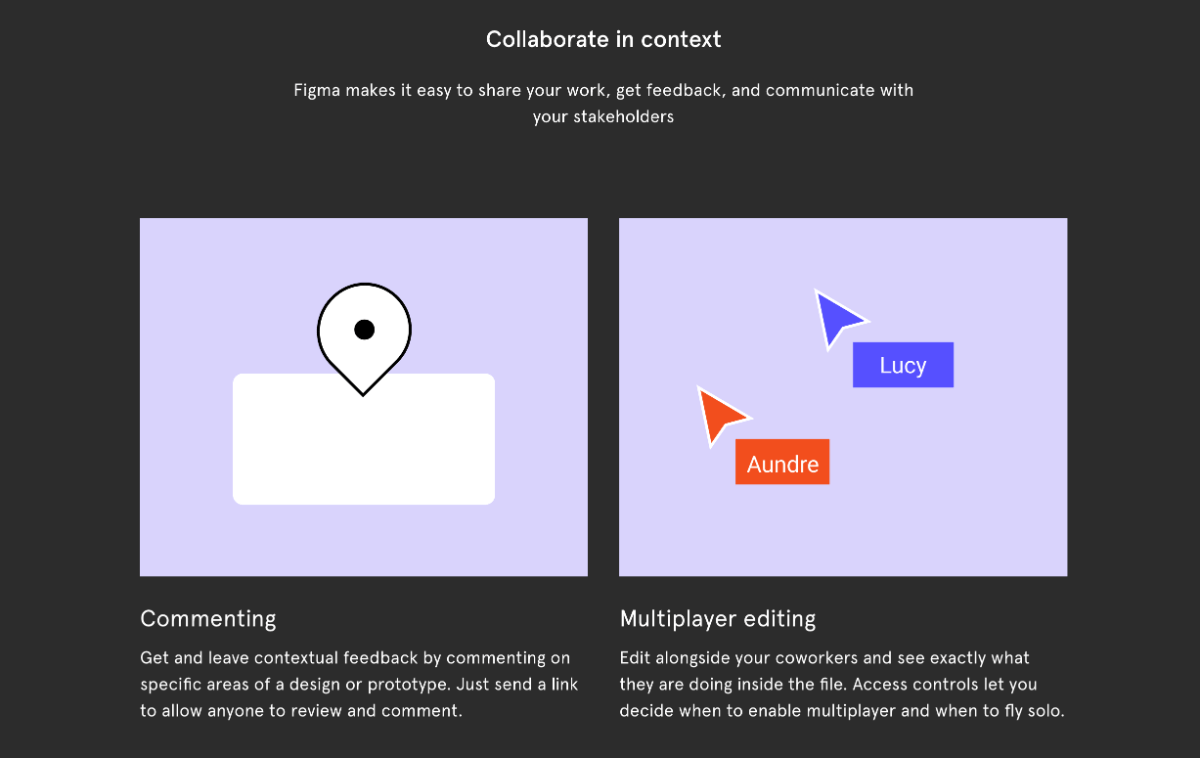 Here's how Figma solves real-time collaboration tasks:
Commenting. Use the interface to select a comment tab and instantly send someone a link to your comment. The marker can be left precisely on the area you're commenting on.
Multi-people editing. Edit a file together with multiple people and see their actions in real-time. Multi-people editing can also be disabled whenever you're working on a feature by yourself.
Copywriting. If you have a separate copywriter or a content editor, you can give them access to write their copy alongside your work in real-time.
Platform diversity. Because Figma works in the browser, your co-workers can join in whether they use a Mac system, or a Linux or Windows machine. It's truly freedom-enabling!
For the most part, Figma leaves both Sketch and Adobe's XD too far behind to be considered reliable alternatives for real-time collaboration.
The browser-based UI enables for seamless collaboration without the need to prepare for it individually. I would expect similar features to be introduced in other tools in the near future!
Adobe XD: flawless UI & UX design
Adobe is not often associated with the free price-tag. The company has a notorious reputation for offering world-class products at premium prices.
But it seems that even Adobe realizes that it has to do something as to not lose out on a massive market share of designers worldwide. And their answer is making Adobe XD a free UI design tool.
Likewise, other than adding new features, Adobe has also been keeping busy to make XD as pluggable as possible. Plugins, after all, do make it easier to achieve the best results quicker.
A lot of the existing Sketch plugins have already been ported to XD, but as an independent tool – XD also offers integrations with well-known services such as Trello, Google Sheets, Airtable, and many others.
Design and prototype with ease
Adobe's focus with XD seems to be making things easy and intuitive. From creating a new project to managing prototypes, most features are only a click away.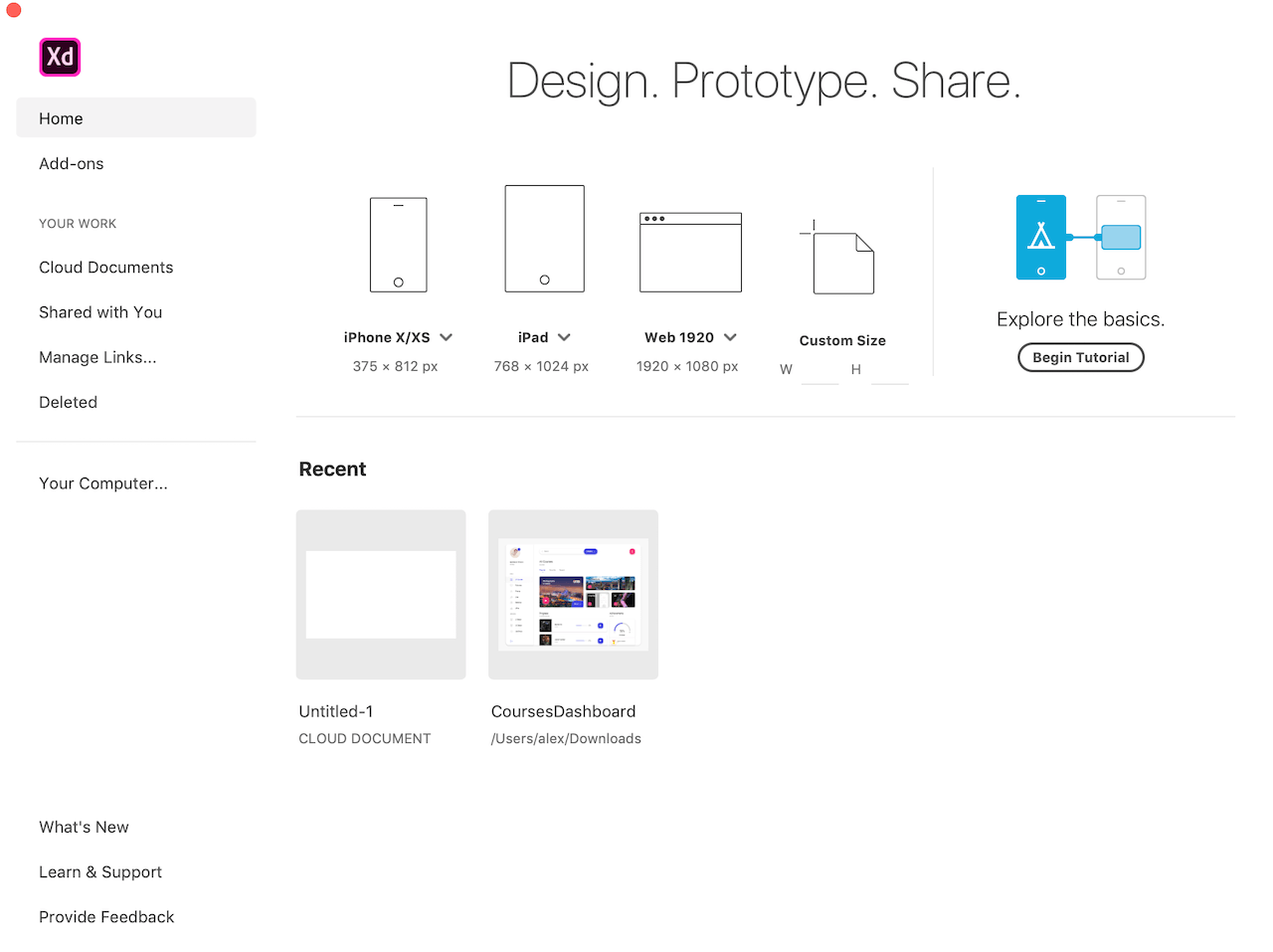 Once you pick a project type (Web/Phone/Tablet), you can immediately start working on your design. Assets for your project can be either preloaded or shared by other XD users in your team.
This also makes it easy to keep up with any existing design specs your team is working with. Spend less time finding files and more time designing!
Adobe XD's collaboration features are fair
When collaborating, Adobe offers two choices: work together on a cloud document or upload a document from your PC. The former option makes collaboration quicker. And inviting new people is also extremely easy.
In the top-right corner of your tool, you have the Share button. Here you'll find several ways to share your XD designs.
The options are:
Invite to Edit
Share for Review
Share for Development
Record Video
So, in retrospect, these are all options tailored towards a smoother design workflow. XD can automatically understand the spec you're using so that you can send it off to developers. Further, you can record a video to showcase any specific feature of the thing that you're building. The latter comes in handy for teams who are working mostly in remote environments.
Access to Adobe's vast resource network
Adobe is the brand behind huge hits such as Photoshop, Illustrator, InDesign but also Behance, Spark, Adobe Fonts and Adobe Stock. These are all resource-based sites that you can use directly with Adobe XD.
So, let's say if you have the Adobe Fonts subscription active, you could simply sync all of the available fonts with your XD dashboard. This would then give you access to thousands of interesting, unique, and design-defining typefaces at the palm of your hand.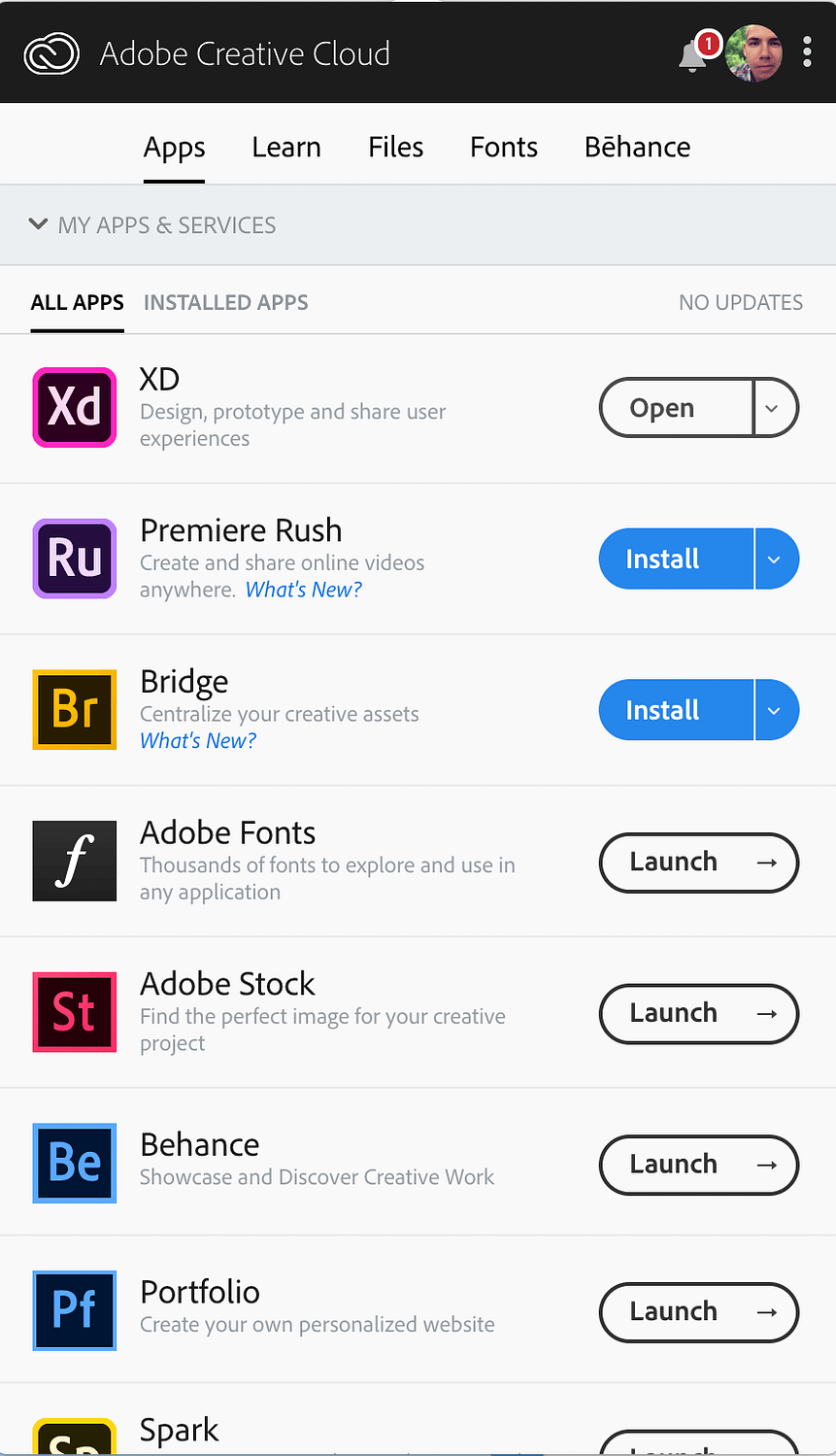 The verdict: Figma vs Sketch vs Adobe XD
So, this is where we conclude our Figma vs Sketch vs Adobe XD review.
All three tools are extremely well-suited for modern designer needs. I'd say that Sketch is at a big loss here because it is only available for Mac users. And as such, it's letting tools like Figma and Adobe XD innovate beyond the basic necessities.
At the end of the day, if your tool does something better than the other, it is oftentimes enough of a reason to switch over. The browser-based approach Figma has taken is also something to behold. In my circle of designer friends, it's always Figma that gets the highest praise.
And as for Adobe XD – I think Adobe is in a good spot right now. They have a lot of flexibility to improve their tool and add new features. Nevertheless, their third-party integrations are also spot on, making it a sound choice for teams who are constantly looking to change or adjust things.
Since all three tools are available for free or either as a trial, there is nothing stopping you from finding the perfect match for you. After having worked with each one individually, I can relate to the fact that workflows feel different from one tool to the other.
👉 Read about other Sketch alternatives for Windows here.
…
Don't forget to join our crash course on speeding up your WordPress site. Learn more below:
Layout, presentation, and editing by Karol K.