📆 This is the March 2020 edition of "This Month in WordPress with CodeinWP."
Hey WordPress fans, welcome back to our monthly roundup of news from our community. You'll hear about lots of happenings; some you will enjoy and some you will probably not agree with. But that's life, isn't it?
In brief, let's say farewell to the featured themes in the repository, embrace new awesome features that will soon be part of the WordPress core, accept the nasty things we can't really control (e.g. the cancellation of WordCamp Asia 2020), and treat trouble with a positive mindset (as in the case of Duplicator plugin attacks that affected one million sites).
It's always the same, going in a loop, the good and the bad. Read on to learn more about all these interesting changes in WordPress.
March 2020 WordPress News with CodeinWP
Goodbye Featured Themes, For Now
After announcing in November that the Featured Themes section on WordPress.org will provide recommendations carefully curated by the Theme Review Team (TRT), suddenly all the enthusiasm is gone.
After a first attempt to update that section with unique themes, TRT just removed the Featured tab completely from the directory. Even though they stated that it's only a temporary decision, the guys mentioned that it was getting hard to pick themes that would meet all the special requirements they wanted. Let alone the fact that it was also hard to avoid biased choices.
"We did not hold any meetings with votes because there were concerns that people would only root for their own theme, their friends' themes, or even get paid to suggest themes." – Carolina Nymark from TRT.
For what it's worth, you can still find the featured themes in your WordPress dashboard, but there are only a few entries added during the first (and last) attempt to keep the section alive.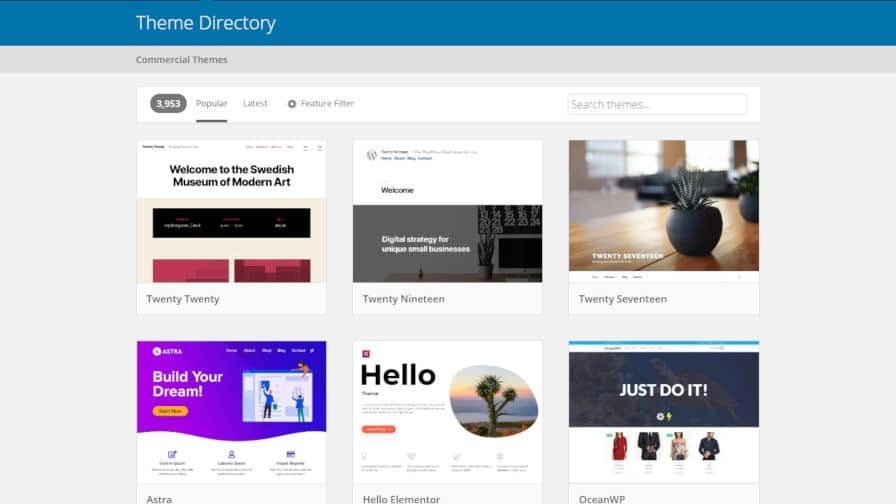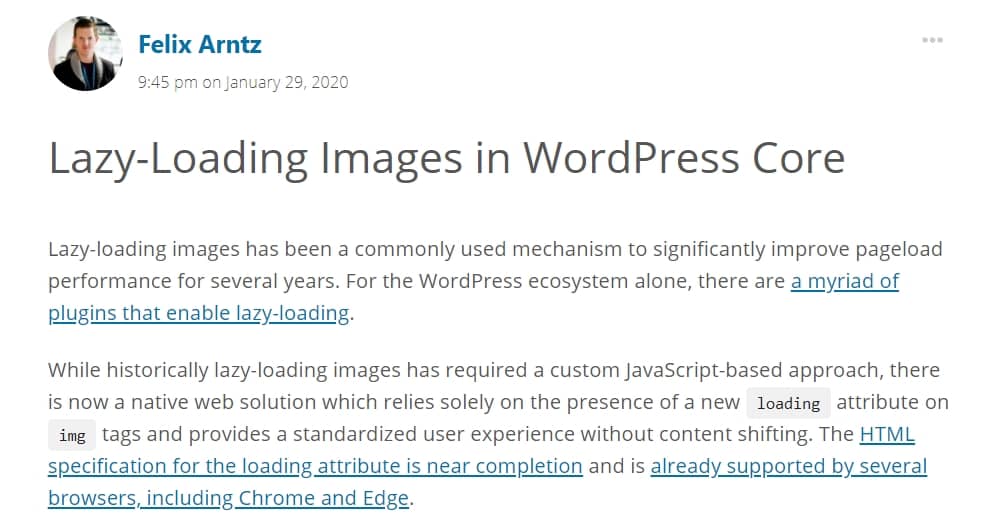 Lazy-Loading Images in WordPress Core
When WordPress 5.4 lands this month, it will come with native lazy loading that will be integrated via a feature plugin. Felix Arntz, WordPress core committer and engineer at Google, is the person handling this project and promises to have everything implemented soon if the testing goes well.
The first version of the plugin is already on WordPress.org if you want to try it. The tool is automatically adding loading="lazy" attributes to all your images in both existing and new posts, pages, and comments. Just one small thing worth mentioning: this feature only works if your browser supports it.
You may also be interested in:
All in One SEO is now part of the Awesome Motive Family
All in One SEO Pack, one of the most popular WordPress plugins ever, is now part of Syed Balkhi's army after Awesome Motive, his company, acquired the SEO plugin from Michael Torbert, its creator. The plugin has been a great success since its release in 2007 – it's been downloaded over 65 million times and is currently active on over two million WordPress sites.
Why did Awesome Motive buy it? "Because our users continuously asked us to build an SEO plugin that's easier to use and is more affordable", Balkhi said. Also, he did not want this popular product to end up in the wrong hands, so he snapped it up before someone else could.
Grow your U.S. CBD business with WooCommerce
Another partnership on the horizon! WooCommerce makes a deal with Square payment service to sustain the commerce of CBD products via WordPress online shops.
CBD stands for "cannabidiol", a substance that became legal for consumption in the US in 2018 (mostly for medical use), but there are still states that do not support its trade entirely.
Square had already supported CBD merchants, but there were previously some issues with WooCommerce CBD merchants who wanted to use WordPress.com and/or Automattic's WooCommerce services like Jetpack and WooCommerce Shipping services (even with a self-hosted store).
With the new partnership, CBDS stores are allowed to connect to Automattic's services, but only US-based stores.
Great Articles From Around The Web
Key Takeaways From the First 'Future of Themes' Meeting
This month, the first-ever biweekly meeting of the core design, editor, and theme review teams took place. The purpose of this recurring gathering is to discuss future plans for WordPress themes. Here are the takeaways.
WordPress 5.4 is almost ready for release. Until then, take some time to test the third beta available for download and report any issues or errors you find.
Just as with the native lazy loading, the proposal of including native XML sitemaps in the WordPress core turned into fact. A feature plugin is now out for testing and feedback.
WordCamp Asia 2020 Cancellation: Event Ticket and Travel Refunds
Unfortunately, the inaugural edition of WordCamp Asia was not a lucky one. Due to the coronavirus outbreak, the organizers had to postpone it to 2021. It was just bad timing. It will be held in the same location (Bangkok).
Why Raising WordPress' Minimum PHP Version Won't Make It a Modern PHP Project
The guys at Delicious Brains are not so convinced about the efficiency of raising WordPress' minimum required PHP version in attracting and keeping developers engaged with this platform. Or in making it a modern platform whatsoever. If you're lacking debate topics, this is it.
Feature Plugin: WP Auto-updates
The core devs are working on yet another feature plugin that will become a default functionality starting with the release of WordPress 5.5. It will unlock automatic updates for all the active plugins and themes on your site.
Elementor has raised a $15 million Series A, led by Lightspeed Venture Partners
Elementor, the massively popular page builder for WordPress, is getting all the love from the investors. Its authors raised a fair amount of money from Lightspeed Venture Partners at their fundraising event this month.
Gutenberg vs. Elementor: Themeisle Actually Attempted to Build Their New Site With Both — Here's What Happened
When we redesigned our online shop a few months ago, we gave equal chances to both Elementor and the block editor. During the hands-on experience, all the chances slowly began to balance towards one single solution. Here's how it went for us.
Active Attack on Recently Patched Duplicator Plugin Vulnerability Affects Over 1 Million Sites
If you're using Duplicator plugin, make sure to update it as soon as possible if you don't want your site to join those one million victims of this month's critical attacks. Also, keep an eye on the other plugins that are currently vulnerable here and here.
As the era of distributed teams and digital nomads is just blossoming, Buffer published this huge report containing statistics about various aspects of working remotely. You might relate to some of them.
The Complete Guide to WordPress Widgets: How to Use, Add, and Implement Them to Customize Your Site
I guess we're all using widgets but we might not know much about what they actually are and how they can help our site. Here's a nice read on how to use them more effectively.
That sums up our March 2020 WordPress news. Anything we missed?
…
Don't forget to join our crash course on speeding up your WordPress site. With some simple fixes, you can reduce your loading time by even 50-80%:
Layout and presentation by Karol K.