Although entry level remote jobs are now more available than ever – thanks to the workplace reshuffle that came with the COVID-19 pandemic – it turns out that they are still lagging miles behind their senior counterparts.
Market research done by Ladders shows that mid-level workers have been the biggest beneficiaries of the post-pandemic work-from-home arrangements. The ratio of remote opportunities for jobs paying at least $100,000 has increased tremendously over the past few years – hitting 15% by the end of 2021, up from 3.69% in 2019 [1].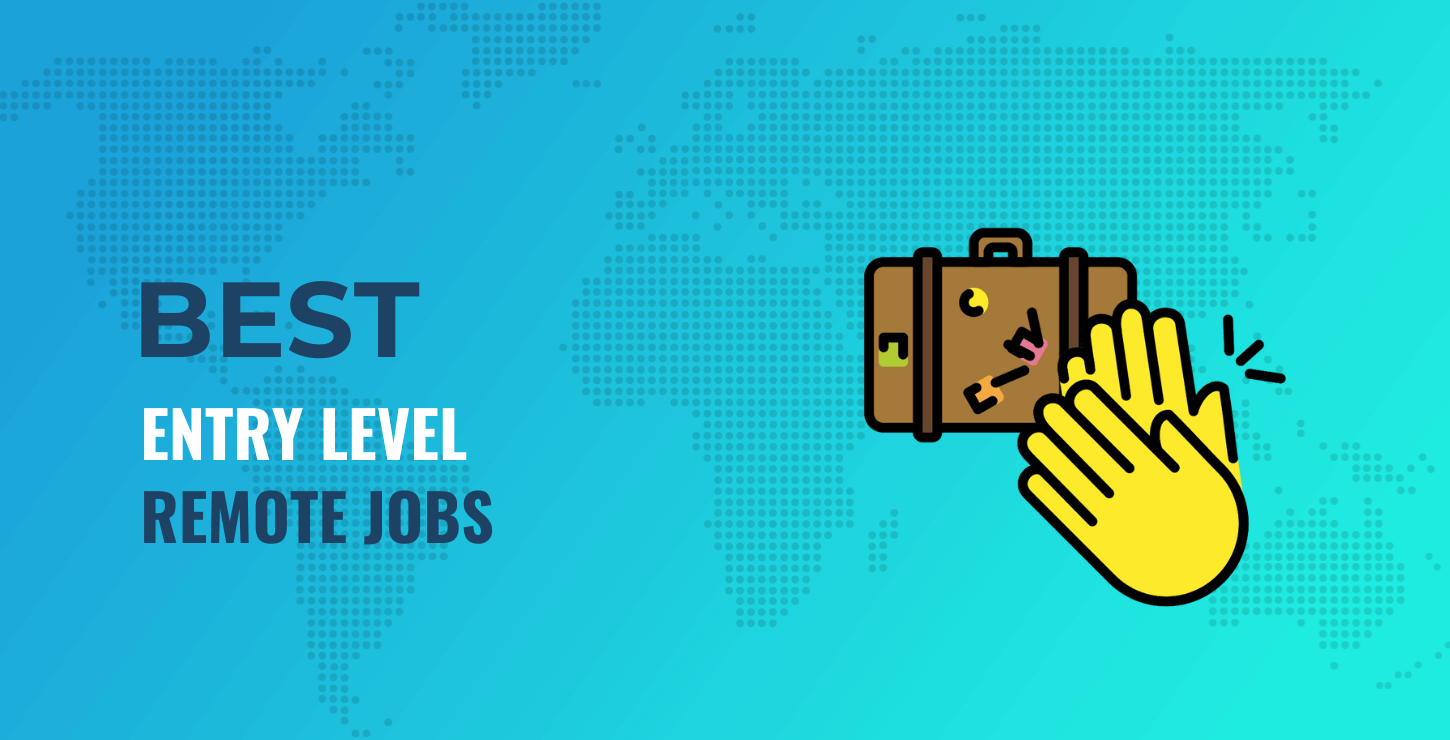 A scrutiny of the Flexjobs database reinforces the above: mid-level opportunities are now taking up about 60% of all the listed remote job opportunities. Managerial positions follow at a distant second with 20%, while entry level remote jobs account for a measly 11% [2].
When you come to think of it, that should partly explain the continued stagnation of wages for many entry level remote jobs. Limited opportunities have been driving cut-throat competition among applicants, which in turn has suppressed the growth of corresponding benefits – including salaries.
That notwithstanding, it turns out that there will always be several exceptions to the rule. These are the outliers that pay considerably better than regular entry level remote jobs.
In particular, the following seven roles have recently been trending quite prominently at the top of salary indices for entry level remote jobs. If you're curious as to why, we invite you to follow along as we lay the numbers and job details bare. Most importantly, though, you'll get to assess your qualification prospects for all seven of these high-paying entry level remote jobs.
📚 Table of contents:
Best-paying entry level remote jobs in 2023
1. Social media manager
If there's one thing you've probably already gained doctorate-level experience in, it's social media usage. Now, as it turns out, all those digital social skills you've built up over the years can potentially land you a lucrative entry level remote job as a social media manager.
The position itself pays an annual salary of $24,000 to $175,000 in the US, with the middle 57% taking home between $58,000 and $93,500 [3].
That said, a social media manager – or social media specialist, according to some recruiters – is a professional who runs a company's social media accounts. Their job is to perform all forms of social media outreach campaigns on behalf of their brand.
Employers expect social media managers to monitor social channels, as well as create and publish relevant posts; share links, images, and videos; reply to audience comments; plus cultivate B2B partnerships with other companies.
As such, an applicant should be proficient in audience engagement, public relations, campaign reporting, traffic analysis, and target profiling. Brands value social media managers who stay on top of emerging trends, audience interests, and market developments.
As for academic credentials, these types of entry level remote jobs often favor applicants with a bachelor's degree in advertising, marketing, business, or public relations.
2. Web developer
Now that organizations are exceedingly prioritizing cyber security, big data analytics, hyper-automation, AI engineering, and cloud computing, the demand for web developers is expected to continue growing steadily into the future.
Between 2020 and 2030, for instance, the U.S. Bureau of Labor Statistics projects the job market for web developers to expand by 13% – which is far higher than the national average for all occupations, including other entry level remote jobs [4].
This has pushed the median annual wage of web developers to $77,200 – with the ones working for publishing industries earning a median of $123,870, followed by their computer systems counterparts at $75,450, advertising at $71,930, and then technical consulting at $70,790 [5].
Web developers are compensated that highly because of their critical roles in handling database management, web publishing, web content development, web design, software development, and network security. They collaborate closely with UI/UX designers, system architects, and quality assurance teams to ensure that web-based systems are running smoothly.
Now, whichever web development role you choose to apply for, keep in mind that you must have a sound understanding of web programming languages – particularly HTML, CSS, and JavaScript. You ought to know how to use them with all the popular browsers and web platforms.
These are skills that you can develop by yourself, using online courses and tech boot camps. Although having a bachelor's degree in computer science, IT, or other technical fields may improve your odds, some employers are willing to overlook all that if you demonstrate exceptional competency.
3. Administrative assistant
A work-from-home administrative assistant operates as a virtual subordinate under the company's senior executive. Their job is to lighten the load for managers by handling and coordinating all the small stuff, which then leaves the senior executives to focus more on important tasks.
You could, for instance, get hired by a business owner to answer telephone calls on their behalf, as well as schedule client appointments, respond to emails, bookkeep, file taxes, and maybe transcribe documents.
The precise duties differ based on company, industry, business size, and level of management. These entry level remote jobs are now spread out across all the major fields – especially in e-commerce, legal, marketing, tech, healthcare, and education.
Data from the U.S. Bureau of Labor Statistics shows that executive administrative assistants are the highest paid, with a median annual wage of $62,060 [6]. They are followed by legal administrative assistants at $47,710, while medical administrative assistants take home a median of $37,450.
This is fairly generous, considering the laid-back nature of administrative tasks. They'll only take up about half of your working hours, or probably less if you're great with cloud-based productivity tools and conferencing software. It's like getting paid to wait around to complete some basic requests from your manager.
To land the role, at a minimum you'll need tip-top skills in research, communication, and organization. Otherwise, a high school diploma might suffice for general administrative assistants, while executive assistants are often required to have a degree in commerce, finance, management, or other business-related fields.
4. Customer service representative
If you happen to be a people person, you might enjoy working as a remote customer service representative.
These are individuals who act as the company's support staff when calls and messages come in from customers. Their job is to address any queries or concerns raised by customers about the company's products and services.
We're talking about troubleshooting technical issues, as well as handling problems related to billing, product quality, service delivery, etc.
In return, customer service representatives attract a median salary of $36,920 per year [7]. That's payment for just staying on standby in case customers happen to reach out. Your requests might end up with only a handful of support tickets per day.
Moving on, it's worth noting that you won't need a fancy degree to get started on the job. A high school diploma should suffice for most entry level remote jobs, as employers are more interested in your social and analytical skills.
You should be good at not only listening to problems but also interpreting and resolving them in a timely, professional, and decisive manner.
Technical knowledge, on the other hand, comes with the job. Employers tend to offer on-the-job training, which might take about two to four weeks. You'll be taught about their products and services, plus the procedures for responding to various support queries.
5. Graphic designer
This is one role in which artsy creatives would fit perfectly. It's especially ideal for individuals who like to express themselves through digital illustrations.
The job itself is all about creating visual representations of various business concepts. You see, while online writers choose to express their messages through text, a graphic designer communicates through illustrative media.
In this case, you'll be expected to perform the duties remotely from home. To give one example, many entry level remote jobs in graphic design entail creating promotional materials. You'll be heavily engaged in branding, advertising, and public relations campaigns – for which you'll be creating animations, logos, print mockups, photos, images, brochures, billboards, etc.
Eventually, when it's all said and done, you'll get to take home an annual salary of $50,700 or thereabout [8]. And if you turn out to be exceptionally gifted in graphic design, some employers would be willing to pay upwards of $98,260.
Speaking of which, a portfolio is the best way to show your skills to a prospective employer. And yes – you'll need one, even for entry level remote jobs.
You can create it by piecing together some of your most outstanding designs to date. A great portfolio should strategically highlight your creativity, versatility, and software literacy.
It's worth noting, however, that the best-paying graphic design opportunities usually go to candidates who accompany all that with relevant academic credentials. So, you might want to consider investing in a reputable bachelor's degree in any relevant art and design curriculum.
6. Account manager
An account manager acts as the principal link between a company and its customers or clients.
If you're hired as one, you'll pretty much be serving clients as some form of a virtual steward. That means you'll keep in touch with them, all the while ensuring that their needs are addressed in the best way possible.
The end goal here is to optimize the customer experience through technical assistance, upselling, customer support, and general relationship management. As such, you have to be a well-rounded individual who understands both the product and the customer and knows how to drive engagement, customer satisfaction, and brand loyalty strategically.
For that, organizations are willing to pay as much as $270,000 per year [9]. The annual salary for an account manager in the U.S. starts at $27,515, while the middle 57% bring in between $74,000 and $138,000. This places the median earnings at $74,000 and the average at $88,779.
Such entry level remote jobs are typically open to graduates who possess a bachelor's degree in fields like business, public relations, communication, marketing, and finance. The specifics vary according to industry category and types of products.
Bear in mind, however, that whatever vertical you end up pursuing, you'll still need great negotiation, communication, problem-solving, strategic thinking, listening, speaking, and multitasking skills.
7. Research assistant
With data crunching having gone all digital, researchers in different fields are now leveraging remote talents to lighten their load. Such helpers are known as remote research assistants, and their job is to virtually collaborate with interdisciplinary teams and aid them in data collection, interpretation, analysis, and documentation.
For instance, you could get hired by a company to help them with industry research. In this case, your tasks would probably be to track a couple of traffic signals, generate reports, interpret analytics, and then consequently document the insights as findings.
On the other hand, a legal research assistant would be tasked with digging up relevant information from past court cases. Then academic research assistants would be left to sample existing literature for information.
Despite the differences, though, there are certain research skills that collectively apply to all the entry level remote jobs here. You have to know how to draft research reports, how to assess data using various statistical methods, where to find accurate research data, how to conduct interviews, how to interpret published reports, and finally, how to coordinate the findings with other project stakeholders.
You'll also need a bachelor's degree at the very least. To increase your chances, you might want to go for an opening whose research subject is perfectly aligned with your college degree.
If you did law, for example, you could try filtering out all the irrelevant entry level remote jobs until you're left with valid openings for a legal research assistant.
All in all, you can expect an annual salary of between $20,540 and $100,000 [10]. $41,662 is the median, while the earnings for the middle 57% stretch from that to $61,100.
How to get the best entry level remote jobs
Finally, always remember that the best entry level remote jobs won't just come to you. You need to go out there and find them for yourself.
In particular, you might want to take these steps to boost your odds of landing the best-paying entry level remote jobs:
Build a portfolio: Take time to compile a portfolio by documenting some of your best work to date. Even in entry level job applications, prospective employers want to see that you know your stuff.
Optimize your LinkedIn profile: With 87% of recruiters now using LinkedIn to find new talents, you should try to stand out from other candidates by optimizing your LinkedIn profile [11]. Highlight your strengths, add relevant keywords, set up an attention-grabbing headline, etc.
Keep searching on job listing sites: Find the leading job listing sites that are popular with recruiters, and then keep scouting their postings for openings. Here's a compilation of the 20+ best remote job sites to get you started. While you're at it, consider these additional 20+ remote job boards, or maybe check out the various WordPress-related jobs available on over 20 sites.
…
Don't forget to join our crash course on speeding up your WordPress site. Learn more below: