Why should I build an email marketing strategy?
Because email marketing works.
Sure, it might seem outdated, but don't be fooled. No other marketing channel can offer you the stability you get with emails. There's no social media algorithm to please and no search engine updates to fear.
Your rankings could tank tomorrow, but with an email address, you could still transform a reader into a loyal customer, provide comfort during a sale, or simply share updates from your company. Don't believe me? Check out the numbers:
Email can return up to $42 for every dollar spent[1]
The average email conversion rate is 6.05%[2]
59% of people say that marketing emails influence their purchasing decisions[3]
But just landing in someone's inbox isn't enough. If you want to master email marketing, you'll need an email marketing strategy that works. I mean, that's why we're here, right? To go through all the steps for building a thriving email marketing program. We'll even dig into the data to see what works (and what doesn't) and how we've used email marketing here at CodeinWP.
👣 These are our email marketing strategy steps:
Okay, let's get started!
🥅 Pick relevant goals for your email marketing strategy
One of the things that gets forgotten about email marketing is the sheer number of different goals you can target with it. Email marketing is the workhorse of your marketing strategy. You can throw anything at it, including:
Improving content distribution with newsletters.
Increasing traffic.
Increasing sales and revenue.
Improving brand awareness.
Improving the quality of your leads and converting them.
Building customer loyalty.
Now, you might already have goals in mind for this project. If so, the next bit should be a lot easier.
You'll need to set specific and measurable objectives that will make it easier to reach the goal. In order to achieve this and keep them relevant, you'll need to understand the following:
Your open rate tells you how many people actually read your email.
The click-through rate tells you what percentage of readers clicked on a link.
Unsubscribes is the number of people who removed themselves from your email list.
Conversion rate is the number of people who completed an action, like making a purchase.
So, now that we know what to track, how do we set achievable goals? You can start by measuring your metrics against your industry's average according to a GetResponse study[4]:
| Industry | Open rate | Click-through-rate | Click-to-open rate | Unsubscribe rate | Spam rate |
| --- | --- | --- | --- | --- | --- |
| Agencies | 24.02% | 2.36% | 9.84% | 0.13% | 0.01% |
| Arts & Entertainment | 25.97% | 3.17% | 12.22% | 0.16% | 0.01% |
| Automotive | 23.71% | 2.35% | 9.91% | 0.26% | 0.02% |
| Communications | 19.56% | 2.42% | 12.35% | 0.05% | 0.01% |
| Education | 22.42% | 1.96% | 8.73% | 0.12% | 0.01% |
| Financial Services | 24.94% | 3.22% | 12.92% | 0.12% | 0.01% |
| Health & Beauty | 23.58% | 2.72% | 11.52% | 0.14% | 0.01% |
| Health Care | 26.88% | 3.01% | 11.19% | 0.17% | 0.01% |
| Internet Marketing | 14.97% | 1.66% | 11.10% | 0.12% | 0.01% |
| Legal Services | 25.49% | 2.90% | 11.37% | 0.15% | 0.01% |
| Non-profits | 30.85% | 11.67% | 11.67% | 0.10% | 0.01% |
| Publishing | 22.17% | 4.29% | 19.36% | 0.10% | 0.01% |
| Real Estate | 28.37% | 2.42% | 8.52% | 0.16% | 0.06% |
| Restaurants & Food | 30.09% | 2.99% | 9.94% | 0.23% | 0.02% |
| Retail | 23.28% | 2.69% | 11.54% | 0.17% | 0.01% |
| Sports & Activities | 25.15% | 3.32% | 13.22% | 0.16% | 0.01% |
| Technology & High Tech | 19.87% | 2.51% | 12.63% | 0.16% | 0.01% |
| Travel | 22.48% | 1.61% | 7.17% | 0.09% | 0.01% |
| All | 22.02% | 2.13% | 10.12% | 0.12% | 0.01% |
With measurable and achievable goals in place, you should also have a timeframe for getting them done. Once you put all of these elements together, you'll know exactly "Why" you're sending emails. And, once you have an answer to "Why," it is much, much easier to regularly create great content for your campaigns.
⏲️ How often should I send emails as part of my email marketing strategy?
It depends on a few different things:
Your goals. If you want to drive up the open rate, you need your audience to get excited when your emails arrive.
The email type. If you plan to distribute content, then a weekly email with your best content should be the most effective.
Your readers' email capacity. How many emails can people receive before they stop reading or, worse, unsubscribe entirely?
Unfortunately, there's no perfect formula for calculating email frequency. However, most data suggest that open rates are highest when sending 1-3 emails per week. The GetResponse data confirms this:
| # of newsletters | Open rate | Click-through rate | % of marketers |
| --- | --- | --- | --- |
| 1 / week | 30.09% | 3.63% | 47.50% |
| 2 / week | 24.76% | 2.82% | 19.55% |
| 3 / week | 22.45% | 2.24% | 9.26% |
| 4 / week | 19.75% | 1.80% | 5.39% |
| 5 / week | 19.47% | 2.02% | 3.93% |
But weird things still happen. The same GetResponse data reveals that sending 14 emails a week can have an amazing click-through rate of 2.81%[4]. This really underlines the importance of experimentation. I mean, don't start at 14, but follow the data where it leads you.
We might start with an email frequency rule of three 3️⃣
If your company is sending an email, it needs to be in the email calendar (including webinars, sales drives, special offers).
Start by sending one or two emails to your entire list per week.
Monitor the data and change your frequency to fit.
🧰 Which email tools should I use?
There's no beating around the bush with this one. Use a reputable email marketing service that can send:
Broadcast emails: group emails that are manually set up to get people to do something
Drip emails: a sequence of emails delivered across a span of time – these can be part of a course or a promotional campaign
Transactional emails: one-on-one emails that are automatically sent based on user behavior
I'm sure you've heard the buzz about Substack and considered using it for email marketing. Unfortunately, it's probably not a great option. Platforms like Substack aren't great for an email marketing strategy because:
You can't A/B test.
No audience segmentation options mean you can only send broadcast emails.
The design options are limited.
You won't be able to use automation or integrations with your store.
Start thinking of yourself as "The Artisan of Email" and approach your tools accordingly. If a tool can't help you achieve your important goals, then don't use it. Email platforms are great (we use one for our tech newsletter, BizarroDevs), but they aren't flexible enough for an email marketing strategy.
For one thing, with an email marketing service, you can experiment with your emails. Not only can you test, but it's easy to act on the results and change your emails with drag-and-drop editing tools. Perhaps more important, you can use automation and transactional emails to keep customers informed and on track with making a purchase.
For example, our store integration kicks off a workflow that emails the product guide to each user without any human intervention. This means our users can get started without delay.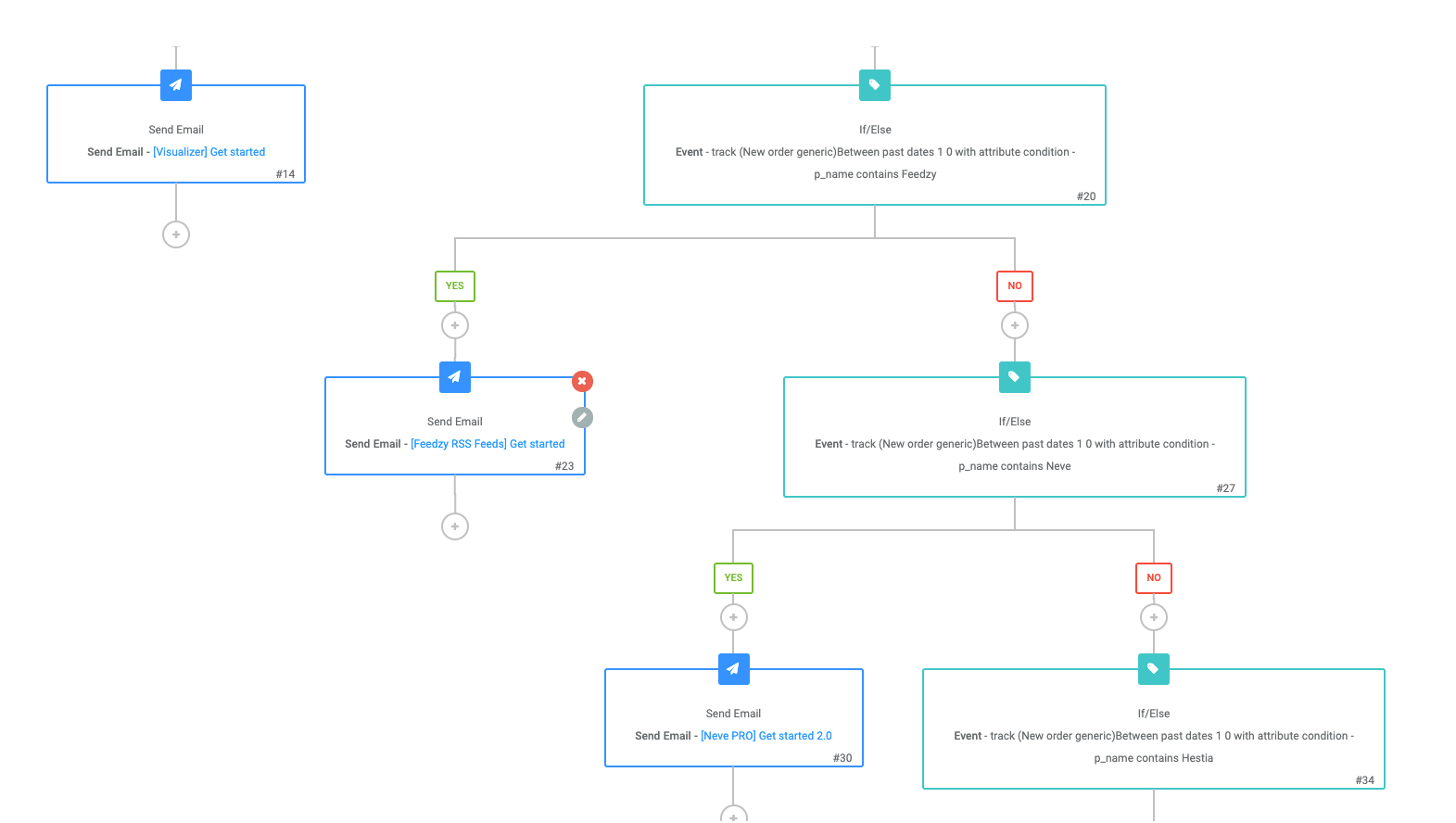 🎅 Build a list
Once we have our goals and tools, we can build a list of people to email. However, keep in mind that a successful email list takes time and patience to build. If you can hit a conversion rate between 1.95% and 4.77%[5], you're doing very well.
Now that we've got a baseline, how about a real-world example? We have three websites with 25 active opt-ins. Some of them are written to match the page content, and some of them are more general. Their conversion rates start at 0% and rise to 41.59% (in one case). In the final analysis, our conversion average was 3.21% in 2020.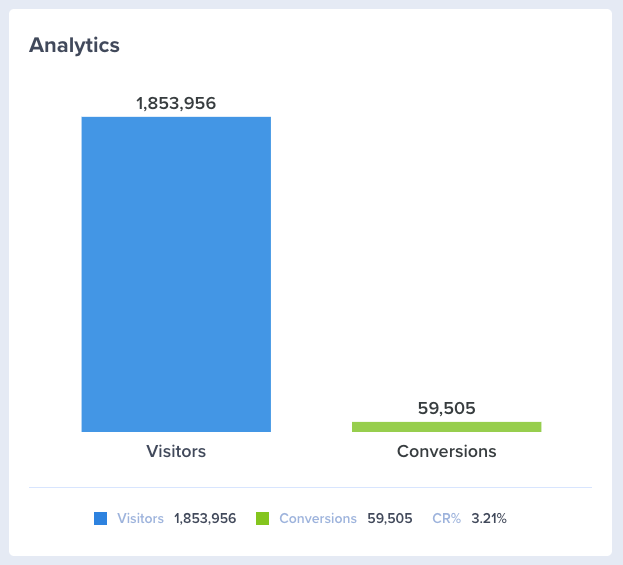 Faced with those numbers, you might think of shortcuts. I know what's on your mind. Something like buying a list of email addresses. Please don't do that. That is what you should absolutely not do as part of an effective email marketing strategy.
In the first place, you don't know if the addresses are valid. Even if they are, your new "subscribers" probably won't engage with your brand. You'll get low open rates, high unsubscribes, increased complaints, and maybe even some hefty fines.
What do we recommend? Well, that's an article in its own right (two in fact). Read all our list building secrets here.
But the basics are:
Add subscription forms to your website with a tool like OptinMonster.
Ask only for the information you need. In some studies, reducing forms increased conversions by 120%[6].
Use double opt-in to give your users the chance to back out (this means a more engaged list).
Most of your readers won't finish reading an article, so embed subscription forms in a few places (the header and sidebar at least).
Use pop-ups but time them well.
Write a compelling call to action (CTA).
Give people a good reason to sign up. A bonus like this helps:
🎁 Prepare email gifts
But how much do they help?
Quite a bit. On both Themeisle and this site, the site speed course converts at over 30% here and over 41% on Themeisle.
Why does it work so well? Value and placement. Our site speed course appears at the bottom of every blog article. It makes sense, right? Anyone reading our blog is in the process of learning how to build a website. And, anyone interested in building a website wants to improve its speed. In other words, this email gift is successful because it helps people achieve their goals.
Up to 72% of your subscribers want to stay-up-to-date or learn more[7], so try creating gifts that help them:
Ebooks (one of our ebooks converted at 63.63%)
Courses like our site speed course
Webinars
Free trials and samples
One thing we've learned, a good gift is a gift that is actionable and leads to an improvement when it's used. It's simple. It's effective.
An ebook with thousands of pages is too complicated. On the other hand, ebooks with actionable advice are valuable resources.
Once your gift starts converting users, let them know they'll receive future gifts. Not only will this keep them subscribed, but you will earn some loyalty in the process.
A variation on the gift idea is the content upgrade. Generally, a content upgrade is more specific and available only on certain posts.
For example, Hootsuite has an in-depth guide to social media image sizes. You'll find the content upgrade just below the table of contents. This is a textbook example of helping the reader achieve their goal in a faster, more efficient way: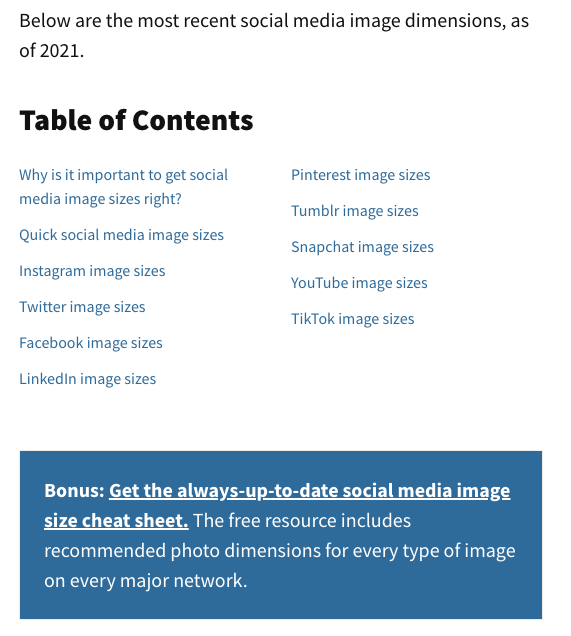 You may also be interested in:
🧩 Segment your email list
Once you've got an email list, you're ready to start sending emails, right?
Yes, but before we get into that step in our email marketing strategy, we really should talk about list segmentation first.
While it's acceptable to send broadcast emails to every subscriber on your list, it's more profitable (and efficient) to organize your subscribers into segments based on specific criteria.
How profitable? Some marketers see a 760% increase in revenue[8].
For example, we sent two emails announcing an update to our flagship theme, Neve. The first email went to four groups:
Paid users of our products.
All paid users of Neve.
Free users of Hestia and Neve.
Regular email openers from the past year.
The results were good: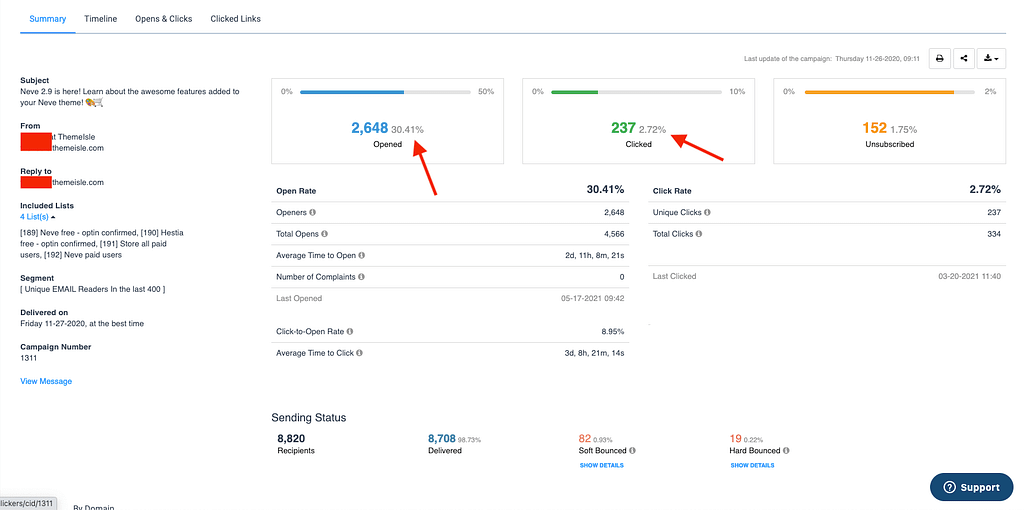 Sending the same email to broader segments was discouraging:
Reaching 16,000+ readers was great, but they weren't all that interested in the big news. As a result, we lost a lot of good subscribers that day. When you take all of this into consideration, segmentation shapes up as an essential email marketing tool. Not only do you reach engaged users, but you also reduce the email fatigue of other users.
If you look closely, you might notice that we have a list of users who signed up for our speed course. These courses can be gifts that keep on giving. Use your lead magnets and gifts as a starting point for audience segmentation; after all, you already have an idea of their interests, so use this knowledge to build campaigns.
In fact, dig into every email you send and see who's clicking what. For example, from this newsletter we could build a segment of Squarespace fanatics: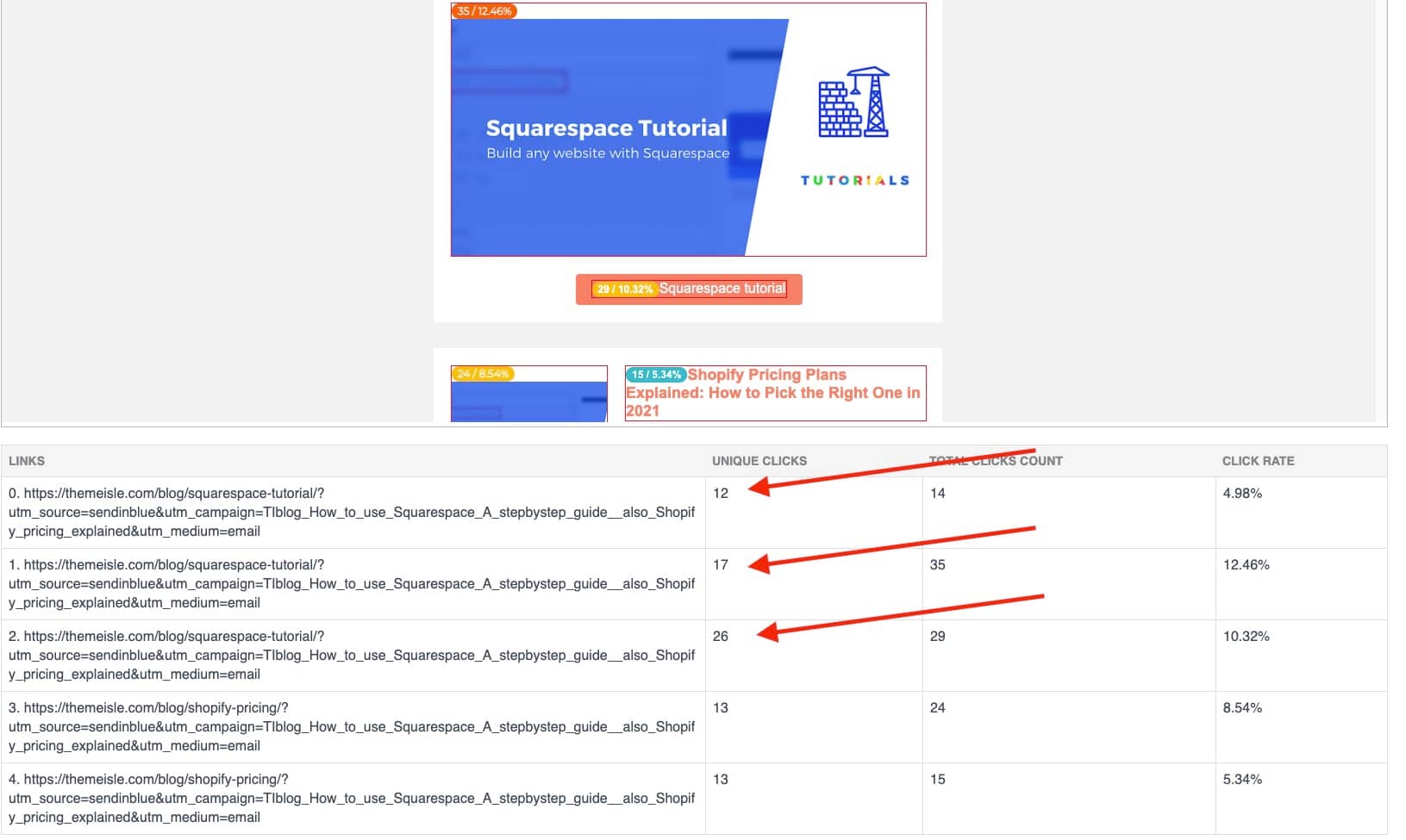 Other ideas for segmentation include:
Open rates
Inactivity
Purchase history
Purchase frequency
Birthdays and special anniversaries
Mobile or desktop
Many, many more
✍️ Write your emails
All right, so now we have subscribers and we have them organized according to different criteria, let's write some emails.
Subject lines
You might have a feeling that the subject line does a lot of heavy lifting. After all, this is the headline of your email and one of the first things people see. In fact, did you know that 47% of readers[9] open an email based on the subject line. Whereas 69% will report an email as spam based solely on the subject line[10].
This means that despite only being about 60 characters in length, a subject line's importance in an email marketing strategy is immense. You'll need to make your subject line compelling and short. This is because the standard subject line on desktop is 60 characters, but most pros aim for something that will work in 25-30 characters[11]. That's just eight words!
But the right words can make a noticeable difference.
We saw a 2% increase in opens just from the subject line: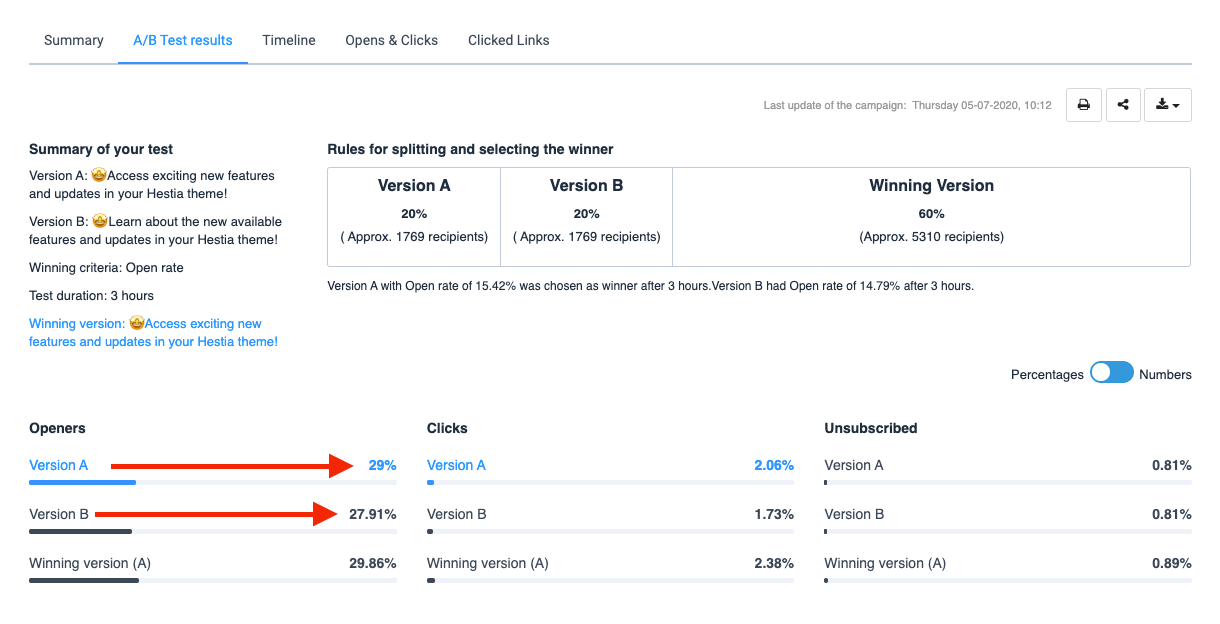 How can you succeed with your subject lines?
Always A/B test your subject lines to see what resonates with your audience.
Use numbers.
Test words like "free" because they can lower engagement rates to 13.1%[12].
Tell readers what to expect when they open the email – don't overdo the intrigue.
Use emojis if they are on-brand for seasonal campaigns. You might see a 10% jump in opens[13].
Personalizing your subject lines can boost opens by 26%[14].
Personalizing your emails
When it comes to writing your email, one thing is true across all industries: personalization works. There are a bunch of different ways to be personal. You can get good results just by using someone's name.
Personalized subject lines have been shown to increase open rates by as much as 1%. Whereas, consistent use of personalization in body text can lift your overall open rate by 3%[4].
But personalization can do so much more if you can go beyond using a first name. Use your email lists and segments to predict the content your readers will be interested in. Then share relevant content in campaigns targeting specific users.
Some other ideas:
Ask a question designed to get specific feedback.
Reach out on birthdays.
Send promotions and new content based on which pages your readers visited.
Offer special deals to regular openers.
For more advanced personalization, integrate store data and purchase frequency into your calculations. You can use this information to send:
Product recommendations based on recent purchases and viewed products.
Special offers for VIP customers.
Triggered email based on what pages your users visited.
And more.
As long as you maintain your value proposition, you should see good results from personalization.
Writing the copy
Once you have a subject line with a personalized approach, you can write delightful email copy for your readers. No matter what type of email you plan to send, there are a few standard tactics that will keep your readers hooked.
Continue the personalization trend with liberal use of "you" rather than "we." After all, the email should be about bringing benefit to your readers. So, lean into it. Part of your email marketing strategy should be to tell them what your email will do for them. Focus on the benefits, not on the features.
You should experiment with the length to see what works best. But, emails that average 434 words can be read in 3 minutes[16]. If you plan to go over this number, then make it worthwhile and write incredible content. Write for skimming and keep to the main points. Like in our weekly emails:
While we're here, let's look at the click distribution. That first linked article gets all the love. Keep this in mind and place your most important link or CTA accordingly. Organize your content around this principle.
Test who you'd like the email to come from. It might seem obvious, but 45% of people will choose to open or not based on who the email is from. Experiment with different names like a person's name vs the CEO's name as well as variations on them, like person + company name.
Finally, don't use no-reply for your marketing efforts. Always give your readers an opportunity to reply and read everything they send your way.
Email design
Every email marketing strategy should be sending emails with a mobile-first approach. Some data suggest that 81% of users read email on their smartphones. With mobile users driving over 50% of all clicks[17], you need to make sure your CTA is concise and easy to click.
How can you design a mobile-first email? Follow a few simple rules:
Avoid multiple columns in your emails and keep it under 600px.
Leave plenty of white space, so your email looks organized.
Optimize your images for bandwidth limitations.
Think of clickability with large buttons and spaced-out links.
Use easy-to-read fonts.
Preview on an actual device.
No matter how brilliant your emails are, people will want to unsubscribe, so you need to let them. Not only that, but an unsubscribe link is a legal requirement. Let's not make it an attractive proposition, but it does need to be obvious. For this, a clear unsubscribe link in the footer of your email is the optimal solution.
🤖 Automate your emails
Automating your emails is the best way to build an efficient email marketing strategy for all aspects of your business. Your automations will be responsible for delivering the crucial messages that help your visitors complete actions. This could include any of the following:
Subscribing
Downloading a product
Making a purchase
Asking for help
And more
A good email marketing service will provide the infrastructure to ensure delivery; you need to write the emails and set up a workflow that triggers the right email at the right time.
Our workflow is designed to quickly get the user from payment to active when it comes to new orders. We trigger unique welcome guides determined by the product purchased.
You can even use workflows to send contacts to specific lists. Like we've done here: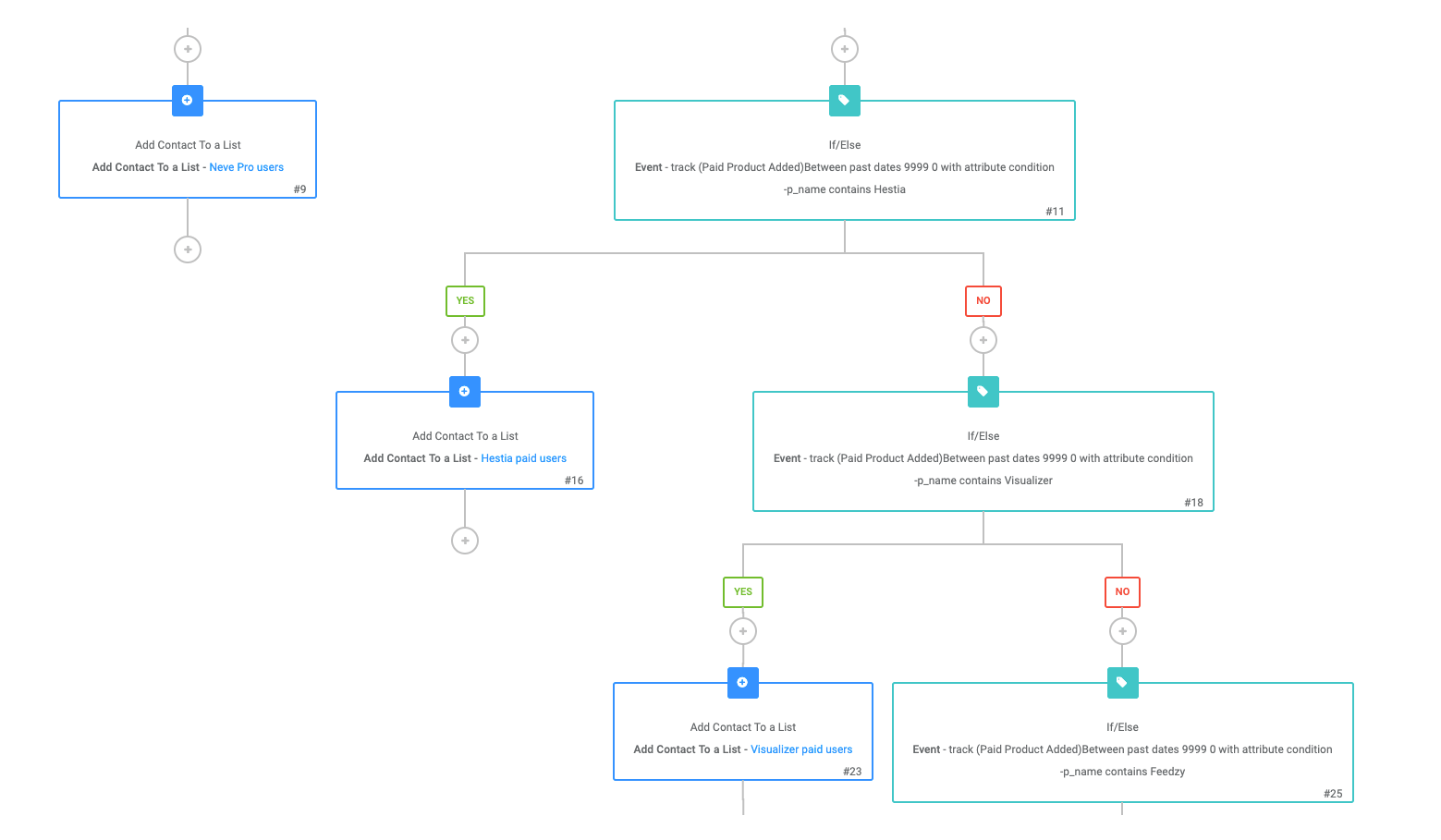 With lists like these, you can then create a well-timed workflow which automatically sends highly personalized up-sell and cross-sell emails (which convert at 6.85%)[18].
To help you with that, we've tested six of the best email automation software solutions.
📈 Monitor your data
Okay, your first email is away. So what's the next step in your email marketing strategy?
Read, replicate, repeat!
Start with your industry's benchmark and monitor your important metrics like open rates, CTRs, complaints, and unsubscribes. Parse all the data to see what's working and what isn't.
If something is working in one email, try it in others. And just keep repeating.
Set up A/B testing to test variations of things like subject lines, senders, and content. Try to limit the changes, so the waters don't get too muddy. For example, we run A/B tests on subject lines most often.
But you should do better. If you have a theory, then test it! The knowledge gained can only help you improve future results.
Final thoughts on developing an email marketing strategy
That's it. You should be ready to go and start converting with your own email marketing strategy. We covered a lot of ground today, so to recap:
Pick relevant goals for your email marketing strategy.
Use your goals to determine the email frequency.
Choose an email marketing service that provides flexibility.
Build an email list.
Give stuff away and prepare gifts and content upgrades.
Segment your list.
Write your email and experiment with subject lines and senders.
Design for mobile.
Automate as much as possible.
Monitor all your data and keep doing what works.
You'll find these steps flexible enough to cover newsletters for big corporations, as well as smaller Shopify stores that are just getting started with an email marketing strategy. If you follow the fundamentals, you should have no problem building a strategy that works for any business.
Have you put together your email marketing strategy yet? What is your main challenge with email these days? Let us know in the comments.
…
Don't forget to join our crash course on speeding up your WordPress site. Learn more below:
Layout and presentation by Chris Fitzgerald and Karol K.