With platforms like WordPress, launching an online business is more accessible than ever. Still, that doesn't necessarily mean success will come easily. If you're a budding digital entrepreneur, you might be looking for tried-and-tested ways to improve your online store.
The good news is that you can use ecommerce analytics to improve and refine many facets of your business. From web design and User Experience (UX), to marketing and growth strategies – there's a simple ecommerce metric that can provide valuable insights into each one.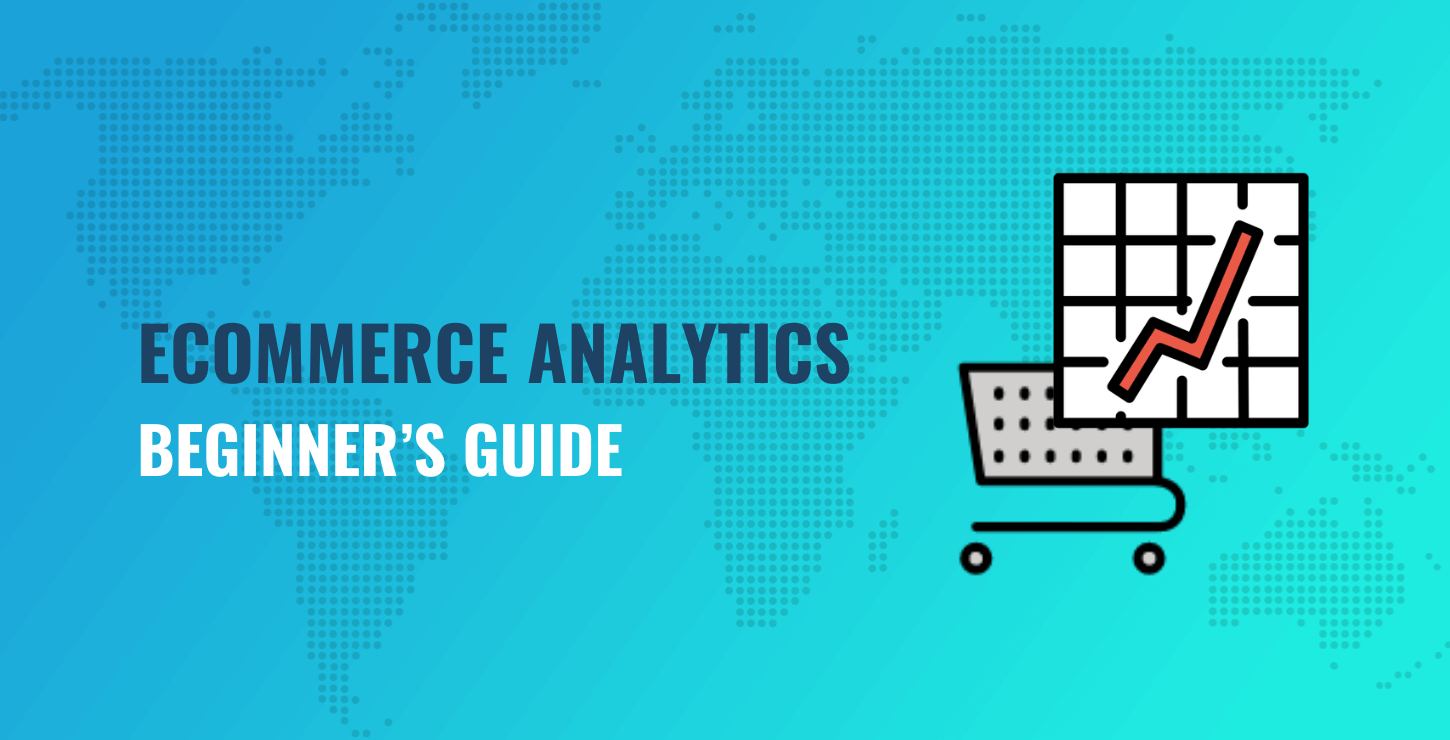 What is ecommerce analytics?
Before diving into learning about ecommerce analytics, it's best to have a baseline understanding of this vast field. In a nutshell, the generalized term "analytics" means collecting and evaluating data to make more informed decisions.
When it comes to ecommerce, this term encompasses any data points related to online sales and business. We're talking about everything from conversion rates to web performance. Web traffic and customer checkout behavior also fall under this category:
Essentially, business owners can use ecommerce analytics to understand the performance of their companies better. In the next section, we'll explain this in more depth.
The benefits of using ecommerce analytics
As you can imagine, there are tons of benefits to leveraging ecommerce analytics as a part of your business strategy. Here are a few of the most important:
Refine your web design and UX. You'll want to curate the best customer experience possible. With the right tracking and reporting tools, you'll be able to fine-tune how you approach web design, customizing it to your users' unique needs.
Optimize your sales funnel. There are endless ways you can use ecommerce analytics to optimize every step of your conversion funnel. These can include everything from identifying your target audience to observing customer behavior on checkout pages.
Improve your marketing and growth tactics. It's difficult to know what's working if you're not tracking any results. Ecommerce metrics can significantly impact your marketing and growth strategies, as they help you gain insights into what's effective.
These are just some of the broader benefits of using ecommerce analytics. Furthermore, you may find that in-depth data analysis unlocks more advantages that are unique to your business.
Key ecommerce analytics to follow in 2023
Now that you know more about ecommerce analytics, let's go over 12 of the most important metrics to follow. We'll separate these into categories, so you can more easily decide which ones are relevant to your business!
Category: website performance 📊
To run a successful business, you'll need to deliver a flawless website experience. With that in mind, here are some of the most useful ecommerce analytics for website performance:
1. Page loading time
Page loading time can have an immense impact on your business. Studies show that as load time goes from 1 to 3 seconds, the probability that users leave increases by 32% [1]. Therefore, it's a crucial metric to track.
Later, we'll discuss how you can follow this metric regularly. However, if you want to quickly learn the speed of your site, you can use a tool like Page Speed Insights:
You'll want to pay attention to the "Speed Index" score, along with your Core Web Vitals scores. The tool will also suggest ways to improve your site's performance.
2. Bounce rate
Your "bounce rate" is the number of single-page visits your site gets. Essentially, it refers to the number of users who ditched your content after viewing just one page.
This number can be a good indicator of the UX on your homepage or other key landing pages. A high bounce rate usually means that people are not impressed with the first page they see, so you may need to improve your site's design or content.
3. Pages visited
Getting people to move past your homepage is certainly a success, but you'll still want to know how many (and which) pages they visit after that. This data can tell you what content is performing well and what isn't.
Alternatively, if you know that quality content is getting overlooked, this could mean that you need to make it easier to find. You can do that by linking to it within your posts or featuring it on your site.
4. Time on site
As the name suggests, "time on site" refers to how long a visitor spends with your overall content. You'll want this number to be high, keeping people on your site for as long as possible.
If you discover that people aren't spending enough time on your site, you may want to update your navigation menu. A user-friendly menu enables users to move between your pages and content seamlessly.
Category: customer acquisition 🤝
When you know precisely how you are winning over customers, you can optimize the process. Here are a few key ecommerce metrics to track for customer acquisition:
5. Conversion rate
In ecommerce, a "conversion" can mean several things. However, it usually refers to a sale. So, your conversion rate is the rate at which you are selling products and services on your website. This is perhaps the most fundamental metric to follow.
Other types of conversions include gaining a lead via a sign-up form or getting someone to join your loyalty program:
There are different types of conversions at every step in the sales funnel, and you'd be wise to keep track of as many as possible. In this way, you'll have a sense of whether your sales strategies are working or not.
6. Returning visitors
Sometimes, people will return to your website several times before actually converting. So, it's important to track these users.
Returning visitors can signify that you're on your way to landing a customer. Conversely, if you discover that you aren't getting many recurring users, you can try retargeting ads and offering discounts to shoppers on consecutive purchases.
7. Customer acquisition cost (CAC)
You can typically use straightforward tracking tools for ecommerce analytics. However, there are a few additional metrics that you're able to calculate with simple math.
Your customer acquisition cost (CAC) is one of them. Tracking this metric can show you if your marketing budget is being well spent.
To get your CAC, all you need to do is compare your marketing expenses to your overall sales (from new customers). For instance, if you spend $5,000 monthly on retargeting ads and discover that this channel earns 500 new customers within that time, your monthly CAC would be $5.
8. Customer lifetime value (CLV)
Customer lifetime value (CLV) is a prediction-based ecommerce metric. It's simple, but it can be highly informative.
Essentially, the CLV is the overall profit you expect to make from a customer. This metric can be helpful when you're establishing your marketing budget.
For example, if you sell wedding dresses, you can assume that the CLV of a customer is limited to the value of one singular purchase. On the other hand, if you sell one-time-use products such as makeup, your CLV can be based on many purchases. A customer who is happy with a certain item will come back and purchase it again and again.
Category: growth and retention ↗️
While gaining a customer might seem like the hard part, convincing them to come back to your store is an entirely different battle. Equally, expanding your audience can prove challenging. Here are some additional ecommerce metrics to help you with customer retention and growth:
9. Organic traffic
"Organic traffic" refers to the users who find your website via search engines like Google. This metric does not include visits earned, thanks to paid search engine marketing (SEM). Organic traffic is totally free, and it's crucial if you want your business to reach a wide audience.
Overall, organic traffic is a reflection of your website's search engine optimization (SEO) strategy (or lack thereof). It's important to track this metric as you develop your SEO tactics.
10. Checkout behavior
Checkout behavior encompasses a few different ecommerce metrics. For instance, "add to basket" and cart abandonment would both fall into this category.
When you are able to see how your customer is behaving on the page, you can improve any issues and boost your conversions as a result. This approach might involve redesigning your checkout page or creating exit-intent popups.
11. Average order value (AOV)
You can determine your store's average order value (AOV) by tracking the dollar value spent on each transaction and comparing it to the total number of orders.
If you discover you have a low AOV, you can improve it with strategies such as cross-selling and upselling. You could also set a minimum order value to be eligible for free shipping.
12. Paid marketing
"Paid marketing" isn't technically an ecommerce metric, but it can open doors to an entirely new data set. For instance, if you're having trouble growing your organic traffic, you might consider SEM. It will unlock data about the quality and relevance of your content and can give you an idea of how your business stacks up against the competition.
How to get started with ecommerce analytics
To get started with ecommerce analytics, you'll need to be equipped with the right tools. Ideally, you'll use a solution that can help you track multiple metrics, such as Google Analytics.
The WooCommerce Google Analytics plugin is an excellent option that lets you view multiple metrics from your WordPress dashboard:
Keep in mind that you'll need to sign up for Google Analytics before connecting the account to your WordPress site. Then, you'll get access to these main features:
Track basic data such as sessions.
Get insight into how your customers move through the sales funnel.
Compare traffic, transactions, and revenue across products.
Additionally, Google Analytics is compatible with Google's other advertising and publishing products. For instance, you could use Google Search Console to improve website performance and SEO. Alternatively, you could try out paid advertising with Google Ads. The possibilities are endless!
Conclusion 🧐
If they're not backed by adequate data and insights, your ecommerce strategies may fail. This will make it difficult to improve and grow your business over time. Fortunately, you can leverage ecommerce analytics to optimize almost every aspect of your company.
When you're getting started with ecommerce analytics, it can be helpful to first identify which type of metric you want to prioritize. You might focus on website performance, customer acquisition, growth, and retention. Then, you can choose some simple metrics within your preferred category, including page loading times, conversion rates, or organic traffic.
Do you have any questions about interpreting ecommerce analytics? Let us know in the comments section below!
…
Don't forget to join our crash course on speeding up your WordPress site. Learn more below: