Your web hosting plays a crucial role in your website's speed, performance, and security. Therefore, it's important to make sure that you choose a reliable provider. Our DreamHost review will help you decide whether this well-known host is the right fit for you.
Learning about the company and what it offers can help you determine how it stacks up against other options you may be considering. Rather than spending hours researching each type of plan offered, we've done the hard work for you. We've collected and organized all the essential information into one DreamHost review so that you can easily make an informed decision.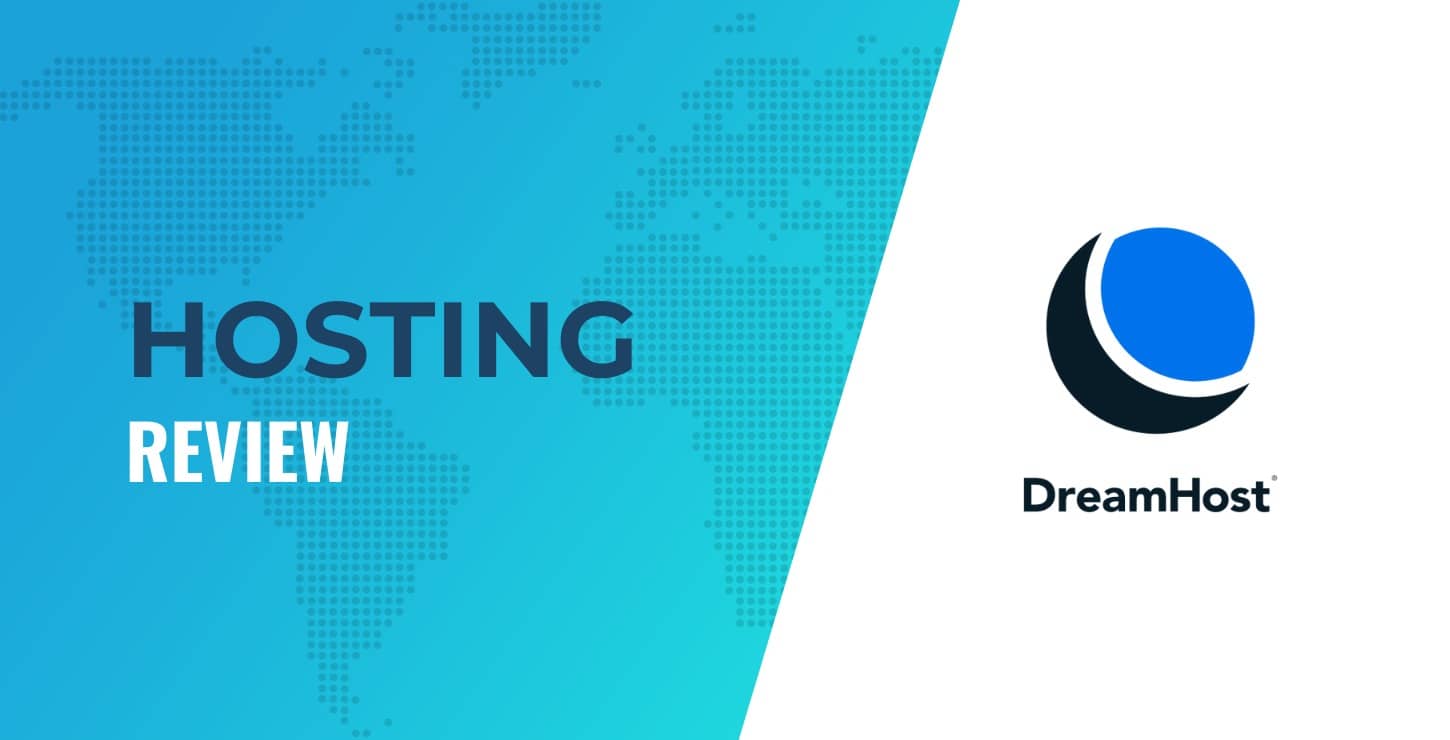 In this post, we'll take an in-depth look at the hosting provider. We'll start by introducing you to DreamHost and its pros and cons. Then, we'll discuss and review each type of hosting plan that it offers. Let's jump in:
📚 Table of contents:
An introduction to DreamHost
Established over 20 years ago, DreamHost is one of the most popular hosting providers available. It's a credible beginner-friendly web host that serves many businesses and websites (more than 1.5 million):
DreamHost offers a variety of hosting types, including:
Shared
Virtual Private Server (VPS)
Cloud
Managed WordPress
WooCommerce
Dedicated
Many DreamHost features make it a standout hosting provider. Firstly, the host has affordable pricing. It offers flexible reasonably priced month-to-month hosting plans. In addition, there's no commitment required, unlike with some other hosts that lock you into long-term contracts.
Furthermore, you can cancel your subscription anytime without having to worry about incurring additional fees. The monthly plans don't leave out essential features that are included in annual plans, either, which isn't always the case with other web hosts.
Moreover, DreamHost delivers a reliable service with an uptime guarantee. If your site is knocked offline, it offers a refund for the amount of time your website was down.
Aside from speedy, secure performance, including free Secure-Sockets Layer (SSL) certificates, DreamHost is also user-friendly. Its plans come with a custom dashboard that is easy to use, whether you consider yourself a beginner or a professional developer.
However, it's worth noting that DreamHost has very few data centers. Its only locations are in Virginia and Oregon, and there are no servers outside of the United States. For international companies, this setup may pose an issue.
DreamHost review: Shared hosting
If you're looking for an affordable hosting option for a blog or start-up site, shared hosting usually makes the most sense. It's the cheapest type of hosting, making it ideal for bloggers, freelancers, and small businesses.
DreamHost's shared hosting plans could be suitable if you're creating your first website and don't know where to begin. The host provides beginners with essential tools to get sites up and running, including WordPress installation, a free domain, and unlimited bandwidth.
As with most of its hosting plans, DreamHost offers shared hosting plans based on monthly, one-year, or three-year commitments.
⚙️ Key Features
Unmetered bandwidth
Free domain (annual plans)
Fast Solid State Drives (SSD) storage
WordPress pre-installed
Free SSL certificate
24/7 support
One of the most appealing features of DreamHost, particularly for beginners, is that it offers a user-friendly experience that streamlines the setup process. After signing up for your plan, you can access everything you need from the custom and easy-to-use control panel:
You can manage all of your website and hosting account information and use the setup wizard to begin building your site. This wizard will guide you in choosing a theme, crafting your pages, and adding content and information.
Additionally, performance shouldn't be much of a concern. DreamHost is one of the few hosting providers that offers a 100 percent uptime guarantee on shared plans. With many other hosts, that high guarantee is reserved only for more high-performance plans, such as dedicated hosting. That being said, it's alleged that DreamHost will only refund for the exact amount of time that your site is down. This doesn't necessarily include any loss of sales or business that might be a result of that downtime (allegedly).
Moreover, the actual performance of DreamHost has its ups and downs. Here's data based on our own test setups using DreamHost's hosting platform:
DreamHost uptime 📶

| June 2023 | July 2023 | August 2023 |
| --- | --- | --- |
| 99.99% | 99.987% | 99.8% |
DreamHost loading times 🔃

| | |
| --- | --- |
| East Coast, USA: 2.15s | West Coast, USA: 1.13s |
| London: 2.11s | Paris: 7.18s |
| Mumbai, India: 3.23s | Sydney: 3.22s |
💳 Pricing and plan details
Shared hosting for DreamHost starts at just $2.59 per month. This Shared Starter plan supports one website, free automated WordPress migrations, and unlimited traffic. You must purchase email accounts separately, but they're available for as low as $1.67 per month.
The Shared Unlimited plan starts at $2.99 per month, and you can use it for unlimited websites. Furthermore, this package includes email accounts. The Shared Unlimited plan offers a better deal for your money, considering the additional features.
Both plans provide free SSL certifications, WordPress pre-installed, and an impressive 97-day money-back guarantee. The subscription is entirely risk-free: DreamHost will offer you a full refund if you're unhappy with the service.
DreamHost review: VPS hosting
Another type of DreamHost hosting is VPS hosting. It's similar to shared hosting, except the server environment is split into smaller private areas. It's a popular choice for website owners who've outgrown their shared hosting plans but aren't ready to transition to a more robust solution, such as dedicated hosting.
For VPS hosting, DreamHost has four main plans: Basic, Business, Professional, and Enterprise. These packages are more suitable for running e-commerce shops or large business websites than shared plans.
⚙️ Key Features
Up to 8 GB RAM
Unlimited bandwidth
A customized control panel
24/7 support
100 percent uptime guarantee
Unlimited MySQL databases
One of DreamHost's VPS hosting downsides is that the virtual servers do not provide root access. If you're a website owner who wants total control over the servers, you'd likely be better off opting for a Cloud hosting plan, which we'll discuss later in this DreamHost review.
However, VPS hosting packages include some advanced features that can be particularly useful for developers searching for a hosting plan. These include automatic software updates, unlimited SFTP users, and the option to choose between Apache and Nginx, and Node.js:
Overall, DreamHost's VPS configurations are well-priced and include scalable storage and memory. However, if you're concerned about your site's performance, you can upgrade to a premium MySQL plan for an isolated Linux-VServer. This plan comes with dedicated resources, which are excellent for websites that send large amounts of data.
💳 Pricing and plan details
Let's take a closer look at the plans and pricing details for DreamHost VPS hosting. As we mentioned, there are four tiers. The following information is for packages when billed monthly:
DreamHost VPS hosting pricing and plan

| Basic | Business | Professional | Enterprise |
| --- | --- | --- | --- |
| Starts at $15 per month | Costs $30 per month | Starts at $60 per month | Begins at $120 per month |
| This plan includes 1GB RAM and 30 GB SSD storage | It comes with 2 GB RAM and 60 GB SSD storage | This plan includes 4 GB RAM and 120 GB SSD storage | It includes 8 GB RAM and 240 GB SSD storage |
You can use any of these plans for an unlimited number of websites. They also include free SSL certificates and unlimited email accounts for your domain name.
DreamHost review: Managed WordPress hosting
As one of the most popular content management systems on the planet, WordPress is a flexible and robust solution for building your website. To make the process even easier, you might consider using DreamHost's managed WordPress hosting plan, also known as DreamPress.
DreamHost is a quality host regardless of your website type. However, some aspects make it particularly useful for WordPress users, which is why many DreamHost reviews recommend it for this CMS. WordPress even names DreamHost as one of its officially recommended hosts.
We have already discussed the beginner-friendly custom dashboard that helps you install and configure your site in no time. Furthermore, DreamHost offers a WP Website Builder to customize and optimize your website:
It includes a drag-and-drop website builder with thousands of plugins and designs to choose from. This feature makes managing and updating your site effortless and lets you control all the settings directly from your admin dashboard.
You can easily modify and design your pages and posts without having to touch a single line of code. There are also ready-made pages and templates for nearly every type of website and industry. You can choose the one that fits your needs, upload your content, then launch the site within minutes.
This feature could be a massive plus if you're looking to create a relatively simple website for a blog or small business. DreamHost handles a lot of the heavy lifting for you, giving you more time to focus on other critical areas of your marketing.
⚙️ Key Features
Free site migrations
Automatic daily and on-demand backups
WP Website Builder
One-click staging environments
Free, pre-installed SSL certificates
Automatic WordPress installation
Free domains (annual plans)
Privacy protection
Support via ticket, callback request, or live chat
Free email hosting
As with most managed hosting plans, you can expect reliable support from DreamHost's WordPress packages. This assistance includes access to experts via live chat and plenty of online documentation and guidance.
💳 Pricing and plan details
DreamPress has three levels of managed hosting: DreamPress, Plus, and Pro. Let's take a closer look at the pricing details (when billed monthly) for each plan:
DreamPress hosting pricing and plan

| Basic DreamPress | DreamPress Plus | DreamPress Pro |
| --- | --- | --- |
| Starts at $12 per month | Starts at $24 per month | Costs $79.95 per month |
| This package includes 30 GB of storage, unmetered bandwidth, and support for 100,000 monthly visitors | It comes with 60 GB of storage, support for around 300,000 monthly visitors, and an unlimited Content Delivery Network (CDN) | This plan includes 120 GB of storage, support for over 1 million monthly site visitors, and 24/7 priority support |
All plans include pre-installed SSL certificates, the WP Website Builder, free automated WordPress migrations, and one-click staging.
Overall, DreamHost offers moderately priced packages for WordPress managed hosting. Its specialized features make it a high-quality option for sites ranging from simple blogs and portfolios to more complex WooCommerce stores.
DreamHost review: Cloud hosting
DreamHost's cloud hosting service is called DreamCloud. Cloud hosting is an excellent option if you want to spread your resources over multiple servers. It's also a solid choice if you need to deploy and customize your cloud servers because customization is limited with a VPS hosting plan.
DreamCloud comprises DreamCompute, a public computing service, and DreamObjects. Thanks to DreamObjects, the storage service is entirely scalable. You can also access it whenever you want.
⚙️ Key Features
Storage application integration
The option to run applications, such as Redis and Ruby
WordPress website backups
SSH with next-gen processors and accelerated SSD disks
Full root access and control
Unlimited monthly data transfers
Compared to other hosting providers, DreamHost's cloud hosting is pretty standard. It delivers a high level of customization options and flexibility without being overpriced.
You can also expect speedy and reliable performance. The service can launch a server within 30 seconds. It also leverages next-gen processors and accelerated SSD disks.
Moreover, DreamHost enables you to choose which Operating Systems (OS) and software to work with. The unmanaged server options include Linux, BSD, and Microsoft Windows.
Security is another plus of DreamCloud hosting. You can seamlessly secure your files by connecting to various storage applications for creating backups. These include CloudBerry, QNAP, Retrospect, and DropShare.
💳 Pricing and plan details
DreamCompute plans start at $4.50 per month. That package includes 512 MB of RAM and 80 GB of SSD storage. DreamCompute servers go up to $48 per month, including 4 CPU cores, 8 GB of RAM, and 60 GB of storage.
DreamObjects prices vary depending on how much storage you need. They range from $0.95 to $299.95 per month.
With cloud hosting, DreamHost charges clients up to 600 hours (or 25 days) for any given month. Each plan comes with free bandwidth (for a limited time) and 100 GB of block storage.
Additional DreamHost services and solutions
At this point, our DreamHost review has covered just about everything you need to know about each hosting plan. However, there are some other services and solutions that are worth mentioning.
For example, DreamHost also offers domain names. When you purchase an annual plan, you also get free domain name registration for your first year. This feature means you can handle your hosting provider and domain registration all in one place:
Another advantage of using DreamHost is that it offers the powerful website builder mentioned earlier. Although this builder is included in hosting plans, it's also available for anywhere between $2.59 and $71.95 per month. It offers an intuitive drag-and-drop builder, over 200 themes, and more than 25 extensions.
DreamHost also has a collection of pro services. These include solutions for design and marketing, website management and development, and more.
Some hosts, especially those with comparable pricing to DreamHost's plans, only handle the hosting-related aspects of website management. However, at DreamHost, you have access to solutions and services for almost everything needed to create, configure, design, and optimize a website.
Conclusion
Choosing the right hosting provider is crucial, and the decision shouldn't be taken lightly. However, with so many options to choose from, comparing different hosts can quickly become overwhelming and confusing. We hope that this DreamHost review will come in handy and help you determine whether this provider is right for you.
Regardless of which type of hosting you're looking for, DreamHost is a cost-effective provider with a lot to offer. Among its many benefits, it provides inexpensive monthly options and an intuitive, user-friendly dashboard. Furthermore, if you're looking for managed WordPress hosting, we recommend choosing any of the DreamPress plans to meet your needs.
Do you have any questions about using DreamHost as your hosting provider? Let us know in the comments section below!
…
Don't forget to join our crash course on speeding up your WordPress site. Learn more below: