This is PART 2 of our short series titled "How Building a Community Around Your WordPress Site Can Improve SEO."
Step by Step: How to Build a Community Around Your WordPress Site (Part 2)
In the spirit of the many transparency reports we read here at CodeinWP, in this part, I want to share the step-by-step process I am using to build my community over at forum.billbelew.com (around my WordPress site at BillBelew.com).
Distinguish yourself – do hard stuff
I like doing hard things. Admittedly I am not always successful at what I try. But then, who is? I am of the opinion that if something is easy to do, lots of people will do it. I am able to distinguish myself by at least trying to do and sometimes accomplishing what most people will not even attempt.
It's a slog to try to create a community from zero.
Hard question:
How do you get a whole lot of people to participate, to contribute somewhere that nobody is contributing or participating?
Easy answer:
The easiest way might be to pay a bunch of people to get in and start adding content. For example: PayPal paid out $20 each to its original user base of power eBay users until they reached critical mass. But can this be done today?
Three inherent problems with buying users:
1. You need seed money to make this happen. I didn't have that luxury.
2. Buying users is not a sustainable strategy. When you stop paying your users, people usually leave unless there is a compelling reason to stay. My forum is to answer questions about marketing, content, and social media. I still have yet to figure out how to make money or if it ever will (or even if I want it to).
3. If you are buying advertising to attract users and you stop paying for the ads, people stop coming. It makes sense to spend money if you can recover the money you spent. I didn't have that sort of strategy in place.
Yet, as of this writing (Dec 1, 2015), my community has:
1,213 members,
10,425 users,
37,998 sessions,
127,300 pages viewed,
1,475 threads,
15,233 posts,
54 different countries represented,
4,939 hours or 205+ days total time spent in the community.
Create a sustainable strategy to grow
What follows is my step-by-step process to get members to join, create content, build the community and stay involved.
Caveat: I am nobody special. Anyone can apply any or some combination of these methods over time.
8-pronged approach to attract people to your forum:
1. Speaking.
I get asked to speak quite often on content, social media and influence marketing. In March of last year I was invited by the National Library of Singapore to present to a large group of authors. I used this one opportunity to launch the forum. I knew I would have a pretty sizable and engaged group to appeal to.
I spoke, I gathered email addresses, I invited people to join. And they joined. I have subsequently spoken probably a 100 times (who's counting?) in different venues of different sizes since then.
Each chance I get to speak, I invite attendees to the forum to ask me followup questions.
2. Word of Mouth.
Members invite other members. They do this on their own. If I could find a way to get the current members to invite others more regularly, I would surely do it. I don't have a strategy here. If you have ideas, please tell me in the comments.
For now, the regular participants do on occasion invite others in because they want to, not because I ask them to.
3. Content.
I create long-form content in new forum threads. Sometimes what might warrant a blog post, I make a forum thread.
There is no rule of thumb – this many words equals a blog post and this many words or less is a forum thread. It's a feeling thing for me.
I may be harming my overall strategy by not focusing on my WordPress site, and instead by focusing on both – the site and the forum when creating new stuff.
When creating a new thread, I am dependent on forum members to click through and then for search to pick it up too, since the forum content is searchable.
4. Twitter.
In July of this year I had 14,113 Twitter followers. A newfound friend in my forum taught me how to legitimately grow my following. The whole truth is he got tired of me badmouthing Twitter, told me to 'shut up' for a moment and listen. I not only listened, I applied what he said.
Just five months later, my Twitter following is 51,926. I automatically tweet out old and new posts from my home site (I have 1691 articles and growing, yet to tweet out) and from the forum. Followers engage and check out my profile on Twitter. In my profile, I invite people to ask me questions in the forum. When people follow me, they get a direct message (automated) that invites them to join the forum also.
5. Organic.
Yup, yup. Google, Bing, Yahoo and the like have indexed the forum. Some posts get read more than others. No surprise there. Organic visitors stay in the forum longer than visitors from any other source … by a lot. Four to five times longer.
I fiddle with the titles created by some of the members after they are posted. I do some linking of threads to other relevant threads. There is much more I could do here, but who has the time to do everything? And if I pushed too hard, well then it wouldn't be organic, would it? You can't make flowers grow more quickly by pouring more water on them.
6. Home Site.
I have a forum feed on my home site in the footer and in the right column. Visitors to my home WordPress site click through to visit the forum as well.
As long as I have the integration working, I enjoy new visitors from the home site to the forum and vice versa. The forum is enjoying a very modest, yet steady increase of new members.
7. Meetup.
I organize or co-organize 22 Meetup groups in the Bay Area of San Jose/San Francisco. These Meetup groups are all loosely or directly tied to my niche – content, social media and influencer marketing.
I have Meetups devoted to user generated content, SEO, online marketing, lead generation and the like. My Meetup membership grows by 20-30 people DAILY. When they join, they get an invite to the forum.
When people come to a Meetup I invite them to the forum too. Every other month I invite the whole batch to join the forum. As of this writing, I have 17,061 Meetup members that I meet 2-3 times a month LIVE or via email.
8. LinkedIn.
I am an open member on LinkedIn. I will connect with anyone. I may not stay connected, but I will give anyone a try. I am presently at 4,384 1st degree connections.
When someone connects with me, I send them a direct message inviting them to join the forum. I also enjoy the option to do long-form publishing on LinkedIn. My long-form posts enjoy some readership and my call-to-action is to meet me on the forum.
You can see from this screenshot where most of the new visitors are coming from since I launched the community: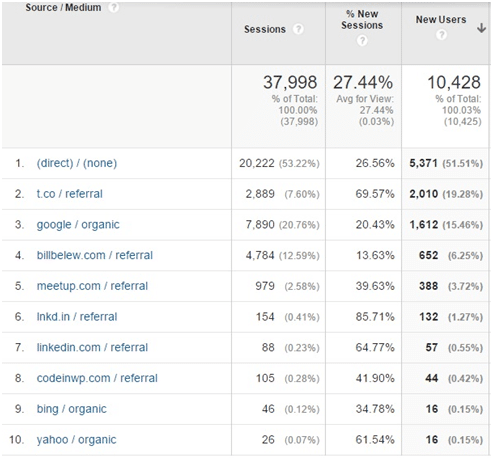 Hard work produces results
The conclusion is:
What goes around comes around, and what you sow you reap.
What to do with this? Choose your own method to grow your site and your community, or find a combination that works.
You will need either money, time or some combination of the two, and a strategy to grow a community.
In addition to my time, I have a full-time assistant, whom I pay $500/month to help do the repetitive tasks = follow/unfollow on Twitter, for example. I have taught her how to do formatting of posts for SEO so that I can focus on creating. And so on.
Beyond that, it's all a time investment on my part to grow the community.
What are you doing to grow your tribe? Need any help? Feel free to share.
About the author: Bill Belew is an influencer marketer trainer. He has been blogging on WordPress for more than a decade. You can be his next hero.