Trying to decide between ClickFunnels vs Leadpages?
Both of these tools help you capture more leads and convert more visitors into customers. But while they share that similarity, they do so in slightly different ways and with different emphases.
Leadpages is focused more on standalone landing pages, while ClickFunnels is focused more on helping you create sales funnels that tie together and move visitors through different stages (hence the name).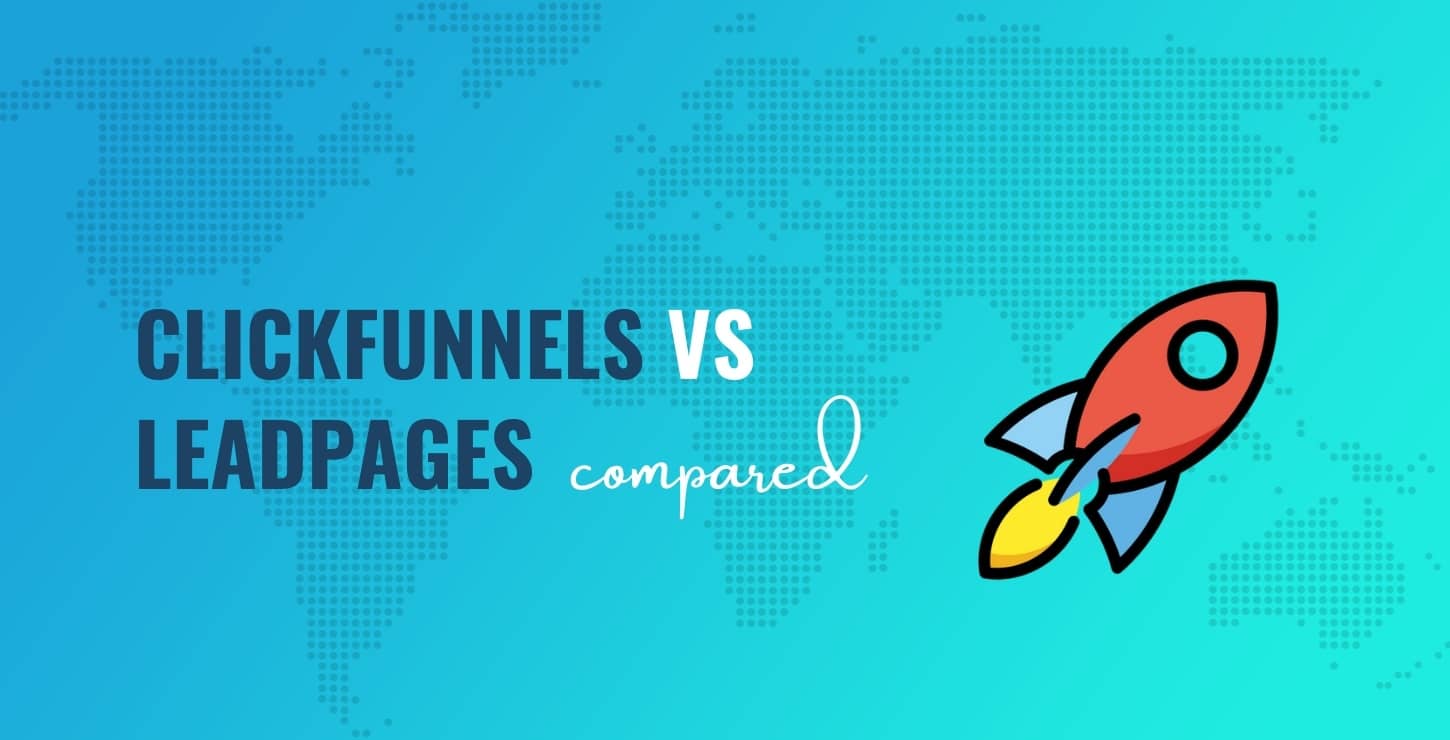 Neither marketing tactic is inherently better, but they are different, so you'll want to make sure you understand each tool's approach.
In our ClickFunnels vs Leadpages comparison, our goal is to help you understand those differences so that you can pick the landing page builder that's right for you. We'll do that by comparing both tools in a few areas:
Let's dig in!
ClickFunnels vs Leadpages: Main differences 📋
At a high level, ClickFunnels and Leadpages are both landing page builders that help you convert visitors into leads and/or customers.
They both let you create landing pages and popups (or entire websites). They both also include forms to help you collect email addresses and built-in payments to help you sell simple products.
The most important difference between the two comes down to the concept of funnels vs landing pages.
What's the difference between funnels vs landing pages?
To choose between ClickFunnels vs Leadpages, it's important to understand the difference between where these two tools' names come from – funnels and landing pages.
Once again, ClickFunnels helps you build funnels, while Leadpages helps you build landing pages – although it offers a full website builder, too.

(By the way, if you're not sure of the difference between a website and a landing page, check out our breakdown of landing page vs website when you're done reading this article.)
A funnel (or sales funnel) is a series of pages and elements that guide users towards one or more actions. One of the pages in your funnel is likely going to be a landing page or a squeeze page. The squeeze page will then link to a sales page, which will then further link to an order page, and finally to a thank you page. 🤷‍♂️
All along that funnel, you can integrate sales strategies like upsells and order bumps to boost your revenue. Maybe at first you focus on getting an email address, but then you seamlessly transition into converting that email into a purchase and then also upselling another product on top of that initial purchase.
A landing page can be part of a sales funnel, but it doesn't have to be. It often exists as a standalone piece of web real estate. For example, you might have one landing page designed to grow your list and another landing page designed to sell a product. They aren't directly connected in a sequence like they would be if they existed as part of a sales funnel though.
It's important to note that you can kind of use Leadpages to build funnels, it just requires a lot more manual effort because you'll need to manually link everything together since there's no built-in funnel tool.
Are funnels better than landing pages (or vice versa)?
Well, it really depends on what you're trying to accomplish. If you only have a single action that you want your visitors to take (like joining your email list), then you probably just need a landing page. For example, if you want to send people straight from ads on Facebook to a landing page to get them to do/purchase something right away, that's where Leadpages can be a good option.
On the other hand, if you have multiple products that you want to sell or multiple actions that you want people to take, you'll probably do better with a funnel. For example, if you want someone to join your email list and purchase your information product, then a funnel will probably be more effective at nurturing your visitors to perform both actions.
ClickFunnels vs Leadpages: Features 🧰
Next, let's compare some of the biggest features in these two tools:
ClickFunnels vs Leadpages

| Feature | ClickFunnels | Leadpages |
| --- | --- | --- |
| Build landing pages | ✔️ | ✔️ |
| Build popups | ✔️ | ✔️ |
| Build entire websites | ✔️ | ✔️ |
| Visual, drag-and-drop editor | ✔️ | ✔️ |
| Built-in email marketing | ✔️ | ❌ |
| A/B testing | ✔️ | ✔️ |
| Built-in affiliate program | ✔️ | ❌ |
| Dedicated funnel builder | ✔️ | ❌ |
| Email marketing integrations | ✔️ | ✔️ |
| Sell products/accept payments | ✔️ | ✔️ |
| WordPress integration | ✔️ | ✔️ |
| Create membership sites | ✔️ | ❌ |
🧰 Winner for features: ClickFunnels
Put simply, ClickFunnels does pretty much everything Leadpages does…plus more. They both give you everything you need when it comes to creating landing pages. However, ClickFunnels not only helps you organize all your marketing offers into funnels, but it also includes those more advanced features like built-in email marketing tools and autoresponders, as well as a built-in affiliate network.
Basically, ClickFunnel's feature list is set up to be a self-contained system where you can use ClickFunnels to do literally everything, while Leadpages is a little more reliant on third-party systems, such as using a third-party email marketing service. Put another way, both of them are landing page builders, but ClickFunnels offers you a full suite of helpful auxiliary tools, while Leadpages focuses solely on landing pages.
Of course, that's only an advantage of ClickFunnels if you need and will use those features. For example, if you already have an email marketing service that you love, you might prefer to keep using it, in which case, it's not really a selling point that ClickFunnels includes it as a built-in feature. However, if you're planning on starting an online business from scratch and don't have anything set up yet, then you might want to opt for the convenience of having a one-stop-shop like ClickFunnels.
ClickFunnels vs Leadpages: Ease of use 🤝
Both ClickFunnels and Leadpages are built for non-technical users, so they both do a good job when it comes to ease of use.
More specifically, both are designed to give non-technical marketers the tools they need to create the landing pages, popups, forms, etc. to convert visitors into customers.
To that end, both of these landing page builders give you visual, drag-and-drop editors to design everything, and both let you completely bypass the need to know or use code (though advanced users do have some options for adding code tweaks if needed).
🤝 Winner for ease of use: ClickFunnels…but almost a tie
Overall, while both landing page builders are easy for non-developers to use, ClickFunnels gets the nod for one reason: its huge library of educational content.
With Leadpages, you pretty much just get the tool. It's a user-friendly tool, and there's lots of documentation and premium support, but you're still responsible for figuring out how you can take that tool and use it to actually make money.
If you're already a marketing expert, you might not need any help, in which case Leadpages is still quite user-friendly.
ClickFunnels is different, though. You not only get the tool, but you also get a huge library of resources on how to not just use the tool, but also how to market more effectively in general so that you can achieve your business goals. Basically, ClickFunnels tries to teach you how to use all those ClickFunnels features to become profitable.
If you're just dipping your toes into selling digital products or trying to learn how to grow your company online, these extra tools are a big benefit that will help you achieve success.
Beyond that, ClickFunnels also has other useful beginner-friendly features like pre-made funnel templates, as well as a marketplace where you can purchase proven, high-converting funnels from third-party users.
ClickFunnels vs Leadpages: Content editor ✍️
Both ClickFunnels and Leadpages give you visual, drag-and-drop builders to help you design your pages and opt-ins using a code-free interface.
If you've ever used a WordPress landing page builder plugin, it's the same basic idea and you'll feel right at home in both editors.
Showing you every single feature in the editor in a short section is difficult. So rather than trying to show you screenshots, I found some nice video tutorials for each tool's editor that will not just give you a look at all the features, but also the experience of what it's like to work with each editor.
ClickFunnels
The drag-and-drop ClickFunnels editor uses a grid-based system to control your layout. You can set up your design using sections, rows, and columns. Then, you can add content using various content widgets.
You'll get content widgets for basic elements like text, buttons, and images, as well as more advanced elements like countdown timers, pricing tables, forms, Facebook Comments, and more.
For each element, you'll get detailed style options to control its colors, content, styles, etc.
Leadpages
The drag-and-drop Leadpages editor uses the same grid-based approach as ClickFunnels. That is, you can set up the layout of your page using rows and columns and then add content using modules.
Just like ClickFunnels, you'll get a solid set of both simple building block modules as well as advanced modules for things like opt-in forms, payment forms, countdown timers, progress bars, social share buttons, and more.
You also get some useful integration blocks, such as Calendly and OpenTable embeds.
Overall, the Leadpages editor definitely looks more modern than the ClickFunnels editor, though both are quite functional. It also does a good job of keeping as many settings as possible inside the editor. For example, you can both add a form module and also configure its integrations without leaving the editor.
✍️ Winner for the content editor: Leadpages – but only by a slight margin
Picking a winner in terms of the editor is tough to do because a lot of this comes down to personal preference.
Personally, I prefer Leadpages because it feels more modern and intuitive. For example, it keeps a lot of its settings options inline (instead of forcing you to use a sidebar), which feels like it lets you design content more quickly.
However, that's just me – you might prefer ClickFunnels for a different reason, which is why I don't feel right proclaiming Leadpages to be the winner based on my preferences. They're both solid editors and you'll probably feel happy with either.
ClickFunnels vs Leadpages: Integrations ⚙️
Both ClickFunnels and Leadpages integrate with a variety of third-party services.
Both tools also offer dedicated WordPress plugins so that you can integrate your designs into your WordPress site. With ClickFunnels, that means you can include your funnels as part of WordPress, while Leadpages lets you publish your landing pages to WordPress.
ClickFunnels
ClickFunnels integrates with most popular email marketing services and CRMs. It also has some other integrations such as WebinarJam for webinars, ShipStation for shipping physical products, and lots of different payment gateways.
If you can't find an integration for what you need, there's also a catch-all Zapier integration that lets you connect to any one of the thousands of apps on Zapier.
You can browse all of the integrations here.
One thing to note about integrations with ClickFunnels is that ClickFunnels is built to be a self-contained tool, while Leadpages relies more heavily on integrations. Here's a FAQ directly from the ClickFunnels website:
Can I integrate my favorite autoresponders / shopping carts into ClickFunnels?
Yes, while we suggest that most people only use ClickFunnels to run your company, we also know that some of you have your own favorite tools you've used in the past, so we integrate with most of the top service providers to make your funnel building process even more fun!
Leadpages
Leadpages includes 40+ "Standard Integrations" on all of its plans, along with a lot more "Advanced Integrations" on its highest-tier plan. Overall, you'll find integrations for a range of email marketing services, webinar tools, CRMs, etc. For example, if you're creating webinars, you get dedicated integrations for GoToWebinar and WebinarJam.
If you can't find a built-in integration for what you need, Leadpages also supports Zapier so you can use that to connect to virtually any tool.
You can browse all of the integrations here.
⚙️ Winner for integrations: Leadpages
Overall, Leadpages is the general winner because it has slightly more third-party integrations, though the difference isn't huge. However, that doesn't mean it's necessarily the winner for you because all you really need are the integrations that are important to your unique setup.
Leadpages is more likely to have those integrations because it has a larger integration library. But as long as ClickFunnels has what you need, that's all you should really care about.
ClickFunnels vs Leadpages: Pricing 💰
In summary, Leadpages has the potential to be the more affordable option, though it depends on the exact features that you need. Here's how the pricing plays out with each tool:
ClickFunnels
ClickFunnels has two separate plans. They also have a 14-day free trial so you can play around with it to see if it's something you can see yourself using.
The two core plans are:
ClickFunnels – $97 per month (monthly) or $80.84 per month (annually) for most features, but lacks some features like follow-up funnels and has limits on the numbers of funnels and pages that you can create.
ClickFunnels Platinum – $297 per month (monthly) or $247.50 per month (annually) and unlocks more features, plus unlimited funnels/pages. If you choose this option, you'll also get access to FunnelFlix, which is a proprietary education platform that will teach you how to get the most out of using ClickFunnels.
Leadpages
Leadpages offers three different pricing plans. Each plan comes with access to different features, as well as different limits on the number of websites you can create. Like ClickFunnels, they also offer a 14-day free trial.
For all of the plans, you can either pay monthly or pay annually and get a discount:
Standard – $49 per month (monthly) or $37 per month (annually) for a single site. Includes most features, but lacks A/B testing and online sales/payments.
Pro – $99 per month (monthly) or $74 per month (annually) for three sites and A/B testing/payments.
Advanced – $399 per month (monthly) or $299 per month (annually) for 50 sites, the advanced integrations, and more sub-accounts.
💰 Winner for pricing: Leadpages
LeadPages takes the win overall, but it also depends on the plan you choose, and whether you choose to pay month-to-month or annually.

The entry-level plan at Leadpages is significantly cheaper at the $49 / $37 monthly price point compared to the ClickFunnels entry-level plan at the $97 / $80.84 price point.

You'd have to upgrade to the second-tier Leadpages plan and pay $99 / $74, in order to make it a pricing competition with the ClickFunnels entry-level option. In that scenario, if you chose to pay annually, then LeadPages would be cheaper at $74, versus ClickFunnels at $80.84. If you opted for the month-to-month option, then technically ClickFunnels is cheaper, but only by $2 per month. In short, on the annual plan, LeadPages is the winner, and on the month-to-month, it's almost the same.

ClickFunnels only beats out LeadPages on price in the highest level category, with their Platinum plan costing $297 / $247.50 versus LeadPages with their Advanced plan setting you back $399 / $299.
All things considered, if you're on a tight budget, Leadpages is probably the better option unless you absolutely need the funnel-building features in ClickFunnels.
Final thoughts on ClickFunnels vs Leadpages
Overall, deciding between these two landing page builders mainly boils down to what you're trying to accomplish.
If you're looking for a tool to help you build standalone landing pages, you should probably go with Leadpages. It offers all of the important features, including flexible email subscribe forms/integrations, built-in payments, A/B testing, and more.
Leadpages is also constantly expanding, as evidenced by the addition of a full website builder and built-in payment solution (previously, you could only use it for landing pages).
On the other hand, if you're really intrigued by the sales funnel approach and think it's going to lead to better results for your marketing, you'll probably want to go with ClickFunnels. As I mentioned earlier, you can still create funnels with Leadpages, but it's not the focus of the tool. You have to manually set everything up and each page in your funnel is still separate from the others.
ClickFunnels feels a lot more intuitive because you can build one cohesive funnel. All your funnel elements are all organized together and it's a lot easier to track how they all connect.
Of course, you're going to pay extra for that convenience, which is why ClickFunnels doesn't really make sense if you just want to create standalone landing pages.
You might have some specific feature or integration need that pushes you in one direction or another regardless of that distinction. But overall, I think for most people, the decision should come down to funnels vs landing pages.
Lastly, for those keeping the score, here are the individual ratings for each tool as described throughout this comparison:
🧰 Winner for features: ClickFunnels
🤝 Winner for ease of use: ClickFunnels (slightly)
✍️ Winner for the content editor: Leadpages (slightly)
⚙️ Winner for integrations: Leadpages
💰 Winner for pricing: Leadpages
---
---
Still have any questions about choosing between Leadpages vs ClickFunnels? Let us know in the comments which of these two landing page builders you prefer to use and why. We'd love to hear from you!
…
Don't forget to join our crash course on speeding up your WordPress site. Learn more below:
Layout and presentation by Chris Fitzgerald and Karol K.