Living on this world for however many years, you must be familiar with this:
It's a scene from Sergio Leone's The Good, the Bad and the Ugly, one of the most recognizable films in cinema history.
Well, the title of the film is much like our email marketing experience here at CodeinWP.
(Sorry for the smooth segue.)
Over the recent months/years, we've tested a lot of email marketing techniques, methods, tricks, long vs. short emails, some content upgrades, etc.
We've seen good results from ugly campaigns, we've seen bad results from good (so we thought) campaigns, and everything in between.
And we've also seen all kinds of results. We've seen good results from ugly campaigns, we've seen bad results from good (so we thought) campaigns, and everything in between.
So today, we're looking back at the things that have and haven't worked, dissect them, and talk about them openly. In this case study, you'll find out what tools we use, the methods, the stats, the content upgrades, plus how we got to where we are now.
Our general list building and email marketing strategy
So like most business blogs of today, we too treat email marketing rather seriously, and make it one of our main marketing tools.
Marketing tool is actually a good term to describe it. We don't necessarily sell through email directly, but use it more to keep in touch with our regular readers, point them back to our website (whenever we publish a new blog post), and also to deliver some exclusive content and resources not available elsewhere.
Why email?
For once, it's the only marketing channel that you can really count on.
No matter what sort of Google algorithm update you've been hit with, and no matter what hosting problems you might be struggling with, you can always send an email to your list and let them know what's going on.
According to eMarketer, email marketing was cited as the most effective digital marketing channel of 2014 for customer retention in the United States.
This is surely something we can relate to. Even if all else fails, you still have your email list.
Plus, with the general movement towards increasing privacy online, having an opt-in email list can serve as the cornerstone of a cookieless marketing strategy.
Our growth rate
For the past several months, our list has been growing steadily. To be more precise, we usually attract 450-500 new subscribers per month. Each month's performance is dependent upon the marketing effort we put on promoting certain posts from the blog that put more visibility on our newsletter offers (for instance, by offering specific content upgrades).
Our growth: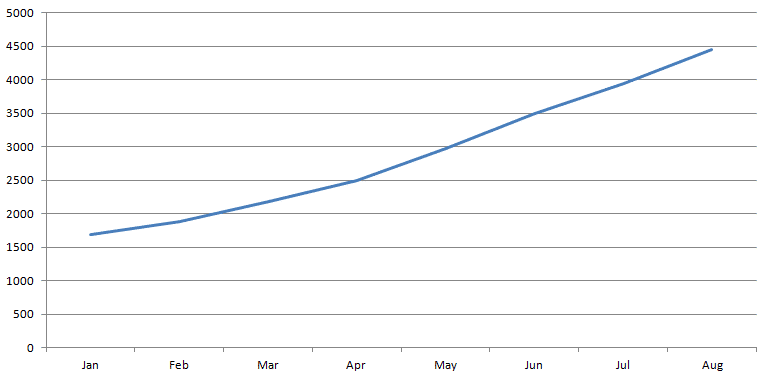 At the time of writing this, our email newsletter counts over 4,000 subscribers!
This is also a great moment to say thank you if you're one of those subscribers. We really appreciate you supporting us! You rock!
The subscription forms we use
When I launched my first WordPress site a while back, email marketing was somewhat of a new concept. At least, it was new in the blogging world … mainstream companies were already more than familiar with it.
Anyway, back then, the only thing you needed was a form in the sidebar. Opt-in rates were quite nice, and if you had any free offer to give people in return, you could really build your email list rapidly.
Nowadays, however, it's a whole different ball game.
In fact, opt-in forms in the sidebar are ones of the worst performing ones.
I'm guessing that people have simply developed some form of opt-in blindness over time, just like they developed banner blindness 10-15 years ago.
Anyway, here are all the types of forms we use currently: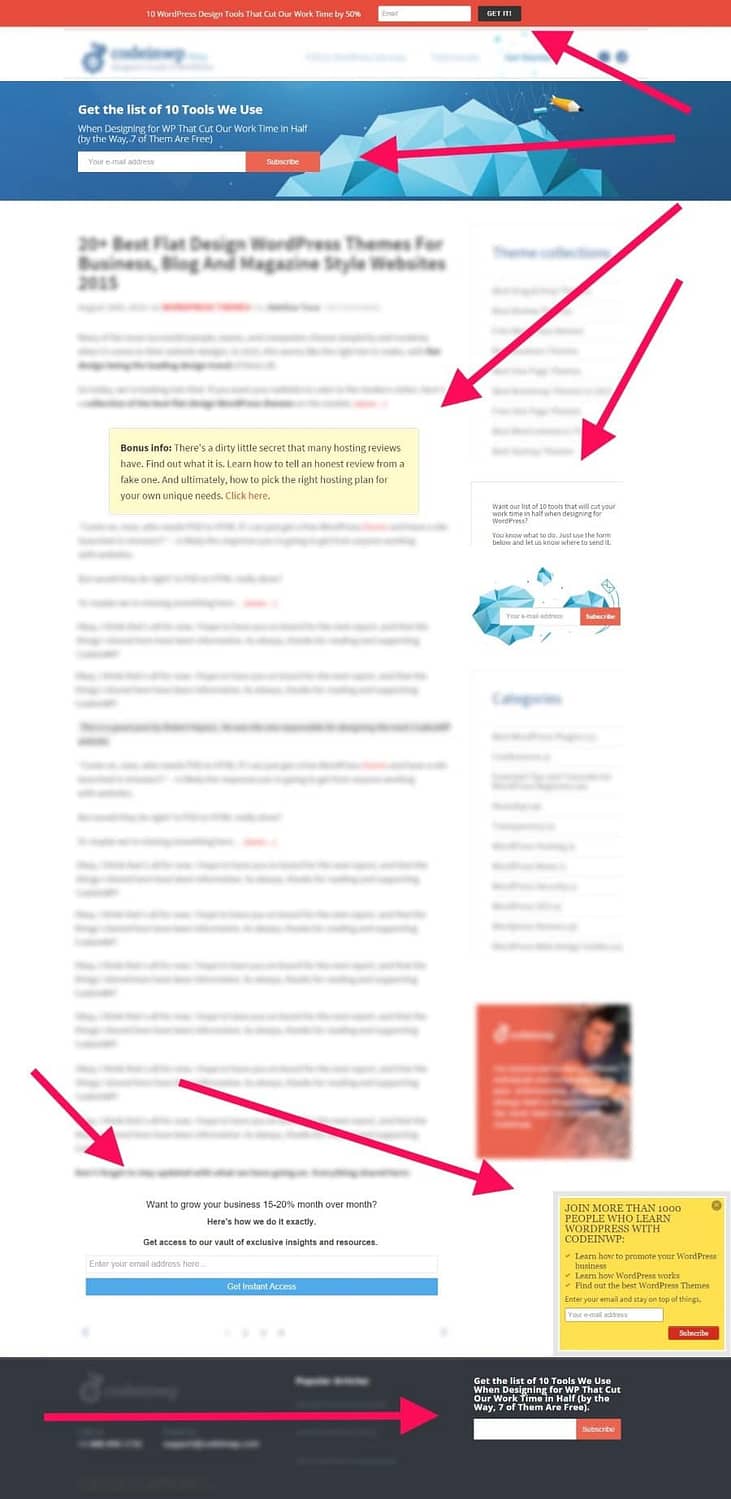 To sum up, we have forms in:
the top bar,
the header below the main menu,
inside blog posts,
in the sidebar,
directly below blog posts,
as a slide-in in the bottom right corner,
in the footer.
The tools we use to run those forms
Only a couple of our forms are hand-made HTML creations. For the most part, we use WordPress plugins and external tools (at least now we do).
Specifically:
1. ManyContacts (link)
We use it for the top bar on the blog.

The best thing going for ManyContacts is that it's a free solution. Although they do have a PRO plan ($99 per year; a white label version – no logos or anything), we find the free one completely adequate for our needs.
The installation is easy, and the bar works well on all devices and browsers.
2. OptinMonster (link)
We use it for a number of things (actually the main tool we use for opt-in forms on the blog):
General forms displayed below blog posts and within blog content. Like this one:
MonsterLinks – click-triggered opt-in forms that we use within blog content. Instead of an opt-in form, a normal link gets displayed. It's only when someone clicks on it that they see the actual form. This is built on the Zeigarnik Effect principle. It basically states that whenever someone initiates a given process, they are more likely to complete it (in this case, clicking on the link makes the visitor more likely to complete the sign-up). Here's an example of a MonsterLink:
MonsterLink:
Here's an example of such link, leading to our PDF guide on how to start a blog from scratch.
Click here.
Standard pop-up opt-in forms on some pages and posts. Screenshot:
Exit intent opt-in forms on some pages and posts.
3. Forms inside a scroll-triggered box
This is done with a plugin called Scroll Triggered Box.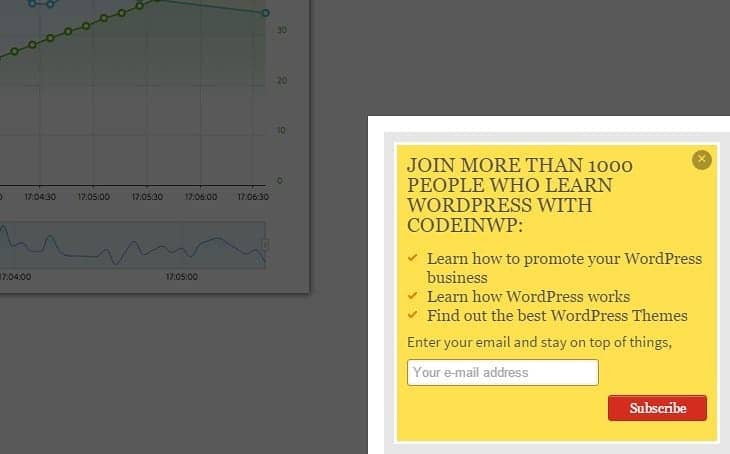 The plugin itself doesn't deliver any email marketing functionality. Instead, it's a broader solution that allows you to display whatever content you wish inside a scroll-triggered box. So we took a standard opt-in form embed code and put it in the box.
4. Standard embed forms
(Those are either handmade or taken from our email service provider – more on that in a minute).
We have them in the sidebar, the header, and the footer of the site. Additionally, there's a handful of those forms inside specific posts that haven't been integrated with OptinMonster yet.
What's our email marketing service provider and why
At first, we were with MailChimp.
However, MailChimp gets expensive as your email list grows. Very expensive, in fact.
We actually wrote about this problem when discussing cheaper MailChimp alternatives.
Here's the important part from that post:
For instance, the free plan [at MailChimp] allows you to have up to 2,000 subscribers and send them up to 12,000 emails a month. This is great for some businesses, especially those just starting out.

However, if you get your 2001st subscriber, you effectively lose your ability to message them all at once unless you upgrade to a plan that's $30 per month.

If you ask me, $0 to $30 per month is a huge jump (= $360 per year).
This is also the problem that hit us at some point. Overnight, our ability to send emails was blocked and we had to either upgrade to the $30 plan, or leave. So we left.
Right now, we're with Brevo – the company we pointed out as the no.1 alternative to MailChimp.
(Okay, we didn't actually leave MailChimp completely. We still have some MailChimp forms on the blog, but the list of contacts itself is set to auto-export to Brevo.)
Brevo is a lot more affordable for businesses sending between 12,000-100,000 emails a month and having a bigger list (or more than one list).
This is always up to everyone's own preference, but Brevo also gives us somewhat clearer reports and stats on the performance of our campaigns. More on that in the second part of this case study.
The things we have for people who subscribe (aka. the "bribes")
Messages like, "Subscribe to our newsletter to get updates" are long gone.
Right now, we offer a couple of "bribes" to get people on board:
As you can see, there's one main offering that we think has the best chance of appealing to people working with WordPress, plus three specific offerings that are optimized for individual blog posts.
That said, the original gift did actually originate as a kind of a content upgrade itself. We first released it when this post went live.
Either way, three or four is not a lot, and we do realize that new content upgrades are probably where we should put most of our effort going forward. The whole concept of content upgrades is a really interesting one, and people all over the web keep reporting incredible results when using them.
Our top performing content for acquiring subscribers
We can confirm that if you have a gift that's optimized for the specific post or page that the person is reading, it delivers much better results than a generic offering.
The top performing content on the blog (conversion-wise) is:
Two of these posts have specific content upgrades assigned to them. The third one is our first transparency report. I'm guessing the higher subscription rate is related to people simply wanting to be kept up to date with all the next reports.
Now, about content upgrades. The overall conversion rate on the blog excluding the posts that have content upgrades is 0.39%. So this means that posts with content upgrades perform anything from 831% to 1613% better for us.
Conclusion and actual plan going forward? Create more content upgrades, starting with the most popular posts on the blog!
Also, not all content upgrades are created equal. Even from the small sample we have, it becomes apparent that a successful content upgrade needs to primarily do one thing, which is:
It needs to help the reader achieve their goal in an easier, faster, or more efficient way .
In other words, it doesn't have to necessarily expand the scope of the content you're sharing, but instead make things more digestible – deliver a quick fix.
So another note to self here: More isn't always better. Instead, focus on making things easier and more digestible when building a content upgrade.
Stats and tracking opt-ins
One of the reasons why we're using OptinMonster more heavily now and continuing to integrate it into various pages on the blog is because of its split-testing abilities and the clear stats it provides.
The tool makes it incredibly easy for you to analyze the results you're generating, and set up specific tests that will help you improve them.
This is something we haven't done much of. Although we have GA set up in a way that tracks sign-ups, we only get to see the pages that bring the best conversions, not the individual forms that generate those conversions. That's the ugly.
The good is that with OptinMonster and other tracking tools, we'll be able to get a better grasp on how things are going and how to make our forms and our "bribes" more optimized for specific posts.
What's next?
In the second part of this case study, we're going to take a look at the other side of the scene – what we're doing with the actual emails and what's our strategy when contacting our subscribers.

How much content we share.
How often we promote stuff.
How we're structuring our emails.
What our open rates are.
What gets results/clicks and what doesn't. Plus much more.
Make sure to tune in next time.
Oh, and if you're looking for a direct takeaway from this part, this is it:
Do four things when it comes to your email marketing:
Set up conversion tracking on your site – so you know what content brings subscribers. Then create even more content like that.
Get a tool like OptinMonster or a free alternative and experiment with different forms, "MonsterLinks," pop-ups. This stuff works.
Create some content upgrades.
Create some content upgrades! Really! For us, they bring 831%-1613% better results than standard forms.
* This post contains affiliate links, which means that if you click on one of the product links and then purchase the product, we'll receive a small fee. No worries though, you'll still pay the standard amount so there's no cost on your part.