Trying to come up with some business name ideas for your next project? 🤔
You might have the perfect idea for a product or service. But if you want to hang your shingle and start reaching customers, you're going to need a name for your business.
In a world of infinite possibilities, it can be tough to settle on one single name for your business.
That's why we're here to help!
👉 In this post, we're going to share five business name idea generators that you can use to quickly come up with a big list of potential business names.
Then, we'll share some tips for how to validate your business name ideas and settle on the right one for your business.
By mixing automated tools with your own qualitative analysis, you can find the perfect name for your business.
Best generators for business name ideas in 2023
We'll get into some more theoretical suggestions for coming up with business name ideas in the next section. However, my guess is that you're mainly here to find a tool that can help you generate a large list of ideas.
So before we go any further, let's take a look at our picks for the five best business name idea generators: 👇
DomainWheel is a free business name generator that can have you browsing a lengthy list of business name ideas in under a minute.
It's super easy to use. All you need to do is enter the main seed keyword(s) for your business, and then DomainWheel will automatically generate a large list of suggestions based on your input.
One nice thing about DomainWheel is that it will also check if the domain name for your business is still available. After all, having the perfect business name isn't very useful if it's already taken, right?
Further down the page, you can also get more creative with suggestions that are based on your keywords with three options: Sounds like, Rhymes with, Random.
Beyond the business name generator, DomainWheel also includes other generators for blog names and brand names, along with some other useful tools.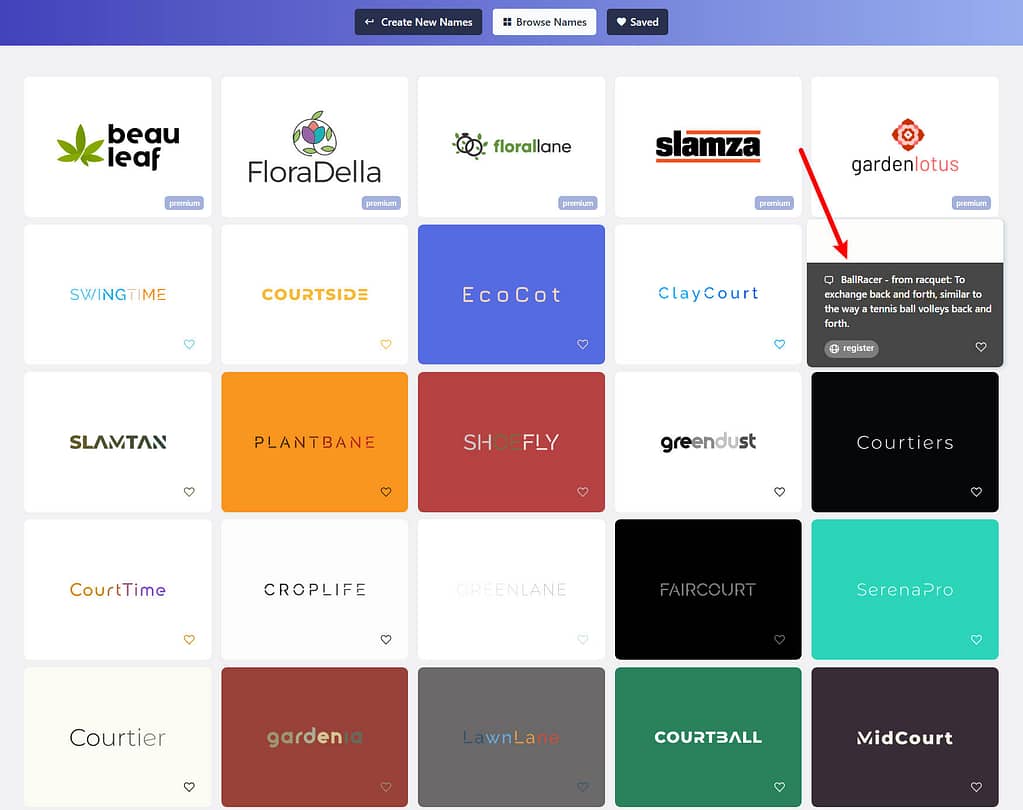 Namelix is a business name generator that uses AI to generate its suggestions. As part of this, you'll go beyond just entering a keyword and also enter your preferences for style and "randomness."
In terms of randomness, you can choose between low, medium, or high. Low randomness will generate "the most direct name ideas" while high randomness will generate "more varied results."
The name style options give you even more control, as you can choose from six different options:
Brandable names – e.g., Google or Rolex
Alternative spelling – e.g., Lyft or Fiverr
Non-English words – e.g., Toyota or Audi
Compound words – e.g., FedEx or Microsoft
Two words – e.g., Facebook or Bitcoin
Real words – e.g., Apple or Amazon
For each of the business name ideas, Namelix will suggest a simple logo and also explain how it generated that name (if you hover over the suggestion).
Squadhelp offers another quality business name idea generator that gives you some additional options for customization.
One thing to note, however, is that Squadhelp's generator is designed to sell you its premium business identity packages. These include the domain name, logo, and some other add-ons.
If you're looking for a premium business name package, it can be a good option. But if you're not willing to spend a few thousand dollars on your business identity, you might want to use a different name generator.
With that being said, it can still be a good source of inspiration even if you don't choose the exact premium names that it suggests.
You'll start by choosing your general industry – e.g., fitness or restaurants. You can also pick multiple industries if that fits your situation.
Then, you can choose two to three keywords that are related to your business idea. The tool will suggest relevant keyword ideas based on your industry, but you're also free to add your own keywords.
Finally, you have the option to choose an emotion that you want to associate with your business name. Here are a few examples:
Happiness
Trust
Love
Ethical
Etc.
Once you enter that information, Squadhelp will spit back a lengthy list of suggestions, along with a suggested logo for each.
If you click on a logo, you can open another page with a short explanation of that business name. There's also an option to hear how the business name sounds by having a robot voice read it, which is kind of neat.
NameSnack is a free business name generator that does a good job of coming up with unique, brandable names.
All you need to do is enter a few keywords for your business and choose its general industry. Then, NameSnack will suggest a bunch of business name ideas and also check to make sure that the ".com" domain is available for each idea.
Or, if you're in the UK, you can also choose to check if the ".co.uk" extension is available.
In addition to checking the domain name, NameSnack can also help you create a logo for your chosen business name.
Like Squadhelp, Brandroot is another tool that helps you come up with premium business name ideas.
These can cost anywhere from a few thousand dollars to $10,000+. However, the tradeoff is that these are premium names that include the domain name and logo.
Think of these as kind of like turnkey business name ideas that will have you ready to be up and running right away.
To use Brandroot, all you need to do is enter one or more keywords. Then, Brandroot will show you a list of name suggestions, including a premade logo.
You can also click the heart icon on any suggestion to see more business name ideas like that one. Similarly, you can click the "x" icon to see fewer ideas like that one.
Even if you don't end up spending thousands of dollars for one of these premium name ideas, they can still be useful inspiration to help you find a business name that won't cost as much to start.
👉 If you want to see even more options, you can read our full collection of the best free business name generators.
How to validate quality business name ideas
While all the tools above can help you generate business name ideas, you'll still want to put in some manual effort and analysis to validate the suggestions from these tools.
Here are a few tips on how to do that:
1. Think about your target audience
When choosing a business name, you want to make sure that it is something that will resonate with your target audience.
In order to do just that, you first need to really think about who your target audience is, maybe even come up with some user personas.
The basic idea is that it's usually ok for your business name to be confusing to regular people, as long as it's not confusing to your target audience.
For example, maybe you use some technical term or slang that anyone in your target audience would instantly recognize, but other people will have no idea about it. If you're confident in who your target audience is, that's totally fine (and might even be preferable because it builds authenticity).
A common example here would be a brand that targets military veterans and uses military slang in its brand name.
Or, consider our own name – CodeinWP. To people who have never built a website, "WP" might be meaningless. But to people who are interested in building a WordPress website, they'll immediately associate "WP" with "WordPress," which is a big part of what we focus on.
2. See how successful competitors are named
Before finalizing your business name, you'll want to do some research on the names of your likely competitors.
This serves two purposes:
It helps you avoid accidentally choosing a name that might be too similar to a competitor and lead to confusion (or trademark disputes). For example, if your competitor is named "Hats for Dogs," you probably don't want to name your business "Hats 4 Dogs."
It might give you some ideas about which types of names are most successful in your industry.
If you want to go even further, you can dig into the actual reasons why you think each name is successful.
Putting in the work to do that analysis will help you in thinking through your own business name.
If you notice that all of the successful businesses have certain characteristics in their names, you might want to aim to include those same characteristics in yours.
3. Think about descriptive vs brandable business names
There are two general types of business names:
Descriptive business names
Brandable business names
A descriptive business name is pretty much what it sounds like – it's made up of words that literally describe the business. For example, if you sell shoes, your business name might be Shoe Store and you might sell at shoestore.com.
People will know exactly what you sell just by looking at the name, which can be helpful for small businesses because you might not have the marketing budget to get everyone to understand your brand name.
But the downside of a descriptive name is that it might not be very memorable.
A brandable name, on the other hand, is defined primarily by the business that it represents. That is, the business name is unique to the entity. Common examples here would be Google, Amazon, Uber, Zappos, and so on. Those names have no direct meaning to what the business does, but they've become very memorable because of what they represent.
Of course, it's a lot easier to use the non-descriptive brandable approach if you have a huge marketing budget to educate people about your business.
It doesn't always have to be an either/or description, though. Done right, you can come up with a descriptive name that's still fairly brandable.
For example, Vitacost sells low-cost vitamins and supplements, so the name is fairly descriptive. But at the same time, it's still unique enough to have some brandability and memorability about it.
Similarly, Shopify is another example of a business name that's both descriptive and brandable. The "shop" part of the name describes what Shopify offers (the ability to create an eCommerce shop), but the "ify" adds some brandability to it.
Sample business name ideas to inspire you
Here are some examples of business names that mix the descriptive and brandable approach. You can use them as inspiration for your own business name ideas:
Gymful
Ketosy
Grease Genie
Yoga Pal
Saucy Slice
Send Snacks
Noon Spoon
Party Divas
4. Make sure the full digital presence is available
Before you settle on a final business name idea, you'll want to make sure that you're able to fully occupy the digital presence for that business name.
The obvious consideration here is whether or not the domain name is available for registration. However, you'll want to go further and check other online properties including the following:
Twitter
Facebook
YouTube
Instagram
Pinterest
Etc.
In some cases, you might be fine with using a workaround instead of an exact match name on different social media platforms. For example, adding a small modifier to your Twitter username if the exact match is taken.
However, you'll still want to check out these details before deciding on a name. For example, there's a big difference between an inactive Twitter profile owning your brand's name (not necessarily a dealbreaker) and an active, high-follower account owning your brand's name (this could be confusing for people).
Start coming up with better business name ideas
Coming up with high-quality business name ideas can be difficult. Not only is it hard by itself, but you also have to contend with the fact that some of the best ideas might already be taken.
However, with the help of the business name generators on this list, you can kick start things with a lengthy list of suitable names. Then, you can validate those names using some of the tactics that we laid out in this post.
👉 Once you've settled on your business name, you'll probably want to get to work building an online presence. And a big part of that will be your business' website.
Thankfully, you don't need to be some super techie to make a website for your business. Instead, all you need to do is follow one of our step-by-step guides and you'll be up and running in no time:
Do you still have any questions about coming up with quality business name ideas for your project? Let us know in the comments!
…
Don't forget to join our crash course on speeding up your WordPress site. Learn more below: