In case you've been wondering, the answer is no – you don't really need a specialized YouTube banner maker to create your channel art. However, if you're looking to keep visitors on your channel page longer, you might want to work with nothing but the best YouTube banner maker.
Wondering why?
Well, here's the thing. While the YouTube channel header might understandably seem trivial to some users, the fact of the matter is, it happens to be one thing that welcomes visitors to your YouTube channel page. YouTube has even purposely designed it to be adequately prominent across all its platform versions – PC, Mobile, and TV.
As such, it's the banner – not the video thumbnails – that quickly connects with the subconsciousness of every visitor, consequently forming the first impression of your entire YouTube channel.
You see, the general rule of first impressions is, it only takes about seven seconds[1] to form a judgment. And if you thought that's as bad as it gets, it turns out people are not even that patient online. According to research conducted by Google, internet users typically form opinions within 50 milliseconds of landing on your site[2] – with visual design being their primary consideration.
Now, that alone places the YouTube banner smack in the middle of it all. This is what your visitors will primarily base their opinion on before taking the next step.
And so, with stakes that high, it's only natural that serious YouTubers will turn to the best YouTube banner maker.
What you get from the best YouTube banner maker
The good thing about YouTube banner makers is that they're specifically optimized for channel art creation. The leading solutions on the market, for instance, are known to offer an extensive array of elegant pre-built templates and YouTube banner examples, along with easy-to-use customization tools.
Then get this. You don't even have to pay to access banner makers. While most of them have premium plans, some of the best YouTube banner maker options offer decent capabilities for absolutely free. What's more, you could even discover the best YouTube channel art from free YouTube banner templates.
The best YouTube banner makers in 2023
For a while now, we've been testing out the most popular free and paid YouTube banner makers. It's from these first-hand experiences that we're now able to conclusively identify the 11 most outstanding ones in the industry.
You can go ahead and read along to find out which is the best YouTube banner maker for your channel art. We've even included a couple of free YouTube banner makers, which should be a perfect fit if you're on a tight budget.
Our list features: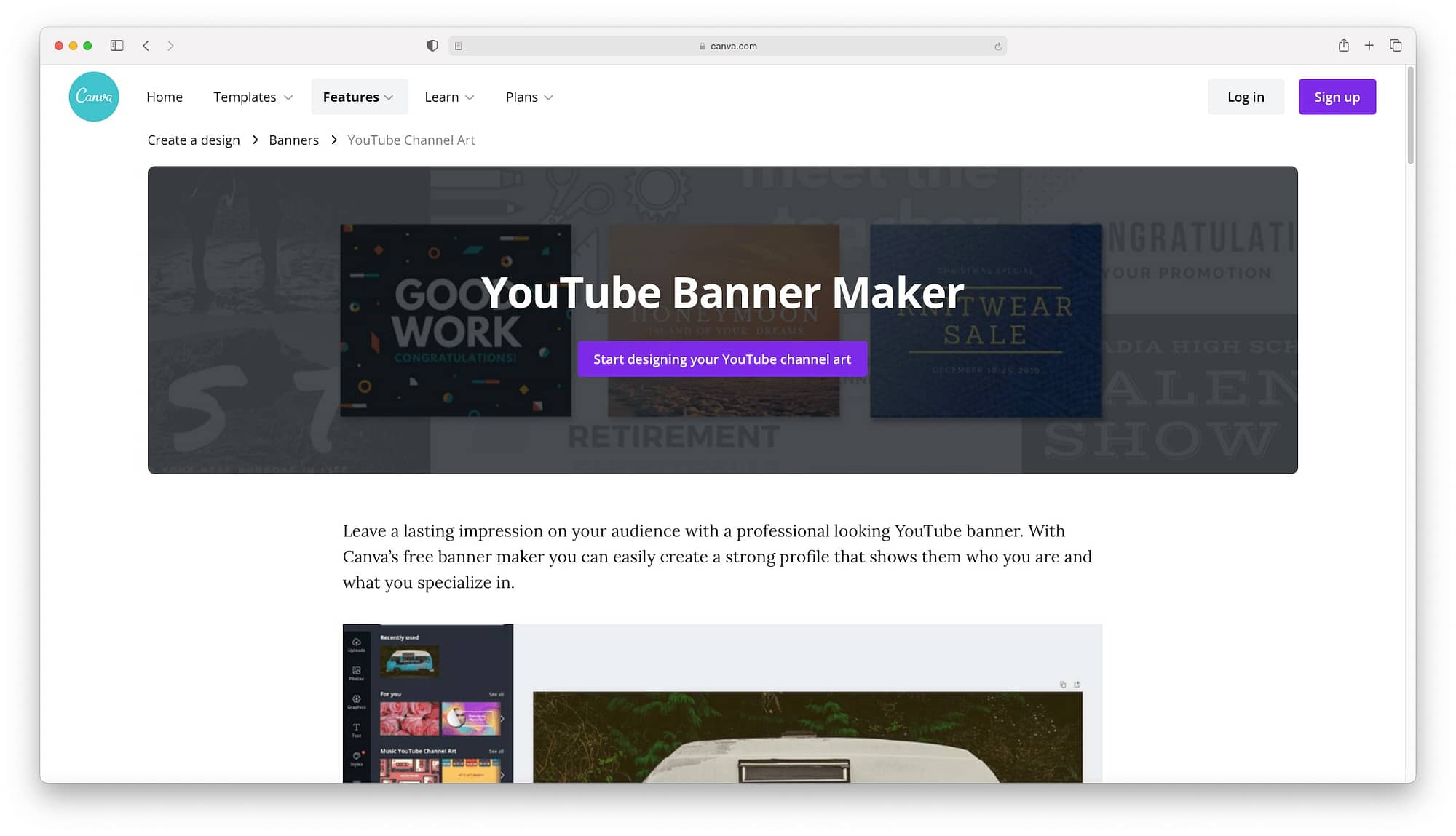 Canva happens to be one of the most popular graphic design tools on the web. That reputation is backed by a host of features, one of which is why you're reading this right now – YouTube channel art. Canva does not disappoint here.
Even on their free plan, you get access to more than 100 stylish templates to design your YouTube banner. They also provide a huge selection of stock photos to use with those templates.
The design process itself is pretty straightforward, due to Canva's intuitive drag-and-drop editor. Beginners can expect to have an easy time customizing their chosen banners. All it takes is dragging and dropping layout elements and then tweaking their visual settings. For example, you can apply filters, flip/rotate elements, adjust colors and fonts, plus introduce additional illustrations and images from Canva's rich asset library.
The bottom line is this:

If you're an individual person who wants an easy-to-use editor, with a generous amount of free templates to get you going, then Canva is arguably the best YouTube Banner maker for you.
Why?
Because you get all of that, and you get it for free. If you have more complex needs, or you need to collaborate with team members on your projects, then you'll want to consider upgrading to one of their paid plans.
⚙️ Features:
Collaborate with team members.
Upload your own images, photos, or videos.
Pick from millions of free stock videos, photos, images, GIFs, and illustrations.
Work with professionally designed templates.
Built-in image editor.
5+ GB of cloud storage
Resize designs infinitely.
💵 Pricing:
On Canva's free plan, individuals should be able to create decent YouTube channel art without paying anything extra. It comes with enough features for basic editing.
If you're hungry for even more design options, then you might consider signing up for Canva Pro. It runs for $12.99 per month, but if you use our link below you can get a free trial to test it out.
If you're collaborating with a small group of people, then Canva for Teams is the choice for you. That plan costs $14.99 per month and supports anywhere from two to five users. The prices goes up once your team hits six members.
Coming in at number two on our best YouTube banner maker list is Adobe Express (formerly Adobe Spark). Don't let the second position on the list fool you though. Adobe Express will easily give Canva a run for its money – as you'll find out in a moment.
The name already gave it away, but in case you weren't sure, the answer is "yes", this YouTube banner maker was created by the same company that developed Adobe Photoshop, Adobe Illustrator, and Adobe Muse. Given that pedigree, you can bet Adobe Express knows its stuff when it comes to design and image editing.
That said, Adobe Express is nowhere near as sophisticated as those aforementioned tools. It's powerful, but the learning curve is significantly less steep. In fact, there really is almost no learning curve. If you know how to use the internet, then you'll have no problem creating a very aesthetic YouTube banner for your channel (or someone else's).
For starters, you'll get a host of attractive pre-built YouTube channel art templates to pick from that you can filter in various ways. As you can hopefully make out in the small screenshot above, the "free" filter was applied, and Adobe Express has (as of the time of this writing) 2,907 free YouTube banner templates to choose from. That's more than some of the premium banner makers on this list!
The extremely generous free offerings, combined with how ridiculously easy it is to use, make Adobe Express a very strong contender for best YouTube banner maker.
⚙️ Features:
A staggering amount of professionally designed YouTube banner templates.
Saves your creations.
Auto-magical resizing tool.
Text animation.
2GB of storage on the free plan; 100GB on the Premium plan
Automatically integrate your brand logo, colors, and fonts.
Access the complete library of beautiful Adobe Fonts and premium templates.
Create, manage, and share assets and templates.
Pick from thousands of free images and icons.
💵 Pricing:
While the free plan will probably suffice most people's needs, the premium version does come with some really nice additional features, including access to Adobe's entire collection of over 160 million royalty-free Adobe Stock collection photos. You can use these to design your YouTube banners. For the relatively low price of only $9.99 per month, that's a deal that's sitting dangerously close to a steal. Take it for a spin and check it out for yourself.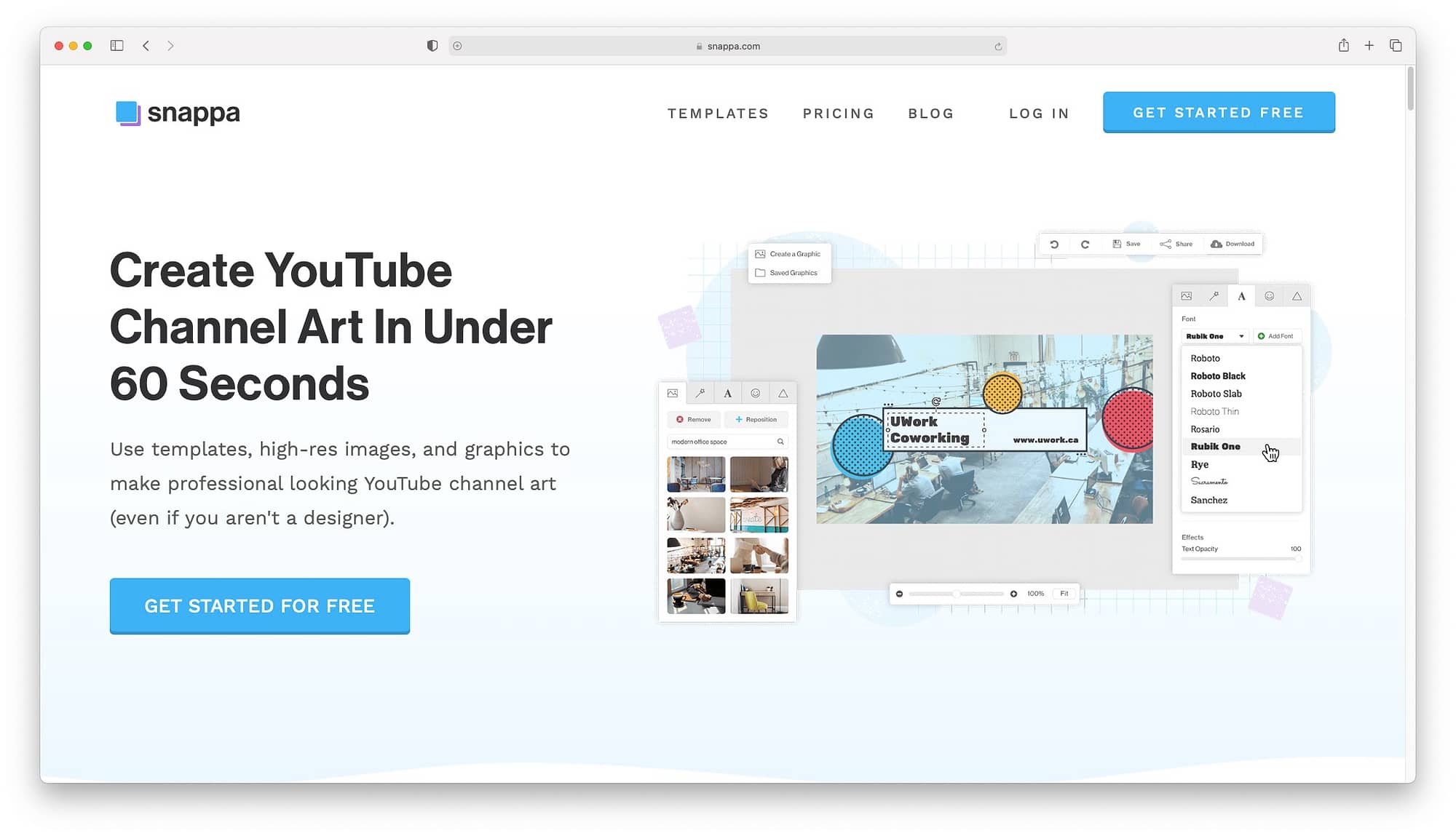 Joining Canva and Adobe Express on this list of the best YouTube banner makers is Snappa, a graphic editor that helps non-designers create stylish illustrations for social media, blogs, ads, etc.
Using its free account, you'll have access to more than five million high-resolution photos and graphics, over 6,000 channel art templates, plus an allowance of three downloads per month. Premium users, on the other hand, get the privilege of downloading an unlimited number of creations per month.
Whichever you choose, you'll certainly enjoy working with Snappa's user-friendly interface and graphic design tools. What's more, you get to connect to not just YouTube, but also the rest of the popular social media platforms. Snappa even tops it off with a feature that automatically resizes your YouTube banner for repurposing across other social platforms.
⚙️ Features:
Repurpose your best YouTube channel art for other social media platforms.
Customizable graphics, shapes, and text.
Access to over five million high-resolution royalty-free stock photos.
Professionally designed YouTube channel art templates.
Remove image backgrounds
Custom font uploads.
Team collaboration.
💵 Pricing:
Snappa won't charge you anything as long as you're content with a limit of three downloads per month. If your needs can be met with that, then this is arguably the best YouTube Banner maker on the list for you. Otherwise, if you need a little more, then the Pro version will cost you $15 a month, while the Team package accommodates up to five users for $30 per month. If you opt to pay up front for a year then those per month prices drop considerably lower.
One of the best YouTube banner maker options on this list that you might want to try is Pixlr. It's both cost-friendly and user-friendly. In fact, you don't even need to register for an account to use its suite of tools for absolutely nothing. It's a multi-faceted photo editing platform that combines versatile features, customizable templates, and an AI engine to facilitate professional image editing on a visual cloud-based canvas.
When you land on the Pixlr homepage, you'll find five image editors – Pixlr E, Pixlr X, Photosmash, Remove bg, and Batch editor. Of the five, it's only Pixlr X and Pixlr E that can be used to create free YouTube banners.
Keep in mind, however, that while the two editors are siblings, they approach banner creation very differently. Pixlr X is more of a simple express tool for beginners, while Pixlr E is almost as advanced as Adobe Photoshop – with all the tools that professional editors would want in the best YouTube banner makers.
We'd prefer to stick with Pixlr X because of how easy it makes the whole process of creating and customizing YouTube banners. The editor itself can be accessed directly from your web browser. It offers an array of free YouTube banner templates, designed for a wide range of business categories. It shouldn't take you long to find an appropriate template design, after which you can proceed to seamlessly customize its layout, color, layers, text, and images directly on the Pixlr X online photo editing canvas. Pixlr even allows you to experiment with various types of artistic overlays, filters, effects, and decorative media.
⚙️ Features:
Free YouTube banner templates.
Add effects and filters.
AI-powered image enhancement tools.
Import images from the web and stock art sites.
Image cropping, flipping, and rotating.
Freehand drawing with pen and brush tools.
Immersive image animation effects.
Image transform options.
AI-powered cutout.
Work with multiple image-editing layers.
💵 Pricing:
Pixlr X and Pixlr E are both free YouTube banner makers that won't charge you a dime to access editing tools, customize YouTube banners, and save your designs. What's more, you even get to work with free YouTube banner templates.
To unleash the full power of the editors, however, you might have to upgrade to a premium package for at least $4.90 a month. This is the point where you'll gain full access to all the graphic design tools, AI engines, high-priority support, and video tutorials, plus overlays, stickers, elements, fonts, and templates.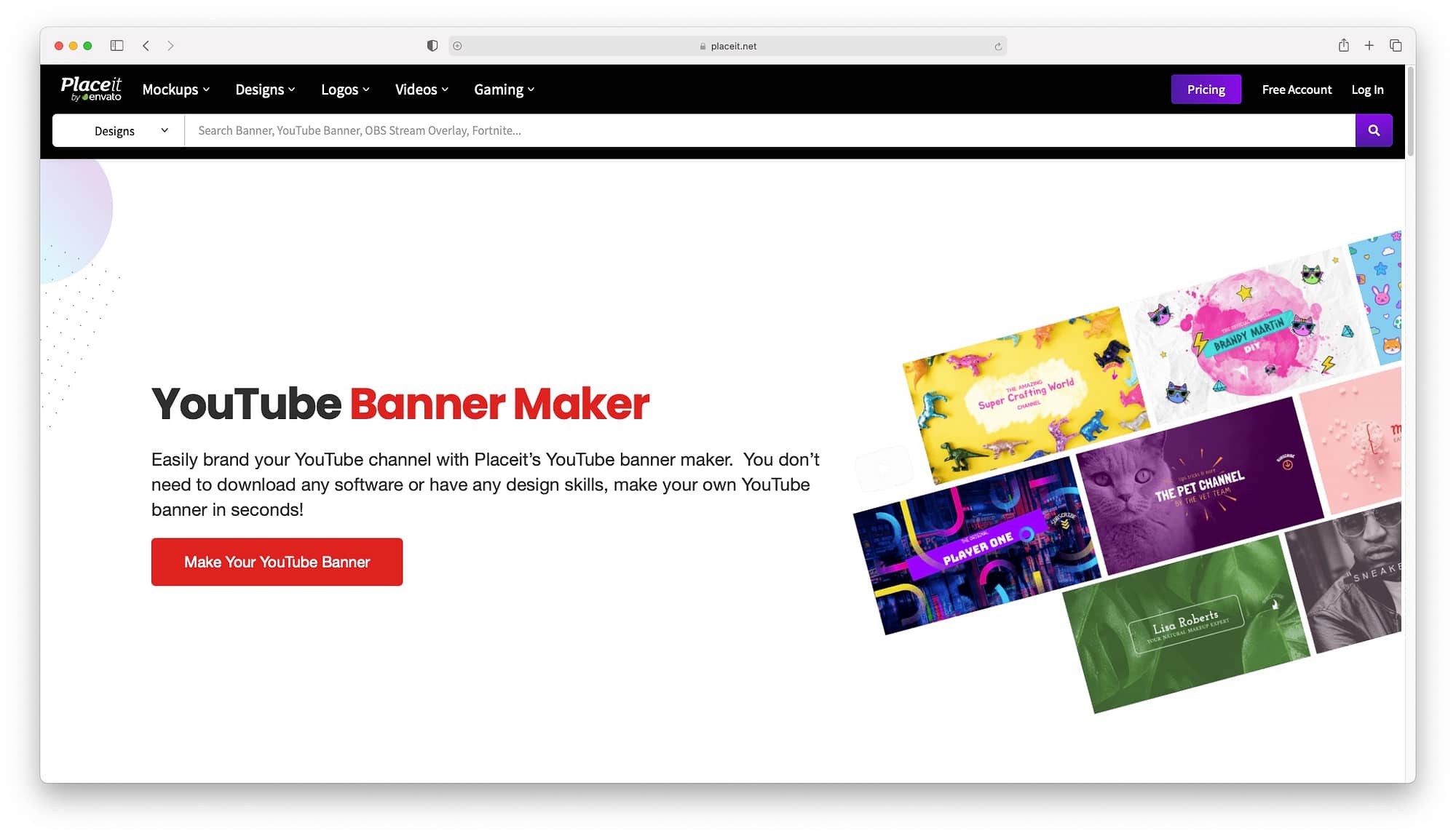 At first, Placeit might feel overwhelming because of all the tools and templates it comes with. You'll find a mockup generator for all sorts of business-related mockups, a video maker, a logo maker, plus an online graphics designer that covers ads, social media illustrations, and flyers.
As it turns out, however, Placeit is actually pretty straightforward. Its YouTube banner maker gets you started with more than 130 elegant channel art templates to choose from. Then, once you've picked one, its online designer swings into action and offers you simple customization tools. You can use them to tweak, among other elements, your channel art's font, text, background, and layout.
Imagine getting to do all that without even registering an account. If that doesn't qualify for the title of best YouTube Banner maker, then what does?
⚙️ Features:
Over 130 pre-built YouTube banner templates.
Drag and drop your designs.
Personalize channel header font, text, background, and layout.
Unlimited design downloads.
Easy-to-use interface.
Design and download without account registration.
Cloud storage.
💵 Pricing:
Placeit allows you to jump straight into YouTube banner creation without signing up. But, the kicker is, your channel header download will come embedded with a Placeit watermark.
On a brighter note, though, you can avoid that by paying $89.64 per year, which breaks down to $7.47 per month. This will grant you access to thousands of additional design templates.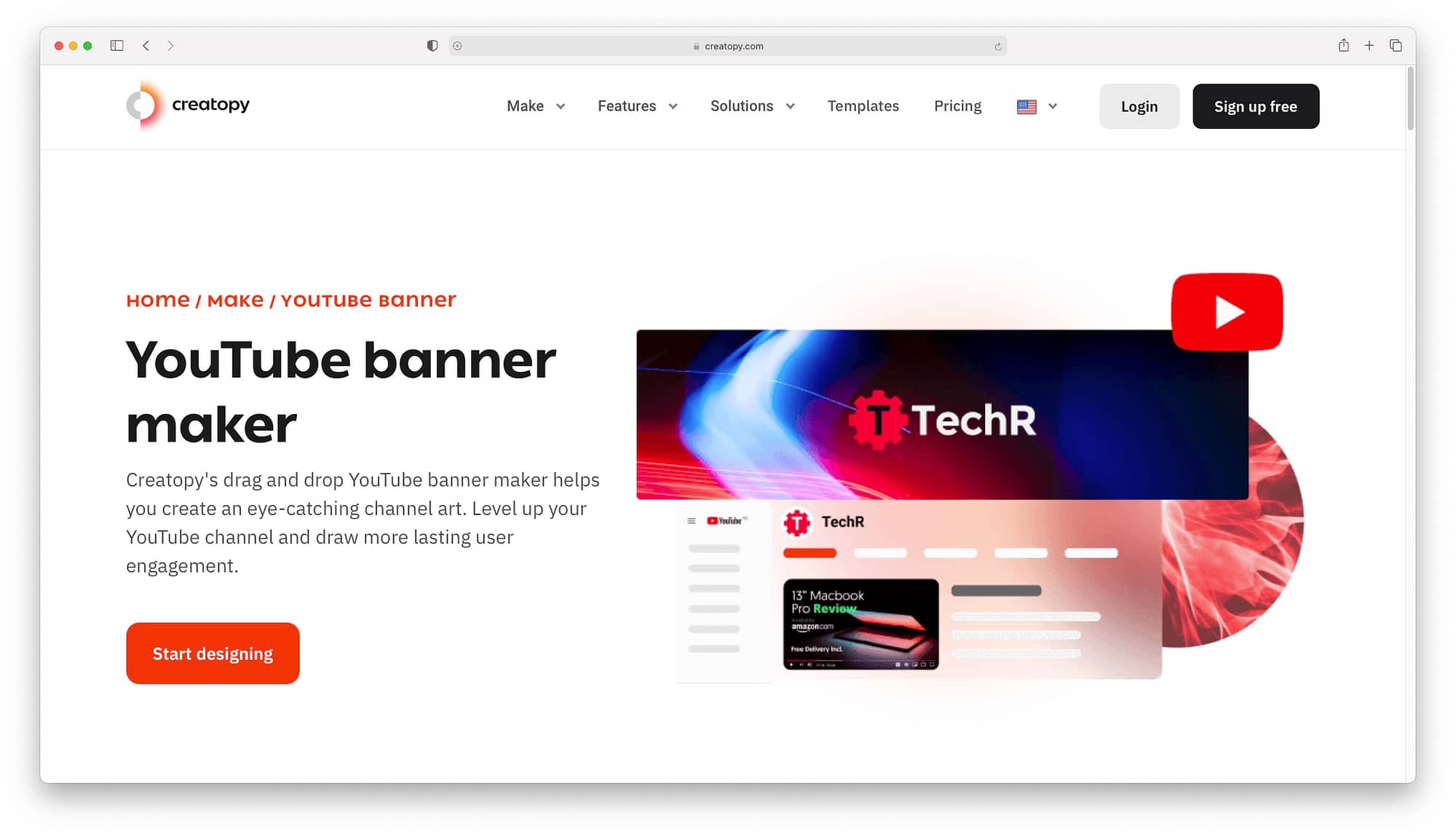 Previously known as Bannersnack, Creatopy is a visual design platform that has deservedly earned its spot as one of the best YouTube banner maker tools out there.
This is one area where you won't be required to possess any graphic design skills. As a beginner, you can fire up Creatopy's drag-and-drop editor and then proceed to create your channel art right off the bat. And while you're at it, you'll notice that its tools are particularly ideal for animated banners, including interactive static HTML headers.
You don't have to start from scratch, though. Creatopy offers a rich array of professionally designed templates to make your work much easier.
Unfortunately, however, Creatopy isn't exactly the cheapest YouTube banner maker. Its premium plans are considerably pricier than similar packages offered by its closest competitors.
⚙️ Features:
Over two million stock photos and videos.
Intuitive drag-and-drop graphics editor.
Download your designs as PNG or JPG.
Collection of professionally designed templates.
Apply your brand's color palette, typography, and imagery to your channel headers.
Repurpose content after auto-resizing.
Typography presets.
Create animated designs.
Team collaboration.
💵 Pricing:
Although you can start off without paying anything, the free package here will limit you to three designs. Plus, you'll have about 1,000 free YouTube banner templates to work with.
If you'd want more capabilities, the Creatopy premium plans start at $32 per month – or $24 per month if you choose the yearly billing option. That will grant you an unlimited number of designs, over 5,000 template options, plus more than 20 million stock photos and videos.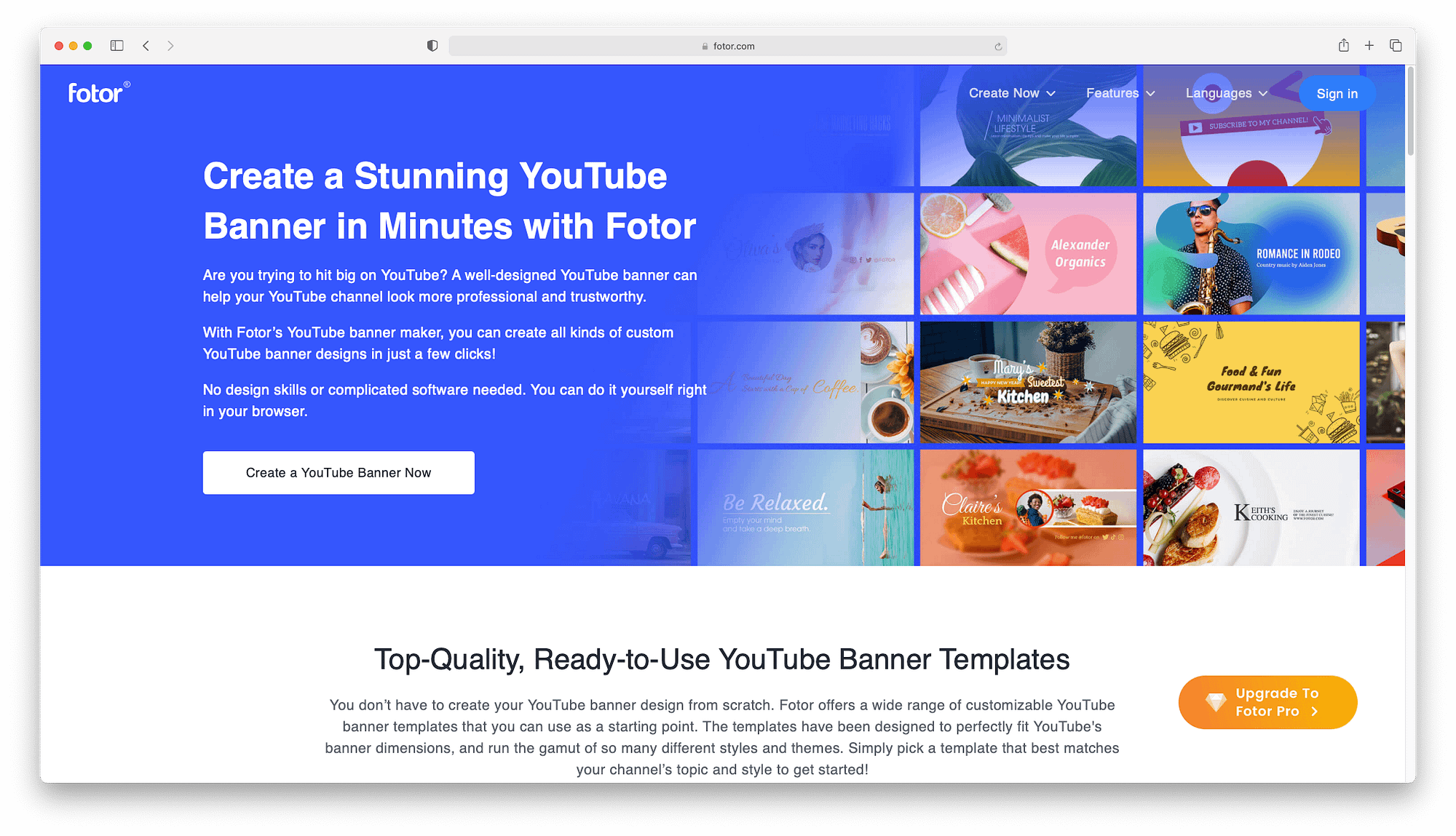 If you're thinking of creating your channel header from photos, then Fotor is certainly worth a try. This happens to be the best YouTube banner maker when it comes to photo editing and design.
But, not because of its name. Rather, Fotor is an incredibly powerful graphic designer that specializes in fine photo editing.
You can, for example, use its tools to adjust the color temperature of your banner photos, as well as their saturation, brightness, and contrast. The platform also allows you to introduce filters, change shades, plus tweak advanced HDR settings.
In short, therefore, Fotor is more like a web-based replica of Photoshop that manages to double as a YouTube banner maker. The design interface itself looks a little like Canva's, but with much more editing capabilities.
Now, that alone makes Fotor a double-edged sword. You see, while these robust tools make it perfectly suitable for experienced graphic designers, the situation is not quite the same on the other end of the spectrum. The many features only complicate things for beginners.
⚙️ Features:
Built-in library of stock photos, images, vectors, and illustrations.
Customize templates with your own text and images.
Template library that covers nearly all themes and styles.
Intuitive interface drag-and-drop editor.
Design auto-resizing.
Cloud storage.
300+ stylish fonts.
100+ photo frames.
High dynamic range (HDR) tech.
200+ photo collage layouts.
Advanced beauty touch-up.
💵 Pricing:
Thankfully, Fotor happens to be generous enough to offer a permanently free plan. On the flip side, though, it turns out that the arrangement only comes with basic design and editing capabilities.
If you want more, you'll have to part with at least $8.99 per month (billed annually at $39.99) to unlock advanced editing tools.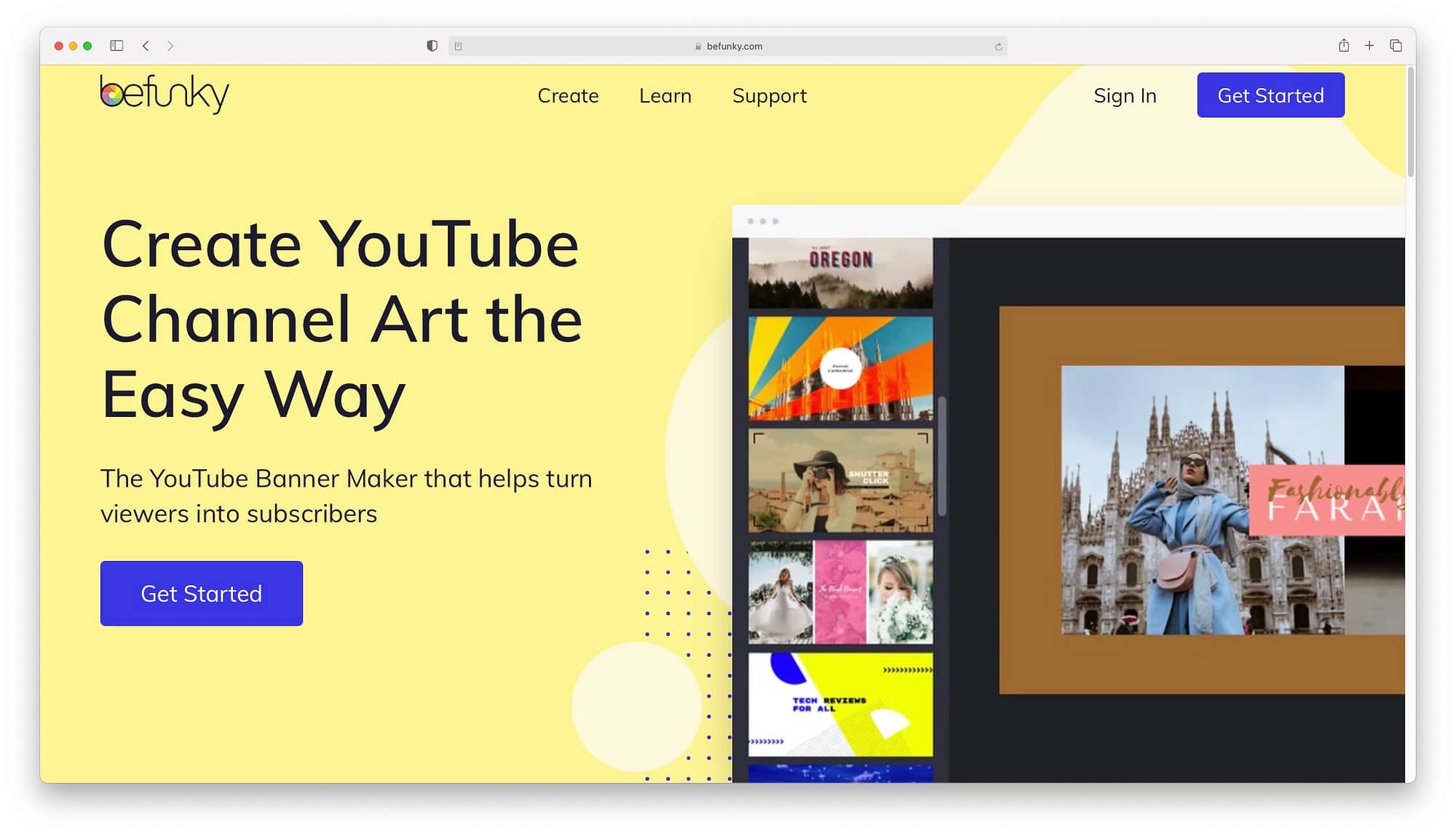 Joining Fotor in the league of specialized photo editors is BeFunky, a design tool that rightly describes itself as an "all-in-one creative platform." That means it essentially tries to enhance your creativity through graphic design, collage making, and photo editing.
This is where you come when you need various photo effects on your YouTube banner. You see, BeFunky's photo effects library happens to be one of the largest on the web – with over 185 options across 30 different categories. You can, for instance, customize your channel art with various shades of Chromatic, Pop Art, Pin Hole, Old Photo, Vintage, Instant, and Oil Painter effects.
But, it doesn't stop there. BeFunky further allows you to add vector graphics to your YouTube banners, as well as customize your designs with collage layouts, plus touch-ups.
And no – you don't need to register an account to get started. You can go ahead and create your banners straightaway, after which you could proceed to download them in high resolution.
⚙️ Features:
Over a million free stock photos.
Professionally designed YouTube banner templates.
Drag and drop graphic designer.
Thousands of premium graphics, stickers, and icons.
Customizable digital photo frames.
Smart photo enhancement tool.
Photo batch processing.
Collection of artsy effects for enhancing photos.
Background remover.
Cutout tool.
Clone tool.
Extensive photo effects library.
Image touch-up.
💵 Pricing:
BeFunky's free version is pretty decent, as it offers all the basic graphic design and photo editing tools that you might need to create a standard YouTube banner.
Its premium package, on the other hand, provides more power along with advanced capabilities for $9.99 a month. If you pay up front for the year, you'll get a hefty discount. The price is essentially half of the month-to-month plan, at $59.88 per year, which translates to only $4.99 per month.
If you're looking to design your YouTube banner on a simpler version of Photoshop, I'd strongly recommend that you try out PicMonkey.
This is yet another versatile cloud-based photo editor that focuses specifically on creating social media images, including YouTube's channel art. You can think of it as a lighter version of Photoshop, without all the technical jargon. It is so user-friendly that even beginners should have an easy time customizing their selected templates with PicMonkey's advanced editing tools.
⚙️ Features:
Millions of stunning authentic stock photos.
Hundreds of YouTube banner templates.
Autosaving to our cloud storage.
Customize your image's size, shape, color.
Add your logo to your channel art.
Add graphics and style your text.
Team collaboration in real-time.
Design animation.
💵 Pricing:
Unfortunately, PicMonkey doesn't offer a permanently free package. The best you can get here is a free trial, which runs for only seven days – leaving you with three subscription options.
You could purchase the Basic plan for $7.99 per month or $72 per year, Pro for $12.99 per month or $120 per year, or maybe Business for $23 per month or $228 per year.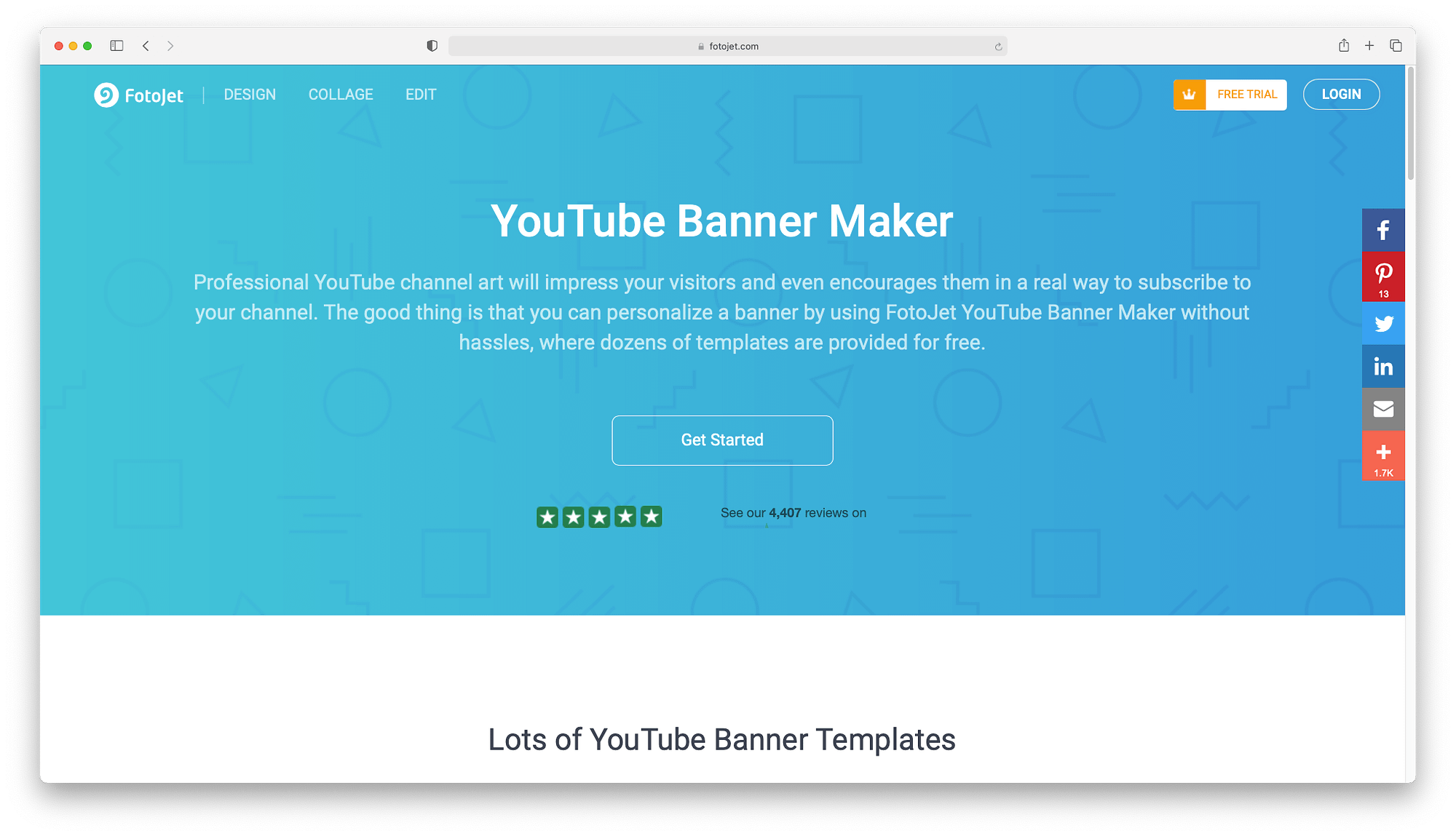 Coming in at number ten on our best YouTube Banner maker list is FotoJet. This free graphic designer is uniquely developed to help you convert your photos into stunning posters, photo cards, collages, and social media illustrations like YouTube channel headers.
It's not entirely free, though. While FotoJet's free account comes with basic editing capabilities, it's on the premium version where you actually get to play around with advanced editing tools and privileges. That includes access to more than 800 YouTube banner templates, over 30 font options, more than 20 photo effects, at least 30 graphic overlays, over 300 clipart images, etc.
And while you work on your channel art design, you'll notice that FotoJet's editing interface is built to give you seamless access to all its layout elements. You can easily add photos, clipart, background, text, and templates, as well as tweak their individual appearance.
⚙️ Features:
No download or registration is required.
Dozens of YouTube banner templates.
20+ premium frames.
30+ premium overlays.
300+ premium clipart images.
20+ premium photo effects.
30+ premium fonts.
Up to 500MB of storage space.
Custom canvas size.
💵 Pricing:
Apart from offering basic editing capabilities, FotoJet's free version tends to add a watermark to its downloads. To avoid that, you'll have to pay at least $6.99 per month on the month-to-month plan, or $39.99 per year ($3.33 per month) on the annual billing plan.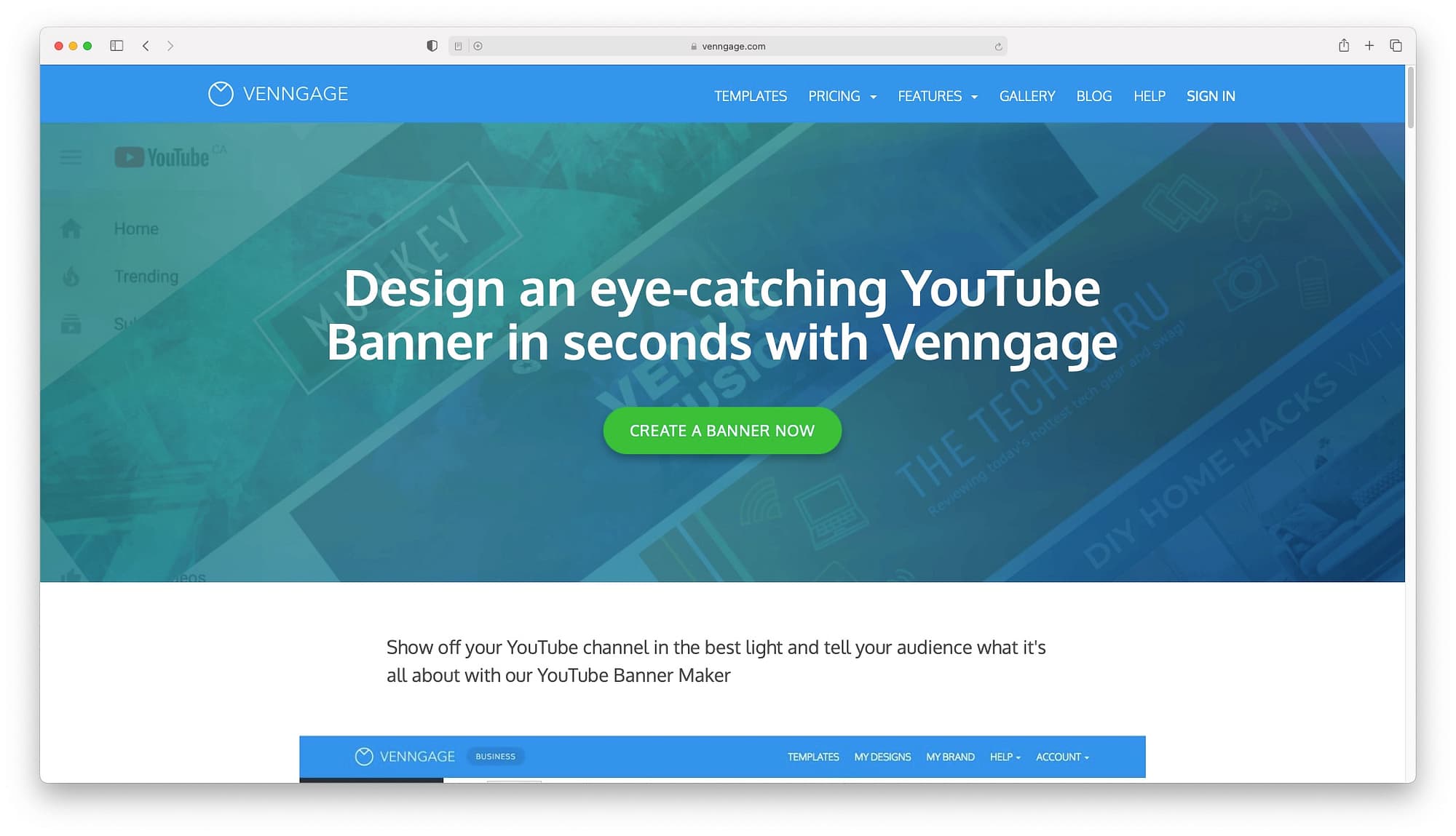 As an online graphics editor that largely specializes in creating infographics, Venngage is the best YouTube banner maker for information-based channel headers. This is what you turn to if you're trying to showcase charts, statistics, facts, pointers, data, and descriptive illustrations on your channel banner.
In addition to tens of channel art templates, you'll get access to a built-in library with free pictures, symbols, icons, stock photos, abstract drawings, and illustrations. You can use these to create colorful but insightful, thought-provoking banners.
The design process itself is admirably simple and straightforward – regardless of whether you're starting from scratch, or customizing a pre-built banner template.
⚙️ Features:
Downloads your YouTube banner as a high-quality PDF or PNG.
Adds call to action.
Professionally designed YouTube banner examples.
Adds embellishments, icons, and shapes.
Free charts.
Real-time team collaboration.
Cloud storage.
Intuitive drag-and-drop designer.
Millions of icons, stock photos, and illustrations.
💵 Pricing:
While it's commendable that Venngage starts you off on a free package, the truth of the matter is, you'll be limited to five designs and five image uploads. What's more, Venngage will go ahead and plaster its watermark on all your creations.
Well, you could try to improve this situation by upgrading to the cheapest premium plan for $19 per month, per user ($16 per month if paying annually). But, that won't sort out the watermark issue. Venngage only drops its watermarks when you commit to its much pricier Business plan for $49 per user, per month. So, while it does have excellent features that might qualify it as the best YouTube Banner maker, it's far from the best free option on this list.
Which is the best YouTube banner maker for your channel?
And now, over to you. Which one of these tools would you pick as the best YouTube banner maker for your channel? Any specific favorites?
For me, Canva is number one. But, here's the thing – although I've ranked all of them based on multiple consideration factors, you don't have to strictly abide by this lineup. Rather, the best YouTube banner maker for your channel or business should be determined based on the type of channel art you intend to create, your editing skills, as well as your project budget.
If you're planning to work with photos, for instance, you might want to consider BeFunky, PicMonkey, Fotor, or maybe FotoJet. The likes of Canva and Adobe Express, on the other hand, are best reserved for in-depth graphic design, while Creatopy is the best YouTube banner maker for animations.
Have you used any of the best YouTube banner maker options on our list? Let us know in the comments section below!
…
Don't forget to join our crash course on speeding up your WordPress site. Learn more below:
Layout and presentation by Chris Fitzgerald and Karol K.