Love them or hate them, email subscription popup plugins just do their job. And they do their job well. So well, in fact, that reports of 600% increases in conversion rates purely as a result of implementing the right email marketing strategy are not uncommon to see [1].
That being said, if you want to get the best WordPress popup plugin for your site, you'll quickly find out that they are not all created equal. Or more accurately, if you get yourself a sub-par solution, you'll only be frustrated trying to get it to fit your needs, not even mentioning delivering any worthwhile results.
So this is where today's post comes into play:
Here, I'm comparing five of the best email subscription popup plugins in the market and naming the best WordPress popup plugin of the lineup.
Note. This comparison has been written based on first-hand experience of actually working with the plugins. However, in all honesty, I have been using some of them more extensively than the others. 
Here are the features, the pros and cons, and the overall verdict on who should use each of these email subscription popup plugins for WordPress:
Which is the best WordPress popup plugin:
1. Elementor Pro (elementor.com)
Elementor is one of the most popular WordPress page builders in existence. Elementor Pro is the premium version of this plugin that, among many other features, also offers a full-powered Popup Builder.
Because Elementor is first-and-foremost a page builder, you'll notice that it has the absolute most flexible, visual drag-and-drop popup builder.
While most of the other tools on this list are also drag-and-drop builders, none of 'em come close to Elementor!
However, for that same reason, Elementor isn't as strong when it comes to analytics and A/B testing because…well, there isn't any.
So that's kind of the tradeoff you'll see come up a few more times – you get design freedom, but at the expense of built-in tracking.
Elementor Pro: Popup Builder – features
Elementor Popup Builder is part of the core Elementor Pro plugin – it's not some separate feature that you need to install.
When you go to create a new popup, you can either choose from one of Elementor's pre-built popup templates, or you can build your design from scratch: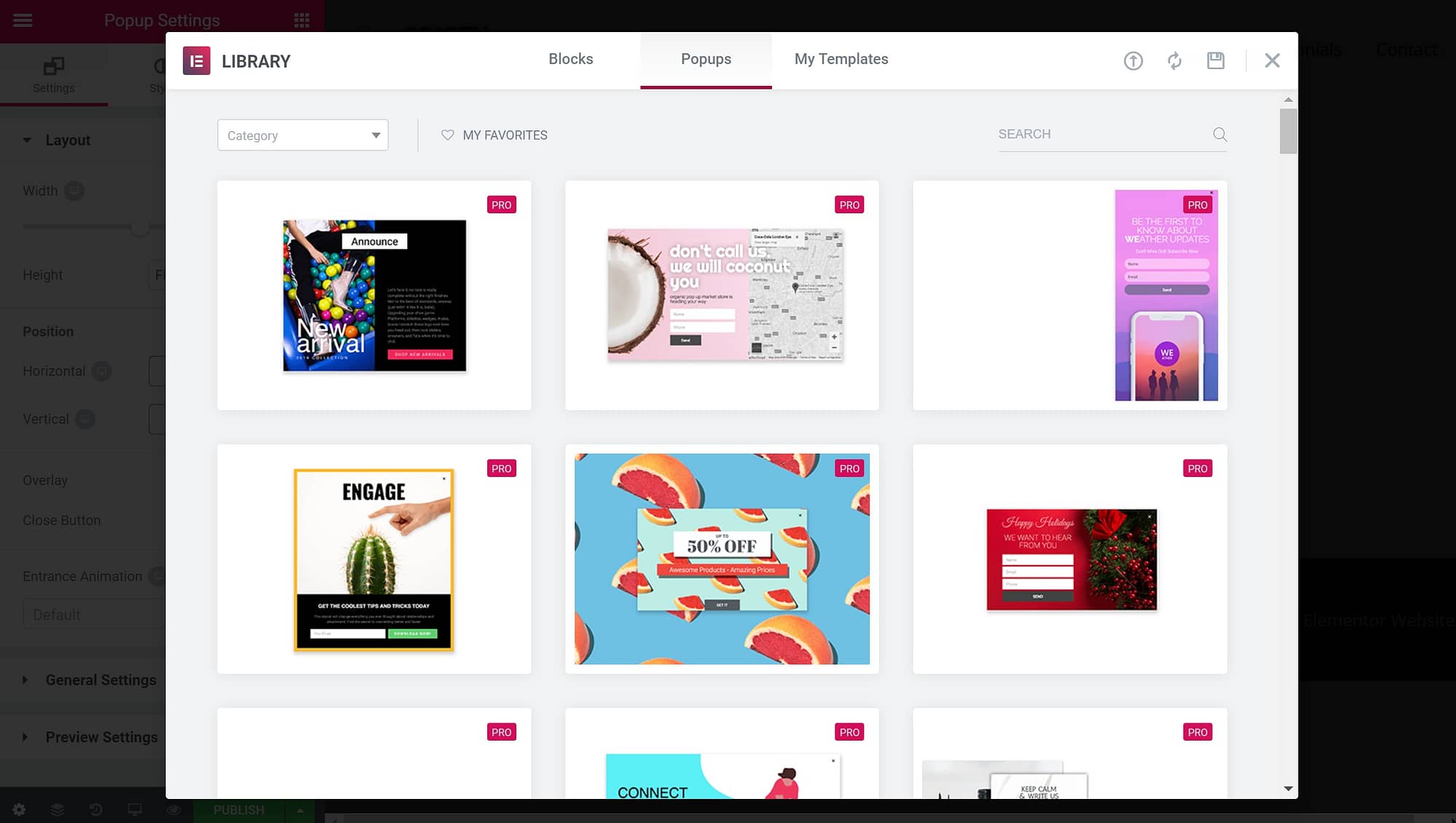 Once you choose your starting point, you'll be dropped into the regular Elementor page builder interface, with one new feature – a special Popup Settings area where you can adjust your popup's…
Position
Behavior
Size
Etc.
For example, you could use this section to create a notification bar or a slide-in, rather than a traditional lightbox popup: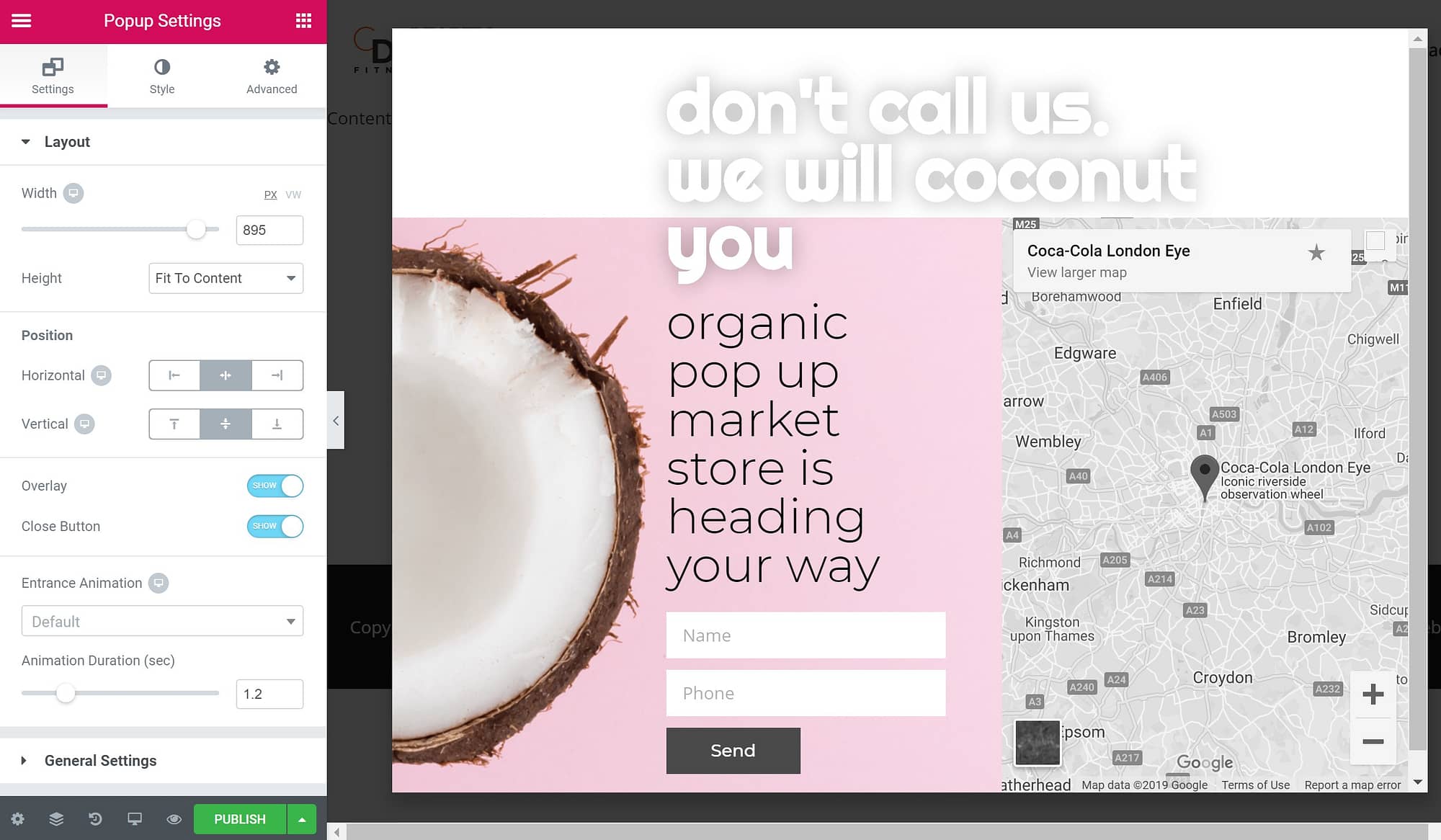 Beyond that, you can use all the regular Elementor widgets, access all the detailed design features, etc. This is super helpful because it means you can use your popup for pretty much anything, and it's why Elementor is the best WordPress popup plugin from a design perspective.
For example, if you want to create an email opt-in popup, you could add the Form widget and connect it to your email marketing service. Or, you could create a CTA popup and add urgency with the Countdown widget.
Once you're ready to publish your popup, you can configure the Publish Settings, which let you target and trigger your popups.
Beyond targeting specific WordPress content (e.g. categories, individual posts, your homepage, etc.), you can also set up detailed Triggers: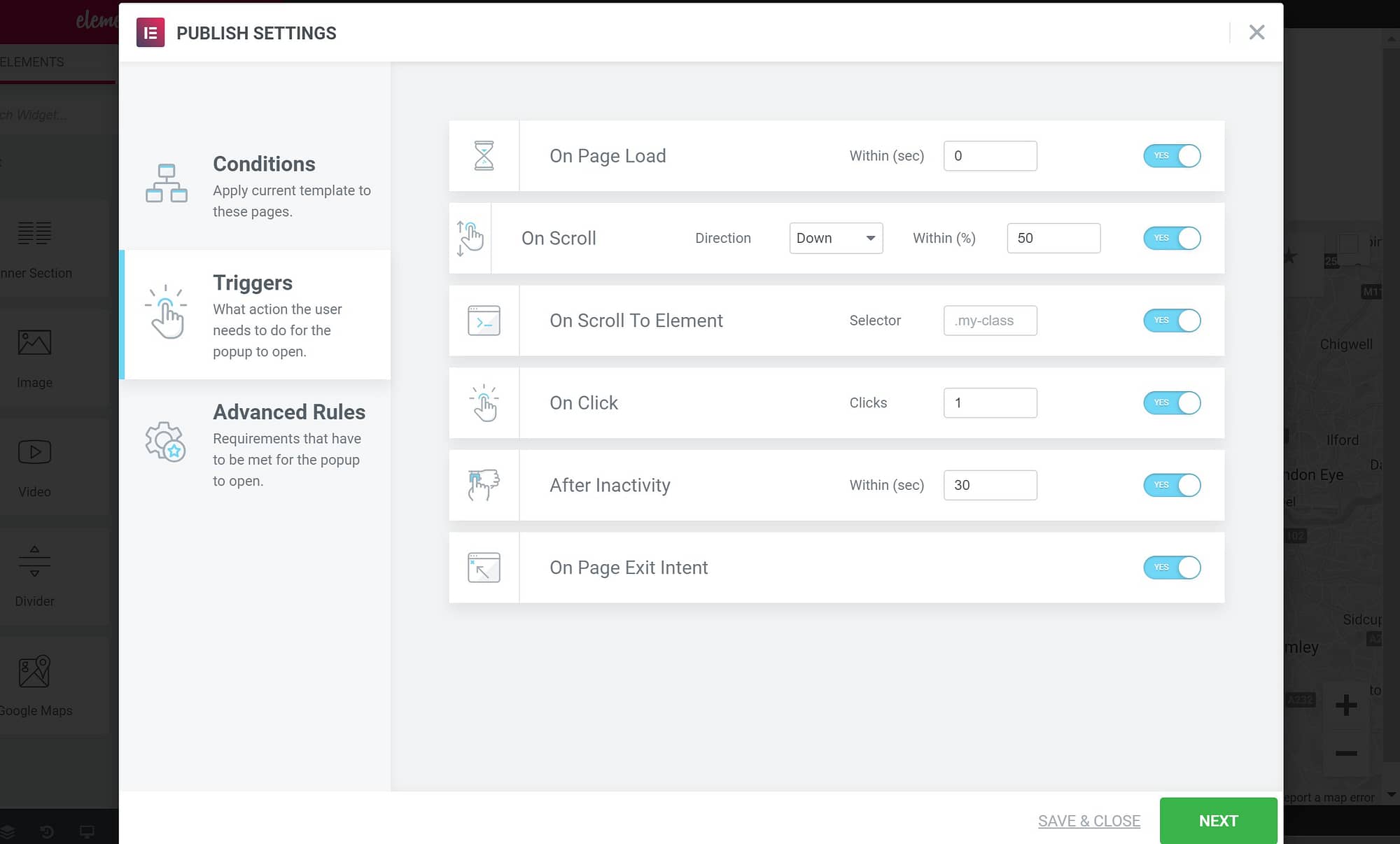 And the Advanced Rules give you more control over who sees your popups, like targeting specific referrers or limiting how often an individual user sees a popup:
Once you click Save & Close, your popup is live.
Again, the only notable downside here is the lack of any analytics or A/B testing.
Elementor Pro: Popup Builder – pros and cons
👍 Pros
Build your popups with a visual drag-and-drop editor
The absolute best WordPress popup plugin when it comes to design options (because you can use the full-powered Elementor interface)
You can use all the regular Elementor widgets (including add-on widgets added with third-party plugins)
You can create any type of popup, including lightbox, two-step, slide-ins, notification bars, etc
It has a solid selection of targeting and trigger rules, including an option to trigger popups by button clicks in your regular Elementor designs
You get access to all the other Elementor Pro functionality for the same price (like theme building)
👎 Cons
No built-in analytics tracking
No built-in A/B testing
Who should use Elementor Pro: Popup Builder?
Elementor Pro is the best option if you want the most control over the design and use of your popups. With Elementor Pro, you can create popups for literally everything, from email opt-ins to CTAs, login forms, contact forms, age gates…seriously – everything.
What's more, Elementor is one of the most flexible WordPress page builders, and you get access to all the normal design and style options. So in terms of making the design your own, no other tool on this list comes close.
So if you value those two things, Elementor is going to make you happy.
However, where Elementor Pro is not the best WordPress popup plugin is when it comes to analytics and A/B testing. If you want to be able to quickly see your popups' conversion rates right in your dashboard and/or spin up A/B tests, Elementor Pro probably isn't for you. You can do that stuff by bringing in Google Analytics or Google Optimize, it's just not nearly as convenient as the other tools.
Elementor Pro: Popup Builder – pricing
Elementor Pro Plugin Plans are offered for:
$59 for use on a single site
$59.00 for use on up to three sites
$199 for use on up to 25 sites
READ ALSO 👉 Best Elementor Templates
2. OptinMonster (optinmonster.com)
OptinMonster is the email subscription popup plugin that we've been using here on CodeinWP for a long time. But not only here, we also have it on JustFreeThemes, Themeisle and will probably roll it out onto Revive.Social too.
To summarize it in one sentence, OptinMonster just works. There's no funny bugs, no difficult-to-comprehend features, no ugly templates, etc. With OptinMonster, you simply get the exact range of features and abilities that can help you build your email list.
In a way, OptinMonster is the Apple of email optin plugins.
OptinMonster – features
Multiple different types of optin forms and boxes, not just popups. Plus, they support drag and drop editing.
Built-in A/B split testing module – you can test any element of a form individually, or even put two totally different forms against one another.
Exit intent functionality – shows a form to your visitor when they're just about to leave the page.
Multiple form display triggers – show a form after X seconds, after scrolling down X amount, after the visitor clicks on a link, and more.
Built-in analytics – see your clicks, views, conversions, etc.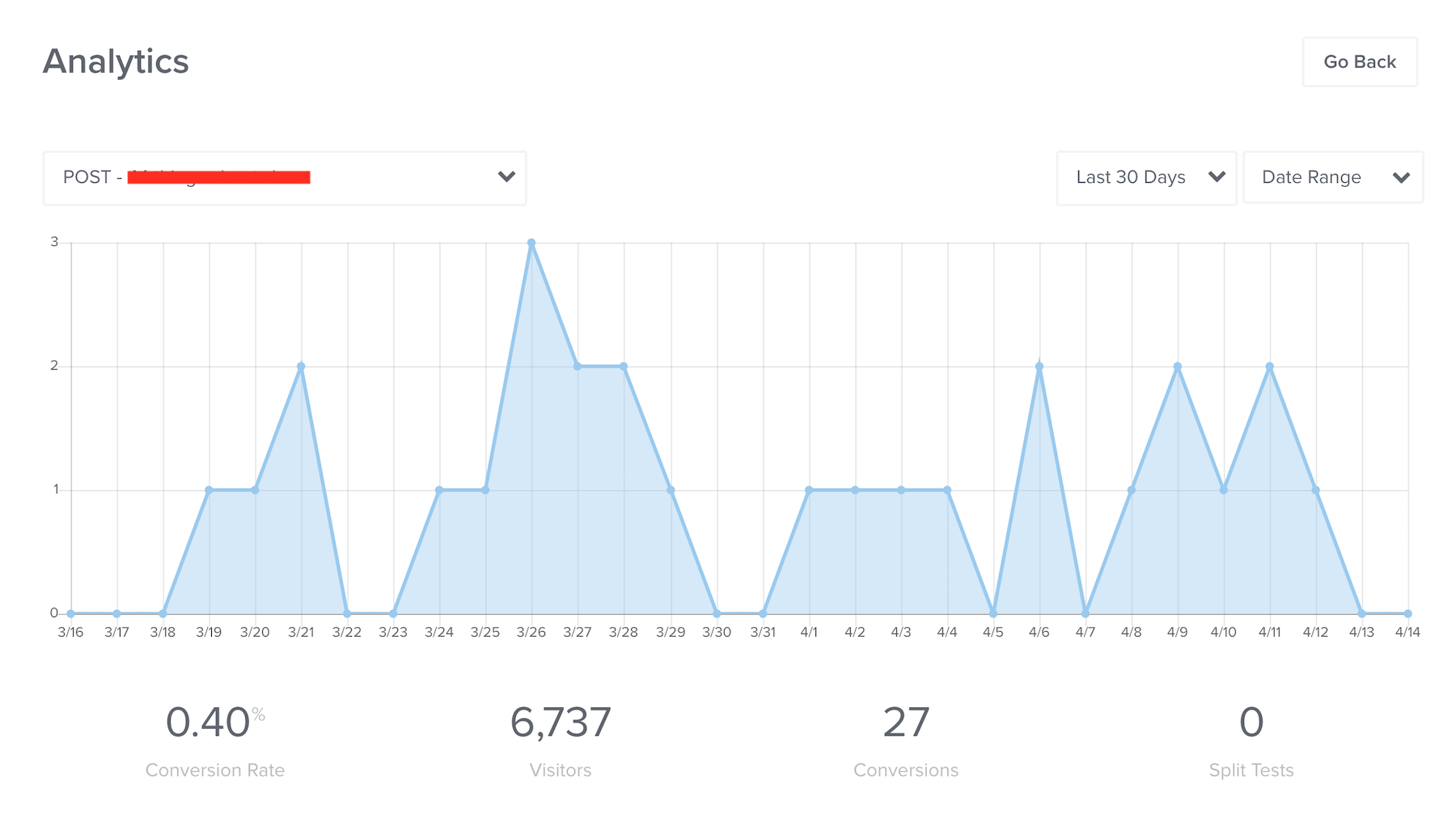 Page-level targeting – show forms only on specific pages.
Mobile popups – not just mobile-optimized standard popups, but completely custom popups for mobile devices.
Integrates with all the best email marketing services.
Okay, let's stop here with the features, even though I'm only scratching the surface. If you want to get to the bottom of everything, here's a complete list of OptinMonster's features.
OptinMonster – pros and cons
👍 Pros
Great form customization options. Once you pick a template, you can adjust pretty much everything about it. Change the images, the form fields, display a privacy statement, realign things, etc.
You can pick who should see a given form: new users vs returning, people who have viewed X pages, visitors from a specific location, and more. Basically, you can build yourself a pretty advanced structure.
Front-end form editing (see what your form looks like as you're working on it).
Form display triggers. Those work really nicely, allowing you to display a form just in the right moment (based on the user's behavior, the amount of time on the page, how far they've scrolled, etc.)
There are custom mobile popups. Most tools on the market make their forms universal and mobile-friendly, but OptinMonster goes further with their specific custom popups for mobile.
👎 Cons
Speaking in terms of the best WordPress popup plugin, this is not a WordPress plugin per se. I mean, the core OptinMonster tool works as an independent SaaS solution. The WordPress plugin that comes with OptinMonster is only meant to make the integration more seamless.
Although the popup themes/templates are good-looking and there's nothing wrong with them, there isn't that many of them to choose from. Plus, if you don't customize whatever theme you've selected, you risk that your popup is going to look the same as other people's.
Who should use OptinMonster?
OptinMonster is the perfect solution for online marketers, bloggers, and website owners in general who not only want to get their hands on a cool email popup solution, but would also rather have all their email optin related efforts taken care of by a single tool.
OptinMonster truly stands out as the complete package for anyone for whom email marketing is an important part of their business (if not the most important part). You get all the features you'd need, everything's easy to use and it just works. That's why OptinMonster is no.1 – the best WordPress popup plugin – on our list.
OptinMonster – pricing
There are four different plans – the prices listed below are per month, but billed on an annual basis:
Basic: $9.00
Plus: $19
Pro: $29
Growth: $49
READ ALSO 👉 OptinMonster vs LeadPages vs Sumo vs Thrive Leads
3. Otter Blocks (themeisle.com)
Unlike the other best WordPress popup plugin options on this list, Otter Blocks wasn't designed as a third-party, independent page builder.
Instead, Otter Blocks is a plugin that adds advanced page-building functionalities to the native Gutenberg WordPress Block Editor.
Once you install it, you'll notice that the functionalities are grouped into 30+ extension blocks.
There's a maps block, a countdown block, an accordion block, and many others, including of course, the popup block.
Using the popup block will allow you to create and publish popups for your site, fine-tune their design, define their appearance triggers, configure their page placement, as well as insert custom CSS to set visibility conditions.
There are no limitations to the WordPress themes that you can work with. As long as your site theme is compatible with the Gutenberg editor, the Otter popup block should run without any issues.
By that we mean that you'll be able to create and embed popups that are responsive on mobile, tablet, and desktop screens. Plus, you'll have the additional advantage of using Otter's other blocks to make the on-site experience even more appealing for your visitors.
Otter Popup Block – features
One thing you'll love about Otter is that it introduces advanced capabilities without complicating Gutenberg's simple, intuitive page editing process. The popup block itself follows a very basic configuration structure.
When creating popups for your WordPress site, Otter allows you to add both traditional and third-party page blocks. There are no restrictions here – your popups could have paragraphs, headings, columns, quotes, images, or any other content blocks that you prefer.
With the Otter popup block, you also get to customize how, when, and where the popups will appear.
On the Settings tab, for example, you'll find the following popup trigger options:
On Load: This trigger is meant to show the popup to visitors who load a specific page. Otter even allows you to define how long after the loading the popup appears.
On Scroll: This trigger holds off the popup until the visitor scrolls to a specific section of the page.
On Anchor Click: This is what you pick when you need the popup to appear upon the clicking of a specific button or link.
On Exit: The Otter popup block additionally offers an "On Exit" trigger so you can target even visitors right as they're leaving your web page. This could help in minimizing cart abandonment and page bounce rates.
As for design and styling, the Otter popup block comes with tweaks for adjusting:
Color options for the overlay, background, close button, and popup borders.
Overlay opacity.
Popup dimensions according to the type of device.
Popup position on the screen.
You can also inject custom CSS, as well as set the visibility conditions for each popup.
But, that's not all. There's so much more exciting stuff that you could do, especially when you supplement the popup block with functionalities from the other 29+ Otter blocks.
Here's a summary of the features you can expect from all the Otter blocks that come with the WordPress plugin.
Otter Blocks – pros and cons
👍 Pros
Works with the native WordPress Gutenberg block editor. As such, you don't have to install a third-party page builder.
Uses blocks to create, design, and edit popups. This approach is pretty simple and straightforward, even for beginners without any technical WordPress experience.
Otter is not just a WordPress popup plugin. It comes with over 30 blocks for the Gutenberg editor, each powering a specific extra page element – maps, accordion, sharing icons, etc.
Massive value for absolutely nothing. Otter offers a forever-free plan, which includes use of the popup block.
Easily set different popup triggers based on your campaign goals. Otter popup block comes loaded with configurations for On Load, On Anchor Click, On Scroll, and On Exit triggers.
Customize the design and styling of your popups by adjusting their color, overlay, dimension, and page positioning options.
👎 Cons
As a solution that's built exclusively for the Gutenberg block editor, Otter Blocks won't work for WordPress users running third-party page builders such as Beaver and Elementor, or those who prefer that kind of drag-and-drop page page builder.
Otter Blocks doesn't provide its own templates for building popups. You'll, instead, be relying entirely on your theme's blocks and styling.
Who should use Otter Blocks as their WordPress popup plugin?
Put simply, Otter Blocks is the best WordPress popup plugin for Gutenberg – which is the default block editor for WordPress 5.0 and later versions.
You see, Gutenberg itself comes with only the core blocks and configurations that you'd need to quickly set up a basic WordPress page. In other words, it gives you the bare minimum. Otter Blocks extends those bare minimum capabilities without introducing a heavy third-party solution that can slow down your site and possibly even clash with future WordPress versions as they roll out.
This means you can build your WordPress site from the ground up, using the default WordPress block editor, and add all kinds of other features, including popups, by using Otter Blocks.
Otter Blocks – pricing
Most Otter Block features are available for free. However, there are three Pro plans (priced annually):
Personal – $39 – gives you access to additional Pro blocks, including Add to Cart, Business Hours, Review Comparison, and lots of other WooCommerce blocks.
Business – $99 – lets use Otter Pro blocks on up to five sites and you get priority customer support.
Agency – $149 – expands usage to an unlimited number of websites and you get live chat + VIP support. Plus you can store your templates in the Template Cloud and import them to any of your websites whenever you want.
READ ALSO 👉 How to Use the WordPress Block Editor
4. Sumo (sumo.com)
Sumo has earned a lot of fans basically from day one of its existence. Created by Noah Kagan, it has quickly grown to be one of the most popular website marketing solutions out there.
What sets it apart is that it takes a much broader approach rather than just focusing on email. Sumo has modules for social media, cross-site promotion (you link to other sites and they link to you), heat maps, scroll maps, and more.
Lately, Sumo has started marketing itself more towards ecommerce stores, but other sites can still benefit from its popup functionality.
Overall, it's a complete toolkit to help your website grow, and probably the best WordPress popup plugin if your budget is zero (because it offers a free plan).
Sumo – features
The specific Sumo module that gives you email popups is called List Builder. The features:
Display popups based on clicks, timers, or exit intent.
More than a couple dozen popup templates/designs.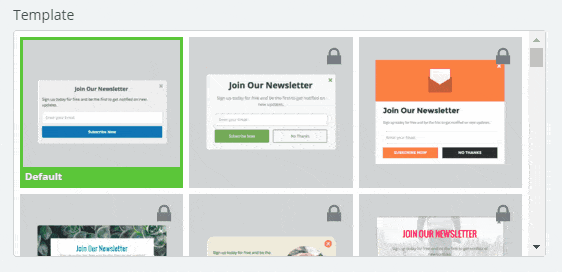 You can adjust the colors, texts, fonts and other elements of your popups' appearance. Plus, everything works with drag-and-drop.
The popups are mobile-optimized.
A/B split testing module built-in.
Built-in analytics.

You can show different popups based on referrer URLs. This allows you to have individual forms for people coming from Facebook, Twitter, and other sites.
Integrates with all popular email service providers.
Setting the List Builder module aside, you can also enable a couple of complementary modules to get even more opportunities to build an email list:
Smart Bar – display a narrow bar at the top of a page (you can put another optin form in it).
Scroll Box – display an opt-in form when a visitor scrolls down X amount.
Welcome Mat – display a full-screen optin form to new visitors.

Sumo – pros and cons
👍 Pros
Offers a great set of features free of charge. There are premium plans – more on that in a minute – but to just get the bare functional minimum, and that including the popup forms, you don't need to pay anything.
Front-end form editing (see what your form looks like as you're working on it).
The analytics are really nice and give you a good overview of what's going on with your forms.
You can create multiple popups, all working based on different triggers and catering to different visitors.
You can choose whether you want to use the popup for email optins, standard call to action buttons, or social media.
👎 Cons
Just one popup template available in the free version.
Just like with OptinMonster, this is not a WordPress plugin per se. Sumo is another SaaS solution with a WordPress plugin acting only as the integration layer.
Who should use Sumo?
Sumo is probably the best free email popup plugin out there. If you landed on this page searching for the best WordPress popup plugin without spending any money, then the free version of Sumo is the perfect entry-level solution for you.
It has a number of advanced features and a good analytics/tracking module. Plus, it gives you multiple different types of popups to use.
If you need more, you can always upgrade to Sumo Pro, or transition to another paid tool.
Sumo – pricing
You can get started with Sumo for free. The Pro plan costs $39 per month, if paying annually, or $49 per month, if paying month-to-month. It's based on using Sumo on a maximum of 3 sites, with a ceiling of 100,000 visitors per month. See their full pricing page for more information.
5. Convert Pro (www.convertpro.net)
Convert Pro is an upgraded version of the popular Convert Plus plugin (which is itself a rebrand of the ConvertPlug plugin that previously occupied this space on our list).
Long story short, the developers took all the insights they learned from ConvertPlug and Convert Plus and aimed to turn them into the best WordPress popup plugin possible (that's Convert Pro).
Convert Pro does a lot of things well. It has a visual drag-and-drop builder, tons of templates, built-in analytics, and detailed A/B testing.
In terms of functionality, you'll notice a lot of similarities to OptinMonster. However, unlike OptinMonster, Convert Pro is a true WordPress plugin, and everything happens on your server.
Convert Pro – features
When you go to create a new popup in Convert Pro, you'll first choose which type of popup to create from the eight available options: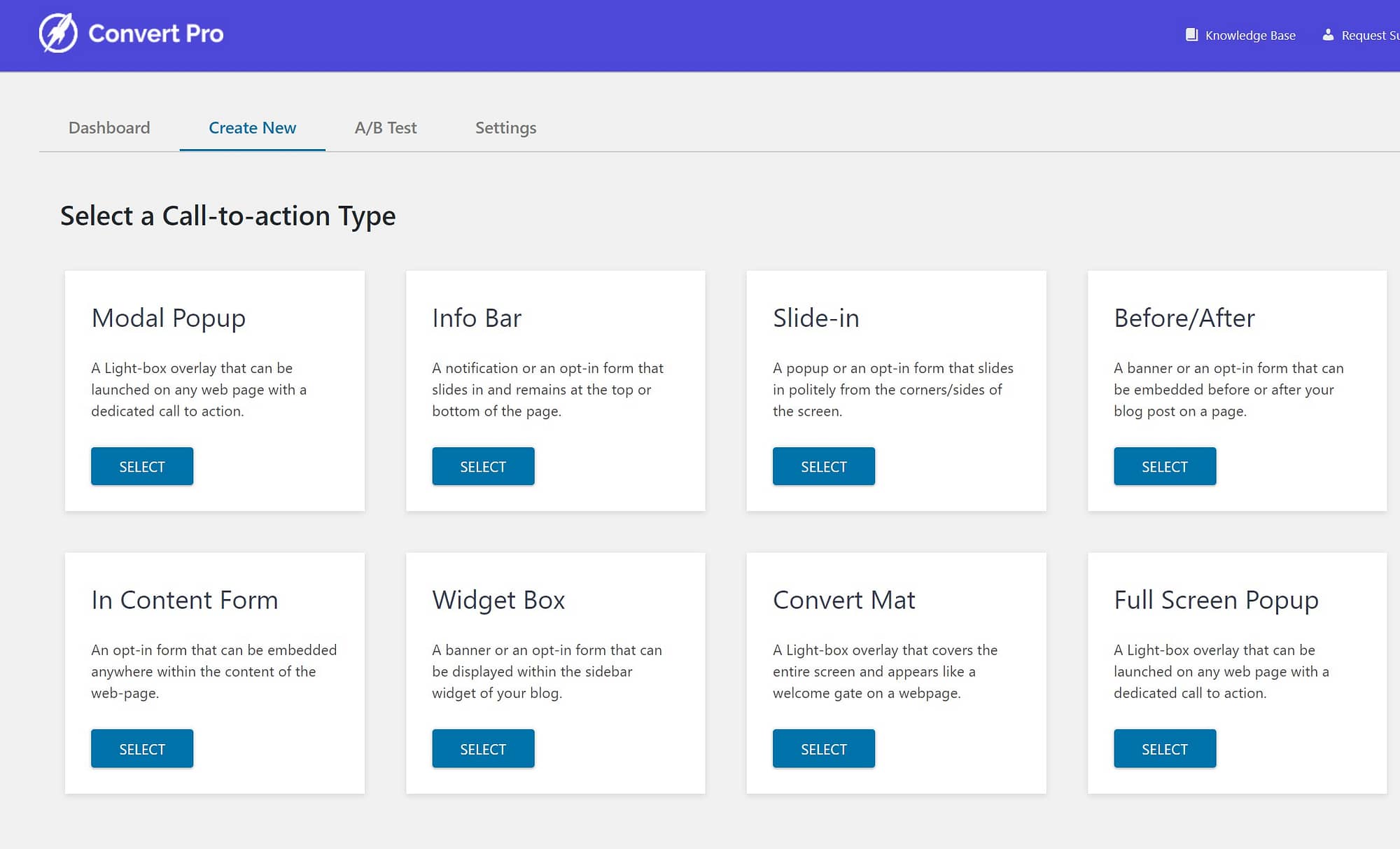 From there, you can choose from a big library of templates. Many of them are focused on email opt-ins, but you can also find other uses, like generic CTAs or even age gates: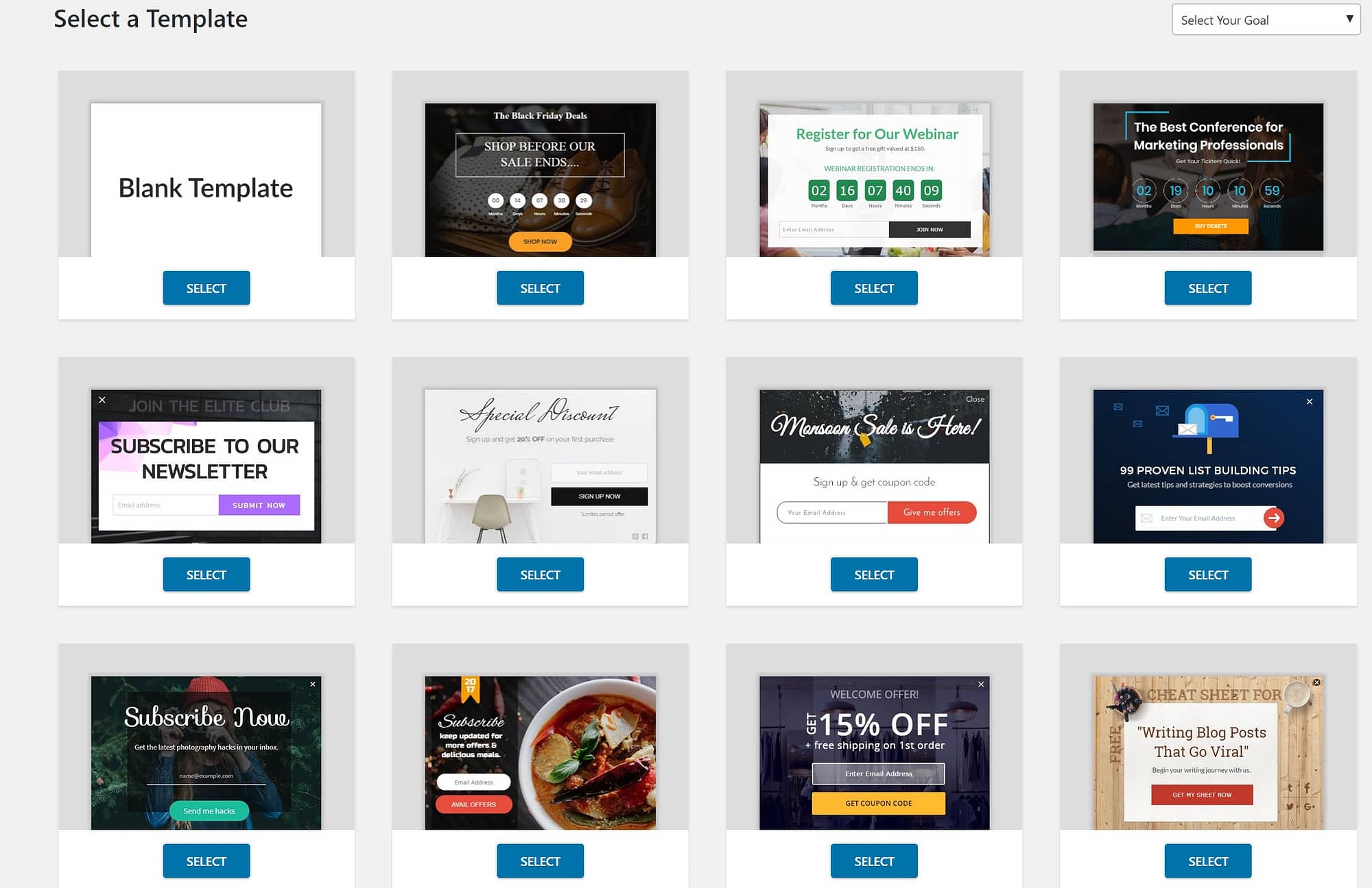 After that, you can customize your popup using the visual drag-and-drop editor. Beyond adding new content with the widgets, you can also customize the form fields if you need to collect more information: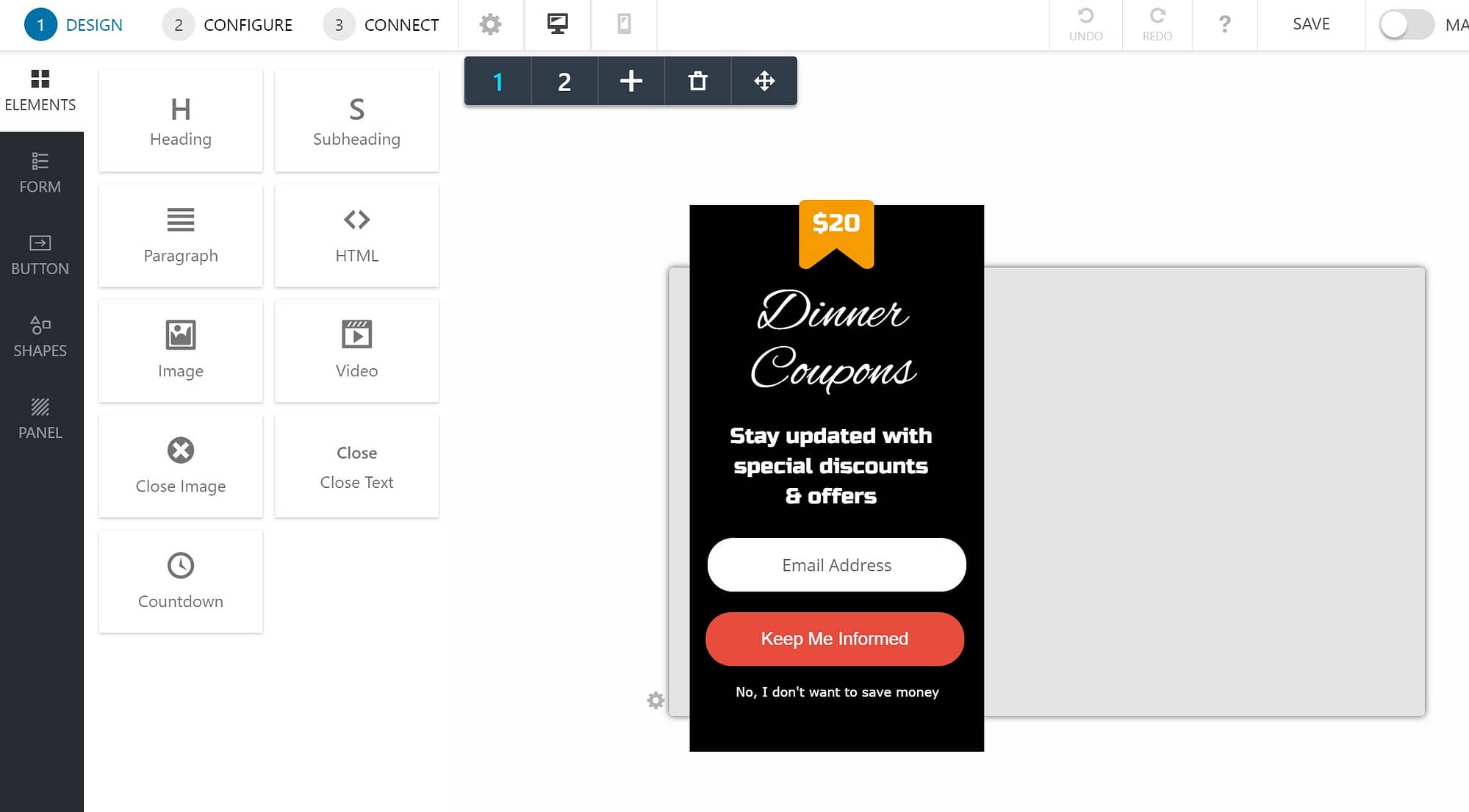 Once you finish the design, you'll be able to choose from a ton of triggers, including time, scroll depth, exit intent, and more.
Beyond that, you also get lots of targeting options that let you target stuff like:
Certain content on your site
Devices
Referrers
Geo location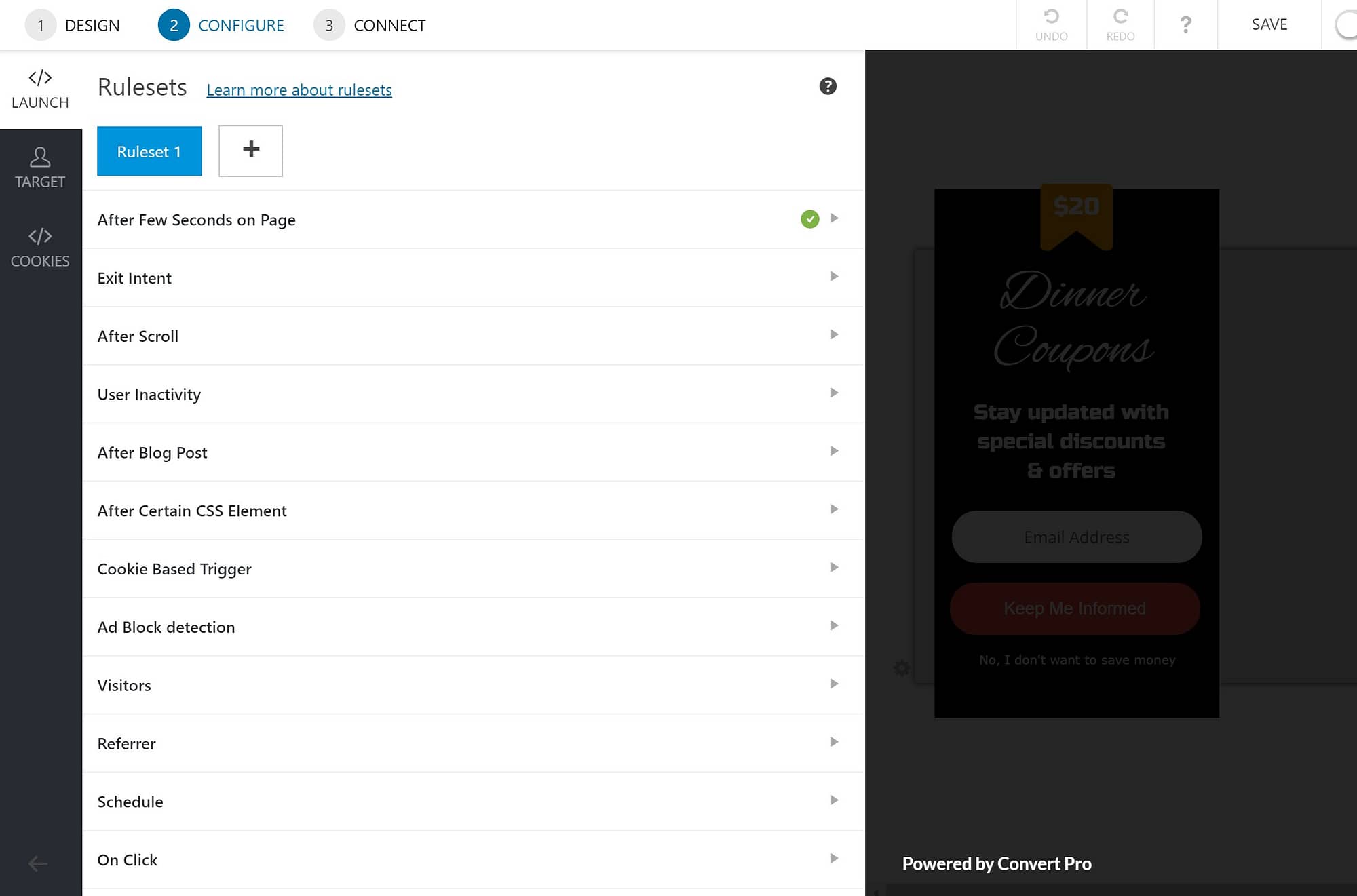 Other helpful features are:
Integrations with most popular email marketing services
Built-in analytics
Flexible A/B testing, including the option to test different types of popups against one another
Convert Pro – pros and cons
👍 Pros
Visual, drag-and-drop editor that makes it easy to customize your popups
A good selection of templates, most of which look pretty great
You can choose from eight different popup types
Built-in analytics
A flexible A/B testing system to optimize your popups
Integrations for all the major email marketing services
👎 Cons
I'm stretching it, but the only downside is that if you want to use it on more than one site, you can't manage your email efforts from a single dashboard (like with OptinMonster), but instead need individual plugin installs on each site.
Who should use Convert Pro?
Convert Pro is the best WordPress popup plugin if you liked all the functionality you saw with OptinMonster, but wish it were available in a standalone WordPress plugin and for a one-time fee.
It's just pretty "solid" all around, with no real weaknesses. The visual builder isn't as flexible as something like Elementor Pro, but it's good enough for most uses. Beyond that, it has a good set of templates, a strong list of targeting/trigger rules, and built-in A/B testing and analytics.
Convert Pro – pricing
There are a few different ways to purchase Convert Pro:
Annual Plans
Convert Pro – $87 – use on unlimited sites with one year of support and updates.
Growth Bundle – $187 – same as above, plus a complete suite of tools necessary to build and grow your business online.
Lifetime PLans
Convert Pro – $387 – use on unlimited sites with lifetime support and updates.
Growth Bundle – $937 – same as the annual but with lifetime support and updates.
Best popup plugins for WordPress: Conclusion
I'm really curious to know what your favorite tool is, but for me, the top 5 goes like this:
I'm fairly positive that you're going to find your perfect tool – the one that fits your needs hand-in-glove – just by checking out these five.
What's your take here? Did I miss anything – is there another solution that can be proudly named the best WordPress popup plugin? Also, what's your number one challenge right now when it comes to email popups on your WordPress site?
…
Don't forget to join our crash course on speeding up your WordPress site. Learn more below:
* This post contains affiliate links, which means that if you click on one of the product links and then purchase the product, we'll receive a small commission. No worries though, you'll still pay the standard amount so there's no additional cost on your part.