If you're looking to buy or sell a website, you have two main options: (1) you can either do it yourself (identifying potential customers, negotiating an asking price, and closing the sale), or (2) hire an expert to do all the work for you. Many online businesses choose the second option because they know the best website brokers will be able to not just get a better price for a site, but also take care of all the required documentation for a successful transfer.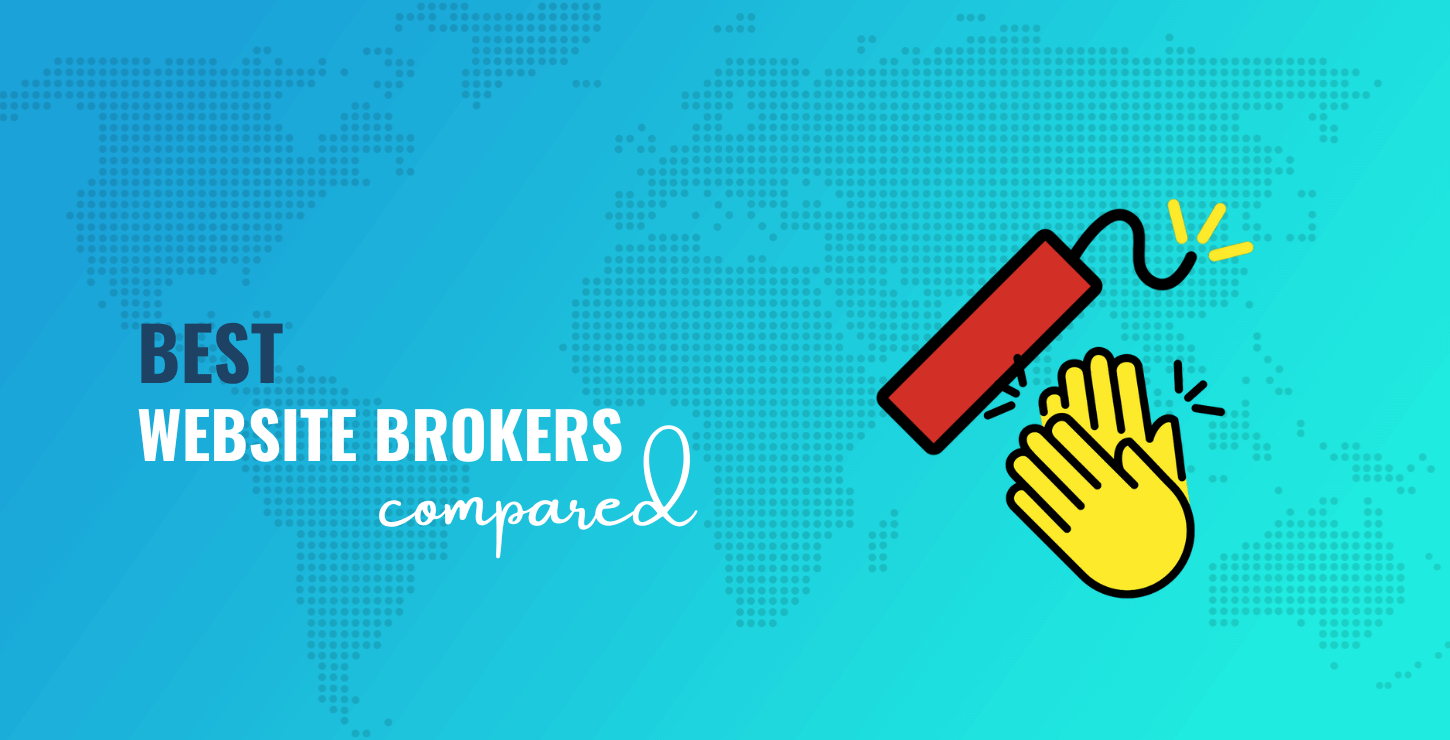 In this article, 📚 we will cover everything you need to know about finding and hiring the best website broker and getting them to help you in buying and selling websites.
So, let's get started!
What is a website broker, and why do you need one?
Website brokers are companies or individuals that act as go-betweens for people who want to buy or sell content websites or ecommerce stores. Their main goal is to help with the deal flow and obtain a fair price for your business. In exchange for their work, they usually take a commission as part of the sale.
Brokers typically have access to a database of potential clients and are experienced in using a variety of marketing strategies to help you promote and sell your site. This is why they can help buyers and sellers with bids, contracts, and transfers.
There are two types of digital services businesses that specialize in website transactions:
you can work with a large portal (that primarily sells sites)
or with a boutique brokerage company (that offers more dedicated attention to their clients).
How does a website broker determine your site's worth?
If you're selling a site, a broker will look at all aspects of it before they can determine a price. For example, how much traffic you're getting and whether it's primarily organic or paid, or what revenue streams you already have in place.
They will also analyze the competition and explore the niche to see its potential for growth. Lastly, they will calculate and give you a number that represents your site's worth in the market.
What should you look for in a website broker?
A website broker will be able to assist you through the entire process of buying or selling a website, from finding or creating website listings to migrating all content and updating your analytics. In some cases, they will also take care of the legal paperwork, which is very useful as these contracts tend to be quite complex if you're unfamiliar with them.
The best option when hiring a broker is to look at their track record of successful website acquisitions and sales. Other important things to keep in mind (and that we used to create the list of website brokers you'll see below) are:
👷 Experience: Perhaps the most important component that makes the top website brokers good is their experience helping people with their transactions. It will also come in handy if the person or company is familiar with price negotiation and full website migration.
💾 Client database: A trustworthy broker will have a preferred dedicated marketplace or classifieds site, domain portfolios, and/or a large network of people interested in buying or selling sites.
🎁 Premiums: Different brokers will have different models for getting paid. Most do so on commission, but this is not the only way.
Best website brokers on the market in 2023
Considering the factors above, we've come up with our top five brokers for 2023. Let's go through them in some more detail.
Empire Flippers is a curated online business portal and the largest vetted private marketplace for buying and selling websites. They publish new businesses for sale every Monday and can help you with the process of transferring your site (they will contact the hosts for you and make sure migrations are taken care of).
Empire Flippers have already sold more than $400 million in sites, making this portal not just a great website broker, but definitely one of the best website brokers on the web.
Motion Invest is a site specializing in buying and selling content sites. They have a site-selling success rate of over 97% and have about 850 websites sold. One of the main advantages of this broker is that they show the website's income trend and associated analytics very clearly.
They also offer a free personal site valuation that comes accompanied by a chart calculating how long it could take to sell your site. If you instead want to buy, Motion Invest will handle the entire transfer process for you.
Business Exits is a group of business sales experts that can help you reach the maximum value for your large revenue company site. They focus primarily on quality acquisitions (typically $2 million to $50 million revenue companies), making them one of the best website brokers for high revenue websites.
Their business' reputation speaks for itself.
With a closing rate of over 91% for 2021, these experienced brokers can help you generate the highest sale for your site using state-of-the-art marketing and targeting selling. You can contact them to get a free valuation.
Investors Club is a large broker promising the deepest and most detailed due diligence reports in the market, and so far, they seem to be delivering. Their listings are 100% exclusive (only listed on their marketplace), and the company takes care of all legal docs, escrows, and inspections. Content site owners can be sure their small websites or large enterprises are in safe hands.
One important thing to keep in mind is that this broker is a members-only marketplace. It means there might be a hefty membership fee involved (there are no fees for buyers, though!).
FE International is not a site broker per se but a technology M&A advisory that helps create transactions for business founders looking for successful exits.
If you want a more structured approach to selling or buying websites, this company offers advanced analytics for traffic, technical specifications, financial opportunities, and legal aspects. They specialize in SaaS businesses, ecommerce websites, content sites, and other technologies.
Flippa is one of the best website brokers that focuses primarily on small websites. They are basically a massive marketplace, but they also offer brokerage services to both the buyer and the seller. You can filter available sites for sale by website URLs, traffic, profitability, and many other factors and create alerts for new listings.
Flippa's partner broker service has, in fact, completed thousands of successful transfers for SaaS, domains, apps, and websites. They have a success fee of 15%.
Final thoughts on the best website brokers 🧐
If you're looking to sell or buy a website, you should look for a broker that can provide a professional and thorough service and accompany you throughout the entire transfer process.
This article has covered the top marketplaces and brokers for buyers and sellers. You can use this list to kickstart your own research and find the perfect service for your business.
Is there anything else you'd like to learn about the best website brokers out there? Let us know in the comments section below!
…
Don't forget to join our crash course on speeding up your WordPress site. Learn more below: