If you want to start a business website in Singapore, or you're working with clients from Singapore, choosing a reliable hosting company is the first step towards your goal. Researching the best web hosting in Singapore now will save you a heap of trouble after the website has been launched.
Speaking of research, we did the laborious part for you and selected the top five web hosts in Singapore, so you can analyze them and go with the most effective option for you.
In this article, we'll share: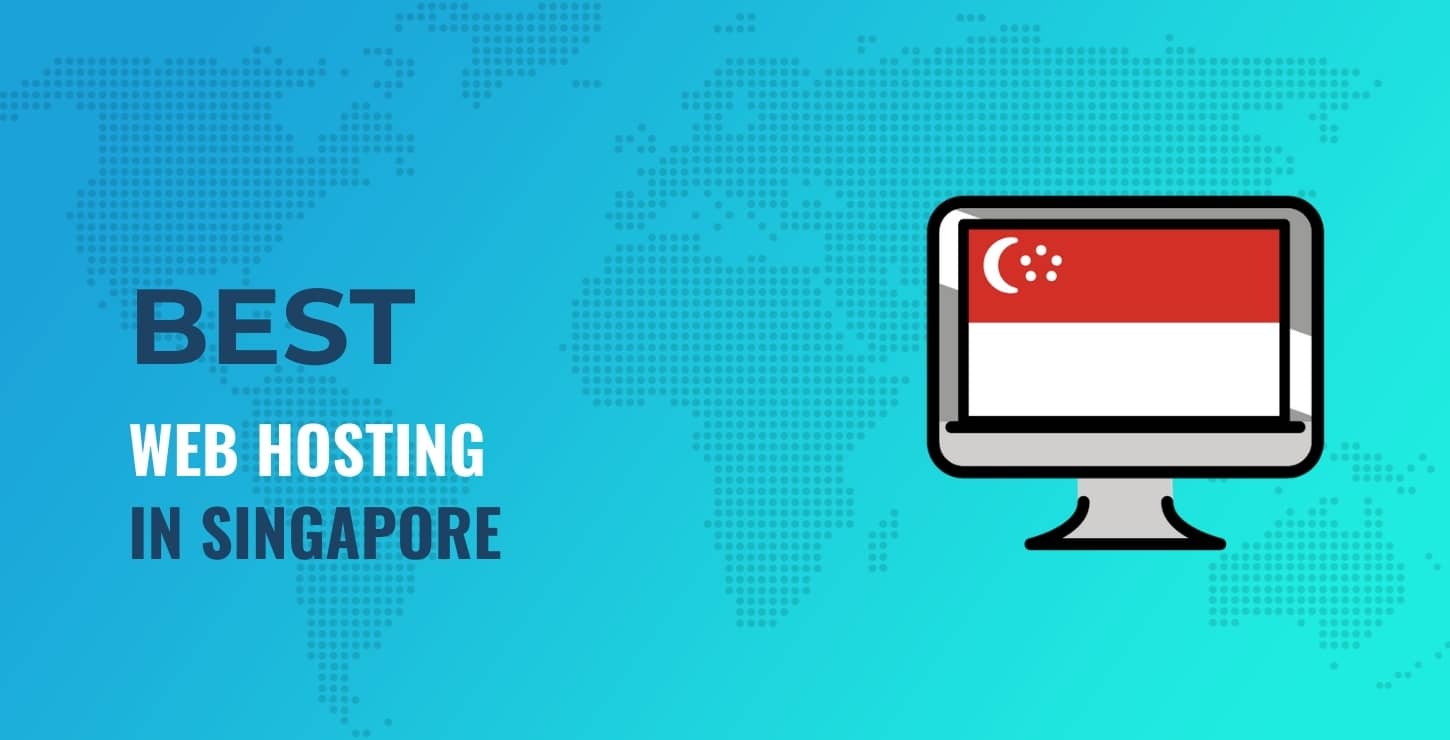 🇸🇬 Best web hosting Singapore
Now, let's get straight to the point and review the five hosts we've picked for your local business:
SiteGround (www.siteground.com)
$2.99 / month
Servers in Singapore:

✅

Singaporean customer service:

❌

Websites allowed: 1
10 GB storage
~10,000 visits monthly
Free SSL, CDN, and email
Daily backups
Free CMS installation (WordPress, Joomla, Drupal) and website builder
SiteGround is an international web host, known for its affordable and reliable services. It has servers on four continents around the world, Singapore being one of the locations where its data centers are placed. This makes SiteGround a go-to hosting solution for Singaporeans because, apart from what it offers at a worldwide scale, Singapore-based websites will run at high speeds as well.
While the pricing plans are affordable, SiteGround doesn't offer free domain registration, so this will cost you another 15 USD. Unlike most hosts on this list, it comes with free daily backups in the first plan.
The onboarding is easy and friendly; you just need to follow the steps, make your choices, and get ready to own a site. No matter what is your content management system of choice, SiteGround makes sure you won't encounter any issues during the installation. It'll take care of the entire process for you.
If currency is important to you, then here's your downside: SiteGround only charges you in US dollars and doesn't have a Singaporean headquarters for local customer service.
Hostinger (www.hostinger.com)
$1.99 / month
Servers in Singapore:

✅

Singaporean customer service:

❌

Websites allowed: 1
10 GB storage
100 GB bandwidth
Free SSL and email
99.9% uptime guarantee
WordPress, Joomla, Moodle in-app installation
Hostinger is a popular host known from Europe to Australia for its high speed and ultra small prices. It works with any CMS but the platform recommends WordPress, for which it comes with advanced optimization and performance. So it's safe to say that it's WordPress-friendly and your site will run smoother if you choose to build it with WordPress.
If you're not a WordPress fan, Hostinger lets you move forward with a website builder during the setup so you won't have to spend much time in the back-end after your site is live.
A benefit for Singapore users is that it displays the pricing in SGD during checkout and also issues invoices in this currency. Moreover, it guarantees your site stays up for 99.9% of the time and backs up your data weekly.
But there's a catch. Even though the basic pricing plan says you pay only $1.99, you'll notice that your invoice will weigh more than that. Apart from the domain name, which is not included in the plan, Hostinger also adds costs for the setup + taxes during the checkout.
You'll get the advertised price only if you choose the four-year membership and you'll still need to pay taxes. If you're looking for a one-year subscription, for example, the monthly price is 3.99 SGD instead. Given all that, Hostinger still remains cheaper than its competitors on this list.
$2.99 / month
Servers in Singapore:

✅

Singaporean customer service:

❌

Websites allowed: 1
100 GB storage
Unmetered bandwidth
Free SSL, CDN, and email
Free CMS and eCommerce software installation
99.9% uptime guarantee
A2 Hosting is another international web host with wide popularity on all continents. It has dedicated services for people in Singapore and also displays the pricing in Singaporean currency.
It offers the same features the other international hosts do, including free SSL certification, free CDN, 99.9% uptime guarantee, and in-app software installation (WordPress, Drupal, Magento, WooCommerce, OpenCart, and more). Just like the other hosts so far, it doesn't include a domain name for free.
A2 Hosting is WordPress-friendly and comes with many features for this platform. For example, you can go with WordPress + Elementor or WordPress + WooCommerce combo, and the host installs everything for you on the spot.
A2 Hosting comes with its own website builder which is free for a one-page website but premium for multi-page sites. Its setup is very easy because it puts all the steps in an organized and straightforward structure.
It doesn't come with hidden or unannounced fees except for the domain name, for which you have to pay separately. If you choose to go with a long-term subscription, the monthly price will drop significantly.
Exabytes (www.exabytes.sg)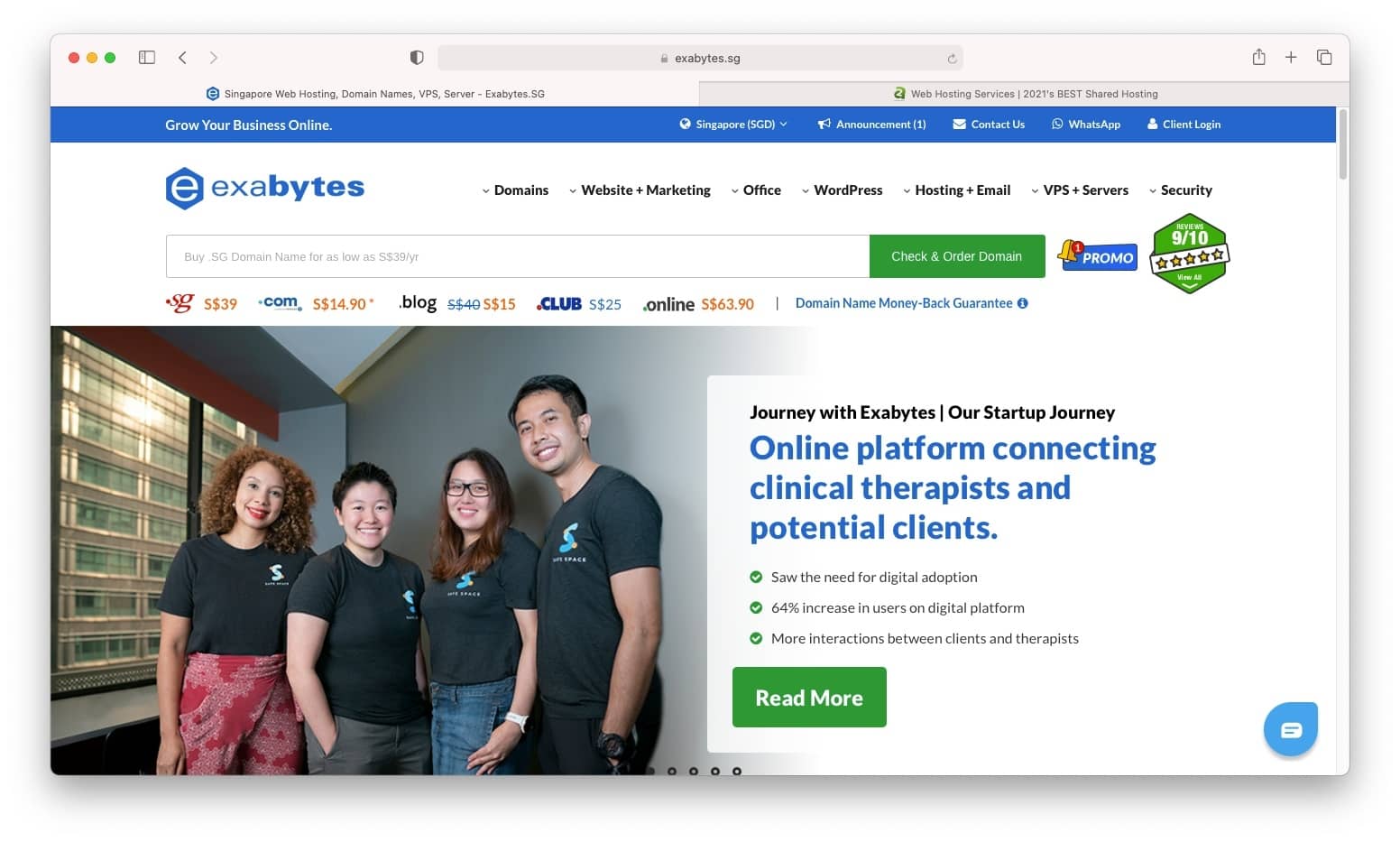 1.99 SGD / month
Servers in Singapore:

✅

Singaporean customer service:

✅

Websites allowed: 2
12 GB storage
Unmetered bandwidth
Free SSL and email
Free CMS installation (WordPress, Drupal, Joomla, eCommerce)
99.9% uptime guarantee
Weekly backups
If we're talking about the best web hosting in Singapore, then Exabytes can't miss the list. It's a 100% local hosting service, with Singaporean currency, customer service, and .sg domains. It allows you to register a free .com/.com.sg/.sg domain on higher plans starting at $6.99 SGD per month.
Exabytes is very affordable and offers all the features its international counterparts do. So if your audience comes only from Singapore, there's no reason why you shouldn't give it a thumbs-up.
Despite being cheap, expect to pay additional fees during checkout. The plans get more advantageous if bought for the long term. You still need to do some calculations regarding the period and pricing of each hosting package because Exabytes might turn out to be more effective by comparison.
The setup is straightforward and you're able to install a CMS right from the app.
Vodien (www.vodien.com)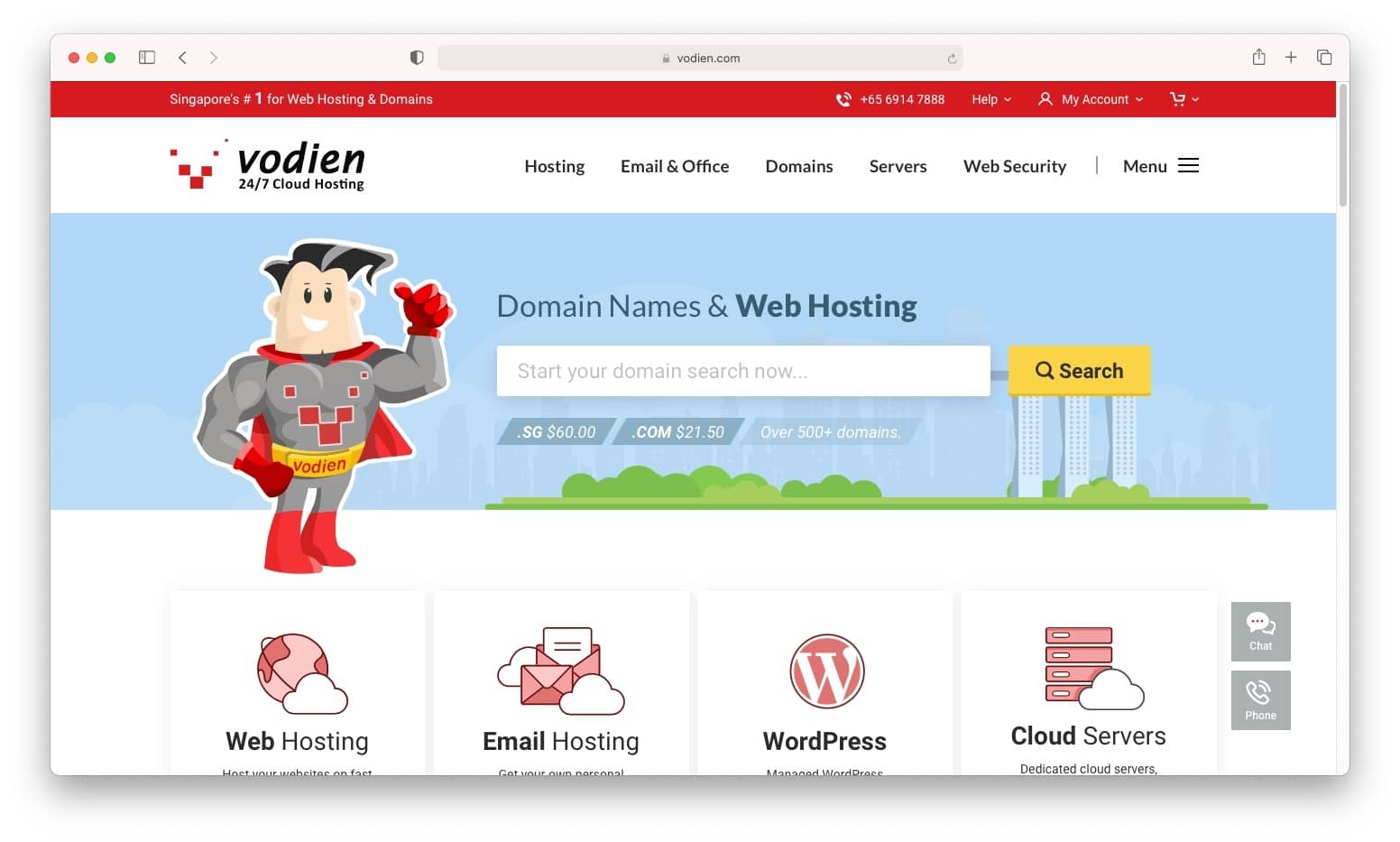 14.60 SGD / month
Servers in Singapore:

✅

Singaporean customer service:

✅

Websites allowed: 5
Free .sg domain
15 GB storage
Unmetered bandwidth
99.9% uptime guarantee
400+ instant apps
Weekly backups
One-click installation for WordPress, Joomla, Drupal, and eCommerce platforms
Vodien is another popular local host with data centers in Singapore and dedicated local support.
It's the most expensive host on the list, but it allows you to use it on five websites and offers a free .sg domain name for one year along with a three-month hosting service if you join their initiative to support Singaporean businesses. On the cons side, it doesn't include free SSL certification (it costs $5) and daily backups (another extra $5).
So you do the math. If the number of websites is paramount to you, then adding the extra payments won't lead to high expenses overall. If not, then the other hosts are probably more suitable for you.
When it comes to the checkout experience, you can't buy your hosting for just one month. You can only proceed with bundles starting from a three-month subscription. But you still need to pay for the extra features that are missing.
Vodien hosting best for Singaporean businesses that need to expand to more websites and can afford to pay for the missing services.
🤔 What to look for when choosing the best web hosting for Singapore?
Before we wrap up our presentation of the top hosts for Singapore websites, let's review the most important features to take into account before spending your money.
⚡ Loading speed

It's an essential factor for most users because a fast website improves engagement, conversions, and search engine ranking. If a page takes more than five seconds to load, visitors leave[1].
A hosting company that has servers located in Singapore ensures the fastest loading times for your local customers/visitors.

💯 Uptime

Uptime is about how much time your site stays live and functional. Every time your servers go down, your business is losing money. What you should look for in this case is a host that provides an uptime of over 99.95%.

📞 Support

Every respectable hosting provider offers high-quality support when you're having issues with your site. Make sure the team behind a hosting company is trustworthy and available for you when you need it most.
This service is vital for hosting, that's why you must verify whether the host's team offers support that matches your timezone.

🧮 Number of websites allowed

Usually, the most basic plan in hosting lets you use the service for one website only. If you plan to build more websites, then don't forget to check this aspect carefully before buying. Most hosts offer multiple websites in their second pricing tiers.

👀 Bandwidth / site traffic

Some hosts mention traffic thresholds in their plans, some do not (that usually means the bandwidth is unlimited). Read these specifications beforehand because, if you're estimating huge monthly traffic, your site will go down if it exceeds your host's imposed limits.

📛 Free domain name

Some hosts do not charge for your domain name in the first year, so you can save around 15 USD (20 SGD) on it.

💱 Pricing in local currency

If your business is based in Singapore, check the host's pricing to see if they issue invoices in Singapore Dollars. Not only will this make things straightforward with local taxes, but it can also be beneficial when you need to do the math for your business.
Final thoughts on the best web hosting in Singapore
Maybe there's no such thing as the single best web hosting in Singapore since we are all biased when comparing the options. What you should do is look for what's best for you and your needs specifically. To simplify:
If you want the cheapest option available, go with Hostinger.
To host more than one website, go with Vodien or upgrade to the next pricing tier with other hosts. In some cases, this might turn out to be cheaper.
If you're looking for authentic Singaporean services at a decent price and with a full pack of features, you will probably love Exabytes.
Still undecided? Check out all the highlights in this summary table – compare the best hosts for Singapore and their offers:
Best web hosting Singapore
Host
Price from
# of sites
Free domain
Storage / Bandwidth
Servers in SG
Customer service in SG
SiteGround
$2.99 / month
1

❌

10 GB / ~10,000 visits monthly

✅

❌

Hostinger
$1.99 / month
1

❌

10 GB / 100 GB

✅

❌

A2 Hosting
$2.99 / month
1

❌

100 GB / Unmetered

✅

❌

Exabytes
1.99 SGD / month
2

❌

12 GB / Unmetered

✅

✅

Vodien
14.60 SGD / month
5

✅

(.sg)
15 GB / Unmetered

✅

✅
…
Don't forget to join our crash course on speeding up your WordPress site. Learn more below:
Layout and presentation by Adelina Tuca, Karol K, and Chris Fitzgerald.