There are only so many hours in a day. And if you want to know what those hours actually went towards, you need a time tracker because, let's face it, no one's memory is that good!
Whether you're an individual or a business owner, time tracker apps help you learn where you and your team are spending your time, as well as how productive your time management is. A quality employee time tracking app can really be invaluable.
In this post, I'm going to share and compare 8 different time tracker tools, including multiple options for individuals, teams, or employers looking for software to manage remote teams.
I'll start you off with this handy comparison table to set the stage. Then, I'll go a little more in-depth and share some basic features and pros/cons for each time tracker tool.
Best Time Tracker Tools Summarized
Best for…
Type of tracking
Free plan?
Premium Starting Price (Monthly)
Time Doctor
Employers tracking remote teams
Manual or automatic

❌

$7 per user
Toggl
Individuals and teams
Manual or automatic (with desktop app)

✅

(generous)
$10 per user
Clockify
Individuals and teams
Manual or automatic

✅

(generous)
$4.99 per user
Harvest
Individuals and teams
Manual

✅

(2 projects)
$12 per user
Hours
Individuals
Manual

✅ (5 timers)

$9.99 per year
Timely
Individuals and teams
Automatic time tracking, with manual correction

❌

$11 per user
Hubstaff
Employers tracking remote teams
Manual or automatic

✅

(limited and only for solo users)
$7 per user
Tick
Individuals and teams
Manual

✅

(1 project)
$19 for 10 projects with unlimited users
Best time tracker apps compared:
Best for…time tracking for remote teams and businesses. Not for individuals.
Time Doctor helps you track time across your entire team and markets itself specifically as "Time Tracking for Remote Teams", which should give you a pretty good idea of who their target market is.
If you want to get more control over your remote team, it includes an option to automatically take screenshots to ensure everyone is on task.
And you can also view website and app usage to see what people spend their time on.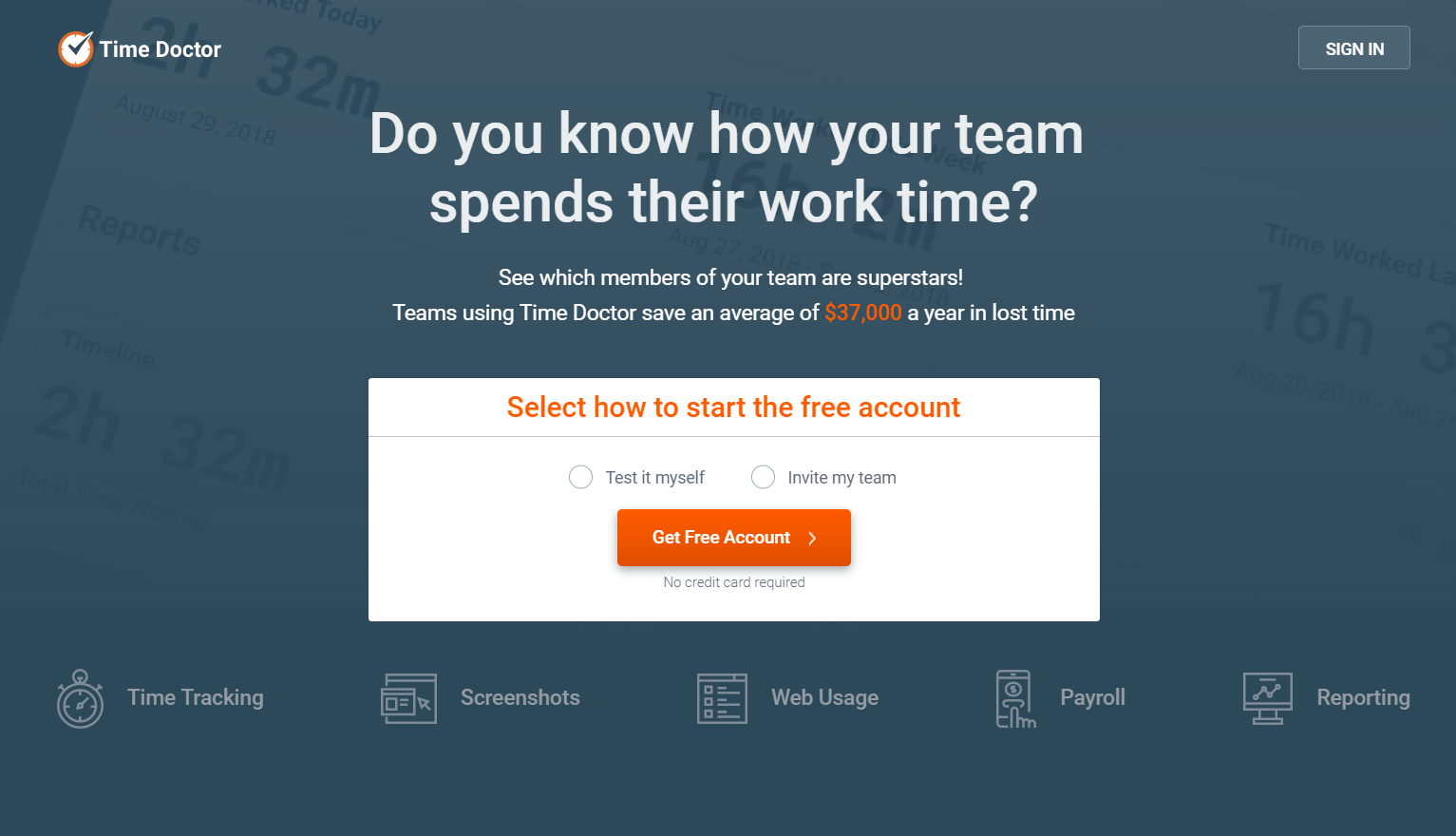 Then, when it's paycheck time, you can automatically calculate your payroll based on fixed salaries on hours tracked in Time Doctor and pay right away with PayPal, Payoneer, TransferWise, or other methods.
👍 What you'll like…
Detailed reports that let you drill-down by project, time use, attendance, wasted time, and more, making it a great employee time tracking app.
Lots of different integrations, especially with project management tools.
People consistently praise its ease of use.
👎 What you might not like…
You can't edit time from the desktop app directly – you have to log into the web app.
The "Are you still working?" nag can be annoying if you have legitimate reasons to be on social networks.
💸 Pricing
Time Doctor offers three premium plans, each with a 14-day free trial. You can use its Basic plan for $7 a user per month, Standard plan for $10 a user per month, or Premium plan for $20 a user per month.
Then if you choose annual billing, you'll get 2 months free each year.
Best for…Individuals and freelancers, though Toggl does have enterprise plans for teams, and can be a great employee time tracking app.
Toggl is a beautiful freemium time tracker app that gives you a great deal of flexibility for how you organize your tracking and stay focused while working.
It offers a simple time tracking interface that lets you assign tasks to projects and clients on-the-fly, including time-saving options that let you create new projects or clients without leaving your dashboard.
You can use it pretty much anywhere – it has a web interface, browser extensions, mobile apps, and even a desktop app.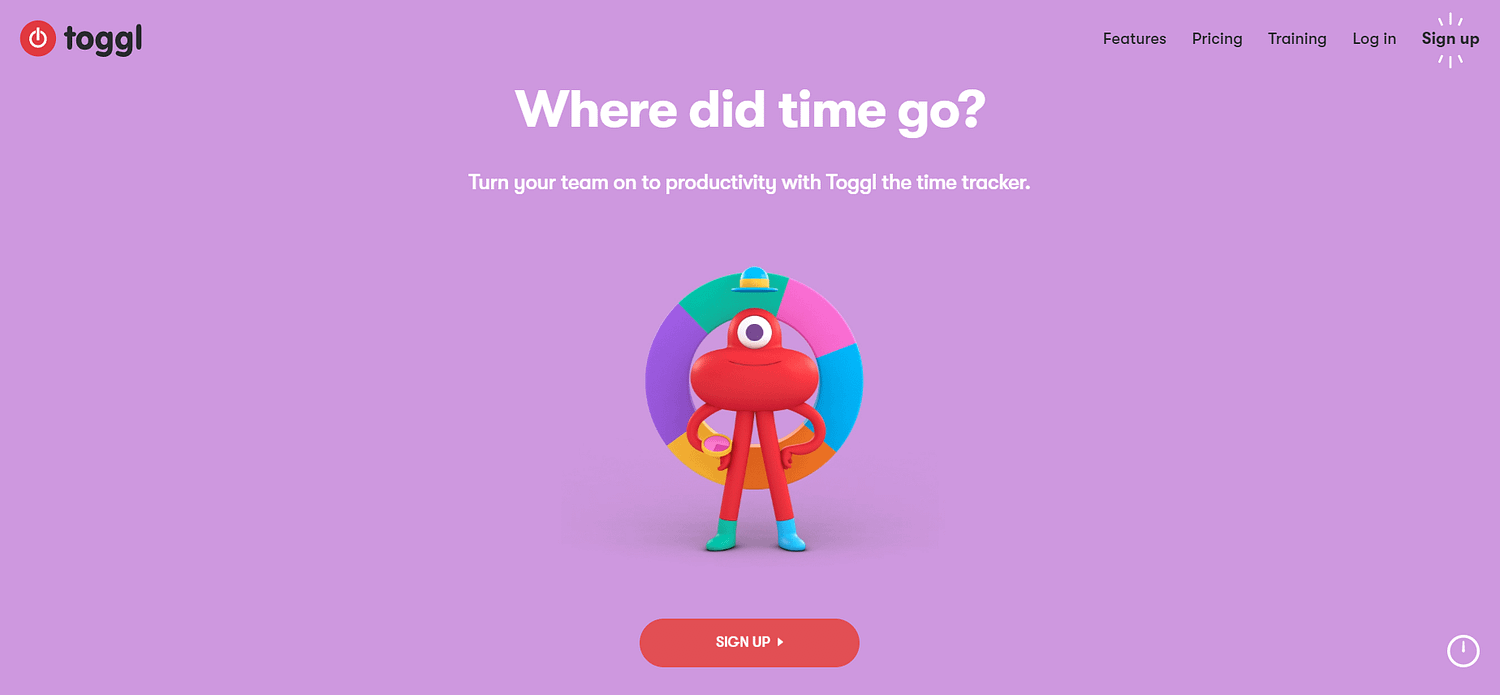 On the desktop app, you can automatically track certain activities and set reminders. With the other apps, you'll need to manually start/stop your timers.
To round things out, you get a great reporting invoice as well as 100+ integrations with other popular tools like Trello, Asana, and lots more.
👍 What you'll like…
Easy tagging by project and client. And creating new projects/tags only takes a couple seconds – no page reloads or clicking around required.
Detailed reporting functionality which helps you visualize where you spent your time or generate reports for clients. It also gives you flexible filters.
100+ integrations. For example, you can start a timer from inside a Trello card, or connect to a number of other tools.
👎 What you might not like…
No invoicing, though it does have integrations for third-party tools (I'm nitpicking here – I find very few flaws with Toggl)
The desktop app can be a bit clunky at times.
💸 Pricing
Toggl has a generous free plan, which individuals can probably get by with pretty comfortably. (n a personal note, I use the free plan with zero issues).
Paid plans start at $9 per user, per month (billed annually) and stretch to $20+, with the highest plan charging enterprises a custom rate to use the employee time tracking app.
Best for…Keeping tabs on the apps, websites, and files that remote teams are spending their time on during their project hours.  Not for teams whose tasks are not organized into projects.
Third on our list is Clockify.me, which is yet another free time tracker with generous freemium offerings for individuals and businesses of all sizes.
The free version allows you to individually track an unlimited number of employees across an unlimited volume of projects, all the while generating unlimited reports.
Your workers just need to access Clockify's time tracker through its web app, desktop app, or mobile app, and then start the timer as their shifts begin. This sets off the system to monitor their device activities from the background, upon which it proceeds to log the time they spend on specific tasks and projects – based on the websites, apps, and documents accessed.
You'll also find Clockify to be particularly handy for managing remote teams, as it comes with GPS tracking capabilities that reveal where your team members are during work hours. There's even a force timer feature here that bars them from manually interfering with the time tracking.
Other supplementary features include idle detection, scheduled screenshots, time-off management, invoicing, timer reminder, pomodoro timer, and payroll management
👍 What you'll like…
It's quite generous with its free package. You won't have any limitations on the number of projects, users, reports, and apps.
It's easily accessible through the web, desktop, and mobile apps. This allows your workers to log in from all types of devices.
Screenshots and GPS tracking, which should help you keep tabs on your remote workers.
Built-in payroll management, invoicing, time-off management, and force timer – which work hand-in-hand with its integrations for QuickBooks, Google Calendars, Zapier, and CRM systems.
👎 What you might not like…
The time tracker is project-focused. That means it might not be the best for tracking repetitive work duties that are not tied to specific projects.
It's not a plug-and-play system. You have to pre-configure projects for the time tracking to proceed smoothly.
💸 Pricing
Clockify's free plan gives you basic tools for tracking the time spent on tasks and projects. Plus, it offers integrations with third-party apps such as Asana, Trello, HubSpot, Freshdesk, Basecamp, and Zapier.
Beyond that, if you ever need to enable timesheet management, GPS tracking, payroll management, QuickBooks integration, screenshots, and other advanced functionalities, an upgrade costs between $3.99 and $14.99 per user, per month.
Best for…freelancers and teams who like the idea of built-in support for invoicing, billable hours, expense tracking, and other accounting features that a good employee time tracking app should have.
Harvest is a time tracker…with a little more added on. Beyond the simple time tracking, it also helps you track:
And Harvest also supports invoicing, including an option to turn billable hours into invoices. One especially great thing about Harvest's invoicing is that it supports PayPal Business Payments at a flat rate of $0.50 per transaction (if you have a USA bank account).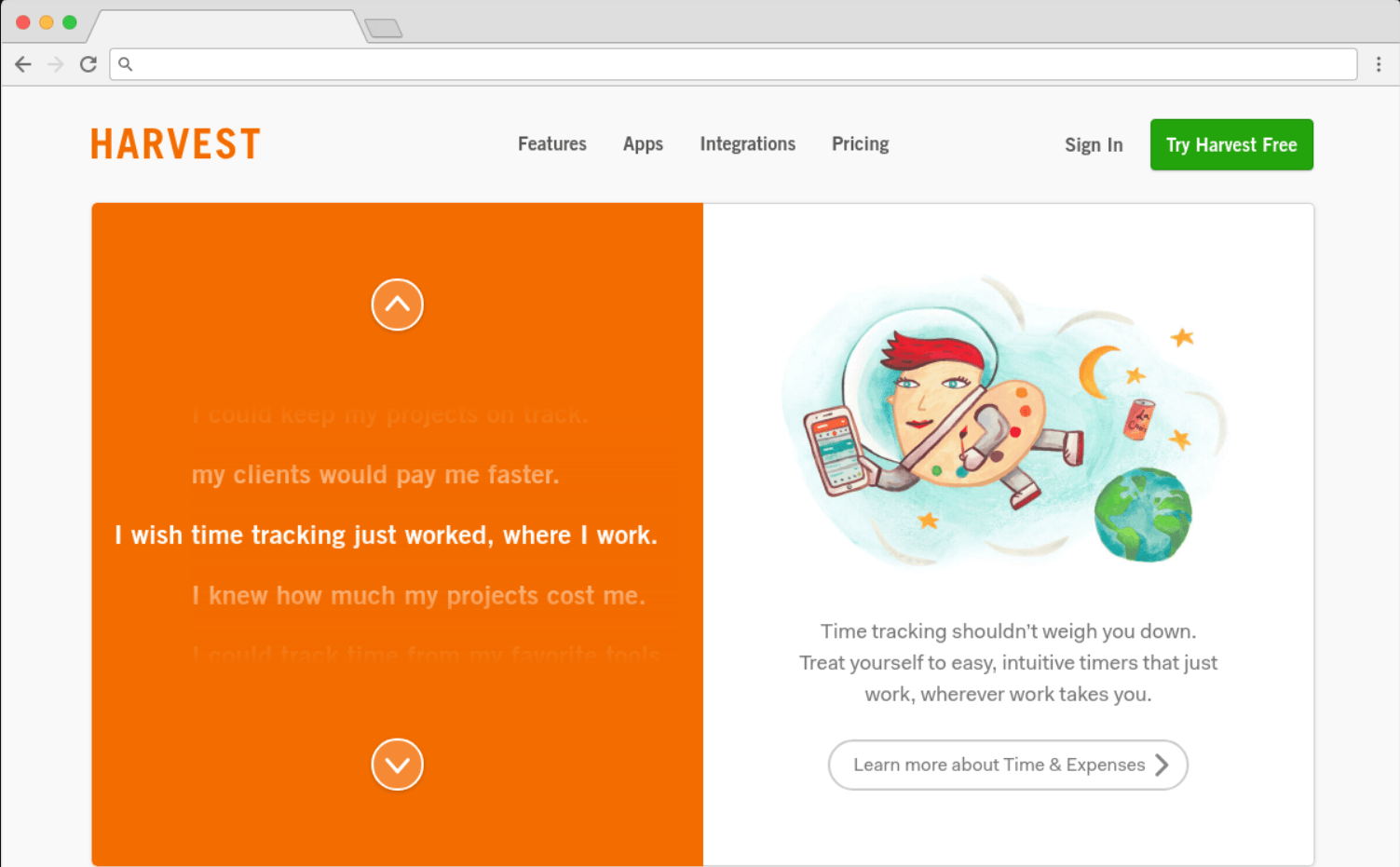 👍 What you'll like…
Built-in invoicing, including support for PayPal Business Payments at a flat rate of $0.50 per transaction (an awesome option for USA-based people).
Lots of integrations with tools, including project management, invoicing, CRM, customer support, developer tools, and more.
Can track time with web apps, browser extensions, desktop apps, and mobile apps.
Built-in expense tracking, including receipt scanning
👎 What you might not like…
The interface isn't as pretty as the other apps (this is kind of nitpicky because it doesn't affect the functionality – but using something beautiful makes life more fun).
Creating new projects takes more clicks and page reloads than other tools, which isn't great for freelancers who might need to create lots of projects.
The reports interface isn't as flexible as other tools, though it should be fine for most uses.
💸 Pricing
Harvest has a free plan that lets individuals create up to 2 projects.
Beyond that, you'll get unlimited projects on the Pro plan, which starts at $10.80 per user, per month.
Best for…individuals who just want simple time tracking in a gorgeous interface (Hours does include a Team function, but it's not as in-depth as other tools).
Hours has one of the nicest interfaces I've seen in a time tracker. It might even be better than Toggl!
You can start and stop timers as needed using that gorgeous interface. And it also has this really helpful Timeline feature that lets you quickly fill in gaps in your time tracking to fully account for your day.
The Reports interface is just as well designed and also gives you a good number of filters to slice-and-dice your reports as needed.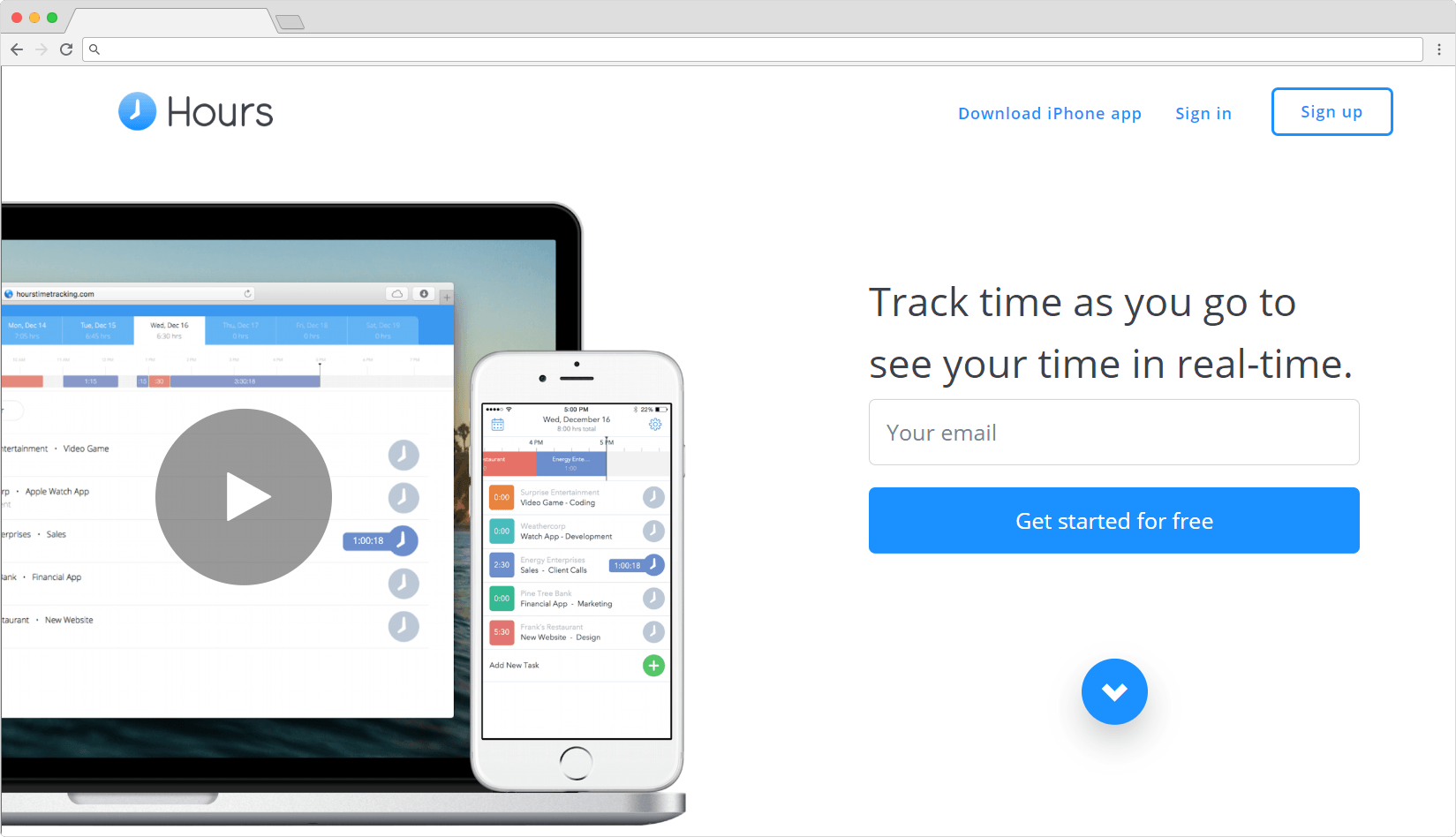 Hours is still a little young, though, and is only available via its website, plus Android and iOS apps – which don't offer as much coverage as most of the other time tracker tools.
👍 What you'll like…
The Timeline function makes it easy to fill in gaps, like when you forgot to start a timer or need to track an offline event without the mobile app.
The interface looks gorgeous and has stellar UI/UX.
👎 What you might not like…
If you need to create different projects every day, the interface isn't quite as streamlined as Toggl.
It can only be accessed through its web, iOS, and Android apps – which might be limiting when you're working with a large team.
💸 Pricing
Hours has a forever-free plan that supports up to 5 timers. If you'd otherwise want more, its Personal plan accommodates unlimited timers for $9.99 per year, Pro plan adds invoicing and web access for $49 a year, while Teams plan unlocks team features for $199 per year (but for just 5 users).
Best for…individuals and teams who specifically want an automatic time tracker.
Timely's unique selling proposition is its automatic time tracking
Automatic time tracking can be a finicky thing, so here's how Timely does it:
First, Timely records all your activity and groups it together based on what you've been doing
Then, it suggests a label and tags based on what it thinks you did.
You can either accept Timely's suggestion, manually edit it, or discard the time entry completely.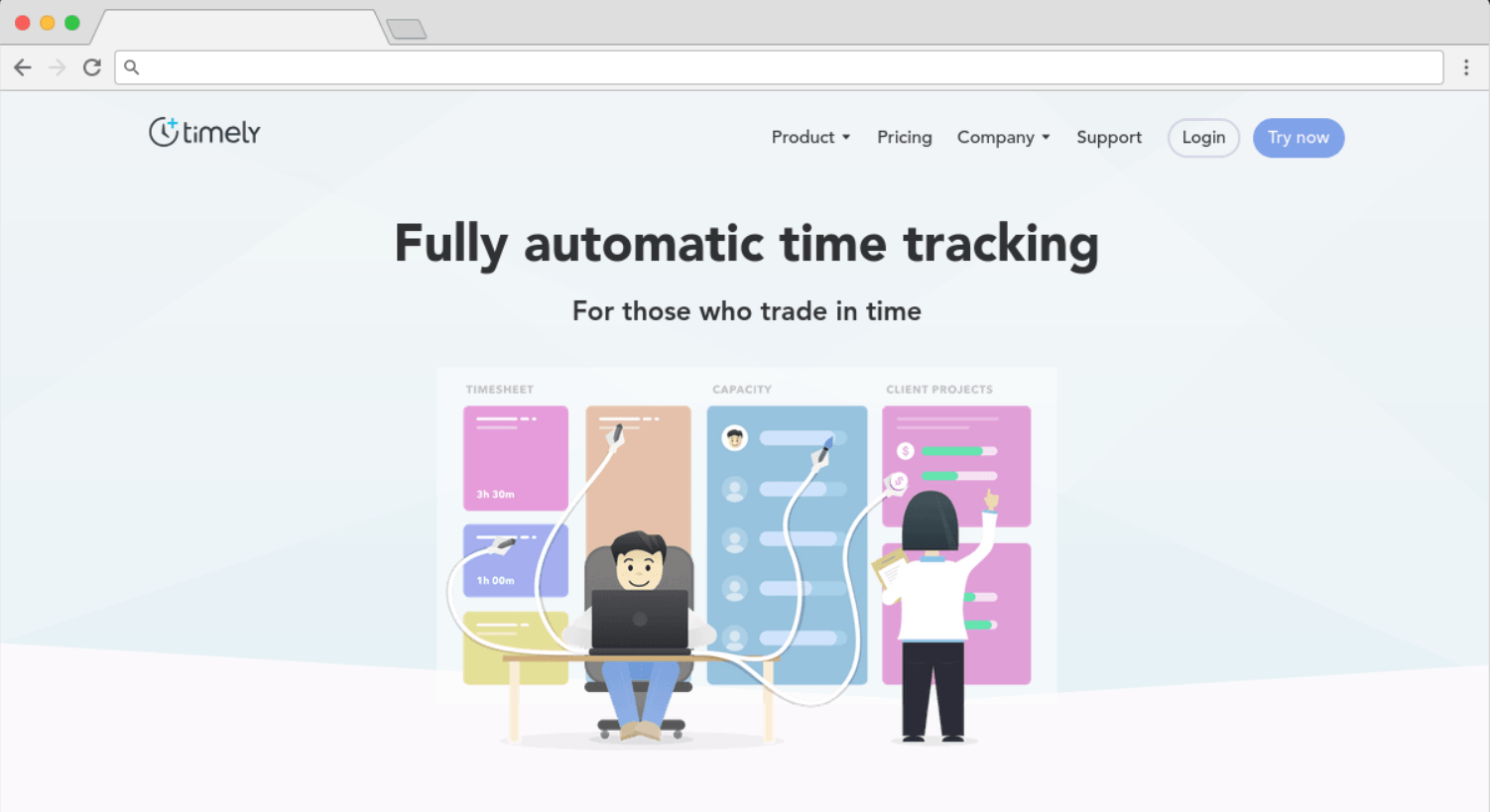 Now, here's the cool thing…
Every time you manually edit a time entry, you're training Timely to improve in the future.
Basically, it's not stupid. It learns from your edits to make more accurate suggestions in the future.
It's not for everyone – for example, most of my day is spent exclusively in Google Docs, so it's difficult for me to train something to automatically track all my different clients/projects when I'm using the same website all day.
But if you're doing different tasks – the automatic time tracking is pretty neat.
👍 What you'll like…
Automatic time tracking. You already saw it above. It can save you time, make sure you don't miss hours, and keep you on track. It's also a nice feature if you want an employee time tracking app that would tell you what your people have been doing throughout the day.
There's a built-in Project Health Dashboard that helps you control billable hours to make sure you, or your entire team, don't go over budget.
The team dashboard also gives you insights into the productivity of your entire team.
👎 What you might not like…
In some unique situations (e.g. you work exclusively on Google Docs all day), it might be hard for the automatic time tracking to work effectively. I actually prefer manual time tracking, and I'm sure I'm not the only one.
There's no free plan.
💸 Pricing
The least you can pay here is $9 a month per user for the Starter plan, which supports up to 50 projects and 3 teams.  Then if you ever need an upgrade, Timely's Premium plan will grant you unlimited projects and teams for $16 a month per user, while the alternative Unlimited plan charges at least $22 per month, per user.
Best for…time tracking for remote teams and businesses, making it good as an employee time tracking app. Not for individuals.
Like Time Doctor, Hubstaff is more geared towards employers who want to monitor and track their employees' time.
Hubstaff works as either a desktop or mobile app, including support for smaller operating systems like Chromebooks and Linux.
If you want to really monitor your team, you can:
Take up to 3 random screenshots per 10-minute period (or disable this feature if desired)
Track mouse movements and keyboard clicks
Monitor Internet and application usage, including a chart of time spent at every website/app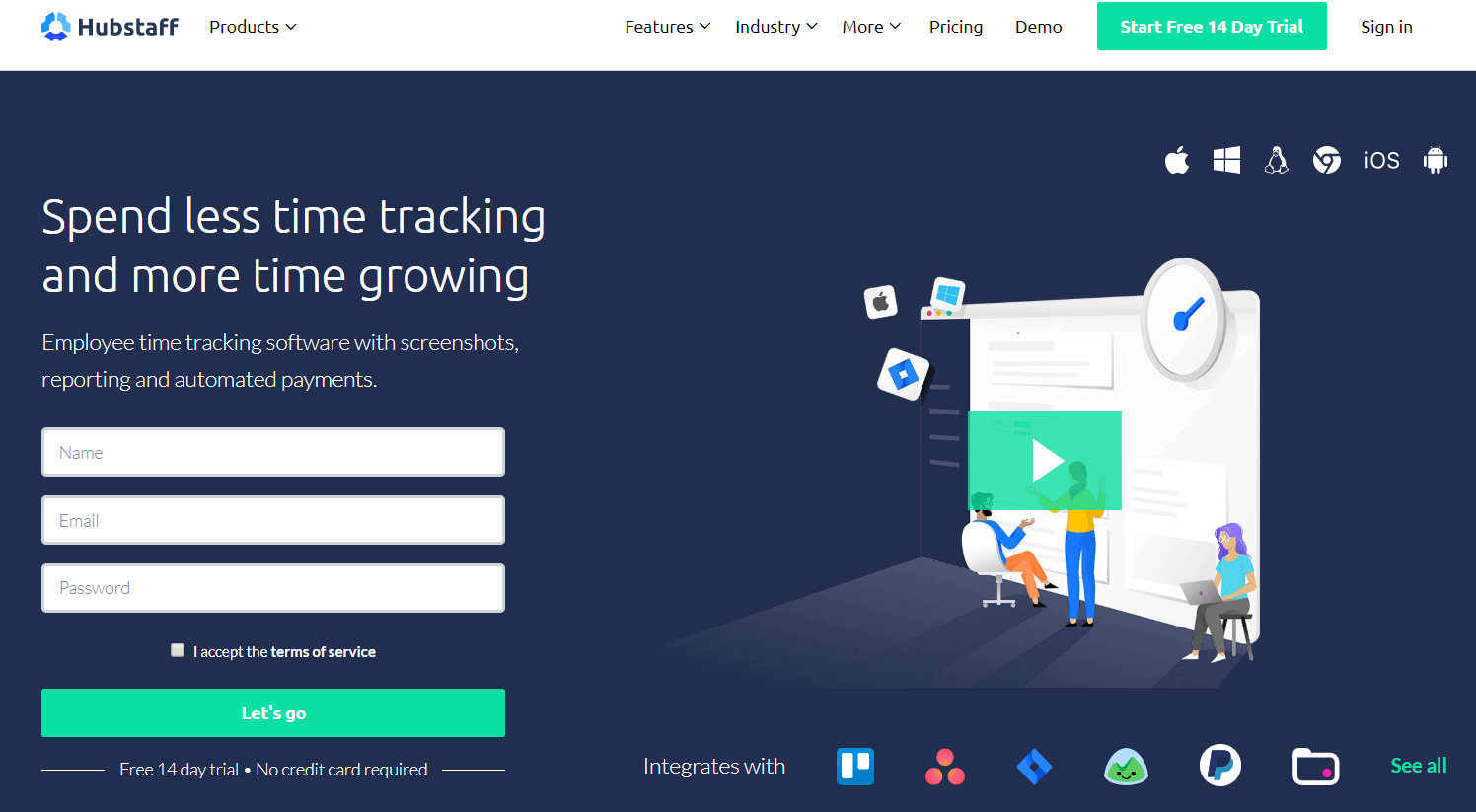 Then, once you have all the data for your team, Hubstaff can automatically calculate payroll, including automatic payments via PayPal, Payoneer, or Bitwage.
👍 What you'll like…
You can create multiple separate organizations, each with its own employees and projects.
Hubstaff supports both manual and automatic time tracking, including whether or not team members can manually create entries.
👎 What you might not like…
Some people report weird automatic starts/stops.
UI is a bit dated in spots, especially with the desktop app.
💸 Pricing
Hubstaff has a limited free solo plan. Paid team plans start at $5.83 per user, per month and go up to $10 or $20 per user, per month for more integrations, automatic payroll, and other features.
Best for…larger teams who are put off by the "per user" pricing of other tools and would prefer their employee time tracking app to be less restrictive in terms of users on board.
Tick's billing structure is one of the most unique things about this time tracker. Whereas every other tool charges you "per user" for team plans, Tick charges per "project", with each plan supporting unlimited users.
Depending on how many projects you work on, that might mean significant cost savings, especially for larger teams.
The actual interface is pretty basic – it sets you up with projects and tasks that you can track either with real-time, or by manually entering data once you're finished.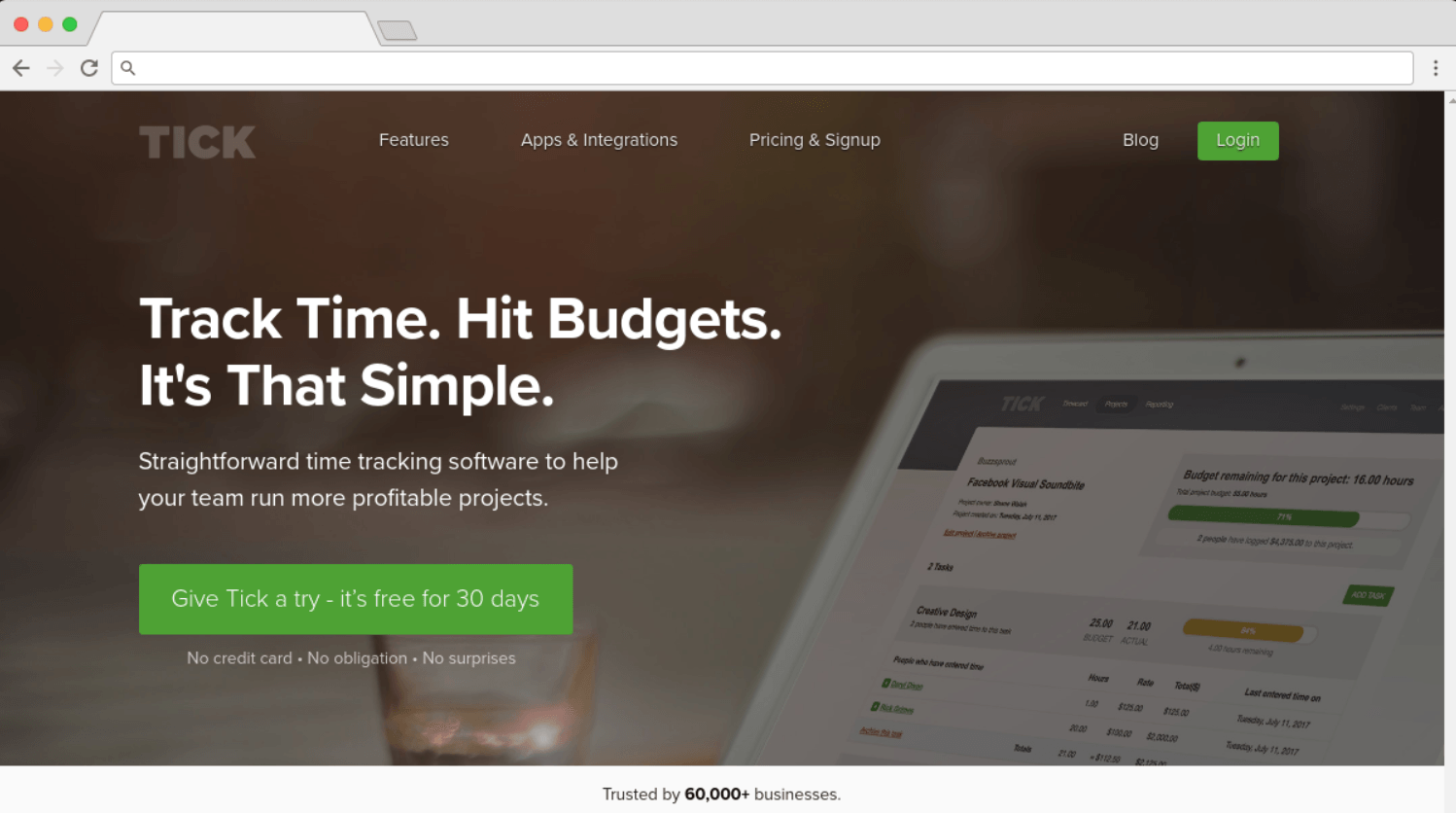 Then, you can view your tracking in custom reports that let you drill-down by:
Client
Team member
Billable vs non-billable hours
👍 What you'll like…
The pricing strategy is attractive for large teams that don't work on a ton of projects.
Can set a "time budget" per project to help you stay on track.
👎 What you might not like…
Its interface isn't as nice as most of the other tools.
You have to set up tasks in each project's interface – you can't create them on the fly. This makes creating new tasks for a project take longer than necessary.
💸 Pricing
Remember – all these plans support unlimited team members (even the free plan). The plans are:
1 project – free
10 projects – $19 per month
30 projects – $49 per month
60 projects – $79 per month
Unlimited projects – $149 per month
Archived projects do not count against your limits.
Which employee time tracking app should you use? 🤔
Well, obviously, this one depends heavily on your needs and workflows. As such, it's impossible to conclusively point out the best time tracker for everyone.
That notwithstanding, though, here are a couple of suggestions, starting with the actual time tracking tools that I and the CodeinWP team use.
I'm a solo freelancer, so my needs are different from the CodeinWP team as a whole.
Personally, I use Toggl to manage all my freelance projects because I found its interface to be the most streamlined. The Toggl team has done a great job of making every relevant action accessible right from a single screen – I love that I never have to waste time navigating to other areas. The only time I ever leave that unified screen is when I need to generate a report.
On the other hand, the CodeinWP team uses Time Doctor because they're a remote team who needs to be able to track projects together.
Beyond that, Timely offers a unique approach with a heavy focus on automatic tracking and learning. Hubstaff might potentially be cheaper than TimeDoctor, especially for larger remote teams. And Tick offers a unique pricing approach that can make it really affordable for collaborative teams, even if I'm not personally a fan of its interface.
Here's the best thing, though:
All of these tools offer either free plans or free trials. So, you can freely play around with them and see which time tracker works best for you and/or your team's workflows.
Otherwise, for more on how you could improve your productivity, you can go on and check out this other article: Tips on How to Work From Home (And Stay Sane).
…
Don't forget to join our crash course on speeding up your WordPress site. Learn more below:
Layout and presentation by Karol K.
* This post contains affiliate links, which means that if you click on one of the product links and then purchase the product, we'll receive a small commission. No worries though, you'll still pay the standard amount so there's no additional cost on your part.