Video is a great tool for businesses that are keen on brand building and customer engagement in 2023. In fact, one source puts video as the leading source of information for 66% of people [1]. Of course, if you hope to benefit from the broad appeal of video content, the crucial thing is to work with the best streaming video provider that you can afford.
A quality streaming video provider will guarantee reliable video delivery, monetization options, analytics, and more. Here are the factors that matter when choosing such a provider: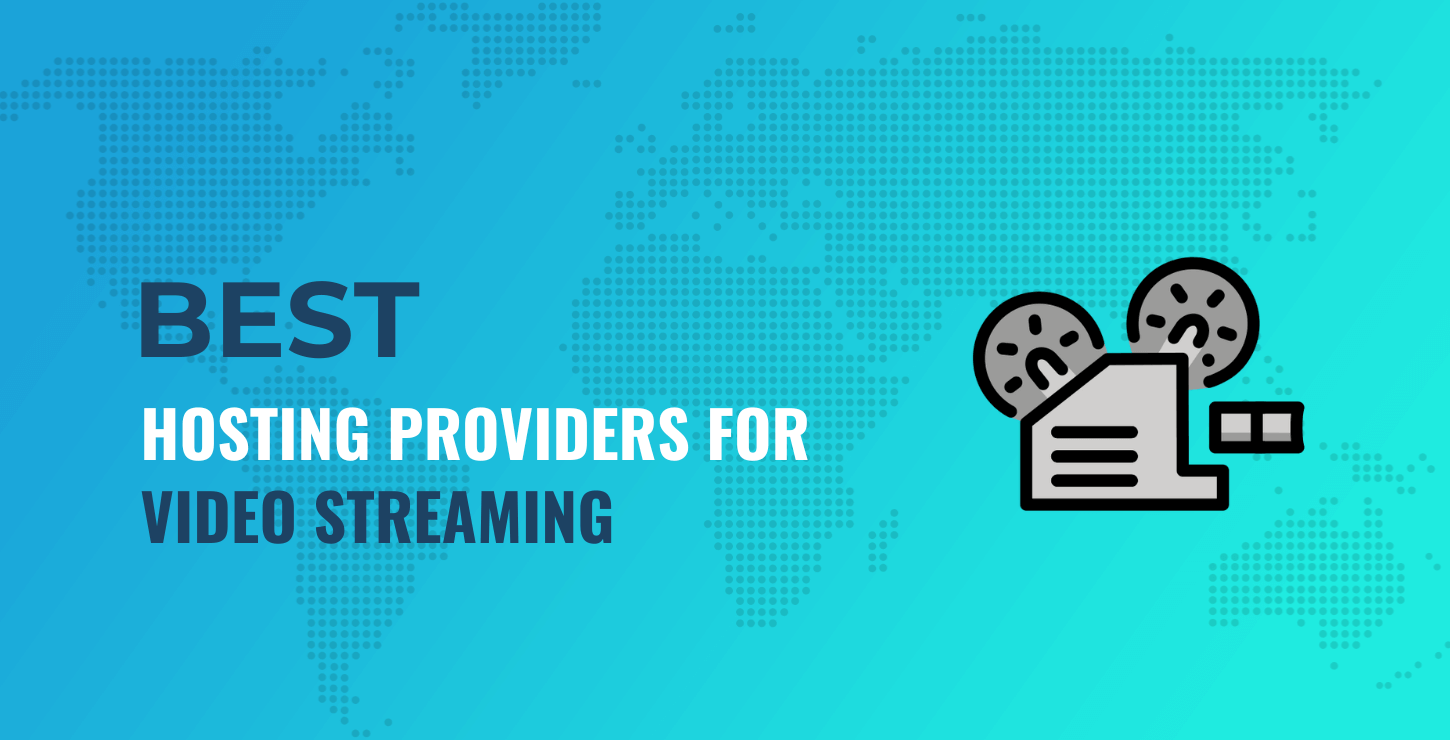 Sufficient storage – you don't want to be limited by low storage allowance. It would put a hard cap on how many videos you can host and of what quality.
Video upload specifications – min and max dimensions, file size and types, aspect ratio, video length and total file storage.
Bandwidth – high bandwidth with flawless adaptive streaming. This detects end user's internet connection and broadcasts the optimum quality.
Transcoding into different file formats – to suit different bandwidths and playback devices.
In-built video CMS – allows to store and access videos securely.
API – to integrate third party tools and programs.
Customization options – option to customize your HTML video player and embed the live stream directly on your website or social media channels.
Monetization options – options to monetize your video library in multiple ways.
Data security – that allows secure upload and transmission. This includes password protection, domain restrictions, geographical restrictions, and digital rights management.
Lead generation, video analytics, and video SEO. Also, features to enhance conversion like in-video CTAs.
While choosing a video streaming provider, do remember that you have more control over your video content with the paid services.
👉 On to our list of best video streaming providers:
Best streaming video providers of 2023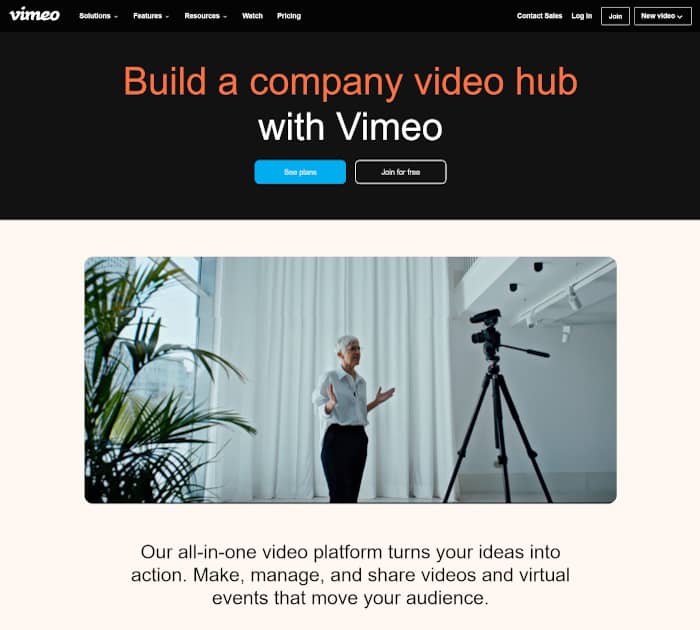 Vimeo is a professional, ad-free video platform to create and promote branded videos. Using licensed stock footage and thousands of professionally designed templates, you can create ads, campaigns, training material or any other video.
⚙️ Key features:
A video library to organize and share videos, with privacy and sharing settings.
Video player that supports 4K, HDR and Dolby vision.
In-video CTAs, overlays and shoppable hotspots, or custom forms for lead capture.
An option to conduct virtual events and webinars with features to generate leads like attendee registration, live Q&As, polls and chats.
Options to earn revenue from pay-per-view, video-on-demand, subscriptions, events, online classes, premium video websites, coupons and gifts. You can collect payment in 100+ currencies from around the world.
Built-in review tools for consolidating feedback.
A video analytics dashboard to measure social engagement, to track views, social analytics and video SEO.
💰 Pricing:
Vimeo has a free plan, with a free trial for their premium packages (billed annually). The Starter Plan ($12/seat/month) is a toolkit that helps you make, manage and share videos. The Standard Plan ($35/seat/month) is the better option if you need video marketing and customization features. If you're looking at live streaming, virtual events and marketing integrations, the Advanced Plan ($55/seat/month) is a good fit.
Cincopa is an enterprise-grade digital asset management platform to centrally manage all your videos seamlessly. It allows you to create workspaces and channels per department. Viewers can access your content by simply visiting the website and interacting with it.
⚙️ Key features:
Hundreds of video templates and essential on-video features such as auto transcription, and special features for online courses. It's possible to instantly create and upload using Chrome extension.
An option to host live events and webinars. You can engage viewers with chat, and pre- and post-roll advertisements.
A possibility to share anything, anywhere, at any time via site-embedding, dedicated webpage, livestream, stream on TV/devices.
Completely secure video hosting and streaming with multi-layer security and encryption.
Permission settings to secure proprietary content, manage preferences and prevent screen recording.
Advanced analytics to track user behavior and restrict specific users from viewing/commenting.
💰 Pricing:
You are offered 30 days of free trial, beyond which you pay for only the features you need. Monthly rates (billed annually) start with the Custom Plan at $249 for online courses and $650 for enterprise solution. Other plans include Plus at $25 to start hosting and managing videos, Corporate at $99 for small teams and Enterprise at $350 for online courses and enterprises requiring advanced management solutions.
Dacast is another video streaming provider who offers an easy way to host, manage, broadcast and analyze your videos with complete security. Its immersive videos and embedded video galleries can turn your website into a destination from any location.
⚙️ Key features:
Intuitive dashboard, API and advanced developer tools to integrate with your own digital media workflow.
HD quality broadcast with multi bitrate technology, flawless live streaming with top-tier CDNs.
An option to capture and record live stream content, with low latency to provide real-time coverage.
A possibility to add live captions, images, PDF and sub-titles to livestream content. You can auto-archive livestream for on-demand playback.
Customizable, white label, all-device HTML5 player.
Multiple monetization options, and advanced paywall built right into the player.
Comprehensive security features to share content with preferred audiences.
Password protection, video encryption and dynamic token security for added protection.
Real time advanced analytics with Google Analytics integration.
💰 Pricing:
There are 14 days of free trial. All plans (billed annually) include unlimited livestreams to unlimited concurrent users, with live countdown. Starter ($39/month) for small audiences, Event ($63/month) for occasional or one time use, Scale ($188/month) for business and organizations, and Custom for high volume needs.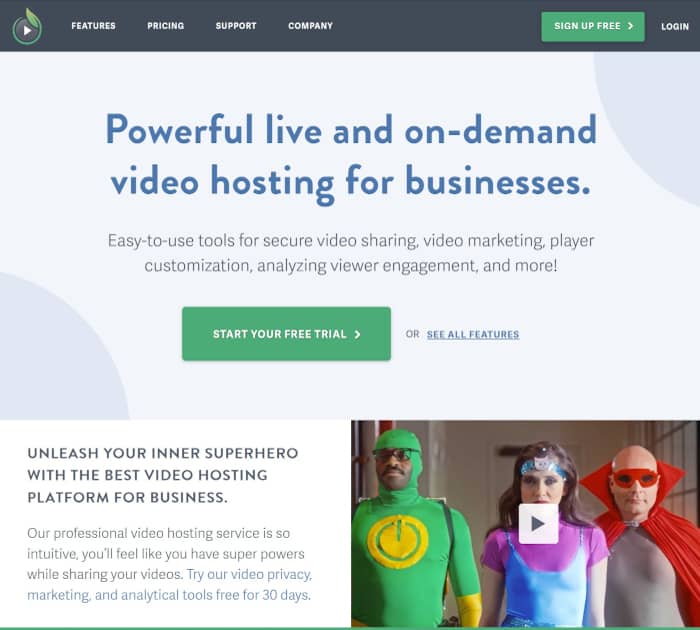 SproutVideo offers a full suite of features for video marketing. Every plan includes lead capture, social sharing, custom post-play screens, marketing platform integrations, and video SEO tools. What sets SproutVideo apart is the package of video privacy tools for secure sharing, particularly useful for private membership websites.
⚙️ Key features:
A possibility to create professionally designed video websites using flexible themes and intuitive theme editor to customize.
An option to launch a one-click video hub with custom pages, themes, comments, and integrations.
Customizable and brandable video landing pages.
Custom player to host videos and livestreams, make animated thumbnails and players.
UltraHD and adaptive bitrate streaming, global CDNs.
Built-in marketing tools that include in-player CTAs, customizable lead-capture tools, email embed codes to increase CTR and post play screens.
A possibility to analyze video performance using heatmaps and by measuring, tracking, and analyzing viewer activity.
Password protection, login protection, 2FA, whitelist domains and video access log to secure your videos.
💰 Pricing:
You can start with a 30 day free trial and switch to one of the four paid plans thereafter: Seed, Sprout, Tree or Forest. The monthly rates for these plans are $24.99, $59.99, $199.99 and $499 respectively. Single sign-on, data export and geo-restriction are features available only in the higher plans.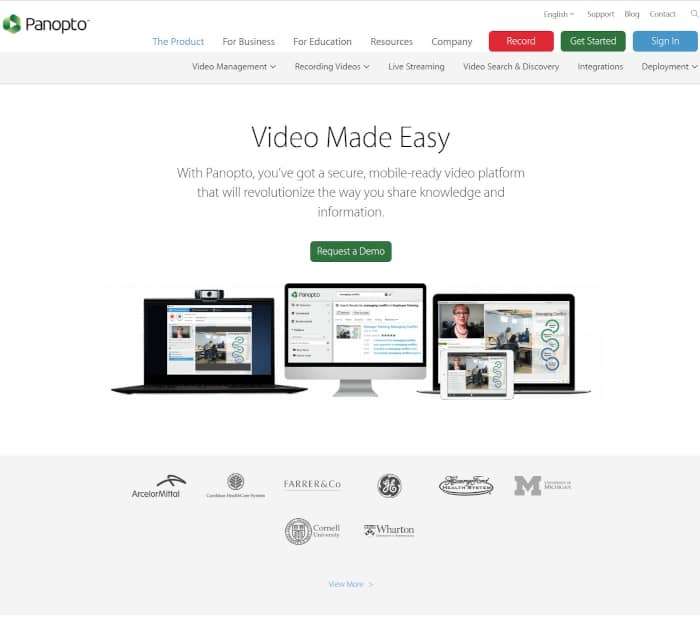 Panopto is suitable for helping universities create searchable libraries of their institutional knowledge. The search and playback facility puts a virtual classroom at the students' fingertips. Businesses can adapt these features to suit their needs as well.
⚙️ Key features:
Support of every file format with no limitation on size, formatting every video for optimal playback on any device. Video CMS to store and manage videos securely, at scale.
Integration with existing technology, including your company portal, LMS and SSO ID management solutions.
Unique in-video navigation with contents tables and visual thumbnails, video tagging and captioning for greater visibility.
Interactive video players that improve comprehension, retention and reinforcement of understanding concepts.
One-click webcasting feature to live stream video.
An option to share videos from multiple screens or locations. Panopto automatically syncs all content, without need for any post production.
Live captioning and live DVR controls for pause, rewind, replay and catch up with livestream. Viewers can pass digital notes and comments, participate in live Q&A and record simultaneously for playback.
Detailed analytics for every video covering user engagement and drop-off rates.
💰 Pricing:
It's free for individuals with five hours of video storage and 100 hours streaming a month. Beyond that, you can graduate to Panopto Pro at $14.99/month or request a quote under the Enterprise option. The Enterprise plan includes the most live streaming and security features.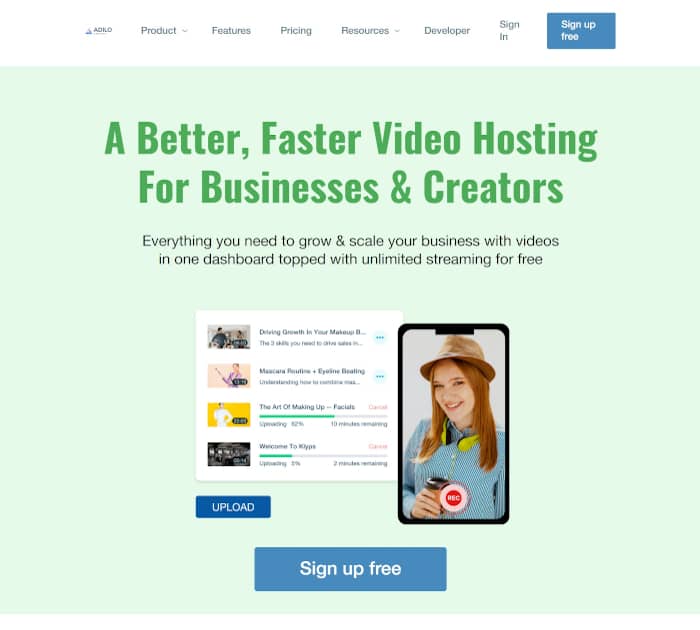 Adilo has all you need to create, grow and scale your business using videos. What makes it really attractive is its free forever plan with unlimited streaming that offers access to all major features. You'll need to look at paid plans only if you exceed 5GB storage and 25GB monthly bandwidth, need custom branding and a few high end features.
⚙️ Key features:
Cloud encoding and bulk upload of videos. You can create playlists for better viewer engagement.
AI subtitles with 99% accuracy and translation into 31 other languages.
Adaptive bitrate streaming over high speed delivery network, Chromecast and AirPlay.
A possibility to earn revenue by enabling gifting, collecting subscriptions and card based power selling tools in your channels.
Video email embeds, video landing pages, in-video CTAs, content scheduler to drip feed videos.
A/B video split testing, tracking of viewer behavior, one click advanced SEO.
Secure premium content with anti-piracy encryption, dynamic watermarking, regional whitelisting and video privacy tools like password protection and private link only access.
💰 Pricing:
Beyond the free forever plan, there's simple pricing that scales with your storage requirements. Creator at $29/month to take videos to the next level, Growth at $49/month to grow your business with powerful video marketing tools, and Business at $99/month for enterprise level organizations.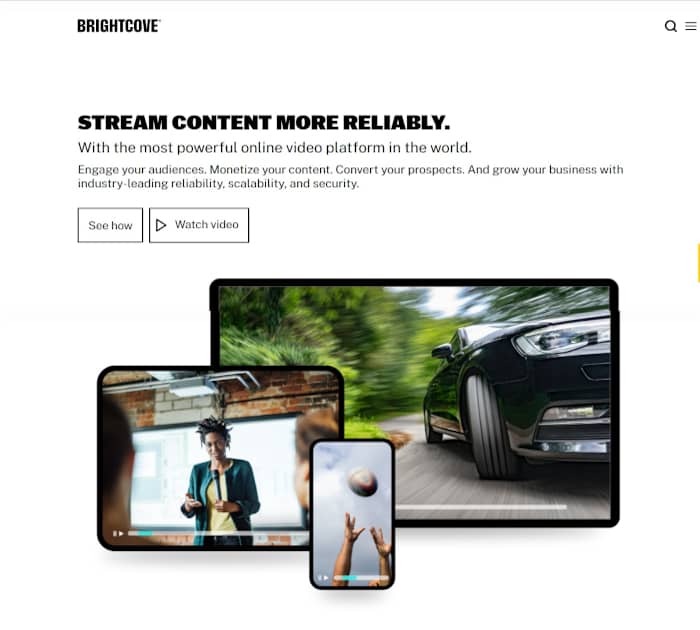 Brightcove offers a single platform for content management that allows you to publish live or on-demand videos to your website, devices, social channels and other syndication channels with 99.99% uptime. It's scalable and designed to support all video use cases. Brightcove's video compression technology saves on storage and delivery costs.
⚙️ Key features:
Easy-to-manage video library with convenient features like batch editing and drag-and-drop playlist.
Built with mobiles in mind, with video-encoding, smart device detection and optimizations.
Flexible monetization models to maximize revenue, delivery to 175 countries.
Customized live events with Q&A, polling, live chat and interactive sessions.
"Simulive" using pre-recorded content to deliver flawless virtual events.
Automated SEO optimization, clip-and-publish directly to social channels.
Interactive features like shoppable video, call to action and surveys.
Effective protection including watermarking and digital management rights.
Brightcove Audience Insights technology that gives unified view of video data and uncovers audience behavior by segments.
💰 Pricing:
Brightcove has distinct packages for Marketing and Enterprise with two-three plans under each: Starter, Professional and Enterprise level. Price details are not posted on the website, though reports put it at anywhere between $200 – $500 a month.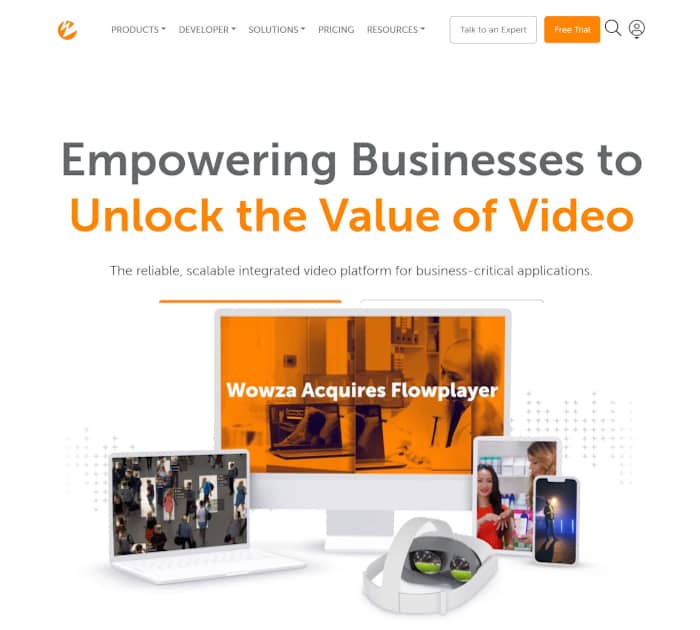 Wowza offers real-time video streaming with near-to-zero latency to global audiences. It sells in two ways – the software and the services.
⚙️ Key features:
Video CMS to streamline management of large video libraries, fully integrated live recording.
Fine grained control over format, video quality and delivery options.
Online streaming player that integrates with web, mobile, set top box, smart TVs to deliver high quality video playback.
Advanced features to configure user experience for ad insertion, security, virtual reality and more.
Simplified global streaming with transcoding, delivery, playback and cloud control. You can stream multiple events simultaneously or deliver to multiple destinations.
Scaling instantly to a million viewers to deliver smooth viewing experiences. HD and UHD broadcasting with no caps on bitrate or resolution.
Real-time analytics on infrastructure performance, stream health and viewer behavior for optimizing costs.
💰 Pricing:
You are able to purchase either the software itself or a services package. Software starts at $149/month billed annually and fetches you 15 streaming hours and 500 viewing hours in 30 days. Services start at $25/month billed annually, allowing you to start building and scale as needed.
Swarmify is a video acceleration company who offers their Netflix-level streaming with a patented delivery system. It packs in instant-start and buffer-free playback, with unlimited bandwidth, encoding, and storage. It helps small businesses move away from slow videos thus reducing bounce rates.
⚙️ Key features:
SmartVideo for creating professional videos simply. It also auto-imports all your videos from YouTube/Amazon/WordPress/Vimeo using copy/paste of snippets.
A possibility to replace videos embedded elsewhere with SmartVideo's HTML tag.
Storing videos on a global delivery network and serving them with accelerated playback technology.
Optimized encoding for all devices, and clean, professional-grade, customizable and distraction-free players.
SmartVideo for playing 12x times faster than other players on average.
Continuous monitoring of individual viewer experience and prevention of glitches.
Simple installation on WordPress, Squarespace, Shopify, Divi and BeaverBuilder.
💰 Pricing:
Swarmify offers pricing based on number of views (not bandwidth). You can purchase Small Business with moderate traffic at $59/month and Pro at $119/month (billed annually).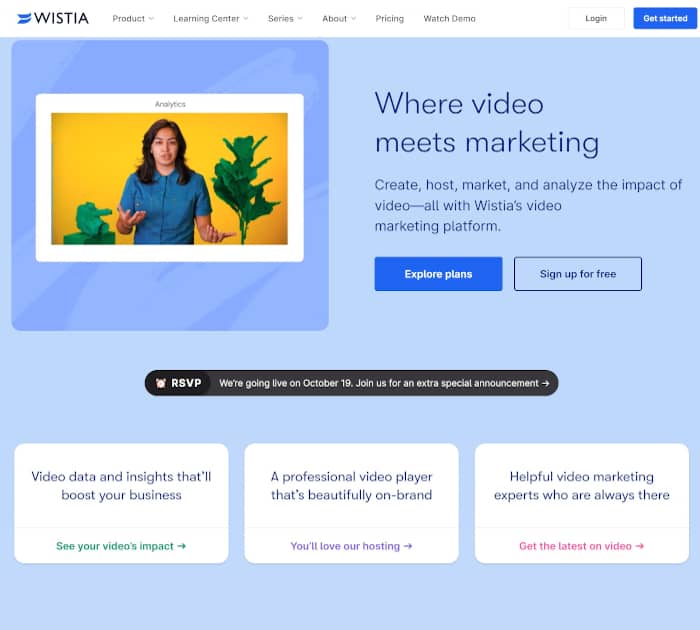 Wistia is a streaming video provider who offers an easy way to create, host, market and analyze the impact of your videos. What gives Wistia users an edge is lead collection from engaged viewers. It lets you see exactly how your visitors interact with your videos.
⚙️ Key features:
An option to record videos right from your browser and export them to Wistia for embedding with code snippets and sharing.
Custom video player that supports high resolution videos and adaptive streaming.
Team collaboration that allows sharing of videos internally and marking them as private.
Channels to convert webinars and other videos into lead generating video experiences.
Video engagement tools and lead capture that integrates with your CRM.
Built-in social sharing by posting to social networks as well as within the player.
Detailed video analytics, video sitemaps, video SEO and native Facebook/Google integration.
💰 Pricing:
It's free for up to 10 videos with Wistia branding, there is also a free trial for other plans (billed annually). You can purchase Plus at $19/month for 20 videos and basic lead capture, Pro at $79/month to offer actionable insights on performance and Advanced at $319/month to optimize video strategy and include marketing integrations.
Have your best streaming video provider?
In this post, we've attempted to zero in on the best streaming video provider(s) on the market. Selecting one for your organization depends mostly on the unique needs of your business.
🎬 Here are some ideas to get you started:
What are your thoughts on choosing the best streaming video provider? Let us know in the comments section below!
…
Don't forget to join our crash course on speeding up your WordPress site. Learn more below: