You're not into Spotify that much? Or, maybe you simply find it too expensive? You have many options to choose from. For instance, you can start with our recommendations of Spotify alternatives. We put a good amount of time into selecting the best music services for this post, so read on to see for yourself.
Whatever your reasons might be for not enjoying the Spotify experience, there's a real chance that the tools you'll discover here will compensate for what's missing. Let's see what they have in store for you!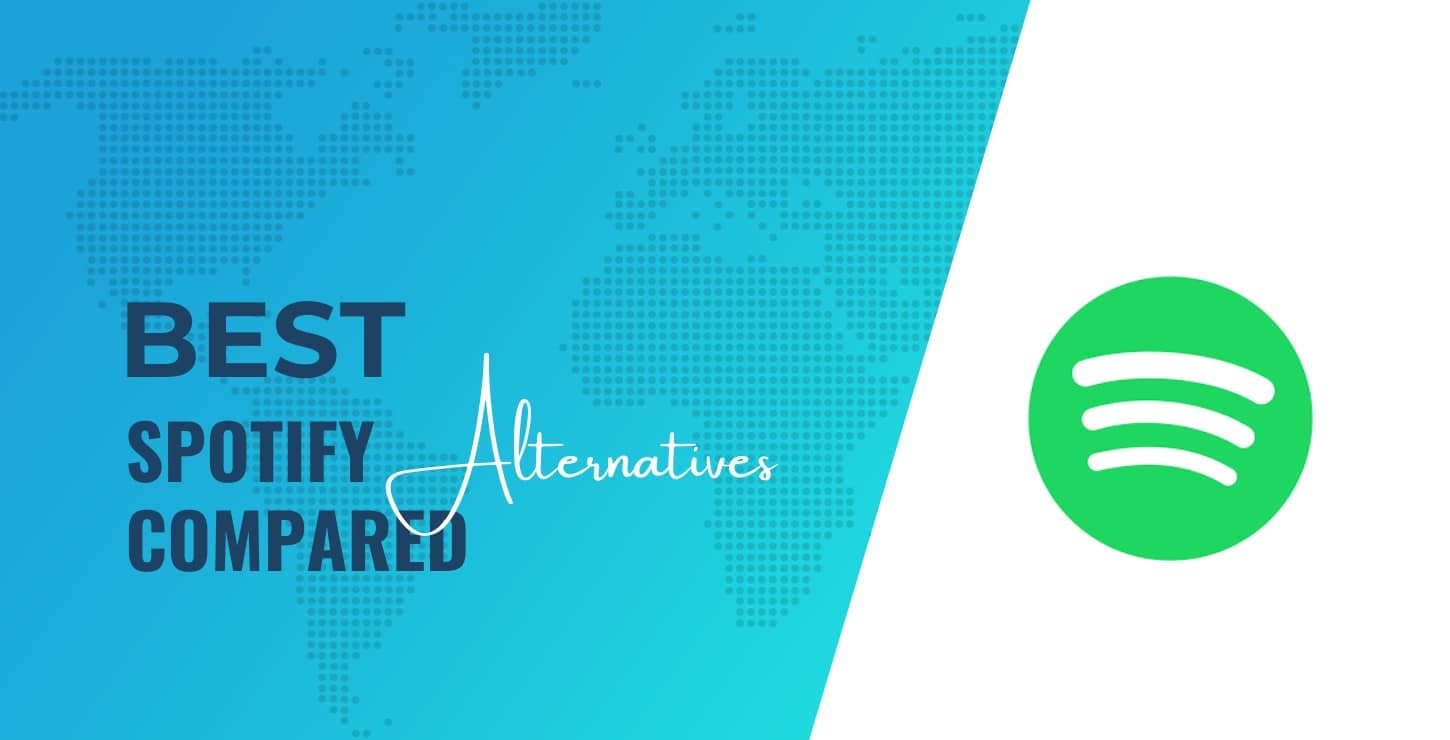 🎵 Best Spotify alternatives compared for 2023
After several tests and checks, I have narrowed our list down to seven Spotify alternatives that make the most sense. I looked at the music libraries, sound quality, ease of use, features, pricing, and accessibility based on location or device.
Check them out: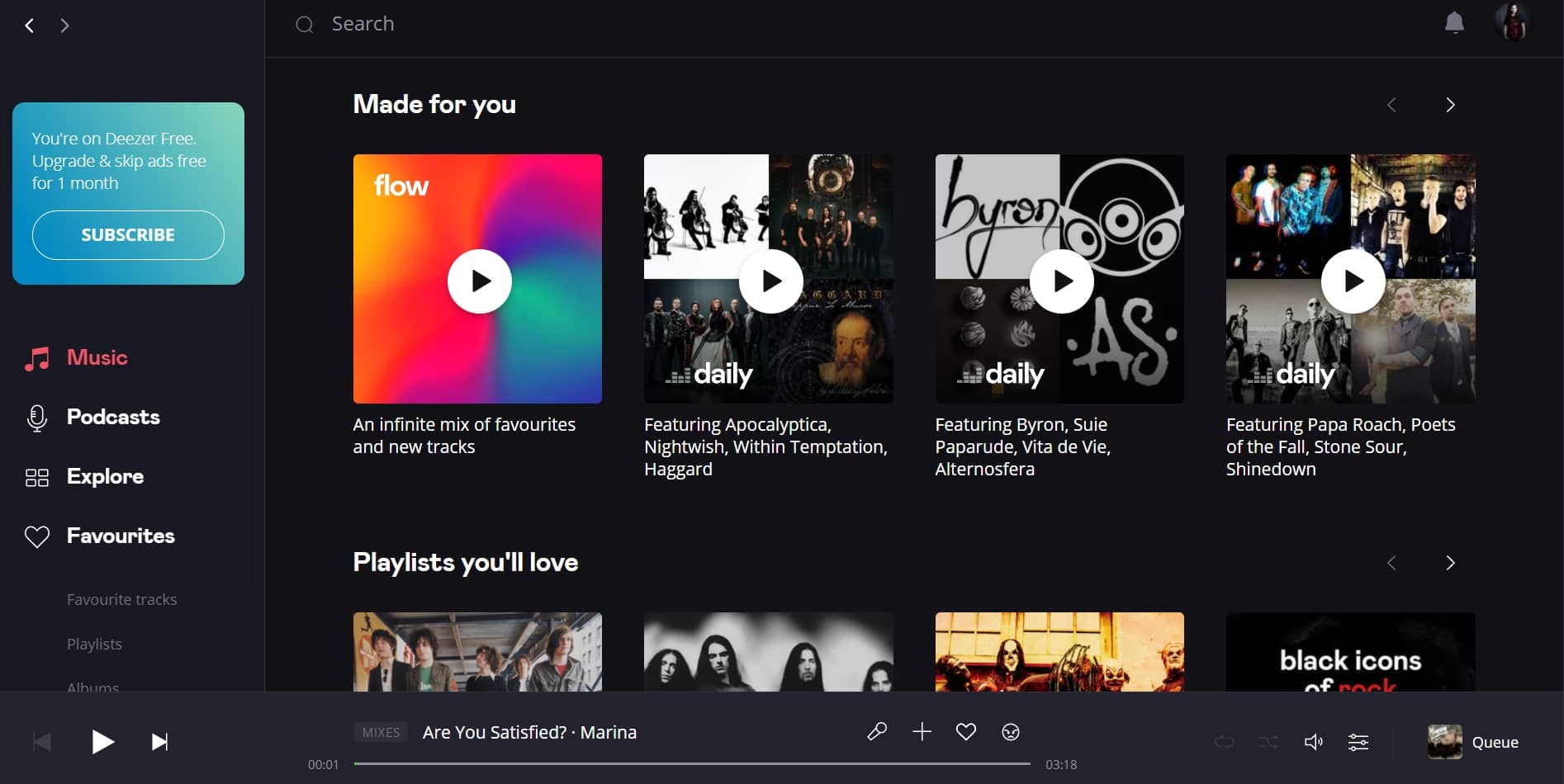 Out of all Spotify alternatives that we'll be featuring on this list, Deezer is the closest to Spotify when it comes to design and functionality. Just like Spotify, Deezer has a library of around 70 million songs and also hosts a huge collection of podcasts.
Apart from letting you search for music and create playlists, Deezer excels at recommending new music via its AI that gives suggestions based on what you listen to.
When it comes to sound quality, though, Deezer is beating Spotify with its HiFi plan that provides high-quality FLAC audio – 1411 kbps.
Features ⚙️
Millions of tracks, podcasts, and live radio stations
HiFi sound and 360 Reality Audio
Available on lots of devices
Custom playlists and recommendations
SongCatcher (a Shazam-like app to identify songs around you)
Lyrics on display
Ad-free, offline listening
Pros 👍
It's like Spotify, but cheaper
Provides immersive audio quality
Offers flexibility to personalize and organize your music library as you wish
The user interface is straightforward, intuitive, modern, and good-looking
Cons 👎
If you're looking for a completely different experience with a music streaming service, you might not like Deezer (since it's very similar to Spotify)
Pricing 💳
👉 Use Deezer if you desire a Spotify-like experience at a lower price and with a few extra features – better AI for Music Discovery, built-in SongCatcher, and high-quality audio.
If you are searching for cheaper Spotify alternatives, Tidal is your top candidate.
You get a library of 80+ million songs, videos, and live streams. If Deezer provides HiFi sound, Tidal goes beyond that with its master sound (high-definition sound quality). It's the highest possible resolution that you will get from a music streaming service, which is between 2304 and 9216 kbps.
The interface looks great and makes it simple for you to find artists, create playlists, and collect albums. It also has an AI that gives recommendations for new music based on your preferences. But it's not as advanced and selective as Deezer's, for example.
Apart from music and podcasts, Tidal gives you access to lots of videos, live streams, short movies, and events.
Features ⚙️
A library of 80+ million songs, podcasts, videos, live streams, and movies
HiFi and Master sound quality (including 360 Reality Audio)
Ad-free, offline listening
Built-in playlist import from other services (Spotify, Deezer, Apple Music, Amazon, etc.)
Lyrics on display
Custom playlists and recommendations
Supported on various devices
Pros 👍
You get the best sound at a lower price (its HiFi plan is cheaper than Spotify's Individual plan)
The library includes music videos, too
It has a direct Playlist Import feature
The interface is cool, intuitive, and modern
Cons 👎
No free subscription; it does have Tidal Access, though, but you are limited to a curated selection of tracks made by the team; Tidal Access is available in the US only
Pricing 💳
Premium – $4.70 per month (standard sound quality at 320 KBPS)
HiFi – $9.35 per month (HiFi and Master sound quality – from 1411 to 9216 KBPS)
👉 Use Tidal if you're an audiophile who wants to hear the best sound when listening to your favorite tracks. And because it's the cheapest Spotify alternative. 🙂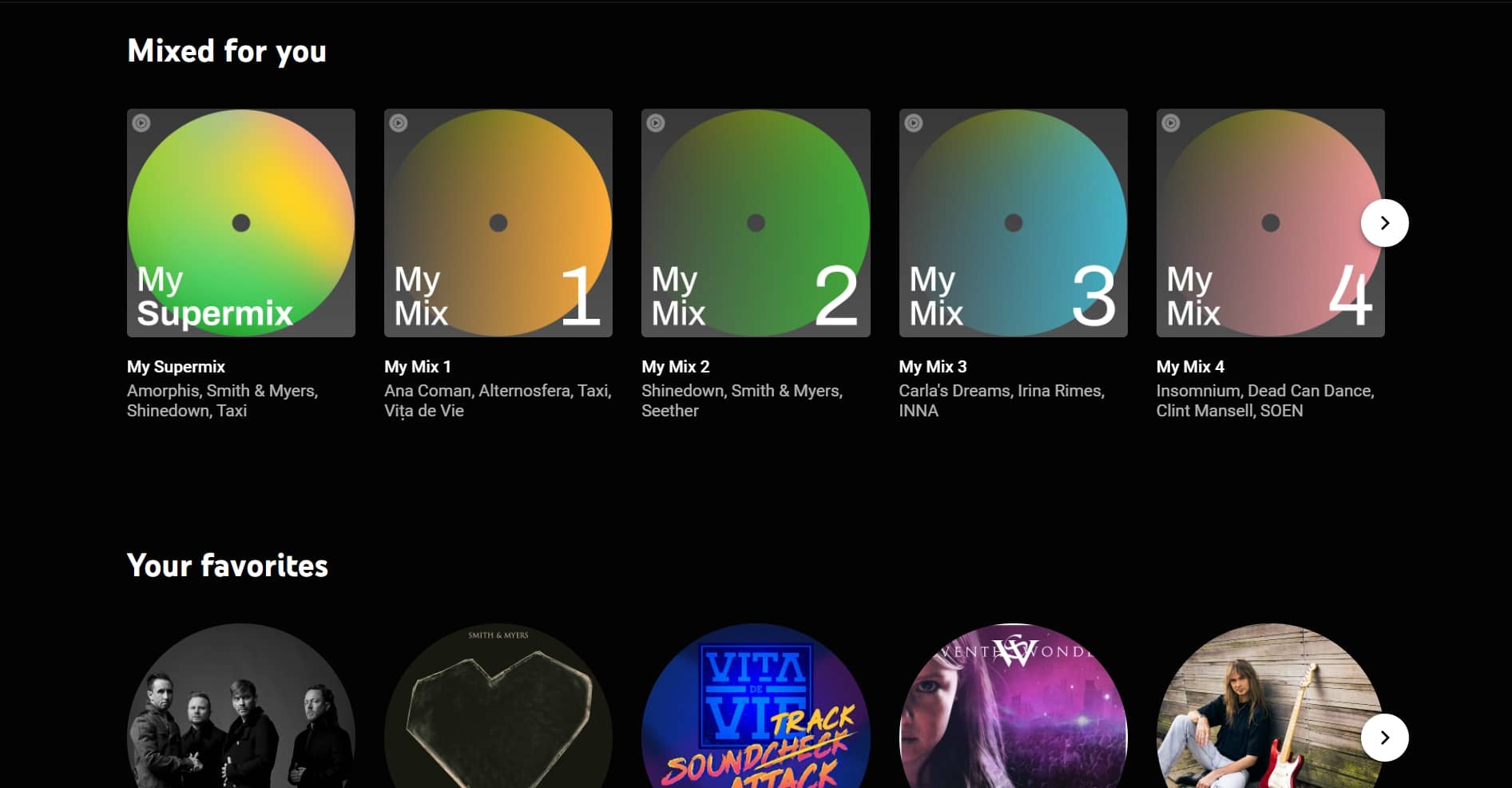 YouTube Music is basically normal YouTube that showcases only music. If you've been listening and subscribing to music artists on the classic YouTube before, you'll find everything you saved on YouTube Music as well. Since it uses the same YouTube algorithm, you'll get recommendations and playlist mixes as usual.
The YouTube Music interface is different, though, and indeed resembles a music streaming service. You can enter an artist's page, see the discography, music videos, and playlists. You get to see new releases, suggestions, and trending videos.
Features ⚙️
A library of millions of songs and videos
Offline listening
Ad-free music
Listen in the background when you lock your screen
Audio-only mode if you do not want to load the video of a song
Available on web, desktop, Android and iOS
Pros 👍
If you're already a YouTube Premium user, you have free access to YouTube Music Premium as well
It's an all-in-one Spotify alternative. You can keep all your web content – videos and music – on YouTube without using/paying for a separate music app
It's cheaper than Spotify
Cons 👎
The audio files don't have sound quality tiers; you'll get YouTube's usual audio quality
If you're using the free version, you can't browse or lock the phone without your music being interrupted
It doesn't offer the full experience of a genuine music player; it's lacking in the UX department, and you can't organize/navigate through the content with enough ease
Pricing 💳
Free – has ads and music stops when you turn off the screen or minimize the app
Premium – $5 per month (or you can pay $6 per month and get the complete YouTube Premium services, YouTube Music included)
👉 Use YouTube Music if you are already a subscriber of YouTube Premium and want to keep all your content in the same place. Also, if you listen to music occasionally and do not need a separate space for your audio collections, YouTube will do.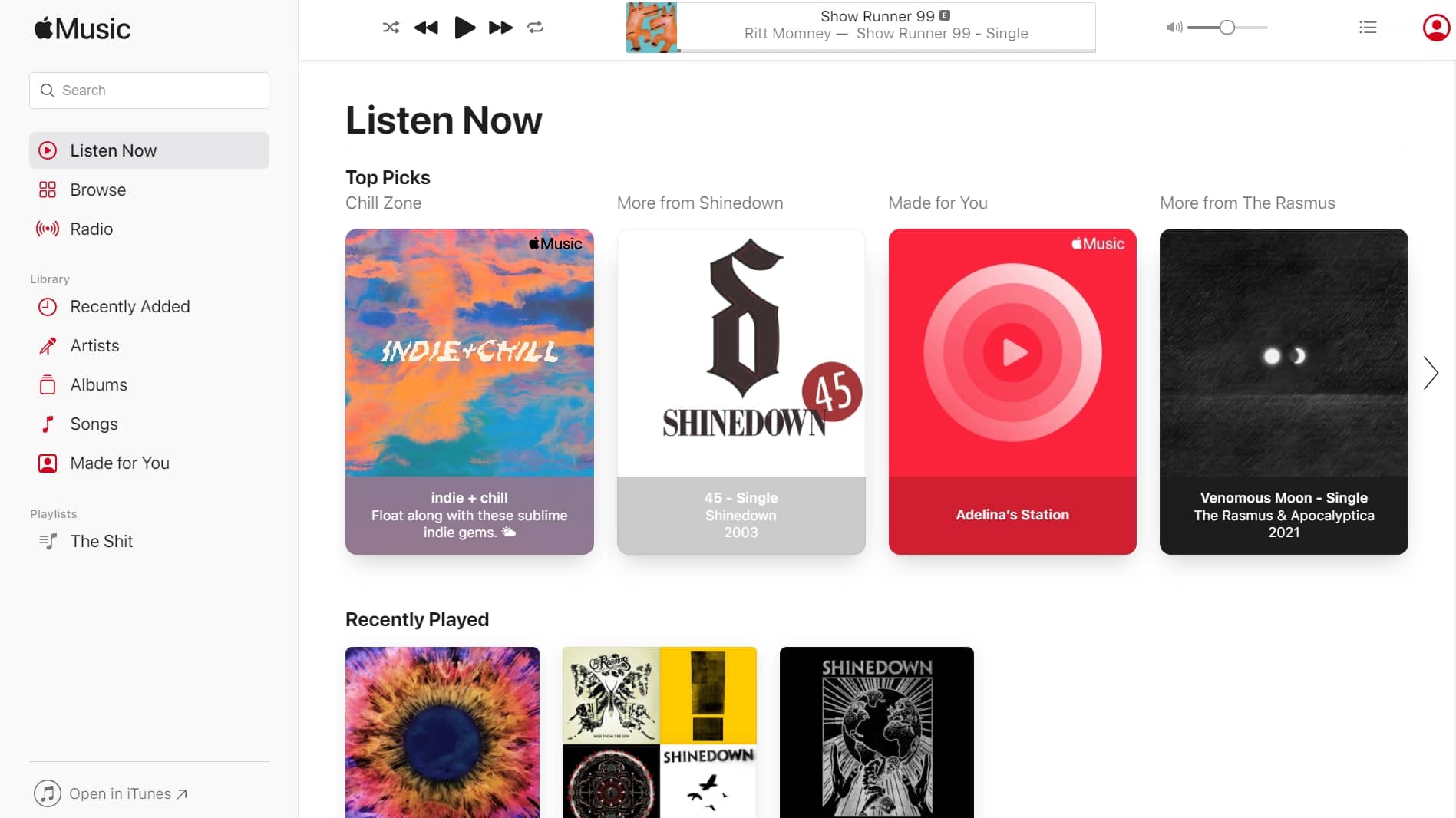 Apple launched Apple Music after discontinuing iTunes in 2019. It was their way of streamlining the transition to the music streaming era and giving iTunes users an alternative to access their libraries. However, iTunes is still available for anyone who wants to manage their music library locally or sync files to their Apple devices.
Unlike iTunes, where you can also play files that you store on your computer, Apple Music is a pure music streaming service. You can use it to save your favorite music and get new recommendations.
Apple Music comes with basic features and a rather minimalist user interface. You cannot personalize and organize your content very thoroughly. It also doesn't come with an advanced AI that shares with you related suggestions or the latest releases from your favorite artists.
Features ⚙️
Available on the most popular devices and in iTunes
A library of over 75 million songs, concerts, shows, and exclusives
Lossless audio quality (HiFi) and spacial sounds
Offline listening
Custom playlists and live radio
Lyrics on display
CarPlay mode to play music safely via your iPhone while you're driving
Pros 👍
It has a better sound quality than Spotify Premium
On PC, you can open your libraries in iTunes, too; iTunes' interface looks better and makes your navigation smoother than Apple Music does
Cons 👎
Apple Music app's interface is not immersive and doesn't come with advanced AI in providing on-point music recommendations
Pricing 💳
Free – with ads, no offline listening, and limited music recommendations
Student – $4.99/mo
Individual – $9.99/mo
Family – $14.99/mo (for up to six people)
👉 Use Apple Music especially if you own Apple products or use iTunes to store your music library. Also you'll like Apple Music if you need a simple music player and do not care much about having your library meticulously organized.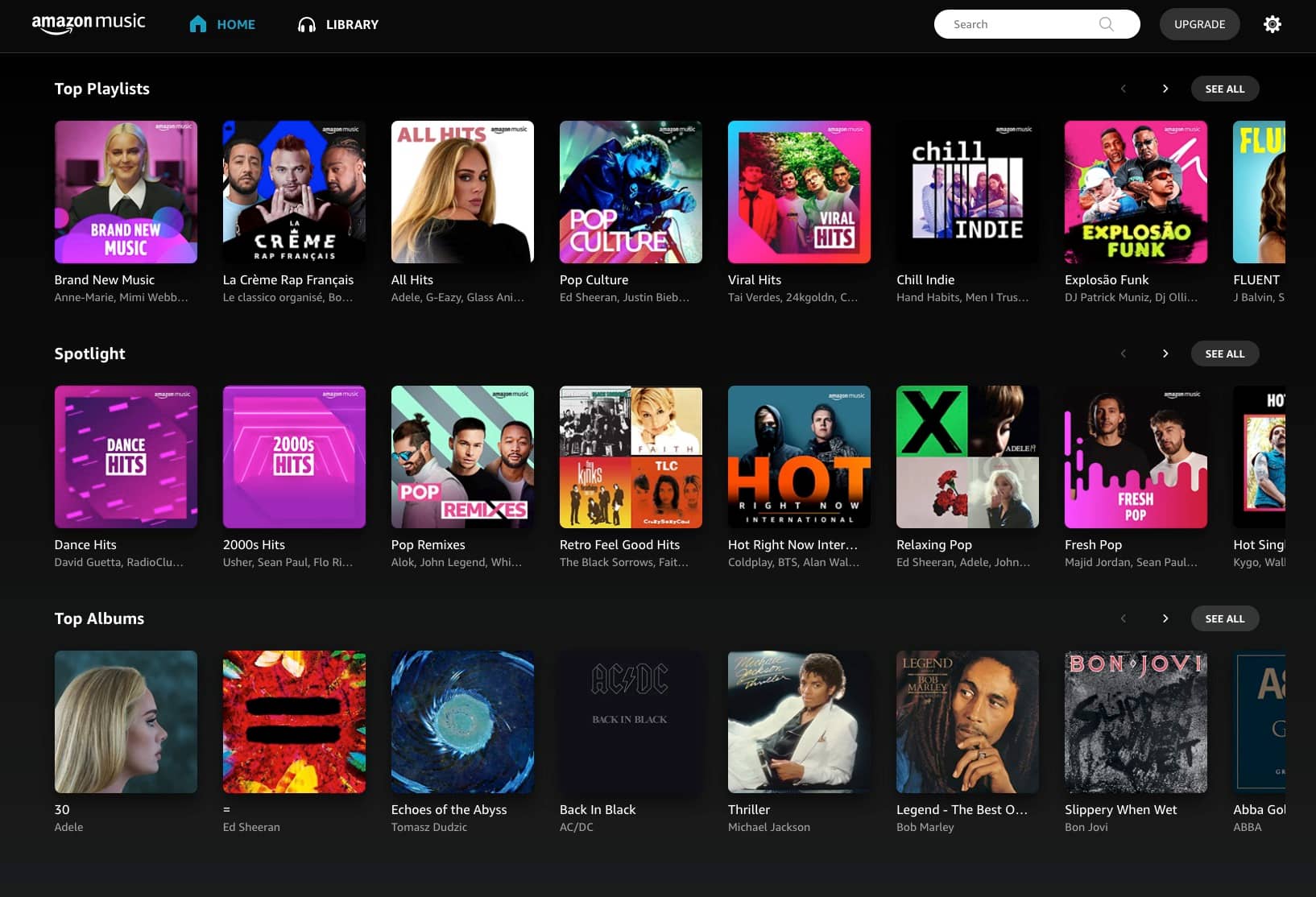 While being very popular in the US, this music streaming service is not available to all countries in the world. To be able to use it, you need an Amazon Prime account. Given that Amazon Prime has over 200 million members, it's no surprise that so many people use Amazon Music as well.
If you are a Prime member, you have access to a library of two million songs, stations, and playlists. Those add up to millions of podcasts. Amazon Music is recommending new music every Friday, based on your favorite songs and previous plays.
If you want to unlock the expanded library of 60 million songs, which includes exclusive releases and access to six devices at the same time, you need to subscribe to Amazon Music Unlimited.
Features ⚙️
Library of millions of songs and podcasts
Offline listening with unlimited skips
High-definition and 3D audio
Custom playlists
Amazon Alexa integration
Pricing tiers for students
Pros 👍
Comes as a gift to those who use Amazon Prime (though this is not something available in all countries)
Provides HD, ultra HD, and 3D audio via Amazon Music HD – which is included in Amazon Unlimited at no extra cost
Cons 👎
Available to a limited number of countries
It doesn't have much depth in user experience and features; it's not the best at music recommendations, design, and music player complexity
Pricing 💳
Free (no Amazon Prime membership needed)
Free – with Amazon Prime membership at $12.99 per month (two million songs only)
Amazon Unlimited – $7.99/month for Prime members and $9.99/month for non-Prime members (75 million songs)
👉 Use Amazon Music if you are a regular Amazon customer, use their products, and want to connect them all in one place. If you are an Amazon Prime member already, it's worth upgrading to Amazon Unlimited to benefit from a larger music library.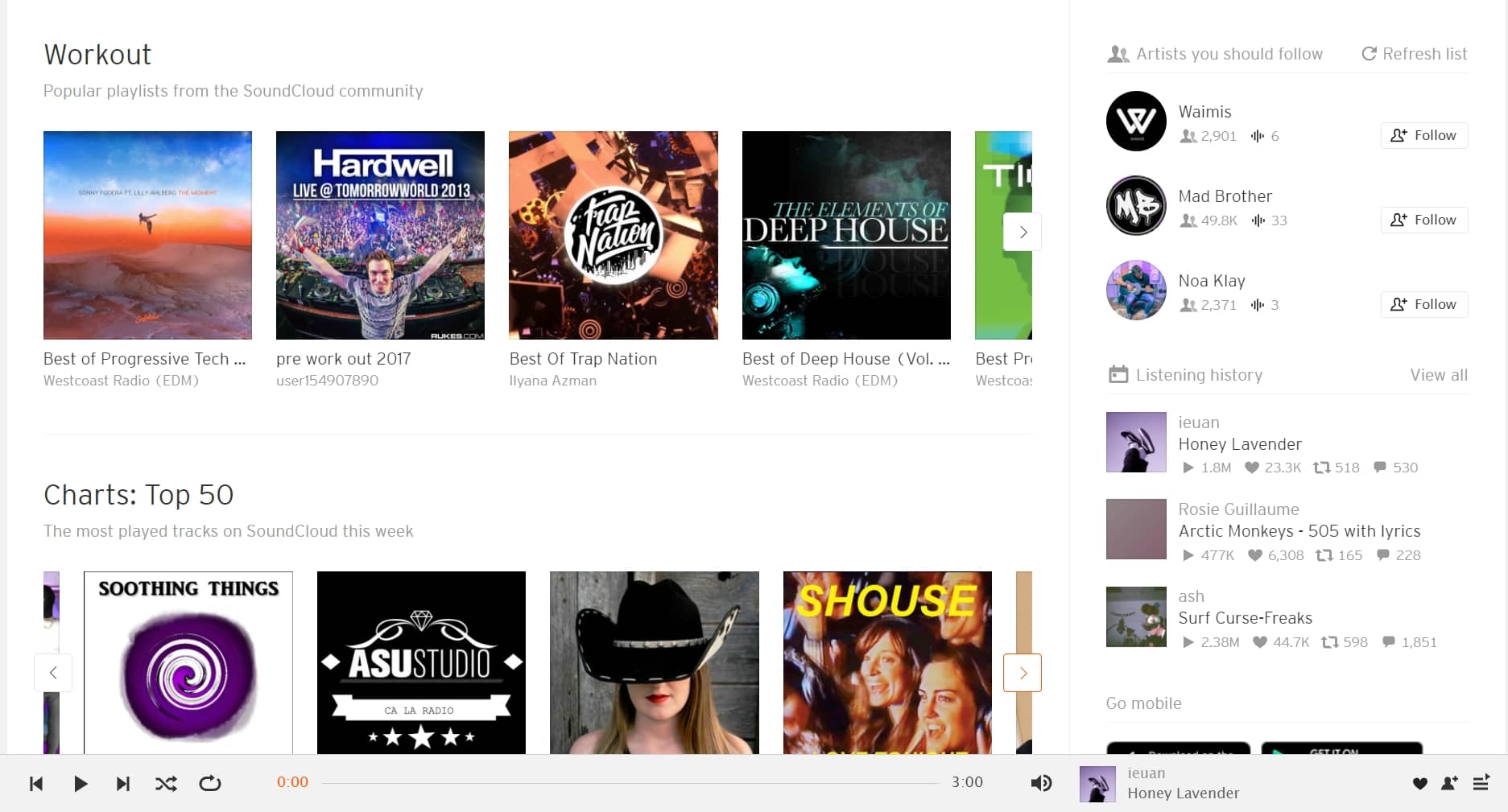 SoundCloud is a music platform that, despite featuring both popular and emerging artists, focuses on the latter most of all. If you search for a big name, you'll notice that their profile is usually not updated and, most of the time, you won't find their full discography there.
Instead, you will find a lot of new music from not yet known artists. If you're into hidden music gems or want to support new artists, you will probably find good tunes on SoundCloud. You can follow artists, podcasts, friends, and check your news feed for the latest posts. It's like a social media network, but for music.
In your library, you can collect your liked songs, albums, custom playlists, followers, radio stations, and browsing history. Even though it features many diverse genres, at first sight you will notice that SoundCloud tends to push forward DJ mixes and music singles – as compared to Bandcamp, which is more into indie music and focuses on albums and collections (more on Bandcamp later).
Features ⚙️
A huge library that has up to 150 million tracks
Free music downloads in the free version (for the available songs)
Custom playlists and library
Ad-free and offline listening
Unlimited skips on mobile
Dolby powered audio mastering
Available on the web, Windows, Mac, Android, iOS
Music recommendations and playlist suggestions by genre and mood
Pros 👍
A good platform to discover new music that you won't find on the most popular services
It has unlimited song skips on mobile
It's social-friendly; you can follow and interact with other people/artists and make connections
Provides high-quality audio in the last premium plan
Cons 👎
Do not expect to find popular artists' full discographies here
Some songs won't be available in your country
SoundCloud premium plans for listeners are available in a few countries only
Pricing (for listeners)
Free
SoundCloud Go – $4.99 for web/Android and $5.99 for iOS per month (in the US)
SoundCloud Go+ – $9.99 for web/Android and $12.99 for iOS per month (in the US)
* prices vary by country
👉 Use SoundCloud if you're a music lover who wants to hear from artists that are not on Spotify or other big music streaming services. If you're a musician, it's the perfect place to start uploading and promoting your music because you can easily interact with genuine fans.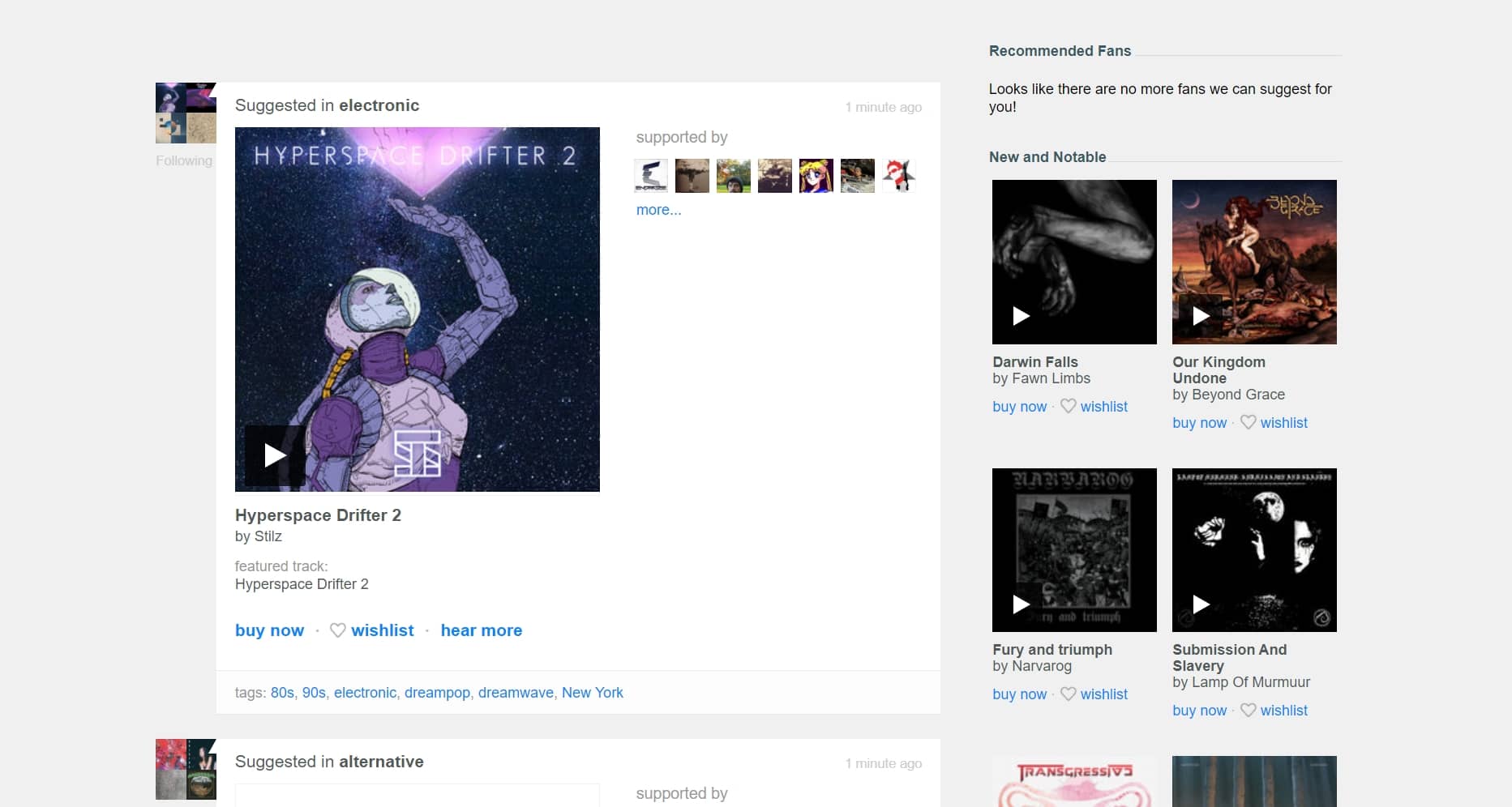 Having a different concept from the other Spotify alternatives on this list, Bandcamp is a place where new bands and artists can make their debut. What's great about this service is that you can directly support the artist by buying their albums, songs, and merchandise – 80% of the money goes to the artist.
On Bandcamp, you have music, audiobooks, podcasts, comedy, and content for kids. Bandcamp is actually the place for music lovers to explore continuously and discover new artists on a regular basis. Here, you'll find a lot of good undiscovered and underground music from all genres, which you can save and listen to later.
You get music recommendations, befriend other music lovers, see what your digital friends are listening to, and add music to your wishlist. Plus, you can join an artist's community page to chat with other fans and with the artists themselves.
Features ⚙️
Available on web, iPhone, Android, and Sonos devices
Cool artist pages with full discography, exclusive/rare releases, merch, and community page
Online store for fans, who can purchase items to support the artists
Pay-what-you-want system; artists do set a default price for an album, but you can choose to pay the amount you want in order to buy and download the files
Music lyrics
Weekly newsletters with new releases and recommendations (effective for both fans and artists)
Physical sales
Pros 👍
The platform is entirely free and you can pay the artists directly with whatever amount you want
It's a chic place for music lovers who support independent music and want to interact with the artists and fans
The newsletter with song and album recommendations is cool
Cons 👎
It doesn't have the features of a music player; while you can listen to tracks, you can't create your own libraries
You can't create playlists or shuffle songs in an album
Songs can't be marked as favorites, you can just add them to your wishlist
You can only listen offline to the files in your collection (your purchases) and on mobile only
Pricing 💳
👉 Use Bandcamp if you're a music enthusiast who wants to support indie artists and interact with fans. If you're not looking for a music streaming service per se, but more for a platform where you can listen to your favorite underground albums, Bandcamp is the place.
Conclusion on the best Spotify alternatives
That sums up our take on the best Spotify alternatives out there. While some are similar to Spotify, others come with a completely different interface, functionality, and concept. So you have enough variety to find something to your liking.
If you have problems deciding which music streaming service is the right one for your needs, let's summarize:
🤑 The cheapest Spotify alternative (which happens to offer the best sound quality and similar features) is Tidal.
💸 If you're looking for free Spotify alternatives, go with Deezer or YouTube Music.
💽 The best places to find new indie or underground music and interact with communities are Bandcamp and SoundCloud.
🍏 If you own Apple devices and want to integrate apps easier, you'll find Apple Music handy.
In your opinion, which one of these Spotify alternatives is the best and why? Are there any great music streaming services that we've missed? Let us know in the comments below.
…
Don't forget to join our crash course on speeding up your WordPress site. Learn more below: