If you're in the market for a slider plugin for WordPress then I really don't envy you. And don't get me wrong, it's not like I have anything against sliders, I don't. It's just that picking the best slider plugins is much like picking the best car. There are just wayyyy too many options out there.
And on top of that, each of them has its unique pros and cons, so there basically isn't any single best solution across the whole market. And with thousands of different slider plugin for WordPress out there, ain't nobody got time to examine them all.
Obviously, we need to narrow things down, and that's what we're doing today.
In this comparison, we're looking at the seven most popular and (presumably) best WordPress slider plugins on the market.
We're going to be comparing their:
features,
how easy they are to set up and use,
mobile-optimization and -friendliness,
prices,
what makes each of them different.
In short, the one thing that a slider plugin is supposed to achieve is make the user experience better, and the content more appealing to the visitor. For that reason, you just can't afford a plugin that's sluggish, difficult to use, or doesn't look right on mobile, and especially in 2023.
These days, many people use smartphones as their main devices for accessing the internet. If your slider doesn't work on phones and tablets, you will only frustrate your visitors, instead of making them more engaged with your content.
Okay, so which of the thousands of slider plugins are we testing?
Comparing the best slider plugins for WordPress:
This short list of the best WordPress slider plugins has been compiled based on the overall number of sales, active installs, and our in-depth testing. In other words, we're subscribing to the idea that one of the easiest ways to find out how good something is, is to have a glance at how many people use it and how happy those people are with it.
Therefore, this list features only the plugins that have been on the market for a longer time and have a proven track record of happy customers or users (we have free plugins on this list too).
Our seven best slider plugins for WordPress are:
1. Features
Here's a simple comparison of what's available with each of the slider plugins (I tried focusing on the most important features):
Best Slider Plugins for WordPress: Features
Otter Blocks
MetaSlider
Soliloquy
Slider Revolution
LayerSlider
Master Slider
Smart Slider 3
* not available in the free version
Multiple sliders

❌

✅

✅

✅

✅

✅

✅

Mobile-friendly sliders

✅

✅

✅

✅

✅

✅

✅

Manual sliders

✅

✅

✅

✅

✅

✅

✅

Sliders from image galleries

❌

✅

✅

✅

✅

❌

*

✅

Sliders from outside sources (Flickr, Instagram, YouTube, etc.)

❌

✅

✅

✅

❌

❌

*

✅

Sliders from post categories

❌

✅

✅

✅

✅

❌

*

✅

Sliders from sticky posts

❌

❌

❌

✅

❌

❌

*

❌

Video slides

❌

✅

✅

✅

✅

✅

✅

HTML slides

❌

✅

✅

✅

✅

✅

✅

Pre-made slider templates

❌

✅

✅

✅

✅

✅

✅

Set custom styles

✅

✅

✅

✅

✅

✅

✅

Control the image size

✅

✅

✅

✅

✅

✅

✅

Transition effects

✅

✅

✅

✅

✅

✅

✅
Here's how I'd classify this lineup of best slider plugins and the differences between them … albeit just my personal opinion:
Otter Blocks is a plugin that adds more blocks to your WordPress site, including a slider. Once you insert the Slider block into your page, you can add your media, adjust the image heights, configure the autoplay settings, and more.
MetaSlider is a classic content slider plugin that lets you select a range of media files and turn them into an interactive slider. It also enables you to create slideshows, carousels, and galleries with ease. With this tool, you're even able to set up product slideshows.
Soliloquy is a slider plugin with more focus on customizations and alternative ways of adding slider content. For instance, you can create product sliders, dynamic sliders, use Instagram images, and more. This makes it a good solution for anyone who needs to use the slider for more types of different content.
Slider Revolution gives you a complete hero section for your site design, which you can use to display all sorts of things. Some of the possibilities include subscription forms, headlines and taglines, social media streams, product info blocks, product demos, even animations. In a way, it's more of a site-building/design plugin than just a slider.
LayerSlider puts a lot of focus on the way each slide can be customized. Basically, you get a canvas where you can adjust every pixel of any given slide individually. You can choose specific fonts, layouts, even transitions for the text itself independently of the rest of the slide. This can be useful for more advanced slider implementations.
Master Slider (free) is a great out-the-box solution for basic image-based sliders that you simply want to link with something (post, page, external link). It gives you a simple set of features, but they're extremely easy to use. The pre-made templates are also very good and helpful if you want to create a slider fast.
Smart Slider 3 offers an extremely popular free slider plugin, along with a paid version for several upgrades. It's an excellent solution for those who want powerful, dynamic sliders without any complicated configurations. The visual style editor complements the various templates, while the option to include YouTube and Vimeo videos helps out as well. The premium version is rather affordable and comes with extra slider types, more layers, and additional services.
2. How easy to use the plugins are
While doing the tests above, a few things became apparent when it comes to the ease of use of the plugins.
Basically, if you want to build a slider quickly, then you're best off with either MetaSlider, Master Slider, or Smart Slider 3.
Master Slider gives you basic features that are uber-easy to use, but you can't do much more other than image-based sliders.
MetaSlider gives you a handful of cool features for creating various sliders based on posts, categories, images, etc. The interface itself relies more on forms and drop-down fields rather than visual representations of the final slider. However, it's just as fast to work with, and you can preview your designs.
Smart Slider 3 speeds up the slider design process with templates and a solid editor. You can also quickly connect to things like galleries, image folders, and WordPress posts. Everything from smart image cropping to autoplaying videos is already set up for you to almost instantly get your sliders up and running.
The other players – Soliloquy, Slider Revolution, and LayerSlider, are more geared at providing you with a whole page design tool rather than a slider plugin (plus they have great extension add-ons).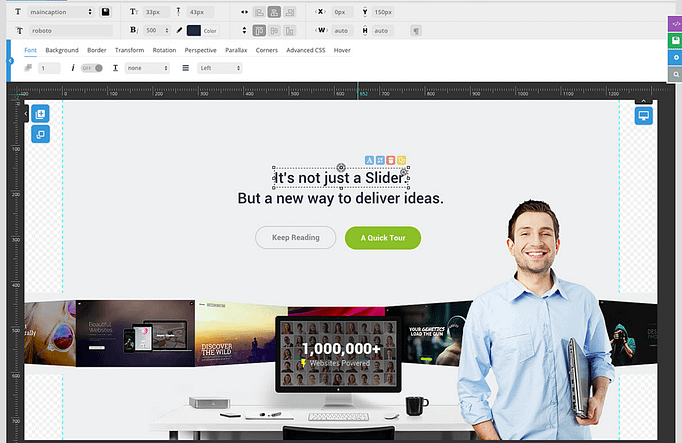 I mean, the slider functionality is all there, but that's only a part of the overall feature set.
This has both pros and cons. On the one hand, you do get more features that can potentially benefit you in many different ways. But on the other, if you just want to build a cool slider quickly then you might find that difficult, especially if you're just starting your adventure with the plugin.
Otter Blocks is also a whole page design tool and it's very easy to use if you're already familiar with the WordPress Gutenberg editor. It's designed to work exclusively with it, so you can use the Slider block just like any other block within Gutenberg. This means you can customize the slider directly from your post or page.
For instance, you're able to configure the number of visible slides and the height of the images. This video shows you just how easy it is to use the Slider block:
In the end, I'd rank the ease of use of each plugin like so:
Best Slider Plugins for WordPress: Ease of Use

| Otter Blocks | MetaSlider | Soliloquy | Slider Revolution | LayerSlider | Master Slider | Smart Slider 3 |
| --- | --- | --- | --- | --- | --- | --- |
| 10 | 10 | 9 | 8 | 8 | 10 | 10 |
3. Pricing
Here's the pricing table:
Best Slider Plugins for WordPress: Pricing
Otter Blocks
MetaSlider
Soliloquy
Slider Revolution
LayerSlider
Master Slider
Smart Slider 3
* lifetime updates and support
$0
$0
$19
$109
$54
$0
$0
$39
$39.50
$49
$199
$139
$39
$49*
$99
$49.50
$99
$99*
$149
$99.50
$299 *
Important things to know:
The free version of Otter Blocks includes the Slider block. However, if you upgrade to the premium plugin, you'll get access to even more powerful blocks, including options for WooCommerce and a review comparison table.
Soliloquy is sold through its own respective distribution channels, not marketplaces. This means that you get support and updates for as long as you're subscribed. The initial payment gets you a full year of support and updates. The same can be said for Smart Slider 3.
Slider Revolution and LayerSlider are CodeCanyon products. As part of your license, you get six months of support but lifetime updates.
The free version of Master Slider comes with traditional WordPress.org support via a forum.
Although you can post questions to the WordPress.org forum, the Smart Slider 3 team requests that all support questions start in the knowledge base and then move to its website forum. It looks as if some questions will be responded to for free users, but the real lifetime support goes to the paying customers.
Conclusion
I really don't want to be cliche, but naming the absolute top plugin among these seven really is impossible. So, it all comes down to your specific needs.
However, when it comes to my personal opinion, the best slider plugins can be broken down as follows:
What do you think? Did I miss anything? Also, feel free to ask in case you have any questions about these best slider plugins for WordPress.
…
Don't forget to join our crash course on speeding up your WordPress site. Learn more below:
* This post contains affiliate links, which means that if you click on one of the product links and then purchase the product, we'll receive a small commission. No worries though, you'll still pay the standard amount so there's no additional cost on your part.