RSS is dead, long live RSS!
Granted, people haven't been excited about RSS for a long time. The technology is surely past its prime in the eyes of the public, but it's still very much in use behind the curtains. What's more, you can still achieve pretty great things with it for your WordPress site.
The catch? You need a good plugin to make that happen. Depending on what it is exactly that you want to do, some plugins are going to be better than others, and once we factor in the price tag into the mix … well, it becomes a whole different story again.
So today, we're looking into the topic of RSS to post WordPress plugins and run through some creative things that you can do with them.
Note; this is about RSS to post WordPress plugins specifically – meaning that we're looking at plugins that have the capability to import content from RSS feeds and add it as a blog post alongside your other content. If that's what you need, read on!
If you're in a hurry and just want someone to point you in the right direction, you can check out the summary of our findings in the table below:
Best RSS to Post WordPress Plugins Compared

| | Feedzy RSS Feeds | WPeMatico | WordPress RSS Feed Retriever | WP RSS Aggregator |
| --- | --- | --- | --- | --- |
| RSS to Post | Y | Y | Y | Y |
| Keyword Filtering | Y | Y | N | Y |
| Media Attachments | Y | Y | Y | Y |
| Full Text RSS | Y | Y | Y | Y |
| WordPress.org Rating | 4.7 / 5 | 4.8 / 5 | 4.7 / 5 | 4.5 / 5 |
| PRICE | $99 / year for 1 site | free (lite) or $82 / year for 1 site (pro) | free (lite) or $29 / year for 1 site (pro) | $139 / year for 1 site |
| | | | | |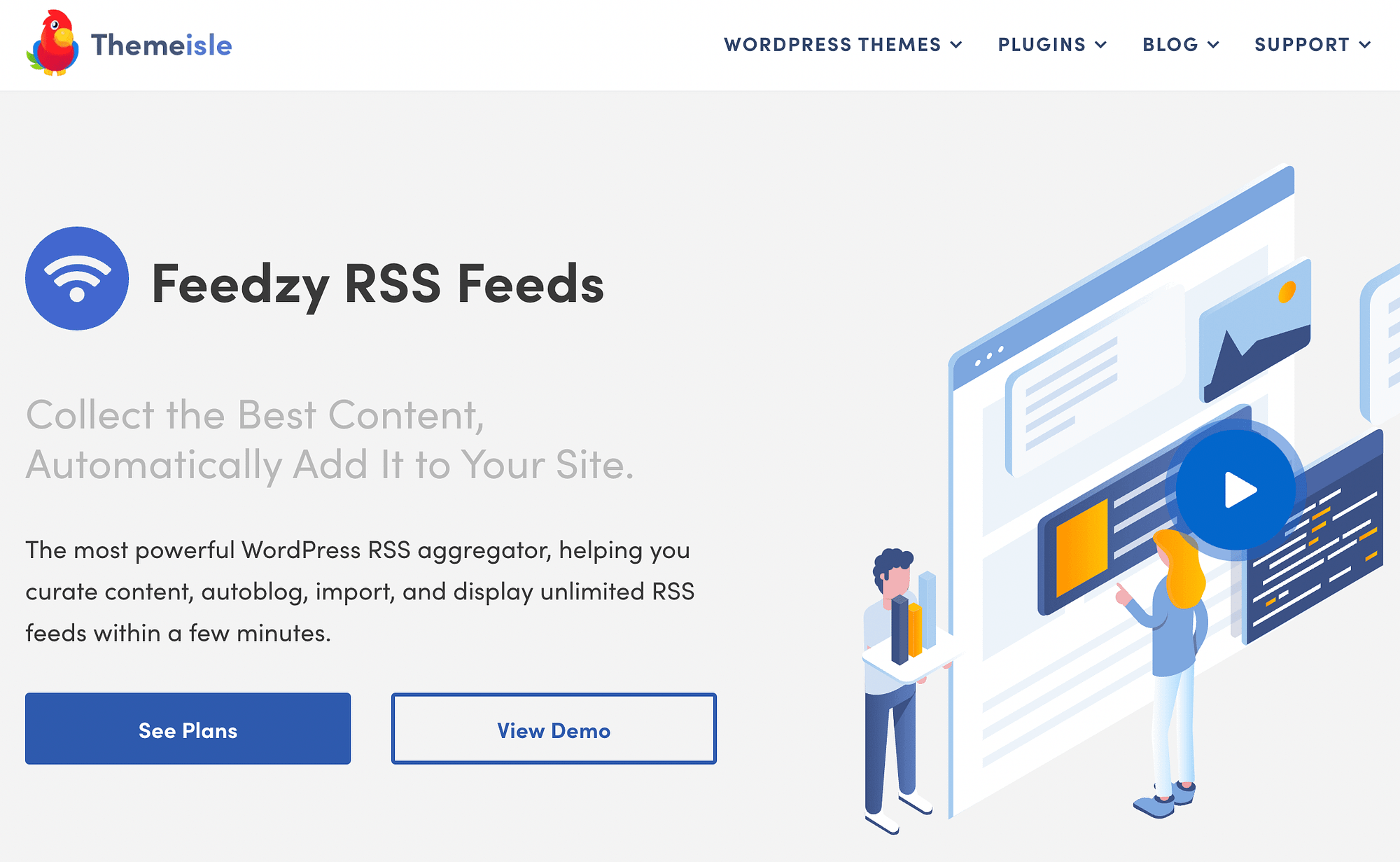 Feedzy is a complete, out-the-box RSS to post. Meaning you don't need any add-ons to get the complete set of features, like with some other plugins.
Secondly, you get built-in keyword filtering too, and the ability to control how your imported content looks (done via special tags when adding the feed and via three layout templates). In the latest version, you can also now import full text RSS feeds, automatically fetch prices for products, and extract various elements from custom feed tags.
Apart from that, the plugin allows you to have unlimited feeds, check for duplicate content via WordAI integration (the tool also rewrites the texts in a non-robotic style), and add tracking tags.
An interesting added feature of Feedzy is that it supports affiliate links. You can set it up to automatically add your referral/affiliate ID to in-feed links. Removing the 'dofollow' tag from the imported links is also an option.
Moreover, in order to keep track of the WordPress trends, the plugin is fully compatible with Elementor and the new WordPress block editor (which means that you can add and customize feeds right on the front end).
Last but not least, importing too many external posts to your site won't affect your website's loading times because Feedzy offers feed caching.
There are just three easy steps when configuring RSS to post via Feedzy:
Add a valid feed.
Set the filtering based on keywords (either include or exclude content that features a given keyword).
Assign the content to a specific post type, category, and modify the content's appearance via tags. Additionally, you can also add custom fields in case you want to do something slightly more advanced with the feed.

Now, about the pricing. The version of the plugin that gives you the RSS to post abilities is $99 / year.
However, for $199, you can actually use it on three sites instead of just one. This makes it an affordable alternative for those who need RSS to post WordPress plugins running on multiple projects. If you need the tool for more than three websites, you can switch to the Agency license, which costs $399 / year.
Cool usage example
Who should get Feedzy
If you want to start using the RSS to post functionality quickly, for multiple feeds, and while also having the ability to filter the content that's being imported (plus the widgets you can use and the main shortcode), then you should enjoy Feedzy very much. Last but not least, with the price tag of $199 for 3 sites, it becomes much more affordable if you have multiple projects going on.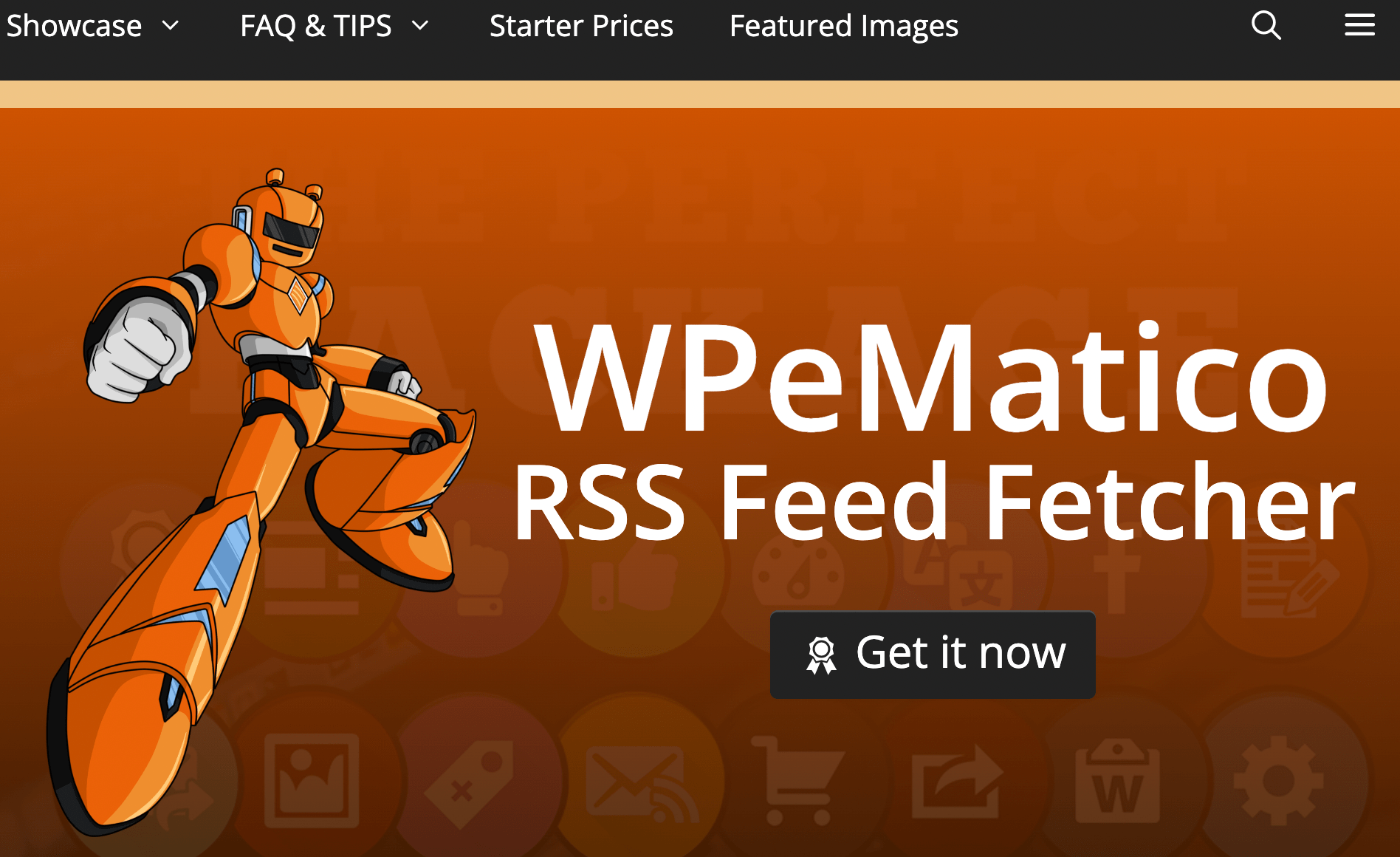 WPeMatico's RSS Feed Fetcher offers users a straightforward way to 'autoblog'. Its interface is very similar to the WordPress dashboard, but it gives you much more functionality. It's an advanced WordPress feed RSS plugin that can extract items from RSS and XML files, make posts from YouTube feeds, and even create forums.
One of the best parts about this tool is the level of customization you'll get for your campaigns. When converting an RSS to a WordPress post, you can easily set authors, manage comments, choose post types, and more. You can even create campaigns that come from multiple feeds (RSS, XML, or Atom channels).
Surprisingly, this feed to post plugin has a free core version that is fully functional.
In our opinion though, the free package lacks some essential features. For example, if you want key add-ons, like keyword filtering and support for additional media types, you'll need to get the Essentials Membership.
This option gives you the ability to get the full content of a source site and the power to fix incorrect HTML (among many other useful features). A license for a single site will cost you $82, and if you want 2-5 sites, the price is $99.
If you opt for a paid plan, you'll get some highly specific features that can really come in handy, especially if you're working with a lot of content. For example, the plugin's auto tag feature enables you to instantly assign authors using tags and use filtering to prevent creating duplicate posts.
Depending on which plan you choose, there are really tons of features that you may not find in other RSS feed to post WordPress plugins. Plus, WPeMatico offers both free and paid extensions.
That means this tool has the potential to be much more than a WordPress RSS plugin. For instance, its Polyglot add-on gives you the ability to translate posts from remote feeds.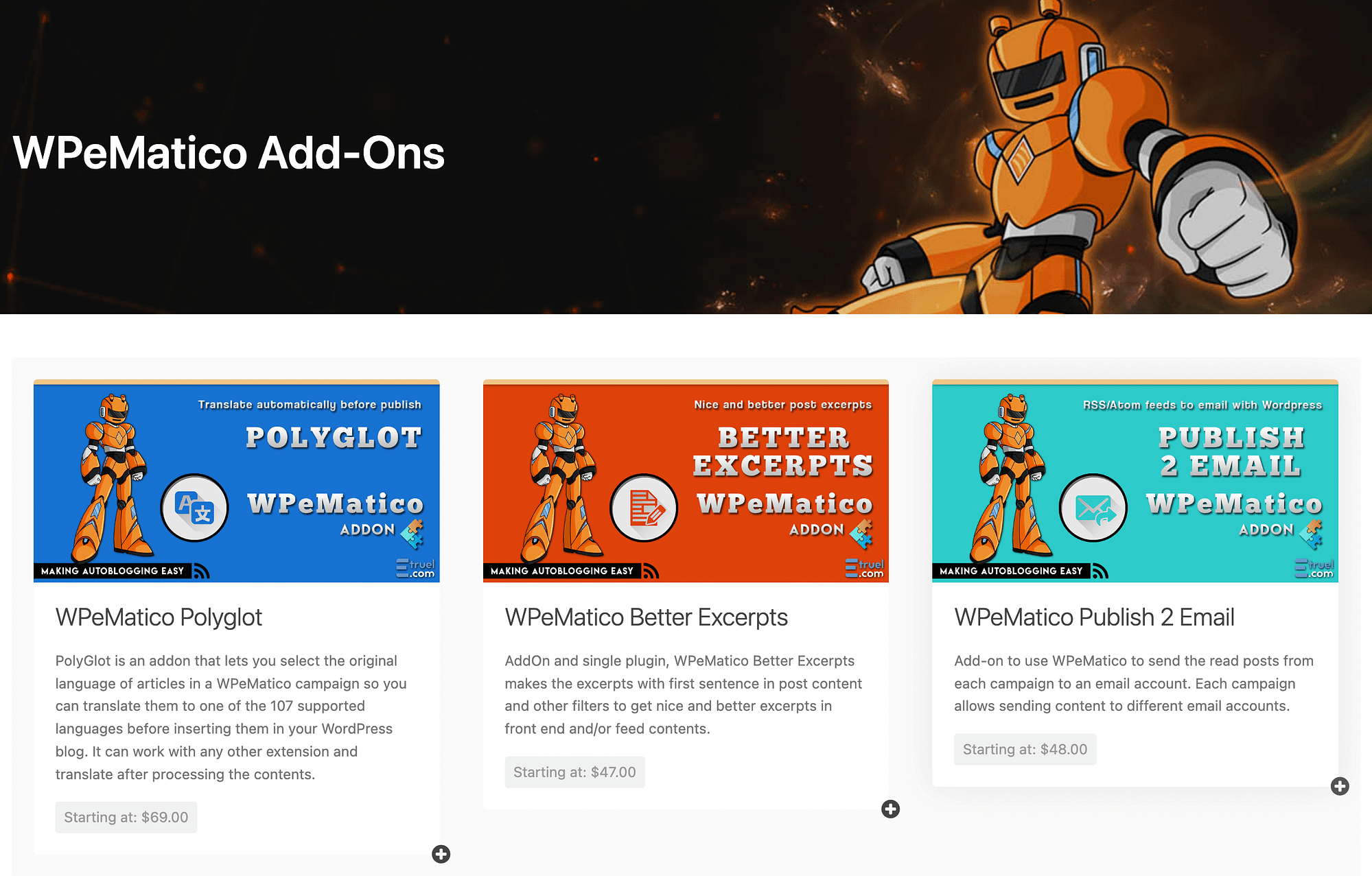 Cool usage example
Who should get WPeMatico
Due to the vast potential that you get with all of the WPeMatico add-ons, we'd say that it's an excellent choice for larger websites with a global reach. Some add-ons give you the ability to make global adjustments and automatically translate from RSS. Therefore, it's a good choice if your blog is popular worldwide (or you'd like it to be).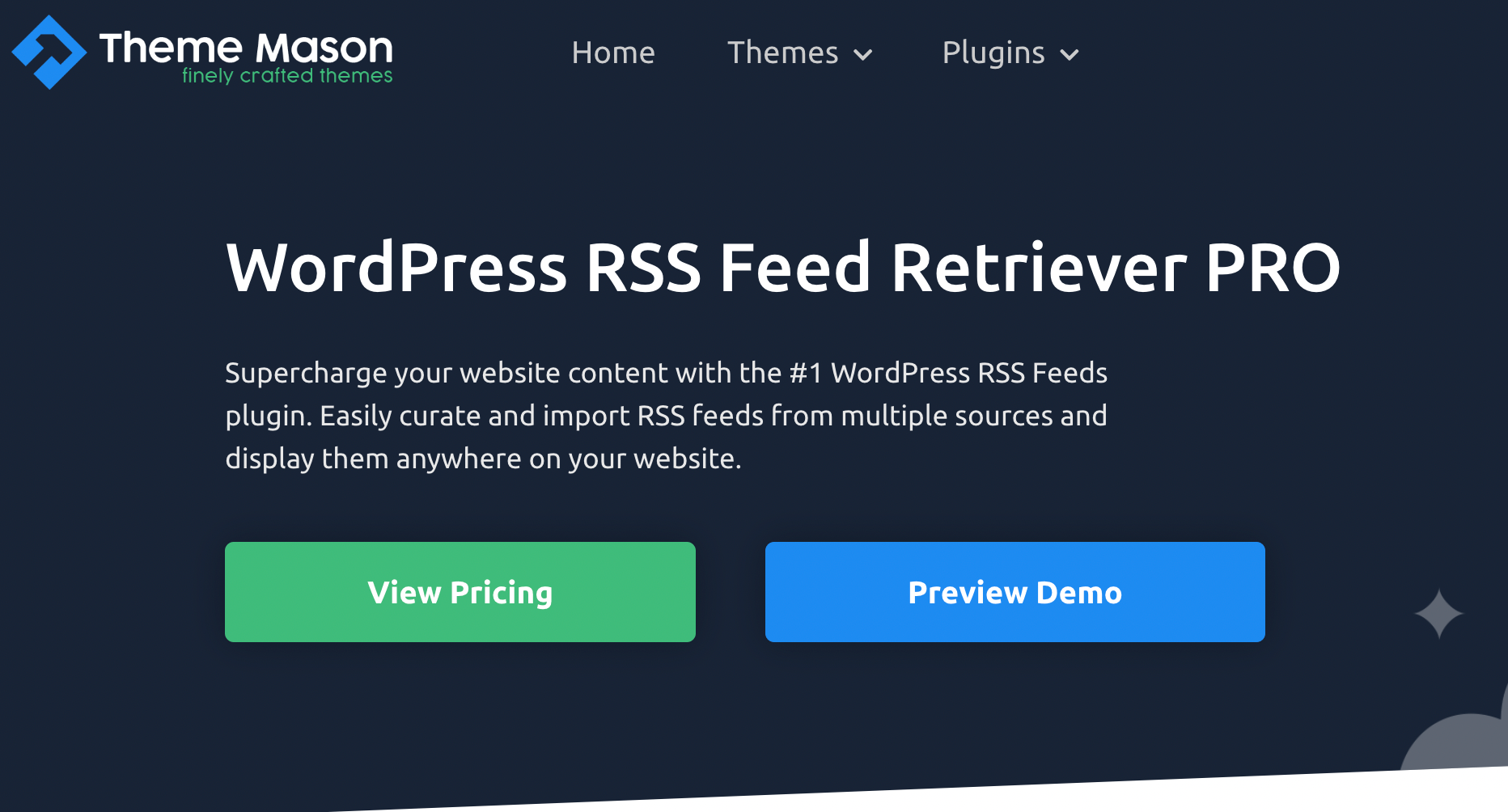 Unlike the other WordPress RSS feed plugins on this list, WP RSS Feed Retriever is made by theme designers. So, this tool is all about visuals.
You'll get the basics when it comes to transforming WordPress RSS feed to posts, plus some advanced capabilities like pulling from multiple feeds. However, you'll also get access to styling perks, such as added layout and icon options.
What's more, this WordPress RSS feed plugin enables you to use shortcodes to create WordPress RSS widgets. On the other hand, if you're a fan of the Block Editor, that's not a problem since the plugin is also compatible with the Shortcode block.
If you're in the market for a WordPress RSS plugin, this is one of the most affordable options we've seen. You can choose from a tiered pricing plan, with packages starting as low as $29 / year for a single license. This plan also includes a year of updates.
This makes this small yet mighty plugin a highly practical choice for smaller websites and blogs. Using the tool, you'll still get essential functionality like thumbnail fetching, dofollow or nofollow options, unlimited RSS feeds, and more.
It is perhaps the most minimalist of the RSS feed to post plugins on this list. As a result, WP RSS Feed Retriever is extremely easy to set up. Plus, it is lightweight and fast.
Another great thing about WordPress RSS Feed Retriever is that it lets you control the size of thumbnails. Furthermore, you can enable "read more" links for excerpts.
While it works seamlessly with the Block Editor, if you prefer, you can also use PHP code to display your RSS feeds. When using PHP, you can even add an RSS feed to your theme template (remember, this tool comes from theme designers).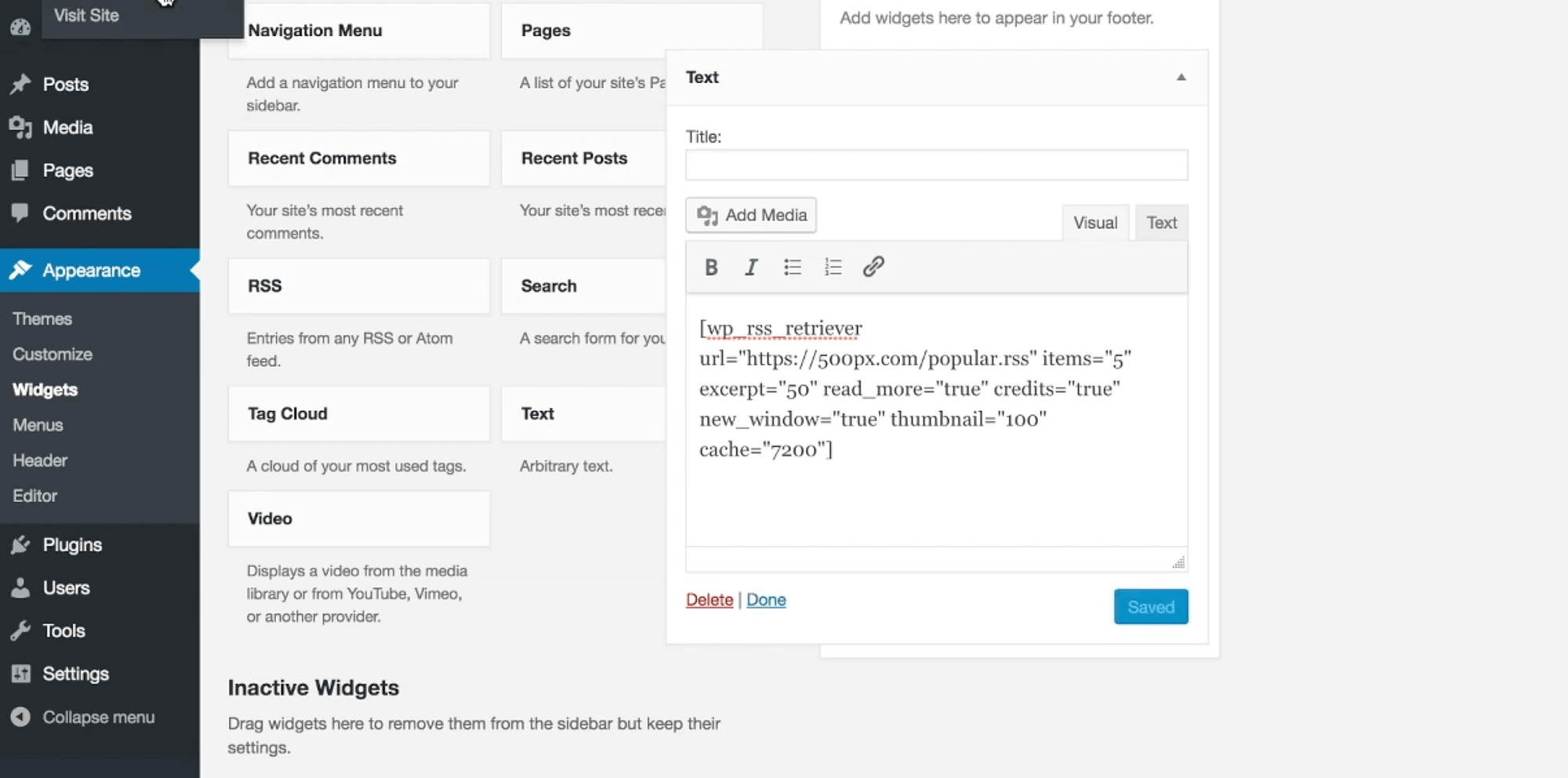 Cool usage example
Who should get WordPress RSS Feed Retriever
Since this WordPress RSS to post solution is rather simple, we'd say it's a great option for solopreneurs or individual bloggers working with smaller content loads. WordPress RSS Feed Retriever can simplify the process of managing your hobby blog, but it won't give you some of the advanced capabilities that other solutions offer.
Still, it's also a fantastic option if you're on a budget, with the most expensive plan costing $89 / year (which is lower than the cheapest plan for most other tools).
We have to admit, we do like this plugin. It has basically all RSS-related functionality imaginable and, at the same time, remains easy to grasp and highly customizable.
Previously, WP RSS Aggregator was a multi-plugin tool. First, you needed the core WP RSS Aggregator plugin – this one was free. Then, you could get any number of add-ons in order to expand the functionality or extend the abilities of the whole thing in some other way (more settings, etc.).
Now, WP RSS Aggregator has simplified its offerings, giving you the option to choose between four plans, for one, 2-5, or unlimited sites.
Long story short, if you want basic RSS to post functionality (plus some extras like keyword filtering and premium templates), it's going to cost you $139 / year for a single site. For a slightly more advanced setup – with full text import services – the price goes up to $159 / year.
Even though the departure from add-ons to a classic tiered plan system seems like less customization, in reality, you're now able to choose between a whopping twelve plans.
Plus, we have to give it to WP RSS Aggregator; they've put great care into delivering very good admin features. For instance, you can import and export your settings and feeds, blacklist feed items, set feed processing intervals, and even enter the debug mode in case there's any problem with your feeds.
Back to the plugin's feed to post abilities… So, for one site, your best option is likely to buy the WP RSS Aggregator's Plus plan.
This will allow you to add an RSS feed, check how it should be imported and what should happen with the content once imported, process the images, assign an author account to imported content, add custom text before and after the content, and more.
Overall, there's a lot of stuff there, but at the same time, you can very well just use the default settings, and your posts will get imported with no problems.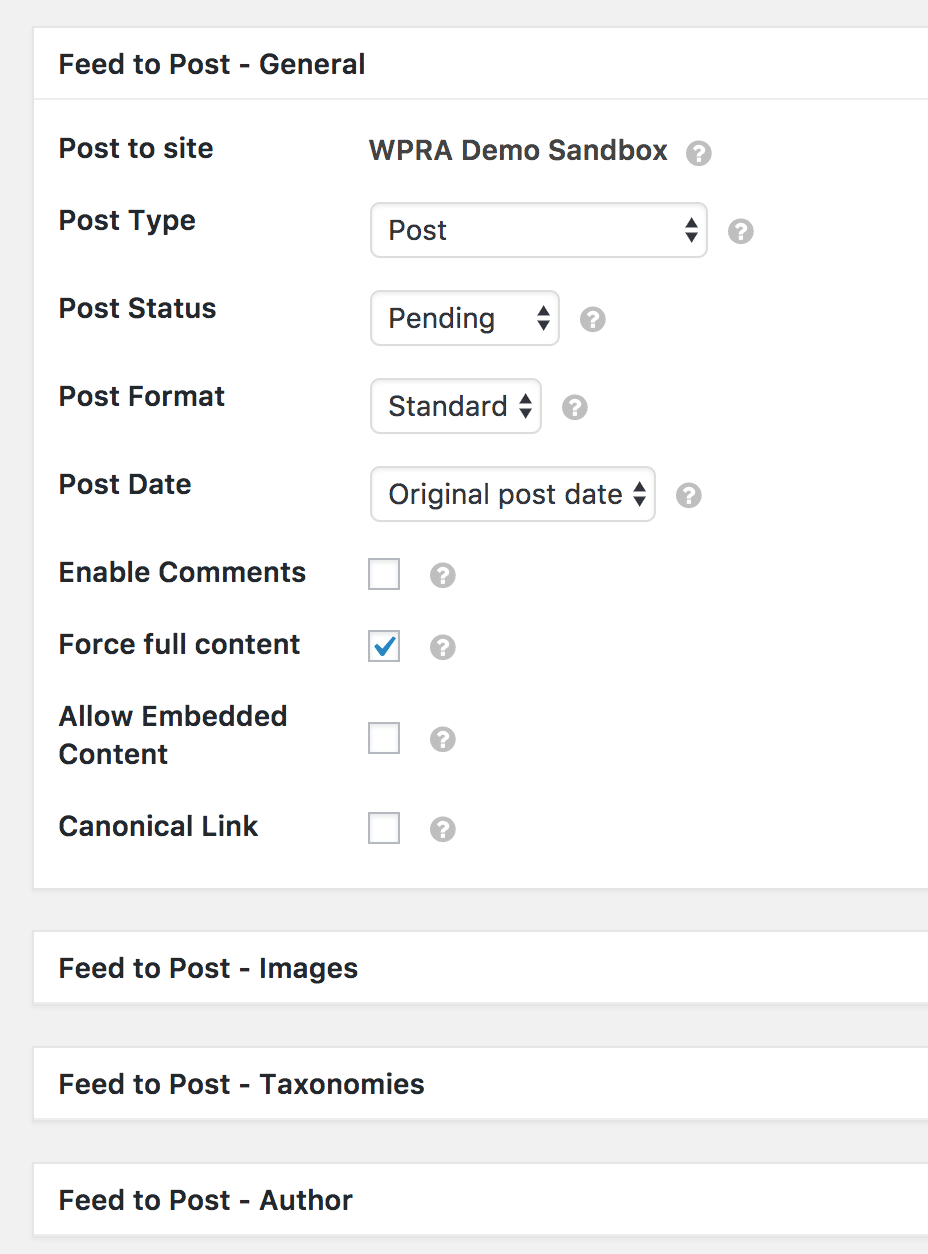 Cool usage example
Who should get WP RSS Aggregator
Looking through all of the plugin's features, we'd say that it's a great solution for websites that rely heavily on external RSS feeds and the ability to import them with no hassle. Content aggregators come to mind, internal websites (within a business), curated publications, etc. And, of course, you need to be ready to spend $139 / year.

Your choice?
What do you think? Have you tested any of the popular RSS to post WordPress plugins? Or maybe you have a really cool use case involving RSS that you'd like to share? Speak up in the comments below.
Here's that comparison table again:
Best RSS to Post WordPress Plugins Compared

| | Feedzy RSS Feeds | WPeMatico | WordPress RSS Feed Retriever | WP RSS Aggregator |
| --- | --- | --- | --- | --- |
| RSS to Post | Y | Y | Y | Y |
| Keyword Filtering | Y | Y | N | Y |
| Media Attachments | Y | Y | Y | Y |
| Full Text RSS | Y | Y | Y | Y |
| WordPress.org Rating | 4.7 / 5 | 4.8 / 5 | 4.7 / 5 | 4.5 / 5 |
| PRICE | $99 / year for 1 site | free (lite) or $82 / year for 1 site (pro) | free (lite) or $29 / year for 1 site (pro) | $139 / year for 1 site |
| | | | | |
Don't forget to join our crash course on speeding up your WordPress site. Learn more below: