If you are thinking about getting into the WordPress hosting game, then reselling hosting can be a lucrative business. Whether you are a web agency looking to provide hosting for your clients, or company providing stand-alone hosting options, there are plenty of reseller hosting providers to select from.
In this article, we look at six of the top reseller hosting providers. These all differ in the features they offer, their plans and pricing. However, if you are looking to resell hosting, there will definitely be something here that suits your business needs.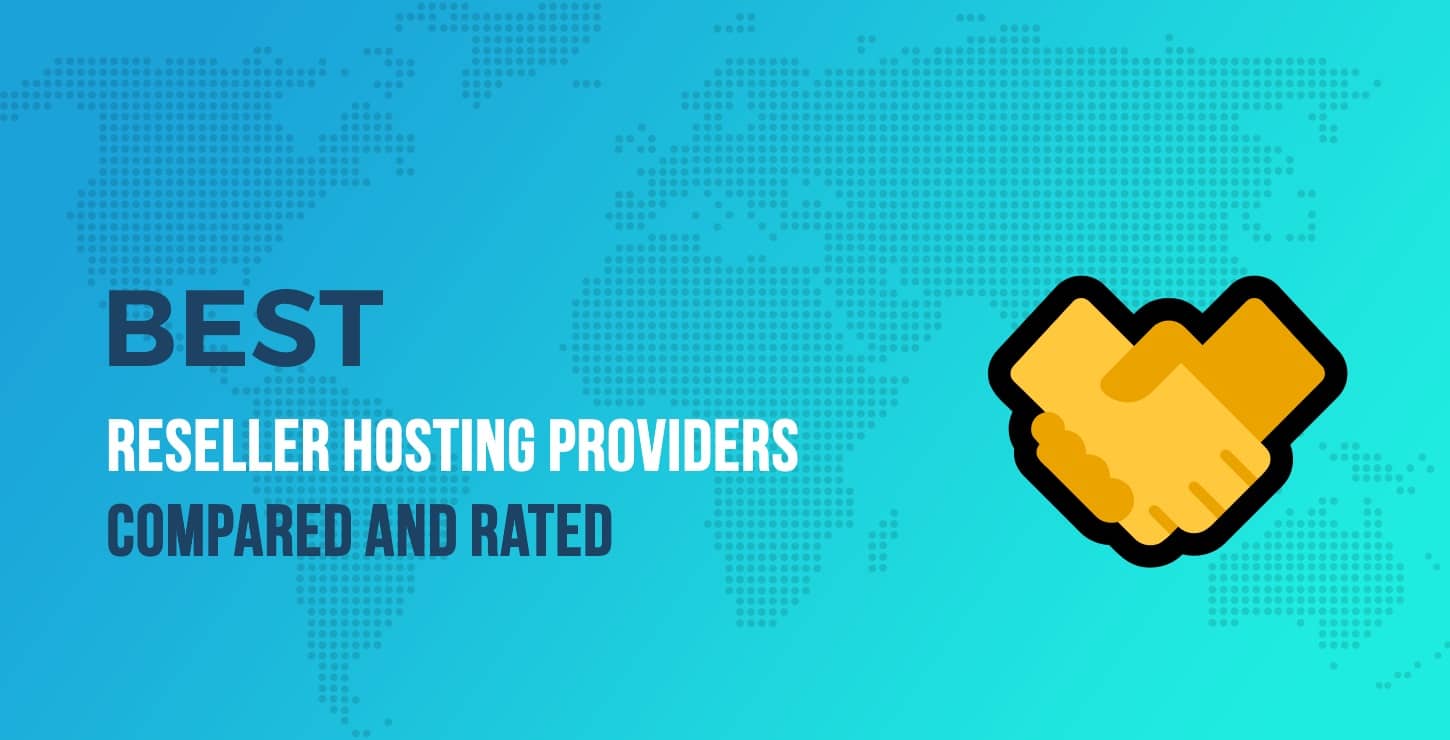 🤝 Best reseller hosting providers compared
Here are the hosts that have made the top six:
Here's what makes each one a great reseller hosting provider:
InMotion Hosting offers a wide range of reseller plans and features. So whatever your reseller hosting needs are, there will be something that works for you. InMotion Hosting has servers located on the east and west coasts of the US, top security features are provided by Correro and Patchman alongside daily backups, and uptime is at around 99.98%-99.99%.
Now, let's check out some of the reseller features (these are available on all plans):
Account management – InMotion Hosting provides access to WHMCS, enabling you to automate management, billing, and support for your clients from one central dashboard. You can also easily manage your clients' accounts via SSH, private unbranded nameservers, and unlimited FTP accounts.
Domains – InMotion Hosting allows resellers an unlimited number of domains for free, as well as add-on, sub, and parked domains. All plans come with a free eNom domain reseller account, allowing you to register top-level domains for your customers.
Customer resources – Resellers have complete control over the amount of resources each client receives. You can assign as much disk space, bandwidth, domains, etc., as you wish, limited only by your own reseller package resources.
White label – The anonymous name servers and cPanels that can be custom branded mean that you can easily brand your hosting service and provide your own custom hosting packages for your clients.
Support – 24/7 support is provided to the reseller, via email, live chat, and phone. However, as the reseller, you are responsible for providing support to your customers.
Resellers can choose from one of four plans, with shared hosting starting at just $13.99 a month, and packages using virtual private servers from $21.99 a month. Disk space, bandwidth, and the number of IP addresses provided are all plan dependent.
SiteGround hosting is ideal for web designers and developers looking to host their clients' websites on a long term basis. As a hosting provider, SiteGround has much to offer, including server locations on four continents, access to Cloudflare CDN, advanced security, and a track record of 99.99%-100% uptime (according to our tests). But what about reseller features? Let's take a look:
Easy management – All reseller tools can be accessed from one dashboard, enabling easy management of all hosting accounts.
One-click account launch – Resellers will find account set up for new clients extremely quick and easy with SiteGround's one-click account launch feature.
Account features – Every user receives at least 20 GB of web space, unlimited websites, FTP accounts, and MySQL databases, as well as free email accounts and daily backups.
White label options – SiteGround provides non-branded Site Tools (which replaced cPanels), enabling resellers to brand their own hosting service.
24/7 reseller support – SiteGround experts are available around the clock to provide technical support to the reseller.
SiteGround previously had a reseller plan where you'd have to spend a minimum of $42 to buy a single credit (required five credits to begin). But now SiteGround allows you to purchase as many hosting plans and domains as you have clients, from as little as $6.69 per month.
HostGator is number three on our list of reseller hosting providers because of its many great features. These include unlimited domains and subdomains on all plans, private servers based on your domain, plus a 99.9% uptime guarantee.
Let's take a closer look at a few more features that HostGator offers for resellers:
Hardware – HostGator provides unlimited hosting on all their reseller plans. You'll also get 600 GB of bandwidth and 60 GB of disk space from their entry-level package. If you need more bandwidth and space, you can upgrade. In addition, you get a free SSL certificate, regardless of your plan.
WebHost Manager (WHM) – HostGator's WHM will help make managing multiple cPanels accounts a little easier. For example, you can monitor your server statuses. You can also assign specific resources like disk space, bandwidth, and email accounts to each cPanel account.
Control Panel – All plans come with a one-click installer that allows you to quickly install popular applications like WordPress, Joomla, and Drupal for your clients, simplifying the process of setting up their websites. It's also easy to schedule regular backups and restore websites if any data loss or technical issues occur.
White-labeling – The platform allows you to easily brand your hosting service to make it look like your own business.
Support – HostGator offers 24/7 support across different channels, including live chat, phone, and email. They also have a Twitter account where you can reach out to them if you're experiencing any challenges.
There are three reseller packages available. Plans start at $19.95 per month, which includes unlimited MySQL databases, FTP accounts, and websites.
Another in our collection of best reseller hosting providers is Flywheel. This managed WordPress hosting solution provides a reseller program that is a perfect fit with agencies wanting to offer WordPress hosting as part of their services. Flywheel will take care of your clients' WordPress updates, backups, caching and malware monitoring. All client websites are also hosted on VPS, and you can select from seven server locations.
Here are Flywheel's other top features:
Simple dashboard – Say goodbye to cPannel, as Flywheel uses its own custom dashboard. Access all your clients' website hosting settings and stats via this purpose-built all-in-one management system.
White label – You can easily white label the Flywheel dashboard so that all client-facing material displays your branding. Upload your logo and select your color scheme, so your clients will never know you are using Flywheel hosting.
Automated payments – Clients can set up automated subscription payments via your dashboard (using Stripe). Flywheel will then send out automated billing emails using your branding.
Free SSL certificates – All websites get a free SSL certificate from Flywheel, helping to keep them safe and secure.
Support – A team of experts is ready to help you with any issue or question, enabling you to provide top support to your clients.
To take advantage of the Flywheel reseller program, you will need to sign up with one of the Flywheel Bulk plans. Prices start at $115 a month, which translates into up to ten sites and includes 20 GB disk and 200 GB bandwidth. You can then divide the resources as appropriate, creating your own custom services and prices.
Liquid Web is a managed hosting company that offers an impressive selection of reseller options, including dedicated servers and VPS, as well as cloud-based hosting. Liquid Web also offers servers in one EU zone and two US zones, CloudFlare CDN, DDoS protection, and 100% uptime.
Here are the top features for resellers:
Custom plans – Create your own custom plans to sell. Divide up the resources, select services and add-ons, and choose features to fit with your clients' needs.
White label – Whatever plan you choose, you will be able to white label your service. Brand your clients' dashboards, or make customizations within WHMCS to ensure your customers receive a fully branded service.
WHMCS – Oversee every aspect of your hosting service from just one interface. Manage accounts, generate professional invoices, provide comprehensive support, automate emails, and much more. Liquid Web has also created its own WHMCS plugin for selling cloud products.
SSL certificates – Liquid Web offers free standard SSL certificates to ensure your customers are protected.
Support – Liquid Web is known for its first class customer support. Whatever the question, the reseller can contact the support team 24/7.
As mentioned, Liquid Web provides numerous reseller plans and options, with prices starting at $99 a month. However, you will need to apply to their reseller program to qualify to sell any of their services or products. You will also need to have hosting with Liquid Web to receive the WHMCS benefits.
Last but not least in this collection of the best reseller hosting providers is Bluehost, which offers its reseller hosting packages via ResellerClub. The companies announced their partnership back in 2014 when Bluehost first recommended ResellerClub as the perfect place for all your reseller hosting needs.
Let's take a look at the features that ResellerClub offers:
Four reseller hosting plans – ResellerClub has four plans for resellers to choose from. Prices start from $15.99 per month (on a 3-year plan), including 40 GB of disk space and 800 GB of data transfer. At the other end of the scale, the top plan for $36.99 a month (for 3 years) offers 200 GB of disk space and 3,900 GB of data transfer.
Flexible plans – Resellers can create an unlimited number of websites and distribute the resources of their plan in any way they want. This enables you to create custom hosting plans and pricing for your customers.
WHM and WHMCS – Easily create, manage, and administer web hosting accounts and plans via WHM to suit your customers' needs. WHMCS is also available for resellers on the top three ResellerClub plans – enabling you to easily automate billing, ticket support, and other client management functions.
White label – The control panel provided by ResellerClub is fully customizable and can be branded to suit your style.
Support – Resellers are the first line of support for their clients. You can then contact the 24/7 support team via phone, email, or live chat, to discuss any issues your customers may have.
Other features include CloudFlare CDN, unlimited email accounts, access to 400+ Softaculous apps, and a 30-day money-back guarantee.
You may also be interested in:
🧐 What to look for when picking your reseller hosting providers?
Choosing a reseller hosting provider is about much more than just going with the label that looks the most familiar, or has good reviews from customers. You should consider other details as well, and compare them with what your business needs and how you intend to use the reseller packages. Let's take a look at some key factors that you should examine before picking a reseller host:
🧰 Account management

User-friendly features, including WHMCS access, WHM, or custom dashboards, will enable you to easily create, manage, and automate all aspects of your clients' hosting. In other words, you don't want to be forced to interact with the servers on a source-code or unix level.

🗄️ Resources

Check out the bandwidth and web space provided by each host and how these can be resold. Can you create your own custom plans for your clients? How many websites can you host? And what other features can you offer – email, domains, SSL certificates?

👐 Client interfaces

Depending on the type of hosting you want to offer, some of your clients might want to do certain administrative tasks on their own. The host should allow this and deliver some standard UI to make that possible. At the very least, each client account should have access to their own cPanel.

🏳️ White label

Find out if you can add your own branding to client dashboards, cPanels, emails, and any other user-facing material.

🚑 Support

Find out how the support works for yourself and your clients. Are you responsible for providing support directly to your customers? And what type of support is available to you as the reseller?

💰 Pricing

Reseller hosting differs greatly in price, depending on the host and package you choose. Look carefully at the prices and features offered, consider the price points of your hosting services, and see if the numbers work. For instance, some plans that may seem expensive at first, can actually add up quite well once you consider how many client accounts you can create on them. At the same time, other, more affordable plans might come with heavy limitations.
Taking the above into account, here's a summary on the best reseller hosting providers in the market:
🏆 Final thoughts on the best reseller hosting providers
As you can see, this list of the top reseller hosting providers has some impressive solutions to select from. However, the reseller provider you choose should be solely based on the needs of your business and clients. Before committing to a reseller program, do your research, read reviews, and speak directly to the hosting providers. This will help ensure you pick a reseller hosting provider that is the best fit with your business.
That being said, if you're a new player in the game of hosting reselling, you'll probably do well with SiteGround or HostGator. First off, their hosting packages have been known for their top quality and great support, so you can be sure that your clients will be well taken care of. Apart from that, the pricing models for both SiteGround and HostGator plans are very clear, so you can easily estimate what it's going to cost you and how much you'll earn reselling.
Any of these top reseller hosting providers appeal to you? Please share your thoughts in the comments below.
…
Don't forget to join our crash course on speeding up your WordPress site. Learn more below:
Layout, presentation and editing by Karol K.
* This post contains affiliate links, which means that if you click on one of the product links and then purchase the product, we'll receive a small commission. No worries though, you'll still pay the standard amount so there's no additional cost on your part.