Product pages must rank to convert. Blog posts must rank to attract readers. Landing pages must rank for any chance at organic traffic. And you have two ways of improving your rankings on Google and other search engines: crossing your fingers or using one of the best rank tracking tools. The choice is yours. 🤷‍♂️
Without rank tracking, you're hoping that your business finds organic search success – maybe you optimize with a few keywords and pay for some ads – but that's quite a gamble when talking about your business. Instead of hoping, use the technology available to make smart ranking decisions.
👉 We've researched and compiled the absolute best rank tracking tools to ensure you're using the top options.
What type of rank tracker is for you? 🤔
When evaluating the best rank tracking tools, we must distinguish between the different types of features offered. After all, rank tracking doesn't mean the same thing to everyone.
💡 Therefore, we wanted to find rank trackers that cover all, or most, of the styles of rank tracking, including:
General webpage rank tracking
Rank tracking for local results
Rank tracking for mobile and desktop devices
Keyword rank tracking
Ideally, you get a little of everything, but it's wise to pick a tool that fits your needs first.
Best rank tracking tools in 2023 🚀
Once you understand what's required for your business, take a look below at the best rank tracking tools to beat out the competition, find more content ideas, and improve your overall SEO.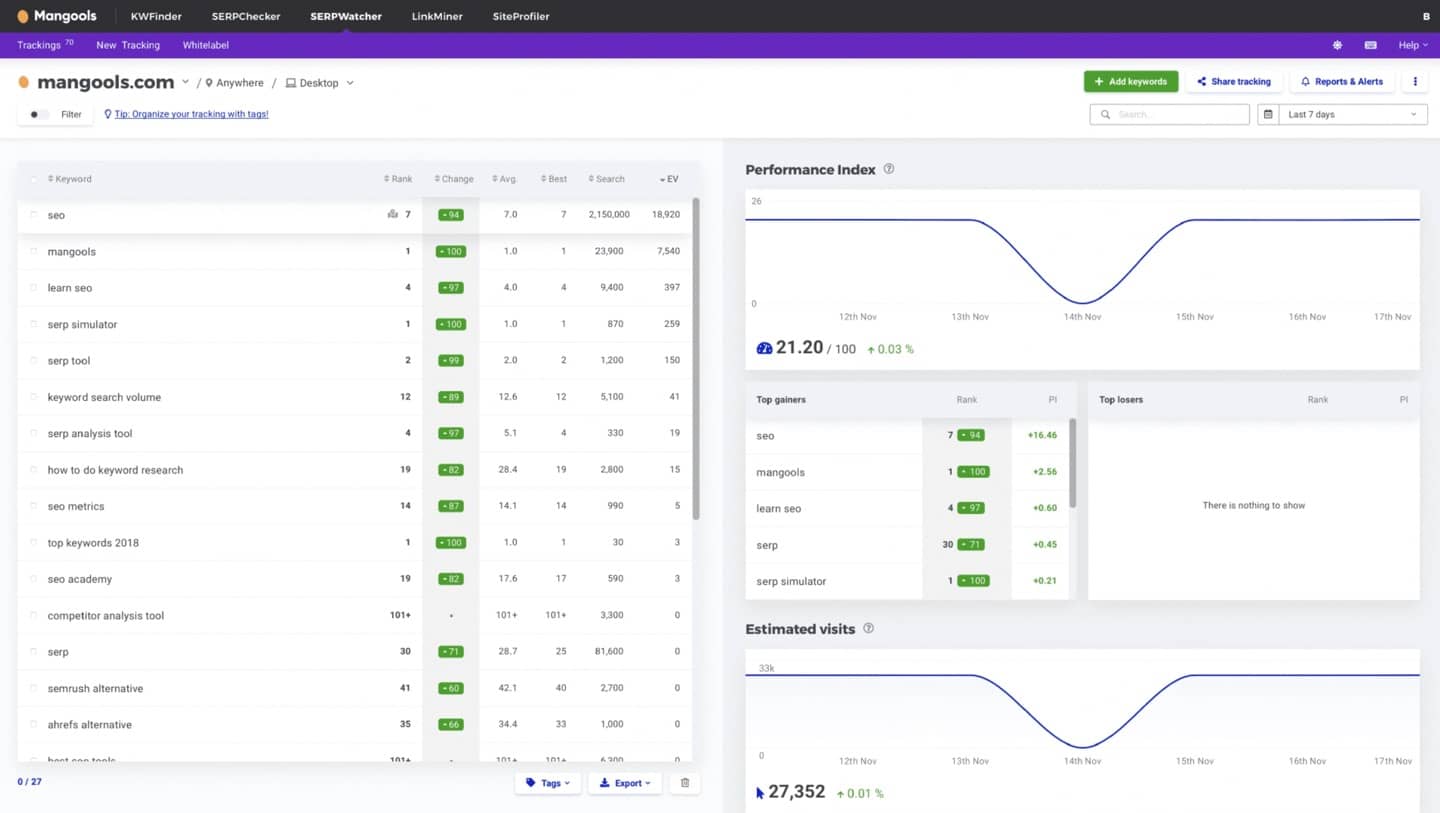 SERPWatcher is a quick-setup tool from the folks at Mangools, and it is ideal for seeing how your website ranks. I particularly like SERPWatcher due to its daily rank updates, location-based rank tracking, and interactive reports that you can share with the click of a button.
SERPWatcher actually comes as a package with all the Mangools products, including:
KWFinder
SERPChecker
SERPWatcher
LinkMiner
SiteProfiler
💳 Pricing
As mentioned, Mangools bundles its five products, so you pay one monthly fee for all of them. They're split into three plans:
Mangools Basic: Starting at $29.90 / month for 200 tracked keywords per day, 100 keyword lookups, 200 keyword suggestions, 25 competitor keywords, 100 SERP lookups, and 20 site lookups.
Mangools Premium: Starting at $39.90 / month for 700 tracked keywords per day, 500 keyword lookups, 700 keyword suggestions, unlimited competitor keywords, 500 SERP lookups, and 70 site lookups.
Mangools Agency: Starting at $79.90 / month for 1,500 tracked keywords per month, 1,200 keyword lookups, 700 keyword suggestions, unlimited competitor keywords, 1,200 SERP lookups, and 150 site lookups.
These prices are for yearly billing; pricing goes up if you pay monthly. Mangools offers a 10-day free trial for new users.
⚙️ Features that make SERPWatcher one of the best rank tracking tools
It offers a "30-second" setup, and the interface is easy to understand, even for beginners.
You receive a performance index that combines your current keyword positions and search volumes while also sharing the potential your site has for growth in the SERPs.
Get ranking updates, such as drops and rises, sent to your inbox daily.
You can check SERP previews to visualize how your brand looks on Google while also seeing which competitors you need to beat.
Gain access to rankings positions on both mobile and desktop interfaces.
SERPWatcher loads precise location-based data to ensure your rankings are as accurate as possible, with support for over 50,000 countries, cities, and states.
It comes with more than just rank tracking; all pricing plans provide products for keyword research, SERP analysis, backlink analysis, and SEO metrics, besides the rank tracking.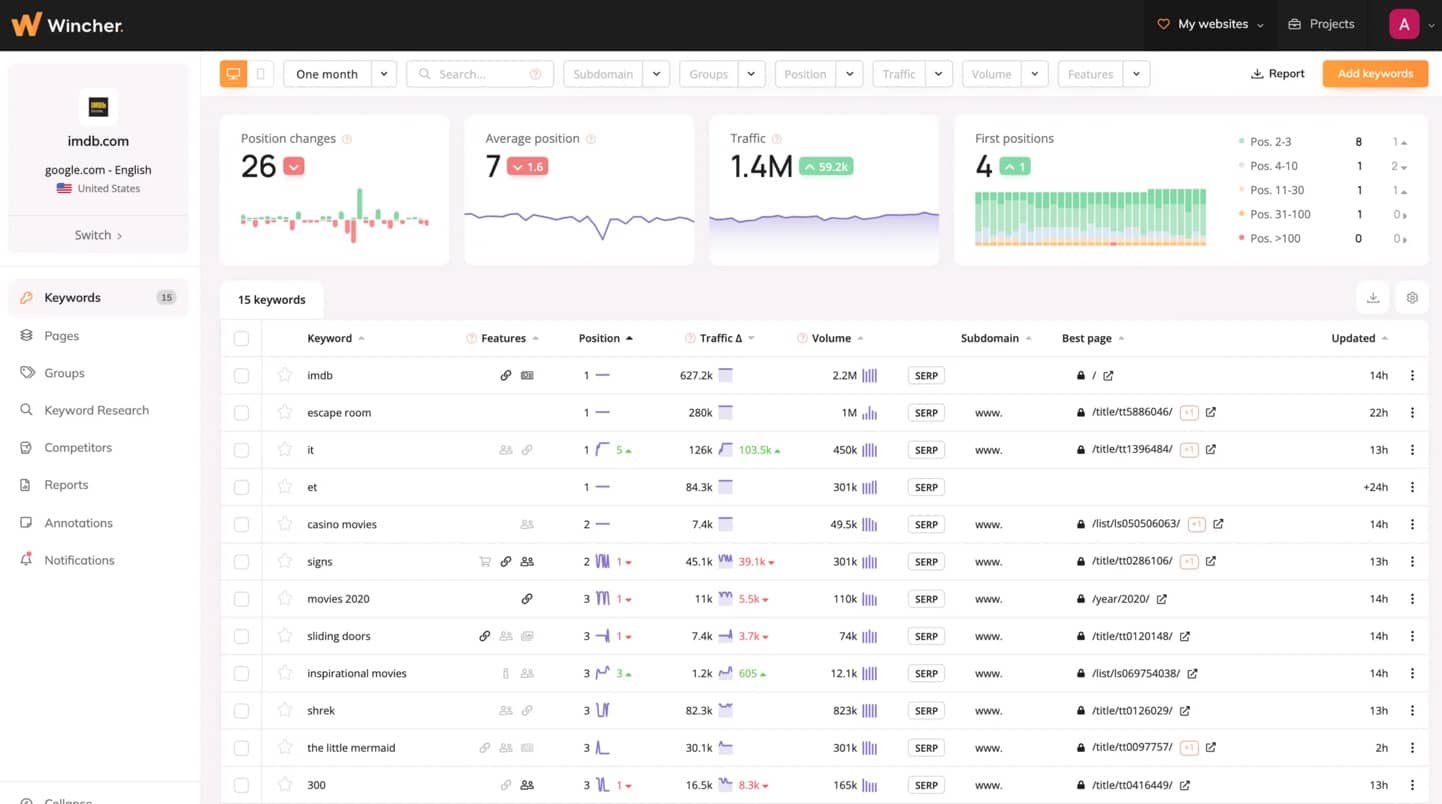 Wincher excels as an affordable, effortless rank tracking tool combined with keyword tracking discovery, content optimization, and competition analysis. It all starts by finding better keywords through competitor tracking and figuring out which keywords you have a chance to rank with. After that, the rank tracking comes into play.
Receive detailed reports on your rankings, right in your inbox. Wincher also has strong integrations with WordPress for tracking keywords in individual posts and pages. We see it as similar to SERPWatcher in simplicity, but with more of a focus on rank tracking rather than cluttering the interface with several other tools, like you get with SERPWatcher.
💳 Pricing
Starter: Starting at $24 for 500 keywords, daily rankings updates, tracking for ten websites, and support for multiple users.
Business: Starting at $49 for 100 keywords, everything in the previous plan, plus unlimited websites, white-labeled reports, on-demand rankings updates, and access to the API for building custom tools and integrations.
Enterprise: Starting at $199 / month for 5,000-10,000 keywords, everything in the previous plans, plus support for external users, project permissions, and priority customer support.
These prices are for yearly billing; monthly billing increases the per-month pricing. It's possible to upgrade to a custom plan for over 10,000 keywords. Wincher offers a free trial for 14 days.
⚙️ Features that make Wincher one of the best rank tracking tools
It offers support for multiple users, even with the cheapest plan.
You can integrate Wincher with Google Search Console.
Business and Enterprise plans have API access and a Google Data Studio integration.
Reporting includes scheduled and on-demand PDF, Excel, and CSV exports.
Ranking updates go out every day.
It supports over 130 versions of Google, mainly those in different regions.
Track local rankings based on country, city, or region.
Receive an on-page SEO score.
Group keywords and manage tracking by project or pages on your website, all for improved organization.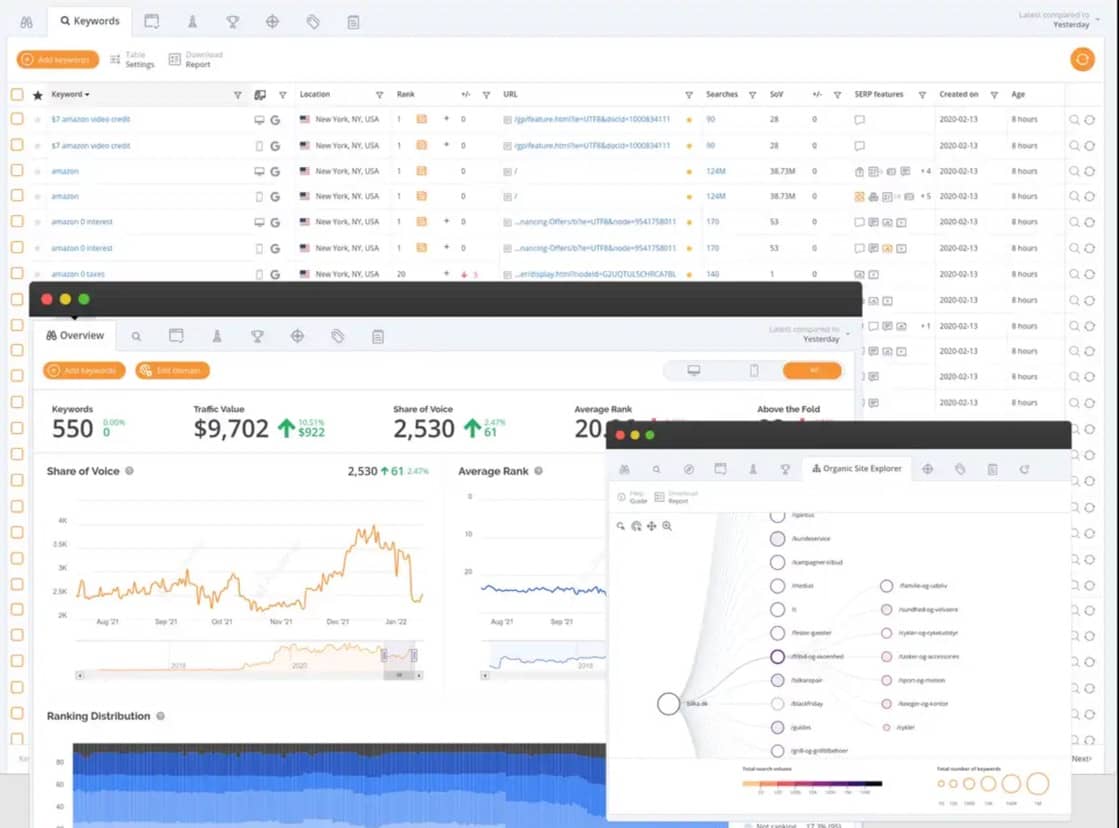 AccuRanker is marketed as a rank tracking and SEO tool for agencies and enterprises. As such, the pricing is higher and the offerings more robust. What's great about AccuRanker is that it's sold as one complete tool—not a suite with multiple components.
I enjoy the intuitive, clean interface that allows you to instantly access SERP history, competitors, and your organic visibility.
💳 Pricing
To make things easy, AccuRanker only charges based on number of keywords tracked. The price goes up as you add more keywords.
For example:
1,000 keywords: $99 / month
1,500 keywords: $139 / month
2,000 keywords: $199 / month
The pricing goes up multiple times until you hit 50,000 keywords. After that, you must call for custom pricing—anything up to 1M keywords.
⚙️ Features that make AccuRanker one of the best rank tracking tools
AccuRanker provides in-depth analysis with robust filtering and segmentation, allowing you to organize long lists of tracked keywords.
View the SERP history to understand which factors drive the increase or decrease in your rankings.
Examine how competitors match up to your keywords over time.
Instant refreshing for on-demand updates of rankings.
AccuRanker supports all the most popular search engines, not just Google. Others include Baidu, Yandex, Bing, and YouTube.
See local search engine results, along with multi-device rankings.
Segment your data with tags to better visualize longer lists.
AccuRanker integrates with analytics tools like Google Analytics, Adobe Analytics, Google Data Studio, and Google Search Console.
Specifically, segment results for landing pages.
Tap into the API for advanced customizations and integrations.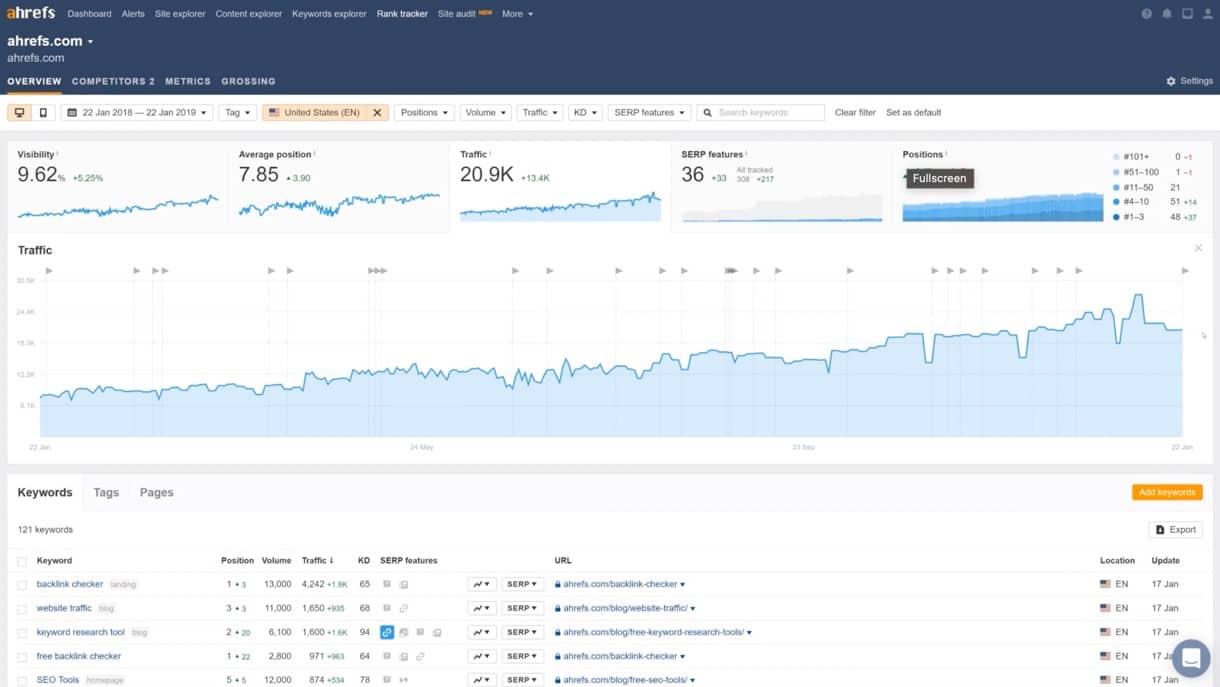 Ahrefs serves as an industry leader in SEO management and analysis, boasting a suite of powerful tools like its Rank Tracker, Site Explorer, Site Auditor, and Content Explorer.
It's one of the pricier solutions, but for good reason. The rank tracker by itself uncovers an enormous amount of data on search volume, traffic, and rankings. And it's all visualized in beautiful graphs, with information about how your rankings move over time.
💳 Pricing
Lite: $83 / month for the rank tracker and several other tools. Rank tracking features include 750 tracked keywords, unlimited reports, and weekly updates.
Standard: $166 / month for everything in the previous plan, plus added tools like the Content Explorer. For rank tracking, you get a boost to 2,000 tracked keywords.
Advanced: $333 / month for everything in the previous plans, plus tools like dashboard folders and the Google Data Studio integration. Rank tracking increases to 5,000 keywords.
Enterprise: $833 / month for everything in the previous plans, plus extra options like API access and an audit log. Rank tracking goes up to 10,000 keywords.
The pricing listed is for yearly billing; monthly billing is higher. Ahrefs famously never runs promotions or offers free trials.
⚙️ Features that make Ahrefs one of the best rank tracking tools
View ranking updates for desktop and mobile devices.
Monitor Google rankings across over 170 countries.
It only takes a few minutes to import information like keywords, competitor URLs and countries.
The tracker offers easily understandable graphs to check average position, traffic, distribution, and visibility.
Keep an eye on which SERP features you own, such as image packs, featured snippets, and top ads.
You can use the filtering tools to instantly view keywords that have recently gained or lost SERP features.
There's a direct comparison tool to analyze search traffic and ranking progress against the competition.
See what share of the market you control for every keyword. This is called "share of voice."
It comes with a full suite of SEO products, not just rank tracking. Other tools are the site explorer, content explorer, site auditor, and keyword explorer.

Semrush is a fairly direct competitor to Ahrefs, in its pricing and offerings. But still, it stands out with unique features like a keyword cannibalization report and information about your owned social profiles.
From social media management to rank tracking, and link building to on-page SEO, Semrush does it all. For rank tracking, they divide functionality between three tools: Position Tracking, Sensor, and Ranks. This simple three-step process helps Semrush solve the usual complexities of rank tracking by tracking positions, checking volatility, and showing you the rankings when necessary.
💳 Pricing
Pro: $99.95 / month for 500 keywords to track, 10,000 results per report, mobile rankings, and a myriad of other features for domain analytics, projects, and listing management.
Guru: $191.62 / month for everything in the previous plan, plus 1,500 keywords to track, five countries to track, and 50 posts to track. And many other non-tracking features.
Business: $374.95 / month for 5,000 tracked keywords, API access, ten countries to track, and 50 posts. And several other non-tracking tools.
Most ranking features come with the Pro plan, so you generally don't have to upgrade from there—if rank tracking is all you want.
Semrush has a free trial/plan that you can technically use forever; it's limited to one project with tracking for ten keywords.
⚙️ Features that make Semrush one of the best rank tracking tools
Semrush contains a position tracking tool to check on search rankings over time.
Locate new opportunities based on past Google results and competitors.
View a comparison of your own business and keywords tracked for the competition.
Understand your overall search engine visibility and estimated traffic.
They have graphs with how many of your keywords rank in the top 3, top 10, and top 20.
Watch real-time rank changes.
The Semrush Sensor tool shares keyword volatility over the past months.
Semrush sends you emails and browser notifications after keyword rank fluctuations.
You can view hints on how to improve your rankings.
Find and research the top-performing sites, and utilize this information to boost rankings, all with regional factors built-in.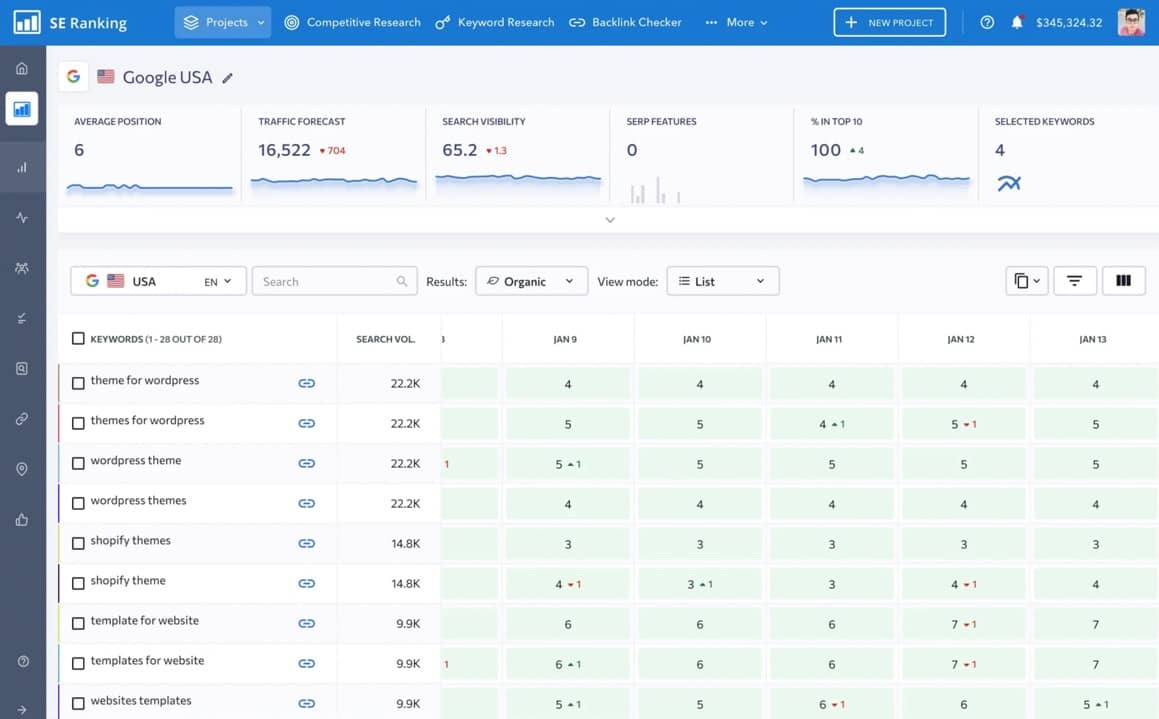 Similar to many of the best rank tracking tools, SE Ranking packs dozens of products into one, starting with the rank tracker and piling on other options for backlinks, keyword grouping, and social media management.
With incredibly flexible pricing, SE Ranking is one of the cheapest ranking trackers on the market. With Google rank tracking at its core, and a wide range of other tools for traffic analysis and competitor comparisons, you can't go wrong with this one.
💳 Pricing
When I said, "incredibly flexible pricing," I meant it. Pricing decreases if you opt for less frequent reports, or if you pick long-term billing, with choices like three months, six months, and nine months.
Here's the lowest possible pricing (with annual billing and weekly updates):
Essential: Starting at $23.59 / month for 250 keywords to track, ten projects, an on-page audit for ten pages, and much more.
Pro: Starting at $52.32 / month for 1,000 keywords, unlimited projects, 30 page audits, and extras like a marketing plan and white labeling.
Business: Starting at $114.72 / month for 2,500 keywords, unlimited projects, 100 on-page audits, and access to the API.
⚙️ Features that make SE Ranking one of the best rank tracking tools
The ability to track one keyword across five different search engines.
Extra information like keyword search volume and traffic forecasting.
API access and white labeling for some plans.
Collaborative use to share reports with clients or work with teammates.
View locational rankings based on city, country, or post code.
Check on keyword rankings by device—mobile and desktop.
Monitor ad positions, SERP features, and Google Maps results.
Compare the competition with an SEO visibility rating and deep competitor reports.
Tag everything, from competitors to catalogs, and reviews to satellites.
Review the top 100 search results for a keyword and gain insight into what you can change to improve.
Conclusion 🏁
In this article, we explored the best rank tracking tools in 2023 based on their pricing, overall feature offerings, and the amount of information you receive for keyword and webpage tracking.
⌛ If you're still floating between two or three options, use our final recommendations to guide you:
Leave us a comment below if you have further questions about these best rank tracking tools, or if you'd like to recommend another rank tracker you have experience with.
…
Don't forget to join our crash course on speeding up your WordPress site. Learn more below: