Looking for the best Mac keyboard available? You're in the right place! In this roundup, I go through six of the best Mac keyboards that the market has to offer, and compare them in-depth. But wait, why listen to this guy (me) about anything having to do with Mac keyboards?
Well, for starters, I might have a slight keyboard addiction. I've tested basically every viable Mac keyboard in the market. Okay, maybe not every single one, but just to give you an idea …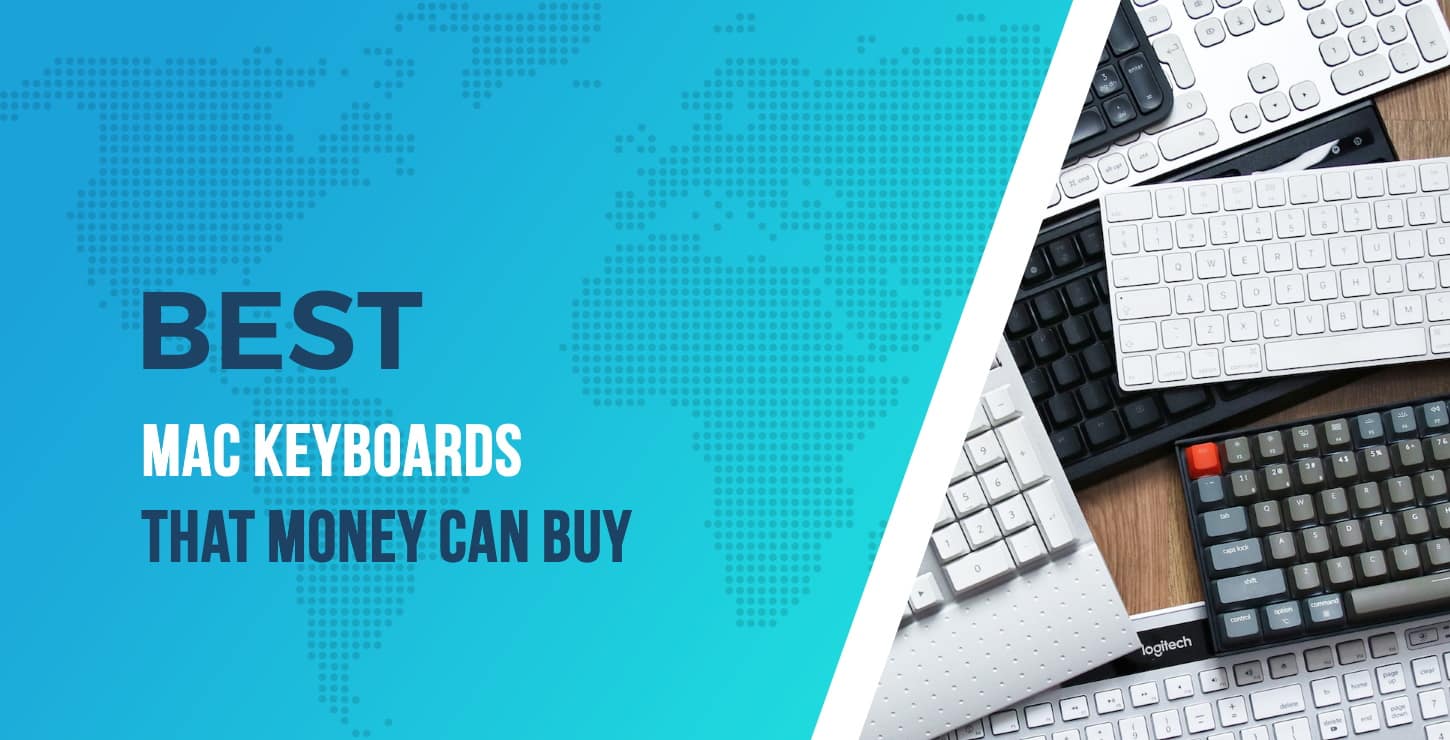 No time to read? Here are my top picks for the best Mac keyboards:
Finding ways to improve my Mac's performance and workflow is my favorite hobby. But, trying to find the best Mac keyboard has been a personal mission of mine ever since I switched from PC to Mac. I quickly found out that getting a keyboard to cooperate with a Mac seamlessly isn't always as straightforward, and that some keyboards are only partially up to the task. Unfortunately, the downsides are not something that the manufacturers like to mention on the box.
This is where the following roundup and comparison comes into play. What follows is a list of six of the best Mac keyboards, their pros and cons, prices, and overall impressions after using each one for at least a month.
What you need to know before looking for your best Mac keyboard
Not all keyboards are created alike – this you probably expect. However, some factors make looking for the best Mac keyboards a bit different than looking for, say, the best keyboard for a Windows PC.
Here's what to pay attention to when on your hunt:
The best Mac keyboards tested
I divided the list into two categories:
low-profile keyboards
mechanical keyboards
While I could have made the categories something like wired vs wireless or Mac native vs multi-OS keyboards, I've decided to ultimately focus on the mechanism that's under the keycap – since this is what makes the most difference when interacting with your keyboard.
Category #1: best low-profile Mac keyboards
Logitech Craft or Logitech MX Keys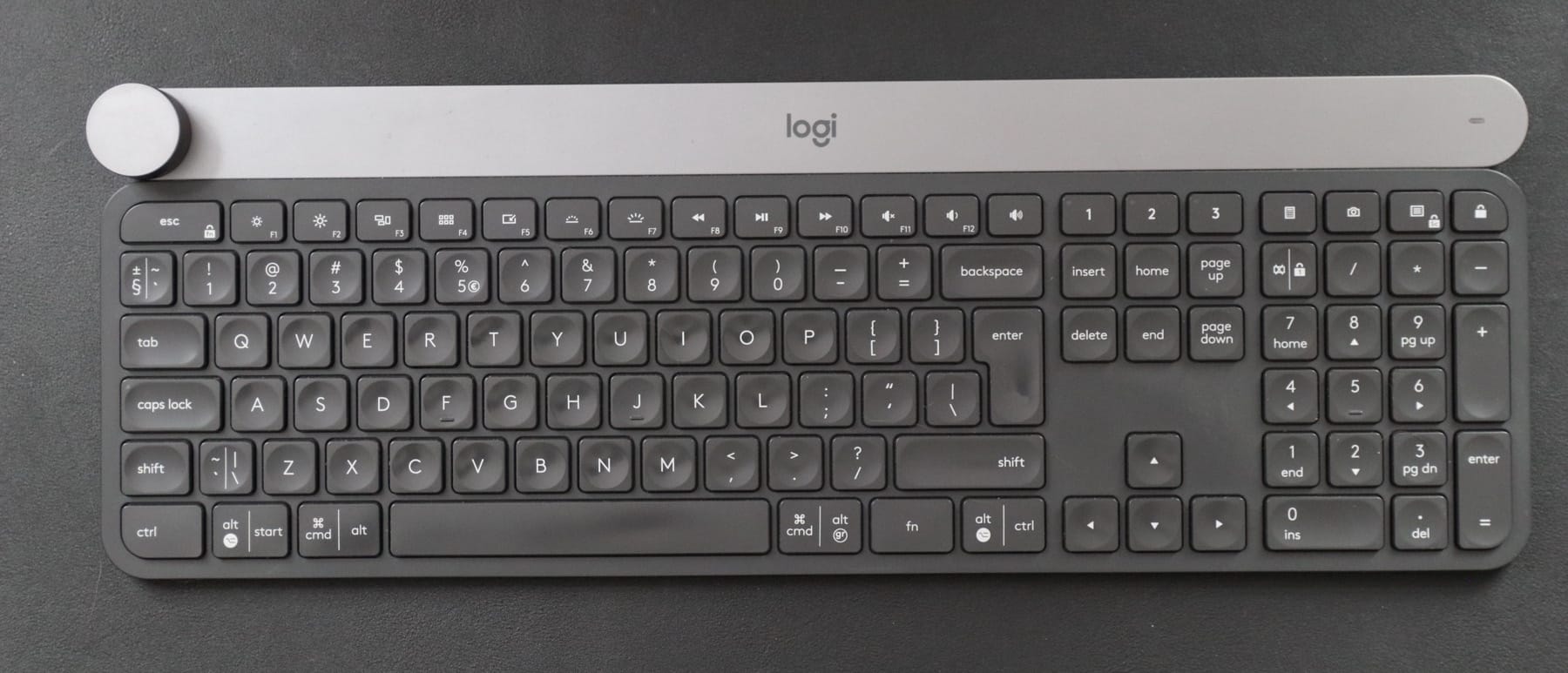 #Wireless
#Multi-OS
#Multi-device
The Craft and the MX Keys are basically the same keyboards with only one difference. The Craft has this:
It's a dome-like dial (called the crown) that can be mapped to do all sorts of different things. Everything else – the key mechanism, the keycaps, and the layout are the same.
All Logitech keyboards come with Logitech's own config software. You'll find a lot of interesting options there, letting you control what each function key does plus what you want the crown to do.
Speaking of the crown, you can use it by performing one of three actions:
Those can be configured freely, but the default is what you see in the screenshot above.
Best of all, you can configure the crown and all the function keys on a per-app basis. So you can have the crown do something else in Chrome vs in the macOS UI. This also opens up a lot of possibilities if you use tools like Sketch or Adobe XD a lot.
Back to the keys and how they work. The key travel is decent, gives you a nice feel and doesn't confuse you whether a key has been pressed or not. Each key also has a nice indentation. This helps avoid accidental key presses – you can always find the center of the key easily.
💰 Price
Logitech Craft: $199
Logitech MX Keys: $100
🔋 Battery life
The battery is 1500 mAh. From my experience, as long as you remember to turn it off for the night, you won't have to charge it more than once a month.
👍 Pros
Can be paired with up to three devices simultaneously. This means that you don't have to re-pair the keyboard each time you switch devices.
Low-profile but still offers decent key travel, which makes typing nice.
The configurable function keys and the crown are a blast.
Logitech Options – the control software that comes with the keyboard lets you easily configure everything.
Good battery life.
👎 Cons
The typing position is not adjustable.
Connect it via Logitech's unifying connector. If you use Bluetooth, you might experience some connection issues.
⭐ Verdict
For me, this is the best keyboard for Mac available. It's highly customizable, the battery lasts long, it's reliable, and the aesthetic is also in tune with other Apple products. If you want the crown, get the Craft. If not, get the MX Keys. And obviously, the price is a factor as well. The Craft is twice as expensive as MX Keys.
Apple Magic Keyboard
#Wireless
#Mac-native
Could we really not have it listed? It is the most compact, the cleanest looking, and the most compatible best keyboard for Mac in the market.
The current generation of the keyboard has an improved scissor key mechanism. Compared to the previous generation, the key travel is smaller, and there's slightly less space between the keys. It's overall a bit easier to hit other keys by accident.
Design-wise, this is a beautiful product. It's slick, simple, minimalistic, and does all that most users would want it to.
That said, it doesn't offer much customization. The only thing you can do is decide whether you want to use the function keys as standard keys or Mac interface keys.
The Magic Keyboard also has a significantly smaller footprint than any other keyboard on this list.
There are two versions available: with and without the number pad.
💰 Price
Apple Magic Keyboard: $99 and $129 (with num pad)
🔋 Battery life
The battery is 2980 mAh. Personally, though, I think I only charged it twice since I got it. It seems like it's not using any electricity at all. 🤷‍♂️
👍 Pros
It's Apple's official keyboard, so it has to work well with a Mac.
Small, compact, super minimal.
Low key travel if you enjoy this sort of thing.
Great battery life.
👎 Cons
Only minimal customization available.
Again, low key travel if you don't enjoy this sort of thing.
Not adjustable.
⭐ Verdict
This is the second-best keyboard in the low-profile category. It looks really clean, offers great battery life, and works with your Mac out the box. No configuration needed. Use this one if you don't mind the lack of customization options or the low key travel.
Logitech K750 Solar Mac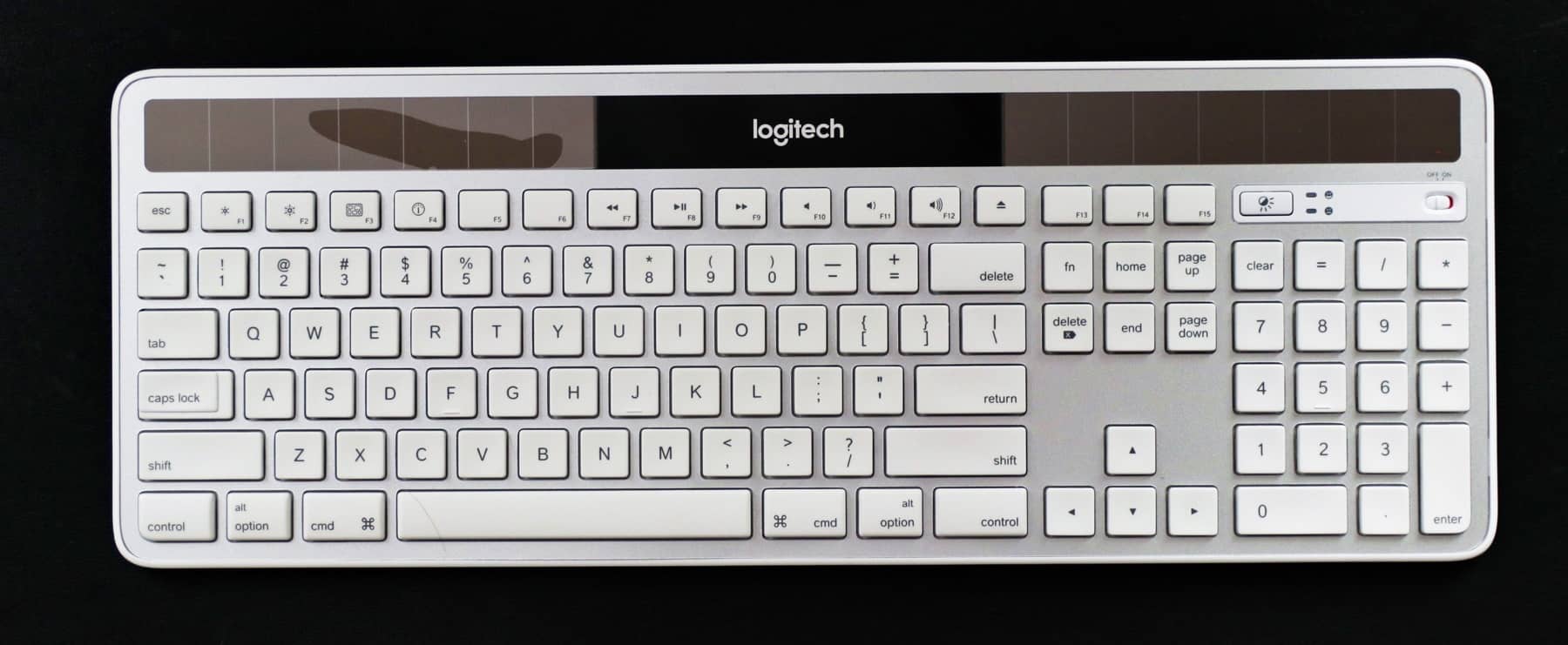 #Wireless
#Mac-native
To be honest, the K750 Solar would have been higher on this list if it was easier to buy it and if Logitech updated the design from when it first launched in 2011 (I think).
While you can still find this keyboard in stores and on Amazon in some countries, it's one of Logitech's older products. I'm not sure if it's just no longer being promoted, or no longer manufactured completely.
The keyboard itself is fairly unique in a couple of ways:
First, it's solar-powered. It's what this strip does: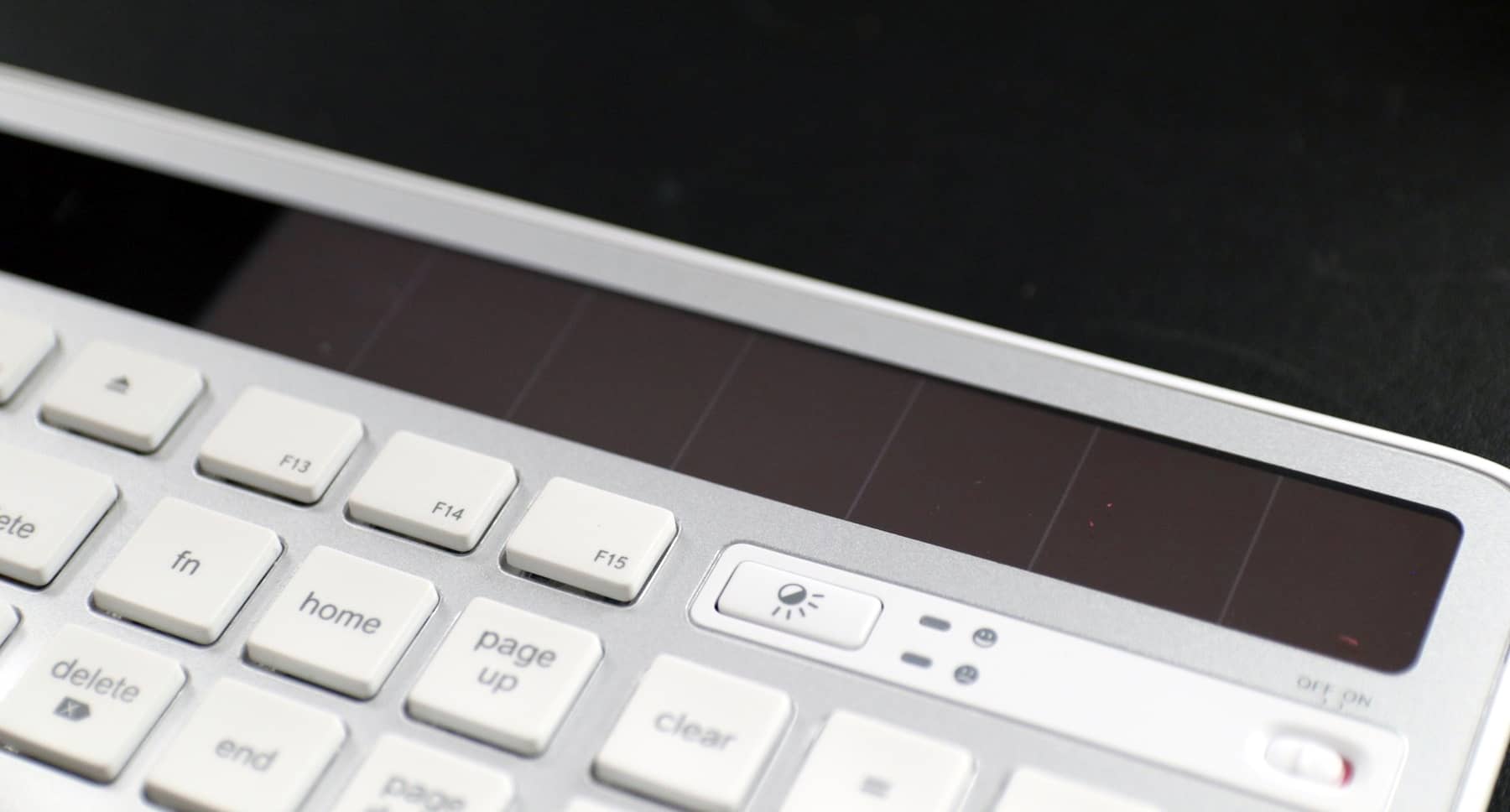 Second, it's really low-profile – lays flat on the table. It's not angled or anything. At the same time, there are these feet that you can deploy to tilt the keyboard toward you.
The keys are really nicely spaced out with a lot of room in between them. This limits accidental presses to a minimum. The key travel is nice, but the movement is a bit unrefined compared to the more modern products of Logitech's.
Configuration-wise, the keyboard, unfortunately, doesn't work with Logitech's newest software. The only thing you can set is how the function keys work. And even that is available only via Logitech's other (presumably) older software called Logitech Control Center.
💰 Price
Logitech K750 Solar Mac: $60-$70
🔋 Battery life
Well, it being solar means that you don't have to charge it at all. It will just work. That being said, I did have another version of this keyboard for my PC and that one decided to die after what I think was 3-4 years of use. Still pretty good for a wireless keyboard with no need to be charged.
👍 Pros
You don't have to charge it, ever!
Lays flat on the table.
Adjustable.
Sufficient key travel and great separation between the keys.
Slick and good-looking.
👎 Cons
Doesn't work with the new Logitech software.
Only minimal customization available.
Hard to get.
⭐ Verdict
Overall, this is a great keyboard. I like it even better than the official Magic Keyboard, but I just can't rank it higher since it's an older product. The main thing it has going for it is the solar feature – so you get a wireless keyboard that you don't have to charge at all. It's also quite cheap compared to the other products. If you can find it, get it!
Satechi Aluminum Bluetooth Keyboard

#Wireless
#Mac-native
#Multi-device
Satechi is a known player in the accessories market for Mac. They offer hubs, mounts, chargers, mice, and also keyboards.
The Satechi Aluminum Bluetooth Keyboard is similar to a couple of keyboards that I already tested above. It has similar spacing in between the keys as Logitech K750 Solar. The indentations on the keys are similar to what you'll find with Logitech Craft, and the typing experience is very similar to the Magic Keyboard, only there's more key travel.
Manufacturing-wise, it's made of aluminum and looks very sturdy. It certainly does have a feel of a premium product.
As I mentioned, the typing experience is similar to that of the Magic Keyboard, but with more key travel. The keys feel very light, which may or may not be something you like.
You can also pair it with up to three devices.
The main downside for me is that you can't customize this keyboard in any way. You can't even change the behavior of the function keys. For me, that's a real deal-breaker since I have different macros mapped there. If that's not such a biggie for you, you're going to have a great time with this keyboard.
💰 Price
Satechi Aluminum Bluetooth Keyboard: $80
🔋 Battery life
Satechi says their keyboard has enough battery life for up to 80 hours of uninterrupted work time between charges. Not that great, but also not tragic.
👍 Pros
The build quality is excellent.
Supports up to three devices simultaneously.
Has custom keys for taking screenshots and copy & pasting.
The typing experience is great, the keys are light, but there's enough travel to keep it comfortable.
👎 Cons
Not adjustable per se, but you do get these stick-on bumpers that you can use.
No customization available, and you can't even set how the function keys work.
⭐ Verdict
For me, this would perhaps be in the top 2 range if not for the lack of customization. Typing on this keyboard feels great, there's a good separation between the keys, and it just looks right on the desk next to your Apple products.
Category #2: mechanical keyboards for Mac
The way I'm going to look at mechanical keyboards for Mac is going to be very similar but with one key difference:
I'm not going to spend as much time talking about key travels and how the keys feel when typing. This all depends on the exact model of key switches that you choose when buying your keyboard. Most mechanical keyboards give you some options, so you can always go with the exact switch that works best for you.
Keychron K2 and K4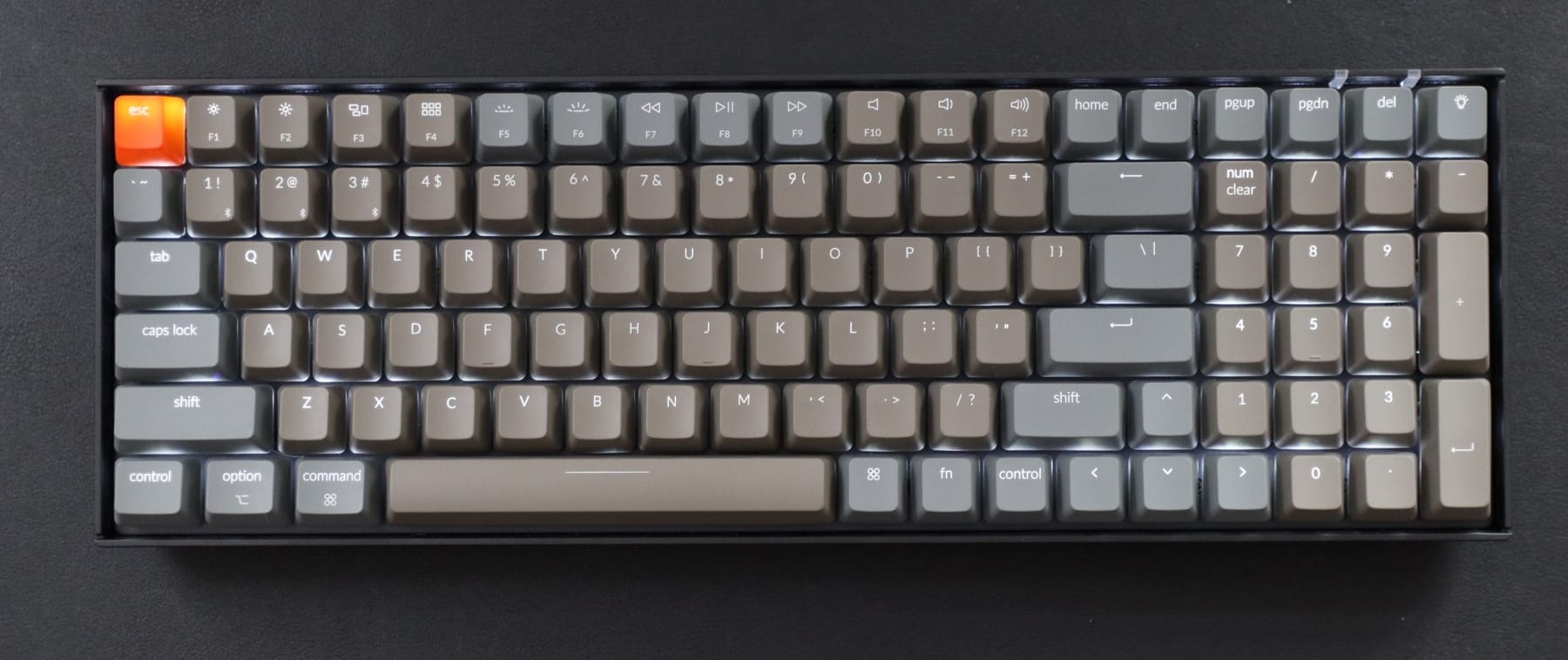 #Wireless
#Wired
#Multi-OS
#Multi-device
If you ever tried to google mechanical keyboards for Mac, you've noticed that there's really not that much choice out there.
For some reason, Mac users, in general, don't seem to care that much for mechanical keyboards as PC users do.
That said, there's still more than a couple of suitable options.
Keychron keyboards are great examples of quality mechanical keyboards for Mac. There are two main models that we'll discuss here: Keychron K2 and Keychron K4.
The features are the same on both keyboards, with the size being the main difference. Plus, the K4 also comes with a number pad.
The main strength of the Keychrons is that you can customize your keyboard quite extensively before you buy it. You can choose from a range of mechanical switches (also including optical switches). You can pick whether you want white or RGB backlight. And you can also order custom keycaps.
The keyboards are compatible with Mac and PC, and they can be connected via Bluetooth as well as by USB cable (the same model of the keyboard, you don't have to pick between Bluetooth and cable keyboard).
When it comes to software customizations, again, there's not that much available. You can only pick how you want the function keys to behave via the macOS settings panel.
But you do get to play around with the backlight. There's a separate key on the keyboard for controlling the backlight sequences. This is kind of fun.
The keys are packed a bit tight, but there's still enough space between them to help you avoid accidental presses. Still not to the extent you get from some of the other keyboards here, though.
💰 Price
Keychron K2: $74
Keychron K4: $79
🔋 Battery life
The battery life is more than great. The K2s and K4s have a battery capacity of 4000 mAh, which is more than double what you get from Logitech Craft. You'll be able to use it for more than a month on one charge with the backlight turned on.
👍 Pros
Great value for money.
Customizable hardware. You can pick the key switches you want.
An overall well-made product, has a premium feel and an original appearance.
Great battery life.
Works via Bluetooth and by cable.
Can be paired with up to three devices and works both on Mac and PC.
The price is very attractive for a mechanical keyboard.
👎 Cons
The keyboard layout on the K4 can be confusing. Especially the placement of the arrow keys. You might have to get used to that, and it will certainly cost you some accidental key presses.
The plastic on the keys could be better, at least to my feel.
It's rather tall, which may be problematic for some users.
⭐ Verdict
Overall, this is the best mechanical keyboard you can buy for Mac. I'm talking about both the K2 and K4. You can customize your hardware before you buy it (pick a switch type, backlight color). The K2 is a smaller model without the num pad. The K4 does feature a num pad, but it is still packed very tightly, which makes the footprint smaller than full-size keyboards with separate number pads.
Azio MK MAC BT / USB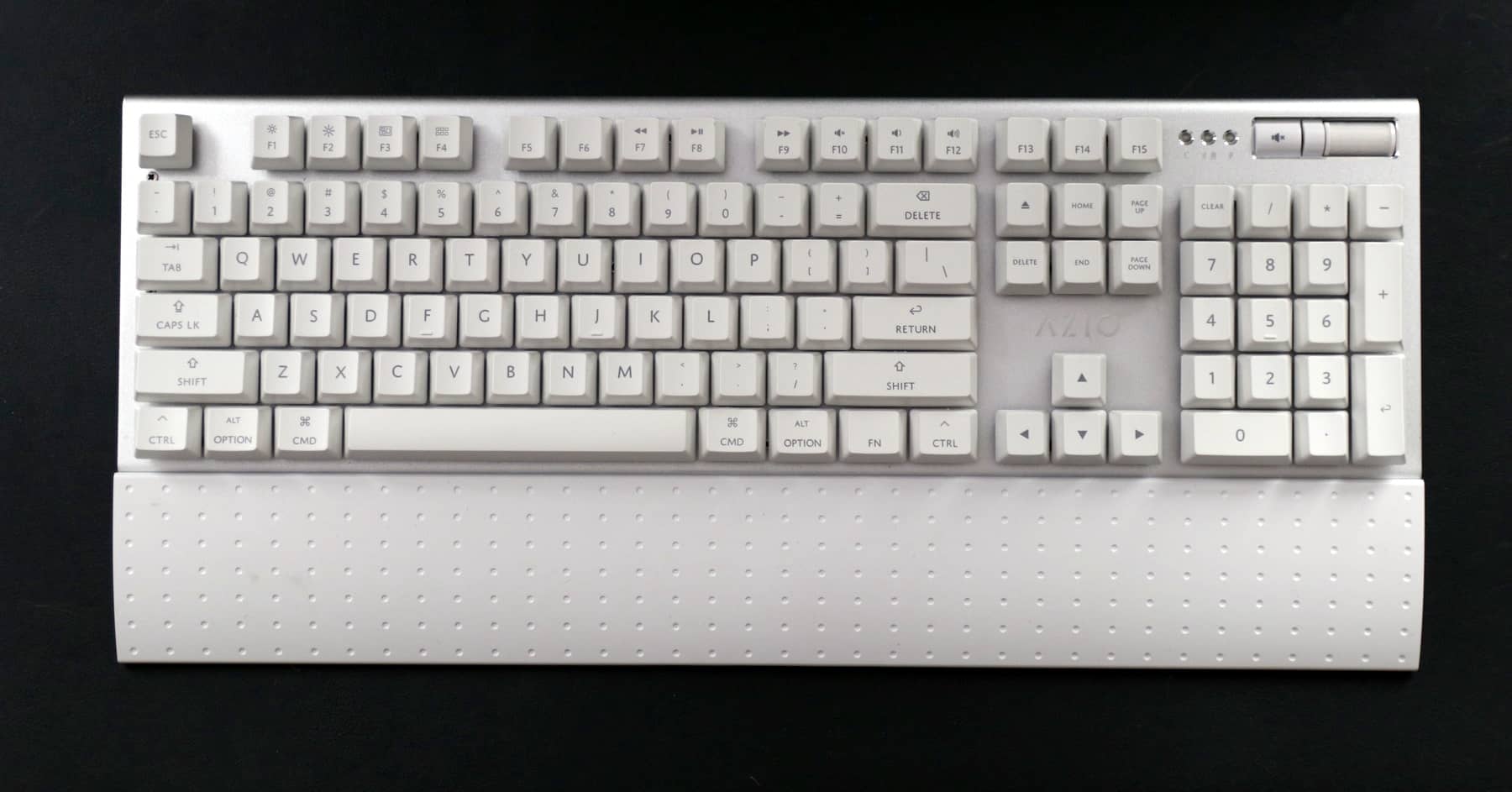 #Wireless
#Mac-native
Update. Azio seem to have stopped offering the Bluetooth version of their keyboard. Now only the USB version is available. The price remains the same.
Azio MK MAC USB is another great mechanical keyboard for your Mac. Design-wise, it's a bit different from Keychron's products – being predominantly white, vs Keychron's dark color scheme.
The build quality is great, there's aluminum finish (the top layer), and the keycaps themselves are made of quality plastic material. The color is also spot-on white, which matches the Apple aesthetic.
Unfortunately, the keyboard comes only with one type of switches, the Kailh Browns.
Customization-wise, you can only set how you want to use the function keys. There is also a volume adjustment wheel, which does work well. However, you can't customize what the wheel does other than controlling the volume.
The keycaps are on the taller side, but the shape of them should help you avoid accidental key presses. Overall, can't complain here.
Azio MK MAC USB comes with a detachable palm rest, which is a nice bonus.
💰 Price
Azio MK MAC USB: $100
🔋 Battery life
Azio rates their keyboard at one month of usage time. I'd say that's about right, but compared to the other keyboards on this list, the battery capacity is not stunning at just 250 mAh.
👍 Pros
Native for Mac.
The design is good.
Sturdy and good build quality.
👎 Cons
No backlight
Only one type of key switches available.
Very limited customization.
Currently only the wired USB version available.
⭐ Verdict
My second best pick for a mechanical keyboard for Mac. It's a bit more expensive than the Keychrons, doesn't let you customize your key switches, and there's no backlight. That said, if you're up for the white color scheme of the product and think it'll match better with your setup, go for it.
Summary, which of these best Mac keyboards to choose?
The first decision you have to make is whether you want a low-profile keyboard or a mechanical one. Unfortunately, there's no clear winner among these two categories. Some people love their mechanical keyboards, while others prefer the low-profile look and feel.
👉 Check out the FAQ section below to help you figure out whether to go with low-profile vs mechanical.
Now, if you need to know what I'd choose if I was buying a gift, here are my picks:
Lastly, here are the frequently asked questions and answers on the topic of best Mac keyboards and how to pick one:
📋 FAQ
…
Don't forget to join our crash course on speeding up your WordPress site. Learn more below:
* This post contains affiliate links, which means that if you click on one of the product links and then purchase the product, we'll receive a commission. No worries though, you'll still pay the standard amount so there's no cost on your part.