With lots of ideas for an app (or web tool), but without the technical expertise required to build one yourself, you'll want to find the best low-code platform that will be able to handle the heavy lifting for you. We have a collection of the best such solutions here, and we'll compare them for you in detail.
For the unaware, a low-code platform is a way to create apps using a visual interface, without the need for coding. For instance, if you use spreadsheets to organize your business right now, yet want a cohesive way to organize and use all of that data, you'll enjoy the process of using low-code solutions.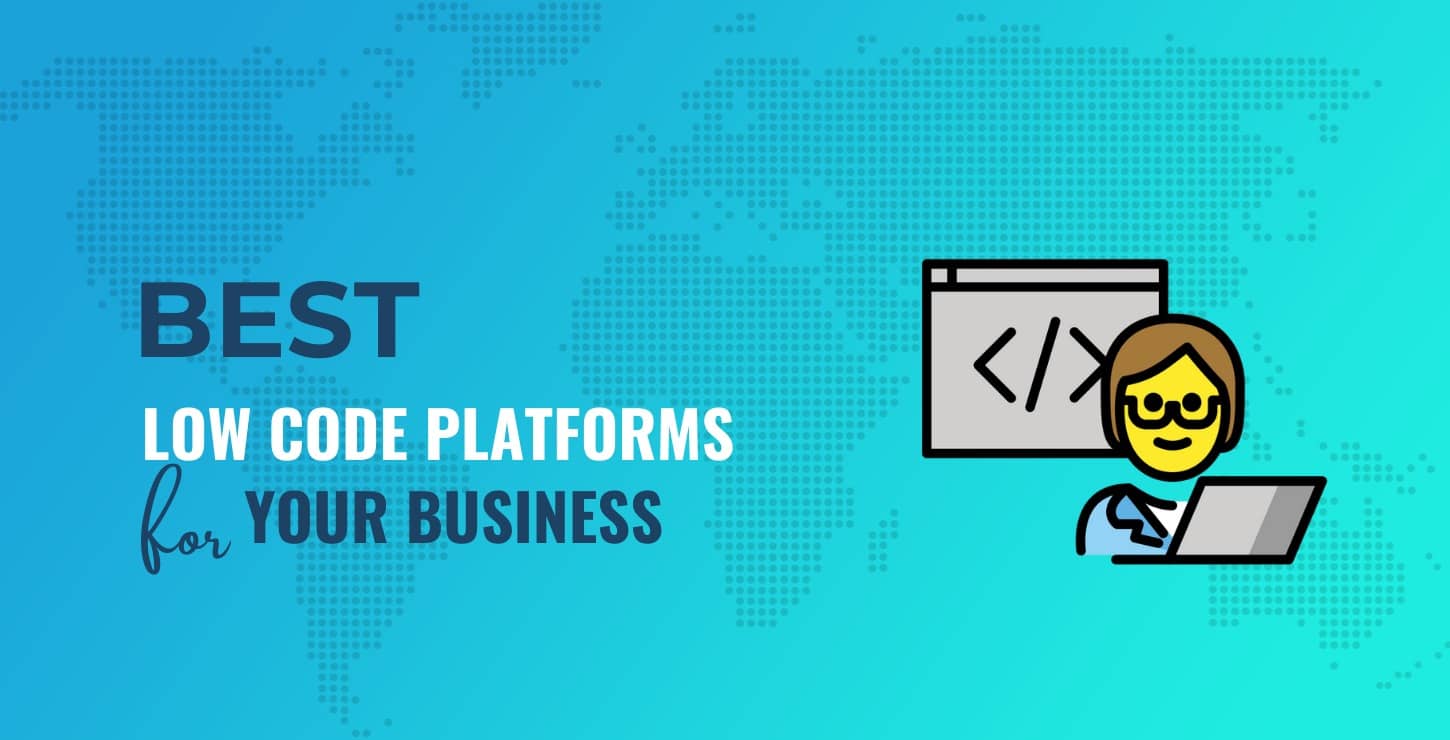 This post is going to look at a few of the best low-code platforms available today. We'll cover the key features of each, the all-important pricing aspects, and some information on what you can achieve with each.
First up, we have Plant an App. The solution markets itself as a collaborative platform that can include teams of different skill levels.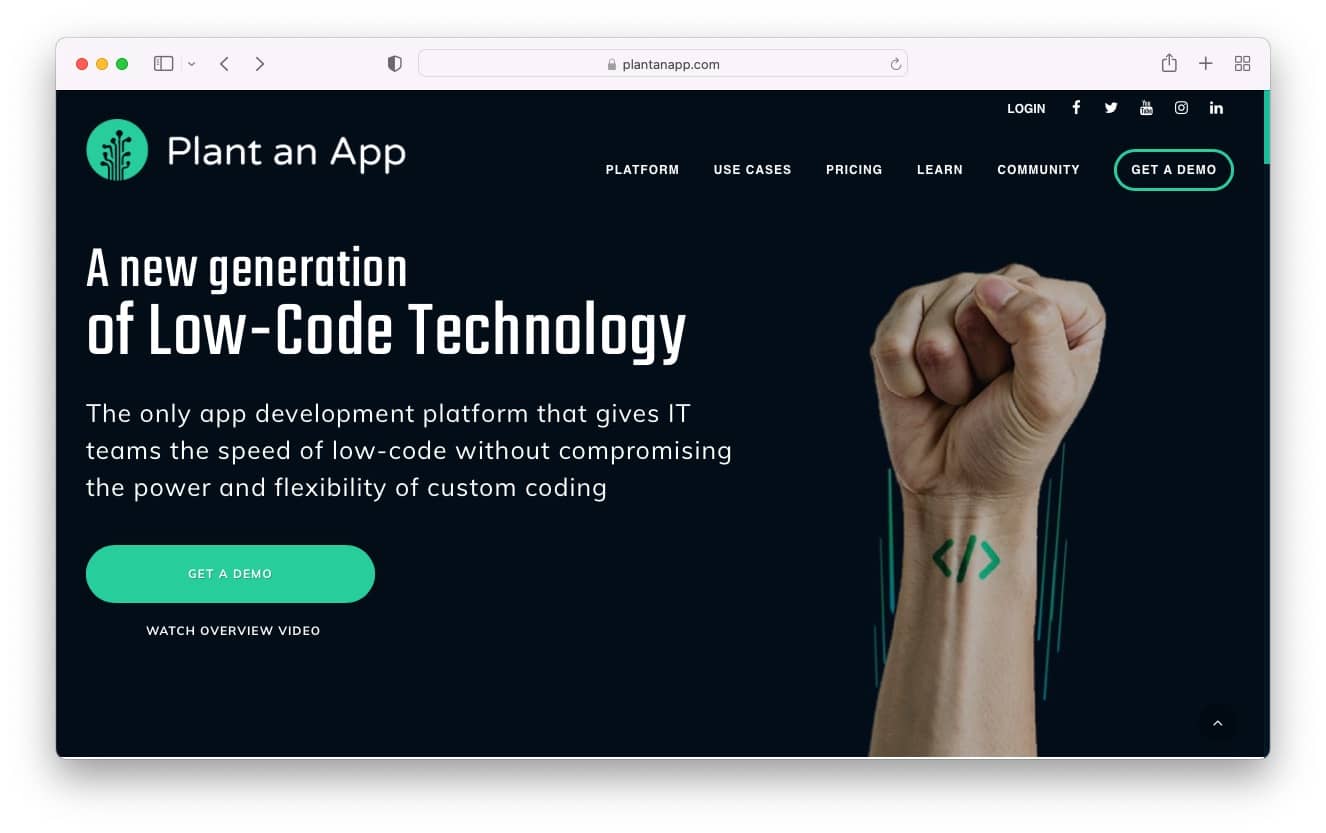 For example, there are four levels to explore, running the gamut of zero-code implementation to full code-writing functionality. This means you can begin at any point – whether that's interface, structural functionality, or anywhere else – and involve the rest of the team when the time is right.
As for the marquee features, Plant an App has a few:
There are hundreds of tools in the box to help you develop and build out the app in question.
There's a dedicated Application Programming Interface (API) builder that lets you connect your app to any other solution.
You'll have lots of other integrations too, in keeping with the low-code slant, with services such as Twillo, Mailchimp, Slack, Salesforce, and many more.
There's a free tier available to start, but the best value is going to be in the Sprout ($195 per app per month) and Harvest ($640 per app per month) plans. While Plant an App is expensive, it will give you one of the best low-code platforms around.
Many will know Zoho through it's Google-like suite of business applications, such as its mail and Customer Relationship Manager (CRM) tools. However, Zoho Creator is the company's take on creating a low-code app from scratch.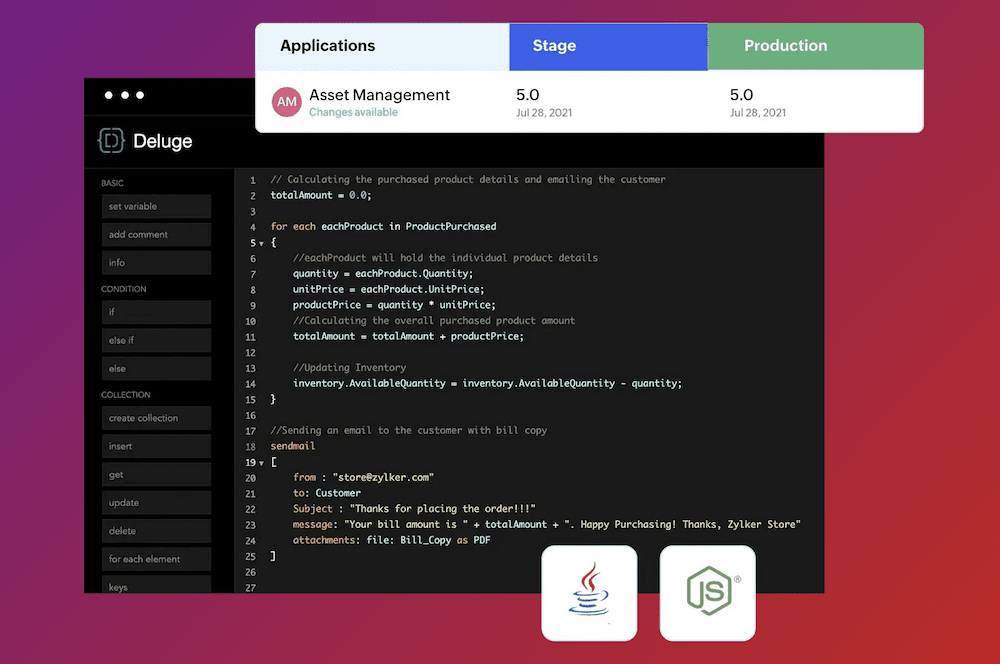 You have lots of flexibility at your disposal to create almost any type of app. Just like many other Zoho apps, Creator is simple to begin with. You're able to import the data from a selection of third-party apps using the automated Smart Import tool. What's more, there are other standout features to consider:
There are over 40 different form fields to help you collect the data you need for your app. What's more, there's a drag-and-drop builder to help you create those forms.
Zoho Creator includes a whole suite of visualization tools, which helps you create reports, charts, and more.
You can automate lots of aspects of your app, and do so using Deluge: Zoho's proprietary scripting language.
This brings up another aspect: you can also 'finish off' your app using full code if you wish. This is on top of the 500 integrations available out of the box.
There's a 14-day free trial available, but from there, Zoho Creator is almost a steal. For around $25–30 per user per month on the Professional plan (or around $450 per month on the Ultimate plan), you have full access to Zoho Creator's functionality.
No, not the watches – Caspio is a low-code visual cloud application builder that pulls in a number of different elements to create a whole.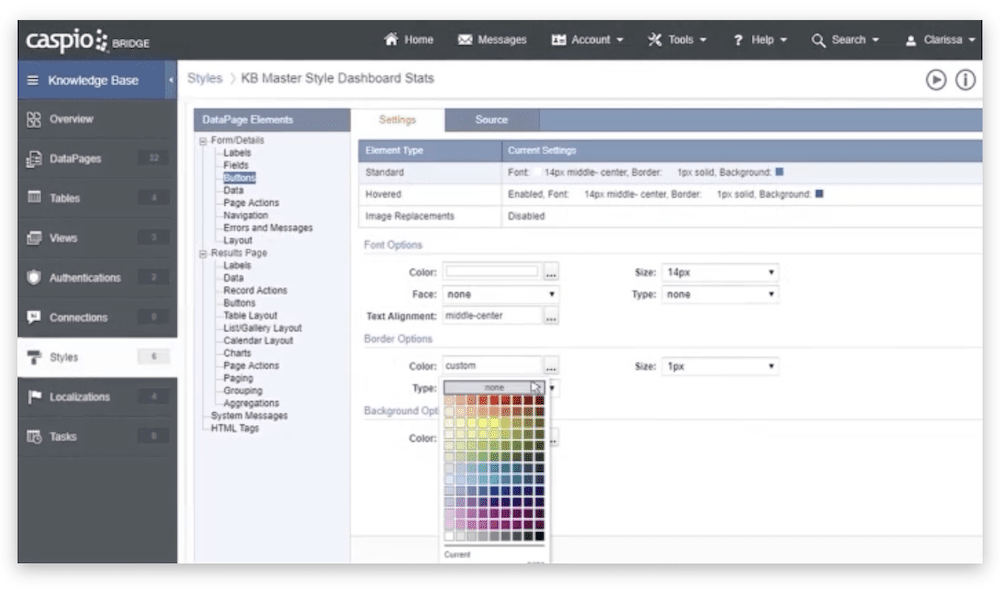 Caspio includes lots of features you'll find in other solutions, for example:
Point-and-click tools to let you add elements to your apps.
Lots of automation functionality, such as database triggers, to help relieve the burden of your team.
An enterprise-level database infrastructure, powered by Microsoft SQL Server.
Almost an unlimited number of users to let you scale an app across any team size.
Caspio also runs on the Amazon Web Services (AWS) platform. This, along with its built-in authentication, encryption, and sign-on tools, means you have a robust and secure base to build your app on top of.
Pricing is straightforward, too. There are four plans, starting with a free tier. From there, you'll choose either a $100, $200, or $400 per month. These scale the number of features you get, but not the number of users. As such, your finance team will thank you, and you won't have to worry about the costs of scaling.
If Claris seems like a company you already know, it's been around for over 20 years as a leader in its field. There's more to the company, though: Claris is an umbrella company of Apple. As such, FileMaker Pro (just like other solutions in the range) runs on Mac as a native app and comes with the 'sheen' you associate with the brand.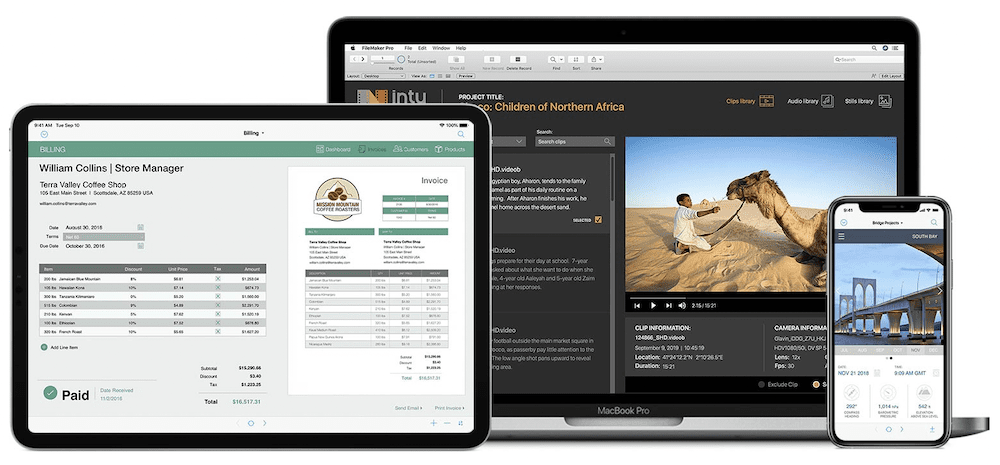 Claris call the low-code solution a 'Workplace Innovation Platform,' and there are a few reasons for this:
You're able to drag and drop CSV files, XML files, spreadsheets, and more in to import the data. From there, you can connect data using SQL.
There are templates available for common apps, along with a stacked Marketplace. This includes a number of elements, such as switches, to help enhance your apps without further need for code.
With a higher-tier subscription, you can develop specifically for iPad and iPhone, too.
Speaking of which, the pricing is inverse to how the other best low-code platforms on this list operate. There's a personal license that costs a one-time fee of $540. However, this doesn't include a lot of the features of FileMaker Pro. For this, you'll want to consider one of either the Essentials tier ($19 per user per month) or the Standard tier ($39 per user per month).
Another huge enterprise name that is famous for its CRM software is Salesforce. Salesforce Lightning links into this core suite of products to provide one of the best low-code platforms on this list.
Salesforce presents Lightning as a way to automate regular tasks. But it offers much more than this. For instance:
You'll use the slick visual interface to build your app, along with point-and-click and drag-and-drop elements.
There's a focus on security, with powerful options at your disposal and built-in methods to retain compliance regardless of the regulations you have to meet.
You'll also be secure knowing that there's a roadmap for future development. This alone could make Salesforce Lightning one of the best low-code platforms on this list.
Compared to other solutions, Lightning is competitive on price. There are two tiers: either $25 per user per month or $100 per user per month. The feature set is near comparable between both, with the only restriction being access to a dedicated dashboard.
We promise, this is almost the last of the giant corporation solutions on this list – although Microsoft PowerApps is a good one! Of course, you will also get to use all of your Microsoft-hosted data within your apps too.
This aspect is one of the key selling points for PowerApps, and it's going to appeal to those who already live within the Microsoft ecosystem. However, there's more to the package:
There are different ways to build apps, such as through the canvas or using a model-driven approach, that can adapt to your team and plan.
You can scale whatever creations you make with PowerApps using Microsoft Azure cloud computing.
What's more, you can connect professional developers with low-code ones through Microsoft's Power Platform.
Of course, the appeal here is connectivity. You can connect data in a similar way to using functions within Excel, and extend your apps further.
You'd expect to pay a lot for this kind of package, but it's the cheapest of the bunch so far. You can choose a $5 per app per user per month plan or a flat $20 per user per month solution that lets you build as many apps as you need. The pricing is flexible and thoughtful.
Google also has its foot into the water when it comes to the best low-code platforms – and AppSheet hits the mark in a number of different areas.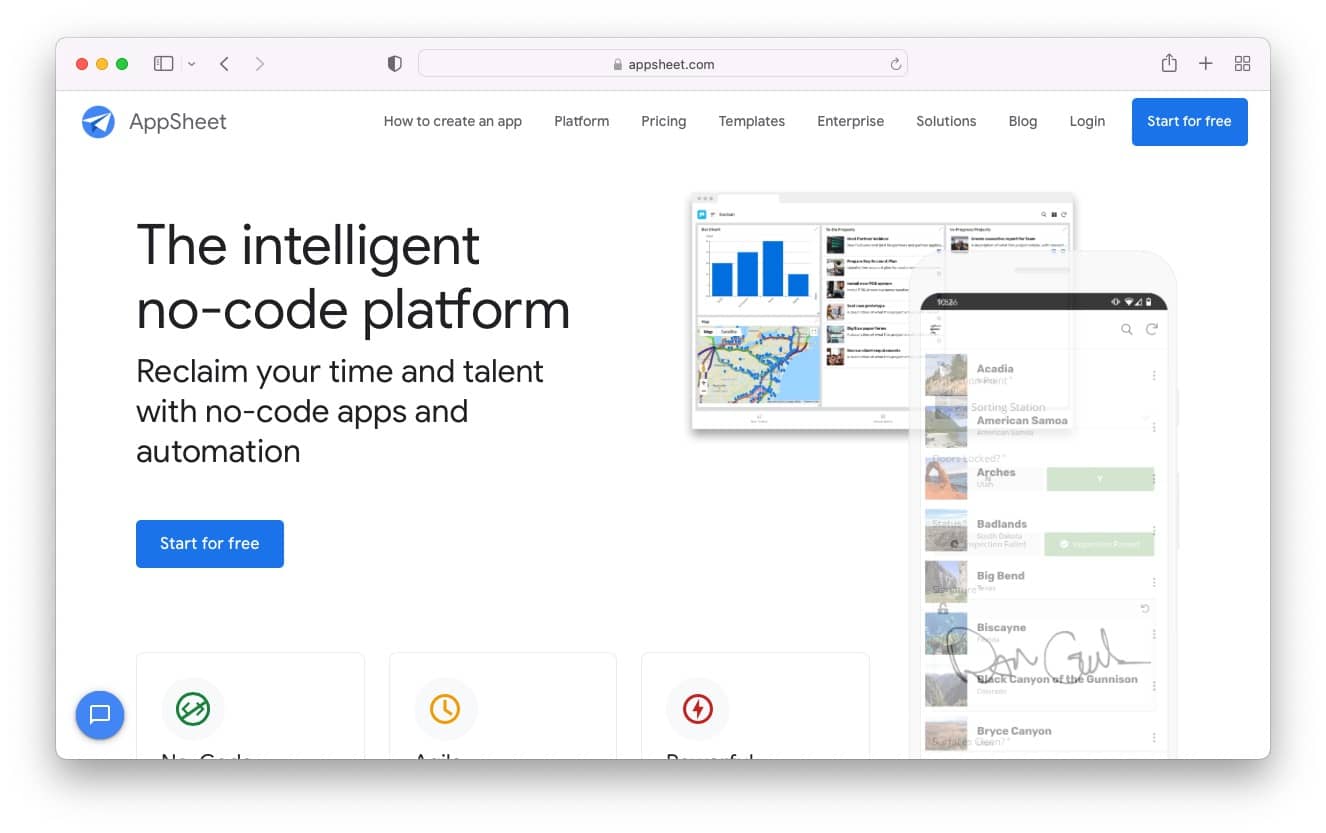 It works through connecting spreadsheets with databases to build out an app and, of course, works with Google Sheets and Google Forms. Because of the unique method of building your app, there are also a few features to be aware of:
You can connect any Google Sheet with your app through the toolbar – it takes a handful of clicks, tops.
There's a way to connect other data sources too, such as Dropbox, Office 365, and more.
AppSheet also lets you run apps offline using a background syncing method.
As with PowerApps and Lightning, if you already use Google products, AppSheet is going to fit your needs. The pricing is tempting, too. For $5 per user per month, you get most of the functionality you'll need on a day-to-day basis. For $10 per month, you get even more.
Conclusion on the best low code platform
If your project requires an application, but you don't have the programming knowledge, you'd have had little luck in the past to realize your vision. However, modern-day development sees a number of low-code solutions that can help you build an app using a visual display.
It's a lot like WordPress' Block Editor, in that you'll drag elements around to build your app's functionality. As such, feel and the interface are paramount. Some of the best low-code platforms, such as Zoho Creator, Microsoft PowerApps, AppSheet, and Salesforce Lightning, come with big backing from corporations. Others, such as Plant an App, have a modest backing, but no less power. The ultimate decision here is whether the interface and functionality meets your needs.
Is there a missing entry in this roundup of best low-code platforms? Share your favorites in the comments section below!
…
Don't forget to join our crash course on speeding up your WordPress site. Learn more below: