Why are we looking for some viable GoDaddy alternatives? Well, as good as GoDaddy is for some customers, it is not perfect for all scenarios and website setups. In some cases, you might need either something that's cheaper, more WordPress-optimized, more reliable, or all of the above. Here are the top GoDaddy alternatives in the market.
Choosing a web host for your site is a big decision. Even if it's your first website, you'll want to start out on the best possible footing. This means finding a provider that's affordable, reliable, and offers all of the features you'll need.
GoDaddy is a well-known host, and a common choice for new sites. It has a lot to offer, especially if you're looking for affordable managed WordPress hosting. However, there are a number of other hosting companies that provide just as much if not more than GoDaddy, and are also well worth your consideration.
In this review, we'll introduce you to GoDaddy hosting. We'll discuss what can make it a solid option, and also mention what it lacks. Then we'll explore four GoDaddy alternatives you might want to opt for instead. Let's jump right in!
In case you're in a hurry, here are the highlights of our findings:
Best GoDaddy Alternatives

| | SiteGround | Bluehost | Flywheel | A2 Hosting |
| --- | --- | --- | --- | --- |
| Rating (out of 5) | 4.6 | 3.3 | 4.6 | 3.8 |
| WordPress-specific hosting available | Managed | Managed and unmanaged | Managed | Managed and unmanaged |
| Plans start at (per month) | $4.99 | $2.75 | $13 | $1.99 |
| Number of sites supported | 1–unlimited | 1–unlimited | 1–30+ | 1–unlimited |
| Outstanding features | Excellent reputation and support | Budget-friendly and performance optimized | Top-notch WordPress optimization | Variety of options and good performance |
This is just a summary, of course, so read on for more details about our GoDaddy alternatives!
Although most hosting companies offer a pretty similar service, each one tends to carve out its own niche. GoDaddy positions itself as a cheap, beginner-friendly way to get a website off the ground very quickly. Lately, it's also been a popular option for WordPress hosting. For this reason, it's a viable choice with first-time website owners, and is a frequently recommended option.
GoDaddy's primary offering is its basic shared hosting, which comes in four pricing tiers. The cheapest version costs only $7.99 per month at the regular (non-sale) rate, which will net you one website along with a free domain and unmetered bandwidth. Higher-tier plans offer more websites, features, and resources – all the way up to the Business plan at $29.99 per month.
If you're looking for something beyond a simple shared hosting service, GoDaddy also offers VPS and dedicated server plans. More recently, GoDaddy has also offered a WordPress-specific hosting option, with four separate tiers priced from $8.99 per month. This is a managed hosting service, which means the provider will handle certain tasks (such as installation, backups, and updates) for you.
Overall, this is a pretty solid list of services. Now, let's explore the reasons you might choose to opt for GoDaddy or look elsewhere, before introducing a few GoDaddy alternatives.
The pros and cons of using GoDaddy for your WordPress site
Cheap hosting providers such as GoDaddy often get a lot of criticism. It can be reasonable to wonder if the company is cutting corners and offering low-quality service in exchange for low prices. However, in our experience GoDaddy is actually a solid option for many WordPress users.
In the past, we've conducted several in-depth reviews of various hosting companies. For example, we sent out a survey to almost 5,000 of our readers, asking about the hosting companies you use, and soliciting ratings and opinions. GoDaddy was overwhelmingly the most commonly-used host, and the average review score for the service was a 7.64 out of 10.
GoDaddy popularity in our 2017 WordPress hosting survey
(Charts by Visualizer.)
Another of our reviews found an average user rating of 3.5 out of 5, which is a bit lower but still not bad. What's more, the average load time for GoDaddy sites turned out to be 0.45 seconds, which is a very good result. Overall, a lot of people are using GoDaddy, and are happy with their experience overall.
At the same time, it's clear that GoDaddy isn't the right choice for everyone. Despite its reputation, it's actually far from the only low-cost web host available. In fact, there are providers at a similar or lower price point with better ratings and more options. GoDaddy also doesn't offer as many high-end choices, so it may not suit your needs if you're looking for something beyond basic hosting.
Most importantly (for our purposes), there are other companies offering a service more targeted to WordPress users. GoDaddy's WordPress plans are a nice option, but you'll have to go elsewhere to find WordPress-specific hosting that is non-managed, for example.
Ultimately, it's important to be clear on two points. First, GoDaddy can be a solid hosting choice. If you're looking for basic, affordable hosting that's easy to set up and maintain, it's worth taking considering. At the same time, it shouldn't be the only host you consider. There are plenty of GoDaddy alternatives available, some of which offer services that may be better suited to your particular needs.
You may also be interested in:
Four excellent GoDaddy alternatives for hosting WordPress sites
So, what other hosting companies do well in comparison with GoDaddy? Based on the data we've collected and our own experiences, here are four providers worth considering. For each one, we'll give you a rundown of its key features, and discuss what it does better than GoDaddy.
1. SiteGround (www.siteground.com)
If you're looking for an easy to use, low-cost hosting provider, SiteGround shouldn't be overlooked. It offers reasonable starting prices, as well as a wide range of services to choose from. You can find shared hosting, cloud hosting, dedicated servers, and more. Plus, SiteGround offers beginner-level managed WordPress hosting that's recommended by the platform itself.
Key features
The managed WordPress hosting plan:
Pricing
If you want managed WordPress hosting for one small to medium-sized site, you'll pay $4.99 per month. More sites and features are available at higher tiers.
SiteGround vs GoDaddy
These two hosting providers make for an interesting comparison, because they are extremely similar. Their WordPress plans are priced low, and offer a lot of the same features. You'll get automatic backups and updates with both, easy WordPress installation, speed optimization, and even help creating a staging site for testing purposes.
So why choose SiteGround over GoDaddy, when both plans include so many of the same options? In this case, the reason to go with one of our GoDaddy alternatives comes down to ratings and reliability.
Although GoDaddy users are fairly happy with their service, SiteGround consistently ranks at the very top. Our recent survey found that SiteGround had an average user rating of 4.6 out of 5, in comparison with GoDaddy's 3.5. Users also found SiteGround's support to be superior (rated at 4.45 / 5 for their WordPress proficiency), and 93% would choose to extend their subscription when it was up (as opposed to 78% of GoDaddy customers).
So if you're looking for something similar to GoDaddy's service, but are willing to pay a little extra to ensure solid support and an excellent overall experience, you might want to give SiteGround a try.
2. Bluehost (www.bluehost.com)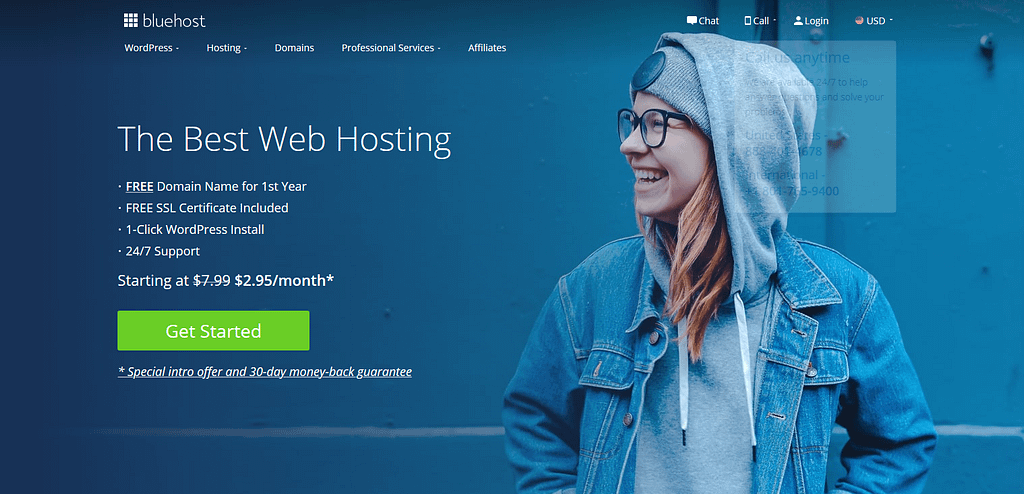 Bluehost can be a great alternative to GoDaddy if you are looking for a trustworthy option. They offer good performance, and are probably the most budget-friendly option here. If that's not enough, you'll also get a free domain name included. We'd also like to mention that Bluehost is the number one recommendation by WordPress.org, all thanks to the beginner-friendly user panel and secure backend.
Key features
A free domain name for the first year and SSL
Second most popular WordPress hosting of the year
Robust support by WordPress experts
30 days no-questions-asked money-back guarantee
Pricing
Bluehost's hosting plan starts at $2.75 per month, but in order to receive this low pricing, you have to opt for a 36-month plan right up front.
Bluehost vs GoDaddy
Both Bluehost and GoDaddy have almost exactly the same features. It's the performance and support that makes the former better. Bluehost offers 100% uptime, which by the way is 99.69% for GoDaddy (as tested by our uptime monitor).
Bluehost is a beginner-oriented WordPress hosting, i.e., their user panel is easier to use. Bluehost also defeats GoDaddy when it comes to customer support. Chat support can be accessed quicker with Bluehost. The fast and friendly support staff ensures that the issue is fixed as soon as possible.
Overall, we'd say Bluehost is a better web host and an excellent alternative to GoDaddy. It offers an useful toolset and powerful performance in its hosting packages.
3. Flywheel (getflywheel.com)
Both GoDaddy and SiteGround offer solid hosting that covers the basics. However, what if you're looking for something a little more robust? Enter Flywheel – another of our GoDaddy alternatives. This WordPress-specific hosting company focuses on providing top-notch managed hosting. It has both single- and multi-site plans, as well as a host of useful features.
Key features
Free migrations and WordPress installation
VPS server hosting
SSL certificate included, as well as a staging site (on everything but the starter plan)
A specially-designed user interface for managing your site
Pricing
If paid annually, Flywheel's single-site plan starts at $13 per month, with three higher tiers offering additional features. You can also sign up for a bulk plan, starting at ten installations for $96 per month.
Flywheel vs GoDaddy
When choosing any type of service provider, there's something to be said for specialization. GoDaddy casts a wide net, and only recently started offering plans tailored to WordPress users. Flywheel, on the other hand, is focused solely on managed WordPress hosting.
This means with Flywheel, you'll get access to top-tier optimization for the platform. In addition, it's simple to get help with WordPress-specific issues and questions. Flywheel also got a high rating in terms of WordPress optimization in our recent survey – 4.9 / 5.
It's also worth noting that Flywheel is a particularly good choice if you're a designer or developer (or are looking to become one). The multisite plans are perfectly suited to this application, and you'll get access to helpful features such as a white label option and various tools to streamline your workflow.
Overall, we've found that Flywheel offers a high-quality managed service. It's a great option if you're a designer or a website owner looking for GoDaddy alternatives that are extremely well optimized for WordPress.
4. A2 Hosting (www.a2hosting.com)
So far, we've been exploring GoDaddy alternatives with a focus on managed WordPress hosting. A2 Hosting, however, offers both shared and managed hosting plans for WordPress users. The shared plans provide a surprising amount of resources, and you can get unlimited sites for as low as $1.99 per month. The managed hosting is on the pricey end ($12.99), but you'll get excellent performance and a lot of extras to go with it.
Key features
Shared WordPress hosting:
Unlimited storage and transfers.
Unlimited websites and databases on all but the starter plan.
Free SSL certificate.
Managed WordPress hosting:
Pricing
The shared WordPress plans at A2 Hosting start at $1.99 per month for one site, or $4.90 for unlimited sites. Managed hosting, on the other hand, begins at $12.99 per month.
A2 Hosting vs GoDaddy
Managed hosting is a great option to have, but it isn't right for everyone. You may prefer to save money by managing your hosting personally, or you might just want more control over your server. Either way, sometimes all you really need is a basic non-managed plan.
At the same time, you probably don't want to sacrifice all the perks that come with a WordPress-specific service. This is why A2 Hosting is one of the top GoDaddy alternatives. You can opt for either managed or unmanaged hosting, plus you'll easily be able to change your mind down the road without switching providers.
Our data shows that users who choose A2 Hosting are happy with its service on the whole. Overall, it got rated 3.8 / 5 in our recent hosting survey. Our performance test also showed a loading time of 0.96 seconds, which is good, plus the platform's uptime according to our own data is at 99.78% over the last 75 days.
In summary, A2 Hosting offers the whole package – various types of WordPress-specific hosting, reasonable prices, and a solid reputation to boot.
Conclusion
To reiterate, there's nothing wrong with GoDaddy. A lot of our readers use this service and are happy with it, and it offers excellent performance. However, it's a middle-of-the-pack provider when it comes to WordPress-specific hosting. If you're looking for a more robust service, better support, or a wider array of features, one of the GoDaddy alternatives we've discussed might be a better fit.
Before settling on a hosting provider, we recommend checking out:
At the end of the day, our vote goes to SiteGround as the top overall GoDaddy alternative.
What's your experience with GoDaddy? Would your recommend it to other users? Share your experiences with us in the comments section below!
…
Don't forget to join our crash course on speeding up your WordPress site. With some simple fixes, you can reduce your loading time by even 50-80%: