There are countless website builders to choose from. However, as a UK-based user, your needs will be different when compared to US or international sites. Finding the best free website builder for the UK isn't always a straightforward affair.
Thankfully, there are builders that can help you make a splash in your local market. Although many businesses target an international audience, by reading between the lines, it's possible to find a site builder that has exactly the features and infrastructure you need as a UK-based website.
In this post, we'll discuss the criteria that make a builder UK-friendly. Then, we'll share five companies that have something for everyone, but their offer is also suitable for the UK market.
Please keep in mind that the best tools on the market all come with paid upgrades that offer more features. While you can build your site for free with them, you'll likely be better off upgrading to a paid plan later down the line.
How to find the best free website builder for the UK
When choosing a website builder, it's important to find a solution that has all the features you need, presented in an intuitive and easy-to-use package. Even if you have previous experience with site builders, learning any new technology requires an initial investment.
Every moment you spend familiarizing yourself with your new builder is time you're not investing directly into your site. If your website builder is user-friendly, you're also less likely to encounter issues, which is great for your productivity. However, it's smart to assume that you'll need a helping hand at some point.
Although many companies promise 24/7 support, it's important to determine how this support is delivered. Some businesses may provide 24-hour email support, while restricting live support to specific time zones. As a UK-based business, your chosen website builder should be contactable during UK business hours.
It's also important to remember that loading times can make or break your website. Google uses page speed as a ranking factor, and over half of visitors will abandon your site if it takes longer than three seconds to load. As a UK website, a good portion of your traffic will likely come from the UK. To reduce page load times for these local visitors, it's smart to look for a builder that either has servers in the UK or offers a Content Delivery Network (CDN).
Before launching your site, we recommend carefully researching all the applicable local laws. This includes Data Protection, General Data Protection Regulation (GDPR), and the Equality Act 2010. While it's your responsibility to adhere to these regulations, your choice of a builder can determine how easy it is to create a fully compliant website.
Best free website builder for the UK (five options)
Now that we've discussed what to look for in a UK-friendly website builder, let's explore your options. The one that's the best fit for you will vary depending on your project, but all of our top picks have something useful to offer to UK customers. When it comes to finding the best free website builder for the UK, here are our top five solutions.
Wix is one of the more flexible and customizable free website builders.
With over 500 templates to choose from, you should have no problem finding a design that's ideal for your project.
After choosing your template, you can perfect your layout using Wix's intuitive drag-and-drop editor.
Alternatively, you can bypass the website builder completely and create your site using Wix's Artificial Design Intelligence (ADI). This innovative feature generates a site using machine learning and artificial intelligence. If you're migrating, Wix ADI can even pull content from your existing site.
However, the free plan does come with integrated Wix ads. This makes the builder less than ideal for business websites and online stores, where third-party advertisements may be perceived as unprofessional. If you want to remove these ads, you'll need to upgrade to the Wix Combo plan or higher.
⚙️ Features:
Access to a wide range of additional apps via the Wix App Market
All features compliant with the Web Content Accessibility Guidelines (WCAG)
Built-in accessibility wizard
Documentation and additional tools for creating a GDPR-compliant website
Support for displaying a cookie banner
Servers located all over the world, including Europe
Access to a CDN
24/7 customer support
💷 Pricing: Free. Paid plans ranging from £3-18 per month.
The Weebly website builder combines a drag-and-drop editor with a selection of responsive themes covering categories such as online stores, business, and events.
To create a stunning site in minutes, simply choose a template and tweak the content to better suit your project's needs. You can even create a website from your smartphone, using the official Android and iOS applications.
However, there's no easy way to integrate advanced marketing tools or implement analytics software. Weebly's template selection also feels limited when compared to builders such as Wix.
Email support is available to all customers. However, live phone and chat support are only offered to website owners located in the US. This may pose a problem for UK customers who prefer to access their support in real-time.
⚙️ Features:
💷 Pricing: Free. Paid plans ranging from £4-18 per month when paid annually.
Learn more about Weebly pricing here.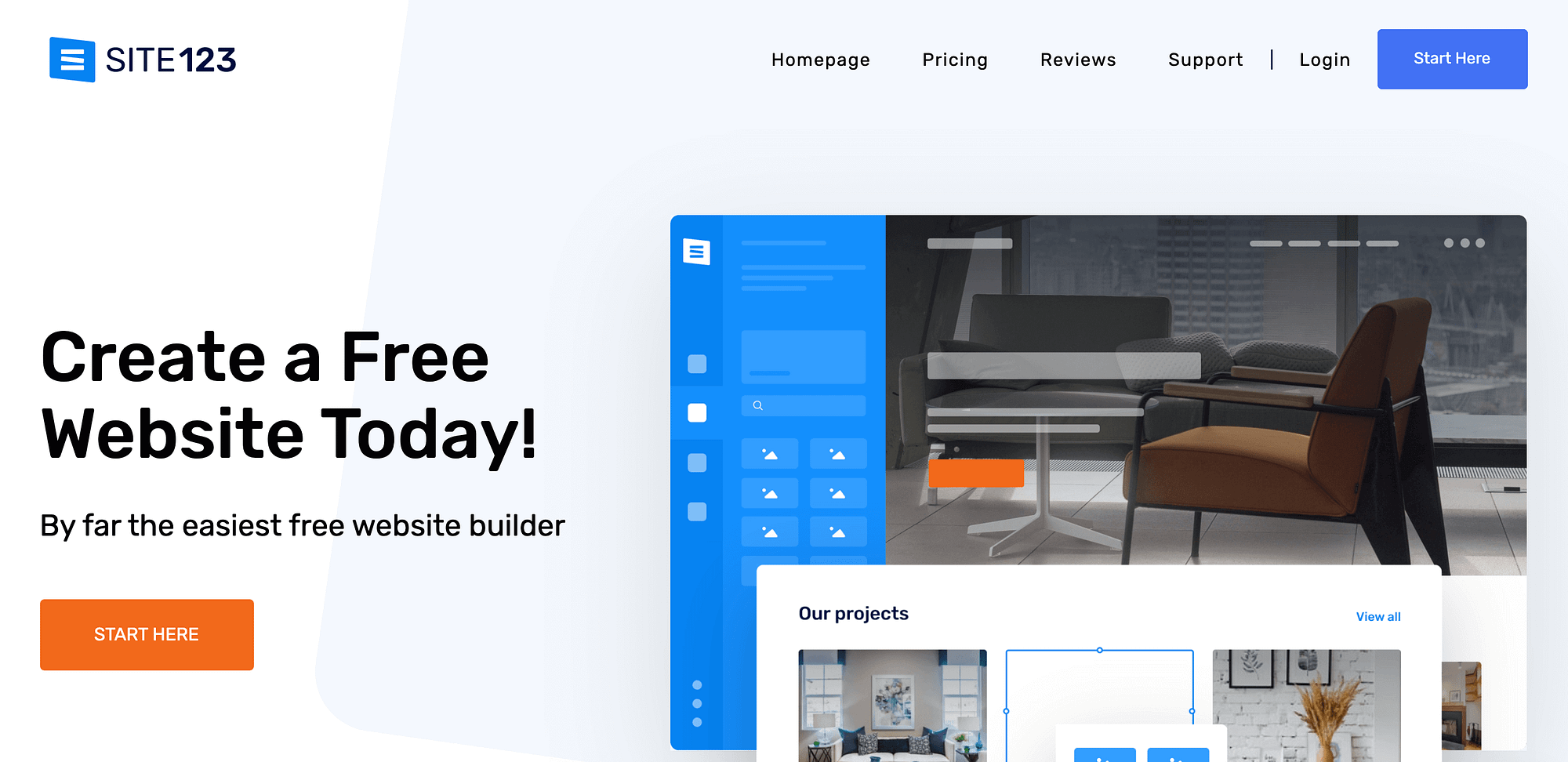 Site123 is an extremely simple website builder that's accessible to all, including those who have no previous web design or development experience.
To get started, you can simply give your site a name and choose a category – and that's it! Site123 will then generate a basic website that's ready for you to start adding content.
Unlike many of the other website builders on our list, Site123 doesn't provide a drag-and-drop editor. This makes it a breeze to use, but it's also almost impossible to customize your site.
If you're unhappy with your website's appearance, you cannot change its underlying template. Instead, you'll need to replace each section with a different template. This can severely limit your ability to adapt your site to suit changing market and design trends.
If this sounds restrictive, the good news is that you can extend the core Site123 builder with additional plugins. This can give you more scope to create a site that feels unique to you, rather than something that's identical to every other website that uses the same template.
⚙️ Features:
Free hosting and domain registration
A fully responsive design
Integrated image bank of royalty-free graphics
Access to a CDN
24/7 live chat support
💷 Pricing: Free. Paid plans ranging from $12.80 per month.
While the Squarespace website builder isn't technically free, there is a 14-day free trial available, which is why we've included it on our list. Squarespace's standout feature is easily its selection of beautiful, professionally designed templates. To help you achieve the perfect design, Squarespace has even created a simple quiz that asks some basic questions about your website and then recommends a template based on your answers.
After choosing your template, Squarespace makes it easy to put the finishing touches on your design via helpful features, such as curated designer color palettes and font packs. Unlike other website builders on this list, Squarespace's drag-and-drop editor is section-based, an unusual choice that can take some getting used to.
Although you can use Squarespace to create a range of websites, it has a particularly good reputation among the blogging community. This is largely thanks to features designed specifically for bloggers, including multi-author functionality and the option to schedule posts. If you want to manage your blog on the go, there are apps for Android and iOS.
⚙️ Features:
GDPR documentation
Accessibility documentation
Option to disable the Activity Log
Option to disable Analytics and Performance cookies
A cookies banner with customized consent language and a link to your policies
Images and static assets delivered via a CDN
24/7 support via email and the Squarespace Support Assistant (live chat support is only available in the Eastern time zone)
💷 Pricing: We have a complete breakdown of Squarespace pricing here. But basically, a free trial is available and plans range from £10-£30 when paid annually.
If you're creating an online store, you may want to check out Shopify. This e-commerce platform provides everything you need to start selling your products and services online in no time. Similarly to Squarespace, Shopify is a paid tool, but it comes with a free trial allowing you to test out everything before needing to pull out your wallet.
Shopify provides over 70 professionally designed templates that prioritize the features that matter to online store owners. This includes built-in Secure Sockets Layer (SSL) certificates for added security and abandoned shopping cart recovery. Some of Shopify's templates are even created by world-renowned designers, including Happy Cog, Clearleft, and Pixel Union.
Shopify's Theme Settings editor enables you to preview your storefront as you're making changes to it. However, if you're comfortable with editing at the code level, Shopify also provides full access to your store's HTML and CSS. Experienced developers and designers can use this access to customize every part of their online shops.
Thanks to Shopify's native partner integrations, you can sell across multiple marketplaces, including Etsy, Amazon, and eBay. As the UK's top ecommerce site, Shopify's support for Amazon.co.uk is particularly noteworthy.
Shopify also integrates with over 100 payment gateways. This includes PayPal, which is the UK's most used online payment method. If the core platform is missing a particular feature or design element you need, there are over 4,000 free Shopify apps that you can use to enhance your online store.
⚙️ Features:
GDPR documentation
Accessibility documentation and video guides
Free Privacy Policy Generator
App privacy policy template
Double opt-in for your customer emails
24/7 customer support
Main data centers hosted in the US, though Shopify has a global CDN
💷 Pricing: A 14-day free trial is available. Plans range from $29-299 per month.
Creating a website from scratch doesn't have to be a daunting experience. A website builder can do much of the heavy lifting for you, and may even provide professionally designed templates and additional resources that can give your site an extra lift.
If you're still unsure which builder you'd like to try, here's our top pick if you're a UK-based user:
Wix. A flexible website builder with good GDPR and accessibility documentation. Wix offers a functional free plan that allows you to build a working website and show it to the public. However, if you want to connect a custom domain name or start selling products through the website, you'll need to upgrade to a paid plan or choose another Wix alternative.
Do you have any questions about how to find the best free website builder for the UK? Let us know in the comments section below!
…
Don't forget to join our crash course on speeding up your WordPress site. Learn more below:
Layout and presentation by Chris Fitzgerald and Karol K.