If you're always preoccupied with working out, resting well, and staying fit at all times, you'll love a fitness tracker that records insightful stats about your physical health. The great news is that a good enough tracker is not even too expensive! With that in mind, we're comparing the top options available to help you choose the best fitness tracker on a budget that covers all your needs.
Let's dive in!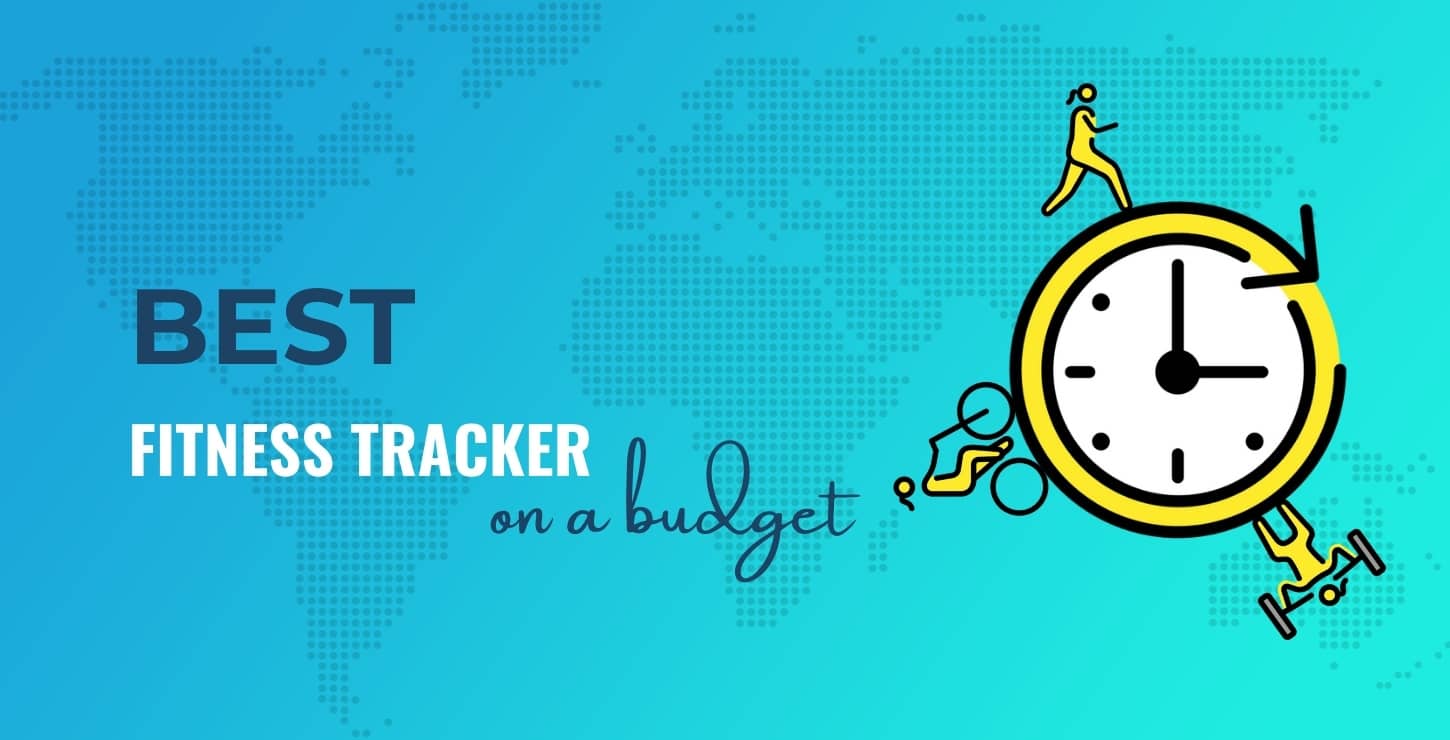 What to look for when choosing the best fitness tracker on a budget
Before spending money on a fitness tracker, make sure it offers the following basic features:
Step and calorie counter 👟
All the fitness trackers were initially made for this purpose: to track the number of steps and calories you burn in a day. Actually, that's the main reason why people buy trackers to begin with, and there shouldn't be any fitness band out there that doesn't provide these two features.
Heart rate ❤️
Heart rate makes the difference in getting a more accurate calorie measurement because the calorie consumption depends on how high or low your heart rate stays during workouts (the number of beats per minute). The higher the heart rate, the more calories you'll burn.
Workout programs 🎽
This is another cool feature to have in a fitness tracker because you can record actual workout sessions and see the stats from an individual sport alone, not only a sum of your daily activity. If you're going for a run, you can track your session separately and check the level of effort, full time, speed, and calories you've burned while running.
Sleep cycle tracking 🌙
Another common reason why people buy fitness trackers is to monitor their sleep cycles. Wear the band when you go to sleep to get reports about sleep duration, quality, bedtime, wake-up time, and heart rate during sleep. This feature is helpful because you can spot patterns and bad habits that you can improve to get better rest.
Integration with third-party apps 📱
Check if the fitness tracker's dedicated app integrates with third-party apps. This is important because you might want to import/export other relevant metrics to more places, such as weight (from a digital scale) or calorie intake (from a nutrition app), etc.
The best fitness tracker on a budget: top options to choose from in 2023
Let's explore the best options under $100 available on the market:
This is one of the main contenders for the best fitness tracker on a budget. It checks all the main features one needs to get a fair overview of their physical health and fitness. It calculates the steps, calories, and measures oxygen (SpO2) levels in your blood.
Through TruSleep technology, Huawei Band monitors your sleep by detecting the awake times, along with the sleeping phases. It identifies eventual problems that you have with your sleep and offers up to 200 suggestions for improvement.
Other things that you will enjoy in Huawei Band are the 96 workout modes, stress monitoring, menstrual cycle predictions, notifications about incoming calls or texts, and a music player that you can control via the band's screen.
Pricing 💳
All colors: $69
This fitness tracker is the most expensive band on the list. It monitors your heart rate, calories, steps, sleep, stress, and records 20 dedicated workouts. Fitbit Inspire 2 also sends you notifications when someone calls or texts you. You can even connect it to Google Calendar, Gmail, and WhatsApp.
What's different and nice about this band is that you can add your food intake via the Fitbit app (to keep all your health metrics in one place) and access Fitbit Premium for one year, which includes personalized workouts, nutrition plans, and wellness programs.
What makes Fitbit stand out is its community. From the app, you have the chance to connect with other people who use Fitbit products, join challenges, and share your progress with other users.
Pricing 💳
Black/White: ~$99
Rose: $93.50
Mi Band 6 is the latest release from Xiaomi that adds a SpO2 sensor and more workout modes to existing features, like menstrual cycle prediction and stress monitoring.
Expect Mi Band to monitor your sleep (which includes breathing quality during your sleep), show notifications and alerts from your phone, let you control your music player from the band, and connect the phone camera to the band.
A cool thing about this band is something called PAI – personal activity intelligence – that shows you the score of your physical activity during a week. The challenge is to reach 100 a week to stay healthy and fit. The score resets to 0 every week to encourage constant activity.
Other cool features are idle alerts, heart rate alerts, a world clock (you can add the city you're in when you are traveling to see the local time on screen), and other built-in mini-features that you will enjoy.
Pricing 💳
All colors: $50
Amazfit Band 5 is similar to Mi Band 6 in almost every category: features, design, display, and software.
What does Amazfit Band 5 provide that Mi Band doesn't? Alexa integration! You can talk with Alexa via the band's built-in microphone from wherever you are. Other than that, all the features that Mi Band comes with can be found in Amazfit, too, including PAI.
Two small differences are that the latter has 11 sport modes (while Mi Band has 30) and is cheaper. It's worth mentioning that the Amazfit app (called Zepp) has a modern, user-friendly, and gorgeous interface.
A cool thing about the Zepp app is that it lets you track your sleeping behavior and select the activity that you were undertaking before going to bed. After some time, you can check the reports and correlate good or bad sleep scores with a specific activity, e.g. playing games before bed always returns a bad score.
Pricing 💳
All colors: $32
With ten training modes and all the main features in place, Honor Band 6 is another fitness tracker you should look into. Charge it for ten minutes and you will be able to use it for the next three days.
It tracks menstrual cycles, stress levels, blood oxygen, heart rate, and incoming texts/phone calls. Playing music and taking pictures remotely (directly from the band) are also features to look forward to.
If you need a band that monitors your sleep, Honor Band does this too. You will also receive suggestions about how to improve your sleep score and rest better.
This fitness tracker uses the same technology that you will find in Huawei Band 6, so it's basically a cheaper alternative to Huawei. At a closer look, you will notice similarities in design and software functionality.
Pricing 💳
Apart from the classic features – heart rate, SpO2, calories, and workout modes – Garmin Vivosmart comes with an interesting feature called Body Battery that measures how much energy your body has left in a day. It makes a combination of stress, heart rate variability, sleep score, and activity data to estimate your energy reserves.
You can also activate the Pulse Ox feature to see how your blood oxygen levels vary during your sleep and track the number of floors that you climb if that's your kind of workout.
Just like Fitbit, Garmin has a great community around the brand, so once you finish recording a training session, you can post it via its app to share it with your friends.
Speaking of sharing, the tracker lets you activate alerts, control music, preset responses (this one works on Android only), and manage social media notifications.
Pricing 💳
This band lets you manually select one of the 90 sports activities via your Samsung Health app and starts recording the session once you do. Samsung Galaxy Fit provides a step counter, calorie tracker, heart rate monitoring, sleep analysis, and water/caffeine intake.
It also lets you set alerts, notifications, and respond with preset messages if you're in a hurry. This fitness band doesn't come with a set of gamified features like most of the trackers on this list, but it does what it is supposed to do: track your steps, calories, heart rate, and individual workouts.
A downside is that the setup can get more cumbersome if you do not own a Samsung phone because you need some extra apps to make the integration work.
It also doesn't provide a music player control and customizable watch faces like the other trackers (it means you can't change the display).
Pricing 💳
All models: $70
Which best fitness tracker on a budget to choose?
After paying close attention to what each fitness tracker has to offer, we can spot some particularities, so here's our brief conclusion:
In your opinion, which is the best fitness tracker on a budget and why? Are there any great trackers that we've missed? Let us know in the comments below.
…
Don't forget to join our crash course on speeding up your WordPress site. Learn more below:
Layout and presentation by Chris Fitzgerald and Karol K.
* This post contains affiliate links, which means that if you click on one of the product links and then purchase the product, we'll receive a commission. No worries though, you'll still pay the standard amount so there's no cost on your part.