Software abbreviations are typically easy to understand. CRM (customer relationship management), CMS (content management system), VPN (virtual private network), and the many other software available are fairly simple to dissect from their names. But what about best ERP software?
ERP – enterprise resource planning – sounds as generic as you can get. In this article, we'll explain what the best ERP software does for your business, along with our favorite ERPs on the market.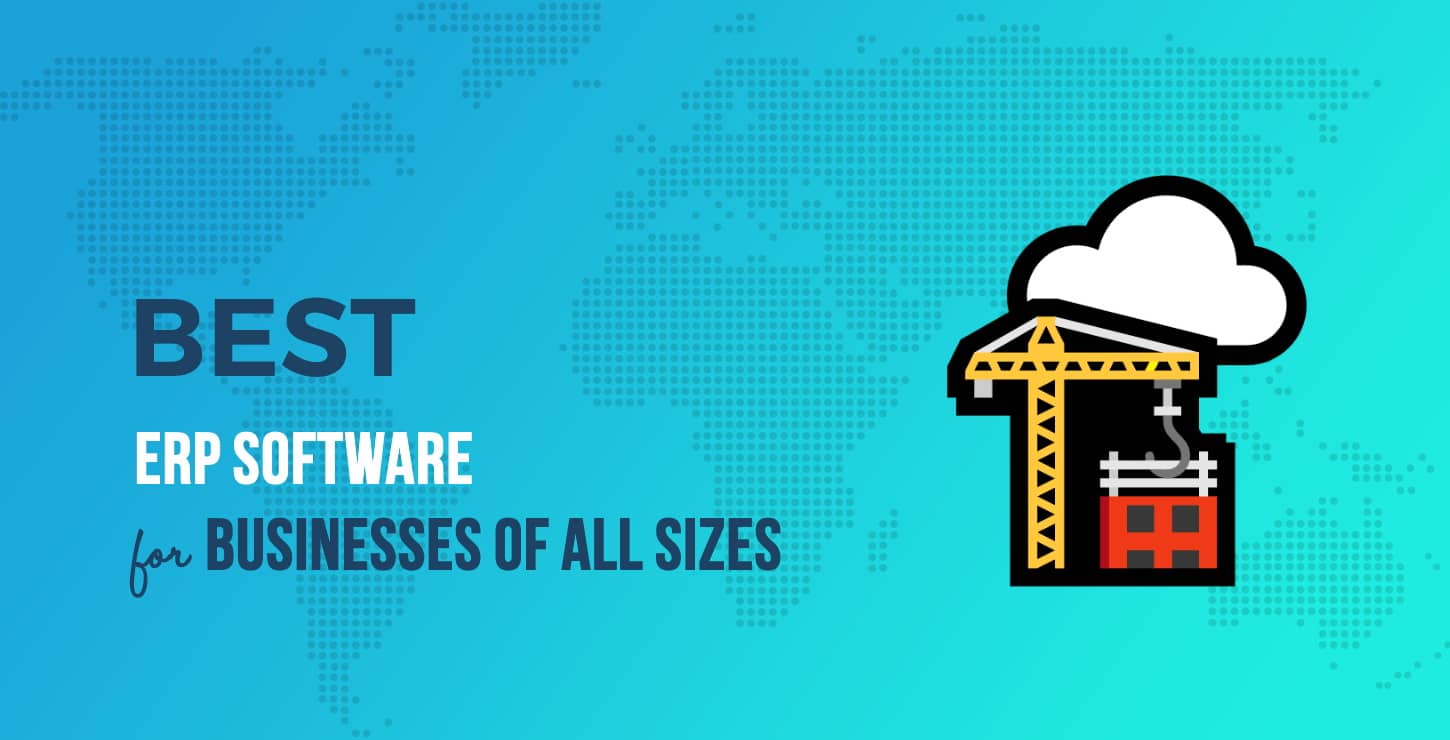 What is ERP software?
Unfortunately, making a search for best ERP software on Google delivers a myriad of definitions, all of which seem to contradict each other. Even if you find credible articles, the descriptions are complex, or they cover certain elements of an ERP, but not all of them.
In short, everyone appears to have their own definition for ERP software.
The reason for this is because ERP software often varies drastically from business to business. In fact, that's kind of the point. An ERP is supposed to offer advanced customization for your brand.
The best description of an ERP: Every business has various processes that are handled by multiple tools. This includes software for HR, customer relationship management, accounting, inventory, and more. ERP software integrates all of these together.
The primary features behind an effective ERP include a shared database between those tools, along with the synchronization and automation of data between them all.
In a sense, ERP software is the link that binds all of your software together, kind of like a web.
Any size business could use an ERP, as long as you're already utilizing a large collection of other tools to exchange for a more efficient ERP.
Regardless of your situation, we'll cover everything about the best ERP software, from pricing to features, and thoughts on which ERPs are best for different types of businesses.
Let's get started:
Best ERP software of 2023
Here are the tools that have made our list:
1. Acumatica (www.acumatica.com)
As shown in the logo, Acumatica is a cloud ERP. This means that data is stored and synced on the cloud, using a network of servers so that your company doesn't have to manage servers itself. The ERP brings together software elements like financial management, customer relationship management, and inventory. It's an essential piece of the infrastructure puzzle for small and medium-sized businesses, even though enterprises may find it useful as well.
Acumatica provides niche versions of the ERP, including the following:
General Business Edition
Distribution Edition
Manufacturing Edition
Construction Edition
Commerce Edition
Field Service Edition
As an example, the Commerce Edition offers everything from financial management to commerce integrations. It provides one universal platform for running your online store, speeding up the time it takes to get products to market and creating a familiar environment for workers instead of introducing them to dozens of separate software options.
Pricing 💵
Acumatica pricing is structured so that you only pay for what you use. The idea is to help growing businesses that may not have the resources required for a powerful interface like this to begin with. Acumatica expects payment in relation to how well your business is doing.
It also depends on what applications you're using, the type of license you're considering, and your sales volume. In short, a custom quote will be given to you after you discuss your needs with an Acumatica sales representative. To give you a glimpse into that custom pricing, let's say you choose a SaaS (software as a service) subscription. This requires an annual fee based on your volume and what applications you incorporate into the infrastructure.
You'll find these types of custom rates with many of the ERPs on the market. As for Acumatica, there's no free trial, but you can get a look at the software with a demo.
Features 🏗️
The ERP has its standard packaging, but it's also repurposed and sold for different markets, such as construction companies, online stores, field services, and more.
The reports are advanced, but easy enough for the average person to understand, with insights on customer interactions, sales, and more.
Acumatica is browser-based, meaning that it works rather well on all devices. This comes in handy for when you need to tap into the ERP from a tablet or smartphone.
Project and inventory management is a strong area of Acumatica. It helps with planning your projects and checking in on tasks.
Integrations are impressive, with the ability to link all Acumatica apps, connect to other systems via extensions, and options for importing and exporting to and from anywhere.
You can manage all customer interactions from one dashboard.
The project accounting tool handles elements like timesheets, inventory, and billing.
Pros 👍
Acumatica is set up to grow with your business. The pricing is configured so that you only use the apps that you can afford at the moment.
The ERP has an intuitive design for how many apps are packed into the system. A learning curve is there, but the dashboard becomes like an old friend when you get used to it.
You have the option to choose whether you'd like a cloud or a local installation. Many companies don't like the idea of storing valuable data in the cloud, so there's still some flexibility with that.
The Acumatica customer support team is ready to assist with onboarding, updates, and everything you need while using the ERP.
Navigation is simple, especially when it comes to accessing your system through mobile devices.
Cons 👎
The pricing isn't disclosed in any way, so you have to speak with a sales representative. It's also clear that pricing isn't based on the number of users you have, making it confusing compared to other ERPs.
There is an abundance of features and apps that you piece together to make the full ERP. For some, a configuration like this may seem daunting.
Users have reported that Acumatica offers system emails for sending messages. At the time of this article, they don't appear to work well at all.
You may need to figure out a way to integrate with third-party extensions if you're not using all of the Acumatica tools at once.
Popularity doesn't equate to quality, but in the case of Oracle Netsuite, this is definitely true. The widely used ERP is not for all businesses, but it has a strong foundation in the enterprise community and for other businesses that require advanced logistical help. The Oracle Netsuite ERP is a cloud-based solution for fast-growing businesses, as it integrates and helps you automate software and processes for the following:
Customer relationship management
Order management
Inventory
Accounting
Billing and time tracking
The robust functionality behind Oracle Netsuite is what makes it so appealing. You're able to customize to your company's needs and integrate with other tools. From order management to supply chain management, every element you would need to run an enterprise is included.
Pricing 💵
While researching ERPs, you'll soon realize that pricing is almost always tailored to each customer. However, pricing structures vary.
Oracle Netsuite requires you to start with a sales rep, where you go through a demo and talk about your desired configuration and addons. Oracle Netsuite also sets pricing based on the number of users and the amount of time you're willing to sign a contract.
It appears that most Oracle Netsuite users opt for a subscription, paying for a year and then renewing or upgrading once the year is over. As of right now, the basic license is listed at $999 per month. Additional costs are required for how many users you have per month.
Features 🏗️
You gain access to real-time financial tracking and management, with advanced reports, integrations, and payment planners.
The budgeting module assists with decreasing costs through models and projections. You can make forecasts and establish an in-depth plan on how you plan on staying under budget.
The ERP comes with a CRM for logging customer interactions and keeping up with users as they go through the customer lifecycle.
Revenue management helps with automating items like invoices and reports. You can schedule renewals and offer upsells to your customers.
Oracle Netsuite has a unique procurement system for requesting approval for goods and services. This feature includes options for tiered pricing and negotiating terms for your products.
Pros 👍
The Oracle Netsuite ERP is built for scalability, delivering an onslaught of tools that you can start using when your business needs it.
The software comes as a fully integrated solution. Your database is synced and automated amongst several tools for things like inventory, billing, and customer relationships.
This is a cloud application, which means you have access to the software no matter where you are. You also don't have to worry about backups or local storage.
Oracle Netsuite offers superior custom reporting and searching, making it ideal for handling billing and projections.
It's a very stable software. Worries about downtime, reliability, and backups are diminished.
Cons 👎
Integrations with third-party systems have been shown to produce bugs in the ERP.
There is a learning curve for getting set up with Oracle Netsuite. A high level of customization is required, only making it ideal for those with a certain skillset. In short, you need an IT person to handle this for you.
The pricing is not appealing for smaller businesses looking to grow. It's more for medium to large corporations that still want growth.
The sales team is persistent, but users report that the support gets less helpful after they make the sale to you.
It's similar to Excel or Photoshop, where the majority of users will not even scrape the surface of its capabilities. This is due to the steep learning curve and the robust collection of features.
You may also be interested in:
3. SAP ERP (www.sap.com/products/enterprise-management-erp.html)
SAP develops tools for network management, customer management, supply chain, HR, finance, and much more. The ERP is a separate software that brings together many of these functions. SAP provides packages for all business sizes, so it's best to speak with a sales rep to figure out what fits in your budget.
Some of the elements included with the SAP ERP are as follows:
Financial planning
Financial analysis
Accounting
Treasury management
Accounts receivable and billing
Cybersecurity and risk
They all link together, but the choice is yours to remove a piece of the integration puzzle.
Pricing 💵
A sales demo and consultation is required to get a custom quote for SAP ERP. There's no free trial. You can buy several products from SAP, like opting for only a few of the tools or for an all-in-one business solution.
SAP sells its ERP based on how much you plan on using. So, you can opt for a subscription model, where you pay on a monthly or yearly basis. In this scenario, you'd have more predictability in costs and utilize a package solution. The other option is to only pay for the functionality you implement. Overall, you need to contact a SAP account rep to find out.
Features 🏗️
SAP ERP delivers a detailed product roadmap that spans several products and paints a picture of how to bring your product to market.
Accessibility is a huge plus side of the SAP ERP software. Mobile accessibility is one thing, but it's also important to know that SAP offers solutions for individuals with disabilities.
The procurement module assists in driving down your costs, with help for negotiations and finding partners.
You can streamline and automate most of your financials, while also sticking to regulations based on your industry.
The HR program is packed with tools for professional development, administrative tasks, and billing.
The request-to-service feature is unique and essential for things like improving customer response times and providing high-quality customer service.
Pros 👍
The overall integration of the system makes for an excellent all-in-one business solution.
The full suite of applications from SAP means that you don't typically have to look elsewhere if you plan on scaling up.
The amount of detail and customization on the SAP ERP is unmatched.
Financial analysis is made simple with the ERP, providing advanced reports and processing, but without the need for a high level of skill.
The accounting and finance elements are all centralized.
Cons 👎
There's no doubt that SAP sells expensive products. Although you can typically speak with a rep and find something suitable for small businesses.
The total implementation of the SAP ERP may take several months because of its complexity and need for specialized hardware.
Many users report that the ERP is far from user-friendly once configured.
Some of the integrations that were eventually bought out by SAP are not as automated and fluid as SAP's in-house add-ons.
Microsoft Dynamics ERP, or Microsoft Dynamics 365, has been rebranded a few times, so any other research you conduct online may refer to it by alternative names. However, the product remains the same – with a combination of marketing, sales, customer service, field service, finance, operations, commerce, and HR modules packaged into one software.
Microsoft divides these tools so that companies can buy them separately from each other, but there are plenty of benefits to bundling them together. We like Microsoft Dynamics for all business sizes considering you can upgrade whenever you want and only opt for the features you currently need.
Pricing 💵
Microsoft Dynamics is broken down into dozens of tools, each of them categorized into broader groups. These groups are sold as individual products, or you can opt to buy them all together.
The theory is simple. If you buy a piece of software by itself, you pay full price. If you group together a few products, or expand your ERP by adding an app, the pricing goes down.
For instance, the Marketing Module is listed at $1,500 per user per month. If you already use another Dynamics app, the Marketing Module is only $750 per user per month. Check out the Dynamics pricing page for more information.
Features 🏗️
You get HR software with form building and survey management tools.
The commerce tools include fraud protection and customer insights.
Operations management does the trick for automating many of your projects and centralizing all business essentials.
The finance management tool ensures that you follow regulations, while also handling bank transactions and cash flow management.
A supply chain tool is useful for checking on the physical handling of inventory. It also has an excellent reporting tool.
There's a unique manufacturing element that does a wonderful job of managing resources, fulfilling orders for customers, and keeping costs down.
Pros 👍
Microsoft Dynamics ERP is a one-stop-shop for centralizing your data and business needs.
The payment structure is superior to much of the competition. It's kind of like selecting apps on your smartphone. You only have to pay for what you need.
This is a highly customizable ERP with fast implementation and support from Microsoft.
The system is robust enough to support large databases and imports. This data is organized well and broken down into clean reports.
Job tracking is extremely customizable on the Microsoft Dynamics ERP.
Cons 👎
The navigation and overall interface lacks continuity, making it difficult to train new people on the software. It's not impossible, but there is a learning curve.
Although the pricing structure is nice so that you can choose what you want, it's too expensive for small businesses if you intend on using many of the tools.
Microsoft Dynamics ERP has trouble integrating with other software. If you sign up for Dynamics, there's a good chance you'll be buying more products from Microsoft.
Microsoft's customer support is far from reputable for the ERP. Users report that the onboarding goes well, but after that, support seems to go downhill.
5. Odoo (www.odoo.com)
Similar to Microsoft Dynamics, Odoo offers an à la carte ERP, with a list of apps that all combine together to make one powerful ERP. This doesn't mean that you have to use all of them. In fact, the Odoo website assumes that you'll start with a few apps and potentially upgrade from there.
Some of the apps you can choose from include:
CRM
Invoicing
Ecommerce
Website builder
Manufacturing
Inventory
Studio
Helpdesk
Appointments
Timesheets
Many more
Needless to say, the Odoo ERP serves as one of the best options for small businesses. Larger companies may consider it for the interface and affordability as well.
Pricing 💵
Apps are sold separately for the Odoo ERP. You select the apps you want, each of which has its own monthly pricing. After that, you type in how many users you plan on having. The Odoo pricing page then tells you how much your ERP will cost.
For instance, the CRM costs $24 per month. Invoicing is listed at $12 per month, while the accounting app is $24 per month. If I picked all three of those, the current Odoo pricing page calculates my one user rate at $84 per month (with a small discount).
The more users you add the more expensive it gets. But it's a better value per user.
You also have to figure in the hosting type and implementation service to your final cost.
If you don't want to pay for anything, an open-source community ERP is provided for free.
Features 🏗️
Odoo apps are sold as individual tools, allowing for small businesses to grow.
You have access to the API for integrating with any other tools of your choice.
Third-party apps are supported in an internal library, in case some companies don't want to mess with the API.
The eCommerce and website apps are great for launching an online presence and linking those sales to other important apps for inventory and accounting.
You gain access to project management and timesheet tools that cut down on most manual work.
The reports are highly beneficial, exportable, and easy to understand for the average user.
A full CRM is provided as an app, logging customer interactions and improving your customer service along the way.
Pros 👍
Odoo is open-source and community-driven, meaning you do have an option for a smaller, free ERP. And there are plenty of updates and resources.
The customer support is hard to beat.
The app structure is far easier to learn for the average user, meaning a quicker implementation and less costly process.
It's easy to develop alongside Odoo. The API is there to make your integrations, and the regular apps allow for piecing together what you need most.
Communications are handled rather well, with messaging and logging all synced with the same database.
Cons 👎
Although the community and customer support does a fine job, the documentation could use some improvement.
Again, the community is great, but this also makes for a segmented resource situation, where people are talking and posting documentation on several sites.
Costs tend to get higher and higher as you add more apps. At some point, you may find that other ERPs are actually less expensive.
Some users complain that the number of different apps can actually create a less organized environment, as opposed to paying for an ERP with all of the features melded together.
Which is the best ERP software for you?
Making a Google search for best ERP software delivers a lot of options. Hopefully, this article helps you narrow down the search a bit.
If you're still having trouble choosing an ERP, look through these final suggestions:
Now that we've outlined the best ERP software, share your thoughts in the comments about your own experiences with ERP software!
…
Don't forget to join our crash course on speeding up your WordPress site. Learn more below:
Layout, presentation and editing by Karol K.