Contact management software has become a crucial tool in the era of data and online communication. A business cannot exist without clients. Being able to keep in touch with them effectively matters a lot in the industry. No matter the type of business, contacts remain the lifeblood of your work.
It can be frustrating to call up a prospect who was ready to finalize the deal only to find out that they are not aware of your product at all. When they make a polite request to take them off the list, it looks like you've missed a step.
This often happens with sales teams when they are about to close a client. It is a result of inefficient management of contacts, and it is true in both B2B and B2C niches. Sales professionals will agree on the fact that it takes multiple steps to turn a lead into a customer, and if someone does not know who you are, they are not going to buy from you. This is where the best contact management software comes in.
How to choose the best contact management software for you
There are many great options in the industry, but the challenge is choosing the right one. Keep an eye out for the following when shortlisting your options for the best contact management software:
Good contact organization – Businesses usually have multiple different contacts to manage – contacts that have been established for different reasons and with different possible outcomes. Your best contact management software should allow you to categorize those contacts and keep similar ones together.
Team features – These days, you rarely have just one person dealing with all of your business's needs for contact management. You'll likely have multiple people in the organization contributing, and your contact management software has to allow for that.
Integration with your sales processes – In most business scenarios, contact management leads to sales. Your tool has to integrate with the rest of your funnel and make the current stage of your lead building visible.
Contact profiles and customization – Without customizable features, your contact management software will only have the most basic details about a contact. A good tool will allow you to build whole profile pages for your contacts and add all sorts of different details there.
Ease of use – Considering the number of customers a contact manager has to deal with, it can become overwhelming. This is why the software itself should be easy to use – especially for a person who hasn't interacted with a tool like this before. It will ensure that you do not lose track of your contacts, as it could lead to a loss in sales volume.
Automation – Automation is often the hidden gem for most sales teams. Automation features can keep track of when you contacted the client and automatically record it. This way, it becomes easier to keep track of when to contact the client next.
Best contact management software in 2023
Now that you know exactly what a contact management software program can do, let's look at seven of the best options.
Nimble allows you to build a contact database and use it over email, mobile, browser, and productivity suites. The CRM will manage the entire sales process, build contacts, and it's integrated with social networks. It is one of the top contact management software for small businesses.
🧰 Key features:
Contact management
Calendar sync
Email signature capture
Email and activity tracking
Group messages
Pipeline management
Sales reports and forecasts
Google Workspace and Office 365 support
💵 Pricing:
$25 per user per month (billed monthly)
$19 per user per month (billed annually)

Pipedrive is a sales-focused CRM with contact management. It allows for lead tracking, information syncing, and sales activity monitoring across channels. The smart contact data will find web data through LinkedIn, saving time and ensuring that no key details are missed.
🧰 Key features:
One-click pre-qualification of leads using email addresses
Gmail integration
Simple and easy to use dashboard
Automation of the repetitive administrative tasks
Customization of activities
Email integration tool
Create unlimited pipelines to manage contacts
Sales reporting and sales forecasting tool
💵 Pricing:
The Essential plan is available at $12.50/month per user billed annually and $12 billed monthly
The Advanced plan is available at $24.90/month per user billed annually and $23 billed monthly
The Professional plan is available at $49.90/month per user billed annually and $47 billed monthly
The Enterprise plan is available at $99/month per user billed annually
You may also be interested in:
Bitrix24 is an excellent tool for managing sales funnels that your customers go through. It allows managing multiple sales funnels at a time and even automates them so that they do not require manual updates. One of the best CRM software, it can handle everything – contacts, sales management, projects, marketing, and team collaboration. The software pulls information from mobile messenger apps, social networks, and landing pages to build a contact list.
🧰 Key features:
Two options – a simple CRM with deals and contacts but no leads and a Classic CRM with leads
Offers a combination of CRM and social networking tools
A visual website builder with free domains and hosting
CRM pipeline management, booking, scheduling, and a reporting feature
Role-based permission management
Rule-based lead distribution
A free plan is perfect for online creators, small businesses, and novices
💵 Pricing:
Free starter tool for up to 12 users
Basic plan for 5 users at $39/month billed yearly
Standard plan for up to 50 users at $79/month billed yearly
Professional plan for unlimited users at $159/month billed yearly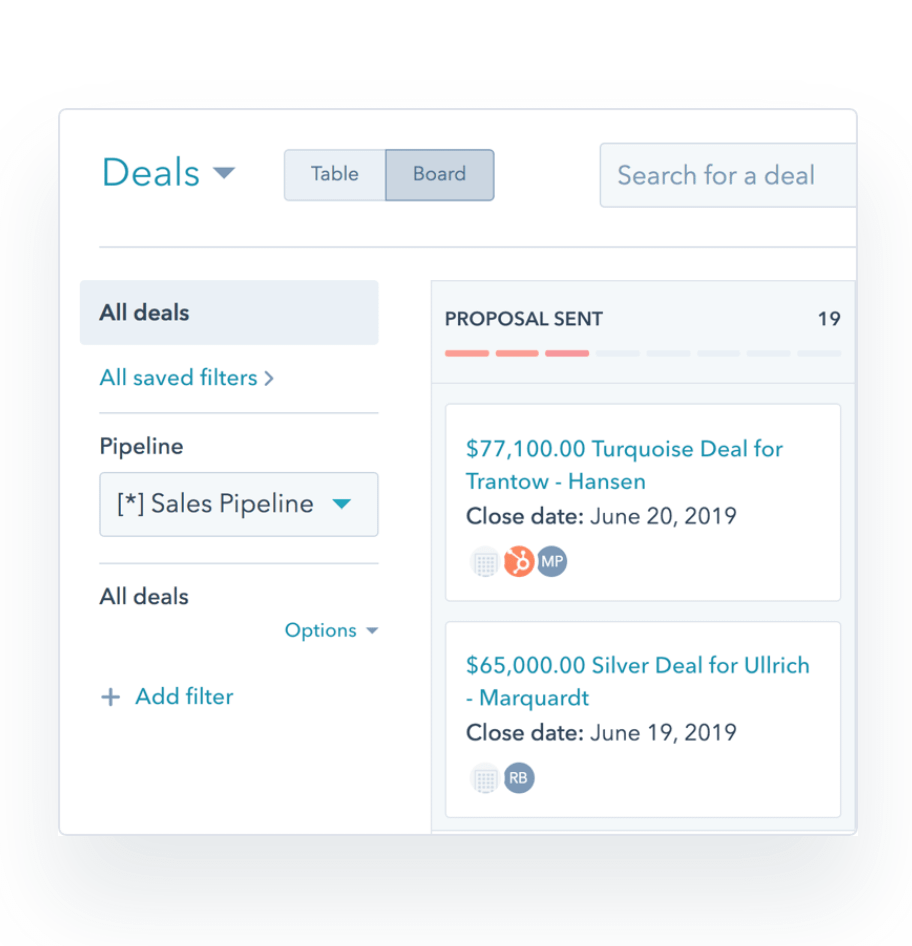 If you are looking for an effective way to manage leads and organize customers, HubSpot is a complete solution to everything. The all-in-one marketing suite has an easy-to-understand dashboard and a deal flow that can be tracked to measure performance against a set quota. It has all the features that the sales team can use.
🧰 Key features:
Add contact records from Outlook and Gmail or web forms
Auto-update records
Supports up to one million contacts and company records
Clean and user-friendly dashboard
Email tracking
Free CRM plan for small businesses
💵 Pricing:
Starter plan for 2 users at $45/month
Professional plan for up to 5 users at $450/month
Enterprise plan for 12 users at $1,200/month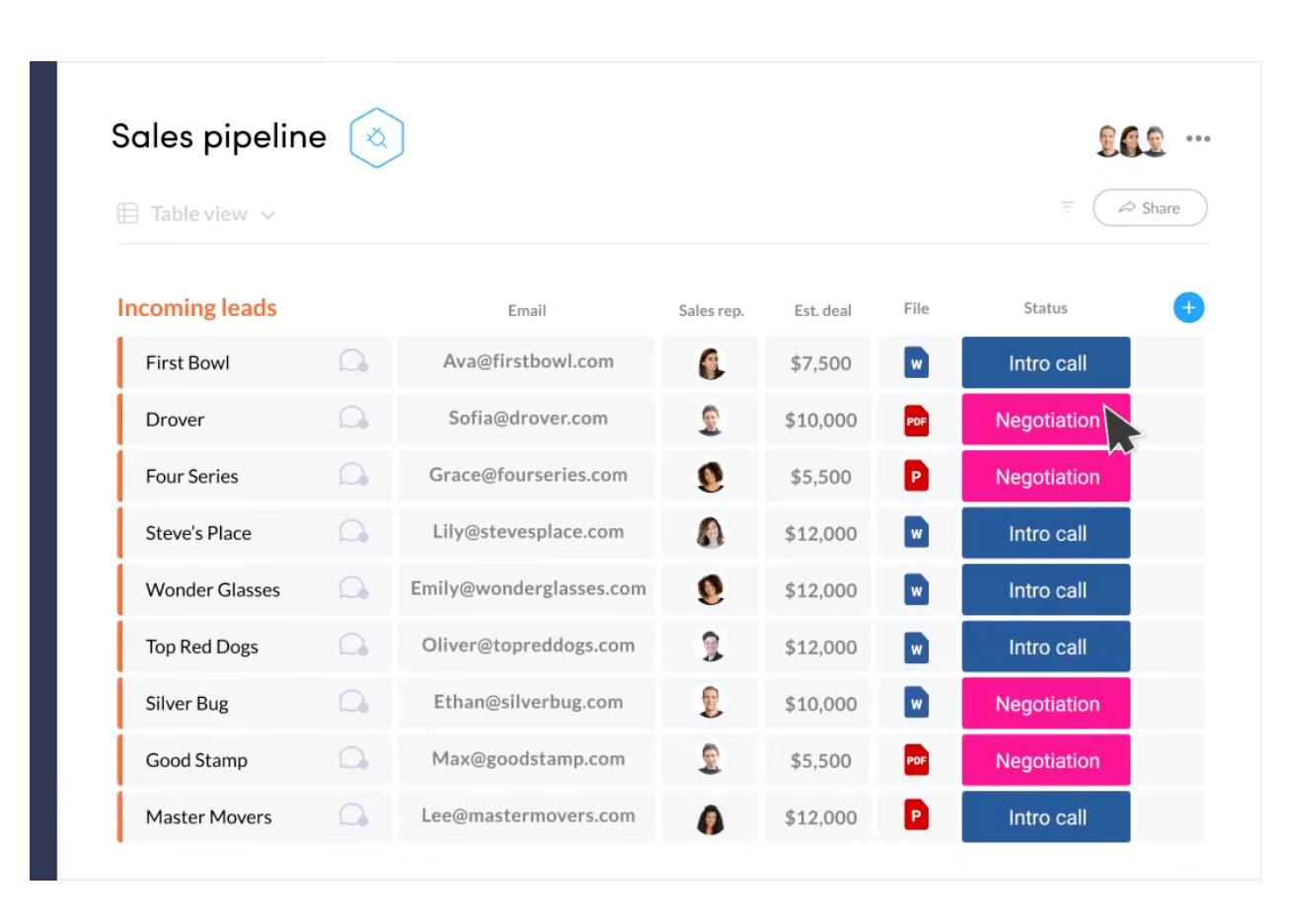 Monday is an affordable contact management software ideal for freelancers. It also works well as a project management software and allows you to track sales, handle marketing contacts, and manage incoming support inquiries.
🧰 Key features:
Simple and easy to use
Can be used across all departments
Track leads from an email list
Pre-built contact management templates
High customization
Shareable web forms
Free plan for up to two users
Unlimited boards
💵 Pricing:
Free – up to 2 users
Basic – $8 per user per month
Standard – $10 per user per month
Pro – $16 per user per month
Enterprise – custom pricing only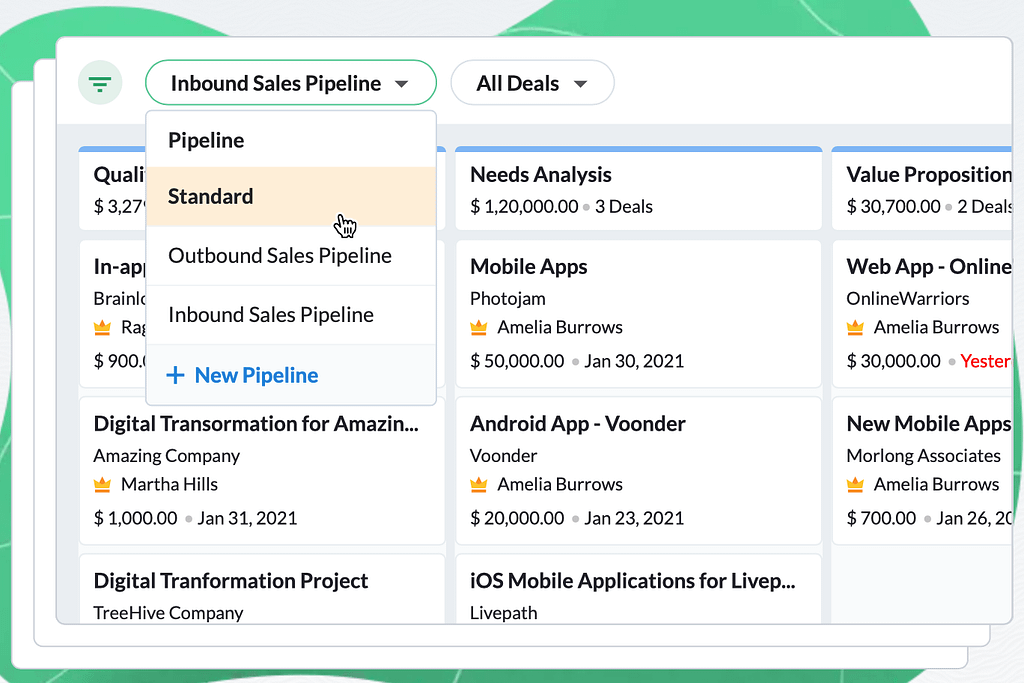 Bigin by Zoho CRM is ideal for those who do not need heavy features and often use spreadsheets. It is simple, keeps track of all the contacts, and has a single minimalist dashboard. It is built for small businesses and offered at an affordable rate.
🧰 Key features:
Easy to use drag-and-drop form builder
Build customizable pipelines
Assign tasks to teammates
Filter and view pipelines
Versatile tool
Workflow builder
Built-in telephony features
Seven pre-built integrations with third-party apps
💵 Pricing:
Free– one user, 500 contacts, one pipeline, and three workflows
Express– $7 per user per month for up to 50,000 contacts, multiple pipelines, and 25 workflows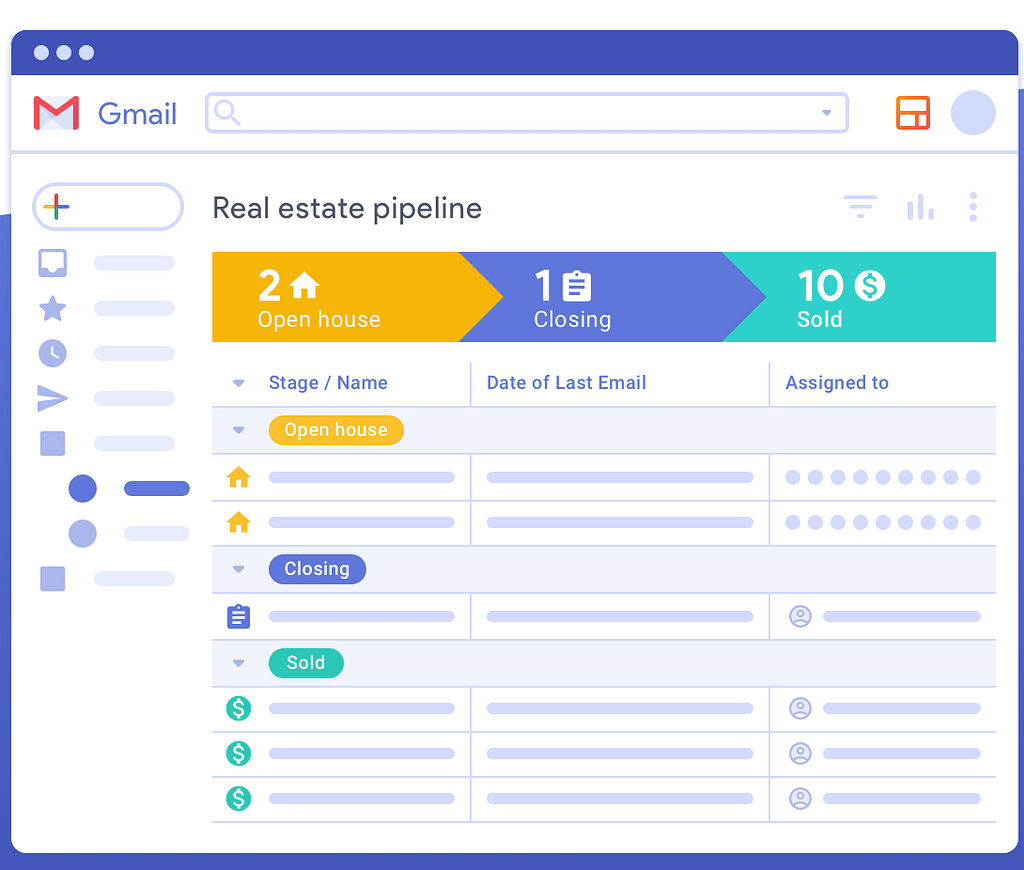 If you enjoy using Gmail, you should try Streak. It is a Chrome Extension that will work in your inbox. You will not need a standalone tool. It offers a lot of flexibility in how you use it. It syncs with Gmail and Google Sheets, adding comfort and convenience.
🧰 Key features:
Easy integration with the Chrome browser
Works in the inbox
Wide customization
View all interactions in a timeline view
Create custom views
Set up a pipeline for each project
Mail merge
Zapier integration
Email sharing
Thread splitter
💵 Pricing:
Solo – $15 per user per month for up to 5,000 contacts
Pro – $49 per user per month for unlimited contacts
Enterprise – $129 per user per month for data validation and priority support
What's next?
The exact contact management software you choose depends on the needs of your business and the type of interactions that you want to handle through the tool. Regardless of what you choose, it is best to try out a few solutions – especially those that come with free versions – before making a decision.
Which contact management software did you choose? Let us know in the comments section below!
…
Don't forget to join our crash course on speeding up your WordPress site. Learn more below:
Layout and presentation by Karol K.