Contact form plugins for WordPress may sound like a topic that's been fairly well covered across the web as it is, but is that really the case?
Here's what I mean; for years we've been using Contact Form 7, and not even thinking twice about trying out other solutions. But is it possible that the development in the contact form realm has stopped entirely? Is Contact Form 7 the be-all and end-all of contact forms for WordPress?
Of course not! So today, we're looking into the top 8 contact form plugins for WordPress in 2023: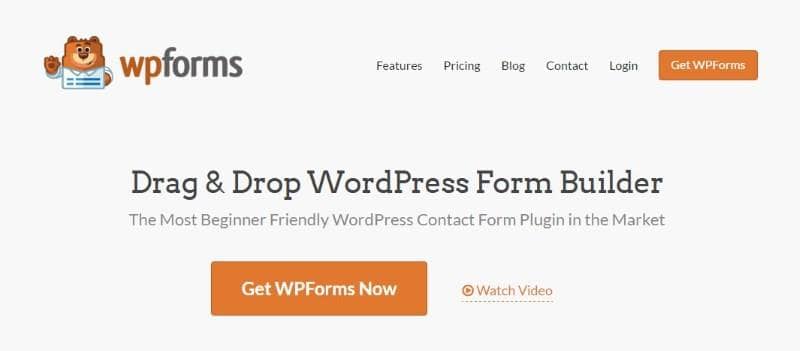 WPForms is an extremely feature rich plugin that also manages to deliver a nice, clear user interface. Everything works with drag-and-drop, which makes it quick to create new forms. Plus, you'll get access to pre-built form templates to speed things up even more: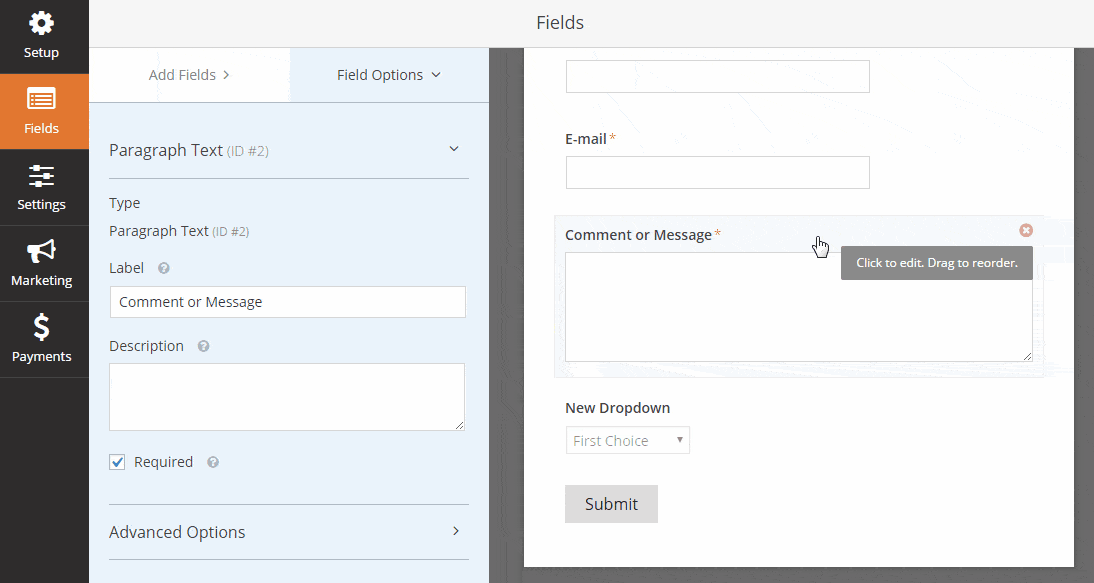 Let's just list some cool features that WPForms gives you:
All forms created with this plugin are responsive and mobile-friendly.
It includes online payments via PayPal and Stripe (recurring functionality included)… great for sales, donations, and setting this up involves no coding work.
You can create email subscription forms and integrate them with popular email marketing services.
There's entry management right within the wp-admin – you don't need to go anywhere to see all the entries you received.
It blocks spam submissions automatically.
You can embed the forms anywhere through shortcodes.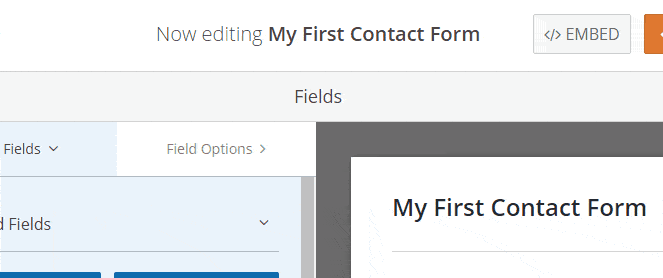 There's a free version of the plugin available. The paid one goes for $99-$599.
Otter Blocks is a neat plugin that enables you to extend Gutenberg's capabilities. It's designed to work with the Block Editor, so if you prefer page builder plugins like Elementor, this isn't the best option for you.
Otter Blocks provides over 23 extra blocks to improve the page-building experience. You'll get increased functionality thanks to additions like countdowns, maps, and of course, contact forms.
One of the best parts about using an Otter Blocks contact form is that you can build your form directly in your WordPress post or page. Once you've installed the plugin, navigate to the page where you want to insert your contact form. Then, find the Otter Blocks Contact Form and add it in:
If the form is too simplistic for your needs, you can customize it with more Otter blocks. For instance, you can add an Advanced Heading to access more customization options like heading tags and font selections.
Plus, you can make your form heading sticky by clicking on the Otter Blocks icon and selecting Transform to Sticky:
While you can add more Otter blocks like Google Maps and Lottie Animations, you'll also get access to pre-designed patterns to make your form more engaging.
For example, you can insert images, testimonials, calls to action, and contact details:
Then, you can customize these elements by applying colors, adjusting the alignment, and adding links.
You can use the free version of the plugin, or get started with a premium plan. Paid plans start at $69 per year and include extra features and more blocks.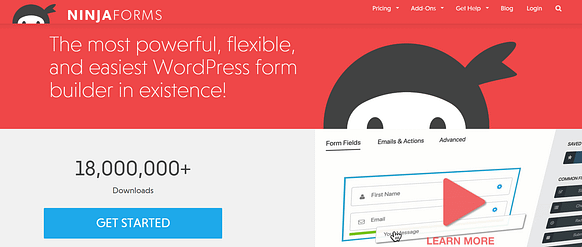 Ninja Forms is one of the more feature-rich plugins out there, and it can give you much more than just contact form functionality. You can use it to create subscription forms, surveys, or anything else that can be done through a web form.
Ninja Forms also takes care of managing form submissions for you right within the WordPress dashboard.
Creating forms is relatively easy. You start by going to Forms / Add New. There, you get to use a simplified drag-and-drop interface. To add form fields, you have to click on a specific type of field, and then you can realign it similarly to how you'd work with WordPress widgets: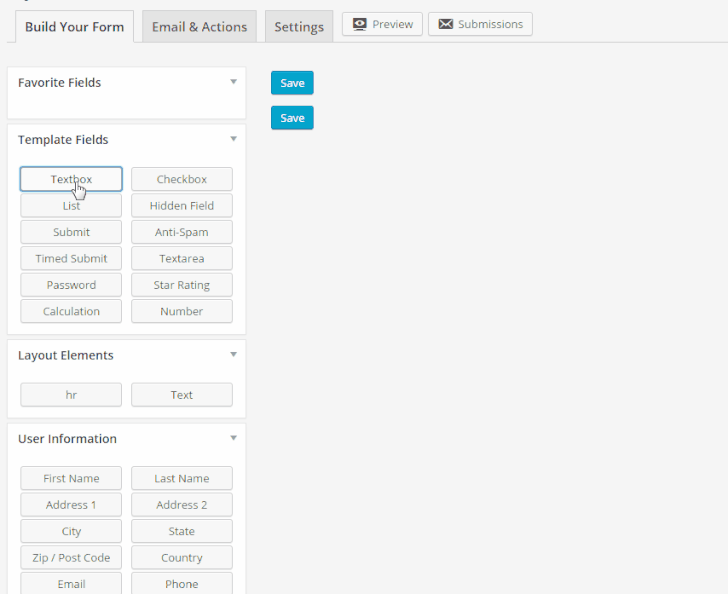 Adding your forms to blog posts is done through shortcodes – each shortcode corresponding to an individual form. Here's what the contact form looks like:
What's cool about this plugin is the number of customizations it delivers. Just to name a couple:
You can set specific email notifications that get sent out on successful form submissions. You can notify both yourself and the user.
You can assign certain actions to form submission, like displaying a success message, or even subscribing someone to a MailChimp list.
There's a free version of the plugin available. The paid one goes for $99-$599.
Forminator is a reasonably new addition to our list, but it beats other options when it comes to integrations and field addition. With Forminator, you can quickly build a new form, all credits to the drag-n-drop interface. You can completely customize the form design using the appearance section in just a few clicks.
This plugin is fully compatible with email marketing and management integrations like Trello, Mailchimp, Slack, Hubspot, AWeber, and more.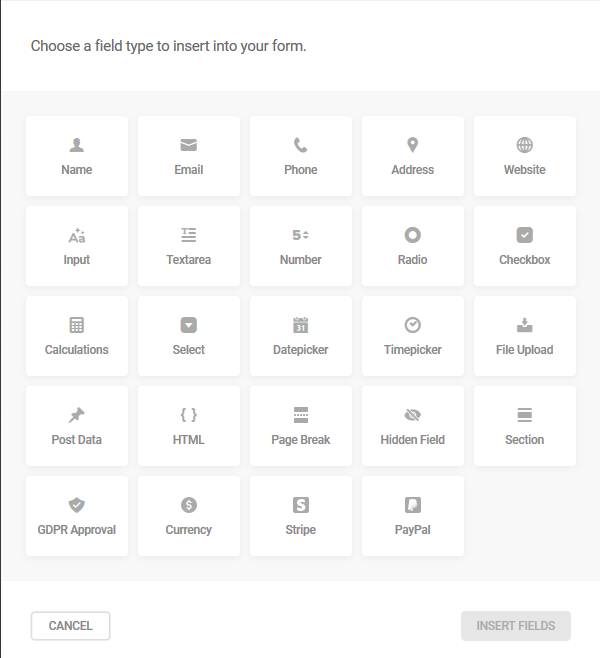 If you want to know how it stands among other contact form plugins, check out the "Insert fields" option. There are 24 unique field boxes for creating contact forms, payment forms, calculations form, feedback widgets, real-time polls, and quizzes.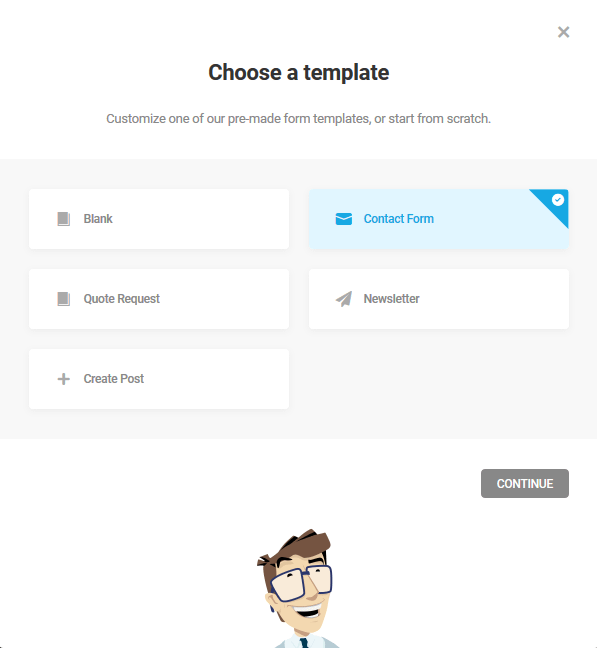 To use it, select the type of form you'd like to build and add the form fields: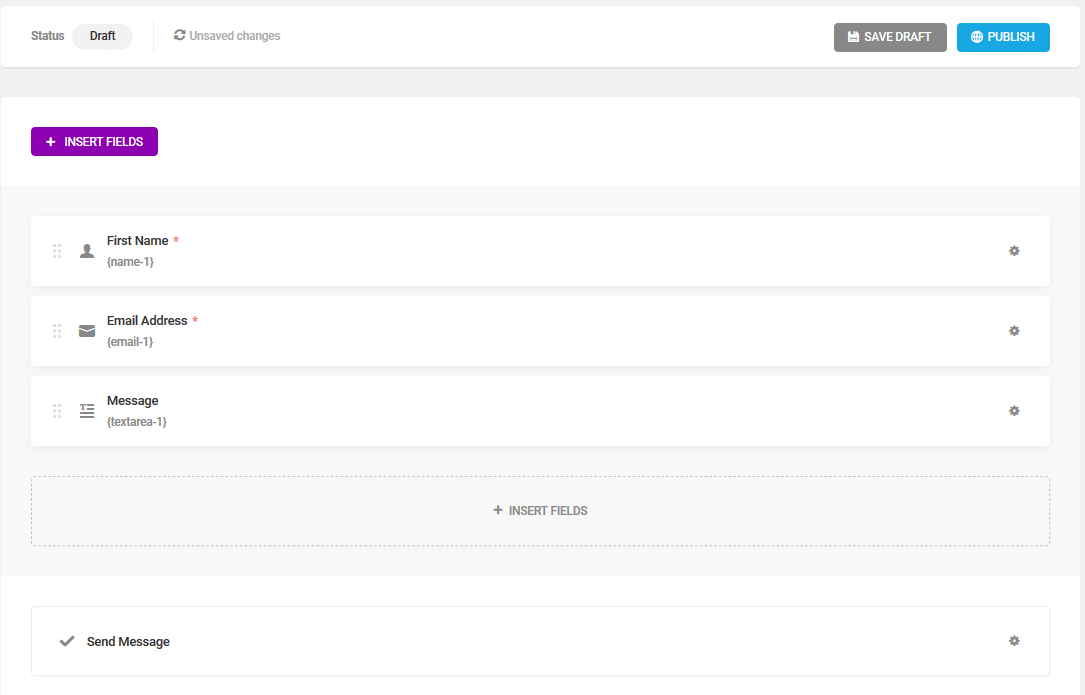 Customize the appearance, and paste the shortcode where you'd like to add it. Also, you can only add third-party apps after creating a form.
As you may be aware, Jetpack – the main plugin from camp Automattic – has a contact forms module too. You just need to activate it in Jetpack / Settings:

Creating contact forms with Jetpack works a bit differently than with the other plugins on this list. Instead of creating a form, and then including it in various posts/pages, you get to create forms right on the post/page editing screen:
Jetpack gives you the option to adjust the fields (remove the existing ones or add new), and finally add the form to your post: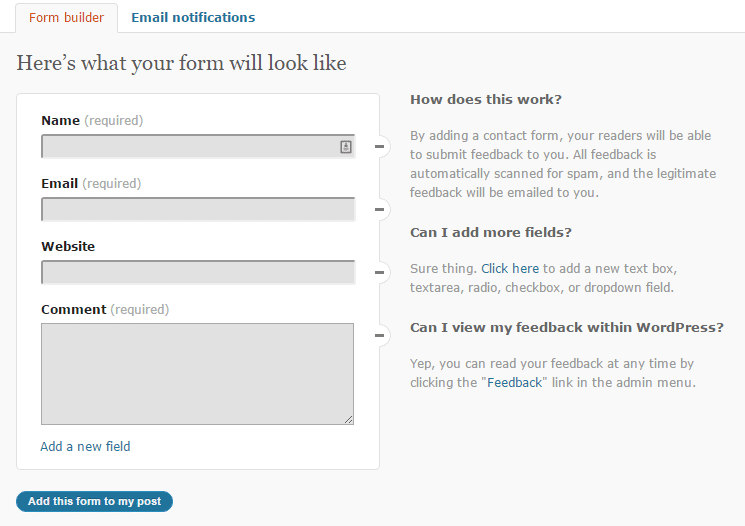 Here's what the final contact form looks like:
Hey, I won't lie to you here, even though I started this post questioning Contact Form 7's position on the market, the fact is that it's still one of the top solutions out there, and I just have to include it on this list too.
Contact Form 7 gives you access to an additional section in the WordPress dashboard called Contact. There, you can create new forms and adjust the existing ones.
Working with a form is moderately easy, I'd say. What you get is an interface based on HTML tags. So in order to tune your forms, you have to be careful not to mess up the structure. Not particularly difficult to do, to be honest, but not as simple as with the other plugins on this list either.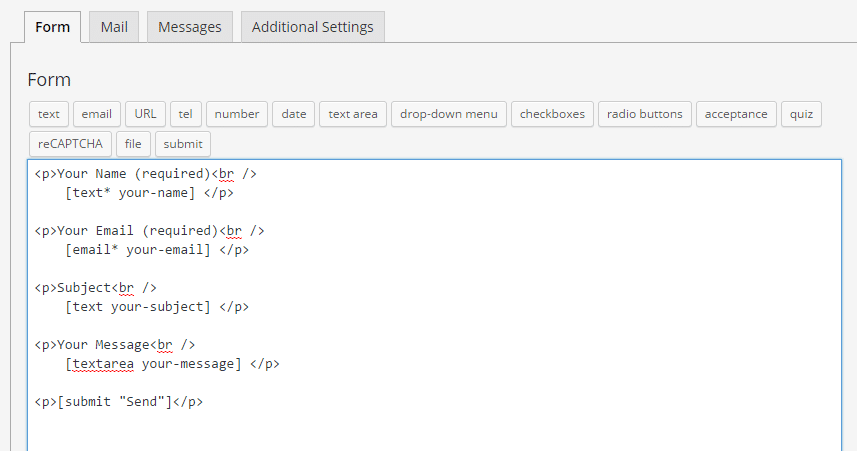 That being said, because you get to work with the HTML structure, you can also include custom elements in between your form fields (extra text or images), which can be quite handy in some cases.
Once you're done tweaking your form, just take the shortcode and include it within some post or page. Here's what the final contact form looks like:
Everest Forms is a nice plugin, very easy to use and customize. It is totally free, but you can upgrade from $69 a year. Better yet, most of its features are available from the get-go. Users can simply drag and drop their fields to create flexible forms and modify them with a simple click. With this tool, you can build unlimited forms with a wide range of variations, multiple columns, reCAPTCHA and more.
To create a new form, click on Add New button in the All Forms section of the plugin; then you need to provide a Name and choose a template. You can simply choose a blank form or a pre-made contact form template:

This will take you to the core creation interface where you can drag the fields from the left section to the right to edit the form. A new row can be added by clicking on Add Row. By clicking on any field on the right, you can modify its parameters and details:
You can place these forms using the shortcode ID, (which will show up on the All Forms page) as well as the separate form builder section for each form:
Here's how your contact form will look on the front-end:
Kali is probably the most beginner-oriented WordPress plugin for building forms. This contact form plugin is also pretty powerful. For instance, there's a wide range of form fields for creating complex forms in just a few clicks.
You can use the free plugin if you want to create a simple contact form without having to spend a single buck.
The onboarding process is really simple and quick. After installation, hit the Create Your First Form button. You will get a list of pre-designed templates. While most of them are locked on the free version, the contact form template is available: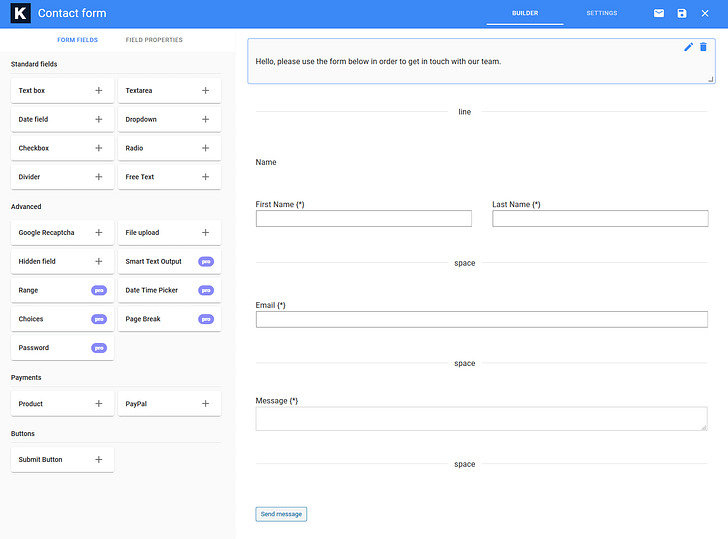 Once you do that, you will land on the drag-and-drop form builder. But you can only drag-and-drop fields that are already added to the form. For adding a new field, you'd need to hit the '+' icon beside each field.
After creating your form, use shortcodes for adding it to blog posts. Although, the form's design can vary based on the theme you choose. I have used Neve theme for this one. Here's how your contact form will look using the default settings:
After hitting the submit button, the user will get a Thank You message. For more features like conditional logic and custom CSS, you'd need to go premium. The cost depends on the number of sites you will use it on. The price for one site license is $29 per year.
You?
So what do you think? Which is your favorite contact form plugin for WordPress? Did I miss anything that should have its place here?
✨ Last but not least, check out this collection of WordPress plugins that all sites should use.
* This post contains affiliate links, which means that if you click on one of the product links and then purchase the product, we'll receive a small commission. No worries though, you'll still pay the standard amount so there's no additional cost on your part.