It's common to wonder about the best CMS (content management system). Which CMS provides the easiest user interface? Or, is it the right choice to go with the most popular CMS just because it has more users than the competition or because it's recommended so much online? 🤔
These are great questions to have, and we're here to analyze content management systems based on the facts.
An exceptional content management system is essential for building a website, whether it's for an eCommerce store or a simple blog. To achieve that exceptionalism, a CMS must have a sleek user interface, reasonable pricing, and a killer community behind it!
What to look for to find the best CMS for you
Many factors come into play when choosing the best CMS, but here are the primary criteria we looked at during our analysis:
One-click installation tools

Long ago, content management systems required you to manually install website files on a server. Although that's still possible, and occasionally required with some content management systems, the best CMSs allow for simple, one or two click installations. Usually, this comes in the form of an integration with a hosting company or by instantly activating the CMS as a hosted solution.

Free, or affordable pricing

The open-source CMSs are almost always free. The hosted options have monthly pricing. Keep in mind, however, that open-source, self-hosted content management systems still require payment elsewhere, for things like hosting and themes. So, we're looking for the CMSs with the least expensive monthly fees and extra components.

Access to various templates

A template helps with cutting down on design and development time. It makes your website pretty, and far more functional, without coding the site from scratch. Many themes are only made for certain content management systems, so you should seek out a CMS with a high number of themes to choose from.

Support for useful add-ons

A CMS typically needs add-ons to expand functionality. You may require a social media add-on or maybe an extension to turn your blog into an online store. Whatever your need, the CMS should have a decent number of add-ons to test and use.

Drag-and-drop builders and coding access

The best CMS provides features for beginners and advanced developers. That's why we enjoy seeing a CMS with simple drag-and-drop designers for the less experienced users and coding modules for the advanced users.

A strong online community and customer support

Usually, a CMS has either a large online community or excellent customer support. It's not as common to see both. In general, the open-source solutions have highly active forums and millions of blog posts to search online. The closed, hosted CMS options typically provide direct customer support since you're paying for that service.

Iron-clad security

From regular platform updates to database protection, a CMS has no business being on this list if it can't keep out intruders.

Superior search engine optimization tools

There are many aspects of search engine optimization, but the goal is to locate a CMS with the absolute essentials, such as clean URL structures and meta-data modification tools.
The best CMS options to choose from
Now that you know what to look for when choosing a CMS, let's consider six solutions that we feel are truly the best CMS options out there. Our list includes the following CMSs:
You may recognize a few of our suggestions. Others you may have never heard of. Regardless, we don't recommend CMS options based on popularity or because a CMS is new and trendy. We focus on the all-around package, from pricing to features and the user interfaces.
You should also keep in mind that some of the best CMS tools below have both open-source and paid, hosted versions. We'll mention those when they come along, but just remember that you have options between the two.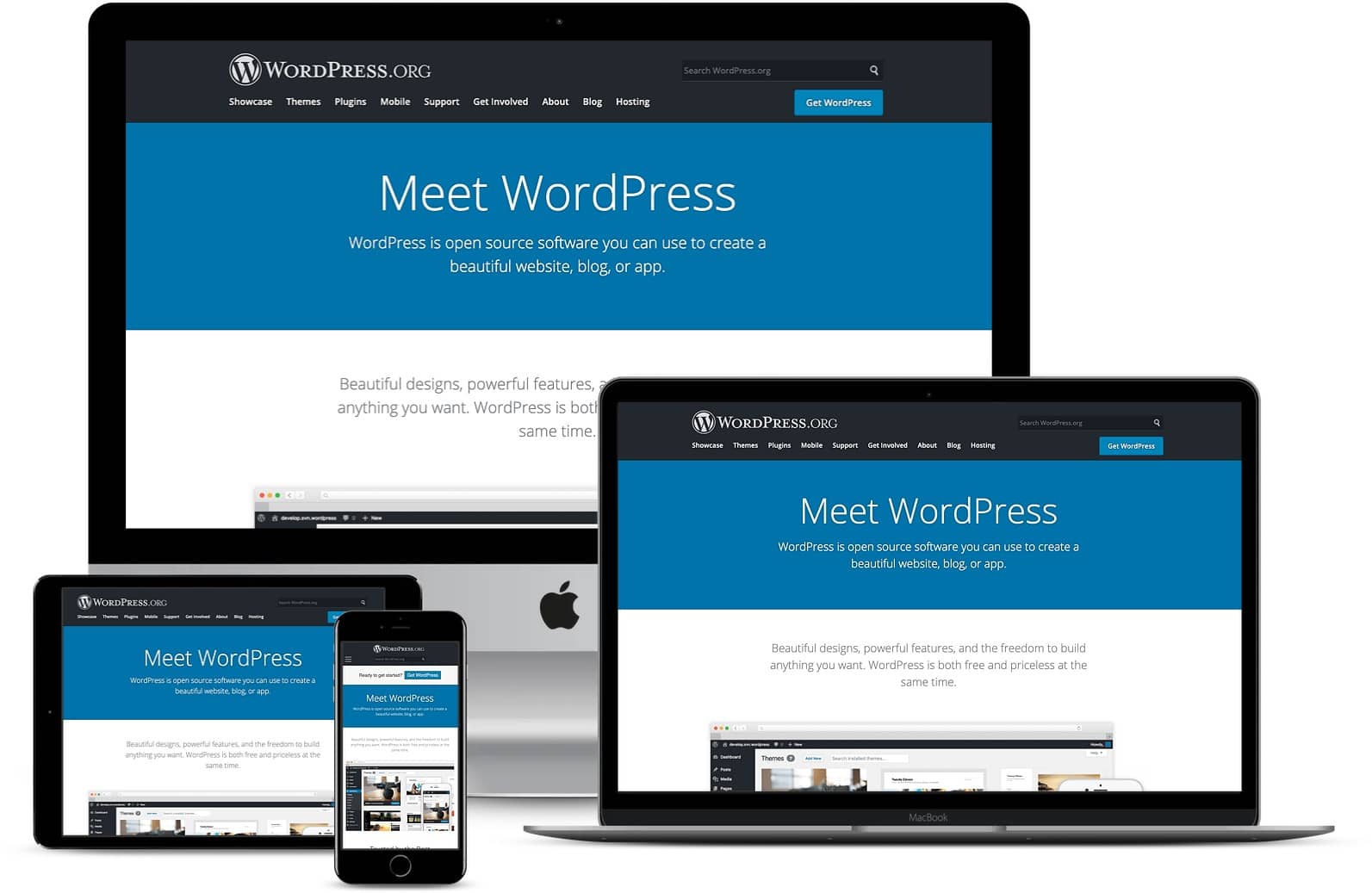 WordPress is no stranger to the CMS game, seeing as how it's the most popular option on the market (currently used by 43.1% of all websites!). WordPress offers a high-security and SEO-friendly environment and a user-friendly backend that's powerful enough for developers and simple enough for beginners to grasp.
🧰 Top features
An option to go with a self-hosted website or one that's hosted by WordPress itself (via the "WordPress.com" edition of WordPress).
A large collection of third-party themes for all sorts of industries.
A vast plugin library for everything from social media buttons to eCommerce functionality.
Customizable designs with a built-in visual builder and the option to integrate with many drag-and-drop tools.
Full access to website files and coding modules, allowing for complete customization.
Superior blogging features that allow you to construct media-rich articles and format them however you see fit.
Overall top-of-the-line content creation tools that are easy to use for beginners and pros alike.
Strong media management that supports large videos and high-resolution photos.
💸 Pricing
Free for the open-source version, with the requirement to pay for your own self-hosting. The prices are still very affordable here – for example, you can get started for $2.75 per month when hosting WordPress with Bluehost (one of the most popular WordPress hosts as per our survey).
The hosted solution from WordPress, called WordPress.com (as opposed to WordPress.org), starts as a free offering. However, legitimate companies usually have to opt for one of the following plans:
Personal – $4 per month.
Premium – $8 per month.
Business – $25 per month.
eCommerce – $45 per month.
🤔 What makes this one of the best CMS options?
WordPress is a well-known name all across the internet. The CMS is beloved by designers and it has a strong following, leading to an endless supply of plugins and themes.
I like it best for the intuitive backend interface and its focus on SEO. It's also nice to see that they at least provide the option to host your site through WordPress.com directly, instead of finding your own hosting.
Keep in mind, the self-hosted version of WordPress doesn't have much direct customer support at all. Yet, the resources are plentiful, if you like researching that stuff yourself.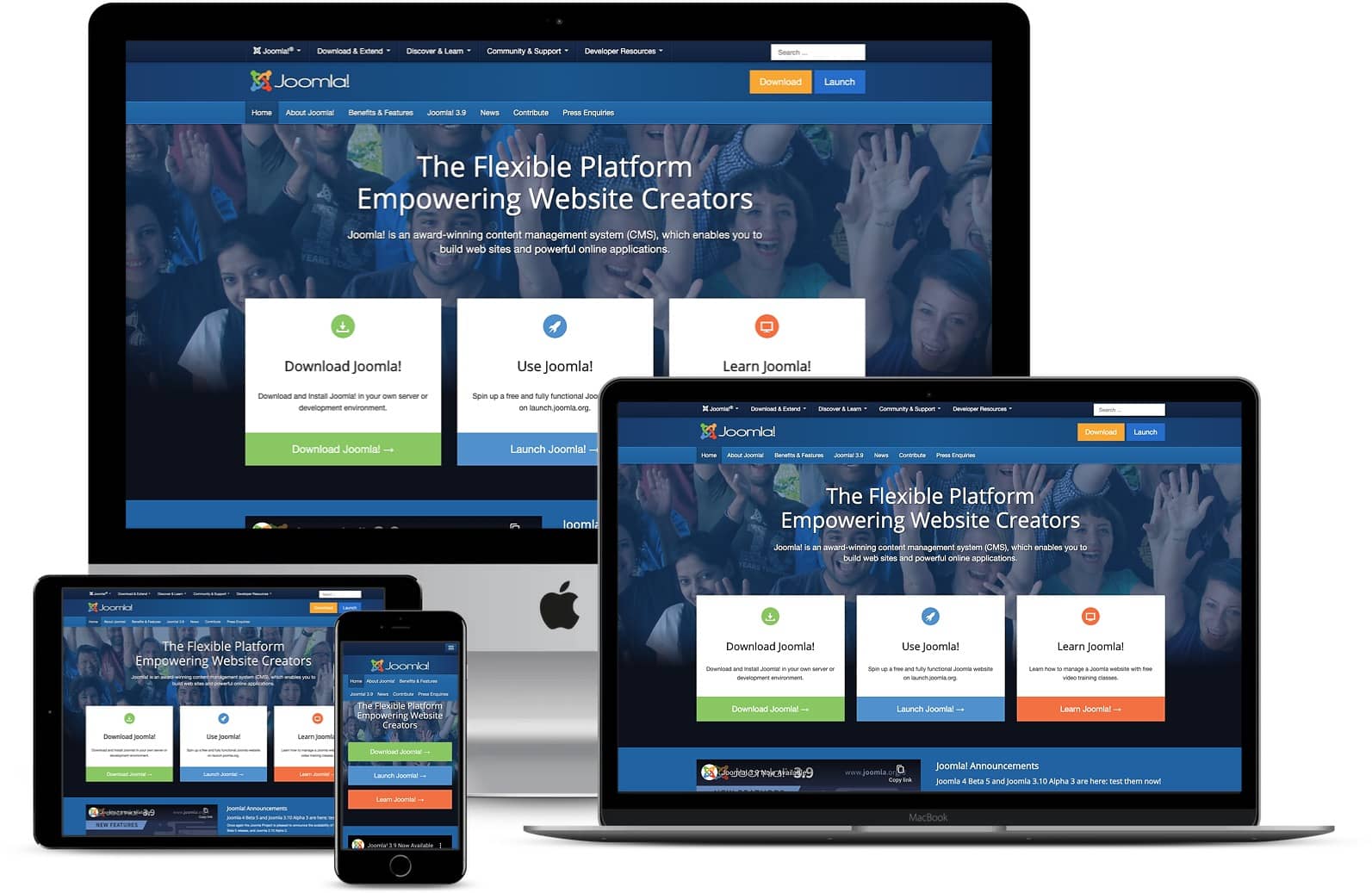 Joomla offers a powerful content management system with unlimited design potential and options to make both websites and online applications. Along with Drupal and WordPress, Joomla is one of the more popular CMSs to choose from, with millions of active websites and a strong community that's known for organizing in-person events and online forums.
🧰 Top features
A flexible system that utilizes custom layouts and extensions to expand your website and even incorporate custom CSS.
Wonderful search engine optimization tools that are built right into the CMS, with modules for meta-data and URL formatting.
Options to build PHP applications, seeing as how Joomla is a lightweight and stable PHP framework, in addition to the CMS.
Strong user and media management.
Flexible blogging options with templates and full customization capabilities (though not as extensible as WordPress').
Visual editors and integrations with drag-and-drop designers for seeing your work prior to publishing and making it easier for beginners.
Solid features for distribution and marketing, such as the news feeds and RSS functionalities.
Security measures like backups, hacking defense, and consistent updates.
💸 Pricing
Joomla is an entirely free and open-source CMS software.
Expenses when working with Joomla include potential extension and theme fees, hosting charges, and any time you pay for a developer. You can find reliable Joomla hosting for $2.99 per month with A2 Hosting.
🤔 What makes this one of the best CMS options?
Joomla provides a stable system and a modern interface for constructing anything from a blog to an online store. It's a wonderful CMS because of its open-source nature and the vibrant community behind the entire operation.
Although the interface isn't as friendly as WordPress, Joomla has advantages such as the simple extension library and the well organized direct support (third-party) resources.
Drupal offers a content management system made for developers and business owners alike, providing an intelligent content creation module and unmatched performance. Drupal is yet another self-hosted CMS, where you find your own hosting and typically don't have to pay for much outside of that. It also boasts a decent community, along with features for multilingual capabilities and security.
🧰 Top features
Advanced security that's strengthened by user access control, data encryption, and much more.
A high-performance interface that's built to handle traffic bursts.
Integrations with popular third-party tools and Drupal-oriented extensions. Some examples include Yoast SEO, Twitter, and Mailchimp.
Many useful tools for selling online, such as an integration with Shopify and themes that offer online store elements like shopping carts.
Good content creation tools for blogging and designing your site. You can distribute across multiple channels and work with visual editors to make your content pop.
Built-in marketing automation for elements like real-time sales alerts and advanced email reporting.
💸 Pricing
Drupal is free and open-source with a quick download button online.
You'll have to pay for hosting and potential items like themes and extensions. You'll find good Drupal hosting from $2.99 per month with A2 Hosting.
🤔 What makes this one of the best CMS options?
Drupal has a community of motivated developers and users who come together through mentoring programs, events, and online forums. It's an incredible CMS for those who are interested in learning how to develop websites without cutting corners, and the overall system provides a solid interface, customization tools, and some unique automation.
The Typo3 Enterprise CMS doesn't have the brand recognition like WordPress, Joomla, or Drupal, yet it's worth looking into for its professional and flexible open-source software. The Typo3 community is both friendly and helpful, while the scalability of the CMS shows that's it's an ideal CMS for developers working on sites for all industries.
🧰 Top features
Smart content management with automated workflows and intuitive content planning modules.
Multisite and multilingual tools to build website networks and expand your reach to other countries.
Several integrations with essential digital marketing tools, some of which include social media planners and marketing campaign managers.
A strong community and open-source libraries to help implement apps and new functions to websites.
Sleek frontend and backend experiences, using headless web design aspects elements.
A secure and scalable system that performs well with high-speed content delivery and high traffic management.
💸 Pricing
Typo3 is available as a free, open-source download. The only sales button on the website is for extended, direct customer support.
You should also factor in other costs for self-hosting, themes, and extensions. As with the other best CMS platforms on this list, you'll find reliable Typo3 hosting from $2.99 per month with A2 Hosting.
🤔 What makes this one of the best CMS options?
Typo3 has advantages in its interface and reliability, serving as an enterprise CMS solution that gives you full control of your website and can handle scaling up. What's more, is that the CMS is completely free and offers a respectable community and the option to pay for actual support.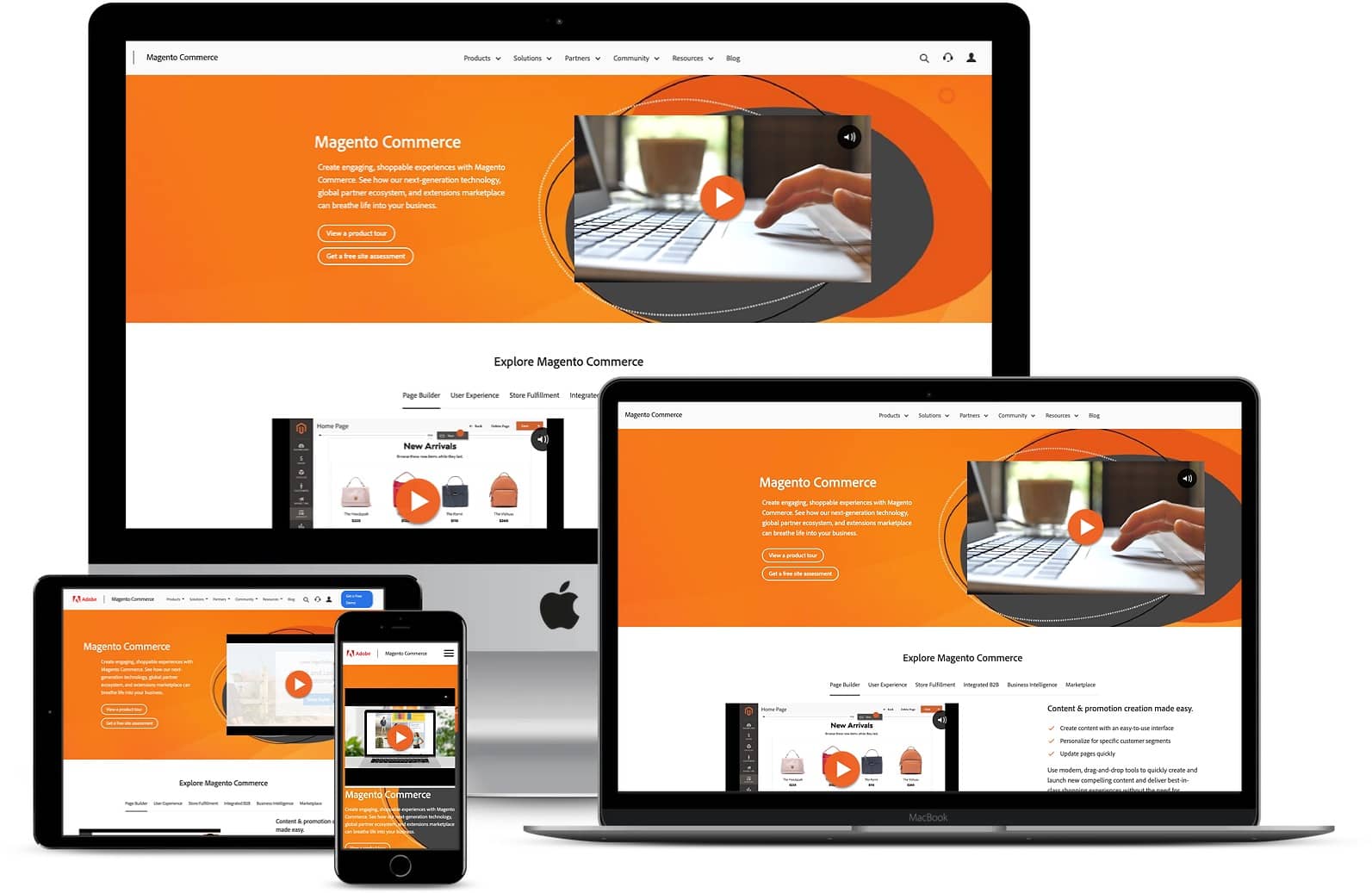 Magento has long provided an enterprise CMS for eCommerce functionality. It also features an expansive extensions marketplace and a global partner library for building sites and improving upon those designs.
🧰 Top features
An impressive page builder that features drag-and-drop elements and visual customization tools.
Built-in eCommerce design modules for engaging customers with rich content and setting up your shopping cart and product galleries with ease.
Direct integrations to other sales channels, like with the Amazon Sales Channel.
A massive extension library, many of which offer eCommerce-oriented improvements.
Full order and product management from the backend.
Built-in blogging features to incorporate a WordPress-like blog with your online store.
💸 Pricing
Magento has always offered an open-source version of the software for you to download for free. However, since being bought by Adobe, a strong push has been made to sell its premium versions instead.
Two paid versions are available, Magento Commerce and Magento Commerce Cloud. You must schedule a demo to figure out custom licensing and monthly maintenance costs. Though, reports indicate that the pricing tags on those can be in the range of $15,000 to $50,000 a month.
🤔 What makes this one of the best CMS options?
In general, you'd only consider Magento for your CMS if you're constructing an online store. For that purpose, it works better than any CMS on the market. Not only can you forget about the complications of WooCommerce, but it's a far more powerful and scalable option than do-it-yourself (DIY) platforms like Shopify.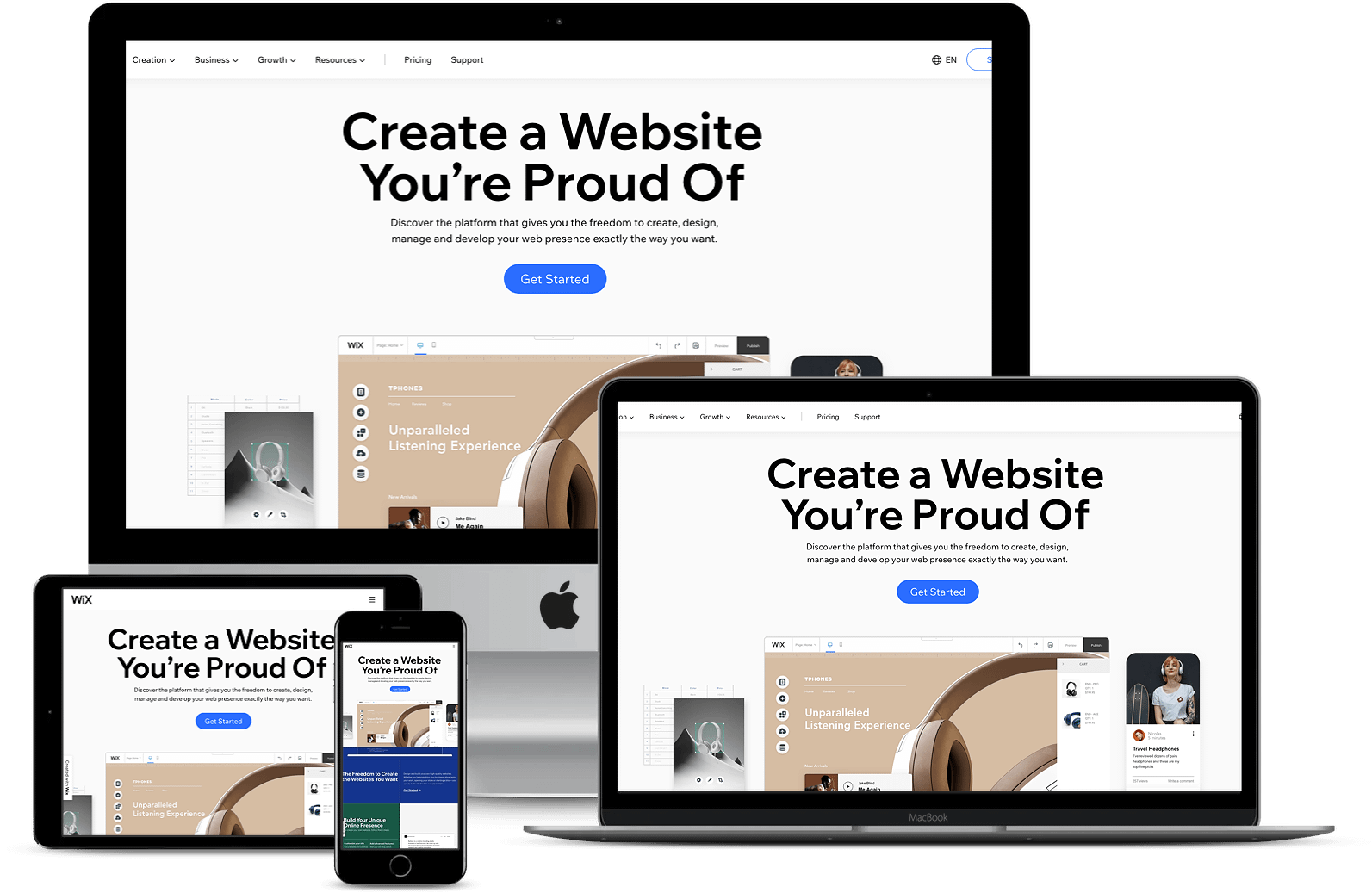 The only DIY CMS on this list is called Wix. You may have seen one of Wix's many television or YouTube ads. It's definitely one of the most popular DIY builders on this list, but it has also improved over the years to include advanced developer tools and options to build full-fledged online stores.
🧰 Top features
An all-in-one website hosting and building platform, with a design and the hosting all paid for in your monthly fee.
A drag-and-drop builder with nice templates and a fairly easy-to-understand design process.
An app market with thousands of integrations for things like marketing and accounting.
An artificial intelligence tool that asks you a few questions and designs the entire site for you.
eCommerce functionality in some of the plans, allowing for the acceptance of payments and product galleries.
Built-in website tools like social media links and contact management. You can also add a chat box to speak with your customers.
A basic, but somewhat powerful blogging system that's great for beginners and those who don't want to spend too much time with complicated formatting elements.
Unique creative support through the customizable music player and the media galleries.
💸 Pricing
As a DIY, hosted CMS, Wix charges a monthly fee. Several plans are available:
Free – No charge for the most basic of features and a Wix-branded website.
Combo – $16.00 per month.
Unlimited – $18 per month.
Pro – $23 per month.
VIP – $39 per month.
And if you'd like to accept online payments:
Business Basic – $23 per month.
Business Unlimited – $27 per month.
Business VIP – $49 per month.
Enterprise – Custom price.
As the prices go up, you can expect additional features.
🤔 What makes this one of the best CMS options?
Wix is a mixed bag in terms of what you would use it for. Overall, Wix began as a platform for beginners who didn't know much about web design, but they still wanted to make a website. Now, it's expanded into eCommerce and also offers powerful developer tools for agencies to rapidly generate beautiful websites. With its ever-evolving template library and the app store, it's truly one of the easiest-to-use CMSs out there.
Finally, in contrast to just about every open-source CMS, Wix includes premium customer support with its subscriptions. So, you get to speak with an actual person instead of completing your own research all the time.
👉 Here's our guide on how to build your website with Wix from start to finish.
Which is the best CMS for you?
Overall, choosing the best CMS depends on what you're trying to accomplish and how skilled you are with site development.
Here are our final recommendations and some thoughts on what each CMS should be used for:
Best CMS tools for websites: SUMMARY

| CMS | Price | Best for |
| --- | --- | --- |
| WordPress | Free for the open-source version. Starting at $4 for premium hosted version. Additional costs for open-source version – like hosting (from $2.75). | The all-around DIY-er, developer, some beginners, and for all industries. Works okay for eCommerce. It's the best CMS option for bloggers. |
| Joomla | Free, with additional costs for hosting (from $2.99) and other elements like themes. | Developers who want a strong community and a solid extension library. Decent for eCommerce. |
| Drupal | Free, with other fees for things like hosting (from $2.99) and themes. | Developers and marketers who want a sleek alternative to WordPress, for all industries and eCommerce. |
| Typo3 | Free, with additional costs for hosting (from $2.99). You can also pay for dedicated customer support. | Enterprise developers who require a highly-scalable system, solid content management, and a vibrant community. It's also nice if you want real customer support. |
| Magento | Free for the open-source version – with hosting and other fees required on the side. Custom pricing for the premium version. | Developers working on eCommerce websites. This is by far the best CMS for an enterprise online store. |
| Wix | Starting at $16.00 per month. There's a free version, but legitimate companies will need a subscription. | Beginners who want to build their own websites. Also nice for agencies and developers who would like to rapidly create professional websites. You also get premium customer support. |
Let us know in the comments if you have any questions about these best CMS platforms. Also, share any other content management systems that you enjoy!
…
Don't forget to join our crash course on speeding up your WordPress site. Learn more below:
Layout and presentation by Karol K and Chris Fitzgerald.