Of all the keyboard categories that we've featured in our roundup of the top mechanical keyboards overall, the best cheap mechanical keyboard section has been increasingly emerging as the readers' favorite. But, that's not to say the rest of the sections are missing out on the action. Rather, it turns out that many of the people who are interested in other keyboard categories happen to also be budget-minded.
Case in point – both groups that come in to check out the "best wireless mechanical keyboards" and "the best mechanical keyboards for Mac" ultimately end up sampling even the budget options.
As such, you could say that shoppers are typically on the lookout for the best bargains regardless of their preferred types of mechanical keyboards. Saving on purchases is a universal need.
👉 So, tell you what, how about we dig deeper and explore the best budget mechanical keyboard across each category? By the time you're done, you'll have discovered:
Combined, these should cover just about everyone who might be in the market for a cheap mechanical keyboard.
ℹ️ Keep in mind, however, that cheap in this case isn't an absolute parameter. Rather, we've chosen the best bargains after conducting a relative comparison of pricing and value.
But, that's not all. For readers who might be on a super tight budget, we've thrown in an extra category – the best mechanical keyboard under $50. Just follow along to the end and you'll find out all the impressive features that you could get for only $33. 🤩
Best cheap mechanical keyboards in 2023
This list has been compiled after trying out the best-rated mechanical keyboards across different categories.
In particular, our analysis factored in the pricing along with the core feature attributes that come with mechanical keyboards. We paid very close attention to their:
Keycaps build: ABS, PBT, metal framing, etc.
Hot-swap switches: Hot-swappable sockets, non-removable keycaps, etc.
Switch keystrokes: Clicky "blue" switches, Linear "black/red" switches, tactile "brown" switches, etc.
Size and layout: Compact keyboards, tenkeyless (TKL) keyboards, full-size keyboards, etc.
👉 For in-depth insights into these feature classes, you might want to check out that pillar article on the best mechanical keyboards overall.
1. Best cheap mechanical keyboard for gaming: Logitech G413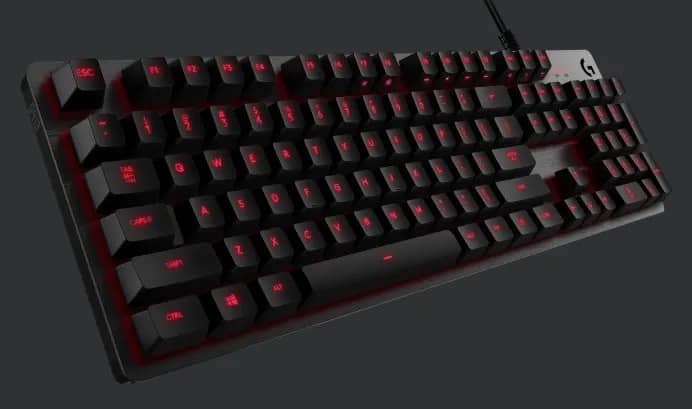 For around $70 at the time of writing, the Logitech G413 Backlit Mechanical Keyboard gives you almost the same advanced gaming capabilities that you'd only find with pricier alternatives.
The full-size keyboard has made that possible by doing away with all the superfluous, flashy stuff that is typical with gaming keyboards. By prioritizing just the essentials, Logitech has minimized the keyboard's production costs without compromising its core functionalities.
You won't, for instance, find dedicated macro keys or RGB lighting here. Instead, Logitech G413 offers red monochromatic backlighting – which gets the job done without the restrictive cost of full RGB lighting.
The most conservative feature, however, is the body, which has an overly-minimalistic design and build. It's all frameless, with an exposed backplate, even making it appear unusually naked for a mechanical keyboard.
But, don't be misled by the physical outlook. Despite lacking an external shell, the Logitech G413 is sufficiently rigid and stable.
It's on this carbon body that Logitech's Romer G switches manage to maintain a seamless gaming performance. You'll be pleased by their quick actuation, high responsiveness, and soft tactile feedback.
What's more, you can expect very low latency here – as the keyboard uses a USB wired connection to deliver accelerated data speeds.
On the flip side, though, long gameplay sessions might leave your wrist a bit strained. Logitech G413 only provides one incline setting, without an accompanying wrist rest.
2. Best cheap mechanical keyboard for productivity: Logitech K845

If you're looking for something a bit more versatile than the Logitech G413, you might want to try out the K845 model.
Okay, there's no denying that the two share many similarities. But, while the G413 was developed for gaming, the K845 is designed to operate in a more formal environment. It's this productivity optimization that makes it the best cheap mechanical keyboard for office use.
Case in point – instead of Romer-G Tactile switches, the Logitech K845 caters to different types of typists with a range of MX and GX key switch builds. You get to choose between five mechanical varieties – linear, tactile, clicky, etc.
If you're a fast typist, for instance, you'll appreciate the minimal spring force on the Cherry MX Red version. Otherwise, Blue would be ideal for someone who desires the "clicky" tactile feedback, while Brows delivers a very similar tactile feedback but without the clicky noise.
The Logitech K845 also tries to enhance accuracy by texturizing its ABS keycaps. This makes them grippy and less prone to slipping.
Working in a poorly lit room shouldn't be a problem either, as the full-size keyboard provides sufficient backlighting. And although it's not in full RGB form, at least users can seamlessly switch between up to five lighting patterns.
All this is powered by a wired USB connection, and the keyboard itself is fully compatible with Windows and Linux. It should work on macOS too, but you can expect errors on some of the function keys.
3. Best budget mechanical keyboard for Mac: Keychron K2 Wireless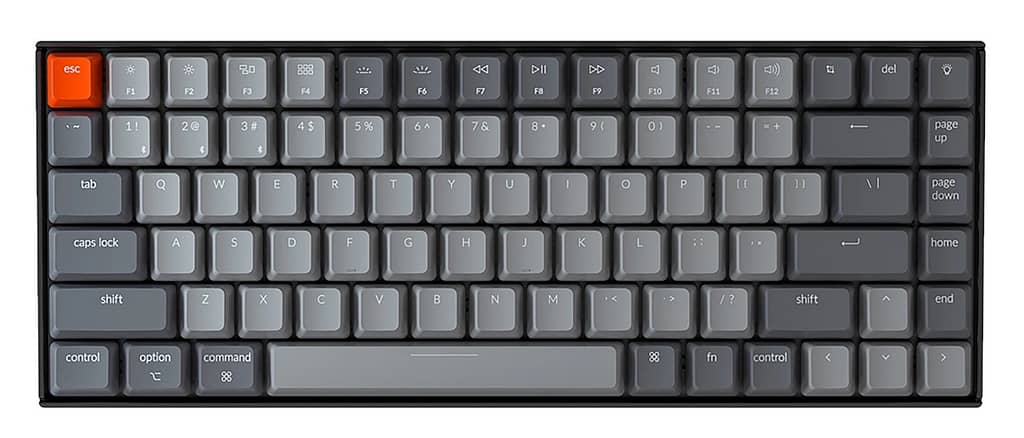 Although you should be able to use Logitech's G413 and K845 on your macOS device, they are nowhere near as seamless as the Keychron K2 Wireless. This is the one cheap mechanical keyboard that perfectly fits into Apple's ecosystem without any errors.
Make no mistake about it, though. Whereas Keychron K2 is a favorite among Mac users, the keyboard happens to support even Windows systems, as well as iOS mobile gadgets.
And that's not all. Even more impressive is its ability to connect to up to three devices at the same time. Keychron's advanced Bluetooth 5.1 can stretch to wirelessly link up with not only your MacBook, but also your iMac and iPad. This allows you to switch seamlessly across your networked devices.
You can even carry the keyboard around, as it's light and fairly compact.
The layout here is 75% compact, which means that you won't be getting a full-size numeric keypad. Instead, Keychron K2 wireless provides just the standard alphanumeric keypad along with function keys and arrow indicators. In total, you'll have about 84 keys at your disposal.
Despite its limited size, however, the Keychron K2 Wireless packs an admirable 4,000 mAh capacity battery. This allows it to run for up to 240 hours on a full charge, and up to 68 hours if you happen to keep the backlight on.
And speaking of which, you'll notice that Keychron K2 comes with full RGB backlighting. You can switch between more than 15 lighting modes across both wireless and wired connections.
As for the switches, Keychron K2 gives users the privilege of choosing between various Gateron options. You can pick your preference based on the type of task you intend to handle and the desired level of tactile feedback.
4. Best cheap mechanical keyboard for typing: Cooler Master CK552
Admittedly, the Cooler Master may not be as prominent as the likes of Logitech and Keychron. But, the company doesn't necessarily consider this to be a weakness. Rather, it has taken up the challenge by putting extra effort into proving its mettle.
And the results have been exemplary – as it now boasts, among other things, the best cheap mechanical keyboard for typing.
Cooler Master CK552 is the name, and it comes with a rather interesting balance between pricing and features. It has the price tag of an entry-level keyboard, but the look, feel, and features of a mechanical keyboard that costs even triple its price.
For starters, the build is far from what you'd call cheap and light. Cooler Master CK552 has a firm metal housing that's accentuated with a brushed aluminum finish and full RGB backlighting.
All that adds up to a combined weight of 1.8 pounds, which greatly helps to keep the full-sized keyboard stable when you're typing away. Then, for additional comfort, it provides flip-out supports at the base, which you could use to set up an appropriate typing angle.
The floating keycaps, on the other hand, come with linear switches in the form of Gateron Red. All it takes is an actuation force of 45g, and the keys will respond smoothly with subtle and consistent feedback.
Then for sake of maintaining low latency, the Cooler Master CK552 relies on a USB wired connection.
5. Best cheap compact mechanical keyboard: Royal Kludge RK61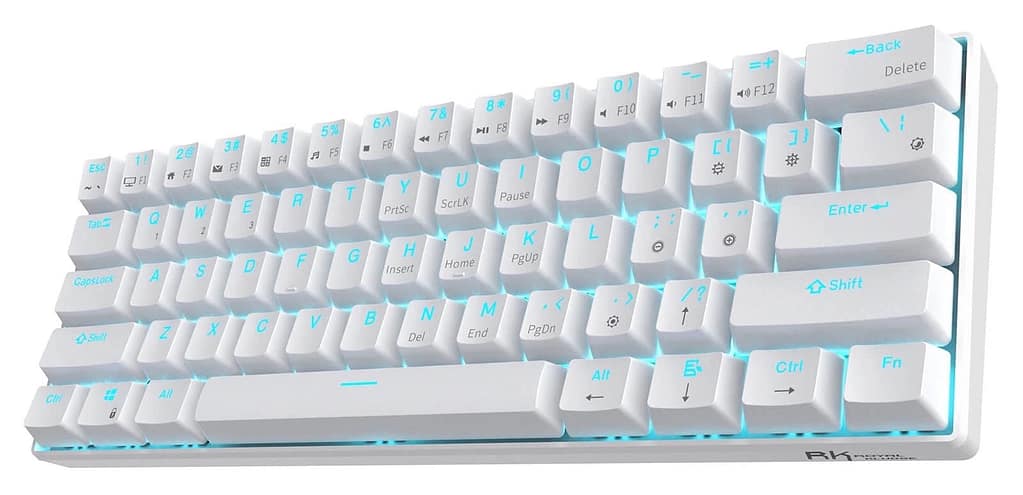 In complete contrast to the heavily-built all-black Cooler Master CK552, the Royal Kludge RK61 comes in a rather small all-white body.
The degree of compactness here is 60%, which makes the RK61 the most portable option on our list of the best cheap mechanical keyboards. It's built to provide only the alphanumeric keys – leaving out the numeric, directional, and navigation keys.
Then to facilitate mobile connectivity, the Royal Kludge RK61 is powered by two types of wireless systems. You could link it up to your devices through either Bluetooth 5.1 or 2.4 GHz WLAN.
The obvious favorite, however, is Bluetooth – as it allows the portable keyboard to accommodate up to three devices simultaneously. Otherwise, for low latency tasks like online gaming, you might want to switch the keyboard to a wired connection.
Its versatility doesn't end there, though. This compact keyboard can seamlessly operate on both Windows and Mac systems. You just need to find the control switch that lies underneath and then set it to your current system.
Royal Kludge RK61 additionally gives its users the privilege of choosing between different types of mechanical keycap switches. It has, so far, developed Red, Blue, and Brown versions, all of which are hot-swappable.
So, even after you've purchased the keyboard, you can still change its switches whenever you want to try out a new mechanism.
The only problem is, all the RK61 versions operate with these high-profile keycaps that tend to be ergonomically strenuous. As such, you might want to avoid typing for long hours on this compact mechanical keyboard – unless, of course, you've secured your arms on a detachable wrist rest.
6. Best cheap wireless mechanical gaming keyboard: Corsair K63 Wireless
At a starting price of around $100, the Corsair K63 Wireless stands out like a sore thumb in our compilation of the best cheap mechanical keyboard brands. Although it might sound like a bit of a stretch for a budget keyboard built on ABS plastic framing, it's actually one of the best options for gamers looking for wireless mechanical keyboards.
Here's the thing. While Corsair K63 might not win any structural contests, it rises to the occasion when it comes to wireless connectivity. Corsair invested heavily in their wireless features for this one. As we all know, the quality of wireless connectivity is a huge thing for gaming. However, the downside is that good wireless doesn't come cheap.
You see, the Corsair K63 has managed to squeeze a whole lot of wireless capabilities into its small tenkeyless (TKL) keyboard chassis – which now supports not only Bluetooth, but also 2.4 GHz WLAN connections.
The 2.4 GHz itself happens to be one of the fastest in this class of mechanical keyboards, as it relays data at the speed of 1 Mega Sample per Second (1 MS/s). All that occurs while, in the background, the data packets are secured using 128-bit encryption.
Another interesting thing about the Corsair K63 Wireless Mechanical Gaming Keyboard is that it has a wireless connection radius of about 33 feet. That means you can comfortably keep typing even as you casually stroll around the office.
And while you're at it, you'll appreciate just how responsive the keyboard's Cherry MX Red switches can be.
What's more, you'll be able to use the keyboard for up to 75 hours on a full charge. Here's the caveat, though – you have to keep its backlight off to last that long.
Otherwise, cranking up the backlight to 33% brightness reduces the duration to 25 hours, 66% drops it further to 15 hours, while 100% brightness restricts it to 10 hours of usage.
7. Best cheap full-sized mechanical keyboard: Keychron C2 Wired
As for the best cheap mechanical keyboard among the full-sized options, Keychron C2 Wired takes the crown for its versatility, consistency, and superior performance.
For starters, it's fully compatible with not only macOS and Windows, but also mobile ecosystems. You'll find a switch that, upon being toggled, allows you to freely alternate the keyboard's functionalities between different operating systems.
But, you can't operate it wirelessly. Keychron C2 relies on a wired USB Type C connection – which, admittedly, is pretty standard for full-sized keyboards.
Think about it. This is not really the keyboard size that you'd comfortably carry around. A wired connection is fairly understandable because there's only one place that Keychron's huge 104-key layout belongs – your workstation.
It's because of this connection type, in fact, that Keychron C2 Wired manages to sustain decent latency. You can count on it to respond seamlessly when you're typing and gaming.
The experience is further augmented by Keychron's Gateron switches, which are offered in three different modes to cater to the varying user preferences.
If you fancy tactile feedback, for instance, you could get yourself Gateron Brown switches. Otherwise, Keychron C2 Wired also comes with clicky Blue or linear Gateron Red switches.
Whichever you choose, you can also upgrade your setup for $10 more and get a version of the keyboard with hot-swappable switches. That means that down the road, you should be able to replace the default options with your own custom switches.
Then to top it all off, Keychron C2 Wired provides full RGB backlighting on all its keycaps. So, you should have an easy time typing in dim light.
8. Best mechanical keyboard under $50: Redragon K552

If you're working with a super tight budget, the Redragon K552 is undeniably one of the best mechanical keyboards that you could purchase for less than $50.
For only $30-$35 at the time of writing, you'll be getting a simple and functional tenkeyless (TKL) mechanical keyboard that boasts solid build quality, adaptable RGB lighting, and high durability.
One thing that you'll like about the Redragon K552 is its build quality, which is way superior to what you'd find in other cheap mechanical keyboards in this class. The keyboard comes with heavy metal framing, coupled with hard plastic highlights that hold together all the 87 plate-mounted keys.
The company, in fact, claims that everything here is so well-put-together that the keyboard is safe from splash damages.
In terms of compatibility, you can expect Redragon to run smoothly on Linux and Windows operating systems – from Windows XP to the more recent Windows 10. You just need to connect the keyboard's USB cable to your PC, and you'll be good to go.
Unfortunately, the same cannot be said for macOS. Although the Redraaron K552 tries to accommodate both MacBooks and iMacs, users complain about being locked out of some of the keyboard's features.
You can't, for instance, use some of the hotkeys, as well as page navigation options, like "Pause" and "Scroll Lock."
Nevertheless, you should be able to type with the keyboard across all three major operating systems. The typing process itself is fairly even, as Redragon's Cherry MX switches tend to actuate linearly without a tactile bump feel.
The keyboard's RGB lighting, on the other hand, facilitates up to 19 different lighting effects and gaming modes. Plus, it's also possible to adjust the LEDs to varying brightness levels based on your typing preferences.
You may also be interested in:
🧐 Over to you – finding the ideal budget mechanical keyboard
There you have it! This has been our list of the best cheap mechanical keyboards available on the market in 2023. But, don't get it all wrong. The point of this compilation is not to limit you to just eight cheap mechanical keyboard selections.
Rather, by sampling the best cheap mechanical keyboards across the eight most popular shopping categories, we're essentially demonstrating what to consider when you're getting a budget mechanical keyboard.
That said, you can go ahead and begin your search with these eight options. Then, as you wade through them, try to sample similar alternatives in the market.
And while you're at it, remember to compare the options based on not just the pricing, but also their build, size, layout, speed, compatibility, flexibility, switch type, ergonomics, backlighting, responsivity, type of connection, latency, etc.
💡 Also, you might want to stay on the lookout for seasonal offers from all the major keyboard manufacturers that we've identified. Every now and then, they tend to drop their prices quite considerably, bringing even the premium options to the same pricing range as these cheap mechanical keyboards.
What do you think of the keyboards featured on this list? Do you have personal experience with any of them? Let us know in the comments.
…
Don't forget to join our crash course on speeding up your WordPress site. Learn more below: