By now, you're probably aware that the online business sphere is served by platforms with increasingly diverse tariffs. On one end of the spectrum, we have ecommerce platforms that charge hundreds or even thousands of dollars per month, while on the other end of it, we've seen some of the best cheap ecommerce platforms levying surprisingly low rates.
This post is about the latter! What follows is our comparison of the best cheap ecommerce platforms that the market has to offer.
Now, for obvious reasons, cheap ecommerce platforms are exceedingly popular with startups and small businesses – which easily form the majority of ecommerce platform end-users when compounded.
It is this sheer number that, in fact, is inviting more solution providers into the market – consequently forcing even the veteran ecommerce platforms to partake in aggressive price wars.
Well, of course, we've been enjoying the resulting cheap ecommerce platform rates. But then again, on the flip side, it turns out that entrepreneurs are getting overwhelmed by the now countless low-priced options on the market. Gone are the days when we'd choose the best cheap ecommerce platforms from just a handful of dominant providers. 🤷‍♂️
This post is meant to make the decision easier for you.
Without further ado, below are some deciding factors that you should consider when picking your ideal cheap ecommerce platform:
Identifying the best ecommerce platforms
It's getting increasingly more difficult to compare all the leaders in this space, and then filter out the best cheap ecommerce platforms for your business.
This partly explains why, in spite of their huge numbers, small businesses are still lagging behind their enterprise counterparts in terms of sales. 2020's market figures, for instance, shockingly prove that 68% of all ecommerce sales in the U.S. cumulatively came from just ten large retailers [1].
Here's the thing, though. If you go on to pick out the few best-performing SMBs and startups from such industry reports, you'll notice a somewhat consistent pattern in their choices for ecommerce platforms.
A comparative analysis of their underlying website architecture reveals that although the online stores ride on a diverse range of ecommerce platforms, the following five budget options tend to feature quite prominently across their respective target market segments:
Here are the details on each of these five best cheap ecommerce platforms:
Best budget ecommerce platforms for launching/running online stores
With over 5.89% of the world's top 1 million sites to its name [2], WooCommerce isn't just one of the best cheap ecommerce platforms – it is, hands down, one of the most formidable ecommerce platforms on the market today overall.
And that's not all. In total, WooCommerce powers more than five million live sites – making it the world's most popular platform for online stores.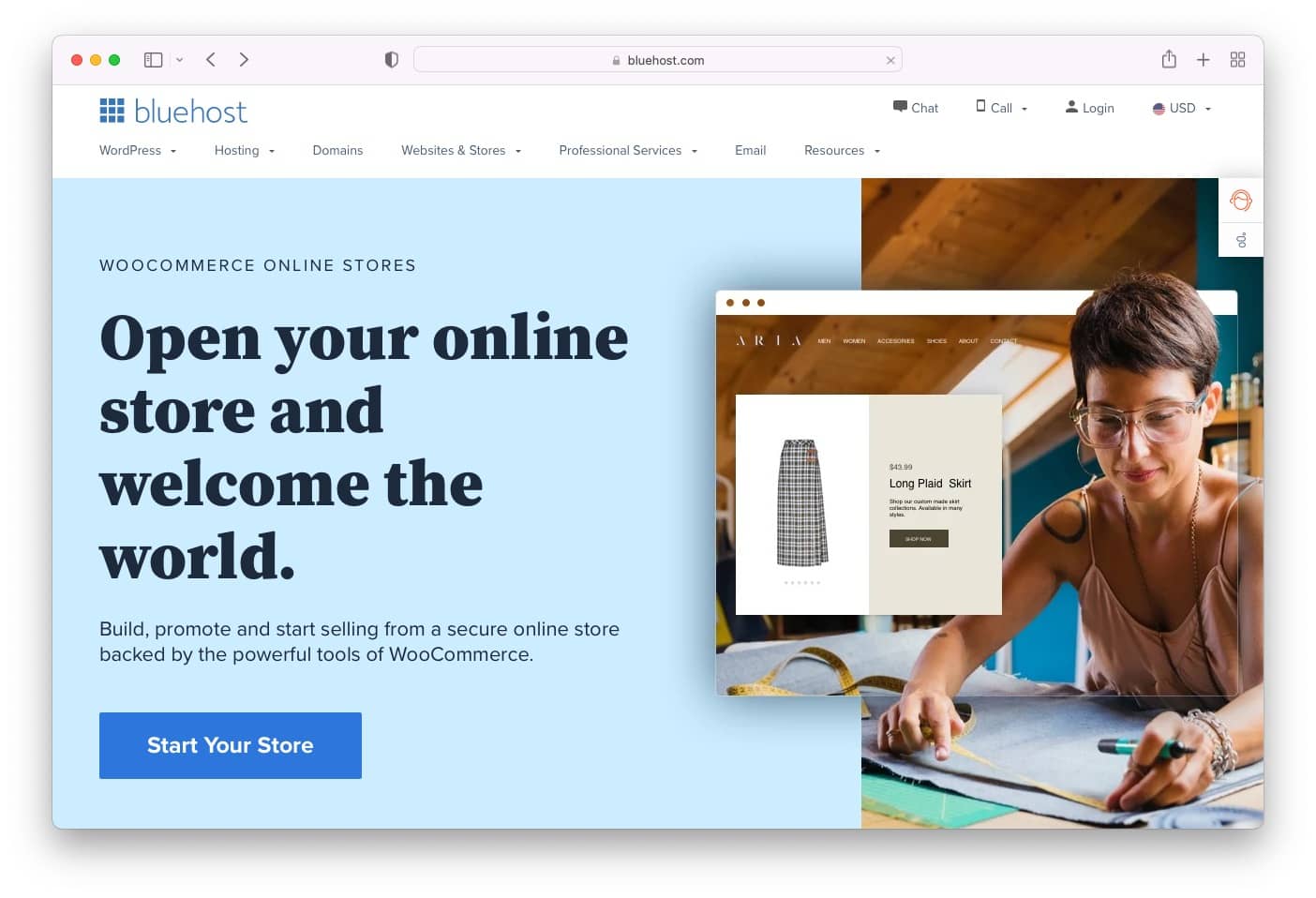 This celebrity status has a lot to do with the fact that WooCommerce is readily available as a free user-friendly WordPress plugin. That means you won't be paying anything to acquire or leverage it. You can go straight to your WordPress dashboard and install WooCommerce from there.
You'll have yourself a whole lot of robust built-in features for building, customizing, managing, and tracking your online store. While WooCommerce's open-source framework makes it a darling among WordPress ecommerce developers, you actually don't require any technical skills to configure its options.
Keep in mind, however, that just like other WordPress applications, WooCommerce's performance capabilities largely depend on the platform that you choose for hosting your WordPress installation.
If you want to keep things on a budget but still get good performance, you can go with Bluehost as your hosting platform. It will actually save you from all the technical heavy lifting when building your store – they will install both WordPress and WooCommerce for you right out the gate.
Overall, you can have yourself a cheap ecommerce platform setup for as low as $15.95 a month – complete with the aforementioned one-click installation for WordPress and WooCommerce, a free domain name, multi-server redundancy, and so much more.
Shopify is another well-renowned name in the online business space. More than 3.6 million sites are currently leveraging the ecommerce platform [3], out of which 27,000 are ranked among the top 1 million globally.
Unlike WooCommerce, however, it's not a free open-source platform riding on third-party hosts. Rather, Shopify describes itself as an all-inclusive ecommerce platform that provides the full stack of services and online assets – domain registration, along with online store hosting, building, and management.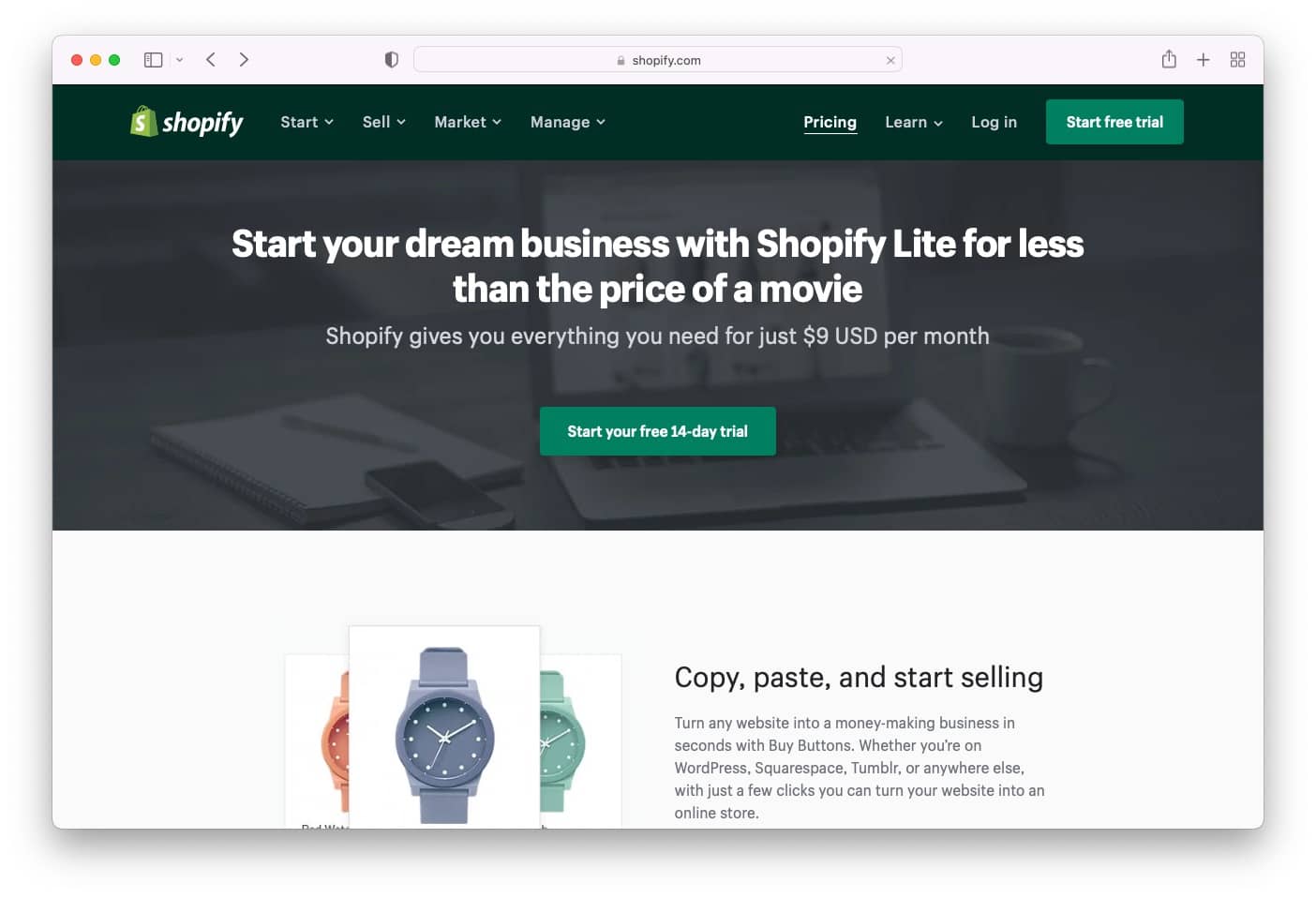 The only problem is, these premium ecommerce features fundamentally come in three not-so-cheap packages. The Advanced Shopify plan goes for about $299 per month, the Shopify plan costs $79 per month, while the cheapest, the Basic Shopify plan, starts you off at $24 per month.
Although the rates might seem fair for the exceptional features they come with, we can agree that they are not exactly in the bracket for super cheap ecommerce platforms. But then again, Shopify doesn't entirely leave out low-budget entrepreneurs – it turns out you can still take advantage of its specialized online selling features for less than $10 a month.
Shopify Lite is the name of the often sidelined package, and it goes for only $9 per month.
This surprisingly low price means you won't be getting the usual capabilities for building and hosting online stores on Shopify – instead, Shopify Lite is all about inventory management and integration.
You see, while typical Shopify users obsess about setting up ecommerce sites from scratch, Shopify Lite allows you to sell your products through third-party platforms, including social media or your other pre-existing website – like your main business site.
You just set up your items using Shopify, and then integrate the resultant inventory with your social media pages or site. This allows you to start processing credit card payments right from your storefronts on third-party platforms.
After making a name for itself as a payment processing company, Square decided to dive even deeper into the digital world with a solution for supporting online stores.
They call it Square Online, and it comes with all the bells and whistles of a fully-fledged ecommerce platform. But, the company didn't stop at the basics level – Square Online was developed with a rather unique twist that capitalizes on the already well-established Square POS system.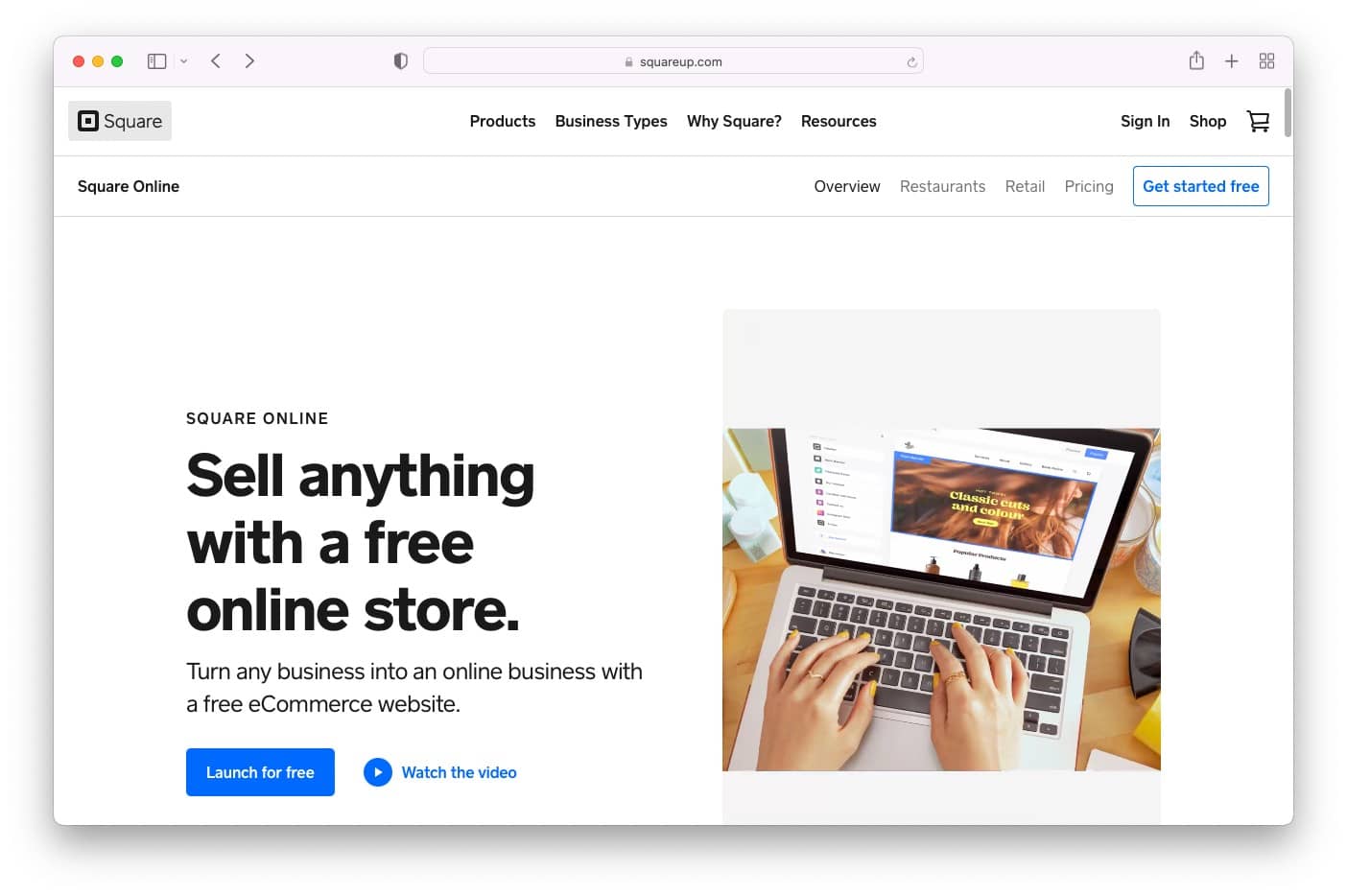 While other cheap ecommerce platforms seek to help aspiring entrepreneurs set up and manage online stores, Square Online targets the seasoned businessperson who happens to own a brick-and-mortar store. The goal here is to help you expand your business into the web through a perfectly-synced ecommerce site.
And it doesn't have to cost you anything. Square Online's Free plan allows you to set up and integrate an online store with your brick-and-mortar Square POS system – after which you can proceed to sell an unlimited number of items from its simple inventory management system.
Apart from the free plan, paid upgrades are also available. If you'd like to get a free domain name and remove the Square ads from your site, the price of that is $12 per month.
As such, this solution has deservedly earned its position as one of the best cheap ecommerce platforms for online businesses that double up as brick-and-mortar stores.
If you're a creative seeking to sell your stuff on the web, the last thing you'd probably want to deal with is an extensively advanced ecommerce platform.
As entrepreneurs who typically operate alone, creatives don't usually have the patience to tweak all the intricate tools and functionalities that typically come with sophisticated platforms. They, instead, prefer very simple systems for creating and managing their digital storefronts.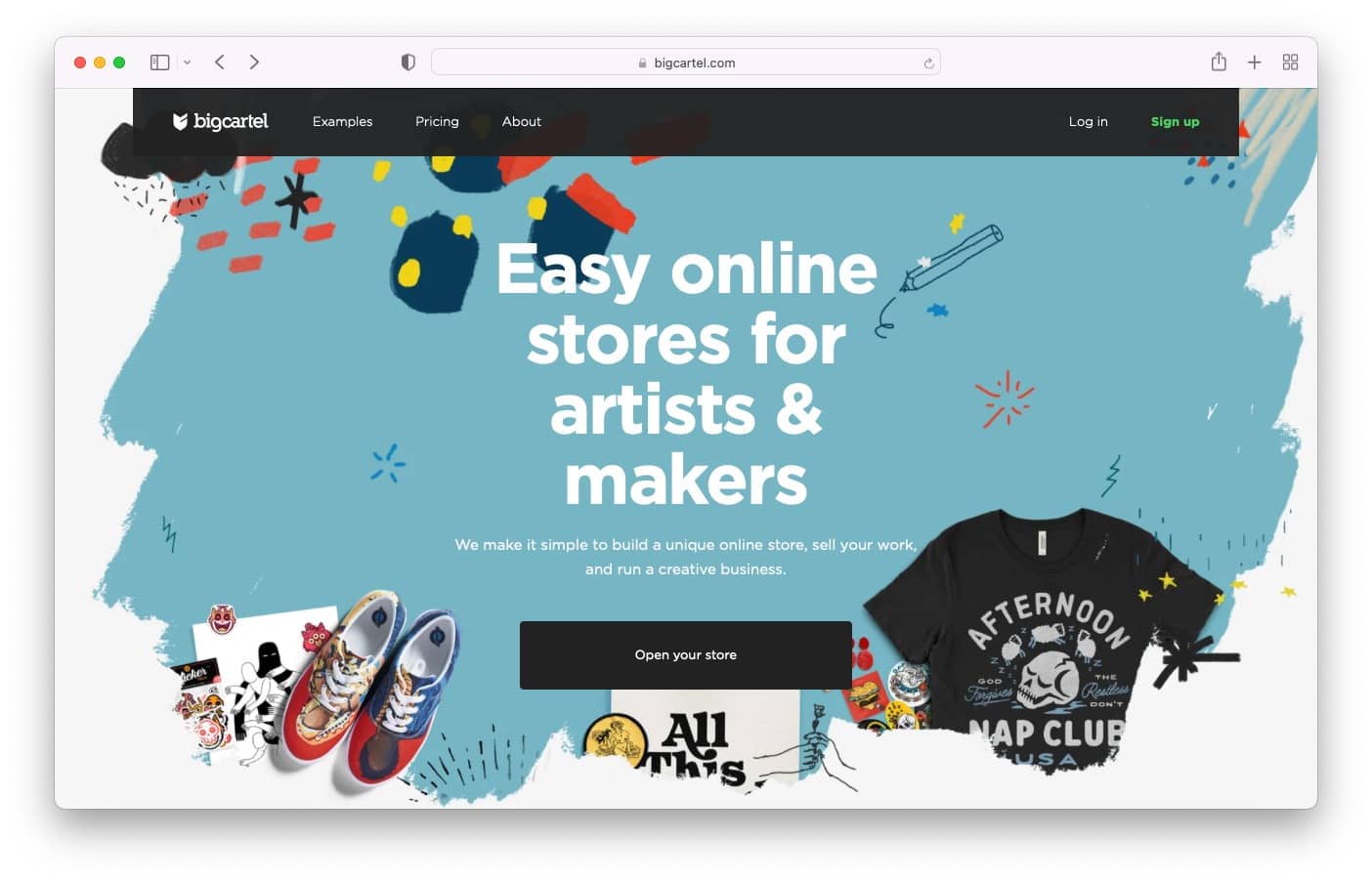 Big Cartel is one good example of a cheap ecommerce platform that perfectly caters to these needs. It's built to give creatives a seamless experience as they set up and run online stores, as well as sell and process artsy items – drawings, ceramics, jewelry, paintings, t-shirts, etc.
In particular, the platform's strong point is its focus on simplicity and affordability. Its packages, as you'll find out, are configured to offer just the essentials without overstretching the functionalities. It is this fine balance that allows the platform to even offer some of the features for free.
As a beginner, for instance, you get to list as many as five products on a custom domain. And not through a generic store – rather, Big Cartel gives you free customizable themes plus intuitive editing tools for designing your preferred website.
If you want to offer more products in your store, plus get a range of more advanced features alongside, the upgrades start from $9.99 per month, which is also very affordable.
Another thing that makes Big Cartel one of the best cheap ecommerce platforms is its inventory syncing capabilities. It turns out that even with the free plan, you can sell your stuff both online or in-person and, possibly, even run promos or offer discounts.
Next in our compilation of the best ecommerce platforms is Ecwid, a decade-old veteran that prioritizes multi-channel selling.
While this is a feature that you'll get on solutions like Shopify Lite, Ecwid has managed to take it up a notch in terms of flexibility. This is the cheap ecommerce platform for your business when you need a simplified system for selling across multiple online and in-person fronts.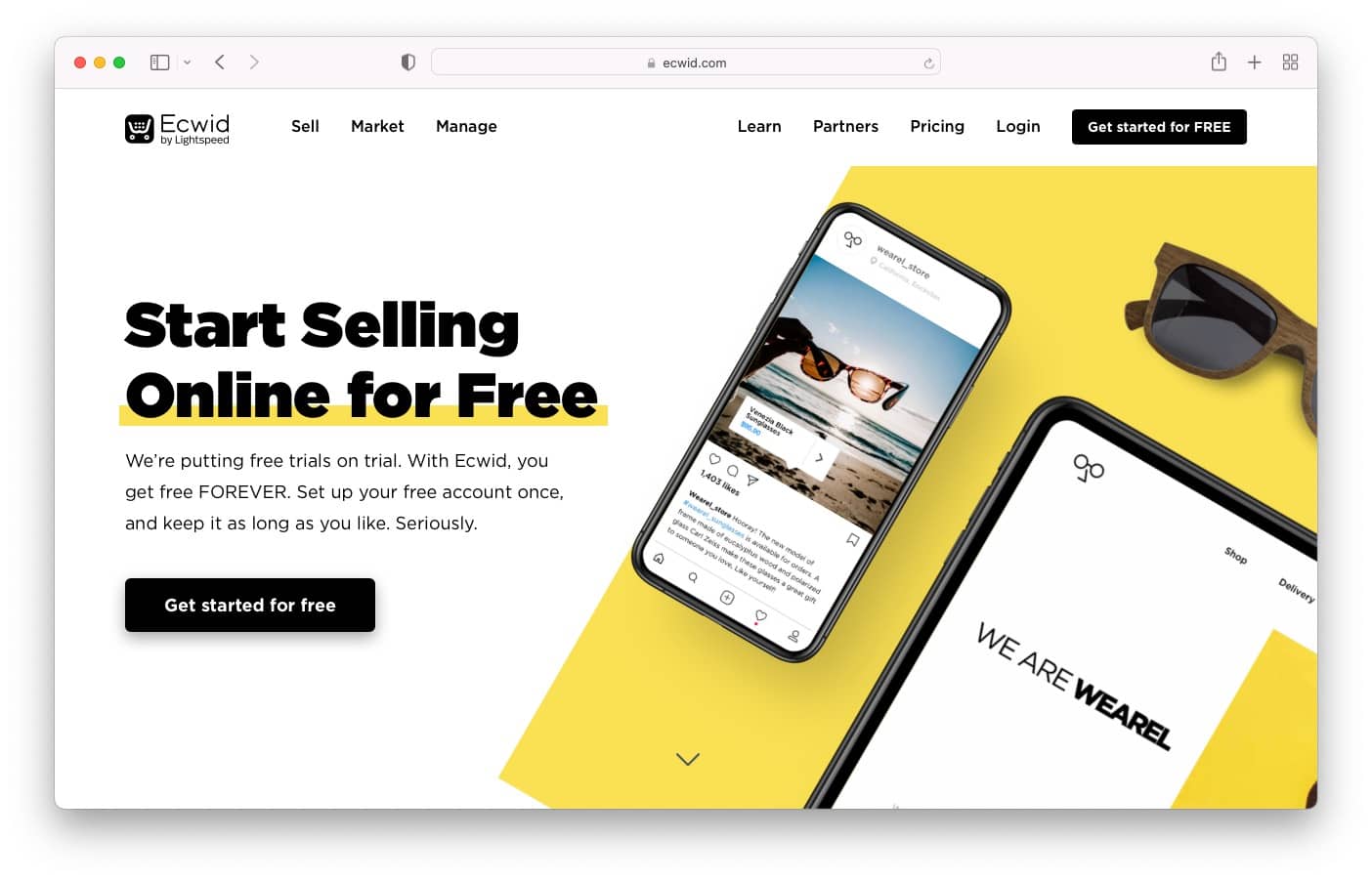 You can, for example, begin with a basic online store – as Ecwid's free package happens to provide all the essentials for creating and customizing an ecommerce site.
Then, once that's up and running, you can go ahead and set up parallel selling channels on social media; third-party sites running on platforms like Weebly, Wix, and WordPress; marketplaces such as eBay and Google Shopping; brick-and-mortar stores running POS systems; as well as remotely in-person through mobile point of sale applications.
Most importantly, though, Ecwid is largely renowned for its exceptional versatility in converting pre-existing websites into a fully-fledged online store. This is the type of solution you turn to when you intend to venture into online selling with a website that you've been running, instead of building one from scratch.
The base package here, in fact, is completely free of charge. It provides just enough features to set up and maintain an ecommerce store.
If you intend to expand, though, you'll have to pay at least $12.50 per month, which is still within the range of prices you'd expect for the best cheap ecommerce platforms. Upgrading to this premium level allows you to unleash the real power of multichannel selling.
The bottom line on the best cheap ecommerce platforms
Going by all the features and pricing plans we've explored across our best cheap ecommerce platforms, it's evident that you don't need thousands of dollars to launch an online store. While a solid web development budget might make things easier, a solopreneur or small business can still manage to get everything running with just a few dollars.
The free offerings, on the other hand, are best reserved for beginners who'd like to try their hand at online selling. At least the packages provide just enough tools to create a basic ecommerce website, manage your inventory, host customers, and conduct digital transactions.
👉 Most importantly, though, you ought to keep in mind that:
Whichever you end up choosing, it would also be wise to take the DIY route during the web design and customization stages. This will not only keep your costs at a minimum but also sharpen your store administration skills. Remember that the deeper you get to understand your online store's architecture, the better you'll be able to manage it!
Do you have any questions about these ecommerce platforms? Feel free to ask in the comments section below.
…
Don't forget to join our crash course on speeding up your WordPress site. With some simple fixes, you can reduce your loading time by even 50-80%: