When searching for the best backlink checker, digital marketers, SEO experts, and online business owners may have some questions. After all, learning about backlinks is one of the main strategies used to grow an online business.
With so many backlink checkers available – and the fact that they vary greatly in their pricing, results, and SEO tools – we set out to identify the absolute best backlink checkers based on hard data and some subjective user interface testing. It's a tough task (since all backlink checkers use their own unique metrics, data scraping tools, and internet databases—often resulting in very different results), but we did our best to make the testing as unbiased and data-oriented as possible.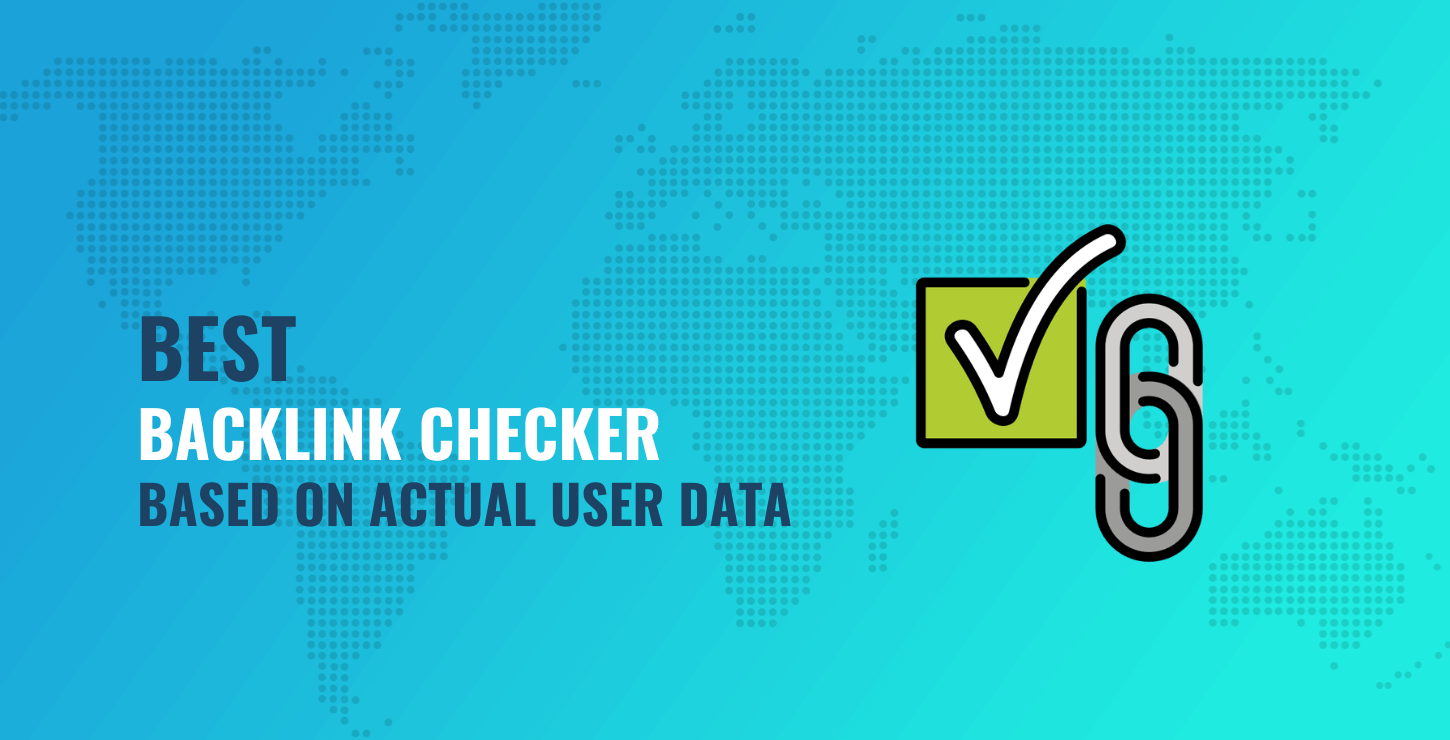 🧐 Throughout our analysis, we considered:
The quantity of backlinks provided, including overall backlinks and referring domains
The quality and usability of those backlinks (since there's no point in millions of backlink results if they're from broken, deleted, or low-quality websites)
How the data is presented (ease-of-use)
Which metrics are used (like domain ratings and nofollow information)
How we set up our backlink checker test
In our quest to analyze the best backlink checker tools, we knew that it was important to test each one with a single domain. Not only that, but we wanted a website that already had an extremely high number of referring domains, IPs, and subnets; preferably a news/blog publication that's relevant but not flooded with poor quality links on a regular basis (like any social network would have).
We actually used lists from some of our contenders—like a report from Semrush for the sites with the most referring domains, and Majestic's "Majestic Million"—to identify websites with respectable numbers for referring IPs and subnets.
As a result, we ended up using https://www.scientificamerican.com/, due to its high referring numbers, quality of referrers, and the fact that we wanted to avoid more popular websites like Giphy and Alibaba, which could lead us to all sorts of bad backlink results.
So, with our testing domain ready, we got straight to work. Keep reading to find out how each of the best backlink checker tools performed! 🔗
Best backlink checkers based on data analysis for 2023
Ahrefs is a juggernaut in the SEO game; its Backlink Checker tool is only one piece of its entire suite of keyword research, competitive analysis, auditing, and traffic insight modules.
With Ahrefs, you're paying a premium for top-of-the-line software meant for SEO professionals. Alternatives are often cheaper but offer fewer features.
Annual pricing starts at $83.00 per month. Other plans go for $166, $333, and $833 per month. If paying up front for a year is too big of a commitment, then you can also opt to pay-as-you-go on a monthly basis, but you'll end up paying more per month.
🕵️ Our analysis
Backlinks: 13.3M
Referring domains: 256K
Referring IPs: N/A
Domain and link ratings: Yes
Lists of top backlinks: Yes
Follow/nofollow info: Yes
⚙️ Here's a look at the interface:
Ahrefs combines a large feature set with a more digestible interface when compared to Semrush. You're still working with a massive database of backlinks and referring domains, yet the top backlinks list provides higher quality results and a cleaner look next to Semrush.
You'll also notice that Ahrefs still includes necessary tools like filters and list organizing, along with metrics for referring domains, traffic, anchors, backlinks, and proprietary domain ranking scores.
Semrush is the closest competitor to Ahrefs in that it caters to power users with the need for everything from site auditing to rank tracking, along with alerts and keyword exploration.
From a pricing standpoint, it's not the cheapest solution on the market. However, the sheer amount of data provided makes it a bargain. Pricing starts at $108.33 per month. There are also plans for $191.62 and $374.95 per month. Much like Ahrefs, those prices reflect the monthly cost if you choose to pay up front for the year. Month-to-month plans are priced higher.
There's also a basic free tier that does let you see general backlink information, which is good for a taste if you're on a budget.
🕵️ Our analysis
Backlinks: 68.4M
Referring domains: 270K
Referring IPs: 163K
Domain and link ratings: Yes
Lists of top backlinks: Yes
Follow/nofollow info: Yes
Semrush is a powerhouse and a strong contender for overall best backlink checker. It displays the highest number of results for backlinks of any legitimate competitor. Keep in mind, however, that Semrush does have an overwhelming amount of data that may intimidate the average user. And it's clear that many of the backlinks are from questionable sources like broken or archived websites. Perhaps that's why its numbers for backlinks are in the multi-millions, while competitors show a fraction of that.
⚙️ Here's a glimpse of the interface with results:
Semrush compiles an extraordinary amount of data into charts and graphs, while also showing lists for unique metrics like "top countries" and "referring domains by authority score."
The main Backlinks page details everything from backlink types to link attributes. Its main advantage is the powerful filtering of backlink results, with options to filter by nofollow, follow, sponsored, new, lost, and more.
As you can see, however, the interface is a lot to take in. And we've noticed that the list of backlinks isn't immediately organized to show the most relevant, high-quality backlinks, forcing you to sift through some junk. That makes it a little less user-friendly.
Seobility touts a free backlink checker for a certain number of searches. It also features backlink analysis of competitors, link building tools, and convenient PDF and CSV exports for all backlink data.
As mentioned, there's a free tool, but the backlink functionality is limited to a "Preview Mode," which is essentially useless for real businesses.
So, the real pricing starts at $40 per month. There's an Agency plan that sells for $160 per month. Those prices reflect annual billing. Month-to-month plans cost more per month.
🕵️ Our analysis
Backlinks: 145K
Referring domains: 3K
Referring IPs: N/A
Domain and link ratings: Yes
Lists of top backlinks: Yes
Follow/nofollow info: Yes
⚙️ Here's the interface with results:
The layout from Seobility is clean and intuitive with direct mentions of total backlinks, referring domains, and a domain rating. You also get a glimpse at the percentage of follow vs nofollow backlinks. We like the top backlinks list for its clarity, but it would be nice to see more filters and metrics for comparison. In short, it's a little watered down compared to competitors like Ahrefs and Semrush.
Rankwatch provides simplified but feature-rich search engine optimization modules for things like competitor analysis, site auditing, backlink analysis, and rank tracking.
It has a free backlink checker, but it's limited to just a few searches, and mostly for promotional efforts. Pricing packages start at $26 per month (based on annual payment). Higher priced plans run for $84 and $382 per month.
Month-to-month and 6-month pricing is also available, but at a slightly higher cost. There's even a custom tailored plan based on the number of backlinks you intend to monitor. The pricing makes Rankwatch one of the most affordable and best backlink checkers, and we're impressed by its options for white-labeling.
🕵️ Our analysis
Backlinks: 180K
Referring domains: No total count given (but you can view individual referring domains)
Referring IPs: N/A
Domain and link ratings: Yes
Lists of top backlinks: Yes
Follow/nofollow info: Yes
⚙️ Here's a glimpse into the interface:
The Rankwatch layout is clear, concise, and visually striking for understanding backlink information at a quick glance. The top of the page has data on active backlinks, deleted backlinks, and a trend timeline to show when all links were acquired.
The backlink list was of the highest quality when compared to other tools on the market, and you can quickly see elements like link type, anchor text, and trust score.
Majestic is not as well known as some of the other solutions we've mentioned thus far, but you can think of it as a hidden gem.
We like it for its site explorer technology, which allows you to find specific information about backlinks to your website. It produces results for referring domains, backlinks, the context of those backlinks, and anchor text. There's even support for seeing topics from the pages that link back to your site.
All of those features earned it a spot on this list of best backlink checker tools.
Main highlights from Majestic include a keyword generator for search engine optimization, reports, backlink campaigns, and a search explorer.
There's a very limited free tool; for legitimate results, you must upgrade to one of the fairly affordable premium plans. Annual plans start at $41.67 per month. Higher plans cost $83.33 and $333.33 per month. As with the other options on our best backlink checker list, Majestic also offers month-to-month billing, but at a higher per month rate.
🕵️ Our analysis
Backlinks: N/A
Referring domains: 145K
Referring IPs: 71K
Domain and link ratings: Yes
Lists of top backlinks: Yes
Follow/nofollow info: Yes
⚙️ Here's a look at the interface:
You'll notice that Majestic doesn't have a direct reference to the number of "backlinks" to a website; instead, it relies on more specific metrics like external referring URLs, supplemental links, and external inbound links.
There are also more detailed counts for live/deleted links, nofollow/follow links, and even things like HTTPS, deep links, and indirect links.
Overall, Majestic makes it a little tricky to comprehend its results, since its language for metrics isn't the same as what you'd see from other competitors in the industry. However, it stands out as one of the best backlink checker options for seeing subnets, along with a wide range of other details that you may not find elsewhere.
We'll also state that it's difficult to understand the quality of backlinks from Majestic; they offer their own ratings, but you must piece together multiple bits of information yourself to truly figure out if a link is good or not.
Which backlink checker is best for you? 🎯
Below are the side-by-side results of our backlink checker analysis.
*Note that prices are based on annual payment. Month-to-month plans are priced higher.
Semrush
Ahrefs
Seobility
Rankwatch
Majestic
Backlinks
68.4M
13.3M
145K
180K
N/A
Referring domains
270K
256K
3K
No count, but can view
individual referring domains
145K
Referring IPs
163K
N/A
N/A
N/A
71K
Domain/link ratings
Yes
Yes
Yes
Yes
Yes
Lists of top backlinks
Yes
Yes
Yes
Yes
Yes
Follow-nofollow info
Yes
Yes
Yes
Yes
Yes
Starting price (/mo*)
$108.33
$83.00
$40
$26
$41.67
If we were choosing the best backlink checker based on the sheer quantity of backlinks, referring domains, and referring IP results, then Semrush would be the clear winner. However, we find that Ahrefs and Rankwatch provide higher-quality, better-organized backlink results, allowing for improved usage of the data that's presented. Having said that, the backlink quality is impressive across the board.
Here are our final results after looking at the entire dataset:
👉 Our ranking of the best backlink checker tools:
Ahrefs : It has an impressive number of results for power users, along with the quality to go along with it—there's limited information on referring IPs, but you still get the referring domains, a less cluttered interface than Semrush, and essentials like top backlink lists and domain ratings. Ahrefs has the second-highest starting price on the list, but it should pay for itself rather quickly.
Rankwatch : We put Rankwatch at #2 because it's for a different user-base than Semrush and Ahrefs. Those two provide a flood of backlinks from their databases, but it's often overwhelming. Rankwatch lacks referring IP information, and its quantity of backlinks and referring domains is significantly lower than Semrush and Ahrefs, yet that makes for a more digestible summary for the average user. We also like the interface/presentation overall. Finally, Rankwatch has the lowest starting price at $26 per month, making it rather appealing for businesses on a budget, or those trying to test out a more affordable SEO solution.
Semrush : With the highest quantity of backlinks, referring IPs, and referring domain results, how could we not rank Semrush as our #1? It's a classic case of how quantity doesn't always mean quality. Yes, Semrush is an incredible tool with the highest concentration of information you can find when compared to the competition, but it can get confusing. And you must sift through quite a few backlinks that aren't necessarily from credible websites. Having said that, Semrush has the highest starting price out of all the solutions listed—but we feel it's a good value, at least for power users.
Seobility : It's great for an affordable glance into your backlinks. We recommend Seobility for non-power users, who are okay with a smaller list, fewer filtering tools, and no analysis of referring IPs. Seobility has a mid-range price.
Majestic : We like Majestic for its comprehensive backlink results and visual models. And you get insights on referring IPs. But it's somewhat like the black sheep of the bunch, since Majestic uses different language than the industry standards and doesn't necessarily show a true count of backlinks (it's hard to tell, since they call it something else). Majestic has a mid-range price.
With that said, all of the best backlink checker options featured here have their place in the world of SEO. The good news is that you can test out all of them for free to get a feel for their interfaces.
To find other tools 🧰 to improve your SEO, you can read our collections of 📚 the best overall SEO tools and the best free SEO tools in case you're on a tight budget.
Do you still have any questions about choosing the best backlink checker or how we collected our results? Please let us know in the comments.
…
Don't forget to join our crash course on speeding up your WordPress site. Learn more below: