A gym personal trainer needs a way to book sessions with clients. A doctor needs a way to schedule checkups with patients. Most businesses need some way to get internal meetings on the books – and it all must be automated 🤖, with calendars 📆, reminders 🤔, and more. That's why today we want to outline and compare the best appointment scheduling software available out there.
This software cuts out the need for tedious emails and phone calls. You'll be able to run a real-time schedule for booking appointments, along with other great functionality like collecting payments from clients.
What should you look for in the best appointment scheduling software?
💰 Reasonable pricing

First things first. Some appointment scheduling software is far too pricey. You can find several cheaper options that still provide some of the best scheduling tools on the market.

🧰 The simplicity or feature-richness that your organization needs

Some companies require robust branding options and tools to accept payments for several workers in the organization. Other companies need a simple tool for quickly planning internal meetings. Figure out which type of software is right for you.

⌛ Schedule organization

This includes visual calendars for individuals. You should be able to configure your schedule and block off certain areas when needed. A drag-and-drop schedule comes in handy too.

📆 Calendar coordination

From rescheduling to checking other peoples' calendars, all of the schedules in your organization should be connected. You may also want features to link to client calendars for sharing and exporting.

⚙️ Customization options to match your business look

Branding is important, so the look of your appointment scheduling software should be no different. This is particularly true if you're scheduling with people outside of your company – like personal training clients or salon customers.

💸 Options for accepting payments and selling packages or services

Does your microbrewery sell tickets for workshops or classes? Is your yoga studio booking classes on a regular basis? It's smart to collect payment beforehand. Some of these tools even have options for selling things like memberships.

🤸 Invitations, reminders, and follow-ups

This involves the automated messaging system that sends out interactive invitations and reminders. The invitations should allow people to add meetings to their own calendars. It's also nice to see multiple message options, like text, email, or even social media.

📊 Forms for clients during booking

This helps with collecting client information prior to the appointment. For instance, a doctor might want to know about insurance and personal information.

⏲️ Suggestions for time frames for people to vote on

Some of the best appointment scheduling software below offers voting systems to see which date works best for a group.

📱 Mobile versions

The people in your organization are not always going to be in the office. Make sure your appointment scheduling software includes mobile apps that actually work well.

🎯 Personalized dashboards

Employee and client dashboards typically offer lists of upcoming appointments, options for canceling, and customization settings, like profile images.
Five of the best appointment scheduling software options
Acuity Scheduling is quite possibly the most popular appointment scheduler because of its possibilities for use in a wide range of industries.
It works as an online booking assistant so that your schedule is open for clients and other workers at all times. Your real-time availability is shown on your schedule, along with options for accepting payments, rescheduling, and blocking certain parts of your calendar.
Overall cost and pricing plans
One of the best parts of Acuity Scheduling is the pricing. Not only do you have the option for a seven-day free trial, but a free plan is available as well:
Freebie Plan – $0 per month for a calendar with client self-scheduling and options for offering unlimited appointments and services.
Emerging Plan – $15 per month for everything in the previous plan, plus more advanced features like an automated time zone conversion, calendar customization, numerous integrations, and the option to embed the schedule on your website.
Growing Plan – $25 per month for everything in the previous plans, text message reminders, payment plans and memberships, and other selling options for things like gift certificates and appointment packages.
Powerhouse Plan – $50 per month for everything in the previous plans, several time zone options for multiple staff members, custom API access, HIPAA compliance, and the removal of Acuity branding.
Ease of use and reliability
The ease of use is a point of pride from the folks at Acuity. Not only does the schedule run for all 24 hours per day, but most main features are already configured right out of the box. This includes options like reminder emails and client self-scheduling. The integrations must be set up one-by-one, so that would include apps or add-ons for integrations like iCloud, Google Calendar, and MailChimp. That being said, those are all easy to activate.
Top features
A beautiful real-time calendar schedule with custom branding tools.
Scheduling with unlimited appointments and services.
Automated text and email reminders and other messages.
You have several options for selling products and services. Some of these include payment plans, subscriptions, memberships, and gift certificates.
Integrations with a long list of tools, such as Google Calendar, iCloud, Outlook.com, Office 365, Freshbooks, Mailchimp, and Pipedrive.
Organize your services as group events, workshops, or classes.
Include optional fields for add-ons or tips.
Receive advanced reporting about performance, no-shows, and all appointments.
2. Doodle (doodle.com)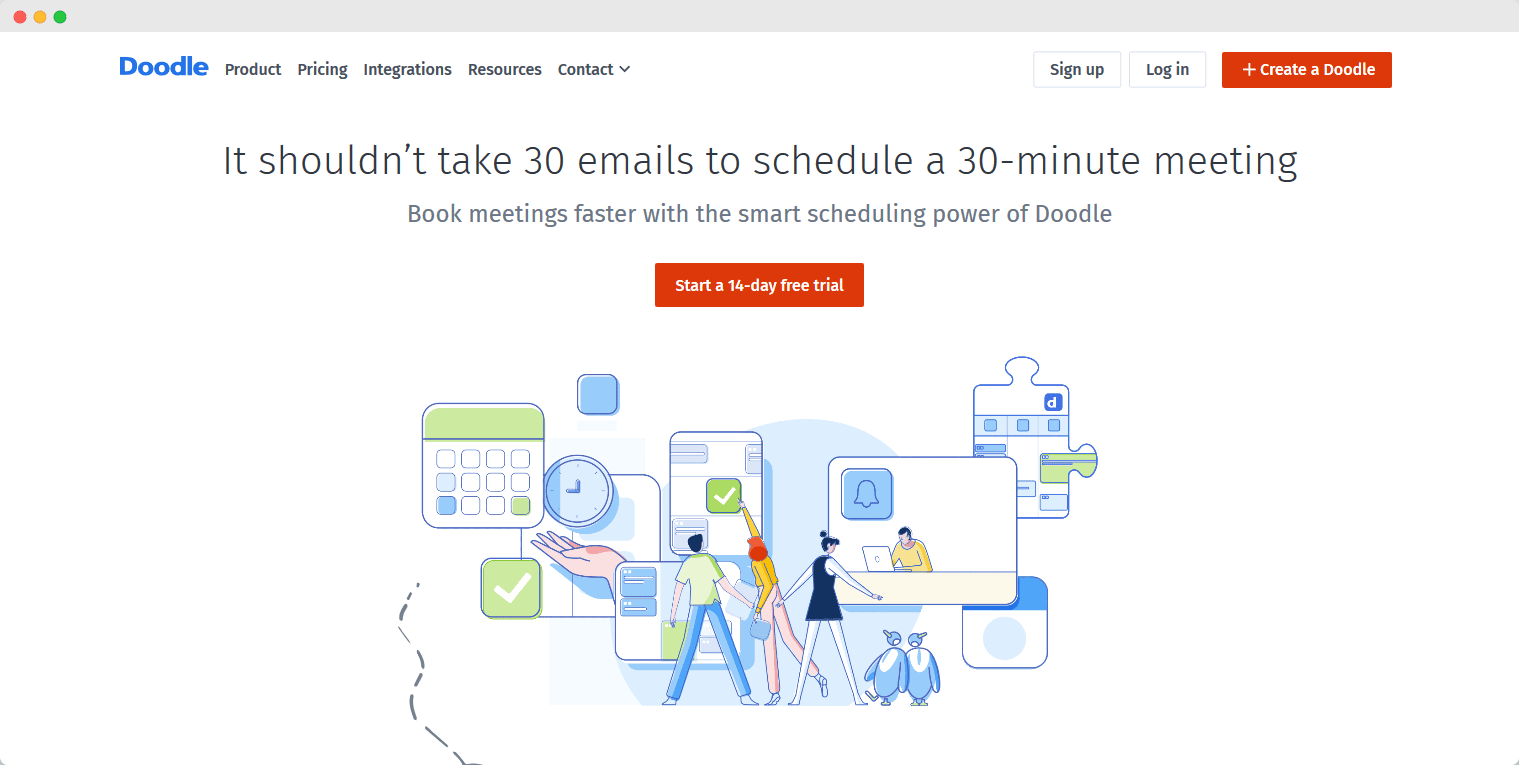 Doodle has gained its popularity as a personal and business scheduler with the unique ability to request that people vote on certain dates that might be good for a meeting. So, the appointment creator would suggest certain times and dates, invite people in the organization (or a group of friends,) then choose the final selection based on the votes. You can then confirm the time for all participants and have it placed on their respective calendars.
Overall cost and pricing plans
Doodle has a free plan for personal use, but many smaller organizations might be able to utilize the free pricing as well. The only free trial is for the paid plans, and it goes for 14 days. It's also worth mentioning that Doodle only has yearly pricing.
Here are the pricing plan offerings:
Free Plan – $0 for basic scheduling, hidden entries, and the option to connect a calendar. The free plan is supported with ads and you can access the calendars through a web browser, or mobile apps.
Starter Plan – $48 per year for one user, everything in the Free Plan, exporting, additional fields, reminders, invites, and no ads on the app.
Pro Plan – $72 per year for one user for everything in the other plans, custom branding, a custom subdomain, admin accounts. You also receive some billing tools, invoicing, and settings for 1-on-1 meetings.
Team Plan – $180 per year for five users for everything in the other plans + priority support, multiple users management and Doodle Bot for Slack.
Ease of use and reliability
Doodle was created to drastically simplify the scheduling process. And that's what the developers have done. Many organizations have realized that other more expensive schedulers are just too complex for a simple calendar. Doodle is ready for mobile use, it's perfect for many types of businesses, and it has that wonderful feature that lets people vote on the best times for a meeting.
Top features
A voting system that prompts everyone in your group or organization to specify their best times for a meeting or event.
Customized branding with some of the plans.
Android and iOS apps for mobile planning. Automated calendar syncing for when events are decided on.
Calendar invitations, updates, and reminders.
An option to see if anyone is missing in the voting.
Exporting to share the results.
1-on-1 meeting tools for sharing availability and quickly finding the right times between two people.
Billing options for PayPal and credit cards. You can also send out invoices.
Advanced settings for admin accounts, managing several users, and getting a custom subdomain.
3. 10to8 (10to8.com)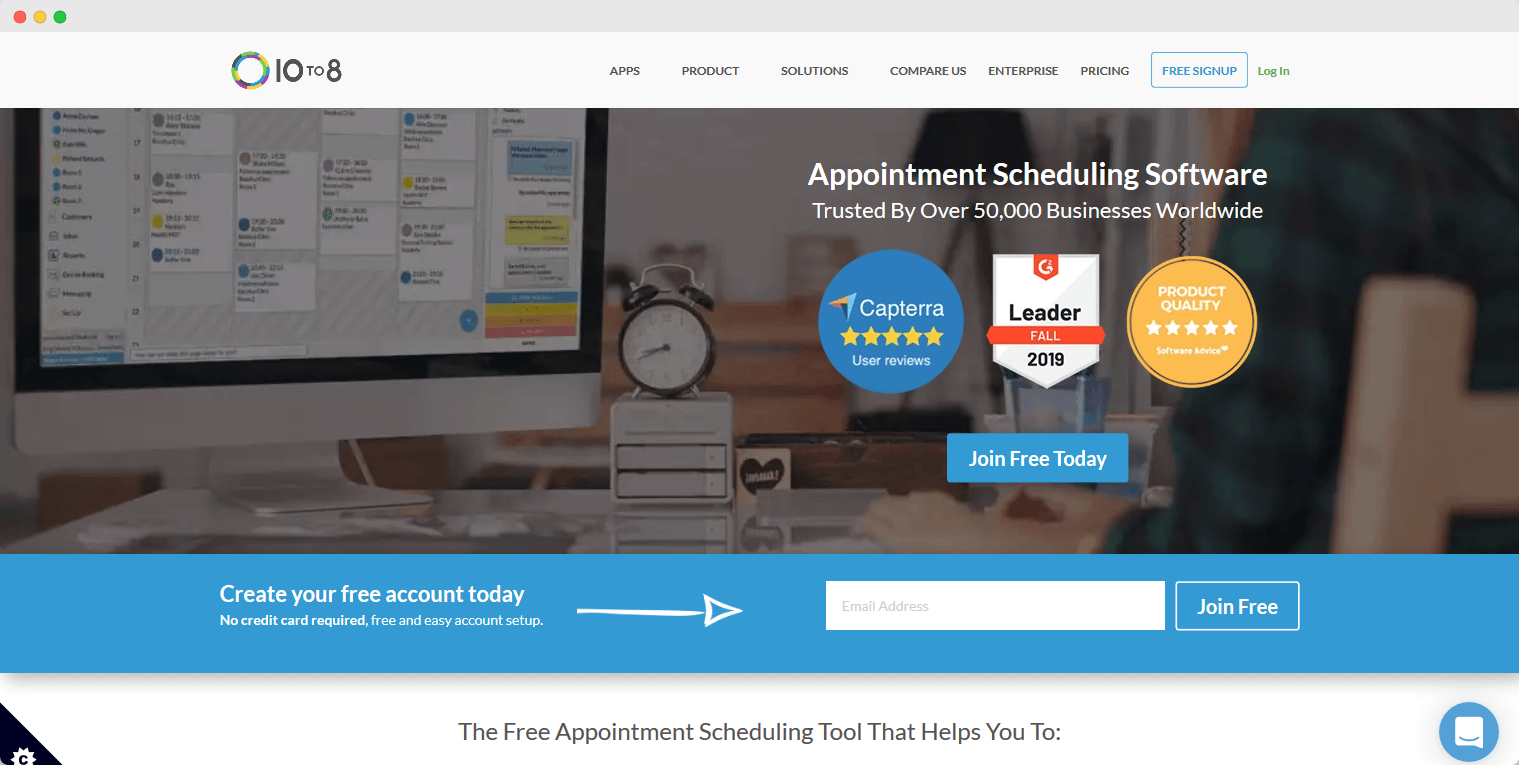 10to8 is a popular appointment scheduling software and for good reason. First of all, a Free Plan is available for testing out the software and potentially using it for smaller businesses.
Multiple staff logins are available, and you receive a beautiful calendar dashboard that syncs with tools like Google Calendar, PayPal, and more. Place the booking module on your website and utilize some of the interesting features for preventing no-shows.
Overall cost and pricing plans
The Free plan might just work for some startups and small businesses. Other than that, you can test out the free trial, then upgrade to one of the monthly plans if needed:
Free Plan – $0 for a calendar schedule, SMS messaging, 100 appointments per month, two logins, and online customer support.
Basic Plan – $9.6 per month for everything in the Free Plan plus customizable calendar and scheduling branding.
Grow Plan – $20 per month for all features in the previous plans, 300 appointments per month, three staff logins, SMS customization, and both phone and online support.
Bigger Business Plan – $40 per month for everything in the previous plans, 600 appointments per month, six staff logins, HIPAA tools, and a signed BAA.
Enterprise Plan – This plan is completely customizable based on the number of appointments you need per month and if you want any additional features. Contact 10to8 for a quote.
You can also pay on a yearly basis for cheaper pricing.
Ease of use and reliability
10to8 integrates with WordPress and Facebook for having your schedule online for clients. The calendar is pretty much configured right out of the box and you can import and export appointments with Google Calendar. The mobile apps are great for people to view calendars on the go, and your schedule is always updated in real-time so that you don't double book.
Top features
Smart text and email reminders are sent out so that you can significantly reduce your no-shows.
A free client booking website.
A chat box is provided in the calendar for you to speak with other workers in your office.
Integrations with WordPress, Facebook, Google Calendar, and many more.
Accept payments through PayPal.
Several customization tools to make your calendars fit the brand of your organization.
Several staff logins and dashboards so you don't have to share your own login.
Support for unlimited SMS messages. You can even customize these SMS reminders in some of the plans.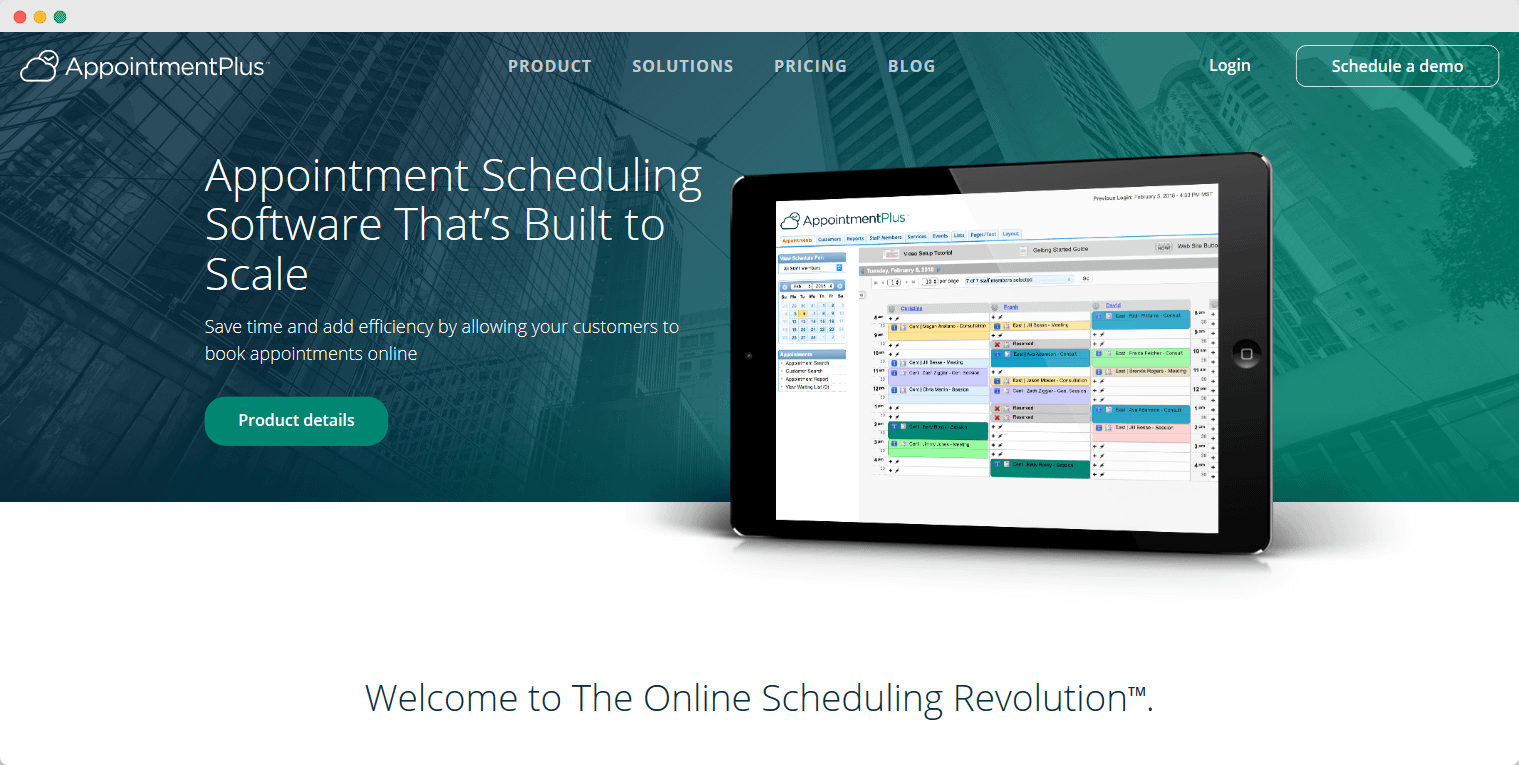 The whole idea behind AppointmentPlus is that you can start scheduling appointments when your business is smaller, then scale up to more powerful tools as it grows. AppointmentPlus offers small and medium business solutions, along with an enterprise option.
Flexibility and scalability is the key with AppointmentPlus, so it's definitely a top appointment scheduling software for serious businesses. Yes, a solution like Doodle is sleek and easy, but this is a powerhouse scheduler with customization in mind for all types of businesses.
Overall cost and pricing plans
AppointmentPlus isn't the cheapest appointment scheduler, but the software is packed with features. Not only that, but the pricing plans are set up for flexibility as your business expands.
Free trials aren't available, but AppointmentPlus offers demos of its appointment scheduling software.
Here are the plans:
Bronze Plan – $49 per month for individuals and smaller teams. It provides features like multiple admins, event scheduling, payments, website and Facebook integrations, SMS reminders, and email notifications.
Silver Plan – $69 per month for start-up and small teams that need more functionality. The features include everything from the previous plan, interactive notifications, service schedule exceptions, staff profile sharing, and staff filters.
Gold Plan – $99 per month for more established businesses with larger staffs. You get all features from the previous plans, IP address restrictions, more appointment fields, templates, room sharing, multiple appointments in time slots, and analytics.
Platinum Plan – $199 per month for smaller enterprises. The features include everything from the previous plans, a dedicated account manager, more user profiles, high volume for appointments, custom fields, location attributes, sub-services, a location lookup tool, and more.
Enterprise Plan – This plan has customized pricing for some of the largest organizations in the world. You receive all features including whatever other customizations you need.
Ease of use and reliability
Compared to some of the other appointment scheduler software, AppointmentPlus has a steep learning curve. That being said, it's best for teams with IT professionals or developers who are willing to manage the system. Other than that, the entire software is reliable and flexible with your own business needs. It's meant for companies that need to scale and make feature adjustments – not those that are alright with a simplistic scheduler.
Top features
Customized scheduling solutions for different industries such as education, logistics, and health care.
A powerful scheduler that lets your customers book appointments at any time.
Tools for linking your bookings to email marketing and social media posts. Email and text notifications for invitations and reminders.
Some of the most robust reporting you'll find from an appointment scheduler. Some stats include no-show rates and product purchasing trends.
Third-party integrations with apps like Mailchimp, Google, and iContact.
An excellent pricing structure to ensure that your business scales properly.
Payment processing.
Extra appointment fields and customizable fields in some of the plans.
A quick integration with both your WordPress site and Facebook.
5. ScheduFlow (www.duoserve.com/scheduling-software)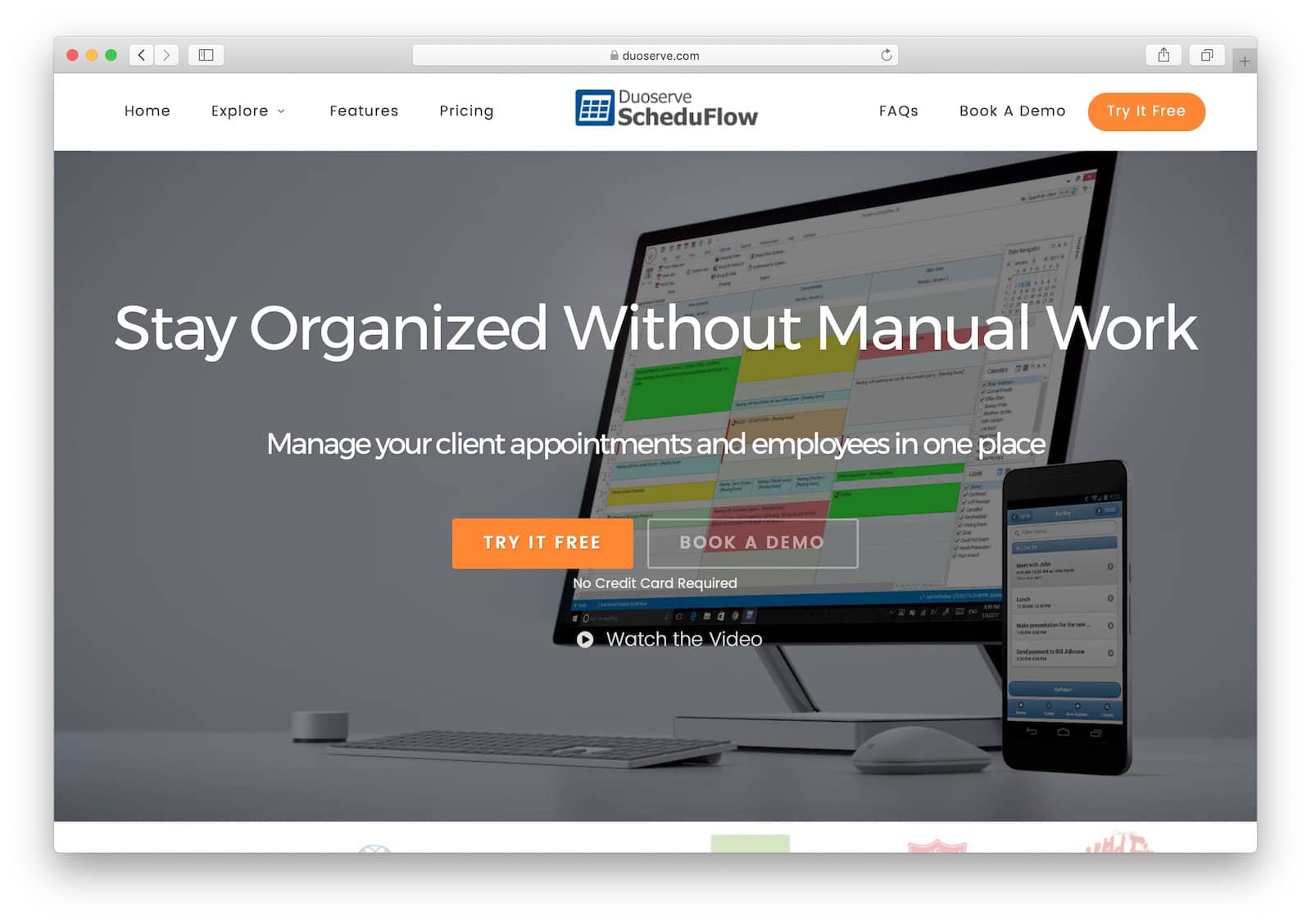 Duoserve is a company that sells cloud productivity software, one of which is for time and attendance, while the other is meant for appointment scheduling. The appointment scheduling option is called ScheduFlow. It's one of the best appointment schedulers for eliminating manual work and getting paid for selling services and booking gigs.
Appointments, consultations, and meetings are all supported through ScheduFlow, and you can even manage employees by assigning tasks and scheduling shifts. Overall, it's a highly visual appointment scheduling software with some additional tools for organizing and searching for clients.
Overall cost and pricing plans
The ScheduFlow pricing is listed as monthly and yearly, with the better value coming through if you pay for a year in advance. There is no free version of ScheduFlow, but the 30-day free trial gives you time to test it out.
The pricing plans include the following:
Starter Plan – $29.95 per month for full feature access, unlimited appointments, unlimited clients, two computers, 20 calendars, and free email support.
Most Popular Plan – $52.95 per month for everything in the previous plan, five computers, 50 calendars, and free phone and email support.
Enterprise Plan – $189.95 per month for everything in the previous plans, 25 computers, and 250 calendars.
Ease of use and reliability
ScheduFlow is fairly easy to set up and the average user should be able to learn the interface within a few days or even hours. It's also a highly customizable software that could work for a wide range of industries and businesses. The customer support documentation is pretty sparse, so it's good that it doesn't take a more experienced tech whiz to run ScheduFlow. That said, the design of the software does look somewhat outdated. This could be because part of the software runs as a native desktop application, whereas many people are starting to get used to primarily working in sleek cloud platforms.
Top features
Visual resource utilization with information on which of your employees has booked the most or fewest clients.
The schedule has a drag and drop tool for moving around and rescheduling meetings.
You can allow or prohibit double booking.
Your calendar view is completely customizable. The same can be said for employee calendars.
It has a search bar for rapidly locating clients and their appointments.
Schedules can be viewed on any device.
Manage employees by assigning certain tasks or scheduling shifts for staff.
Collect payments from your customers through the appointment module.
Assign unique colors, labels, and statuses to all of your appointments.
The combination of native and cloud software means that you get a more feature-filled, powerful software.
Which of the best appointment scheduling software should you choose?
You have plenty of appointment software options to choose from, so hopefully, this helped you narrow the selection down to the best appointment software on the market. You might also want to check the best help desk software so that clients can easily contact you once your business grows.
We would argue that Acuity Scheduling is the best all-around software. Doodle is the simplest (and cheapest,) and 10to8 has some incredible integrations. We like AppointmentPlus for scaling up your business, while ScheduFlow has top-notch customization options.
For a simple way to connect with your customers, we also recommend checking the Best Live Chat Software Solutions Reviewed (free options included). For more complicated communication, be sure to read our list of call center software options.
If you have any questions about the best appointment scheduling software featured here, let us know in the comments below.
…
Don't forget to join our crash course on speeding up your WordPress site. Learn more below: