There's no question that a suitable page builder plugin can enhance the entire WordPress experience. This is good news because there are a lot of them on the market.
This Beaver Builder review is going to showcase one of the stalwarts of the space and a leading premium plugin on the market.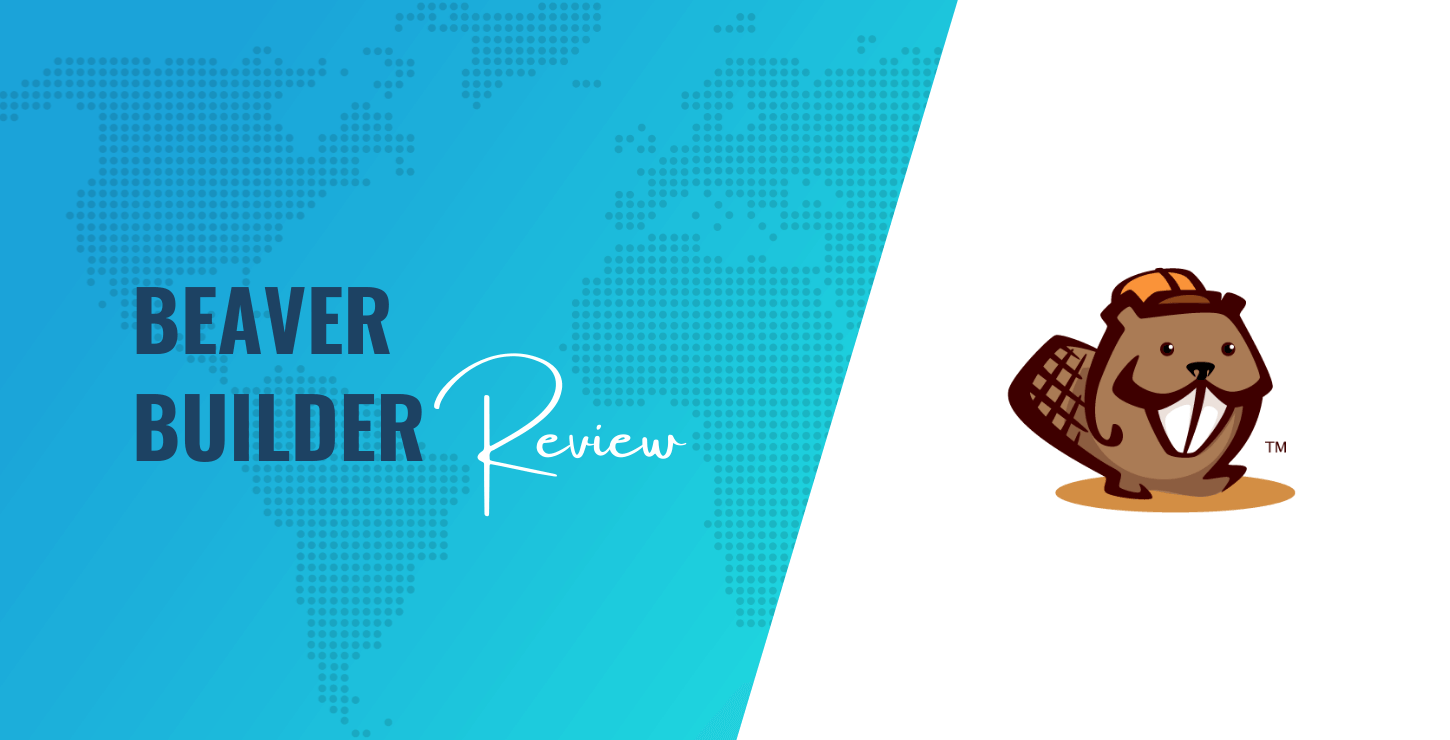 In this post, we're going to give you an in-depth 💡 Beaver Builder review. Throughout it, we'll discuss what it is, why it's better than the competition in some cases, some of its pros and cons, and how much it costs.
First, let's talk about what the page builder plugin offers. 😎
📚 Table of contents: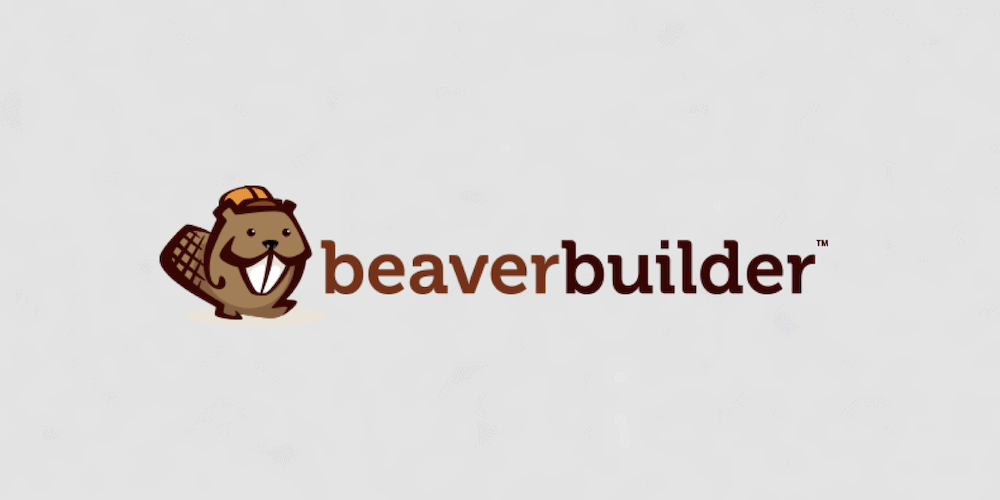 Beaver Builder is one of the oldest page builder plugins around. The development team has built a good reputation for stability and the plugin has a high satisfaction rate among its user base. 🥊 This is for a few reasons, but its rich set of features and functionality plays a big part:
You use a visual drag-and-drop editor to build your site layouts.
Beaver Builder offers flexibility with other themes and plugins – you can adapt to your own setup without fuss.
There are lots of ways to display elements and content on your page. For example, you can use widgets or shortcodes.
You'll find lots of integrations with other popular third-party solutions too. For instance, you can link your email marketing platform, other WordPress plugins, contact form plugins, and more.
The interface is generally stable, and it's rare to encounter bugs.
⌛ However, it's more relevant to discuss what Beaver Builder offers that other plugins don't. We'll explain why in the next section.
Why you'd want to use Beaver Builder over other page builders
Beaver Builder is a solution that is featured elsewhere on the CodeinWP blog. In fact, in that roundup, we note how lots of page builder plugins offer a similar set of features and functionality.
In general, you'd want to use a page builder (and by extension, Beaver Builder) for a few reasons. For starters, you have greater flexibility when it comes to design choices. Granted, this gap is closing compared to the Block Editor, but there's still more flexibility in a good page builder plugin.
👉 However, there are a few unique points that Beaver Builder can offer that aren't as prominent as other plugins:
For starters, you can use the Beaver Themer add-on option to contain the entire experience within the one interface. This means you can build your entire theme using Beaver Builder, including your headers and footers.
You're also able to 'white-label' Beaver Builder. If you develop sites for others, this will mean your clients won't see any Beaver Builder branding. It might not be important for all users, but Elementor doesn't currently include this option at all.
You can use Beaver Builder on as many sites as you need because all licenses support unlimited sites. This increases the value of the plugin and lets you work on new sites using its functionality without fear.
There is no 'lock-in' with Beaver Builder. This is where a plugin or theme will leave behind shortcodes throughout your content. It can be a nightmare if you ever want to switch solutions. Beaver Builder is one of only a few popular page builder plugins that leaves your underlying code and content 'clean.'
In and of itself, Beaver Builder is a superb plugin. 👍 Part of this is because it's straightforward and intuitive to use. In the next section, we'll talk about this further.
Beaver Builder review: How to navigate the interface
For most page builder plugins, there are two facets: the builder itself and the styling of your design. In the next section, we'll look at both. To start, let's discuss 💬 the builder and what you can do with it.
How to build a layout 🚧
Beaver Builder has a number of pre-built templates for you to choose from, and a couple of flexible ways to begin the creating process. As with other page builder plugins, you can spin up a new page or post as normal, then use the relevant editing link:
If you click the Plus icon on the right-hand side, you'll open up a dialog screen. From here, you can choose a template. Or, you can opt to just create your design from a blank slate:
Once the template populates your screen, you'll use the full-screen layout, with elements hidden off-screen, much like the block editor. Again, you'll access the module list from the right-hand side of the screen: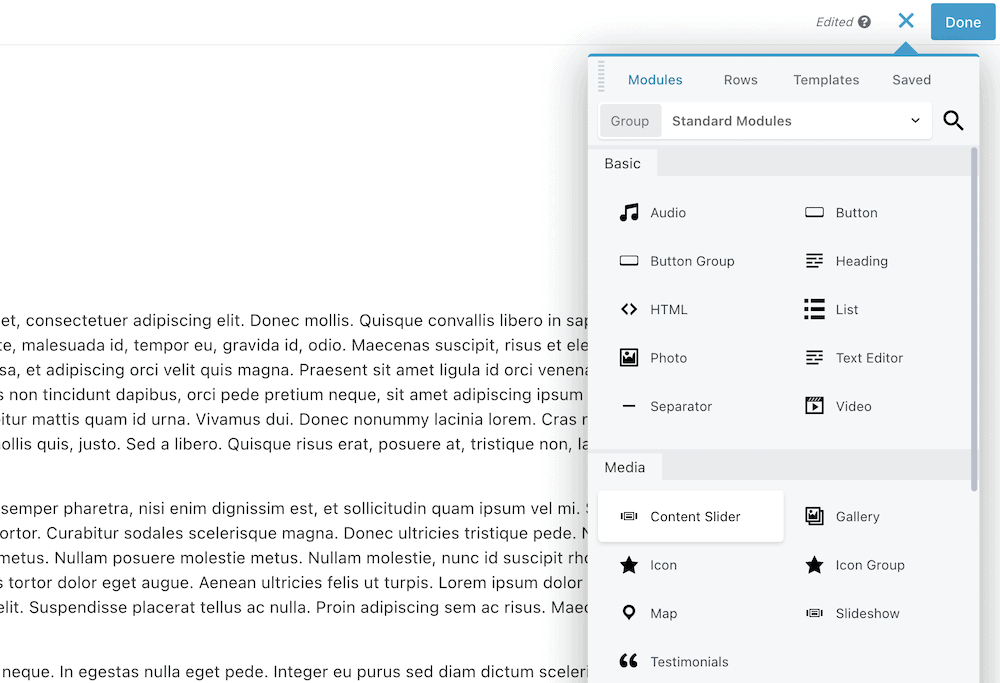 We like the way the modules are in groups, as this makes it easier to find and choose the right one for your needs. Once you drag and drop the module onto the page, you use the pop-up window to alter its options: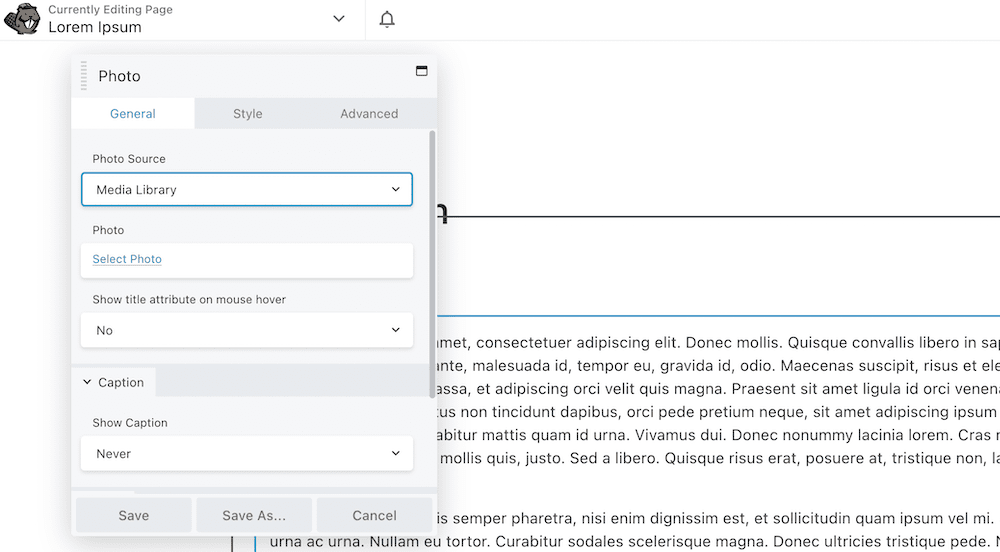 It's also good that you can shift these floating windows into a left-hand widget area. That way, you have more consistency and can see the page in full.
How to style your design 🎨
It's within these floating windows that you also access styling options. There are two tabs here other than General: Style and Advanced. These offer a different set of choices. The former handles aspects elements such as formatting, typography choices, and padding: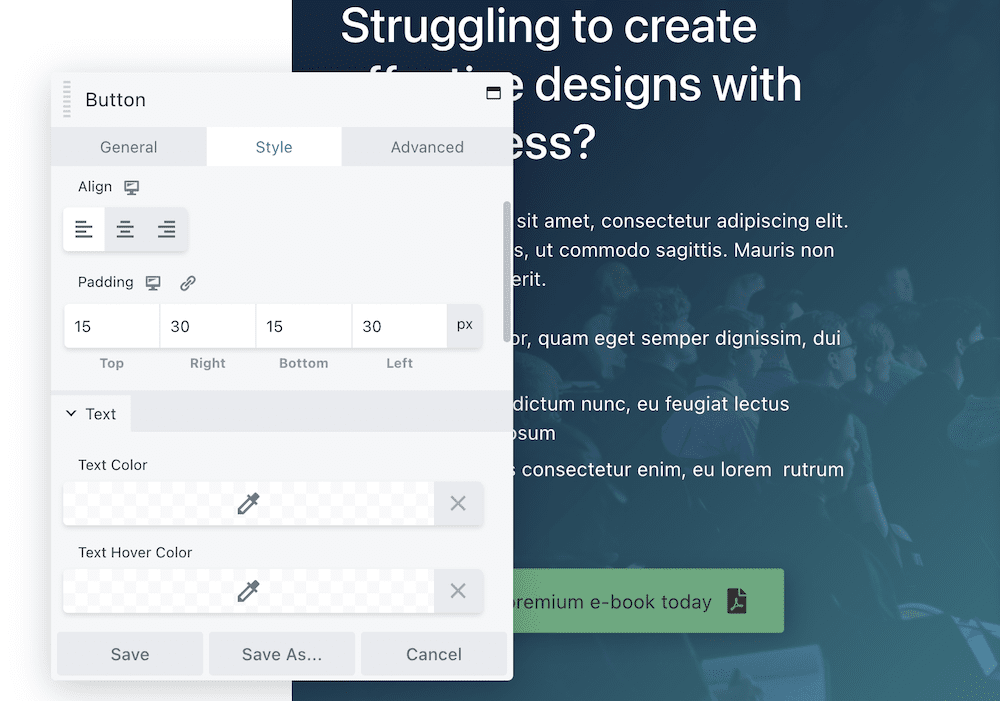 In contrast, the Advanced tab is where you'll find more developer-centric options. Here, you'll adjust margin spacing, set HTML tags, breakpoints for smaller screens, and more: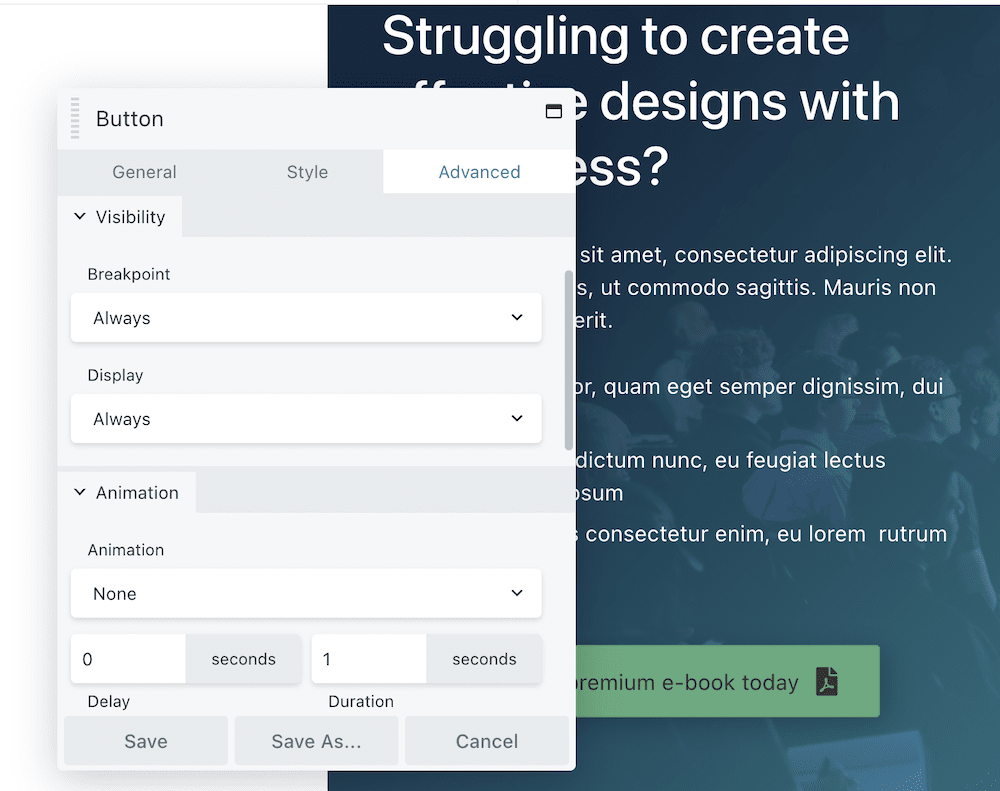 This is typical fare for lots of editors, and there is nothing to surprise you here. This is both good and bad. On the one hand, you get a typical and familiar set of options. After all, there are only so many options, and it makes logical sense to order them in this way. However, on the flip side, Beaver Builder doesn't stand out on these types of features.
Speaking of which, let's try and sum up Beaver Builder in our penultimate section.
Beaver Builder review: The good and the bad
There's a lot within the Beaver Builder package, and it's worth summing up just what's great and not so great about the plugin. It's no surprise that the positives 👍 are numerous:
The interface is nice to work with and pleasing to the eye. This makes it more usable, too.
There are a wide range of elements to choose from and customization options to tweak. You'll have no problems with building your site with what's on offer.
The customer support is fantastic and is one of the highlights of Beaver Builder. It's the type of support other users rave about, and it's typical of what a good WordPress business should offer.
Unlike solutions such as Divi, Avada, and others, Beaver Builder keeps your code clean. This means it doesn't use shortcodes under the hood to build layouts and means you can move away from Beaver Builder if you wish in the future. All things equal, Beaver Builder also loads a bit faster than other page builders.
Beaver Builder has a good reputation when it comes to stability. It's pretty rare to encounter bugs or other glitches.
Because all Beaver Builder plans support unlimited sites, it can be very cost-effective if you're looking for a builder for multiple websites.
However, not everything is perfect, 👎 as you'd expect. While the plugin itself doesn't have too many poor areas, there are a few things to note:
If you want access to full theme building support, you need to purchase the separate Beaver Themer plugin, which is $147 on top of the $99 for Beaver Builder Pro.
Beaver Builder doesn't have as many features as some other plugins. For example, you don't get a pop-up builder like Elementor Pro, nor do you get as many design options.
If you only need a builder for a single site, Beaver Builder's price is expensive when you compare it to other plugins. For example, Beaver Builder costs $99 for use on unlimited sites, while Elementor Pro has a cheap $49 single-site license (though Elementor Pro is more expensive if you're using it on lots of sites).
ℹ️ We'll talk about this last point next, as it's worth going into a bit more detail. From there, you'll have everything you need to make a decision on whether Beaver Builder is right for you.
Beaver Builder review: The pricing
First, let's outline what Beaver Builder costs 💰 across its different tiers:
Standard. This is $99 per year, and won't include the Beaver Builder theme, white labeling, or WordPress Multisite capabilities. For most people, this is the best plan (more on this below).
Pro. For $199 per year, you get the theme and Multisite functionality, but still no white label option.
Agency. This tier gives you the entire Beaver Builder experience, including the white label option, for $399 per year.
If you want access to theme building, you'll also need to purchase the separate Beaver Themer add-on, which costs $147 on top of the core plugin.
Because all of Beaver Builder's plans support use on unlimited sites, it can be very cost-effective if you need a builder for lots of sites. For example, Elementor Pro has much stricter site limits, so it can quickly get expensive if you need to build 25+ sites.
However, if you're only building a single site, Beaver Builder can actually be pretty expensive because you're unable to spread the cost of its unlimited approach across multiple sites.
Additionally, Beaver Builder doesn't offer a lifetime license option like Divi, so you'll need to renew your license every year if you want to continue receiving support and updates. You do get a 30% renewal discount, though, which makes that a bit easier to stomach.
Which is the best Beaver Builder plan?
Most users will be fine with the cheapest Standard plan, which costs $99. This plan already gets you access to the full-featured builder, though you miss out on the Beaver Builder Theme.
While the Beaver Builder Theme is a fine theme, you can now find a lot of high-quality free themes that use the same multipurpose, customizable approach.
📌 For example, the free Neve theme pairs great with Beaver Builder and offers even more customization options than the Beaver Builder Theme. Other lightweight themes such as Astra, GeneratePress, and OceanWP also make great options.
Excluding the Beaver Builder Theme, the only reasons you might want to upgrade are as follows:
If you want to use Beaver Builder on a WordPress multi-site network, you'll need at least the $199 Pro plan.
If you want to white-label the Beaver Builder interface (e.g. for client sites), you'll want the $399 Agency plan.
Final thoughts on our Beaver Builder review 🏁
Page builder plugins are now an almost essential piece of the WordPress puzzle. However, arriving at a decision can be difficult because there are so many quality page builder plugins to choose from. This Beaver Builder review looks at one of the oldest and most popular on the market.
The interface is stellar, and the design capabilities are superb. It also offers great stability, clean code (for a page builder), and it can be very affordable if you're building a lot of sites because all of its plans support unlimited usage.
Agencies building client websites might also like that Beaver Builder supports white-labeling, as many other page builder plugins do not.
However, Beaver Builder can be expensive if you only need a builder for a single site, especially if you want to add full theme building support via Beaver Themer. Elementor Pro would be more affordable for a single site, and Divi can still offer better value if you need theme building.
Additionally, Beaver Builder doesn't offer quite as many features and design options as tools like Elementor and Divi. If you want all the bells and whistles, such as a pop-up builder and/or heaps of style options, you might be happier with one of those tools.
If you think Beaver Builder's strengths outweigh its weaknesses for your needs, it's a great option.
Do you agree with our Beaver Builder review? If not, let us know your thoughts in the comments section below!
…
Don't forget to join our crash course on speeding up your WordPress site. Learn more below: