In this comparison of All in One SEO vs Yoast vs Rank Math, we take a look at which of these popular WordPress SEO plugins excels in categories such as:
All sites – from ecommerce sites to blogs – require SEO plugins for auto-generating sitemaps, optimizing content, turning on rich snippets, and targeting specific keywords. The goal of this comparison is to identify the absolute best plugin in each area, based on our rigorous testing and research.
Our analysis of All in One SEO vs Yoast vs Rank Math uncovered many useful conclusions, so keep reading to learn about them!
An introduction to the tools
All in One SEO, Yoast SEO, and Rank Math all fall into the category of SEO plugins for WordPress.
Unlike third-party SEO tools such as Ahrefs and SEMrush, these native WordPress plugins automate your on-page search engine optimization, while also providing clues on how to improve optimization for targeted keywords.
All of these tools have free basic versions, and premium upgrades for additional features. Therefore, you can install each plugin for testing, then opt to pay for advanced features like local SEO, smart sitemaps, rich snippets, and WooCommerce SEO.
We'll compare All in One SEO vs Yoast vs Rank Math in multiple categories, as outlined in our summary table below:
All in One SEO vs Yoast vs Rank Math

| Tool | Pricing | Features | UI | Indexing and sitemaps | Schema markup (rich snippets) |
| --- | --- | --- | --- | --- | --- |
| All in One SEO | ⭐️ ⭐️ ⭐️ | ⭐️ ⭐️ ⭐️ ⭐️ | ⭐️ ⭐️ ⭐️ | ⭐️ ⭐️ ⭐️ ⭐️ | ⭐️ ⭐️ ⭐️ ⭐️ |
| Yoast SEO | ⭐️ ⭐️ ⭐️ ⭐️ | ⭐️ ⭐️ ⭐️ | ⭐️ ⭐️ ⭐️ ⭐️ | ⭐️ ⭐️ ⭐️ | ⭐️ ⭐️ ⭐️ |
| Rank Math | ⭐️ ⭐️ ⭐️ ⭐️ | ⭐️ ⭐️ ⭐️ ⭐️ ⭐️ | ⭐️ ⭐️ ⭐️ ⭐️ ⭐️ | ⭐️ ⭐️ ⭐️ ⭐️ | ⭐️ ⭐️ ⭐️ ⭐️ ⭐️ |
All in One SEO vs Yoast vs Rank Math: Features
SEO plugins should remain lightweight and user-friendly while still packing plenty of features into the interface.
We're interested in seeing features (many of them automated) for things like schema (rich snippets), local SEO, search engine previews, sitemaps, image SEO, keyword optimization, and more.
Check out what we discovered below:
All in One SEO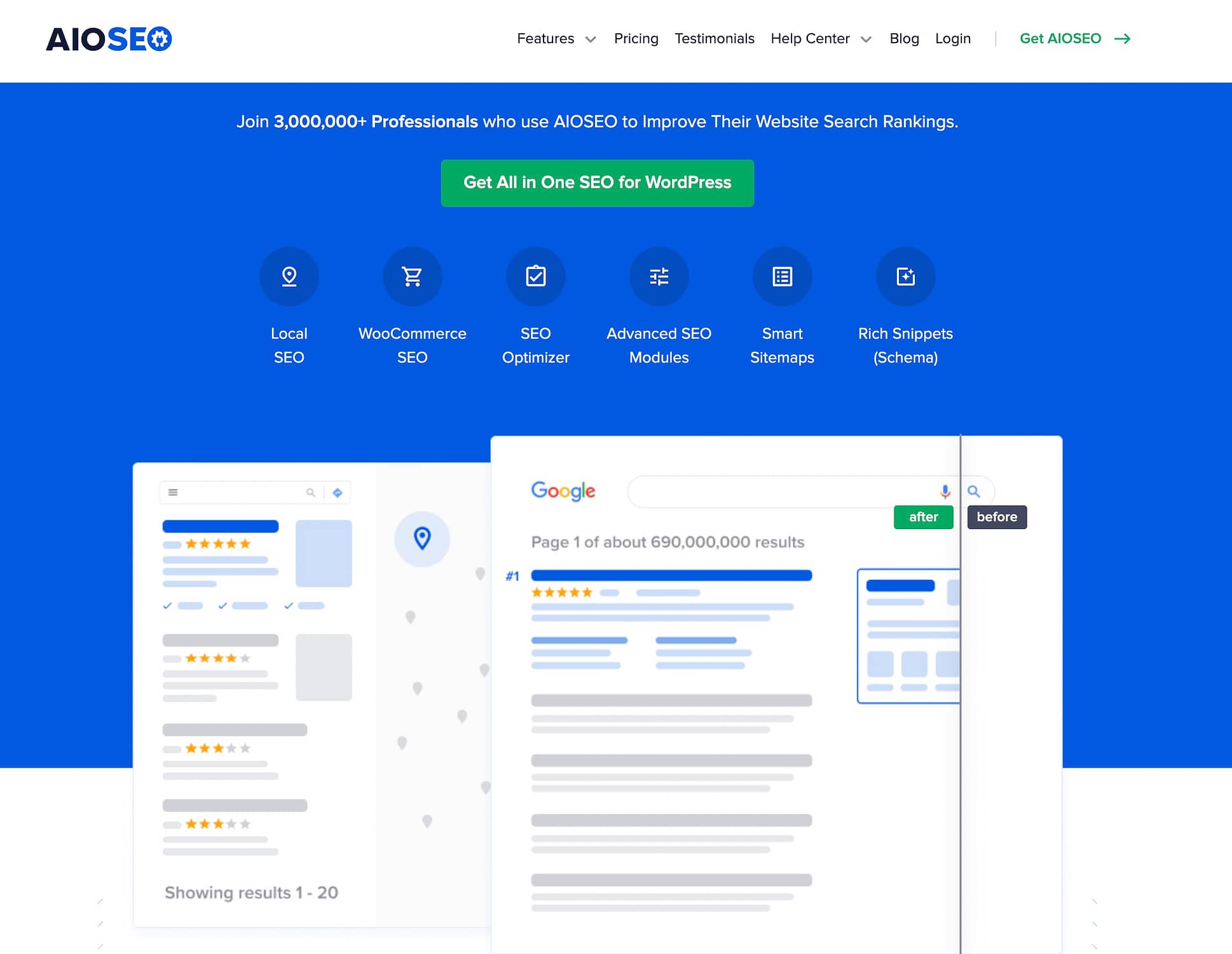 Here's a look at the top features from All in One SEO:
Automated SEO site analysis, checklists, and recommendations
On-page keyword analysis with actionable insights
Smart tags for page/post titles and meta descriptions
WooCommerce SEO for boosting sales and optimizing product pages
Image SEO
Social media integrations for properly formatted sharing
Smart XML, RSS, and HTML sitemaps, and automatic notifications to Google and Bing
Rich snippets schema
Local SEO
Yoast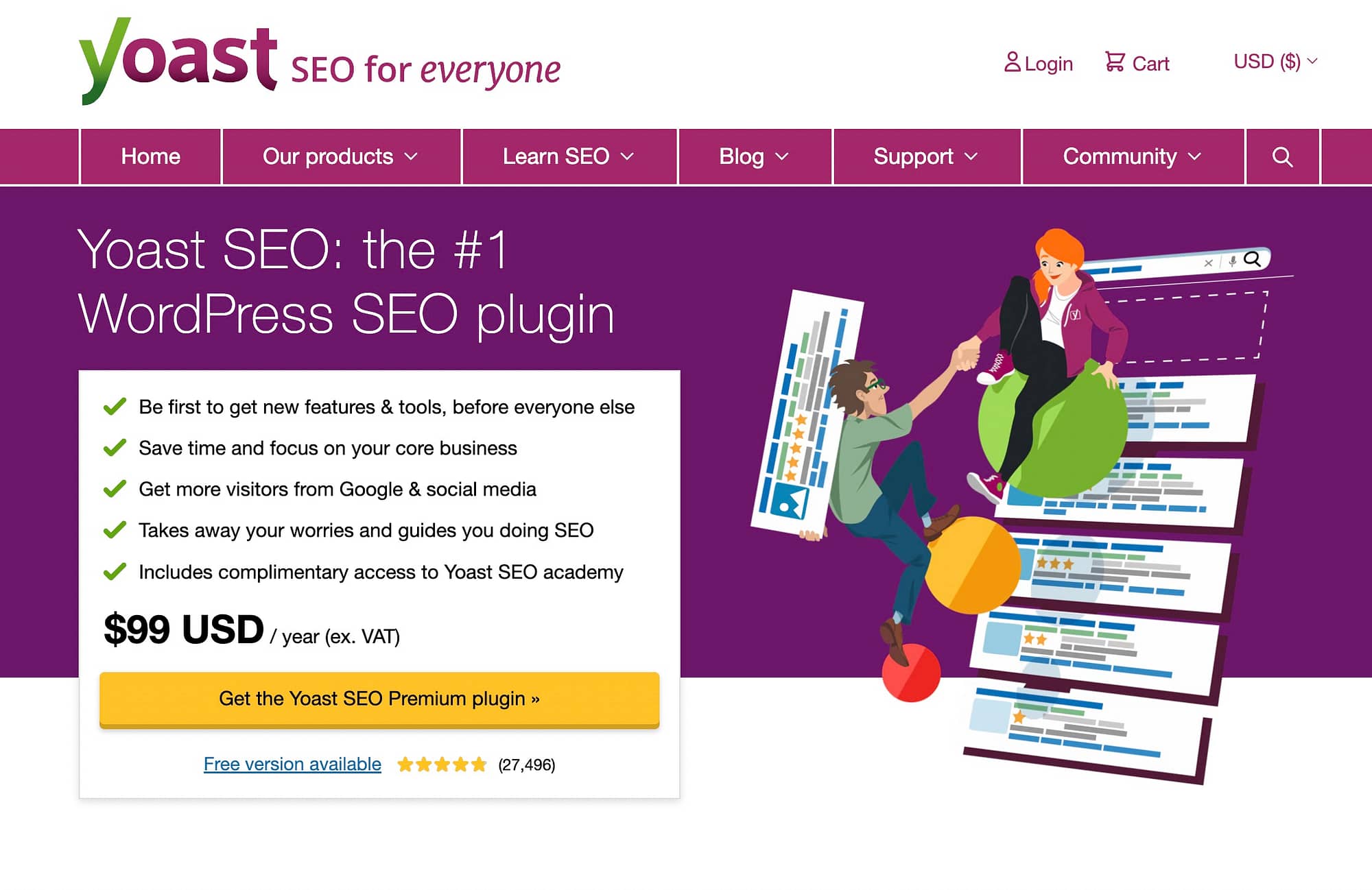 Yoast features include:
SEO analysis with recommended optimization opportunities
On-page keyword analysis with actionable insights
Smart tags for page/post titles and meta descriptions
Advanced WooCommerce SEO (separate extension)
Social media previews and optimization
Smart sitemaps and the automated sending of structured data to Google
Rich snippets schema
Local SEO (separate extension)
A redirect manager
Internal linking tips
Integrations with SEMrush, Wincher, Elementor, Zapier, and WordProof
Rank Math
Here are the main Rank Math features:
Automated SEO analysis, reports, and suggestions
On-page keyword analysis with focus keyword and content analysis
Smart meta tags for page/post titles and descriptions
WooCommerce SEO
Advanced image optimization
Social media optimization with default thumbnail images, watermarks, icon overlays, quick previews, social account integrations, and more
Automatic XML, news, and video sitemaps, along with notifications to search engines
Highly advanced rich snippets schema with special support for event, HowTo, FAQ, recipe, and video schema blocks
Local SEO
Keyword comparison and Google Trends tools
Shortcodes for displaying contact information
Specialty SEO for Easy Digital Downloads
SEO bulk editing
Top five winning/losing posts and keyword rankings
Version control
An artificial intelligence tool that produces SEO suggestions and content optimization
A keyword rank tracker with position history
Winner: Rank Math
Here's how the plugins rank in terms of their features:
Rank Math
All in One SEO
Yoast
Rank Math is by far the more advanced plugin, with unique tools like bulk editing, AI for content optimization, and rank tracking.
All in One SEO offers strong features without some extras you may find with Rank Math.
Yoast SEO, although extremely feature-rich, lacks elements like advanced image optimization, and built-in features for WooCommerce and local SEO (both require separate plugins).
All in One SEO vs Yoast vs Rank Math: Pricing
Although it's wise to seek an SEO plugin with plentiful features, there's no denying that pricing will come into play. Combined with the feature analysis, pricing should allow you to find the best value for your money, based on the features you need.
With that being said, it's worth noting that, for most sites, you'll probably be okay with just the free version of these plugins.
You'll typically only need to pay for the premium version if you're an advanced SEO or if you need to set up a specific implementation, such as optimizing for Google News.
All in One SEO
Free plugin: $0 for basic on-page optimization, keyword targeting, and snippet previews.
Basic: $124 per year for one site, unlimited keywords, advanced SEO modules, WooCommerce SEO, sitemaps, social media integrations, SEO analysis, headline analyzer, smart schema, custom breadcrumbs, standard customer support, and more.
Plus: $249 per year for up to three sites, everything in the previous plan, plus WordPress REST API, local SEO, and image SEO.
Pro: $499 per year for ten sites, all the features from the previous plans, plus the news sitemap, video sitemap, redirection manager, 404 error tracking, and internal link assistant.
Elite: $749 per year for 100 sites, everything from the previous plans, plus advanced 404 management, an internal link assistant, client management, and multi-site support.
Keep in mind that these are the maximum prices, as All in One SEO offers discounts regularly.
All plans have 14-day money-back guarantees.
Yoast
Free plugin: $0 for basic on-page SEO, automated SEO improvements, sitemaps, schema, readability analysis, internal linking features, and more.
Premium: $99 per year for all features in the free plugin, plus automated internal linking, multiple keyword optimizations, optimization warnings, automated structured data, premium support, and more. Each license only supports a single site, but you do get a slight discount for bulk license purchases.
Yoast SEO also sells separate extensions for specific niche SEO use cases:
Video SEO
Local SEO
News SEO
WooCommerce SEO
These extensions cost $79 each for use on a single site (as with the Premium version, there are bulk discounts if purchasing multiple licenses).
There's also an all-in-one subscription that gets you access to Yoast SEO premium and all the extensions for $229 for use on a single site.
Yoast offers a 30-day money-back guarantee.
Rank Math
Free plugin: $0 for basic on-page optimization, five content AI credits, limited reports, predefined schema types, the Elementor integration, Divi integration, SEO analysis score, automated image SEO, unlimited keywords, redirection management, social media optimization, and more.
Pro: $129 per year for everything in the free plan, plus support for unlimited personal websites, 15 free content AI credits, tracking of 500 keywords, a schema generator, and 24/7 customer support.
Business: $429 per year for all the features in the previous plans, support for 100 client websites, 125 content AI credits, and tracking of 10,000 keywords.
Agency: $999 per year for all features in previously listed plans, plus support for 500 client websites, 600 content AI credits, and tracking of 50,000 keywords.
You'll see regular discounts from Rank Math, usually making it much cheaper than what's listed.
Rank Math has a 30-day money-back guarantee.
Winner: Yoast or Rank Math
Each plugin has a free version, but Yoast and Rank Math offer the most features for free.
Otherwise, Yoast SEO offers the cheapest premium option for a single site assuming you don't need one of the niche-specific extensions. However, Yoast SEO's per-license billing model can be expensive if you have a lot of websites because you need to purchase a license for each site (though Yoast SEO does offer some bulk discounts).
If you have multiple sites, Rank Math generally offers the best value because even its cheapest license supports unlimited personal websites.
All in One SEO vs Yoast vs Rank Math: User interface
For user interface, we want an SEO plugin with minimal clutter, an automated optimization process to get started, and on-page SEO tools for optimizing every page and post you create. It's also nice to see a main dashboard with an SEO rating system that everyone can understand.
All in One SEO
All in One SEO provides a simple starter guide which configures most settings and captures important information about your site.
You can access a quick overview of the site's SEO health on the main dashboard, with information about how many posts you have published, the overall SEO site score, and recommendations to improve your SEO:
The menu from All in One SEO is easily accessible from either the left side or top WordPress menu. It's not exactly the shortest, cleanest menu, but it offers access to notifications, the dashboard, search appearance settings, sitemaps, and redirect settings: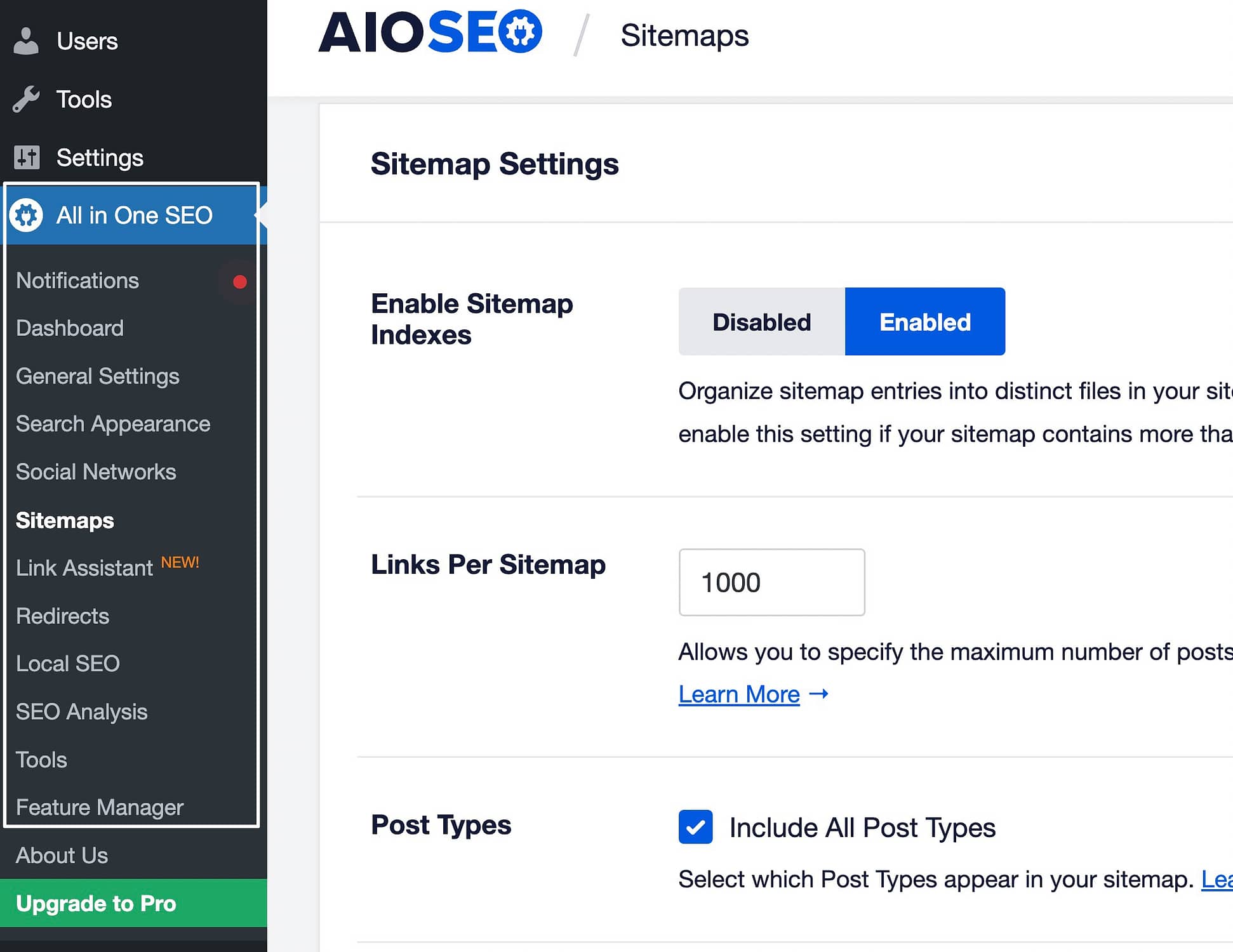 For on-page SEO, All in One SEO places well-designed SEO analysis sections on every page or post you intend to optimize.
Overall, you can make quick optimization adjustments for:
Search engine snippets
Metadata
Focus keywords
Basic SEO
Social SEO
Schema
Internal links
Redirects
Advanced tools: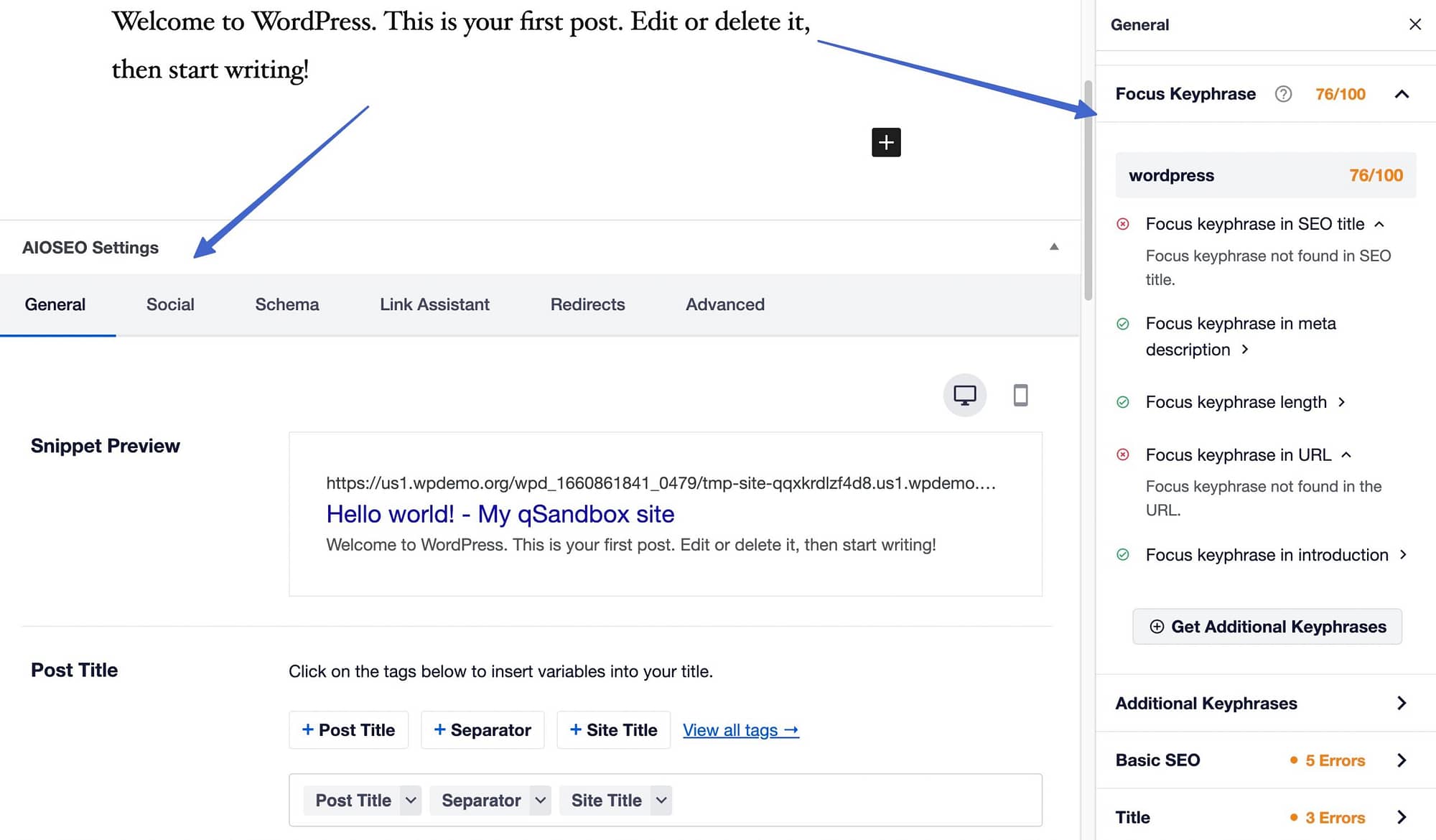 We particularly enjoy the bright warning and notification colors throughout the on-page SEO modules. These indicate improvements to make to your content, or the scoring you've achieved through optimization.
Yoast
With its barebones interface, Yoast has the simplest user experience when compared to the other plugins. However, much of the free plugin is marred by an overwhelming number of badges to upgrade to the premium version.
Regardless of your version, Yoast provides a quick dashboard to view problems and notifications, along with tabs for features, integrations, webmaster tools, crawl settings, and a first-time configuration panel: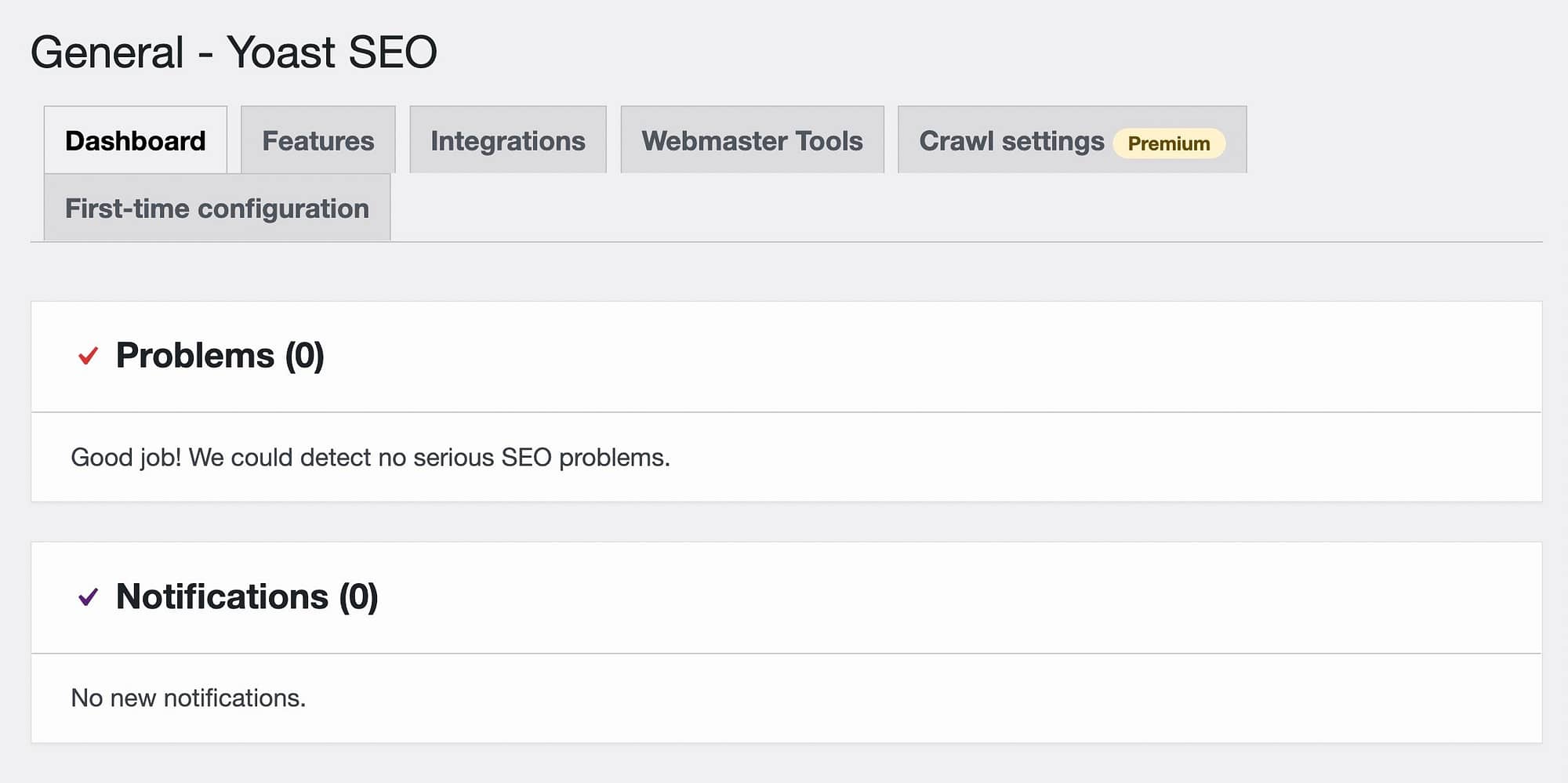 Yoast doesn't get in the way, but it's still available whenever you need it, with a quick access tab on WordPress. This brings you to pages for integrations, features, social settings, and search appearance: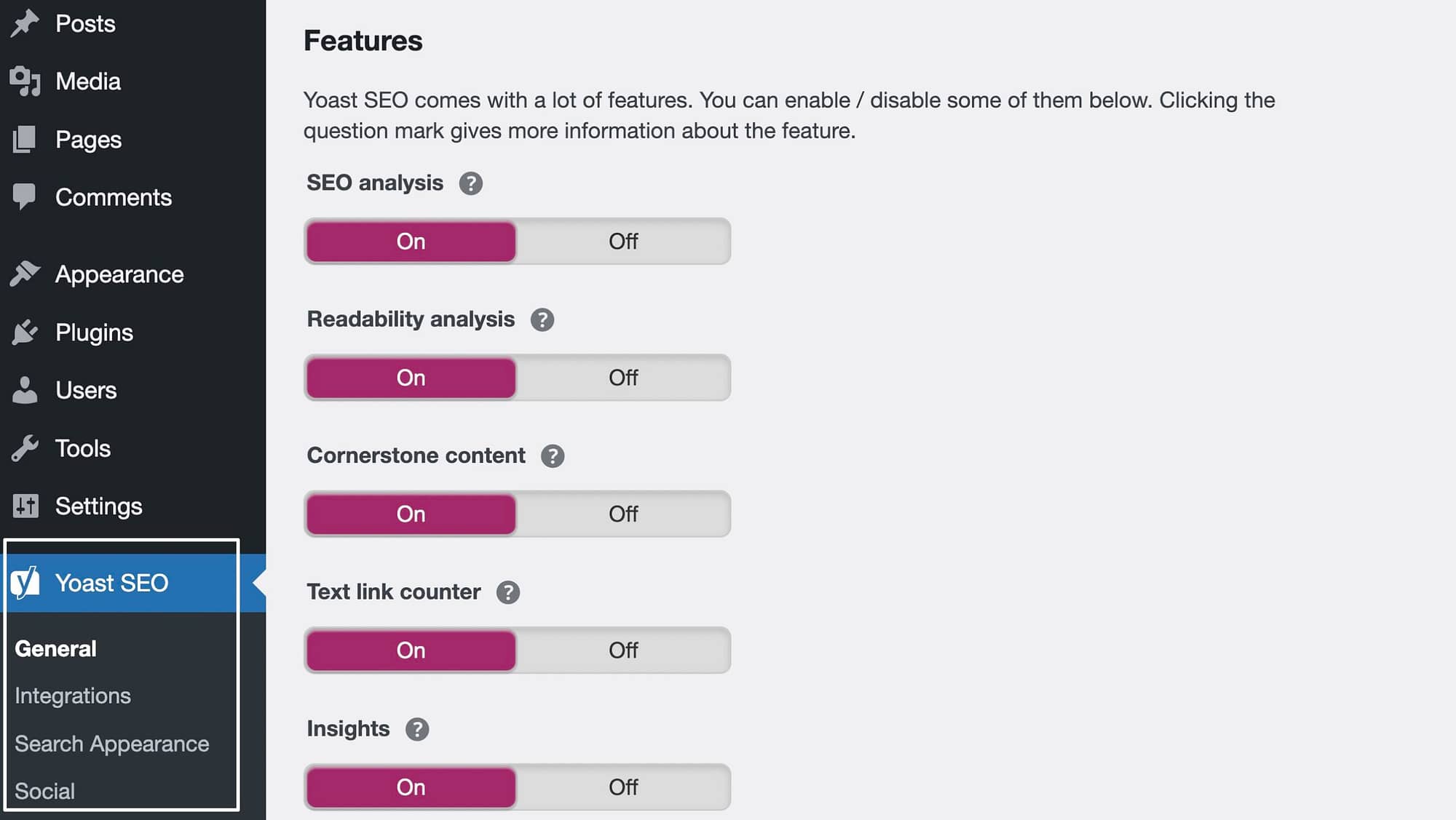 On a post or page, Yoast provides modules to the right and bottom of your content. You can see a Google preview, change the SEO metadata, and analyze optimization results based on targeted keywords. This SEO analysis also comes with additional tools like social configuration, related keyphrase suggestions, and readability tests: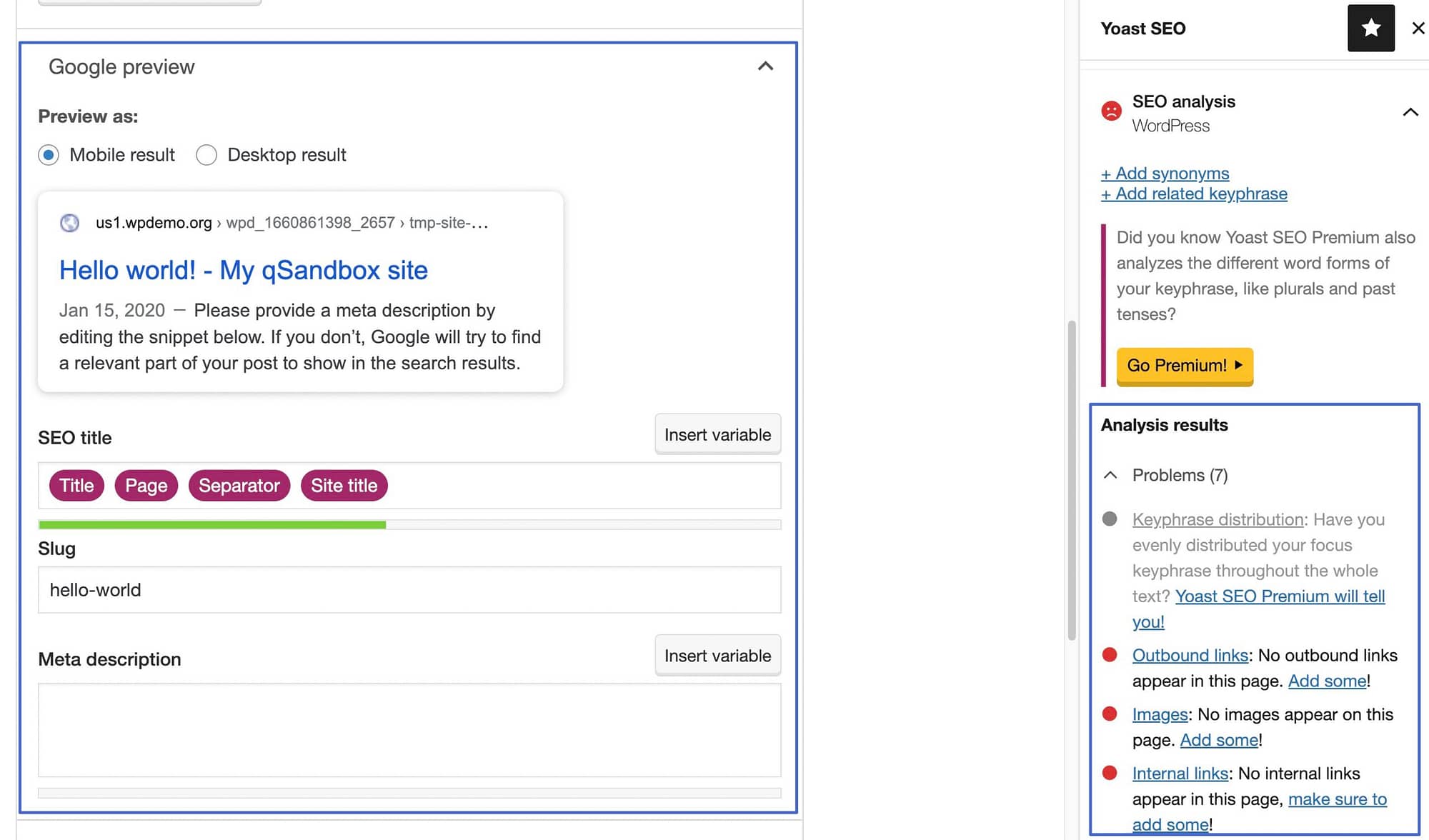 Rank Math
The Rank Math interface combines the feature-richness of All in One SEO with the simplicity of Yoast. You'll see more graphs, reports, and rank tracking than anything you'd find on the other plugins. We particularly enjoy how everything from search traffic to keyword positions gets displayed on the main dashboard. Pair that with site analytics, an index status page, and the rank tracker for a wonderful way to check in on your SEO: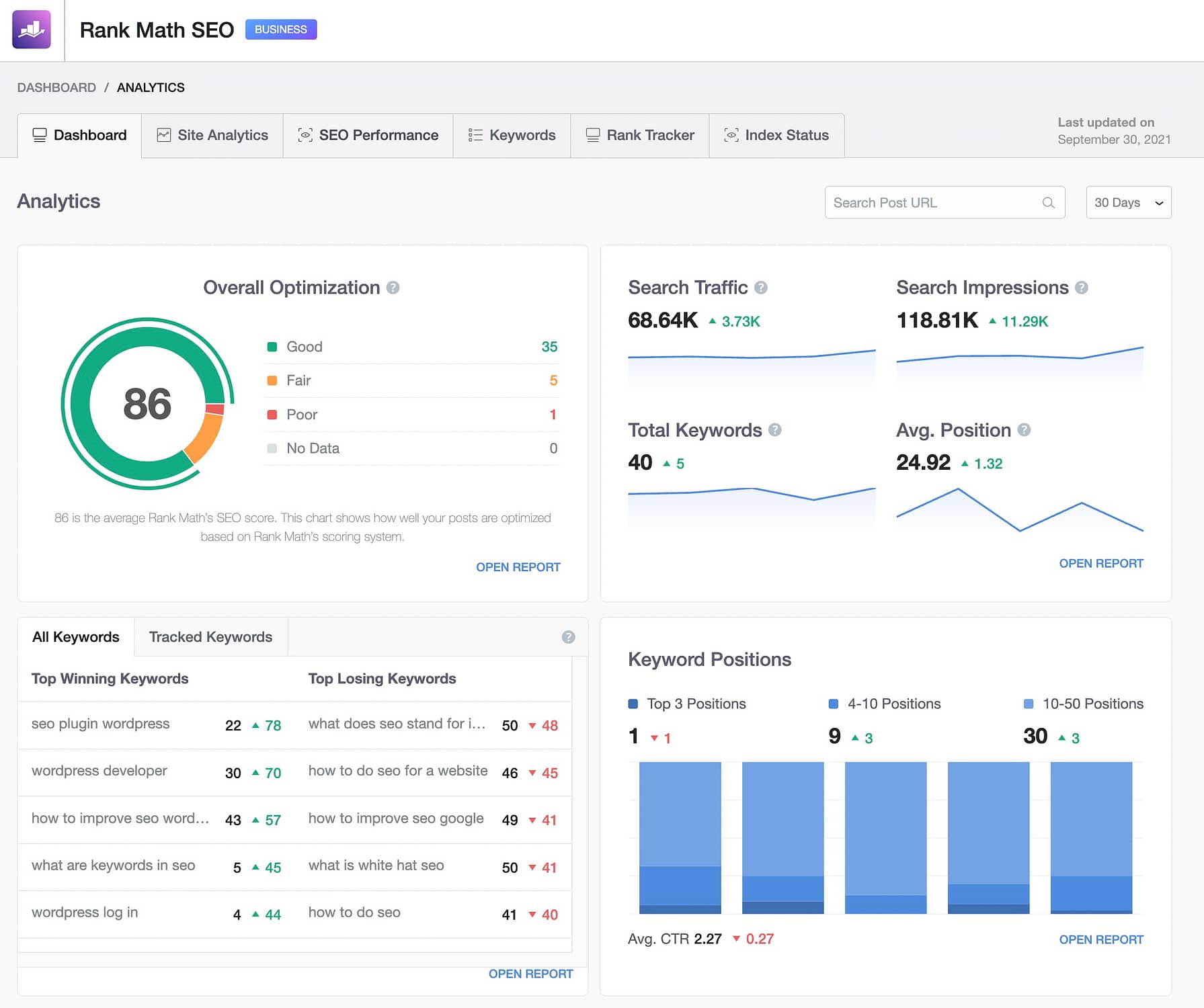 Finding the Rank Math tools is rather intuitive. It's accessible via the left side WordPress menu.
Rank Math provides immediate access to:
Analytics
General Settings
Titles and Meta
Sitemap Settings
Schema Templates
A Role Manager
Redirections
SEO Analysis
A 404 Manager:
As you move to the on-page SEO section, you'll find one primary analysis and improvement section on the right side. That's a little less overwhelming than how Yoast and All in One SEO also provide a secondary module on the bottom, making them rather cluttered and redundant.
In this section, Rank Math offers tabs for:
General SEO
Advanced SEO
Schema
Social SEO
This way, you're able to complete quick edits to metadata, social images and sharing tools, schema templates, no index settings, and focus keywords: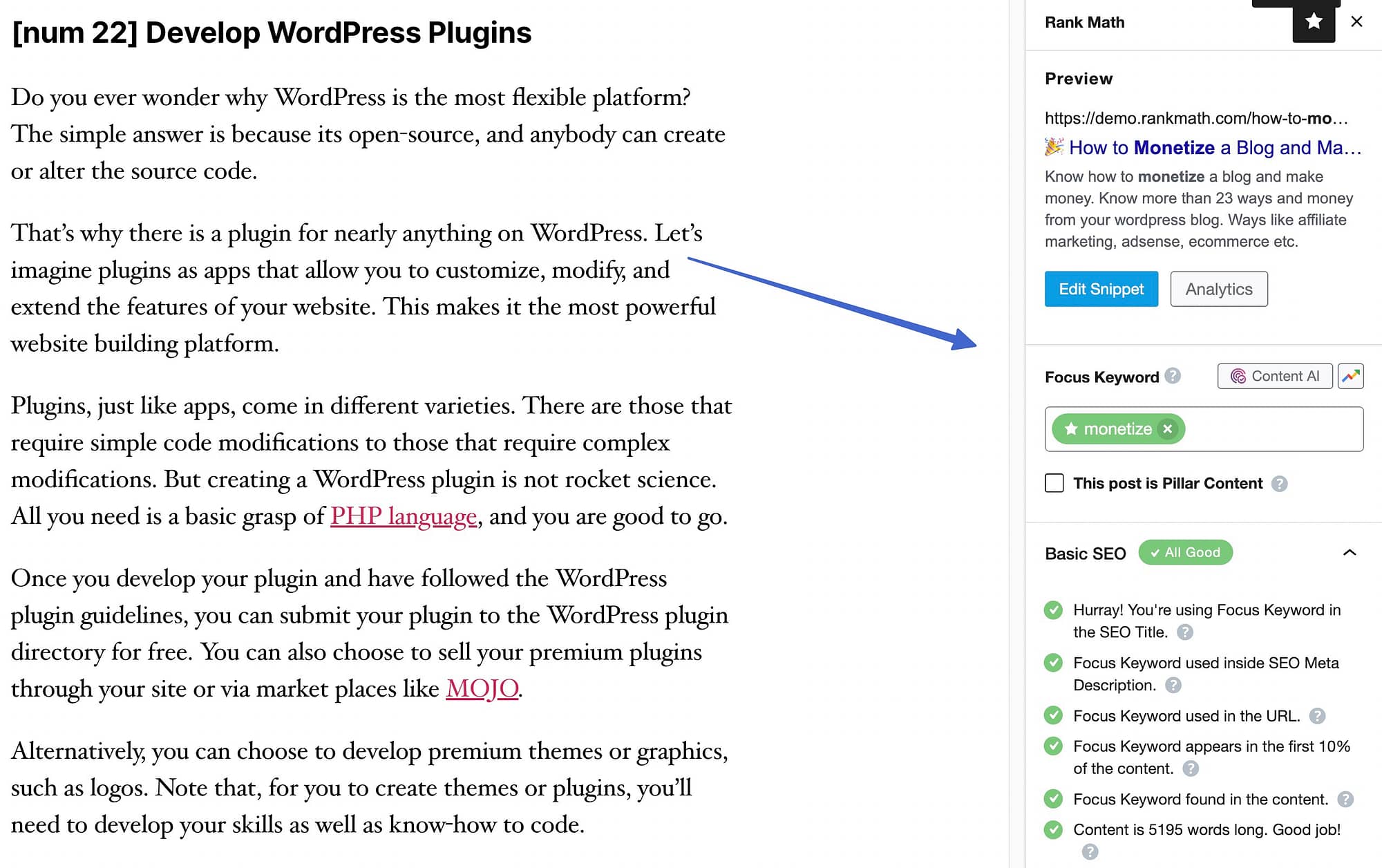 Winner: Rank Math
Rank Math has an overwhelming edge when it comes to the dashboard, seeing as how it provides immediate insights on keywords, SEO performance, and suggestions, all through visual graphs and scores.
We like the setup guide from All in One SEO, but its interface is cluttered, especially for the on-page SEO area.
Yoast doesn't have many problems with its interface; it's simplified and less driven by visuals than Rank Math. If that's your style, you may actually prefer this kind of interface.
But, for the average user, we like Rank Math due to how understandable it makes the complex world of SEO.
All in One SEO vs Yoast vs Rank Math: Indexing and sitemaps
Getting your site properly indexed is one of the main requirements when picking an SEO plugin. Automation is ideal, and we're definitely interested in sitemaps being sent to the most search engines possible.
All in One SEO
All in One SEO automatically generates three main sitemaps:
XML is the most important one, since it ensures posts and pages get indexed properly with major search engines.
All in One SEO also offers specific sitemaps for video and news websites, making it useful if trying to get listed on Google New Publisher: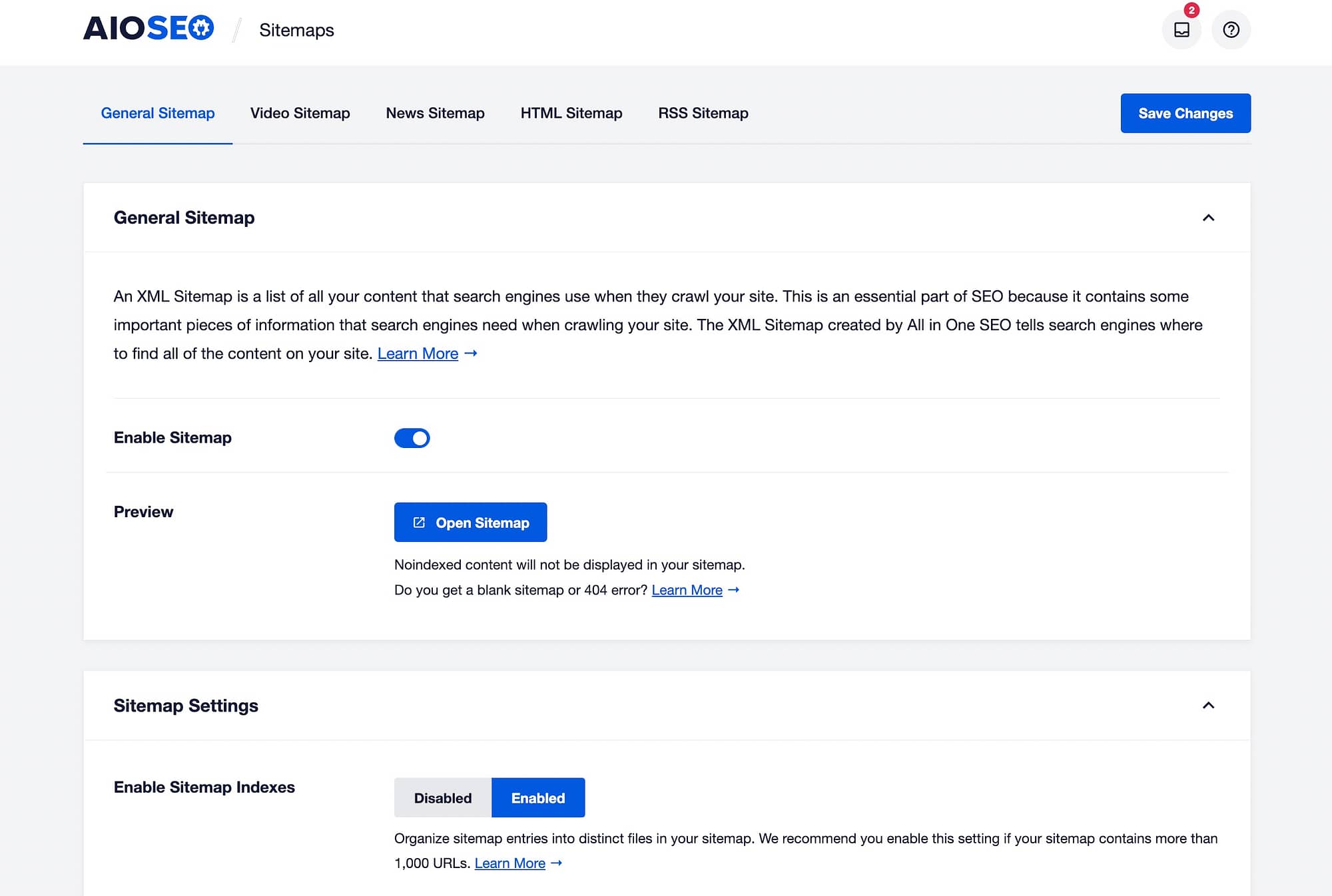 Overall, All in One SEO provides excellent automated indexing where the sitemaps are sent and regularly updated by Google and Bing.
All in One SEO has easy sitemap customization without the need for code, along with a feature that prioritizes top-performing pages to ensure they get indexed by Google.
Not only that, but the plugin has a WooCommerce SEO integration with ecommerce sitemaps for indexing across all product pages, tags, and categories.
Yoast
Yoast sticks with the standard XML sitemap, and instantly indexes your website on Google. There are also webmaster verification tools for search engines like Baidu, Bing, Google, and Yandex: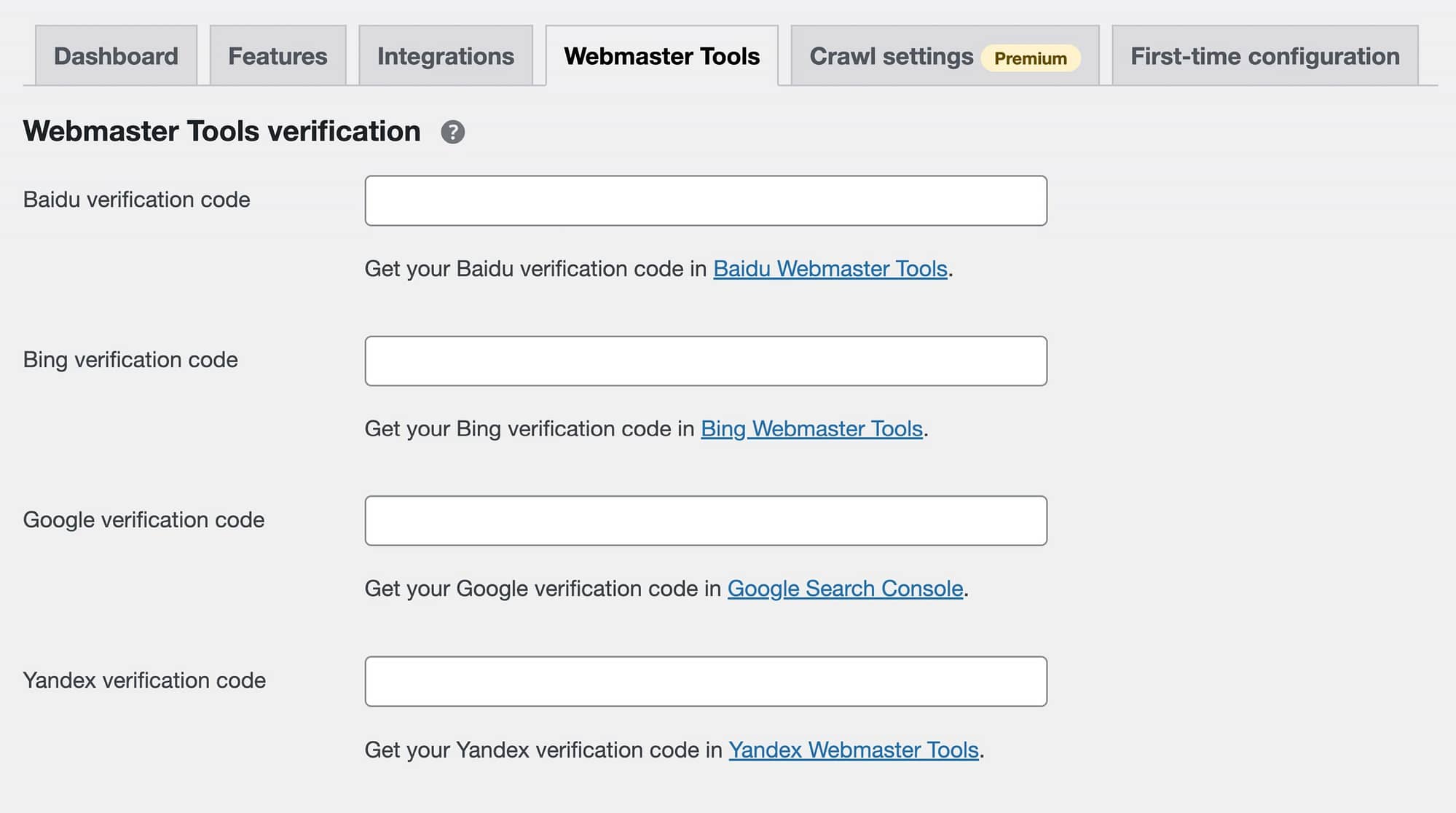 Most of the sitemap creation and indexing happens "under the hood," so most users won't even know it's happening. That's straightforward for beginners, but also limiting in terms of sitemap customization.
We like Yoast best for its simplicity in this area, especially for those who may get overwhelmed with too many options in the SEO space.
But if you need advanced sitemaps – like sitemaps for news, or indexing with more search engines – consider All in One SEO or Rank Math unless you're willing to pay for Yoast's separate extension plugins.
Rank Math
Indexing in Rank Math happens both globally and per page. You have options to choose which pages get indexed, and the plugin takes immediate global measures to activate an XML sitemap, sending it to the right search engines.
Furthermore, users receive sitemap customization settings for images in sitemaps, excluding posts, and pinging search engines: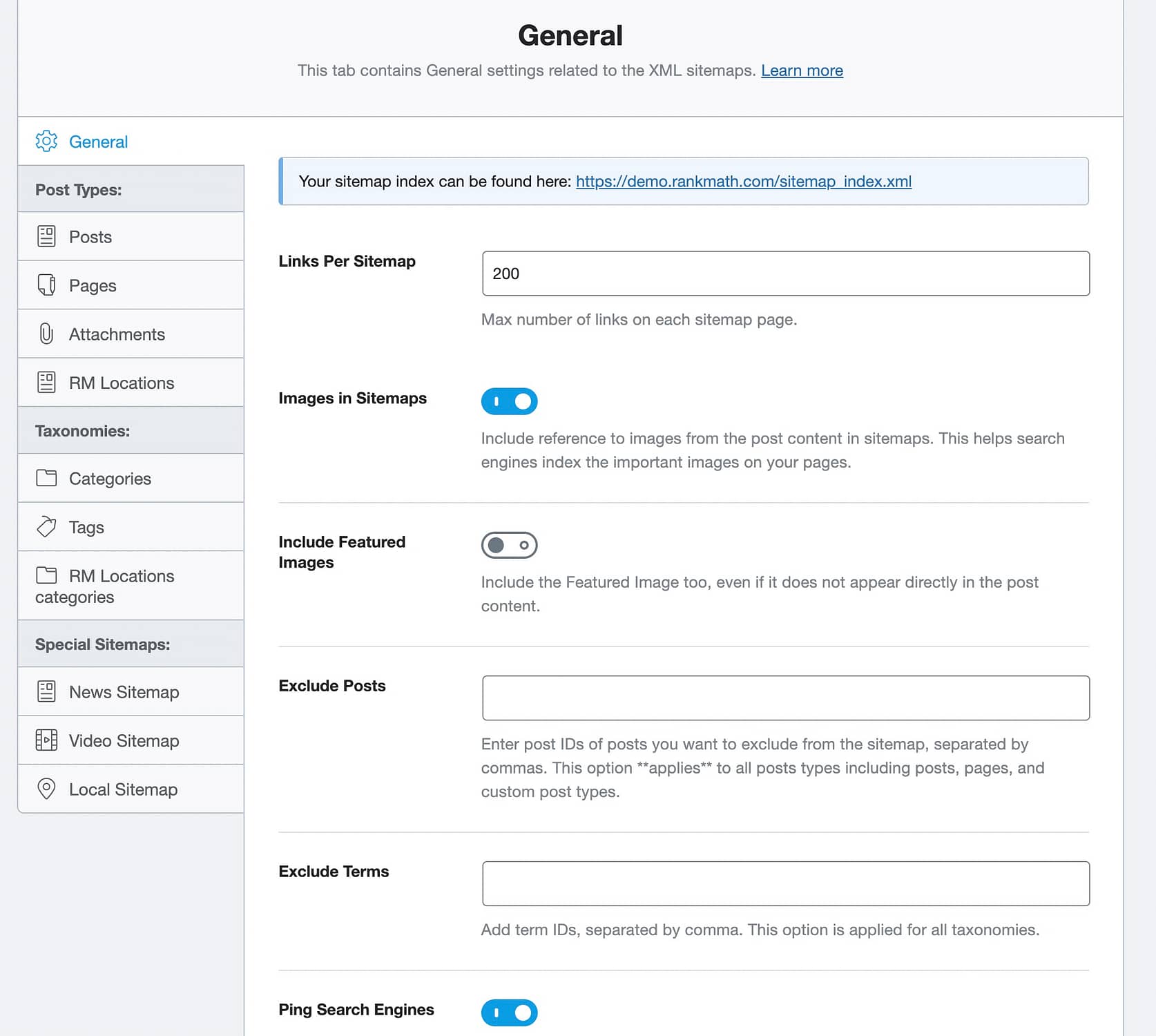 What's cool about Rank Math is that it displays a sitemap status to keep you informed; you can even see the last time Google crawled your site.
Sitemaps get sent directly to Google, and it's possible to verify with other search engines and social networks like Bing, Alexa, Yandex, and Pinterest.
On top of all that, Rank Math offers specialty sitemaps like:
News sitemaps
Video sitemaps
Local sitemaps
Winner: All in One SEO
All in One SEO is the only WordPress SEO plugin with automated indexing to both Google and Bing. It lacks verification tools for other search engines, but we prefer the automation.
Yoast is still a contender for those that want the simplest setup, but Rank Math is truly the most feature-rich sitemap solution. The only problem is that it's not quite as automated as All in One SEO.
All in One SEO vs Yoast vs Rank Math: Schema markup (rich snippets)
Schema markup involves the visual, often interactive, elements users see when browsing search engines. We're talking stars for ratings, important dates for events, and pricing and pictures for ecommerce products.
With schema markup, you're able to add the behind-the-scenes code that search engines use to generate these types of rich results.
Your SEO plugin should help publish schema markup for improved visibility on search engines.
All in One SEO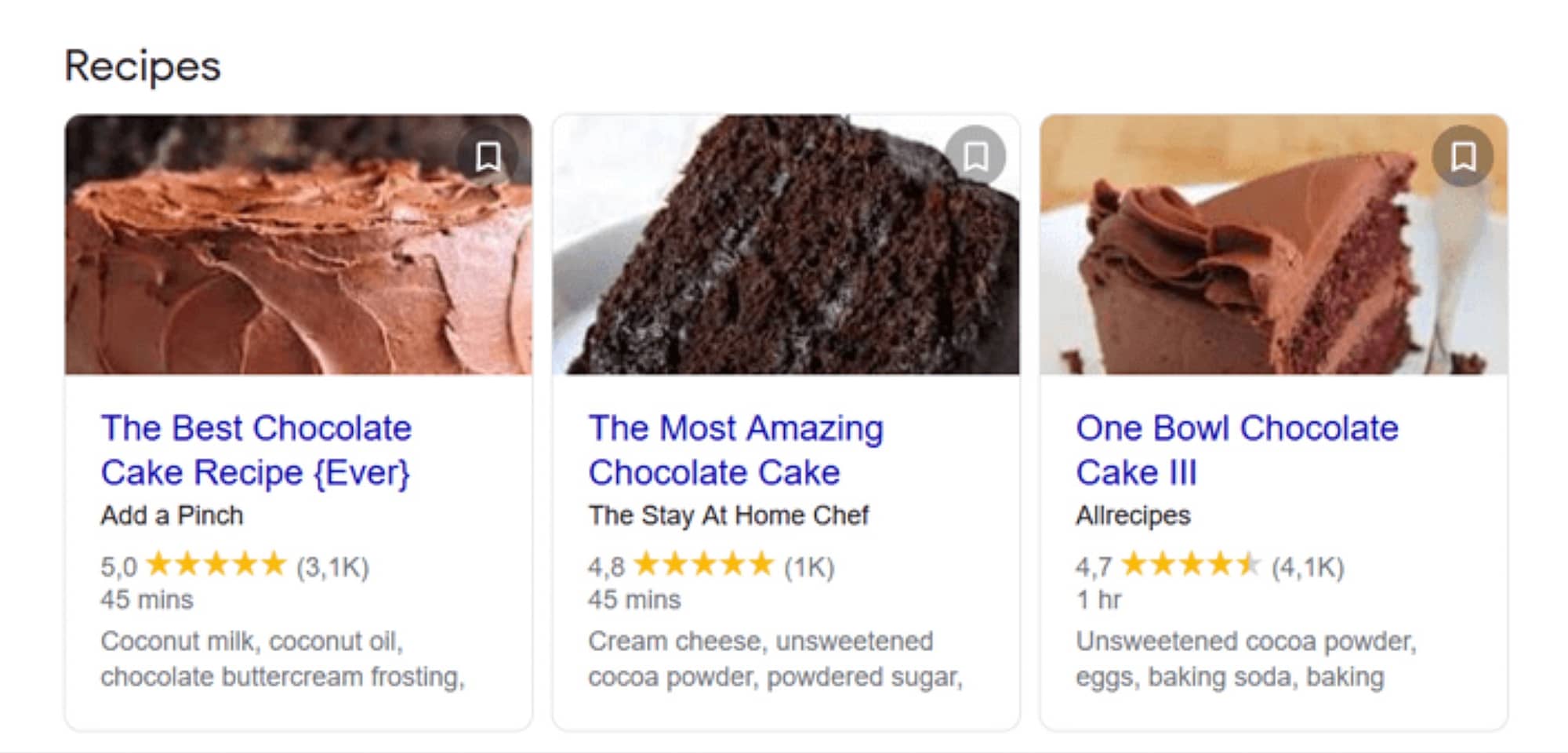 All in One SEO taps into the Google Knowledge Graph to generate schema rich snippets for content.
The plugin creates schema automatically, but the premium version offers customization.
All in One SEO has schema markup for:
Products (WooCommerce and Easy Digital Downloads)
Courses
Recipes
FAQ pages
Software applications
Local schema
Yoast
Yoast lets you describe each page to increase your chances of landing rich schema snippets. There's also a frontend SEO inspector to preview how Google displays your snippets.
Yoast offers:
Local schema
Automated rich snippets
WooCommerce schema (requires another plugin)
Overall, much of the schema generation is automated, which makes sense for a hands-off approach. However, many users will want more control.
Rank Math
Rank Math not only provides automated schema markup but a complete schema generator (with template saving) for posts and pages. Set default rich snippets for all posts or edit them one-by-one:
Rank Math has templates and schema options for:
Courses
Articles
Books
Datasets
Events
FAQs
HowTos
Movies
People
Products
Music
Job Postings
Videos
Restaurants
Software
Services
Podcast Episodes
And more
Winner: Rank Math
The average user may prefer a more behind-the-scenes schema setup like the one from Yoast, but there's no denying Rank Math wins with its long list of rich snippet formats and beautiful schema builder.
Our conclusion on All in One vs Yoast vs Rank Math
Here's the quick comparison table one more time:
All in One SEO vs Yoast vs Rank Math

| Tool | Pricing | Features | UI | Indexing and sitemaps | Schema markup (rich snippets) |
| --- | --- | --- | --- | --- | --- |
| All in One SEO | ⭐️ ⭐️ ⭐️ | ⭐️ ⭐️ ⭐️ ⭐️ | ⭐️ ⭐️ ⭐️ | ⭐️ ⭐️ ⭐️ ⭐️ | ⭐️ ⭐️ ⭐️ ⭐️ |
| Yoast SEO | ⭐️ ⭐️ ⭐️ ⭐️ | ⭐️ ⭐️ ⭐️ | ⭐️ ⭐️ ⭐️ ⭐️ | ⭐️ ⭐️ ⭐️ | ⭐️ ⭐️ ⭐️ |
| Rank Math | ⭐️ ⭐️ ⭐️ ⭐️ | ⭐️ ⭐️ ⭐️ ⭐️ ⭐️ | ⭐️ ⭐️ ⭐️ ⭐️ ⭐️ | ⭐️ ⭐️ ⭐️ ⭐️ | ⭐️ ⭐️ ⭐️ ⭐️ ⭐️ |
And if you're still having trouble deciding between All in One SEO vs Yoast vs Rank Math, read through our final recommendations:
Consider All in One SEO if…
You want automatic indexing and sitemaps sent (and updated) to Google and Bing.
You'd like a built-in WooCommerce SEO tool.
You're interested in more advanced image SEO settings.
You need unique sitemap and indexing options like RSS, HTML, and local sitemaps.
Consider Yoast SEO if…
You'd rather not have to ever think about SEO sitemaps, indexing, or schema markup.
You want the cheapest premium plugin for a single site (assuming you don't need the separate extensions).
You're looking for the sleekest on-page SEO analysis.
You require an internal linking manager.
Consider Rank Math if…
You'd like the best possible schema markup configuration.
You're interested in a beautiful user interface with colorful graphs and SEO scores.
You're looking for the most feature-rich SEO plugin, with local SEO, WooCommerce SEO, image SEO, rank tracking, and artificial intelligence all built into the plugin.
You have a lot of websites (because even the cheapest tier of Rank Math Premium supports unlimited personal websites).
💡 To find some other tools to boost your site's rankings, you can check out our 👉 full roundup of the 55+ best SEO tools.
Do you still have any questions about choosing between All in One SEO vs Yoast vs Rank Math? Let us know in the comments!
…
Don't forget to join our crash course on speeding up your WordPress site. Learn more below: